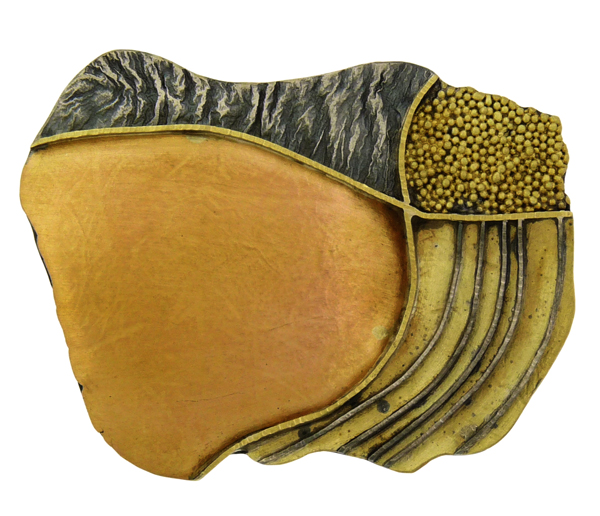 Susan Cummins: Why did you call the show Rebel Metal?
Patricia Faber: Titles for shows usually rise up through some kind of mostly unconscious word association based on the theme itself or research around the theme. This title popped out based on jewelry history: that we could not – and still cannot – find a clear pattern or understanding of this metal's appearance and disappearance in jewelry making over the last 100 years. We could document its wide popularity at mid-twentieth century, but otherwise it seemed unpredictable when and where it would appear. Which led to the wild thought that it had a mind of its own, which led to Rebel Metal.
What inspired the idea to do a show based on the use of red gold?
Patricia Faber: The gallery has been collecting and selling twentieth century jewelry – especially wristwatches – for decades and it is always challenging to present the old and the new together. Still, the history of jewelry is a timeline and we are interested in finding and sharing the commonalities – and the differences – throughout periods. Focusing on a material, one that has a history of notable jewelry design in the past, offered an intriguing umbrella to present both old and new.
Patricia Faber: Not all the answers are in and the ones we have require some background. At the turn of the twentieth century, red gold was primarily used in Russia and was sometimes referred to as 'Russian gold.' It shows up again in the 1920s in Louis Cartier's three-color rolling ring, but disappears entirely with the rise of Art Deco and diamond jewelry. As early as the mid-1930s, the rise of conflicts that led to World War II had a profound influence on all jewelry design, as trade supply routes for gems and metals were disrupted and then war requisitioning came in to play. Platinum was restricted to strategic use – thus the decline of platinum jewelry and the rise of white gold. At the same time, trade with South America increased. It is this period when large gems of Brazilian citrine and aquamarine are discovered and large gem jewelry becomes prominent in fashion and Hollywood, often set in red gold. The post-war period continues the fashion for red, but as European and global trade resumes, sterling, yellow gold and platinum re-assert their dominance. For the gallery, it is not until Michael Zobel introduces a stunning group of red gold jewelry in the early 1990s that it appears again and surprisingly, the jewelry and watch industry follow suit, producing important pieces in red gold from about 2000 forward. We can only attribute this recurrence to fashion, the desire to do something new and fresh.
The artists for the show were asked to create works in red gold for the exhibition. Many had never worked in it – their statements indicate the challenge sometimes working with this alloy – and others had been using red gold for some time, but usually as a color contrast. Here are their statements.
ALBERIAN & AULDE
We have been using red gold in our creations for the past four years . . . Combining red gold with specific gemstones creates dynamic color relationships which look stunning on the body. The look varies greatly depending on the texture of its surface. We love the frosty pink luminosity achieved by applying a specific soft satin finish.
ÉLISE BERGERON
Red gold, rebel alloy, delicate, brittle, unstable. A soft color difficult to control. Manipulation is likely to change the color. Rose whimsical, a bit off, which requires a confrontation. With the brilliance of yellow gold pure or nearly pure, contrast reveals the subtlety and nuances in all its variations: yellow, pink and metallic coppery red.
LISA BLACK
Rose gold works well with the ancient and historical references in my work . . . the rekindling of a past grandeur and a sort of 'tarnished with age' kind of tone. I love the burnt and warm colors of rose gold, however its 'hardness' can dissuade me. As a result I find it somewhat of a treat when I venture into working with it and always love a challenge.
MARCO BORGHESI
Red gold is an obstinate material, reluctant to bend to the artist's will, but it has long been a favorite of mine, especially in conjunction with yellow and white gold and often with pearl and diamond insets. I love its color – its tactile sensations of pleasure, passion, heat, energy – a kind of fundamental life force – an essential element nowadays, opening new horizons in a time of uncertainty, exhaustion and stasis.
JIM COTTER
I have been using rose gold for over twenty years. I have always loved the soft warm color of the metal because I feel that it is very inviting. It also works well with colored stones and black and white diamonds. The color of the metal looks great on the skin and everyone is 'Pretty in Pink.'
ROLAND DUBUC
I worked with red gold for the first time when I created the pieces for this exhibition. Before this, it had never occurred to me to use the material although I now see how well it can be integrated into my work. Red gold has a distinct luminosity which brings out other aspects of the forms. In the past my perception of red gold was that it was really suitable for classic jewelry, the kind that my parents and grandparents wore. I now see red gold in a new light, as contemporary.
LUCIE HESKETT BREM
As a woman, I love red gold because it suits my complexion . . . As a jeweler, I value it for its comparative hardness and I like to use it as color contrast. I also use a 22 karat red gold which has a very rich color and an extraordinary glow.
ANGELA HUBEL
I think that rose gold has a very fine color, very elegant, specifically combined with brown diamonds or Tahiti pearls. It intensifies the luminous power of colored stones, for example green tourmaline or garnet.
JUHA KOSKELA
Red gold is a new material for me . . . The pieces that I made for the show are the first ones where I used a gold alloy that had no silver in it, just copper and gold as an alloy. As red as possible! In my work I liked it because it has a very exciting color. In these works I liked to try oxidized silver with red gold to give a dramatic black-red contrast spiced with black diamonds and red rubies.
PATRICIA MADEJA
Like fashion, rose gold has a reputation for being in one day and out the next. The history of jewelry records it in and out of favor in the market place over and over again, helping to establish its reputation as a 'rebel metal.' Its color is warm and wonderful, like copper and it can pair beautifully with a variety of stones. Yet, due to this specialized color, it can be totally incompatible with certain colors. From a technical perspective, it cannot be worked as easily as yellow and white gold, but with perseverance, the rewards are like no other. I love copper, but I don't appreciate how it reacts with the skin and oxidizes dramatically. Rose gold provides the perfect alternative. In this new body of work, I chose to pair the rose gold with smoky quartz. Since childhood, I have always loved the color combination of pink and brown, although I cannot explain exactly why. When I found the geometric smoky quartz stones, I immediately planned to frame them in rose gold. The geometry and color palette has a modern, contemporary look. Rose gold, the rebel metal, uniquely warms the wearer.
To me the rose gold transports me to my grandparents, an old time they called old gold. But overcome this feeling [sic], I must admit that rose gold has a special beauty combined with yellow gold, two color results are very attractive.
JAN MANDEL
Although I have used yellow and red gold for the past decade, I have always blended color within select pieces. 18 karat yellow, red and white golds have been a personal standard for me since I began formally marketing work. I particularly like the soft luster of the red gold when heated, fused, or soldered . . . rather like using a beautiful soft rose shade from a watercolor palette . . . instead of a brush . . . I use the heat to draw the color where I want it in the composition. Be it soft or high polish, the rich red luster is unmistakable.
JUTTA MUNSTEINER
The feminine color of the rose gold, in combination with the gemstones morganite, rock crystal and tourmaline, radiates a certain kind of harmony, which stands in unison with nature.
HAROLD O'CONNOR
I have not used red gold for forty years. I did however find it a good challenge to work with it after these years and found it to be enjoyable material. I like the color for contrast and its working characteristics. I appreciate being part of this exhibition and to seeing other creations by the group.
GINA PANKOSWSKI
I fell in love with rose gold as a young girl. Looking through my mother's jewel box she had two rings, both substantial bands that belonged to my great aunt. The first engraved with a never-ending grape vine, a wedding band. The engraving was only a shadow on the underside from years of wear. The color stood out so warm against your skin, not bright and tinny like the 14 karat gold jewelry my mother usually wore at the time. The second a wide classic band my mother later gave to me. In my jewelry designs over the years I have expanded my pallet with colored gold using alloys of green, red, rose and yellow. I'm compelled to use these colors in combination with pearls . . . the 18 karat red gold I use is pure gold mixed with copper, the more copper the redder the alloy. For my 14 karat pink I use pure gold, pure silver and copper to create the softer tone . . . The star ruby and rose gold ring in this show, for example, the warm pink of the gold complementing the deep purple red of the gem. When you look closer into the pattern of the finely fabricated setting you will see a bright yellow green glowing from within. This color is achieved by an ancient process known as depletion gilding. Before setting the gem the finished ring is heated and cleaned repeatedly in a mild acid that works to remove the copper from the surface of the alloy, the gold and silver are not affected by the acid and remain on the surface in a thin layer also known as electrum. Clearly I love the science and beauty of colored gold.
SO YOUNG PARK
As a jewelry artist I use several different metals to make jewelry. My especially favorite metals are oxidized silver and yellow gold. I often add expression to my work by mixing oxidized silver and yellow gold. It shows a strong contrast, passion and interesting patterns . . . However working on red gold at this time opens my eyes to a new world. The color of red gold is unique, elegant and soft. The color of pink goes well with any other metals. When I mix with other metals, the piece looks elegant but very feminine. My new experience working on red gold helps developing my style of work. It has much potential to express different styles unlike what I have worked on so far.
Gold has a vibrant surface quality that makes it seem to glow. Rose gold, or red gold, brings an earthy quality to this vibrancy, with coloring much like red clay. This earthy vibrant character of red gold is incorporated into my vessel pieces, where the vessels are thought of as growing organic matter like flowers or fungus. The red gold appears in some pieces as hidden or growing vessels and in others as a container for wooden vessels. The rose gold complements the pieces by being both subtle in color but brilliant in surface. I find this material a wonderful color addition with important depth and contrast possibilities.
Please describe three pieces in the show that you think are particularly spectacular.
This is a challenge, there are so many pieces that we have fallen in love with here in the gallery . . . but I must include Peter Schmid's rose gold and platinum cuff from Atelier Zobel made in 2009 because Zobel first brought this metal to our attention in the 1990s and because the texture and color of the cuff are unique to Atelier Zobel, it truly stands out.
Daniel Porter Stevens's rose gold and ebony earrings. Stevens started as a woodworker and his treatment of the ebony drops – their form and pebbled texture – caged in rose gold are remarkable. The trompe l'oeil of the wood – which could be oxidized sterling – and the historical resonance of the form make these earrings stand out.
Enric Majoral's very sensual ring, a sculpted concave rose gold center, matte-finished, like a moonscape, surrounded by a polished 18 karat yellow gold rim and ring.
Harold O'Connor's brooch, his mastery of surface – reticulation, granulation, color contrast – is unmatched and this brooch is a great example.
I notice that you are taking this show to SOFA Chicago this year. You have been doing this show for many years and I am wondering if you do other fairs as well. What has been your experience recently at these shows?
We love SOFA, its ability to bring together truly interested buyers, students, collectors and viewers who appreciate the artists' work. We are not able to do many off-site shows like this, since our New York gallery is open six days a week. The challenge faced by these shows is to develop new collectors and younger audiences and that is ongoing.
How do you think the economy has affected your business decisions? What are you doing differently now?
We have had to reduce the number of exhibitions we do annually to two larger group shows a year – Rebel Metal is our fall show – with a variety of smaller events throughout the year. This month alone, we opened Rebel Metal, are hosting Michael Boyd, October 9–13 here in the gallery, with nearly 100 pieces of his one-of-a-kind jewels; and on October 20, a booksigning for a Rolex Daytona collectors' special edition book, from Editore Mondani in Italy. Then off to SOFA!
What are your plans for future jewelry shows?
We're working on that right now!