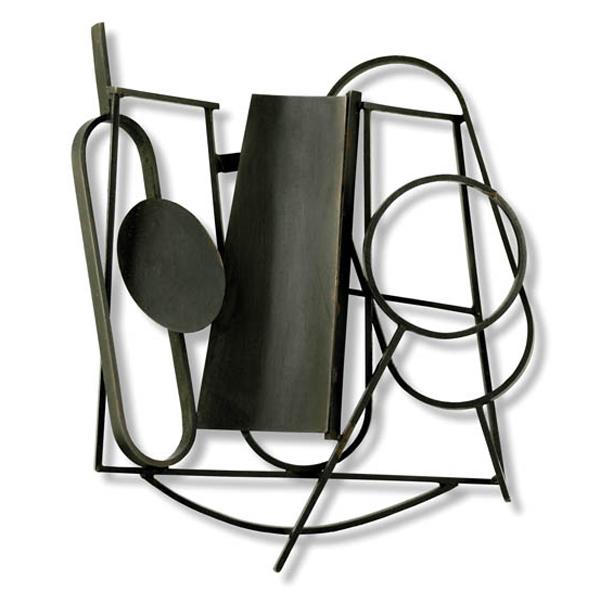 Susan Cummins: Ramon, please tell us the story of how you became a jeweler?
Ramón Puig Cuyàs: I think I've always been a lucky person. When I was young, I had three ideas of what I wanted to be when I grew up—devote myself to science, in particular, biology or astronomy, or like my father, who was a ship captain in the merchant marines, I wanted to be a sailor and travel to exotic lands. The third option was art. It's a bit hard to explain why I decided against the first two options, and I have already discussed this at length in previous interviews. I feel I could have become almost any type of artist except a musician. I had no clue what jewelry was or any interest in it. My grandmother was an opera singer, my uncle was a cartoonist and illustrator, and I've always liked to draw and to build things with my hands. I've always been very curious about the world around me, and I try to understand how it works, to discover new horizons, and to always see a bit beyond the obvious.
At the Escola Massana, I found out that jewelry could also form part of the artistic expression. I discovered work by 1960s pioneers Manuel Capdevila, Hermann Jünger, Friedrich Becker, Mario Pinton, Anton Cepka, and many others. Although all very different, they had a common attitude and a goal of redefining and renewing the definition of jewelry.
For me, jewelry is an art form that allows me, as a creator, within my daily work using my hands and various materials, to feel an intimate sense of freedom and to share this with others. It allows me to process an indefinable need to transform, build, enlighten, and make visible the invisible.
To plan and build allows me to experience a momentary thrill. Jewelry has always been linked to vitality. It's an adventure which, with the passing of time during which one creates, changes the world of uncertainty to a universe of certainties, although provisional, and which brings with them new questions and new hypotheses that retain the tension and energy of the artistic evolution.
Ramón Puig Cuyàs: From the beginning, I thought that my experiences could be interesting to others, and I wanted to share them, but I never imagined that four years out of school I would be asked to take charge of the projects and class development in the jewelry department.
What do you think is the most important thing for you as a teacher to transmit to a student?
Ramón Puig Cuyàs: For me, the most important thing is that they rediscover the freedom and confidence of the creative capabilities they had when they were children. I want them to remember ideas and experiences and to find their own personal language. I want them to be honest and critical with their work and to be persistent and patient. I want the students to make independent decisions about what they want to work on and how.
In your role as a professor in the department of jewelry at the Escola Massana, can you give us an example of a problem you like to give the students and what you hope to accomplish with it?
Ramón Puig Cuyàs: I think the problems that teachers have with their students are universal. One of the things that I consider important is that the students should be asking questions. Without questions there might be good craftsmanship but no art. For example, they should ask themselves, "What is jewelry? What are its functions? What is the role of the art jeweler?" The first thing I ask students to do when they start classes with me is to make an anti-jewel. This makes them think about what a jewel is and discover how difficult it is to define things.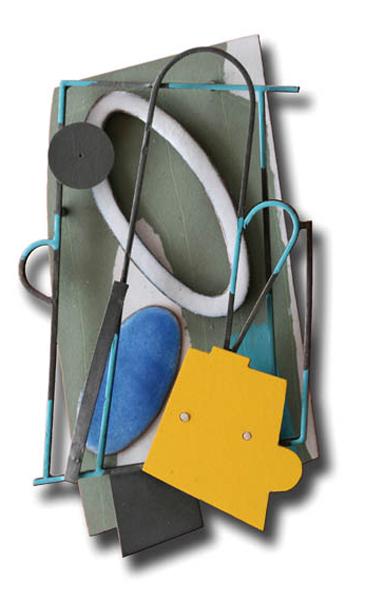 Ramón Puig Cuyàs: Yes, there are groups of work, with drawings, from different years. It's like looking at something from above. I think work should explain itself, but with the exhibition—which was shown in Legnica, Poland, Santiago, Chile, Barcelona, Spain, and now Munich, Germany—I'm trying to show that the same ideas, the same obsessions, can be changed in the process without ruptures or abrupt changes. I think that this is a better way to show the creative process, which for me is more important than the results.
In the past your work has been filled with color, but your newest work is made up only of black lines. What are you thinking about this new direction?
Ramón Puig Cuyàs: This has been a personal challenge. When something becomes routine and controlled, I like to change it, to look for new problems, and to try to not do something simply out of habit. Most of the time I have worked with my jewelry on a two-dimensional level with a tendency to use narrative elements with figurative references.
Some reviewers have said that the color in my work reflects my connection with both the current and archaic Mediterranean culture and with the light and brightness of the landscape. But also, the truth is that when you look at this almost Dionysian vision of life, there is also a more dramatic vision. The drama of the Greeks, Goya's black paintings, and the work of Antonio Saura and Antoni Tapies all show the dark side of our Mediterranean culture. Work by Antoni Tapies is like an exercise in reduction, elimination, and abstraction. There is a new element that plays an important role in composition and space. My work has a three-dimensional character, more sculptural, which tries to reinforce the character of the independent object. With minimal expressions of line and plane, I try to make work that connects to the universal, to create and make visible an image that is like a mirror to the cosmos.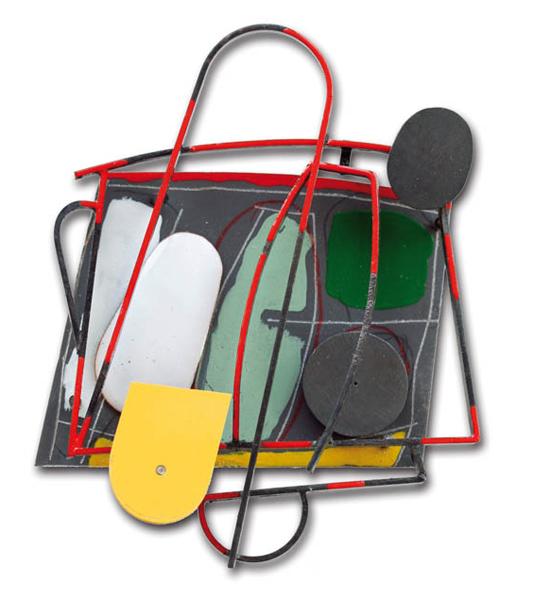 Ramón Puig Cuyàs: I like to sail in my sailboat, which I made myself 25 years ago. I like to lose sight of land, pushed by the wind. Live in another dimension of time and space where day-to-day problems and the things that we consider important lose all meaning. This is another way to experience life, to feel alive.
What are you reading that you can recommend?
Ramón Puig Cuyàs: Theory of the Creative Intelligence by Jose Antonio Marina. It is an interesting essay about the mysterious aspects of creating and how to discover the mechanisms of that mystery. It is about creating through inspiration or from work and persistent efforts. Another theme of the book is that from certain natural proclivities you can learn to be creative.
What are you seeing that is important?
Ramón Puig Cuyàs: I'm still not sure if it is necessary to find something important. I believe that basically it is exactly the not wanting to make something important that is important. Simply trying to be oneself, trying to find equilibrium with people, and above all to live in harmony with nature, and knowing how to live in the moment, desiring few possessions.
Thank you.