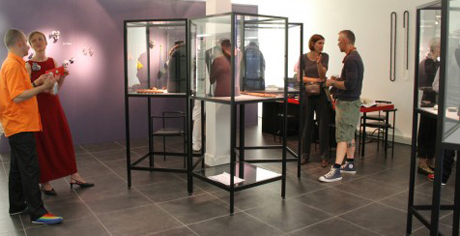 Sieraarden is a play on words – sieraad being the Dutch word for a piece of jewelry, and aarde meaning earth. Hoogeboom is engaged in an exploration of the earth, from what is beneath the surface to the fruit the soil bears. Poetically, he utilizes clay, an actual piece of earth, to explore the archeological finds and ancient food and drink containers he finds fascinating.According to Hoogeboom this new collection exists in three chapters, all of which feature tiny clay vessels combined together using traditional jewelry techniques and materials such as stringing, chain, and setting.
The complex necklaces like Grey Clay Days and Clay Feet boast hundreds of hand cast vessels, each with a small cork stopper as if to offer the wearer tiny sips of refreshment, medicine, or potion. In these works Hoogeboom marries ceramic techniques featured in earlier collections, like casting individual elements and coloring clay bodies, with new strategies including "action" painting slip into the molds and casting other types of clay. The result is a stunning collection of necklaces reminiscent of both African tribal jewelry like the Ait Atta and Elizabethan ruffs. The works posses impressive visual weight but are surprisingly light on the body.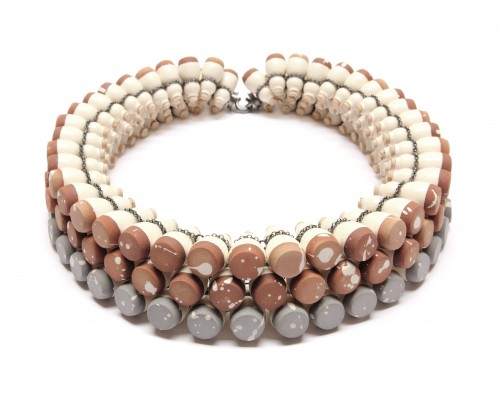 Alongside these techniques he has adopted glass casting strategies in the creation of his North Sea brooch series. Using heat resistant molds Hoogeboom purposefully fuses the small glazed vessels together to create a structurally unified jewel to be set. These works immediately conjure archeological finds on the sea bed of the Aegean – but Hoogeboom suggests that the North Sea is their origin, in effect creating a new artifact, one that points to his time and his culture. Most of the North Sea Series pieces are glazed blue and white, perhaps a reference to Delftware pottery, traditionally made in the Netherlands since the 16th Century.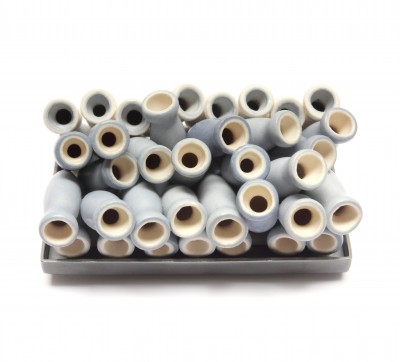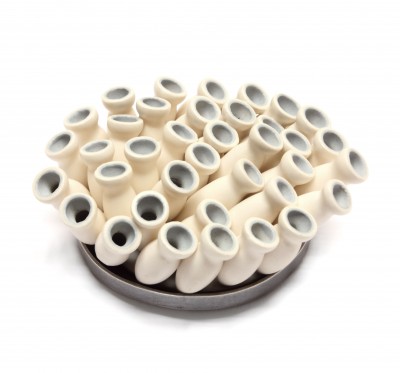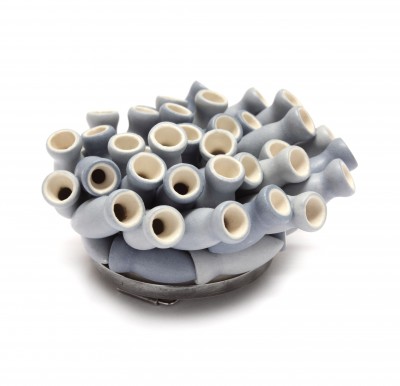 The reference to Dutch culture is amplified by Sieraarden's third chapter. Not surprisingly Hoogeboom's past works have been labeled as "ethno", meaning that they stylistically reference the work of ethnic or primitive cultures. At first resistant to the idea, Hoogeboom has come to own the term and is now subverting its meaning in works like Westland , Ora et Labora and West-Friesland. Rather than referring to people culturally different from himself, he is using the label "ethno" to refer to his own culture, the culture of the Dutch.
"In Sieraarden I wanted to include a third chapter with flowerpots – a very Dutch and common object in the Holland I grew up in – I wanted to state that even using elements that are un-exotic and very Dutch, my work has an "ethno" look. In my opinion this look is a product of the choice and treatment of the natural materials I use. And through repetition! I therefore used very Dutch titles for my pieces in Sieraarden, I happen to live in a land of clay!"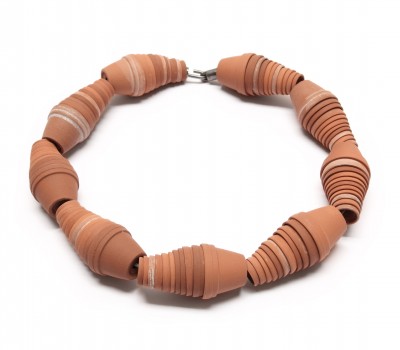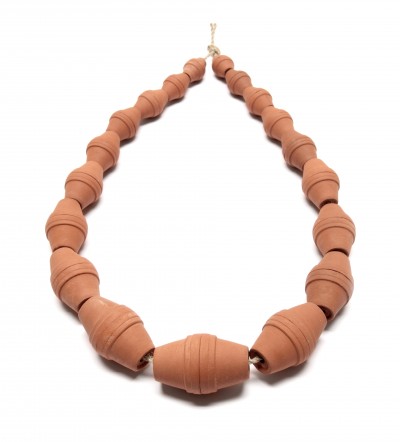 Hoogeboom's fascination with other cultures started in his childhood. He grew up in Leiden, the museum city of the Netherlands. "The Museum of Ethnology was my absolute favorite. I could dream away with all those strange and beautiful artefacts, costumes and utensils from far-away exotic cultures." He also credits this experience with his love for travel, and like most jewellers, a preference for small things.
"September 2009 I visited China and took the train to Xian to see the terracotta army east of the city. In Xian I learned about another army: of miniature soldiers, but also many, many domestic animals: cows, goats, dogs, horses, etc. Endless rows of pots, puppets, partly fallen over and out of their neat rows. Beautiful. This impressed me more than the well known other bigger army."
The rows and rows of slightly askew clay objects now quietly turn around the neck of the wearer of Peter's work. So, why clay? It obviously supports the conceptual basis of the work but how and why do jewelers integrate a non-traditional material into their practice so seamlessly?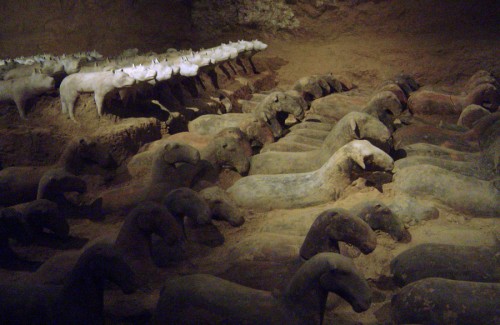 "I like the way metal looks, but I dislike the rigidity of metal. Metal is hard, not pliable. I always have loved the looks of ceramics too: dishes, plates, cups, artwork out of clay. During my jewellery education I had plans to try to turn ceramics into jewellery. It took me a few years after graduation to execute these plans. A work grant I got after leaving art academy enabled me to buy my own kiln and other equipment and tools to explore the world of clay. I took courses and fell in love with clay, its pliability and its plasticity, in complete contrast with the working in metals."
Hoogeboom believes that the great thing about being a jeweller is that size matters. Since jewelry is small it doesn't take a great investment to use materials like it would if the work were monumental in scale. A great deal of control can be exercised by a jeweller, at a smaller scale, with materials in smaller quantities, giving the freedom of exploration to the jeweller. Hoogeboom considers himself a "material fetishist". "I like materials. I want to explore them and find their possibilities -preferably new ones- as well as their limitations."
Sieraarden is the fruit of a straightforward material exploration but also a subtle but direct meditation on the earth which bears our food, our history, and the material for Hoogeboom's work.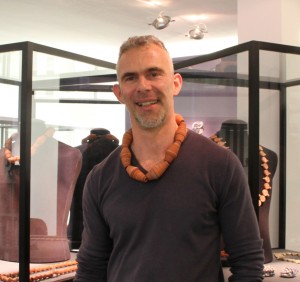 Peter Hoogeboom's Sieraarden is on view at Galerie Ra until October 12, 2011. Jewelry photos by Francis Willemstijn. More info at http://www.galerie-ra.nl/en/hoogeboom.
Kerianne Quick is an American materialsmith and craft writer currently living in Amsterdam, The Netherlands.