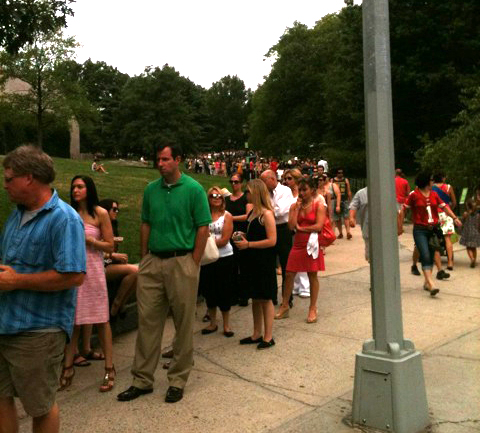 Rebecca Annand reports for AJF: Alexander McQueen: Savage Beauty, The Metropolitan Museum of Art
Enter New York's Metropolitan Museum through the Great Hall. Pass by the entrances to Greek and Roman Sculpture and Egyptian Galleries to a narrow side escalator. Go up to the second floor along the balcony, through Buddhist sculptures and past cases of Islamic decorative arts. Depending on the day, the line to get to this point may have taken up to an hour. If you went during the final week of the show, then it almost certainly took longer. The last Sunday afternoon, the exact wait time was two hours and forty-five minutes, with still another hour, and an entire Hellenistic Sculpture collection, to go before reaching the official entrance. This is the line to Alexander McQueen: Savage Beauty.McQueen was a designer with sweeping interests in art and social history, popular and world cultures, literature, politics, and especially the history and traditions of his medium. These influences become siphoned through a single distinctive personality that produced the featured collections, and all within two decades. The show, which ran from May 4- August 7, 2011, displayed over 100 pieces from throughout the late designer's career. Thematic rather than chronological, distinctive environments emerged to separate the collections into pointed views, all surrounding the central theme of Romanticism.
Rooms included a warehouse-like space with concrete slab walls for his graduate collection Jack the Ripper Stalks His Victims (1992). This room, "The Romantic Mind," also included various suits with stylized silhouettes and served as an introduction to McQueen as designer and his background as a tailor on London's Savile row. Further on in the show, viewers were treated with a trip to a bizarre parlor in "Romantic Nationalism." Wooden parquet walls and faux candle sconces made up a room with an electric guitar rendition of "God Save the Queen" echoing between tartan clad pieces from the Widows of Culloden (Autumn/Winter 2006–7). In a separate room, a "Romantic Gothic" scene played out with blackened mirrors and gilded molding. This dark suite highlighted pieces from several collections including Dante (Autumn/Winter 1996-1997) and Supercalifragilisticexpialidocious (Autumn/Winter 2002-2003), a collection heavily influenced by Tim Burton. Leather masks and corseted gowns in varying shades of black with the occasional purple were staples in a room of opulent constructions complete with beading, fringe, feathers and leather straps.