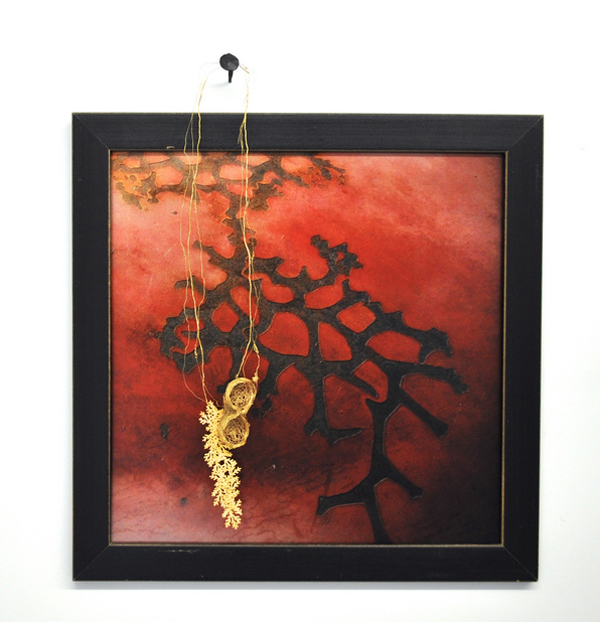 Missy Graff: How did you come up with the concept for this exhibition? What importance do perspective and invention have for jewelry?
Jane Groover: The concept for this exhibition came about through some intriguing photographs of new work by four artists whose jewelry we have previously exhibited. The work looked fresh and evocative to us, and each artist seemed to have a clear frame of reference for what they were researching and making. Perspective and invention have importance in all forms of art. As a gallery, we are often subjected to looking at jewelry that is derivative and that doesn't understand the meaning of personal perspective. When we see work that is inspired and has a point of view, we are charmed.
Can you please explain why you chose these four artists—Kristin Beeler, Kyunghee Kim, Iker Ortiz, and Donna Veverka—to be in the show?
Jane Groover: We initially began planning the exhibition when we saw photographs of Iker Ortiz's new steel work inspired by the Zollverein Coal Mine industrial complex in Essen, Germany. It is a UNESCO World Heritage Site regarded for its exceptional architectural merit. Iker used the structure of the buildings to design a linear group of steel rings and earrings that are based on geometric forms and spatial relationships that wear like a line drawing.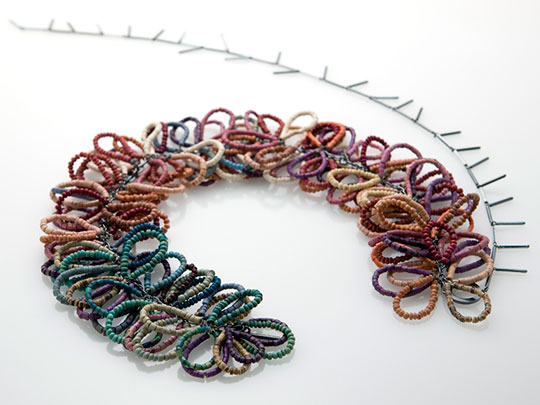 At about the same time, Donna Veverka sent photos of her new work inspired by architectural fragments in Rome. She has spent time in Italy, and her dramatic marble and sterling silver jewelry, including necklaces, earrings, rings, and brooches, recall the rubble found in archeological sites. She carves marble columns that are strapped into sterling rings and set with prongs in necklaces. The scale and grandeur of ancient monuments become jewelry with a tactile connection to the past.
Kristin Beeler's brilliant new work Rag and Bone Shop seemed like a great contrast to Ortiz and Veverka's work. Kristin has been using photographs combined with jewelry to deliver a personal perspective regarding the object and memory. This work is intense in detail, fragile at times, and nostalgic in its use of found objects incorporated into jewelry that is edited and punctuated with sterling and fine silver, vermeil, mother-of-pearl, leather, silk, wood, and pearls.
KyungHee Kim's romantic gardens of sterling silver, enamel, and wood continue her series based on her "Salvia Garden" poetry. She uses tiny blossoms and beads in repetition to create jewelry that is dramatic in scale and based on her childhood memories and dreams. Kim understands well the relationship between the maker and the model, and her jewelry is an expression of perfect proportion and articulation.
How do these artists' pieces compliment each other? Can you give some examples?
Jane Groover: The work of Iker Ortiz and Donna Veverka compliment each other in their references to specific architecture. Veverka's work is based on ancient Roman marble columns and Ortiz's work on twentieth-century steel buildings. To see their work together is an exciting contrast in ancient and modern.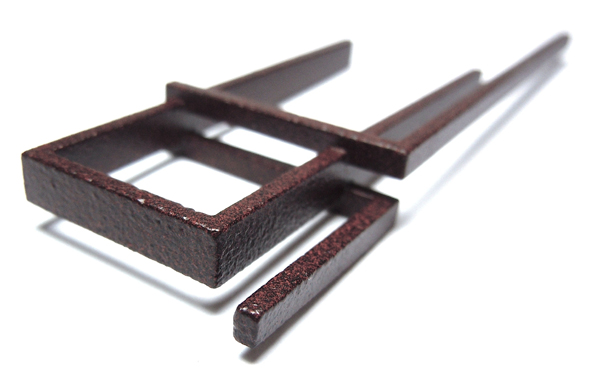 Kristin Beeler and KyungHee Kim make work that recalls the nostalgia of memory. They both use organic visual references, yet they each have a deeply personal point of view. Beeler makes work about frostbite, smoke, tracks, and signs, and Kim's work is exclusively about salvia plants and gardens. Their work is visually quite different, but the differences make a surprisingly interesting juxtaposition.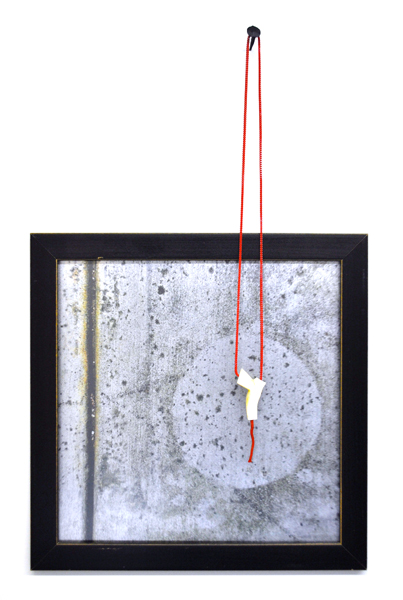 Jane Groover: The challenge is always finding work that fulfills our intention for the exhibition. This concept allowed us to be subjective about the artists and the work we wanted to show. It was fortuitous that our artists of choice accepted the invitation to participate.
Did you work with the artists to decide what the displays would look like?
Jane Groover: The only artist we worked with on display was Kristin Beeler. Some of her work involves jewelry displayed with photographs, and we wanted to make certain that she approved of the way we put those pieces together.
Is there a catalogue being made for Perspective and Invention?
Jane Groover: There is no catalogue for this exhibition.
What would you like your viewers to take away from this show?
Jane Groover: We would like our viewers to recognize and celebrate the meticulously conceived and executed jewelry exhibited in Perspective and Intention. We are fortunate to know these artists and have the privilege of sharing their work and ideas with our clients.
Thank you.