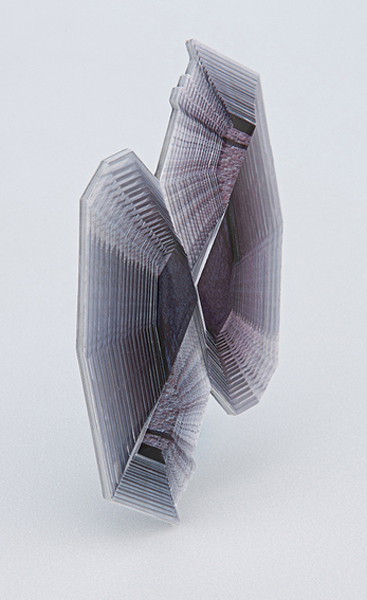 Mill Valley, CA, September 1, 2013—Susan Cummins, Chair of Art Jewelry Forum (AJF), and Susan Kempin, AJF Award Program Chair, are pleased to announce Sooyeon Kim was selected to receive the 2013 Art Jewelry Forum Artist Award for an Emerging Jeweler. Kim was chosen from 134 entries representing 34 countries. Jurors making the selection were Ruudt Peters, professor at Alchimia Contemporary Jewellery School, Florence, Italy; Lindsay Pollock, Editor in Chief of Art in America and contemporary jewelry collector; and Noon Passama, jeweler and 2012 recipient of the AJF Artist Award.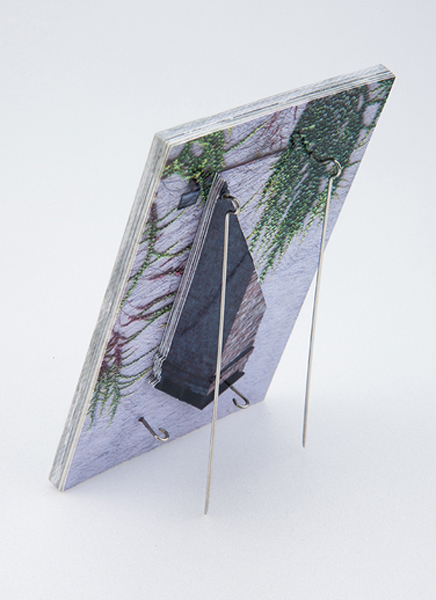 Criteria used in judging were originality, depth of concept, and quality of craftsmanship. Kim's jewelry was created from photographs, paper, epoxy, resin, varnish, and fine silver. Kim explores the experience of memories through the camera and the computer. Kim says day-to-day images and encounters with people are like tattoos in her mind. Through her work, she transforms these memories into spatial forms and has found a way to make memories into wearable jewelry pieces.
This year's jury wanted to select a recipient whose work was fresh and exciting. Here's what they said: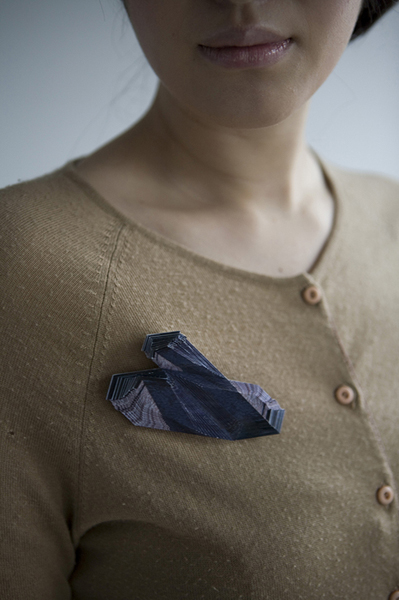 These very intriguing photo works are offering a new view on jewelry, the memories of a particular place are frozen in photos in such an abstract way that the viewer can dream his or her own dream. The personal memory becomes universal. Ruudt Peters
The brilliant use of photography in constructing these brooches was not evident at first, but one immediately notices that the pieces have a sense of motion and almost film-like quality, reminding me of Eadweard Muybridge's motion studies. The brooches also seem to riff on a gem-like structure. Lindsay Pollock
Sooyeon Kim earned a master of fine arts in jewelry and metalsmithing in 2010 from the Rhode Island School of Design, Providence, Rhode Island, USA. In 2007, she received a bachelor of fine arts from the Sookmyung Women's University, Seoul, Korea.
Art Jewelry Forum is a nonprofit organization spreading awareness and increasing appreciation of art jewelry worldwide since 1997. It is a diverse community of artists, collectors, critics, educators, galleries, historians, makers, and writers united by a passion for art jewelry. AJF advocates for art jewelry through an ambitious agenda of education, conversation, and financial support. It commissions critical writing that sets the standard for excellence in the field and publishes artjewelryforum.org, an Internet resource for original content on art jewelry.
CONTACT
Marthe Le Van, Communications Director
Art Jewelry Forum
(828) 575-2294
####