September 2022, Part 1
There are so many reasons to purchase art jewelry…
You got that hard-earned promotion—celebrate!
You're experiencing a once-in-a-lifetime occasion—honor it.
You wrapped up that major accomplishment—pay it tribute.
You want to mark the beginning of a new relationship or the end of one—commemorate it.
Perhaps it's an investment—do it!
It's the perfect piece to round out an aspect of your collection—pounce!
Or maybe it's as a treat for yourself—just because.
Art Jewelry Forum's international gallery supporters celebrate and exhibit art jewelry. Our monthly On Offer series allows this extensive network of international galleries to showcase extraordinary pieces personally selected to tempt and inspire you. Take a look. You're bound to find a fantastic piece you simply have to add to your collection! (Please contact the gallery directly for inquiries.)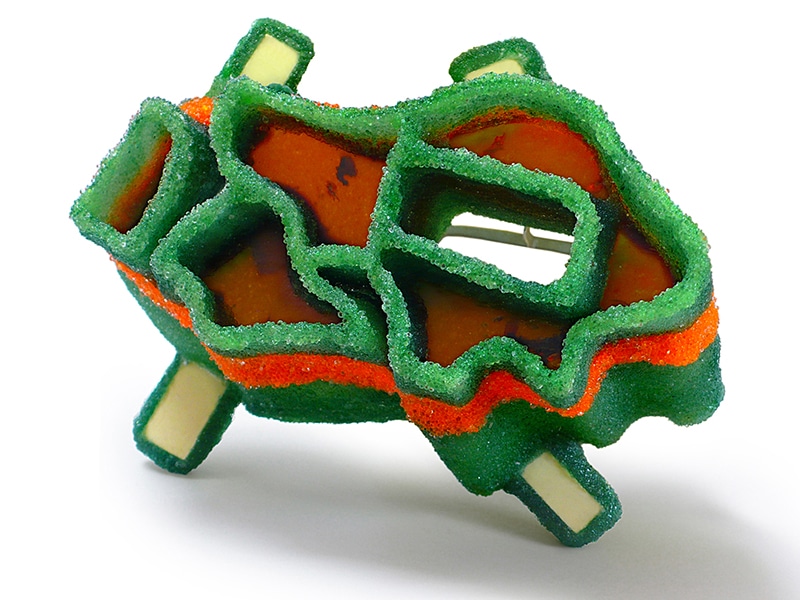 Gallery: Galerie Spektrum
Contact: Jürgen Eickhoff
Artist: Andrea Wagner
Retail price: €2,280
A wonderful brooch with a fantastic title from an outstanding Dutch/German artist.
Gallery: Galeria Tereza Seabra
Contact: Tereza Seabra
Artist: Caio Mahin
Retail price: €380, plus shipping
Currently studying at Campus Idar-Oberstein, Caio Mahin makes work that is all about fairy tales, as cultural themes like racism and sexism are often based on them. His goal is to open a politicized look at these stories by showing how they affect adult behavior, but also to overcome and twist narratives that often exclude non-normative bodies or turn them into obscure ones. In doing so, German folk tales have proven to be a great contribution to his canon, as have old toys, the mechanisms of which create clear narratives.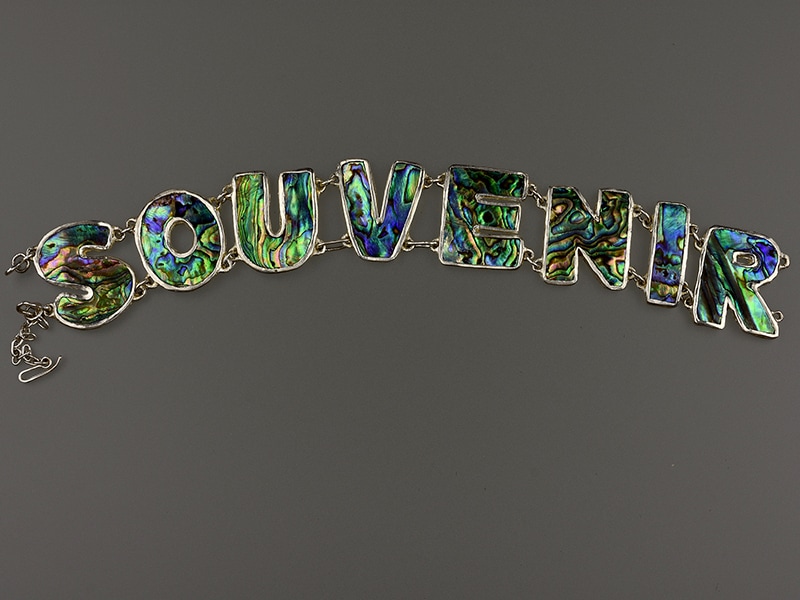 Gallery: Fingers Gallery
Contact: Lisa Higgins
Artist: Jennifer Laracy
Retail price: NZ$1,610
Jennifer Laracy has a story to tell. The work in her most recent show is a tribute in objects to her late grandfather and jeweler Morris Lionel Win, born in Waimea South, Nelson, NZ, in 1915. Laracy is echoing her grandfather's palette by restricting her usually broad material library to Paua shell, silver, and gold. Letting her hands do the thinking, she makes peace with Paua's complex history, and using techniques passed down through the generations, honors the life and work of an important family member and mentor. Laracy lives and works in New Plymouth, New Zealand.
Gallery: Galerie Door
Contact: Doreen Timmers
Artist: Philip Sajet
Retail price: €8,000
This marvelous Wolves necklace, by Philip Sajet (1953, Amsterdam), shows that his work still occupies an exceptional position in the art jewelry landscape. Sajet's work tells of the jewel, beauty, and seduction, and his craftsmanship is phenomenal. Sajet made this necklace especially for the exhibition Flowers and Wolves. It consists of five wolves' heads—cut and folded from thin silver plate—with red eyes and a rough niello surface. The coarse niello, the dangerous wolf, contrasts and is kept in check by the soft shine of pearls laced with gold thread. Flowers and Wolves is the 20th exhibition and the start of the fifth anniversary of Galerie Door. On display until November 5, 2022.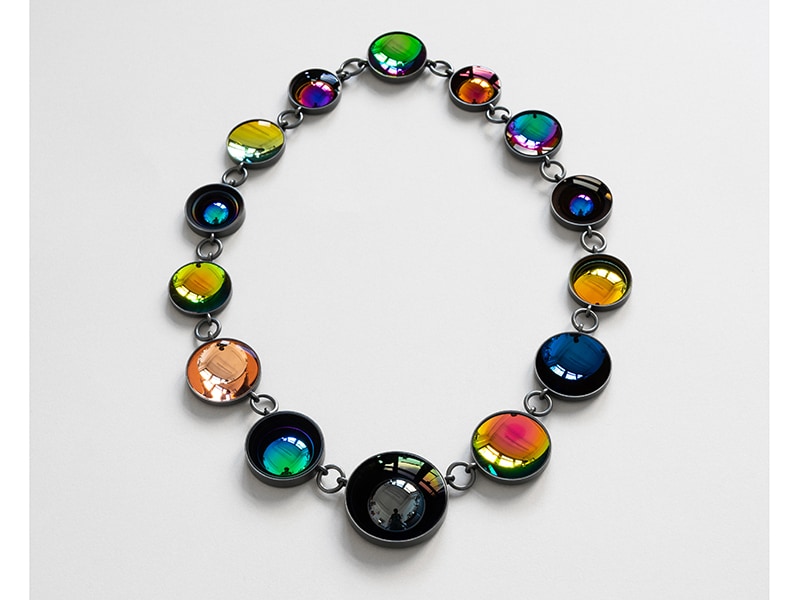 Gallery: ATTA Gallery
Contact: Atty Tantivit
Artist: Jiro Kamata
Retail price: 203,500 THB
This eye-catching, one-of-a-kind necklace is from Jiro Kamata's newest series, Holon. The Holon series has been exhibited at Alien Art Center in Kaohsiung, Taiwan, in a duo exhibition with a French photographer titled Hope; during Munich Jewelry Week in a group exhibition; and now at ATTA Gallery, in Bangkok, in a joint solo exhibition with a Thai photographer. A necklace from the Holon series was recently acquired by the Museum of Arts and Design, in NYC.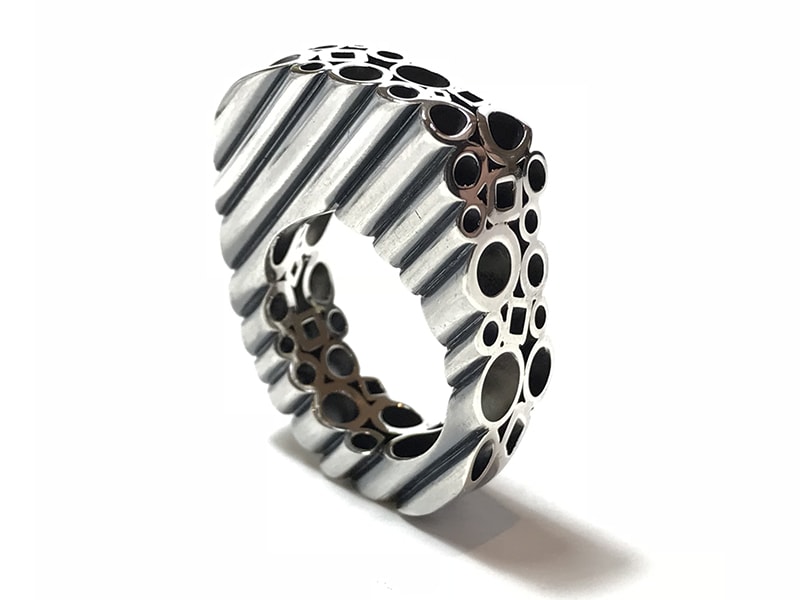 Gallery: Zu design
Contact: Jane
Artist: Simon Williams
Retail price: AUS$880
Simon Williams created the Pipes series after he saw pipe organs on a trip to Copenhagen. The collection of different-sized polished tubes which create varying notes were reminiscent of geological forms that he had seen the week before in Iceland. These pieces are a perfect combination of Williams's passion for both geological forms and contemporary jewelry.
Gallery: Thereza Pedrosa Gallery
Contact: Thereza Pedrosa
Artist: Jacqueline Ryan
Retail price: €1,700
Jacqueline Ryan's works are micro natural cosmos captured in the eternity of gold and enamel. Each creation, inspired by natural elements such as plants, leaves, and sea creatures, comes to life the moment it is worn and interacts with the wearer.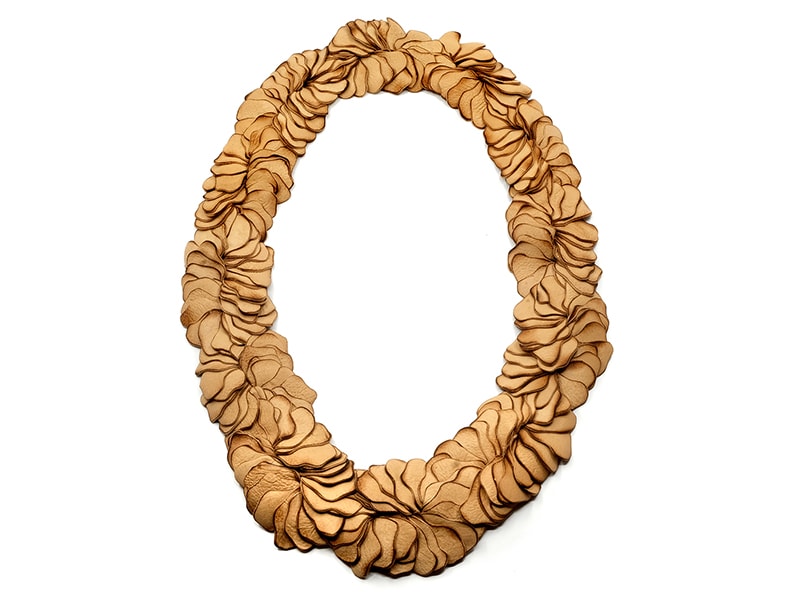 Gallery: Platina Stockholm
Contact: Sofia Björkman
Artist: Karin Roy Andersson
Retail price: US$1,900
A constant search for new materials to recycle, and the interplay between her and the qualities of the materials—these challenge and motivate Karin Roy Andersson. The series with reindeer leather began when she collaborated with a Sami woman from Sapmi, in the north. The two artists have shared materials, experiences, and sources of inspiration, knowledge, and techniques.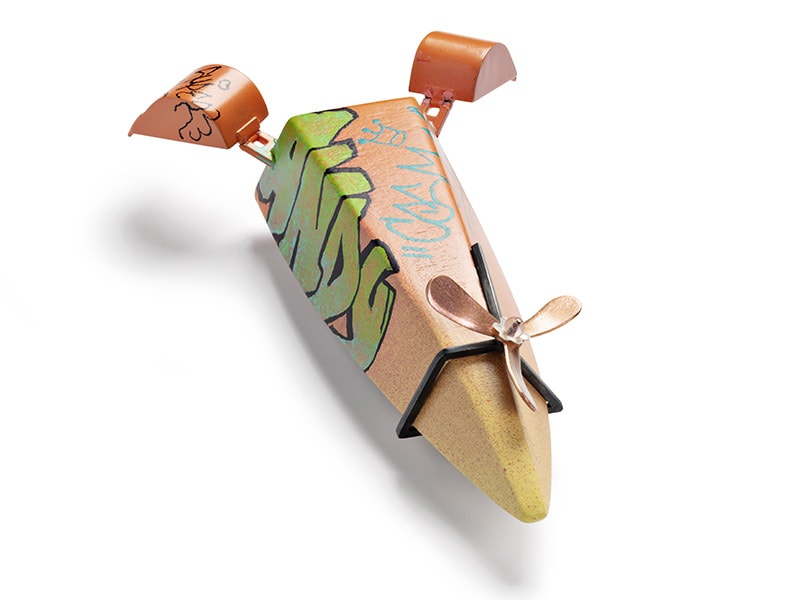 Gallery: Four Gallery
Contact: Karin Roy Andersson
Artist: Marie-Louise Kristensen
Retail price: US$1,500
Marie-Louise Kristensen is a storyteller. Her work consists of everyday impressions and observations but also her own additions and reflections. With humor, warmth, and some sharp arrows, Kristensen creates a universe with a very special gravity.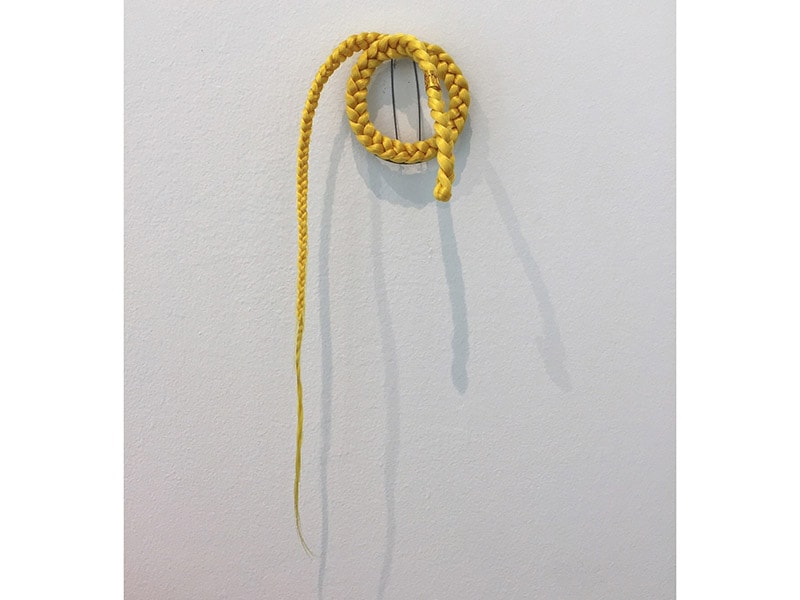 Gallery: Baltimore Jewelry Center
Contact: Shane Prada
Artist: J Taran Diamond
Retail price: US$315
J Taran Diamond is a metalsmith and interdisciplinary craft artist based in Athens, GA. They study and teach at the University of Georgia and hold a BFA from the University of North Texas. Diamond's work has been exhibited nationally and internationally, including exhibitions at New York City Jewelry Week, Munich Jewelry Week, and the Czong Institute of Contemporary Art in Gimpo, South Korea. Outside of the studio, Diamond is an advocate for Black people in academia, and works to dismantle the systemic barriers that make higher education inaccessible to Black people. They created this work during their recent one-month artist residency at the Baltimore Jewelry Center.
Gallery: Galerie Noel Guyomarc'h
Contact: Noel Guyomarc'h
Artist: Sophie Hanagarth
Retail price: CAN$1,325
Sophie Hanagarth continues her search for symbols. With finesse, with exceptional know-how, and a sense of volume, she forges iron to destabilize us from the usual forms of jewelry. This cuff bracelet, Face à Face, very different from its Traquenards (Traps) series, imposes itself with force and unequivocally on the wrist.