October 2022, Part 1
There are so many reasons to purchase art jewelry…
You got that hard-earned promotion—celebrate!
You're experiencing a once-in-a-lifetime occasion—honor it.
You wrapped up that major accomplishment—pay it tribute.
You want to mark the beginning of a new relationship or the end of one—commemorate it.
As an investment—do it!
It's the perfect piece to round out an aspect of your collection—pounce!
Or maybe it's as a treat for yourself—just because.
Art Jewelry Forum's international gallery supporters celebrate and exhibit art jewelry. Our monthly On Offer series allows this extensive network of international galleries to showcase extraordinary pieces personally selected to tempt and inspire you. Take a look. You're bound to find a fantastic piece you simply have to add to your collection! (Please contact the gallery directly for inquiries.)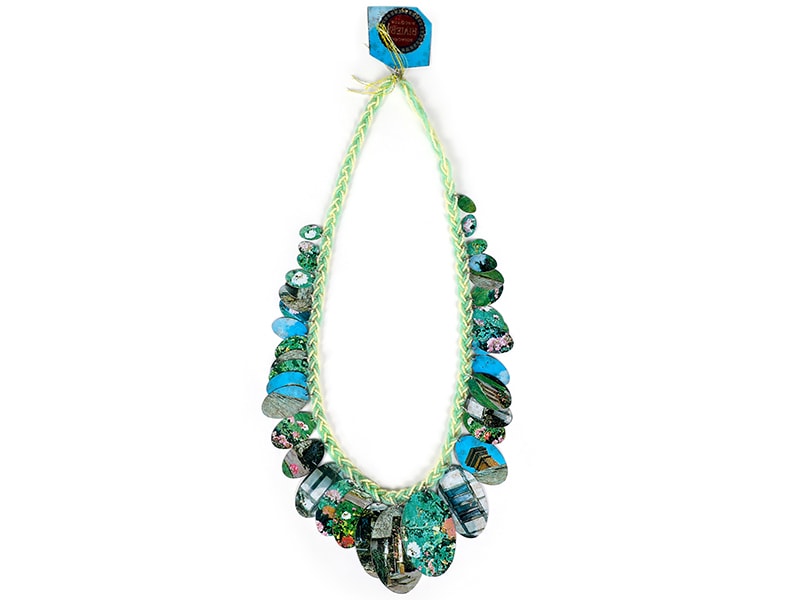 Gallery: Galeria Tereza Seabra
Contact: Tereza Seabra
Artist: Catarina Silva
Retail price: €920, plus shipping
"Love letters, an old photo, a rock with your beloved's name, a broken beaded necklace, a swimming pool … how many memories can be saved in an old cookie box! Memories of intimate relationships that are collected and that are recalled in melancholy days." —Catarina Silva, 2021
Gallery: Galeria Reverso
Contact: Paula Crespo
Artist: Felieke Van Der Leest
Retail price: €3,000
This piece is part of Reverso's current exhibition, Pop It or Pin It. "The most important part of bubble wrap is the invisible air in the bubbles," says Felieke Van Der Leest. "Visible and materialized in clear resin, it has become cabochon cargo to be transported by the silver Bubble Train."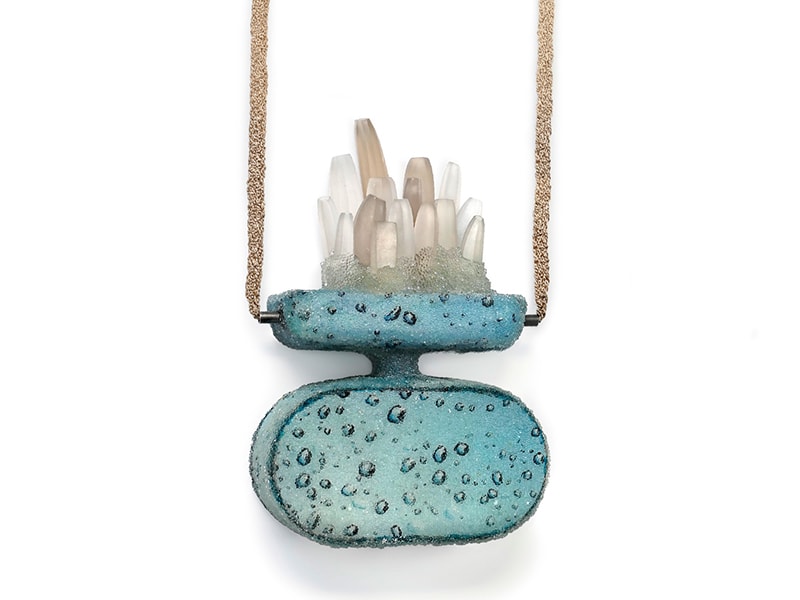 Gallery: Galerie Noel Guyomarc'h
Contact: Noel Guyomarc'h
Artist: Andrea Wagner
Retail price: CAN$4,700
Water is everywhere, essential to all forms of life. It soothes us through its soft splashes, and its sparkling waterways bring us peace and tranquility. Andrea Wagner's works are composed of crystals that are either cut in quartz or cast in transparent resin, and through which one can glimpse the photographed or drawn patterns of ripples and reflections on the surface of the water. The faceted crystals evoke the shimmer of the sea while bearing a multitude of translucent granules that are reminiscent of fine droplets. Wagner looks at the eternal nature of water, which can change its state infinitely—from solid to liquid to gas.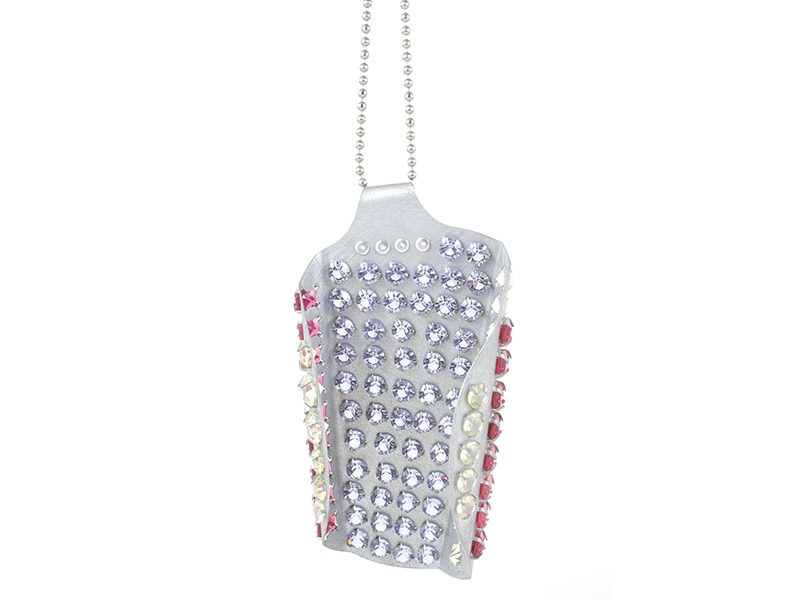 Gallery: Baltimore Jewelry Center
Contact: Shane Prada
Artist: Everett Hoffman
Retail price: US$750
Everett Hoffman is a cross-disciplinary artist, curator, and writer currently completing a three-year residency at Penland School of Craft, where he lives with his partner and their dog, Clementine. Hoffman received his MFA from Virginia Commonwealth University (2018), and BFA from Boise State University (2013). He has completed residencies at Arrowmont School of Art and Craft (2018–2019), and the Baltimore Jewelry Center (2019). This work was on view as part of The One and the Many: A Metal Shop Exhibition of Art and Production Jewelry at the Baltimore Jewelry Center.
Gallery: Sculpture To Wear
Contact: Lisa M. Berman
Artist: 2Roses
Retail price: US$2,500
To attempt to create a wearable object from a fragile egg is daunting at best, and then actually engineering it is incredibly challenging. Elegant and streamlined, this piece is fastened with absolute precision (eggs provide no flexibility) as it is tension set in its own cradle. It took two months to create this royal masterpiece. 2Roses's work is known for its humor and use of unconventional materials. Many of the ideas expressed in their work play with concepts of class, status, and power as drivers of human behavior. This emu-egg ring explores the clash of style over substance through the contradiction of form and function.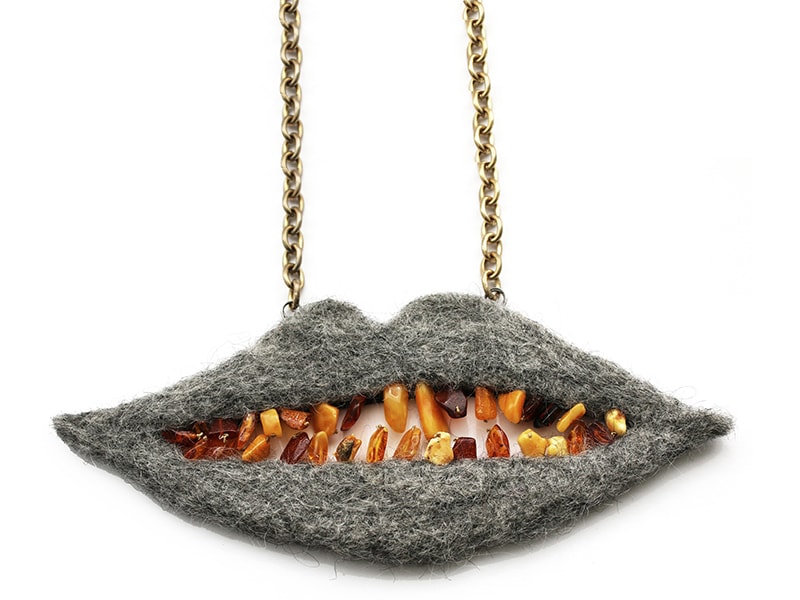 Gallery: Platina Stockholm
Contact: Sofia Björkman
Artist: Elin Flognman
Retail price: US$900
Elin Flognman's work is a tribute to everyday life and the things that surround us. What we may not have thought could be jewelry is exactly what she picks up and makes jewelry from. It can be a potato or a butter knife, or—as in this necklace—she puts together material in a way that turns beauty into ugliness or the other way around. The results are always unexpected and filled with humor. Elin Flognman is a Swedish jewelry artist. She received her MFA in jewelry art from HDK – School of Design and Crafts, in Gothenburg, in 2013.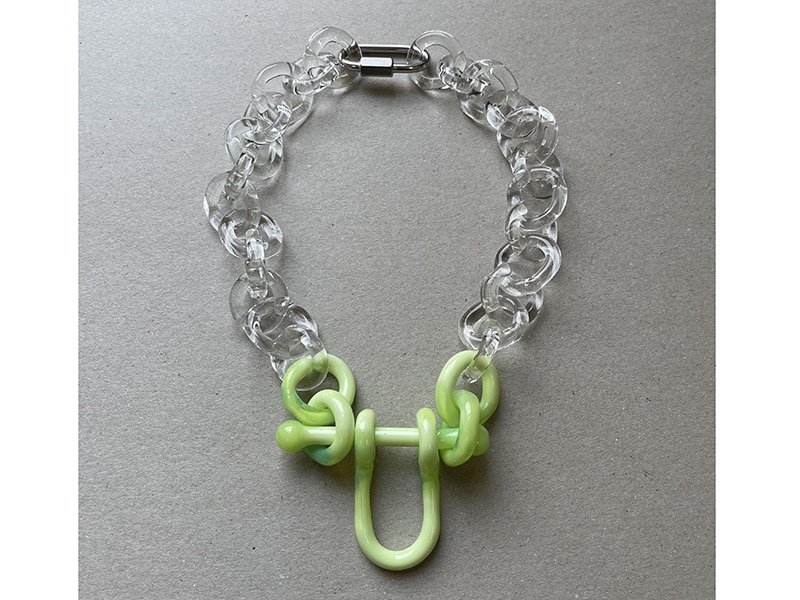 Gallery: Zu design
Contact: Jane Bowden
Artist: Danielle Rickaby
Retail price: AUS $850
d shackle, in lime green, was made as part of a series of three lampworked borosilicate glass neckpieces by Danielle Rickaby. The sound the links make as they move against each other is beautiful. This work was created for an exhibition of local South Australian makers currently showing at Zu design. The gallery invited makers to respond to the title Odds & Ends.
Gallery: Fingers Gallery
Contact: Lisa Higgins
Artist: Andrea Daly
Retail price: Each NZ$750
Influenced by her Catholic upbringing in the Hokianga area of Northland, Andrea Daly's works possess a Catholic sensibility in terms of their beaded, embroidered, and golden surfaces and the use of literal and abstract religious iconography. Although no longer a practicing Catholic, she is what has been termed an "ethnic Catholic" in the sense that Catholic knowledge and sensibilities remain deeply ingrained and these sensibilities continue to inform and be celebrated within her making. Daly has a post-graduate diploma in visual arts majoring in contemporary jewelry from Sydney College of the Arts, and a master's in philosophy majoring in art history from Auckland University.
Gallery: Four Gallery
Contact: Karin Roy Andersson
Artist: Jenny Edlund
Retail price: US$840
Jewelry art is a collaboration between the brain and the body. Ideas create nerve impulses that initiate a complex series of movements and they are affected by the qualities of the materials and tools. New signals are sent back, leaving their imprint and moving the process forward. To Jenny Edlund, art-jewelry-making is a way of processing impressions. Big questions and small problems are handled through her creative process.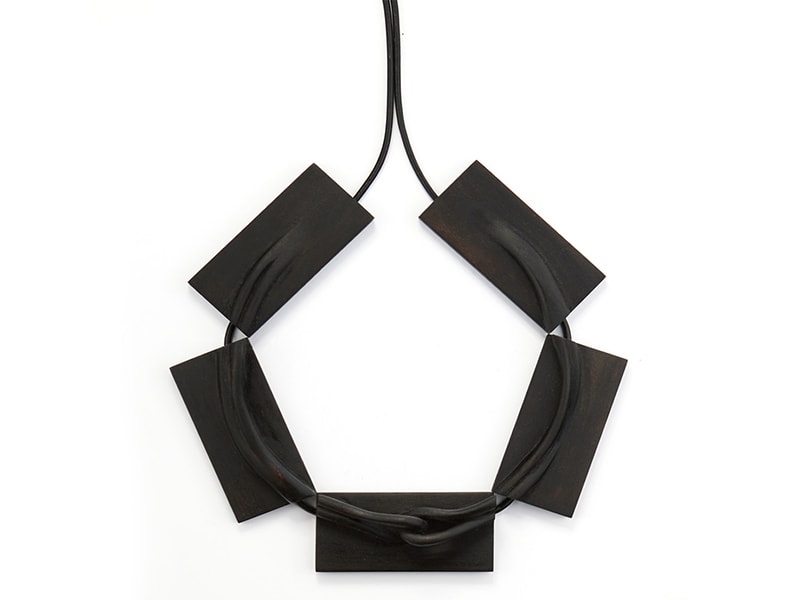 Gallery: Gallery Loupe
Contact: Patti Bleicher
Artist: Steven KP
Retail price: US$2,800
At first glance the elegant wooden jewelry by American artist Steven KP (he/they) appears to be just that. Yet these lyrical objects must also be read as metaphors for the queer lived experience. Although not readily apparent upon an initial viewing, their graceful, meticulously carved gestures denote a need among queer people to pass as conventional to be safe, just as the jewelry actually passes between spaces via flowing lines which, nonetheless, remain stationary—thus symbolizing stable queer relationships and dependencies—each self-reliant as it loops around and folds over onto itself.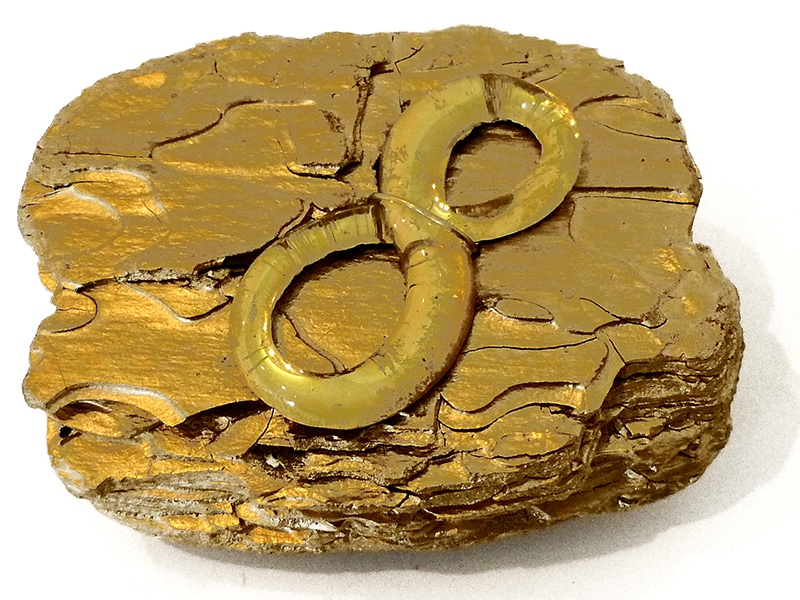 Gallery: Galerie Spektrum
Contact: Jürgen Eickhoff
Artist: Marianne Schliwinski
Retail price: €1,650
Marianne Schliwinski's Golden Eight brooch combines the symbol of eternity, the color of abundance, and the material of nature. These different symbols are brought together by the artist in a harmonic unity. In Schliwinski's work you always find elements that require a second look.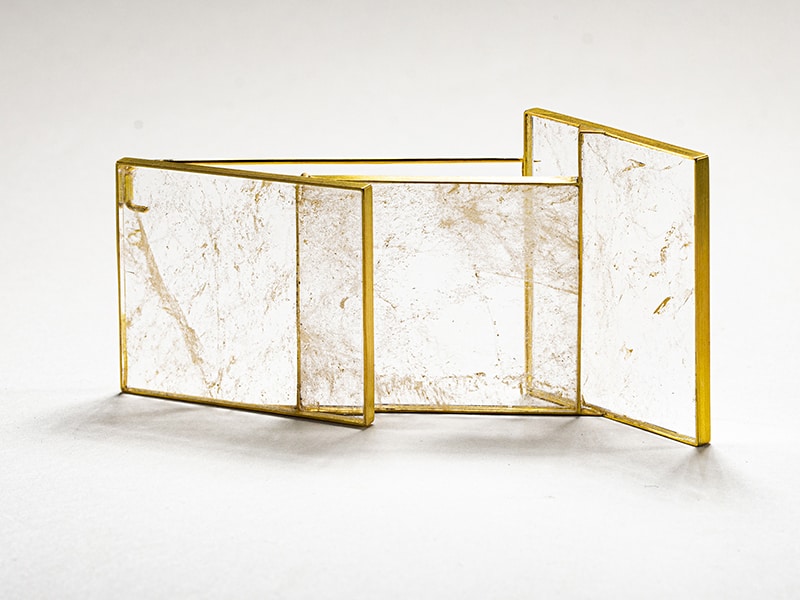 Gallery: Gallery Viceversa
Contact: ilona Schwippel
Artist: Etsuko Sonobe
Retail price: 3,900 CHF
The clarity of her formal language allows Etsuko Sonobe to approach the ornament under the angle of a geometry in which the light occupies a place of choice, that of the drunkenness of the depths of this fourth state of the matter to which the poet invites us. Impressed by the essential force of the materials, she wonders how we look at the future.