There are so many reasons to purchase art jewelry…
You got that hard-earned promotion—celebrate!
You're experiencing a once-in-a-lifetime occasion—honor it.
You wrapped up that major accomplishment—pay it tribute.
You want to mark the beginning of a new relationship or the end of one— commemorate it.
Perhaps it's an investment—do it!
It's the perfect piece to round out an aspect of your collection—pounce!
Or maybe it's just to treat yourself—just because.
Art Jewelry Forum's international gallery supporters celebrate and exhibit art jewelry. Our monthly On Offer series allows this extensive network of international galleries to showcase extraordinary pieces personally selected to tempt and inspire you. Take a look. You're bound to find a fantastic piece you simply have to add to your collection! (Please contact the gallery directly for inquiries.)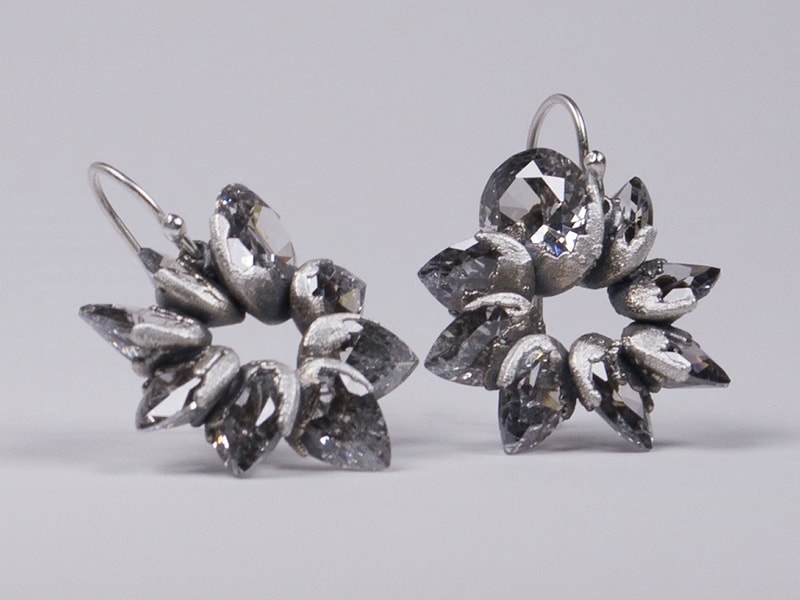 Artist: Ambroise Degeneve
Gallery: Mydaybyday Gallery in Rome
Contact: Laura Helena Aureli
Retail: €1,250
Mydaybyday Gallery, in Rome, is featuring the beautiful artwork of artist Ambroise Degeneve, with his earring collection from 2021's Oxydo-reduction series, in cubic zirconia, oxidized silver, white gold, and copper. "Through my work," says Degeneve, "I try to create hybrid pieces. [I look] for codes and techniques from different periods in the history of jewelry. Anachronism becomes a way of working."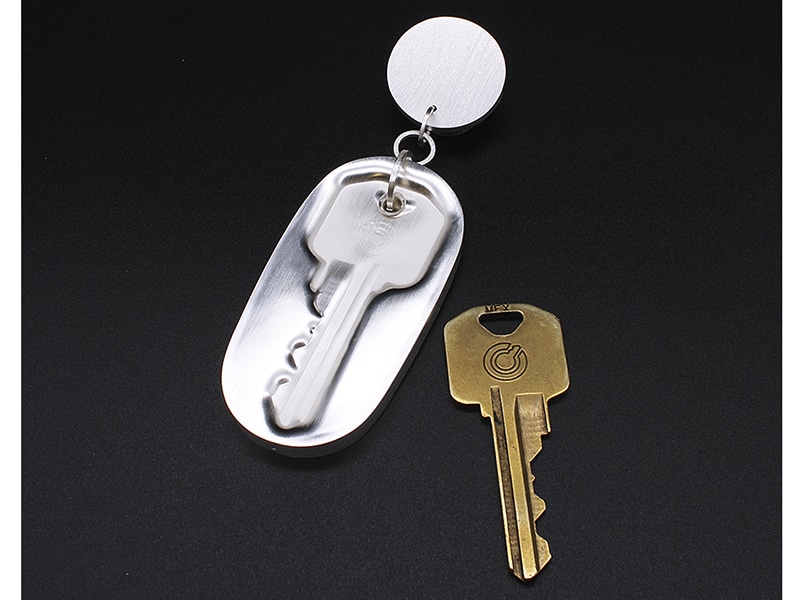 Artist: Kerianne Quick
Gallery: Baltimore Jewelry Center
Contact: Shane Prada
Retail: US$375–$450
Kerianne Quick is a Californian artist/craftsperson and associate professor of jewelry and metalwork at San Diego State University. Quick received her BA (cum laude) in applied design from San Diego State University, and her MFA in metal (with distinction) from the University of Illinois Urbana Champaign. Having recently completed a three-month mid-career residency at the Baltimore Jewelry Center, Quick, in her most recent work, explores friendship, tools of access, and memory. In the series Mournings, keys to spaces from the artist's past act as powerful symbols of power, security, and protection. Jewelry is always poised to start a conversation and reveal deeply personal, otherwise hidden, information about ourselves and others. Quick uses the keepsake, souvenir, and heirloom as a way to explore hidden stories through material about people and places. Her pieces reflect the human urge to collect, how we use the tangible to mark memory, and how objects can connect us to the past and to each other. For her On Offer feature, Quick is offering to make a custom piece similar to the included image. Your own key will be immortalized in a sterling silver hand-fabricated hollow form with handmade findings. Prices range between US$375­–$450, depending on customizations.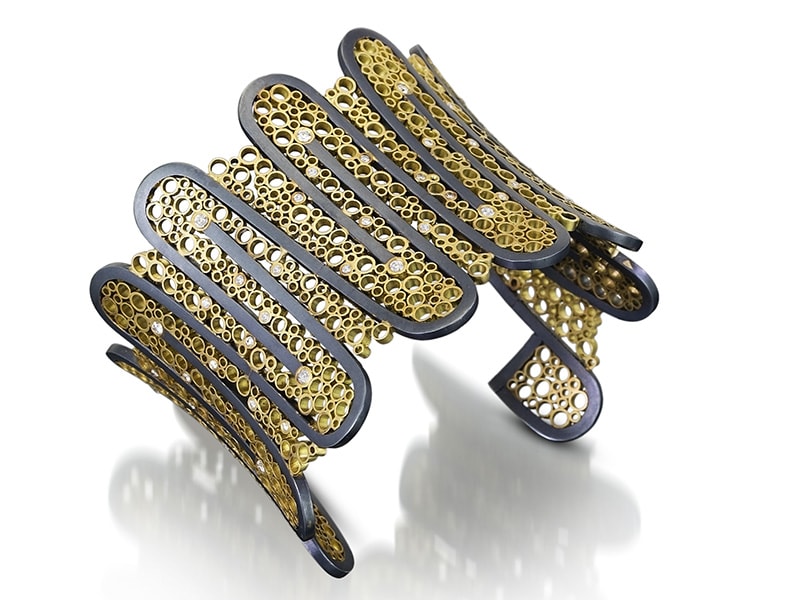 Artist: Belle Brooke Barer
Gallery: Sculpture To Wear
Contact: Lisa M. Berman
Retail: US$23,000
Established artist Belle Brook Barer took first place at the 2021 Design Awards at the JCK Show for New & Noteworthy for her one of a kind Cielo Bauhaus Cuff, at one of the world's largest jewelry shows in Las Vegas. Sculpture to Wear is thrilled to see the consistent trajectory of Barer's career over the past 16 years. The award-winning design was a result of her alliance with @Diamondsdogood – by Supporting Natural Diamonds. Barer says, "Using ethically mined diamonds has always been a passion for me. I'm glad to be able to merge my creative inspiration with my personal values."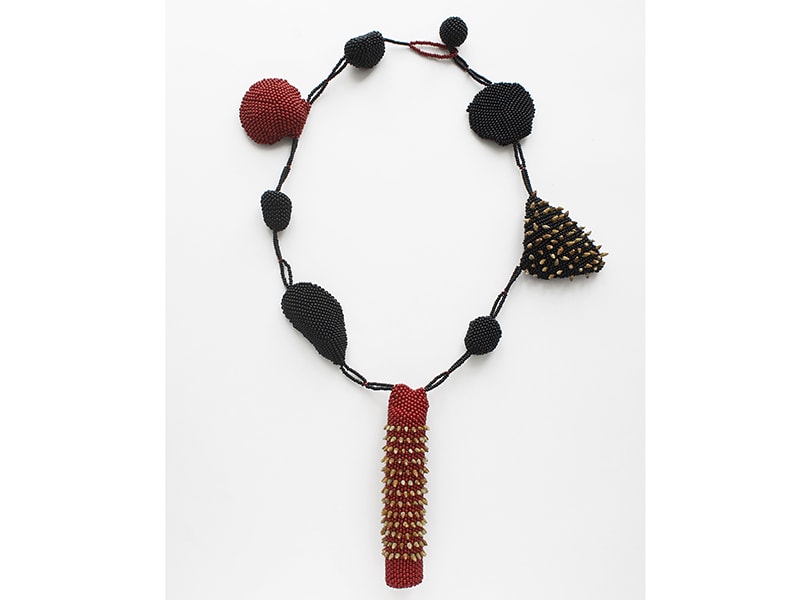 Artist: Catarina Silva
Gallery: Galeria Tereza Seabra
Contact: Tereza Seabra
Retail: €1,800, plus shipping
We have all let ourselves get seduced by the magic of our childhood fairy tales: Frogs that turn into princes, genii who grant us wishes, godmothers who save us from curses, or princes who heal us with kisses of love. But in the reality of our adult lives, when faced with events beyond our understanding and which we would make disappear like magic, our childhood heroes do not come to our rescue. The unintelligible and the manifestations of evil spirits and supernatural forces have always weighed on the destiny of men. For this reason and to fight the unknown, human lives have been sacrificed, temples built, gods invoked, and objects of protection—amulets and talismans—made to overcome the fear of the unknown.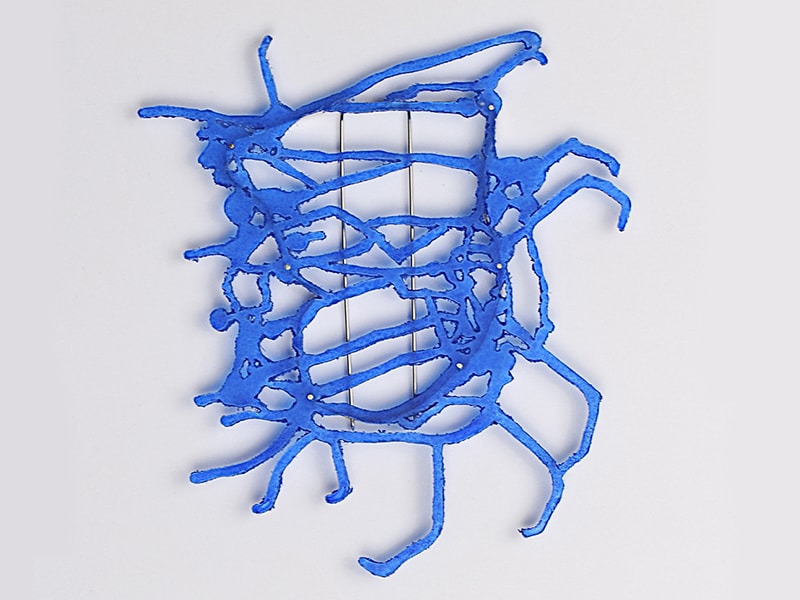 Artist: Doris Betz
Gallery: Gallery Loupe
Contact: Patti Bleicher
Retail: US$1,600
Winner of the prestigious Herbert Hofmann Prize and Bavarian State Prize, Munich jeweler Doris Betz creates organic jewelry that appears spontaneous – linear drawings that grow like the plant forms which often inspire them. In the case of the Blueflow brooches, Betz begins her process with blue ink drops on white paper. Whether colorfully lacquered or blackened, the structures are sturdy but diaphanous, with the negative space created within the intervals adding another dimension.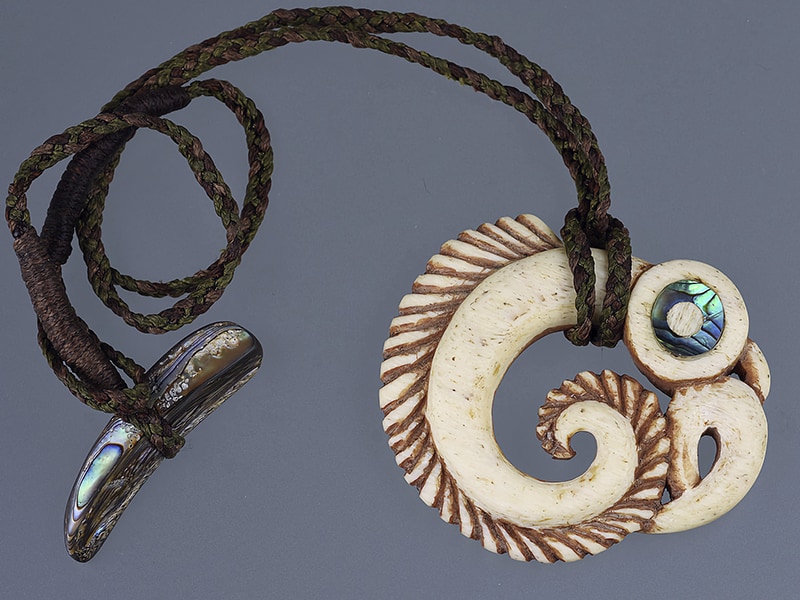 Artist: Inia Taylor
Gallery: Fingers Gallery
Contact: Lisa Higgins
Retail: NZ$1,600
Inia Taylor was the youngest and only Māori exhibitor in the groundbreaking 1988 New Zealand exhibition, Bone Stone Shell. From a family of carvers, he chose to work in bone—a material often associated with matau (fish hooks). But rather than exploring the fish-hook form, Taylor looked to the catch. This is a great example of his fish forms, with big, glistening pāua-shell eyes and sharply carved fins. Taylor has since become a respected practitioner of tā moko (traditional Māori tattooing)—a natural progression for an artist interested in carving and design.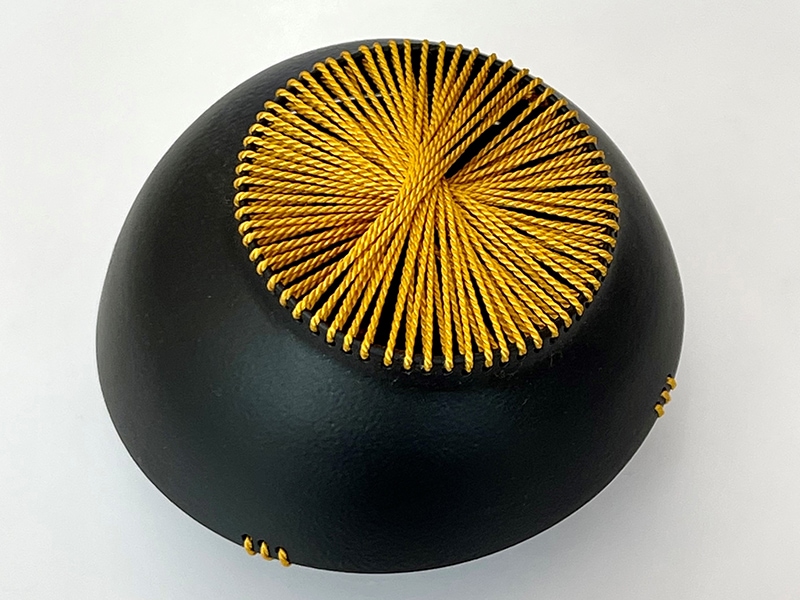 Artist: Gretal Ferguson
Gallery: Zu design – jewellery + objects
Contact: Jane Bowden
Retail: AUS$950
Gretal Ferguson's series is timely in its commentary about gender roles today. She explores form using her skills in silversmithing. Ferguson writes in her artist statement that Stitched explores the changing roles of women in craft and society, commenting on the perception of what women do versus what we are actually capable of. By combining the traditionally masculine craft of silversmithing with hand stitching, this work endeavors to challenge the entrenched gender roles within craft and society while paying homage to those before. Though the metal components are vital to the work, it is actually the silk that holds many of these objects together. It's structural and not just decorative, and a great analogy for women in today's society.
Artist: Doerthe Fuchs
Gallery: Platina Stockholm
Contact: Sofia Björkman
Retail: US$4,500
Munich-based jewelry artist Doerthe Fuchs engages in a motif, immerses herself in worlds of thought, and thus prefers to work in series. With oxidized or black rhodium-plated silver—the material she uses almost exclusively—images and shapes are created where backs are as important as fronts and references to history as contemporary environments and the artist's vision are as important as the viewer's gaze.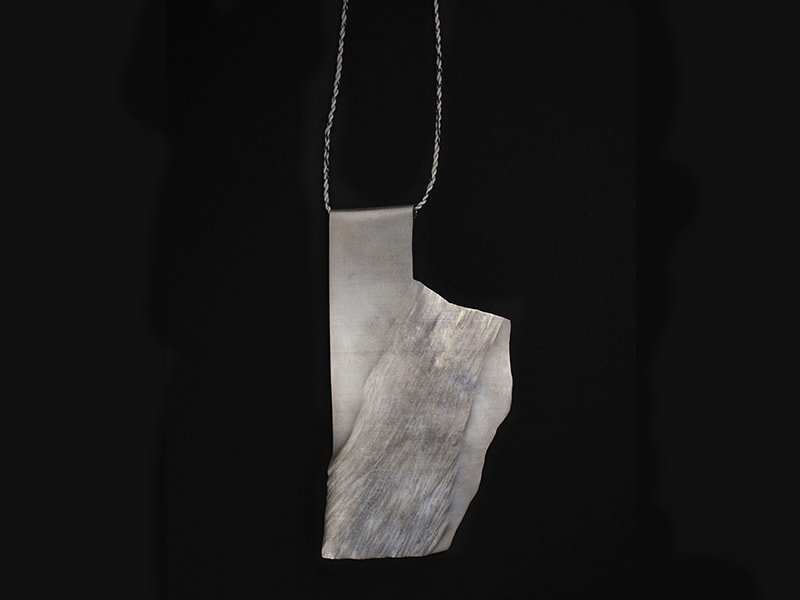 Artist: Klara Brynge
Gallery: Four Gallery
Contact: Karin Roy Andersson
Retail: €1,040
The distant and the near have a meeting point. An object can be small but appear large, as if you are very far away from it even though you hold it in your hand. You can also imagine looking into a vast little world. A horizon within. Klara Brynge converts solid sheets of silver into organic landscapes. The movement in the material caused by the hammer strikes is beautifully captured in three-dimensional wearable paintings.
Artist: Ramon Puig Cuyàs
Gallery: Galerie Spektrum
Contact: Jürgen Eickhoff
Retail: €1,300
The work of Ramon Puig Cuyàs, former professor and head of the department at the Massana school, in Barcelona, is full of impressions of the Catalonian culture. The themes, the colors, all are visible in his jewelry. He is part of a long chain of famous artists representing Catalonia, after Miró and Antoni Tàpies.
Artist: Ruudt Peters
Gallery: Galeria Reverso
Contact: Paula Crespo
Retail: €6,000
Lapis is a statement about our makeable world: our modified vegetables, the sheep Dolly, and the bull Herman. "Grind the stone to a very fine powder and put it into the sharpest celestial vinegar, and it will at once be dissolved into the philosophical water," said C. G. Jung. Says Ruudt Peters: "Technically, I smashed precious stones into powder then I put them into a different body. Everything in our world has a body. Every element in the world has a form. I played God, more or less. I modified the world and gave everything a new shape. So malachite has been given the form of aragonite, sulfur has become lapis lazuli. When someone digs this piece up from the ground in 3,000 years, they will be confused."