May 2023, Part 1
There are so many reasons to purchase art jewelry…
Celebrate that hard-earned promotion
Honor a once-in-a-lifetime occasion
Pay tribute to a major accomplishment
Commemorate the beginning of a new relationship or the end of one
Pounce on the perfect piece to round out an aspect of your collection
Or invest in a treat for yourself—just because
Art Jewelry Forum's international gallery supporters celebrate and exhibit art jewelry. Our monthly On Offer series allows this extensive network of international galleries to showcase extraordinary pieces personally selected to tempt and inspire you. Take a look. You're bound to find a fantastic piece you simply can't live without! (Please contact the gallery directly for inquiries.)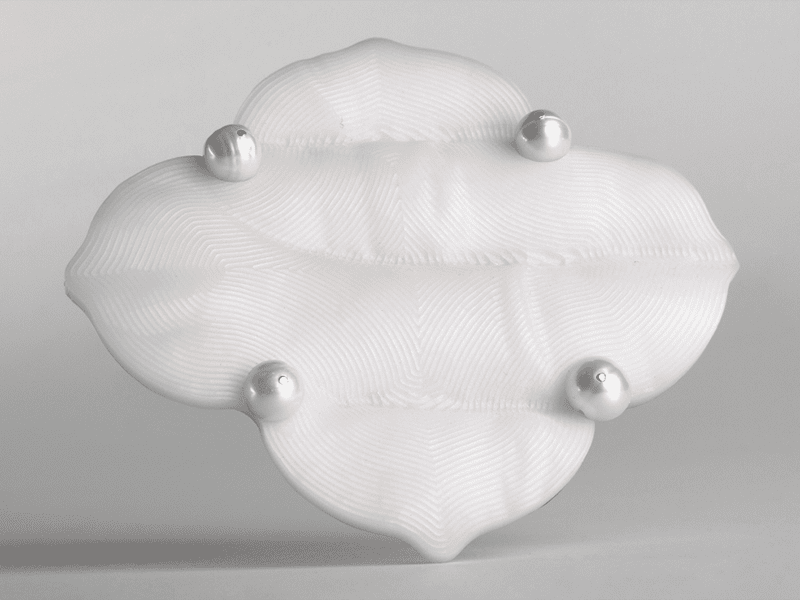 Gallery: Thereza Pedrosa Gallery
Contact: Thereza Pedrosa
Artist: Peter Machata
Retail price: €1,950
Peter Machata, a graduate of Jozef Jankovič's sculpture studio at the Academy of Fine Arts and Design in Bratislava, began to concentrate on jewelry after completing his studies. He perceives jewelry as small sculptures, and thus consistently and consequently builds the syntax of his jewelry based on the principles of relief, plastic formation, and box. His jewelry reflects subtle overlaps of jewelry and sculpture methods—his geometric and poetizing abstraction was replaced by figurative metaphor several years ago. This brooch is a stunning representation of his personal and artistic research.
Gallery: Galeria Reverso
Contact: Paula Crespo
Artist: Terhi Tolvanen
Retail price: €4,730
An imaginary wearable reinvention of a tree branch in bloom, the Golden Tree in Blossom captures the ever-changing rhythm and seasons of nature beautifully thanks to usage of a vivid color. Terhi Tolvanen's necklace is just like a flower picked during a summer night walk. In Tolvanen's pieces, the influence of French and Finnish landscape comes together in symbiosis and embodies the coexistence of nature and humans.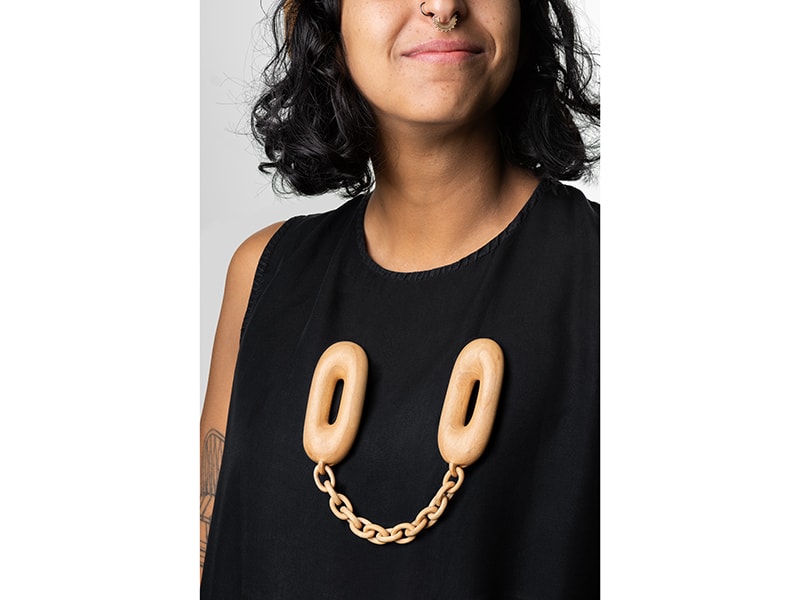 Gallery: Baltimore Jewelry Center
Contact: Allison Gulick
Artist: Adam Atkinson
Retail price: US$950
Adam Atkinson is a metalsmith, curator, and educator. He received an MFA in metal design at East Carolina University in 2019, and a BFA in interdisciplinary studio practices at Boise State University in 2013. He has been awarded numerous residencies including the Emerging Artist Residency at the Baltimore Jewelry Center and the three-year residency at Penland School of Craft. His work has been exhibited nationally and internationally including at the Wayne Art Center, Boone Art and History Museum, and Nagoya Zokei University, Nagoya, Japan. In March, Atkinson returned to the BJC for a micro-residency. He teaches widely across the United States.
Gallery: Gallery Loupe
Contact: Patti Bleicher
Artist: Robert Baines
Retail price: US$2,200
Robert Baines is both a jeweler and a scholar. His astonishingly detailed metalwork, which reflects studies in archaeometallurgy, embodies ancient techniques, such as linear wirework and granulation, but with the scale, grandeur, and irony of current practice. He sometimes incorporates objects, either found or fabricated, into his complex "worlds," which often comment sardonically upon historical narratives.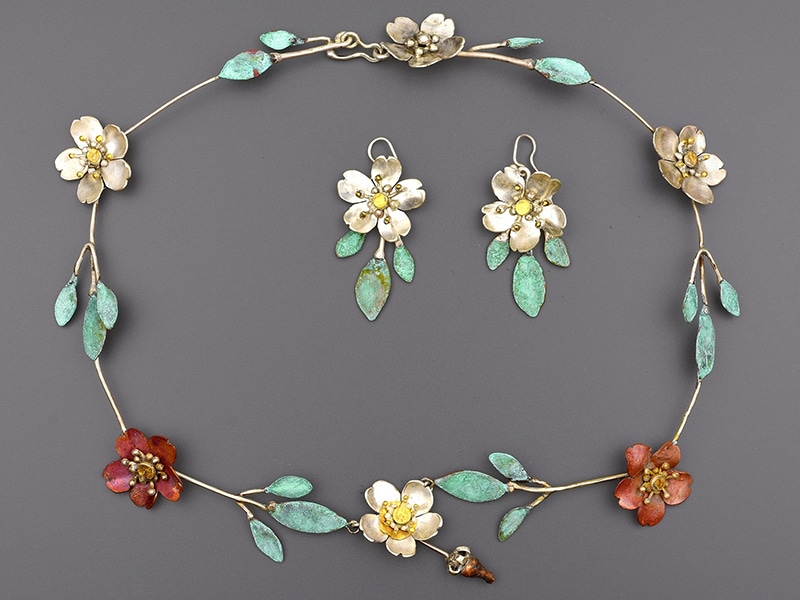 Gallery: Fingers Gallery
Contact: Lisa Higgins
Artist: Penelope Barnhill
Retail price: NZ$3,000 (necklace only)
Penelope Barnhill completed her Diploma in Visual Communication/Crafts Design in 1990, but her interest in jewelry really began at the age of eight when she was shown her grandmother's jewelry collection. "Recurring symbols and words are talismans in my work," says the maker. "Among them the rose as a symbol for woman, for love, for beauty, or in a memorial garden. I enjoy remembering the old meaning in flowers. This piece for me is about my old 1905 home and the view across the porch where the garden laps at the house and where the roses are encouraged to rest their branches." Barnhill lives and works in Auckland, New Zealand.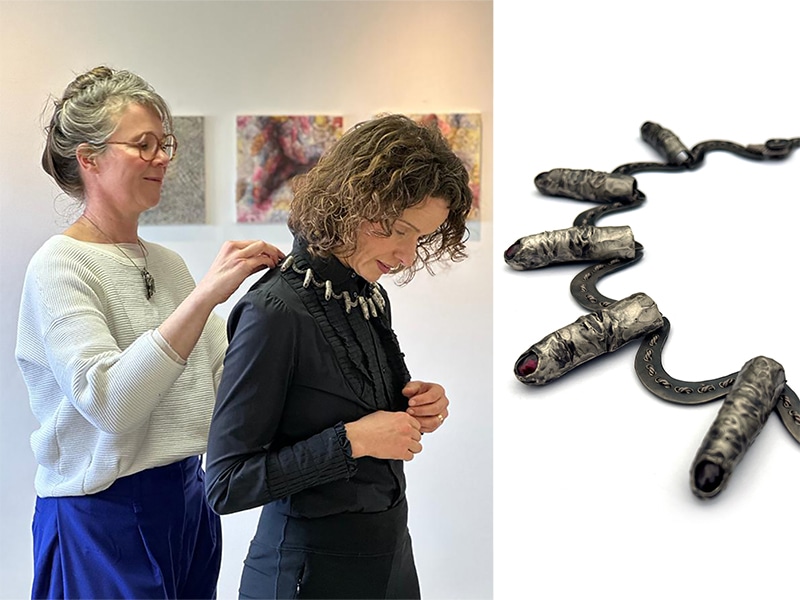 Gallery: Galerie Door
Contact: Doreen Timmers
Artist: Mielle Harvey
Retail price: €3,600
Mielle Harvey creates jewelry consisting of wearable sculptures using lost wax technique. Her work is inspired by Dutch 17th-century still lives and portraits. This can be seen in the techniques she uses to create beautifully detailed fabric expressions and the use of highlights and shadow. In terms of content, Harvey's work also has a strong similarity with 17th-century painting; the themes of transience and carpe diem (seize the day) are omnipresent. The Ruff of Fingers with Garnet Nails necklace is a beautiful example of her craftmanship and artistic depth. Using the image of the powerful and creative index finger, a chain of fingers tickles both the sense of brutality and beauty.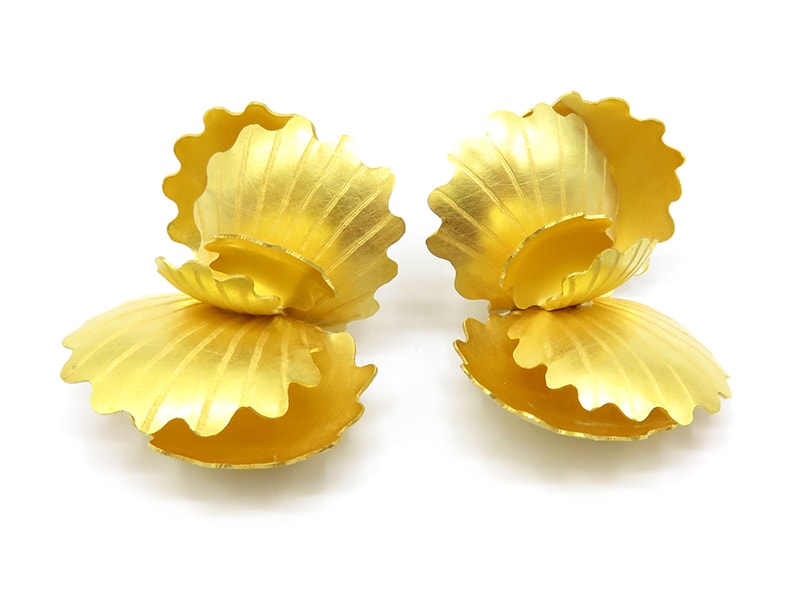 Gallery: Ornamentum
Contact: Stefan Friedemann
Artist: Jacqueline Ryan
Retail price: US$3,400
A gorgeous pair of earrings by Jacqueline Ryan, who's from Italy. These beauties are sculptural and radiant, yet lightweight and at a scale that can be suited for everyday wear as well as evenings. Ryan is a master of gold work. Her jewelry is delicate, organic, warm, feminine, and absolutely precious.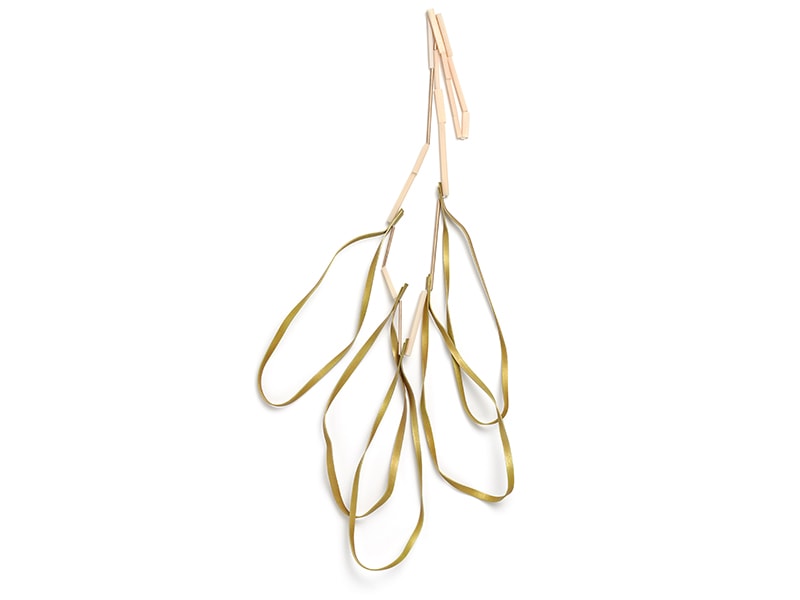 Gallery: Viceversa
Contact: ilona Schwippel
Artist: Karin Johansson
Retail price: 1,850 CHF
"In fact, my studio is an ever-growing collection of pieces, visible and invisible, that are part of a map that I am constantly updating and revising," says Karin Johansson. "My work is a treasure hunt among things and ideas that eventually turn into jewels made to be desired, worn, questioned, or loved." The Swedish artist collects objects and turns them into movement, into music, into soundtracks. She is preparing a new body of work, on show at Viceversa in May.
Gallery: Galeria Tereza Seabra
Contact: Tereza Seabra
Artist: Marília Maria Mira
Retail price: €1,200, plus shipping
Marília Maria Mira is a Portuguese jeweler whose work speaks about the body's extensions as her soul extension to the public. In her words, "the limits of the body are not rigid but flexible, soft and rough, clean and dirty, stiff and adaptable. Everything is related to everything; in an explosion of senses, nothing becomes all." Exquisite and playful jewels that interact with the wearer as well as the viewer.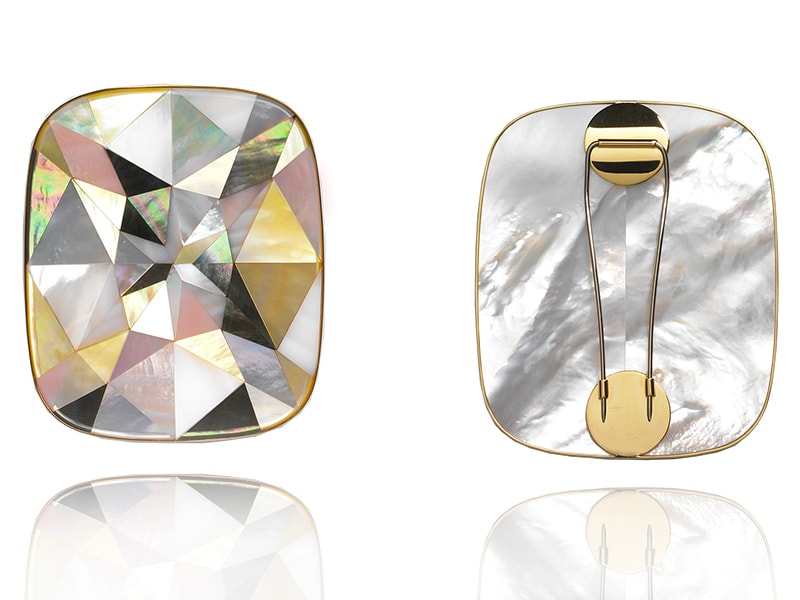 Gallery: Platina
Contact: Sofia Björkman
Artist: Melanie Georgacopoulos
Retail price: US$4,900
In Melanie Georgacopoulos's work the paradoxical, intriguing nature of pearls and mother-of-pearl is at the core of every piece, whilst the aesthetic remains simple, structured, and timeless. She continually strives to challenge the existing preconceptions of these organic materials and that of traditional jewelry design itself. It is this unique approach which has given her the opportunity to showcase her pieces regularly at fairs, exhibitions, and galleries worldwide.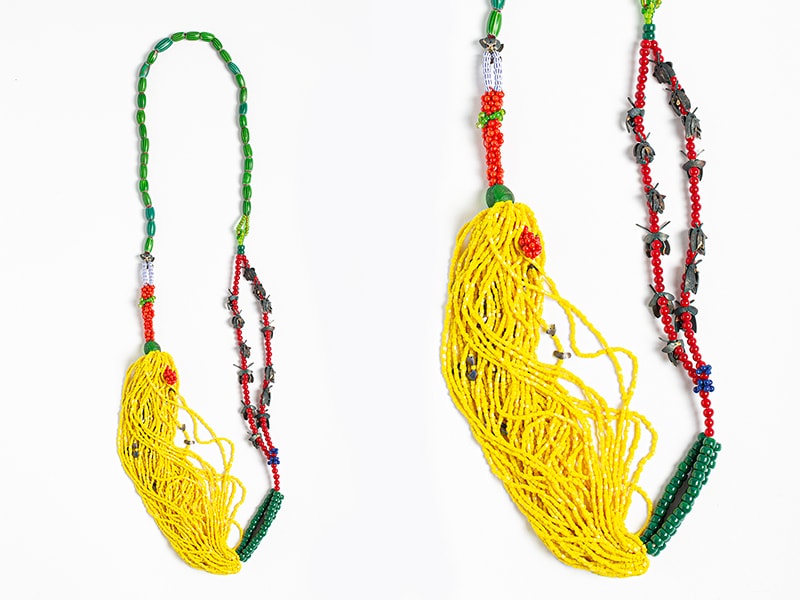 Gallery: Galerie Noel Guyomarc'h
Contact: Noel Guyomarc'h
Artist: Monika Brugger
Retail price: CAN$6,675
Ever surprising, Monika Brugger, internationally recognized for her more conceptual jewelry, seems at first glance to have strayed on a new path as a gardener of jewelry with this new collection. Beads of different colors, strung sometimes in clusters, sometimes doubled or in multiples, make up her animated necklaces that invite to daydream, to a walk in her flowery garden. But, oh! Surprise! If you linger, a multitude of flies and insects with huge antennae appear on these necklaces! In clusters, in a row, what are they doing? And what are these big lonely flies that invite themselves to be worn? What a strange intention on Monika's part! Is it the artist's objective to play with our emotions, our senses, and our perception of this work?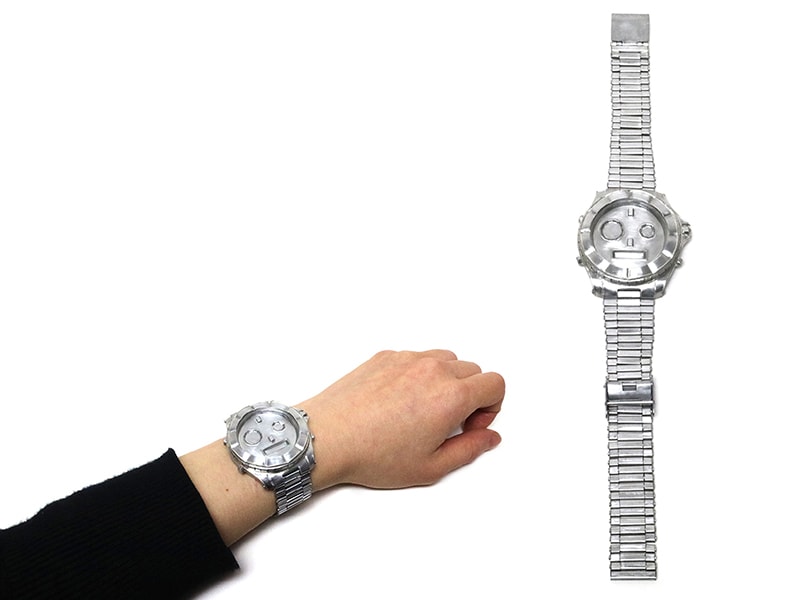 Gallery: Four Gallery
Contact: Karin Roy Andersson
Artist: Sawa Aso
Retail price: €3,990
Sawa Aso translates wearable objects such as glasses, wristwatches, or binoculars into metal. Each part is replaced with thin steel so that the function is erased but the shape remains. When the objects no longer fulfill their original purpose, other qualities emerge and they are transformed into jewelry.
Gallery: Mahnaz Collection
Contact: noelle wiegand
Artist: Julia Obermaier
Retail price: US$5,035
German lapidary artist Julia Obermaier has been carving stones from a young age. Her large necklaces, hand-carved from agate with silver used sparingly, are modern-day talismans. Working intuitively with the stone and using traditional diamond-cutting tools, Obermaier creates box-like shapes that she likes to think of as "nooks and crannies" for the soul. Obermaier exposes the beauty of the stone by cutting away and shaping it, allowing the intricacies and the inclusions of the natural stone to reveal themselves. Each jewel is unique, as no two stones are alike and the artist's cuts are never the same.