May 2023, Part 1
Art Jewelry Forum is pleased to share the news that members of our community find noteworthy. Is something missing? The success of this compilation of compelling events, news, and items of interest to the jewelry community depends on YOUR participation. If you're a member of AJF at the Silver level or above, you can add news and ideas to this bi-monthly report by going here. If you aren't a member, but would like to become one, join AJF here.
Listings gathered with assistance from Carrie Yodanis.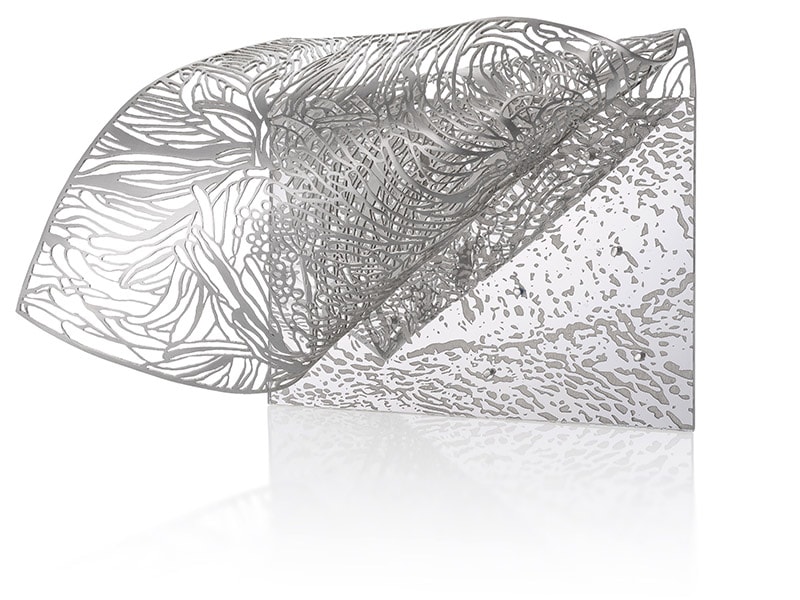 FEEL LIKE SEEING A JEWELRY SHOW?
Find these listings and many, many more on our dedicated exhibition page:
+ Reflected Bodies: Sharon Portelance (shown at left), at Jewelers'Werk, through May 3
+ Nicole Jacquard: Stories from Scotland, at Pistachios through May 7
+ Fliegenschmuck: Pour Les Precieuses Presque Ridicules, at Galerie Noel Guyomarc'h through May 13
+ New Makers, at ATTA through May 14
+ Colorful Minds, at the Baltimore Jewelry Center through May 19
+ Terhi Tolvanen + Yaksh Verma, at Galeria Reverso through May 20
+ Colour Shift: Blanche Tilden + Marcus Sholz, at Gallery Funaki through May 28
+ Breeze | Ute Kolar, at Thereza Pedrosa Gallery through May 28
+ Sawa Aso, at Four Gallery May 5–June 3
+ Pearl, at Platina Stockholm through June 3
+ Restringing the Pearl, at The Jewelry Library through June 6
+ Timothy Veske-McMahon | Vanillaroma, at Gallery Loupe May 6–June 10 (opening reception May 6, 6-8 p.m.)
+ Leslie Shershow, at Sienna Patti May 12–June 11
+ At Ornamentum: Terhi Tolvanen, through August 26; Hanna Hedman, May 13–June 11
FROM OUR MEMBERS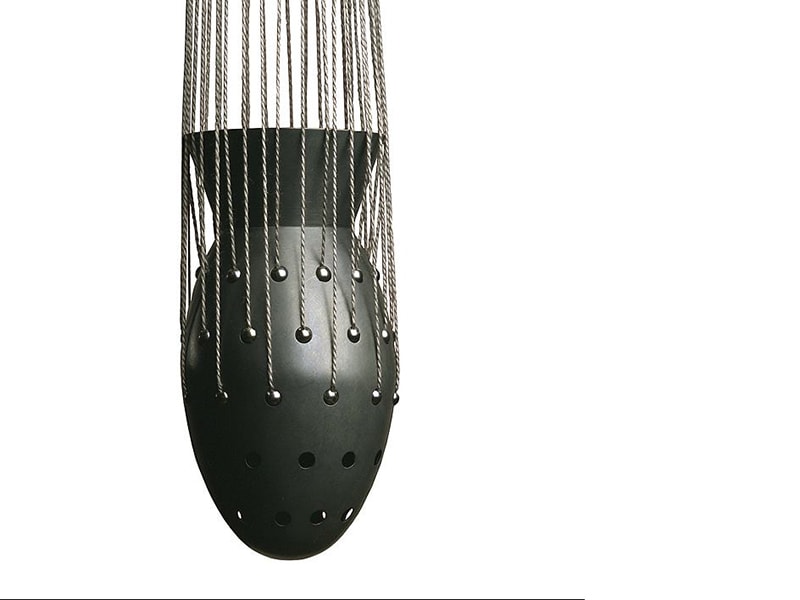 ORIZZONTI D'AUTORE BIENNALE INSPIRES A MASTER'S THESIS
The biennale, curated by Thereza Pedrosa at the Civic Museum of Asolo, in Italy, is the subject of a master's thesis from the IULM University of Milan! It's called "Orizzonti d'Autore: An Example of Digital Communication for Contemporary Jewellery," by graduate student Martina Citti.
---
MELANIE GEORGACOPOULOS IS CHANGING THE WAY WE THINK ABOUT PEARLS
The maker works with materials in new ways to release their potential and stimulate new interpretations. She talked with Sharon Berman on The Jewelry Journey. Listen to the podcast.
---
EXHIBITION AT THE BJC: WOMEN I KNOW
On view at the Baltimore Jewelry Center May 26–July 7, 2023, the body of work in Women I Know, an exhibition by Angela Caldwell, represents the strength and support women offer each other through their making. Utilizing familiar tools associated with traditional female crafts, Caldwell creates wearable, armor-like representations that embody the spirit of women and offer a perspective on the strength they provide. Using contemporary practices and materials like powder coating and metallic thread, Caldwell positions her modern voice within the context of a rich history of female makers.
---
LECTURE: "WEARABLE ART: A CONVERSATION ABOUT JEWELRY"
Join Bella Neyman, co-founder of New York City Jewelry Week, for a conversation about contemporary jewelry with journalist Jennifer Altmann. After the talk, Patti Bleicher, of Gallery Loupe, will present jewelry by Israeli artists Vered Kaminski, Esther Knobel, Noam Elyashiv, Attai Chen, and Shachar Cohen, available for purchase. In East Brunswick, NJ, May 8, 2023, 7 p.m. Info/tickets.
---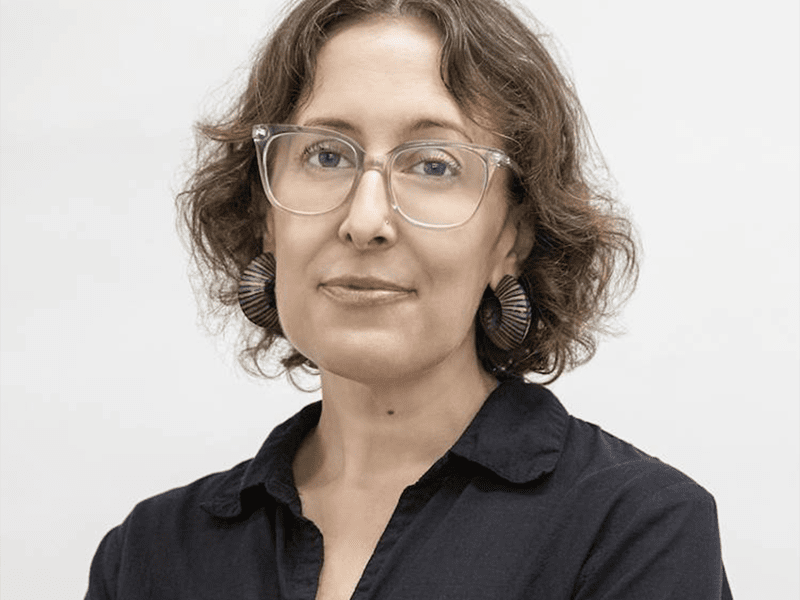 "ART IS ALWAYS EVOLVING TO REFLECT CULTURAL AND TECHNOLOGICAL SHIFTS IN SOCIETY"
Check out AJF member Sharon Massey's "Meet Our Faculty" interview on the Indiana University of Pennsylvania website.
---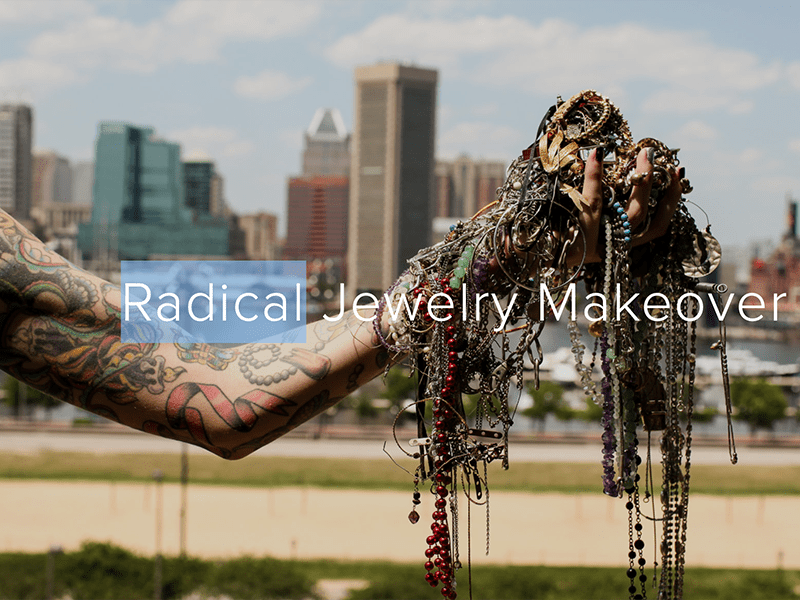 CALL FOR ENTRY: THE REJEWELRY COMPETITION
Apply to the first-ever Radical Jewelry Makeover (RJM) juried jewelry competition and exhibition, The Rejewelry Competition! Top prizes include a solo exhibition at Alma's Gallery, in Richmond, VA, US, and an invitation to join the RJM Artist Project. RJM raises awareness of the connection between mining, metalsmithing, activism, collaboration, and art. It takes donations of broken, unwanted, or out-of-date jewelry and redistributes these already-mined persistent raw materials full of creative potential into the hands of makers. Deadline: June 1, 2023. Info.
---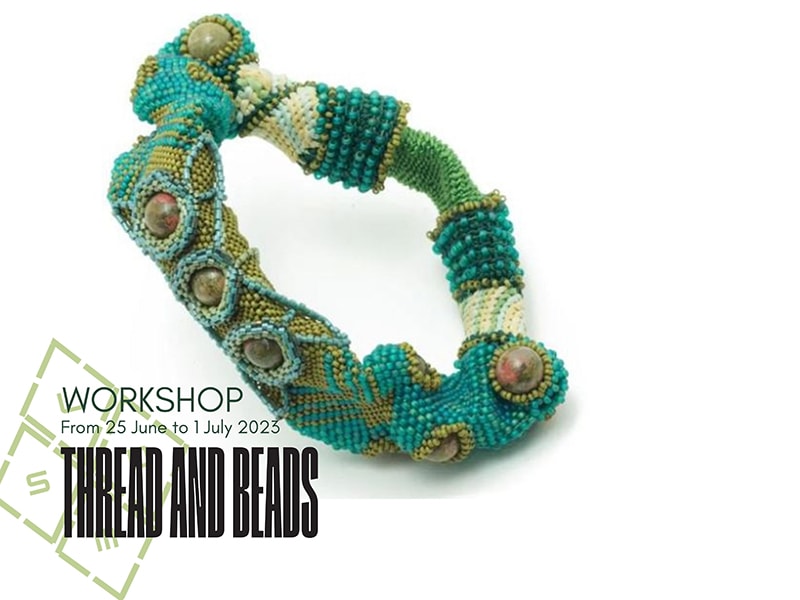 LEARN TO BEAD WITH SÉBASTIEN CARRÉ AT HIS "THREAD AND BEADS" WORKSHOP
Over five days, you'll explore different textile techniques with the aim of associating and mixing them: beadwork with the needle in embroidery or in peyote stitch (weaving), crochet techniques, macramé or embroidery will be approached according to your projects and desires. Train around different modules to discover or deepen your beading, crocheting or macramé. Accessible to all, beginners as well as advanced. You'll start by conceptualizing your creation by drawing or making a model, and get the basics to produce and finalize a work. June 25­–July 1, 2023, in Varen, France. Cost: 650€, includes meals, materials, and tools. Registration deadline: June 1. Info.
---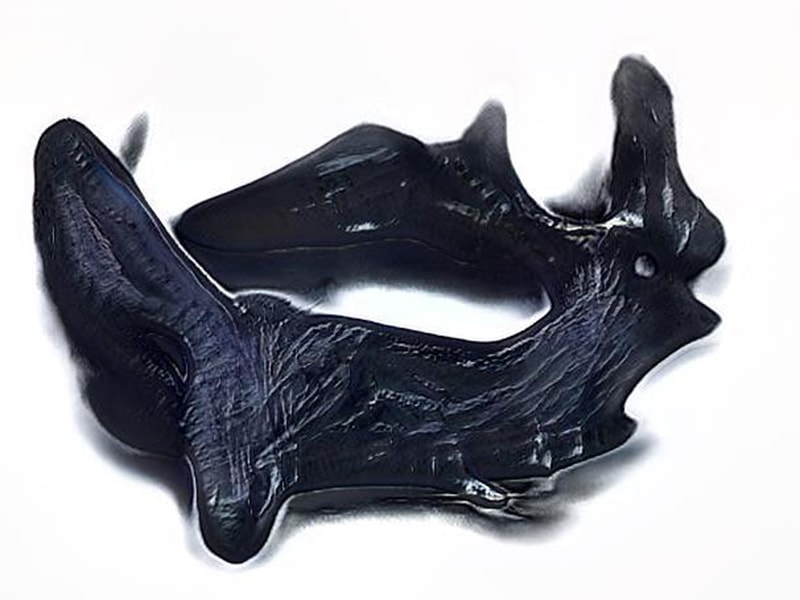 CONTRIBUTE PHOTOS TO PARTICIPATE IN ARTISTIC RESEARCH ON JEWELRY AND AI
Anneleen Swillen, lecturer and researcher at PXL-MAD School of Arts and Hasselt University, and founder of Artificial Intelligems, explores intersections of AI and jewelry. For the current Artificial Intelligems project, she invites you to participate by sharing photos of jewelry being worn. By contributing your photos, you'll help train a machine learning algorithm and co-create Ornamisms alongside participants from all around the world. Through this experiment, Artificial Intelligems aims to explore the artistic potential of machine learning in the context of jewelry, but also the possible risks of these self-learning technologies for making, presenting, and experiencing jewelry. Human-centered design, materiality, value, and authorship are critically questioned in the process. Visit the website to learn more and join the project. Questions? Email.
---
SEEKING IMAGES OF POWDER-COATED JEWELRY TO PUBLISH IN BOOK
Jewelers and artists are invited to submit images of their powder-coated work to be included in Powder Coating for Jewelry Artists (working title). This book focuses on powder coating as a means of applying color as a finishing process for jewelry objects. We seek photographs of unique, colorful, well-crafted pieces that showcase different kinds of powder-coating techniques and applications (ESD, gradients, sift & dump, stencil, decal, transparents, etc.). Selected images will be used in image galleries throughout the publication. Accepted artists receive full credit in captions. Application deadline: June 21, 2023, at 11:59 pm (EST). Info.
---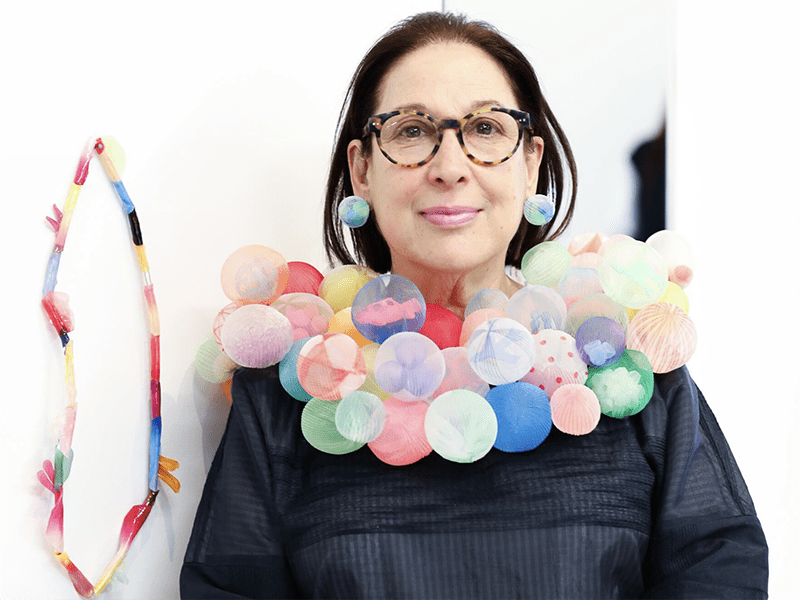 NEW YORK'S MUSEUM OF ART AND DESIGN SHOWCASES THE BEST NEW JEWELRY DESIGN
So said Forbes about the MAD About Jewelry annual benefit sale at MAD. They described the jewelry as "the unusual, the unexpected, the never-before-seen." Read the interview with the event's director and curator, Bryna Pomp, in Forbes here. Harpers Bazaar also covered MAD About Jewelry, here.
OTHER NEWS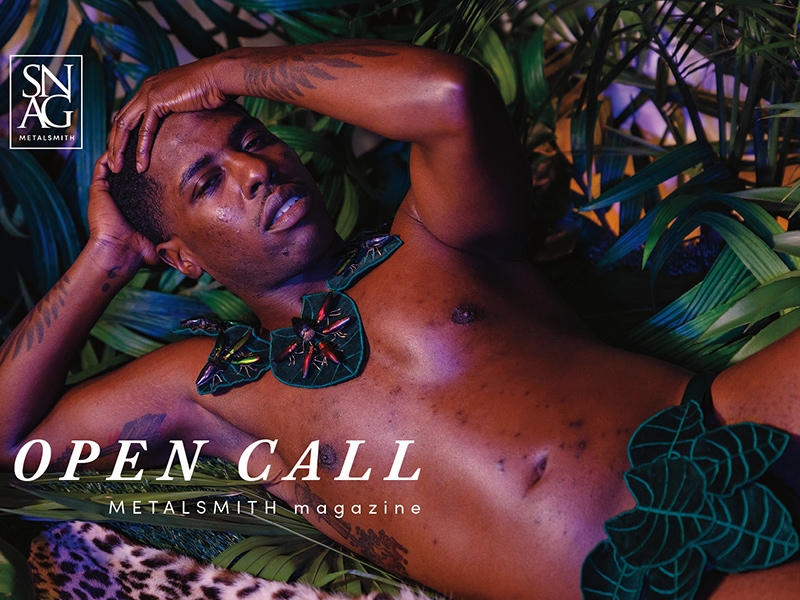 METALSMITH SEEKS PHOTOGRAPHY
The magazine invites submissions of creatively styled images of artist-made jewelry, adornment, and metalsmithing in all forms and materials that tell a story and present works outside of the typical white background. Juried. Deadline: May 15, 2023. Info.
---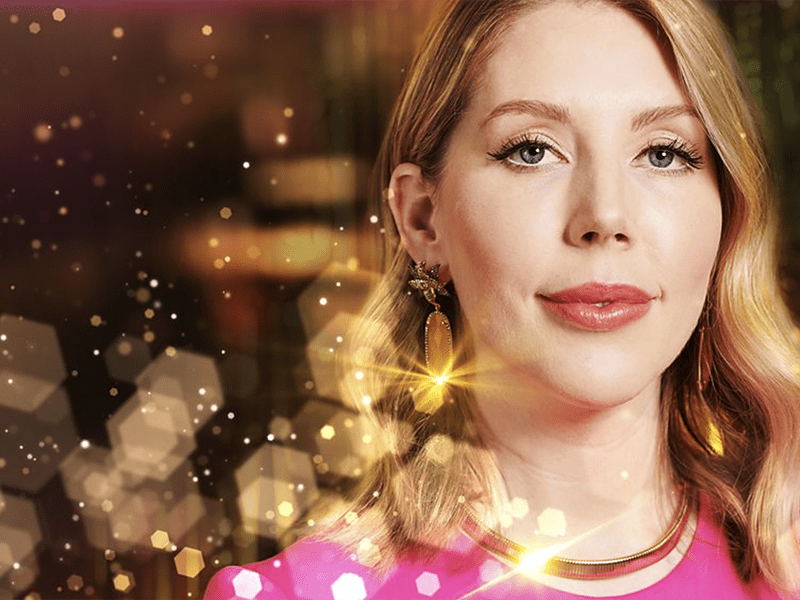 ALL THAT GLITTERS NOT RENEWED
The BBC's talent competition for jewelers first aired in 2021 and its first season averaged 2.3 million viewers across six episodes. The TV show came back for a second season in 2022. The last episode was filmed in a specially-built workshop in Birmingham's historic Jewellery Quarter.
---
CCBC'S GALLERY'S EARRING SHOW OPENS THIS WEEK
The 10th edition of the exhibition features over 200 pairs of earrings by almost 125 artists from around the world in a wide array of mediums, techniques, and materials. On view and for sale starting May 4, 2023, both in-person (May 4–18) and online (May 4–July 31, 2023). Info.
EVENTS
AUTOR: MAY 6–7, 2023
Takes place in Bucharest, Romania. Info.
---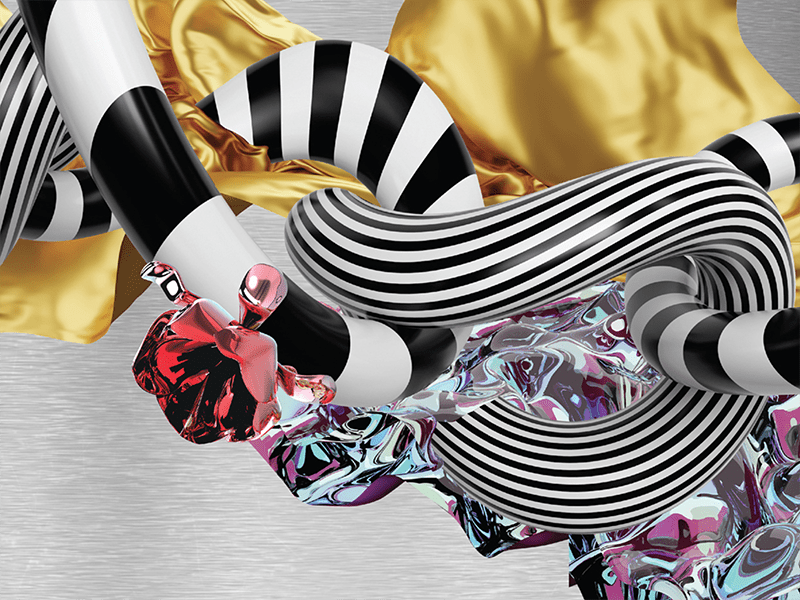 SLOVENIAN JEWELRY WEEK: MAY 11–19, 2023
A highlight will be the exhibitions of more than 100 Slovenian and international jewelry designers. The exhibitions will take place in Ljubljana, Maribor, Izola, Radovljica, and Slovenj Gradec, and will be joined by other events in these locations. In addition to exhibitions the program will include numerous presentations and courses for enthusiasts of all generations. These include presentations, workshops, lectures, and guided tours of exhibitions, studios, museums, and schools. Info.
---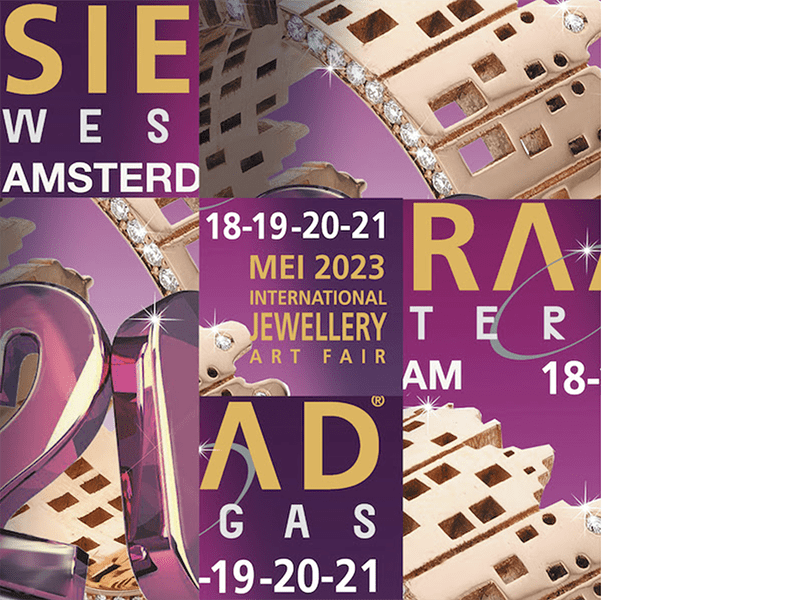 SIERAAD 2023: MAY 18–21, 2022
The 20th edition of the event will take place at Amsterdam's iconic round Gashouder. Info.
---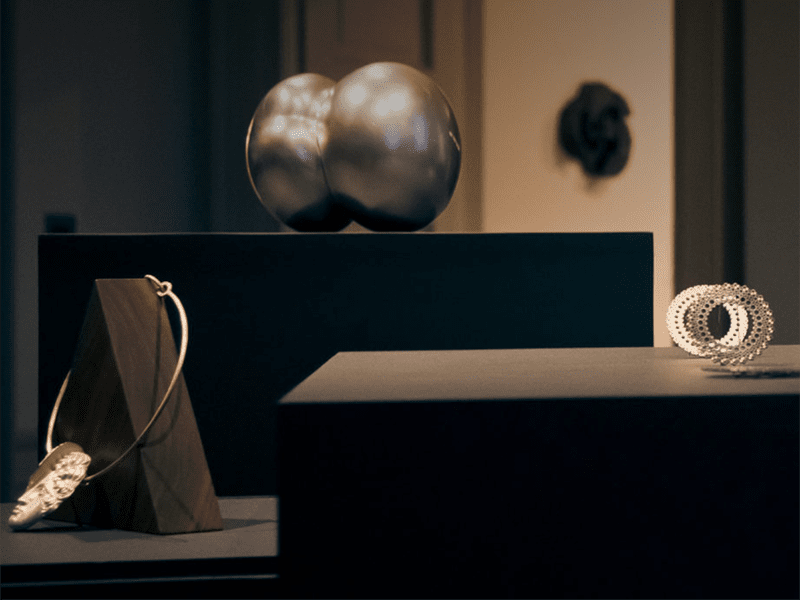 GOLDSMITHS' FAIR, LONDON: SEPTEMBER 26–OCTOBER 8, 2023
Bringing together 136 of the UK's most extraordinary silversmiths and goldsmiths working with numerous techniques, from wire work to 3D printing, traditional goldsmithing to intricate engraving. The exhibitors combine ancient techniques with modern-day technologies, ensuring there's something for everyone with a passion for fine jewelry and contemporary silver. Info.
---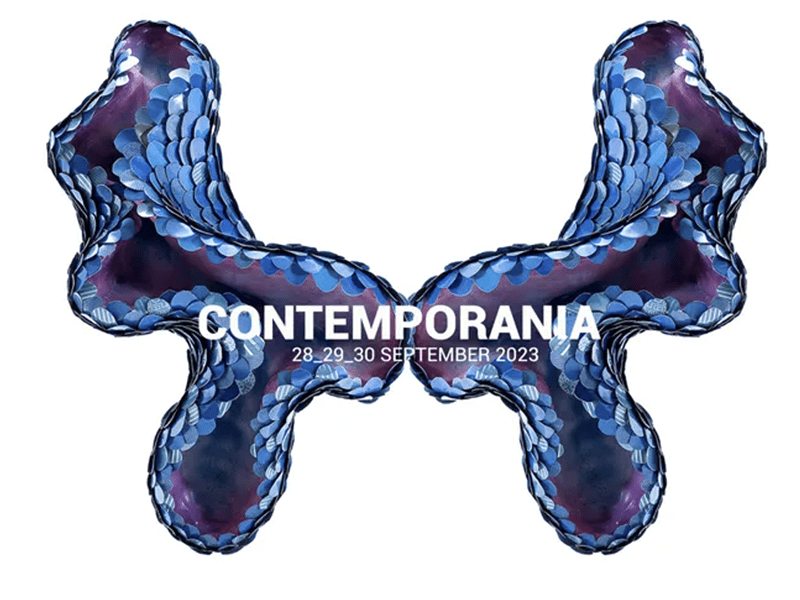 CONTEMPORANIA HIGH CRAFTSMANSHIP BARCELONA: SEPTEMBER 28­–30, 2023
Formerly Joya, this will be a space for national and international contemporary crafts, and a trade fair for artists, institutions, galleries and collectives to present and promote their creativity in applied arts such as ceramics, art jewelry, lacquer, metal, textiles, glass, paper and wood. Info.
---
PARCOURS BIJOUX: OCTOBER 2–29, 2023
Held in Paris every three years, with more than 50 jewelry events planned. Info.
---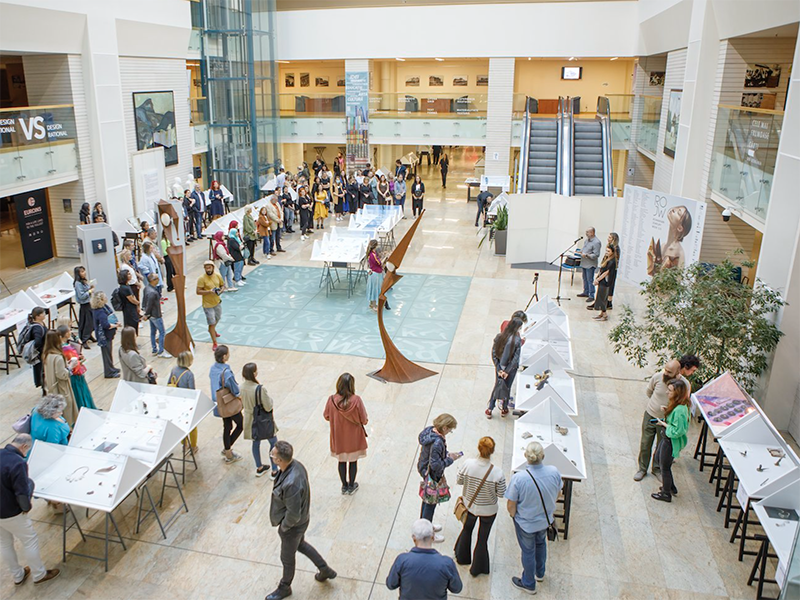 ROMANIAN JEWELRY WEEK: OCTOBER 4–8, 2023
Takes place at The National Library of Romania, as well as in multiple museums and galleries across Bucharest.
PAGES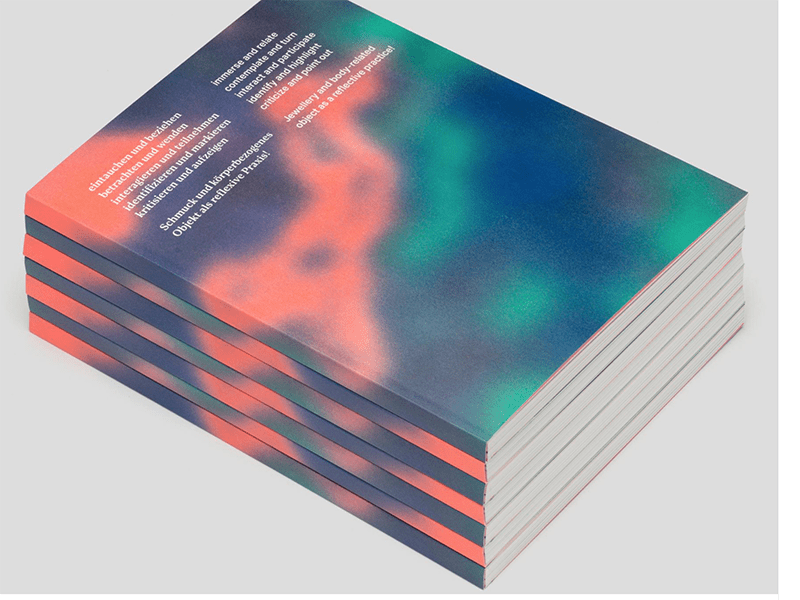 BOOK: SCHMUCK UND KÖRPERBEZOGENES OBJEKT ALS REFLEXIVE PRAXIS (JEWELRY AND BODY-RELATED OBJECTS AS REFLECTIVE PRACTICE)
Provides insights into the work, positions, and thoughts of students and graduates of the Jewelry and Body-Related Objects department at the HAWK Design Faculty, in Hildesheim, Germany. The book brings together projects by 24 students from various semester projects as well as theses from the years 2020 to 2022. It shows how jewelry and body-related objects can be thought of, which backgrounds flow into discussions and works, and how an expanded concept of jewelry can be formulated both theoretically and practically. Info.
OPPORTUNITIES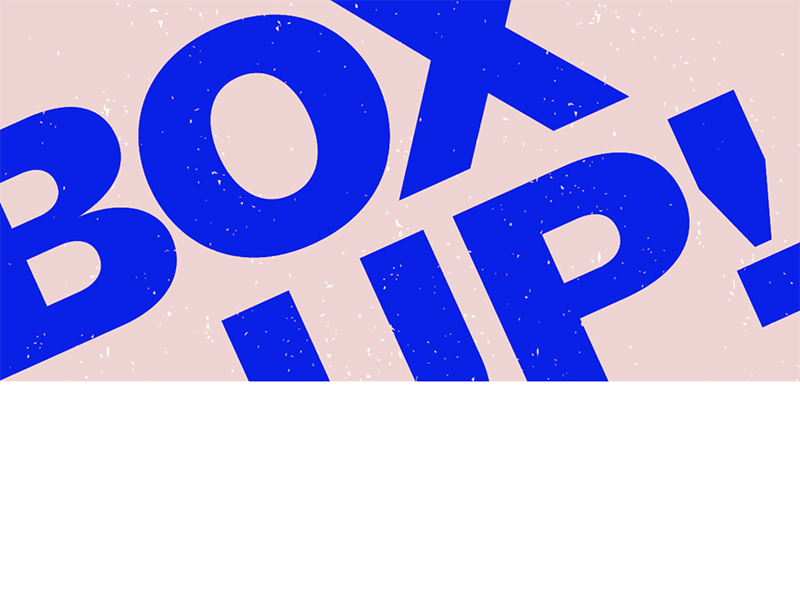 CO-ADORN'S BOX UP: DEADLINE EXTENDED TO MAY 28
Jewelry has a special relationship to the box. Work is gifted in a box, stored in a box, even shipped in a box. Jewelry is also displayed in a box and mounted to the walls of a gallery, often called a "white box." For this exhibition, Co-Adorn asks you to create a piece of jewelry that explores the box and fits into a specific small white box. Info.
---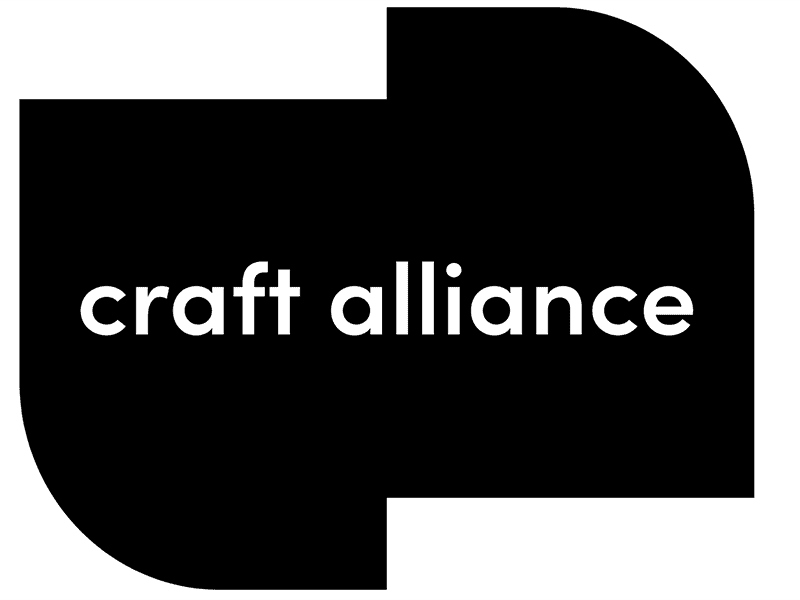 ARTIST RESIDENCY AT CRAFT ALLIANCE
Participate in an 11-month program, in St. Louis, MO, US, that runs September–July. Artists share a private studio and have access to Craft Alliance's six main studio areas outside of teaching class; receive a monthly materials stipend and professional development reimbursement fund; tuition waivers for workshops per session; teaching and other professional development opportunities; and a culminating group exhibition in Craft Alliance Staenberg Gallery. Application deadline: May 26, 2023. Info.
---
JEWELER IN RESIDENCE AT PLATTFORM SCHMUCKKUNST
The selected jewelry artist will be able to use the community workshop in Graz, Austria, for the entire month of July 2023 and show their outcome during the last week of their stay in the form of a solo exhibition, on-site and online. In addition, the artist will hold a workshop." Application deadline: June 7, 2023. Info.
---
CALL FOR APPLICATIONS: PREZIOSA YOUNG
The biennial competition, exhibited at Florence Jewellery Week, is dedicated to worldwide emerging artists, goldsmiths, and designers. It aims to contribute to the circulation of what's new in research jewelry, as well as showcase what the new generations of goldsmiths/designers/artists are brewing. With an international jury of curators, artists, and critics. Application deadline: November 15, 2023. Info.
---
MAKE AWARD: INNOVATION IN AUSTRALIAN CRAFT AND DESIGN
The winner of the MAKE Award, an award for Australian designer/makers, will receive a cash prize of $35,000 with a second prize of $10,000. Open to designers/makers working across craft disciplines including jewelry. Entries are encouraged from designer/makers with a high level of skill either working with materials that are new to their practice, new or traditional materials, or working in new and innovative ways. Deadline: June 9, 2023. Info.
---
GRANTS & SCHOLARSHIPS FROM WJA
The Women's Jewelry Association Foundation, offers a number of scholarships and grants to support the professional growth and educational endeavors of women in the jewelry and watch industries. Deadline: April 30 and October 31, 2023. Info.
---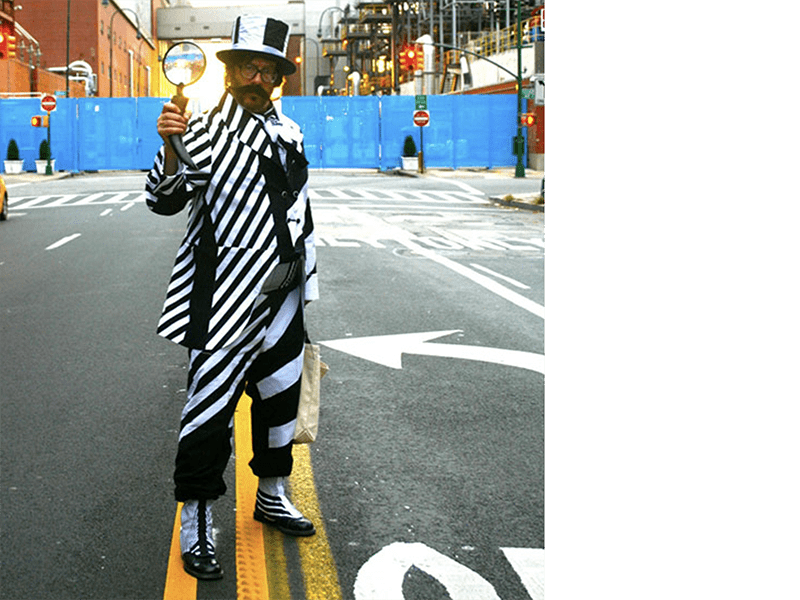 CALL FOR ENTRY—ART IN ODD PLACES 2023: DRESS
Art in Odd Places invites artists who use dress as a medium to apply for its 18th annual festival, which will take place along 14th Street in Manhattan October 13­15, 2023. Works may take the form of garments, textiles, fashion design, costume, performance, sculpture, and installation. Deadline: May 14, 2023. Info.
---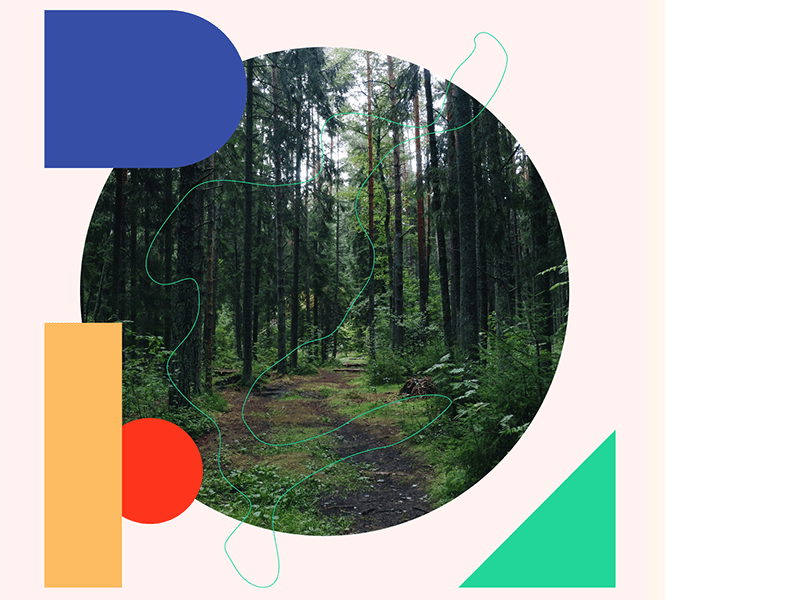 OPEN CALL—JURIED INTERNATIONAL TRIENNIAL KORU8
Theme: Heading for the woods. Forests play a crucial role in climate change and the sixth mass extinction. Globally forests cover almost one-third of the land, and their cultural and social meaning varies between cultures and context. Forests are home to human and non-human animals. What is a forest in the context of contemporary jewelry? Open to professionals or artist groups working in jewelry, and to artists from other fields who focus on creating new ideologies and aesthetic views in the sense of contemporary jewelry. Application deadline: October 25, 2023. Info.
---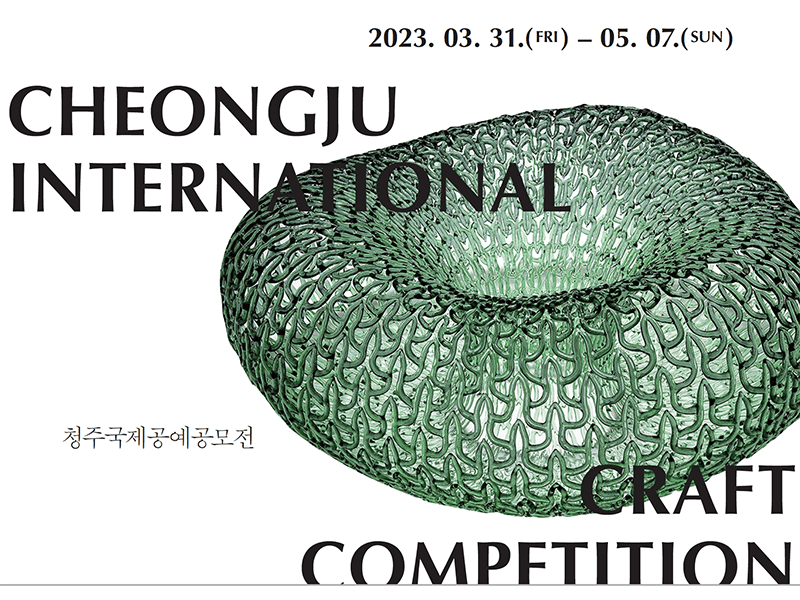 OPEN CALL—CHEONGJU INTERNATIONAL CRAFT COMPETITION 2023
"The CICC, launched in 1999, is an arena of opportunities where craft artists at home and abroad can show the world what they've got…The Craft Competition solicits craft artworks reflecting trends in contemporary arts and crafts and conveying values of the future. Open to craft artists in Korea and abroad. Deadline: May 7, 2023. Info.
---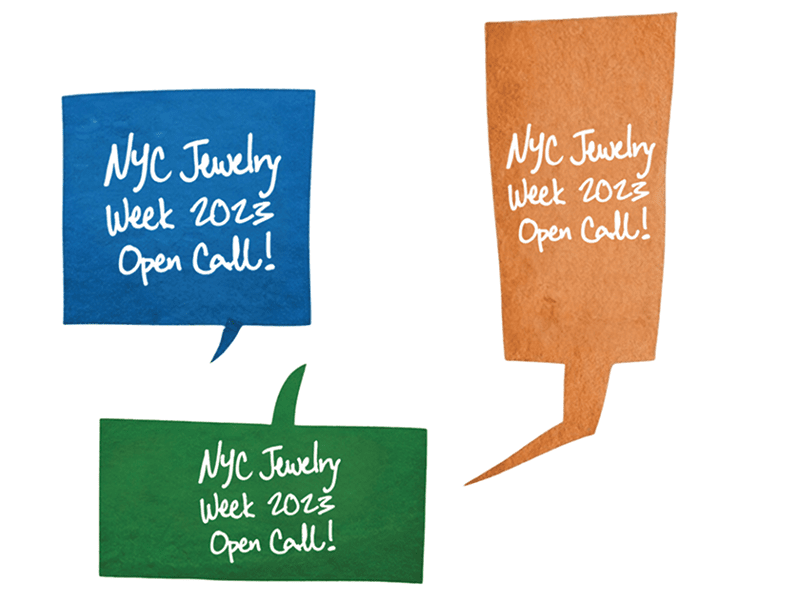 APPLICATIONS OPEN—NYCJW
Seeking proposals from artists, designers, curators, and retailers for exhibitions, pop-ups, conversations, and retail activations that are innovative and revelatory, jewelry that is beautifully crafted and meaningful, programs that are full of storytelling and shaping the industry. NYC Jewelry Week will take place November 13-19, 2023. Deadline: June 30, 2023. Info.
INTERESTING LINKS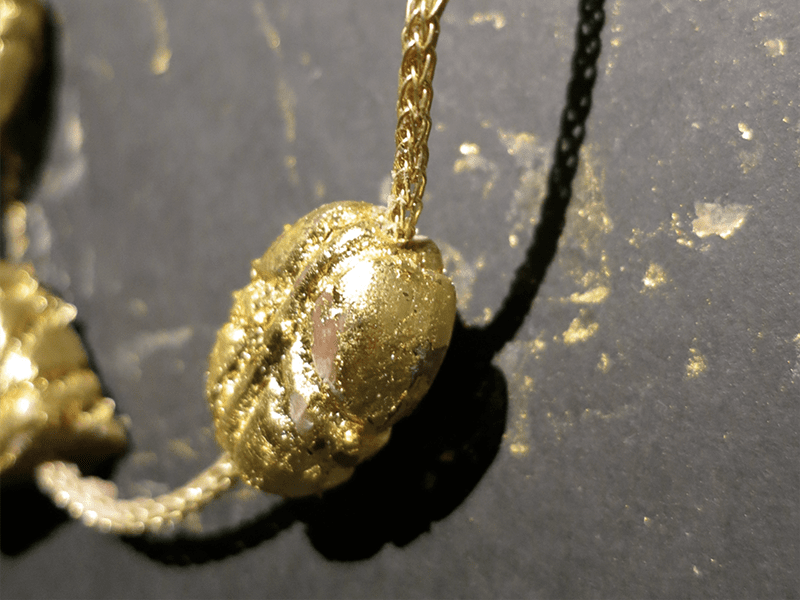 CLAIRE MCARDLE REMEMBERS HER 2013 EXHIBITION
The maker writes about Gilty—and its "gilty" secret—in a recent article for Garland. Read it.
---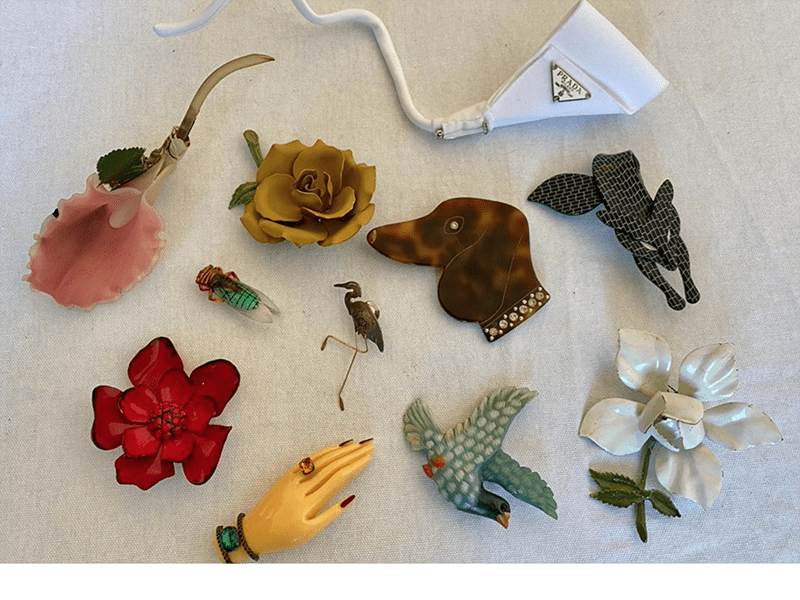 "I CAN'T STOP BUYING BROOCHES"
Is this a "problem" you can relate to? Wait. Problem? What problem?! Jenny Walton claims she didn't realize how practical brooches were until she relocated to Milan and needed a way to instantaneously change up her outfits without weighing down her suitcase. (But look at her IG for the last year. There's no shortage of faaaaabulous outfits … and only two brooches to be seen!) The influencer shares some favorites and similar alternatives. In New York magazine.
---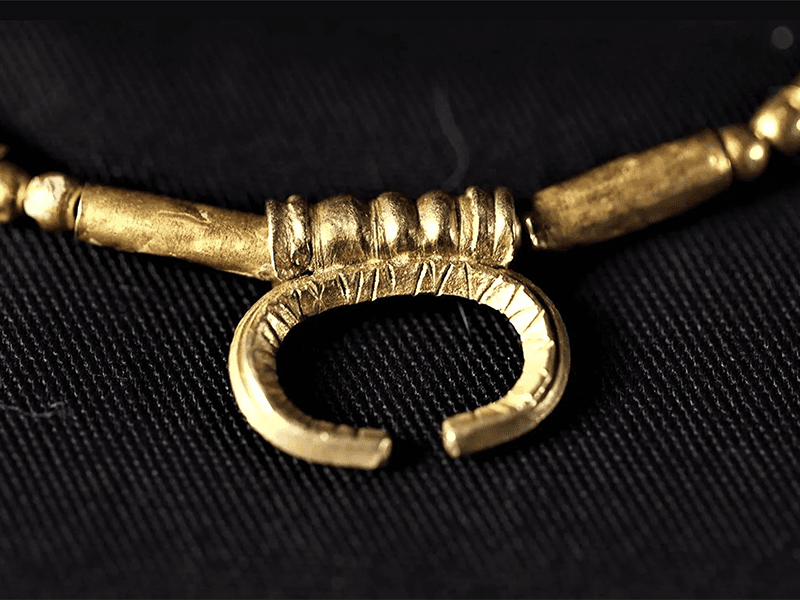 EVIL EYE JEWELRY FROM ANTIQUITY GOES ON DISPLAY
Designed in Roman times to protect a young girl in the afterlife, the jewelry was discovered 50 years ago but forgotten in a box at the Israel Antiquities Authority. It was recently shown at the 48th Annual Archaeological Congress in Israel. Watch a video on it from—strangely—the China Global Television Network.
---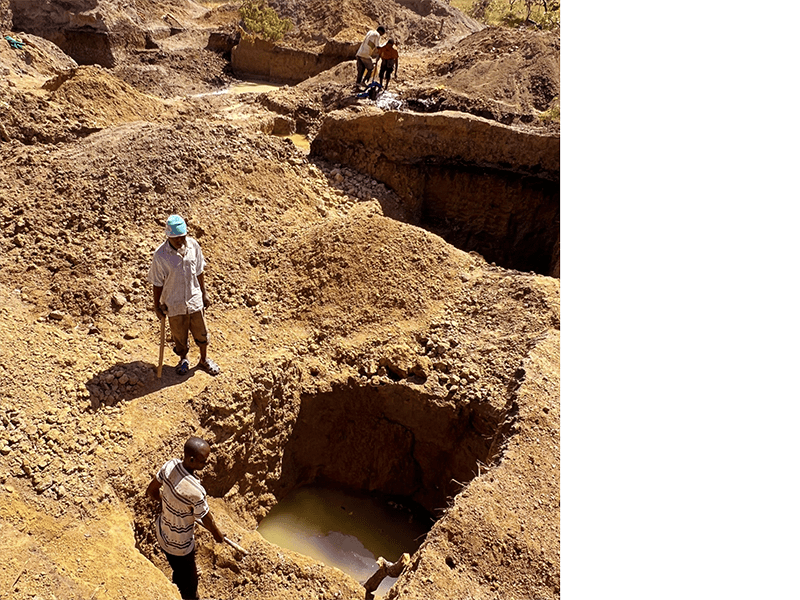 NEW ETHICAL MINES SUPPLY COVETABLE AQUAMARINES
An article about the Zambian tribes producing Bond Street stones. Read it.
---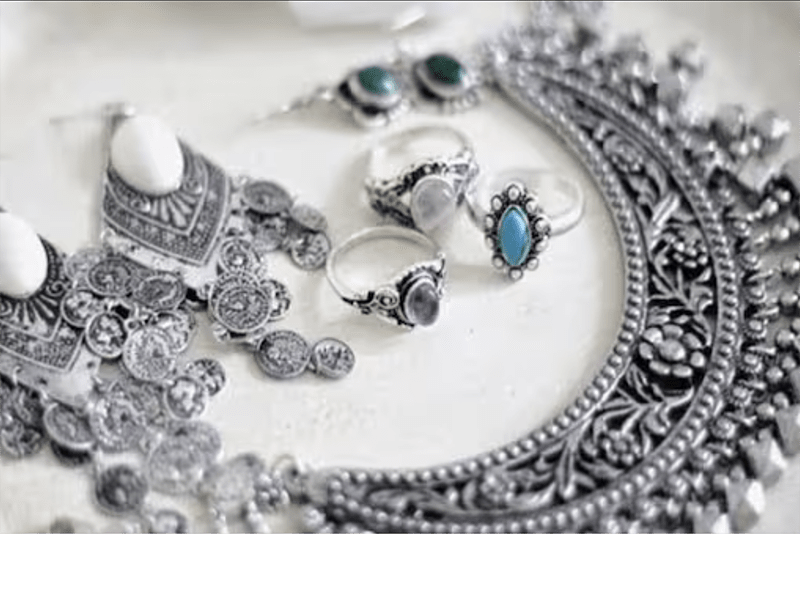 IS ALUMINUM JEWELRY TRENDING IN THE CURRENT ECONOMY?
The NYT recently published on this topic, now News 18 had a news story on it, too. Apparently India's Dainik Bhaskar newspaper started the reporting, calling the metal eco-friendly, affordable, and popular in India, China, and the UK.