There are so many reasons to purchase art jewelry: You got that hard-earned promotion—celebrate! You're experiencing a once-in-a-lifetime occasion and want to honor it. You wrapped up that major accomplishment and it's time to commemorate it, or you want to mark the beginning of a new relationship (or the end of one). Perhaps it's an investment, or the perfect piece to round out an aspect of your collection. Or maybe it's just to treat yourself—just because. Art Jewelry Forum's international
gallery supporters
celebrate and exhibit art jewelry. Our monthly
On Offer
series allows this extensive network of international galleries to showcase extraordinary pieces personally selected to tempt and inspire you. Take a look. You're
bound
to find a fantastic piece you simply have to add to your collection! (Please contact the gallery directly for inquiries.)
Note: Starting this month, we will no longer organize this series using the categories of yore—they no longer seem relevant.
Artist: Gerd Rothmann
Gallery: Ornamentum
Contact: Stefan Friedemann
Retail: US$9,800
Mit Meinem Daumen Modelliert (Formed with My Thumb) is the title of the bracelet, as well as of Gerd Rothmann's current exhibition of new works at Ornamentum. The latest chapter in his oeuvre finds this noted jewelry artist exploring a more playful side, the fingerprint—elements that have been his signature for decades overlap with articulated connections, functioning to hold the piece together while allowing fluid movement and changing positions of the individual imprints.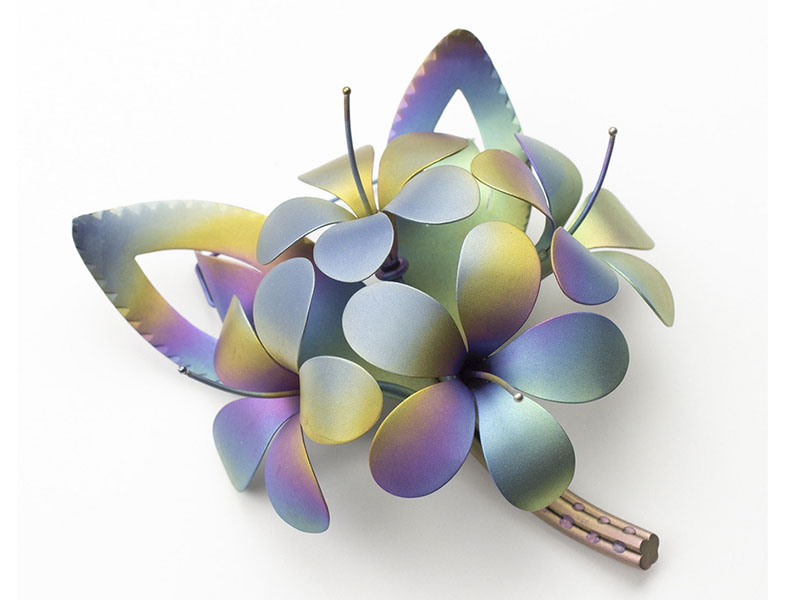 Artist: Stefan Gougherty
Gallery: Gallery Loupe
Contact: Patti Bleicher
Retail: US$700
Initially trained as an industrial designer, Stefan Gougherty uses manufacturing strategies to realize his playful aesthetic, one where natural phenomena, such as insects and flowers handcrafted from space-age anodized titanium, seem to have migrated from another planet.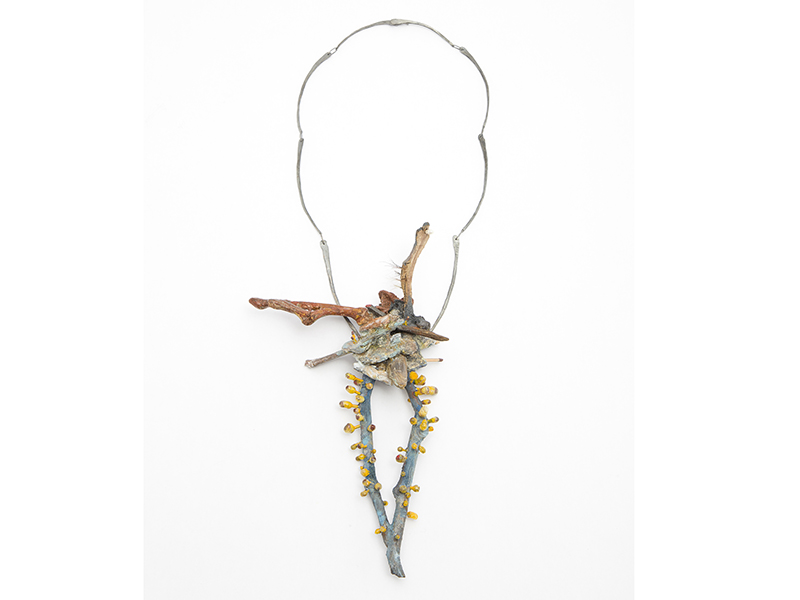 Artist: Attai Chen
Gallery: Galeria Reverso
Contact: Paula Crespo
Retail: €2,750
Cordyceps Survivor 3—a title that reminds us of our condition as mortal beings in search of immortality. A form that suggests both sacrifice and redemption. A unique piece made of multiple materials that evoke past, present, and future. A necklace that will certainly survive us and thus guarantees Attai Chen his share of immortality.
Artist: Neil Adcock
Gallery: Fingers Gallery
Contact: Lisa Higgins
Retail: NZ$1,730
Born in 1957, in New Zealand, Neil Adcock graduated from the Wellington School of Design in 1979. He exhibited some of his early works at the National Art Gallery in Wellington and spent many years as a creative director in advertising. Adcock has since become a self-taught jeweler and sculptor, designing and creating bold, strong, singular, contemporary work using mainly New Zealand-sourced materials. This piece is part of new body of work currently on show at Fingers Gallery, in Auckland. Check it out.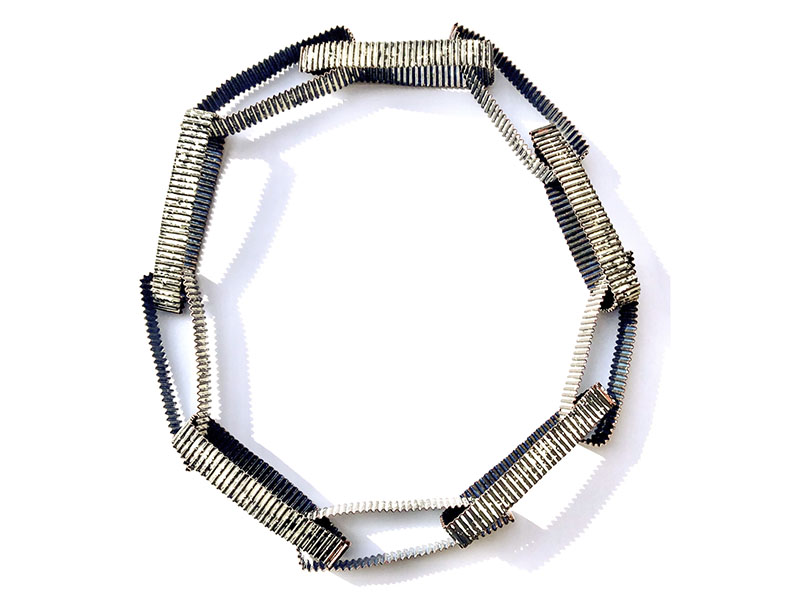 Artist: Adriana Radulescu
Gallery: Jewelers'werk Galerie
Contact: Ellen Reiben
Retail: US$2,800
This is one of a series of copper enameled necklaces that are a new path for Radulescu's work. The matte copper texture with smooth enamel creates lovely depth and detail.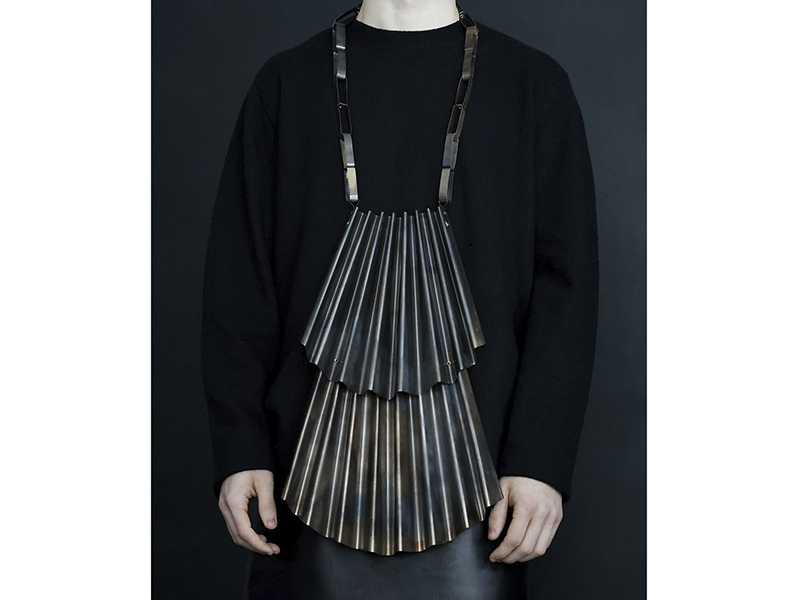 Artist: Eija Mustonen
Gallery: Galerie Noel Guyomarc'h, bijoux et objets contemporains
Contact: Noel Guyomarc'h
Retail: CAN$3,570
Eija Mustonen, a founding member of the collective Hibernate, first studied lapidary art and silversmithing in Lappeenranta and Lahti, respectively, before completing a master's degree at the Helsinki University of Industrial Arts in 2005. Since 2010, she has been leading the fine arts program at the Saimaa University of Applied Sciences. In addition to creating and teaching, she has helped organize several international contemporary jewelry events, including Alchemy and KORU. Her work from the past several years has focused on metal as a main material, which she uses to create protective objects for the human body. Without actually being utilitarian, each object evokes its function and encompasses the wearer's body like an armor. This time, she trades hammering for metal-folding techniques, and presents a series of ornaments inspired by clothing, accessories, and body adornment.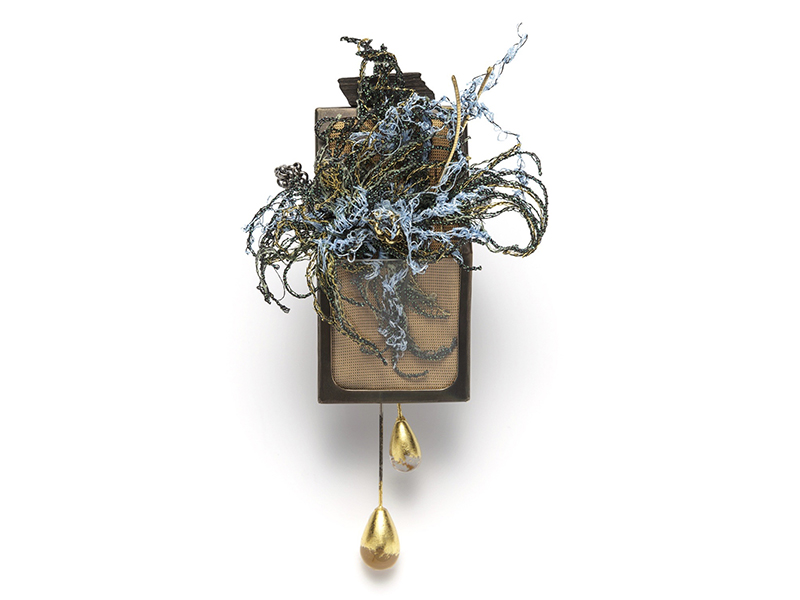 Artist: Truike Verdegaal
Gallery: Galerie Rob Koudijs
Contact: Rob Koudijs
Retail: €3,760
Shelter or expansion? Familiarity or the universe? Somewhere in the ever-dynamic, timeless cosmos, humankind is looking for a safe spot in the here and now. Truike Verdegaal started looking for positions within her own discipline, jewelry. She decided to focus on two aspects: space and time. Space is represented by introducing the notion of distance: the sliding scale between the bigger picture and the small detail. To illustrate the phenomenon of time, she used the sequential times of the day: morning, afternoon, and evening. Verdegaal shaped her brooches like a sort of "display window," using frameworks and incidentally protective glass. In this way she creates a stage for her narrative.
Artist: Therese Hilbert
Gallery: Funaki
Contact: Katie Scott
Retail: AUS$2,150
This brooch by Swiss artist Therese Hilbert is a beautiful example of her recent oeuvre, combining minimalism and aesthetic restraint with the ever-present undercurrent of her work; her passion for volcanoes, both literally and as a metaphor for the emotions we keep under the surface. Made with cool precision, this piece is a masterful understatement that leaves us eagerly looking forward to her major survey exhibition in Munich in 2022.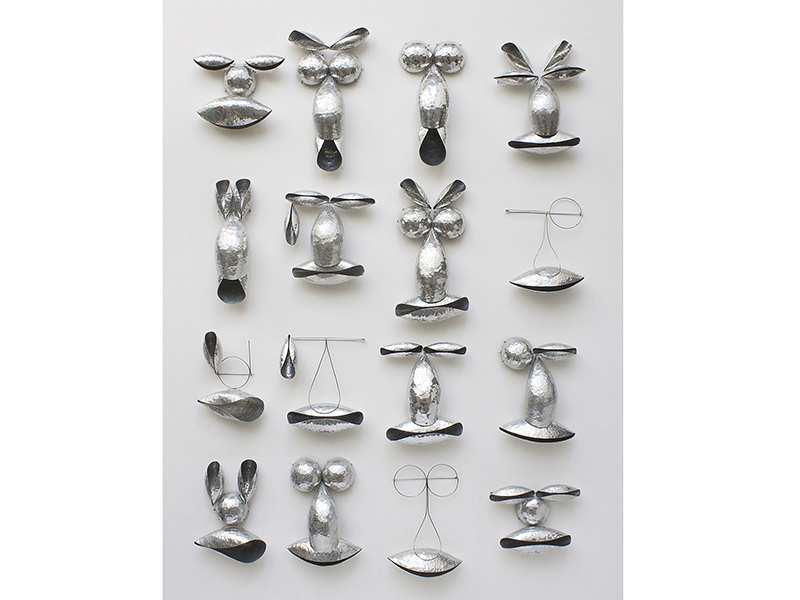 Artist: Joana Albuquerque
Gallery: Galeria Tereza Seabra
Contact: Tereza Seabra
Retail: Each €380, plus shipping
Masks for Everyday Rituals seeks to introduce the mask object, usually associated with exceptional situations, such as collective rituals, into the banality of urban everyday life, thus evoking the idea of performance, multiplicity, and transformation. In this work, with a certain humor, moods are exaggerated in a synthesized way through masks/brooches, which, when carried by the user on the body, enhance an interaction with the other, a nonverbal and playful dialogue.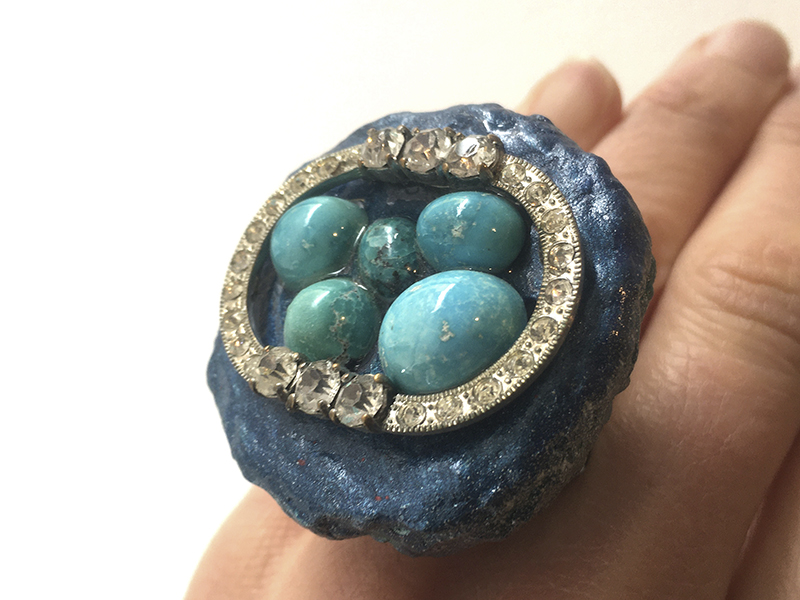 Artist: Marianne Schliwinski
Gallery: Four Gallery
Contact: Karin Roy Andersson
Retail: €550
In Marianne Schliwinski's work, you see contrasts playing together. Her language consists of materials and their different qualities. Things might not always be what they seem—light pieces with a heavy appearance and weighty works with a light one. Schliwinski often combines papier-mâché with found objects. Different paints and lacquers accentuate the materials and shapes. The composition, the materials, and the colors tell sensible, political ,and sometimes funny stories.
Artist: Julie Blyfield
Gallery: Mydaybyday Gallery
Contact: Laura H Aureli
Retail: €3,750
Mydaybyday Gallery in Rome is featuring the beautiful artwork of Australian artist Julie Blyfield with her Black Pea neckpiece, made in 2016. "This necklace was inspired by studying the watercolors of Fanny de Mole, who lived in Adelaide in the mid 1800s and documented the flowers and plants from her local area," says Blyfield. "Fanny only lived a short life but she left a wonderful legacy of her hand-colored flower album, which is stored in the Herbarium in Adelaide, South Australia. I made a solo exhibition about her paintings called Rare Collection. The Black Pea neckpiece is made from oxidized sterling silver, and the tube is gold-plated sterling silver with internal cable. The piece is hand chisel-engraved to form the linear pattern on each of the pea shapes."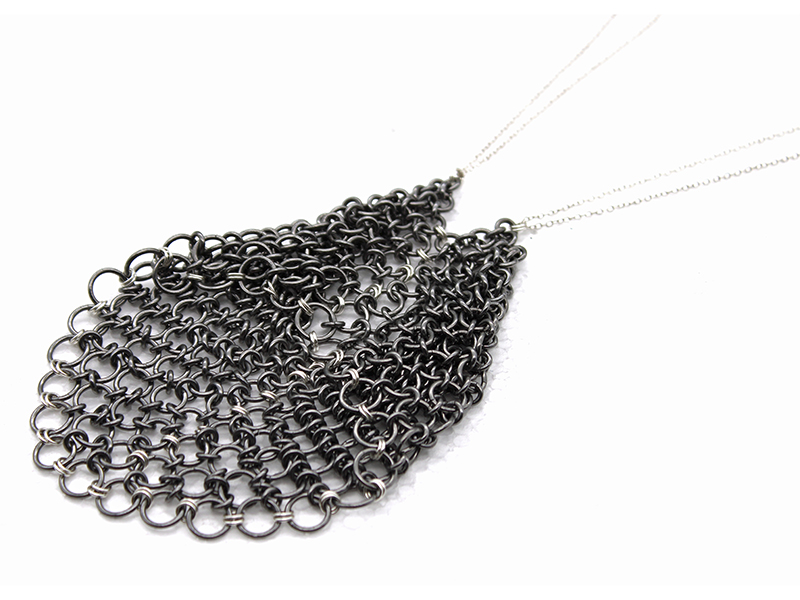 Artist: Rebekah Gail Frank
Gallery: Baltimore Jewelry Center
Contact: Shane Prada
Retail: US$1,400
This piece, Potential Space Necklace 2, was made by Rebekah Gail Frank in her recent residency at the Baltimore Jewelry Center. As the inaugural Mid-Career/Professional Resident Artist at the BJC, Frank spent a month creating a new body of work to display in the BJC gallery. The work created during the residency is an exploration of graduated chain as a building block to create volumetric forms. The chain creates collapsible shapes, which are flexible and changeable as they are worn. The structures are minimal, spacious, without complexity. Despite the geometry and material, they are not hard pieces. Softness enters the pieces as they drape and conform to the environment they interact with, the gentle pull of gravity, the planar surfaces of a table, the curves of the body. There is a delicacy in the line and in the structure, but these flexible perimeters create their own spaces, capturing a moment within their curves and edges. These potential spaces are a place for further investigation.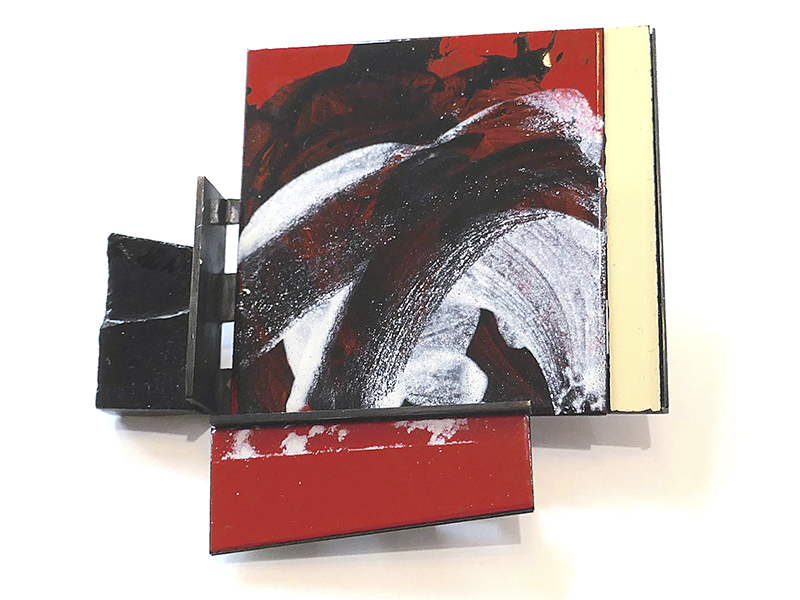 Artist: Ramon Puig Cuyàs
Gallery: Galerie Spektrum
Contact: Jürgen Eickhoff
Retail: €1,450
This brooch is a wonderful example from Ramon Puig Cuyàs's Genesis series. It brings together the Catalonian joy of colors and the origin of creativity. It is easy to wear and at the same time will be a highlight of your collection.
Artist: Veronika Fabian
Gallery: Galerie Marzee
Contact: Marie-José van den Hout
Retail: €2,395, plus VAT
In her current exhibition at Galerie Marzee, You, Me, and Your Stuff, Veronika Fabian reconstructs important, personal, everyday objects as pieces of jewelry. As part of a wider research project for her MFA thesis, and encompassing not just jewelry but also poetry, music, and short stories, she investigates how we express our identity and experience through the objects that are most precious to us. This exhibition with many photos and videos can be found on Galerie Marzee's website.