Art Jewelry Forum's extensive network of international
gallery supporters
is dedicated to celebrating and showing art jewelry. On Offer is a monthly series that allows AJF galleries to showcase a piece that they've personally selected to tempt and inspire you. Please contact the gallery directly for inquiries. Enjoy!
MUSEUM WORTHY
Artist: Fumiki Taguchi
Gallery: Archivio Negroni
Contact: Eliana Negroni
Retail: €2,900
This piece was selected by Peter Skubic for Schmuck 2016 and featured on the cover of the catalog. Taguchi won the Herbert Hofmann Prize in 2013 and was also selected in 2014. About the Kuchitehazimari body of work, from an interview with Katja Toporski in Metalsmith vol. 36-3: "Through the exposure to the elements causing a layer of rust to form, the signs of time passing are added to the hands of the craftsman, producing an addictive result as jewelry could ferment and ripe beneath the earth; in Japanese the word for sleep and fermentation is the same, implying a restorative nature of time in both cases."
MUSEUM WORTHY
Artist: Warwick Freeman
Gallery: Gallery S O
Contact: Katharina Dettar
Retail: £1,450
The Link Bangle is a prime example of artists making the most of the materials they have. Warwick Freeman begins with an old lignum vitae bowling ball and, through a technique he calls "an old standard of wood whittler," carves out interlocking chain links from the single piece of wood. The grooved surfaces are then coated in a paint that he has created from jasper dust, the byproduct of another process. The resourcefulness to create such a beautifully simple yet striking object is a testament to Freemans' craft, and this striking simplicity is reflected in his own words when asked about the piece: "Conceptually it is very uncomplicated—it is what it is—one of those pieces that sings its own simple song. It is a favorite of mine."
MUSEUM WORTHY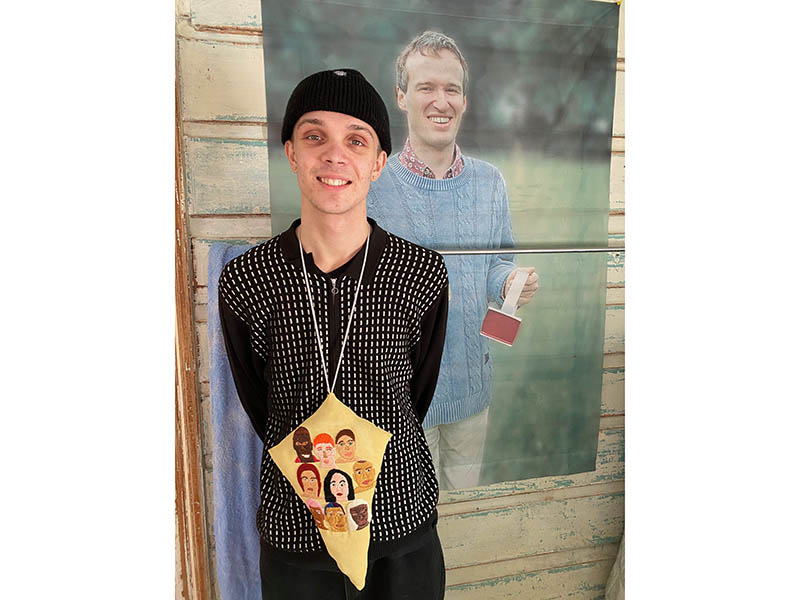 Artist: Lisa Walker
Gallery: Galeria Tereza Seabra
Contact: Tereza Seabra
Retail: €4,400
Overcoming prejudiced barriers associated with any material or technique, Lisa Walker reflects in her work a constant concern with the meaning of contemporary jewelry, incessantly questioning what is a precious object. The diversity of the materials used in an iconoclastic and irreverent way, which at first may come across as a disparate assemblage, is in fact a thorough selection from which emerges an approach to multiple forms of art and cultures. In spite of her unmistakable aesthetics, Walker reinvents herself at each new step of her work, surprising us at every moment with innovative and pertinent proposals. Her work is represented in the most prestigious private collections and in numerous public institutions.
ESTABLISHED ARTIST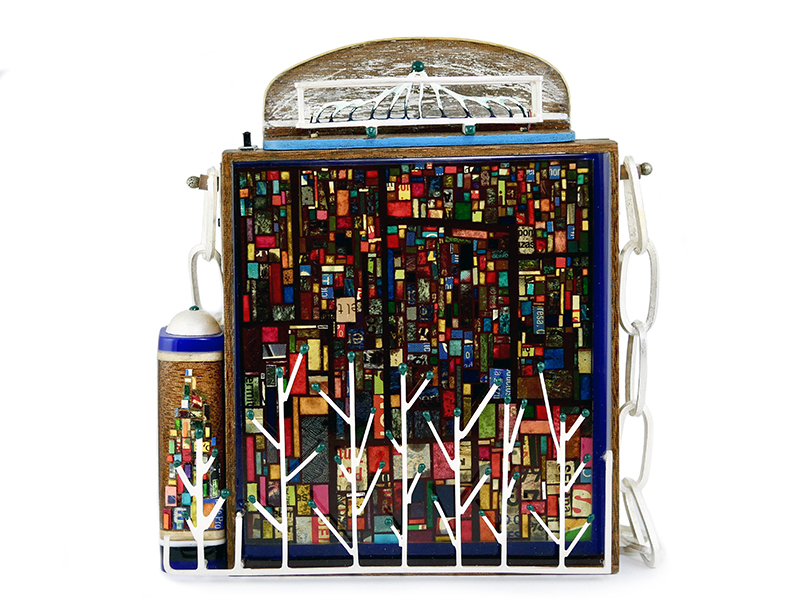 Artist: Juanjo García Martín
Gallery: Tamagit
Contact: Marta Tamagit
Retail: €1,200
This unique necklace/brooch by the artist Juanjo García Martín plays with the light and the profound emotion of a stained-glass window that hasn't been illuminated. The red stands for pain, passion, heart, sunset, wine—multiple life lines that create a whole. The object re-creates a little installation that invites anyone to interact with it, to play with it, and to establish a personal relationship with it. Inspired by the rural life and the people there who work and live by the sweat of their brows, this "juicy" piece is the artistic expression of life itself: pain, effort, passion, persistence.
ESTABLISHED ARTIST
Artist: Marianne Schliwinski
Gallery: Galerie Spektrum
Contact: Jürgen Eickhoff
Retail: €1,800
Circle Fragment is a brooch from Marianne Schliwinski's new black series of work. The papier-mâché conveys the impression of a rough black stone, and it includes two rhinestone/crystal elements. In contrast, the artist mounted a fragment of a mechanical piece of iron (a gearwheel), which seems to grow out of the stone.
ESTABLISHED ARTIST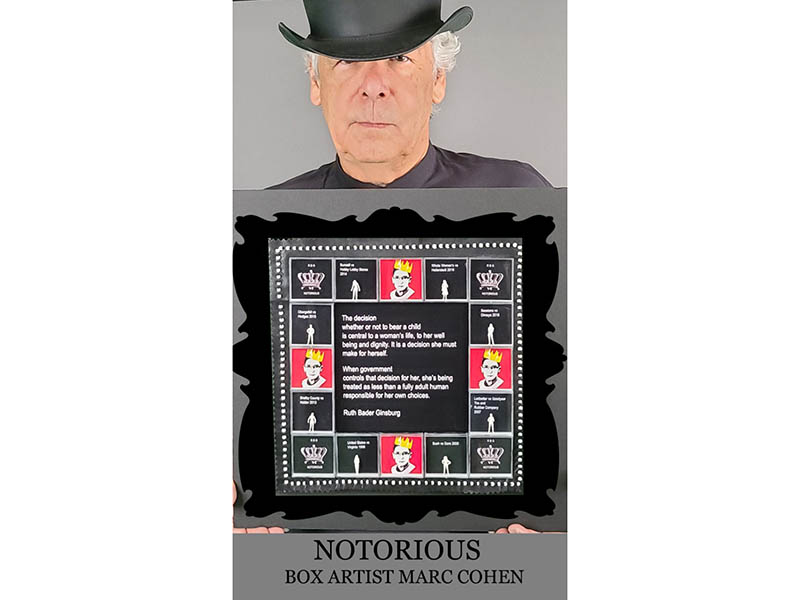 Artist: Marc Cohen
Gallery: Sculpture To Wear
Contact: Lisa M. Berman
Retail: US$3,300
This one-of-a-kind wearable art piece honors the "Collars of Dissent" coined by Supreme Court Justice Ruth Bader Ginsburg. Created especially for the exhibition Feel the Frill, hosted by Sculpture To Wear gallery, the collar features the proprietary "Box Art" of Marc Cohen, of NYC, depicting the dissents by RBG with an emphasis on the ideal of a woman's right to choose. Ginsburg said, "The decision whether or not to bear a child is central to a woman's life, to her well-being and dignity. It is a decision she must make for herself. When government controls that decision for her, she's being treated as less than a fully adult human, responsible for her own choices." Smaller single 51 x 51-mm limited-edition brooches in frames are also available from the online exhibition.
ESTABLISHED ARTIST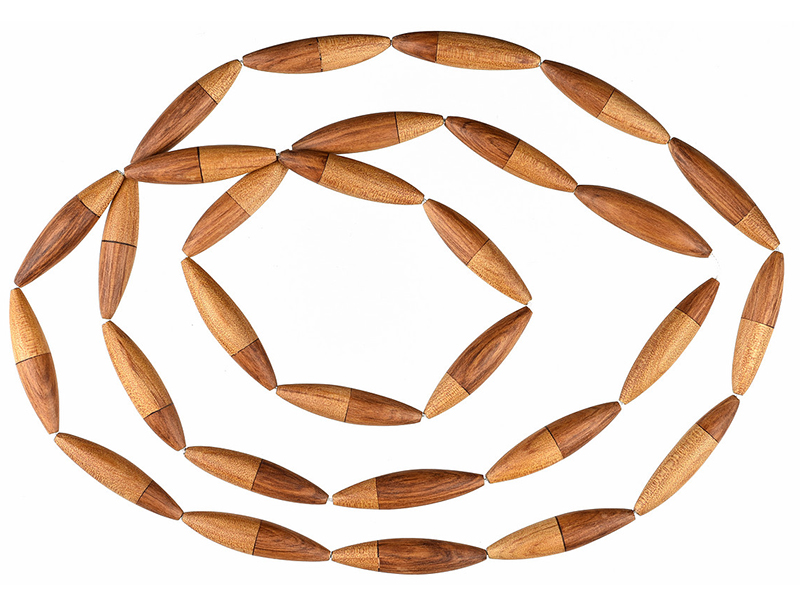 Artist: Mary Curtis
Gallery: Fingers
Contact: Lisa Higgins
Retail: NZ$1,500
Mary Curtis started making jewelry in the mid-1980s. "In this time of global chaos, I want to make jewelry to soothe," she says. "These worry beads guide the hand to a repetitive calming movement that follows the rhythms of nature. The total number of worry beads in a necklace usually equals a prime number (multiples of 4 + 1). Here each group of four marks one year, depicting the equinox and solstice through the dark/light circadian rhythm." Curtis has undertaken a number of residencies and workshops and has exhibited extensively both locally and internationally. She worked as a senior lecturer at Manukau School of Visual Arts from 1990–2017 and continues to make jewelry from her home-based workshop, in Auckland.
MID-CAREER ARTIST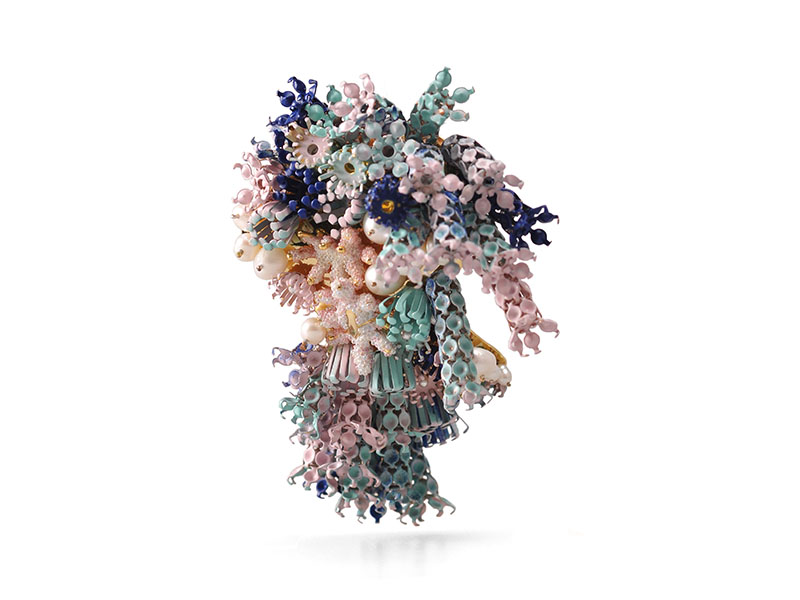 Artist: Aisegul Telli
Gallery: Galerie Elsa Vanier
Contact: Elsa Vanier
Retail: €1,740
Aisegul Telli is an Istanbul-based jewelry artist who graduated with a degree in chemistry in 2009. She found herself seeking an appropriate language to transform her emotions and impressions into contemporary art. From darkroom to digital underwater photography, fashion styling to watercolor painting, she delivered projects. After taking jewelry classes, she decided these little wearable sculptures were the most satisfying ones that could speak to viewers and wearers. Every idea, then every piece, forced her to experience new materials, and every material was another language. In 2014, she launched her first collection of pieces, called Undersurface, inspired by her diving sessions in the Indian Ocean. Her jewelry has been exhibited in Italy, France, Lithuania, Brazil, China, the United States, and Turkey.
MID-CAREER ARTIST
Artist: Elin Flognman
Gallery: PLATINA Stockholm
Contact: Sofia Björkman
Retail: US$2,600
Elin Flognman's work is a tribute to everyday life and the things that surround us. What we may not have thought could be jewelry is exactly what she picks up and makes jewelry from. It can be a knife, a potato, or—as in this necklace—forks for a big dinner with friends and family. This year, many have been isolated, and this piece therefore becomes extra relevant and a reminder that it's important to care for each other. Flognman is a Swedish jewelry artist. She received her MFA in jewelry art from HDK – School of Design and Crafts, in Gothenburg, in 2013.
EMERGING ARTIST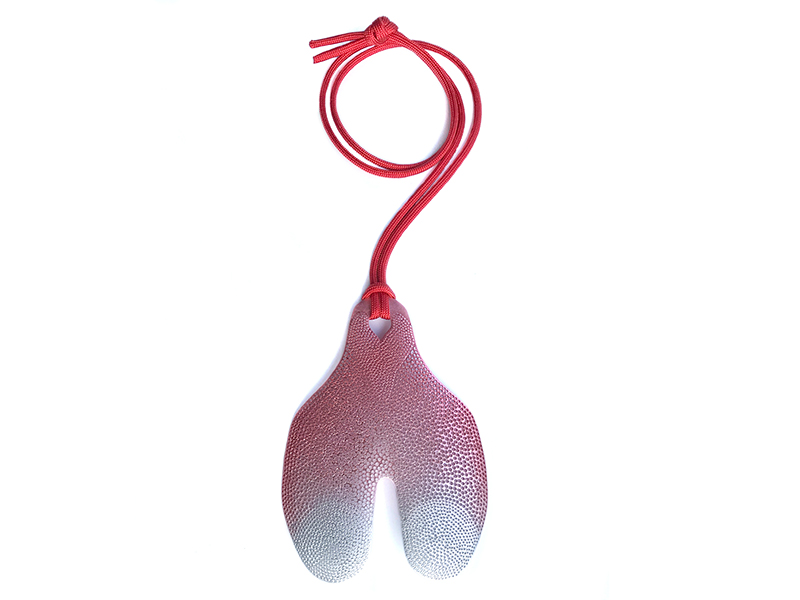 Artist: Sanna Wallgren
Gallery: Four
Contact: Karin Roy Andersson
Retail: €450
Sanna Wallgren is one of the new young Swedish talents. She graduated from HDK in 2018. In her degree project, she dealt with fears, illness, and the feeling of being in a body, and being a body. The objects consist of aluminum sheets perforated by hundreds of boreholes—like shadows of thoughts and organs.
GALLERY CHOICE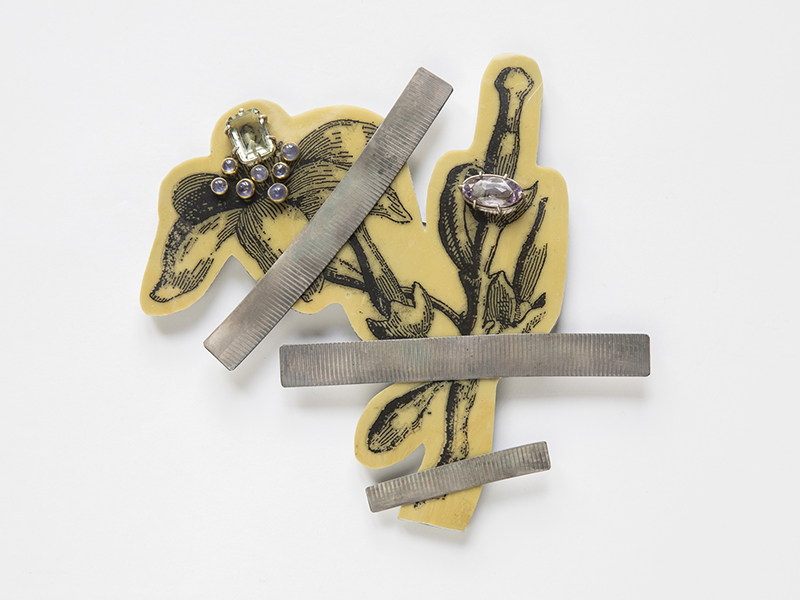 Artist: Margit Jäschke
Gallery: Galerie Biró
Contact: Kinga Zobel
Retail: €1,900
This brooch by Margit Jäschke is so incredibly sensitive and delicate, yet it gives off strength and self-confidence. Like Jäschke herself, the brooch is both gentle and confident. I like this transcription, which also goes over to the wearer.
GALLERY CHOICE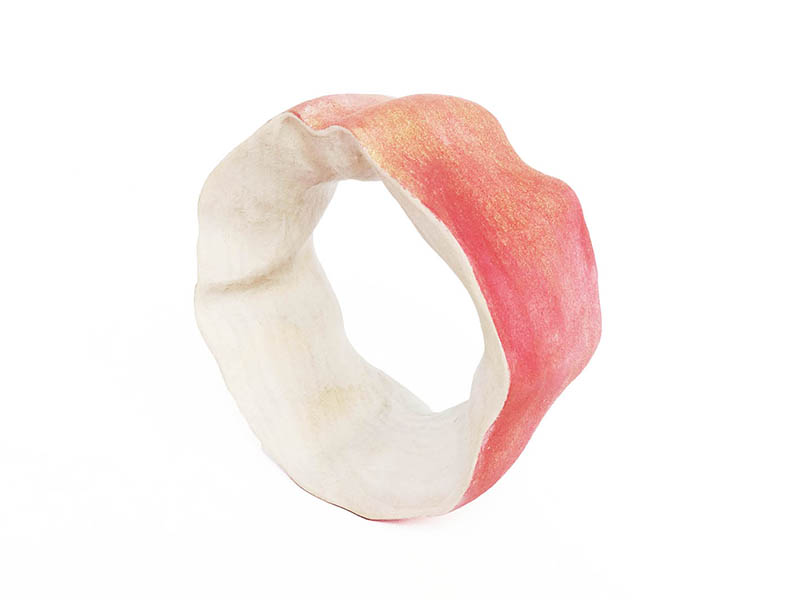 Artist: Flora Vagi
Gallery: Galerie Noel Guyomarc'h, bijoux et objets contemporains
Contact: Noel Guyomarc'h
Retail: €1,400
"I make objects that are intimate and meaningful to their owners, who carry them. Jewelry, which not only adorns," says Flora Vagi, "but 'talks' or sometimes 'whispers.' I work in a language that is understood without words and the verbal explanation becomes secondary really, so…"
GALLERY CHOICE
Artist: Attai Chen
Gallery: Gallery Loupe
Contact: Patti Bleicher
Retail: US$2,700
A graduate of Bezalel Academy of Art and Design in Jerusalem, Attai Chen also holds a graduate degree from the Academy of Fine Arts, Munich, where he studied under Otto Künzli. In 2010, Chen won the Herbert Hofmann Prize at Schmuck, in Munich; in 2011 he was awarded the Oberbayerischer Prize for Applied Art; and in 2014 he received the Andy Prize for Contemporary Art, which granted him an exhibition at the Tel Aviv Museum of Art. Chen is represented in the collections of the Metropolitan Museum of Art, in New York; Die Neue Sammlung, Munich; Tel Aviv Museum of Art, Tel Aviv; the Israeli Museum of Art, Jerusalem; and the Rotasa Trust Collection, in California.
GALLERY CHOICE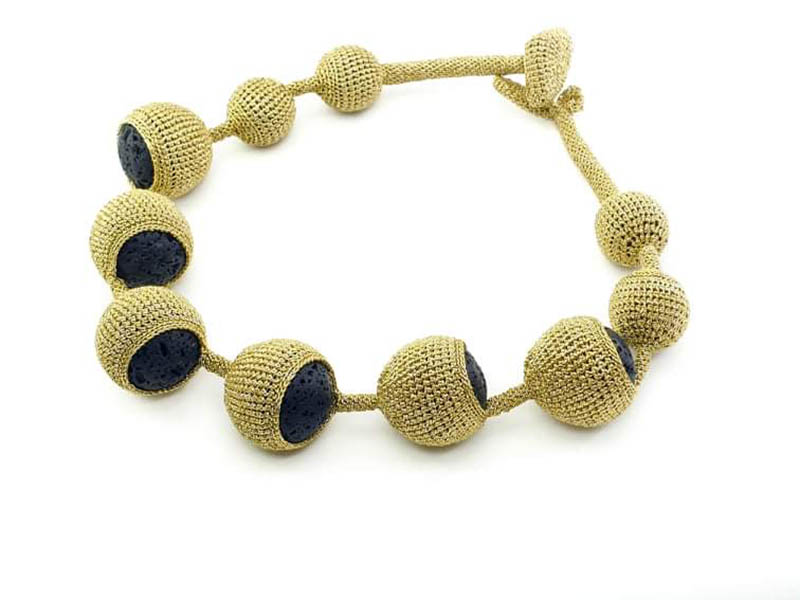 Artist: Shenhav Offer Russo
Gallery: Mydaybyday Gallery
Contact: Laura H Aureli
Retail: €550
Mydaybyday Gallery, in Rome, presents Israeli artist Shenhav Offer Russo and her necklace from the Globe Collection. "This jewelry collection was created by me in 2019 and it was inspired by the fantastic changes our earth is facing in the near future. We are heading toward the age of light," says Russo. "I crochet with a thread [that has] a cotton core and is covered by a metallic colored polymer. The stones range from black lava to natural white corals and glass beads."
GALLERY CHOICE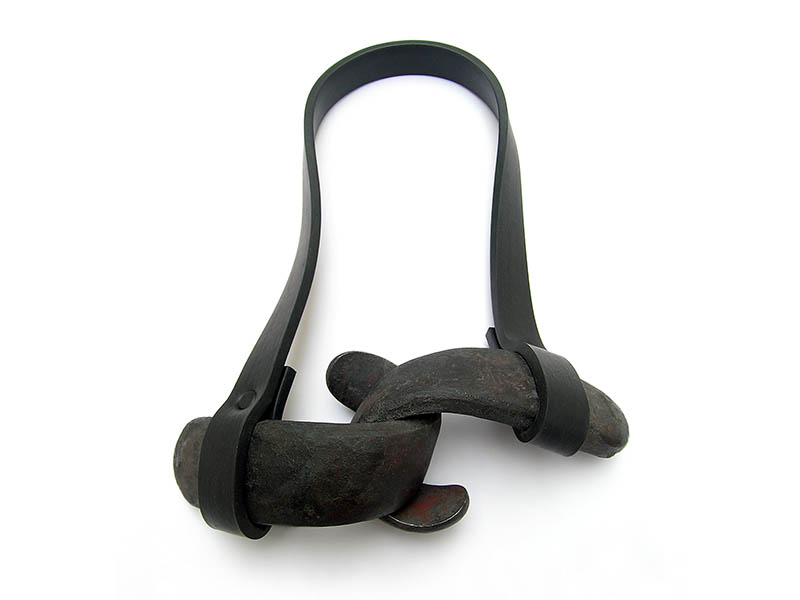 Artist: Sophie Hanagarth
Gallery: Galeria Reverso
Contact: Paula Crespo
Retail: €2,200
French Kiss: two tongues, two similar organs, get involved, are bound in two spiral hooks in a knot shape to create a big necklace clasp. A French kiss is a deep kiss, a penetration, a burning expression of a desire.
Forging this kiss was at once a violent and sensual shaping, a vision of reddening tongues in the forge, winding under the effect of the hammer on the horn of the anvil.