Art Jewelry Forum's extensive network of international
gallery supporters
is dedicated to celebrating and showing art jewelry. On Offer is a monthly series that allows AJF galleries to showcase a piece that they've personally selected to tempt and inspire you. Please contact the gallery directly for inquiries. Enjoy!
MUSEUM WORTHY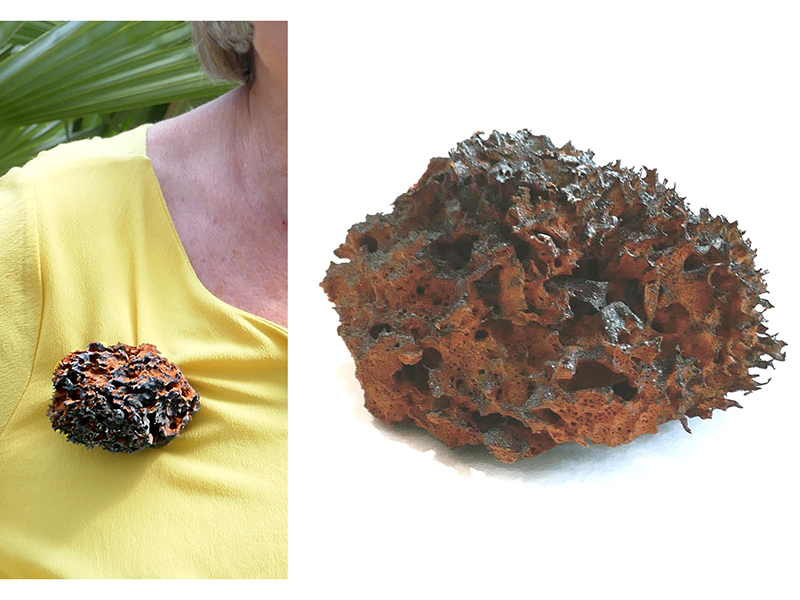 Artist: Winfried Krueger
Gallery: Galerie Spektrum
Contact: Jürgen Eickhoff
Retail: €700
Winfried Krüger (born 1944) taught at Pforzheim until 2011. The Sponge Brooch, from 1986, is an early work of contemporary jewelry, in which a sponge is used directly; it's only fixed with gypsum and highlighted with paint. Besides its historic dimension, the sponge brooch is very comfortable to wear, and a decorative piece of art, too.
MUSEUM WORTHY
Artist: Tereza Seabra
Gallery: Galeria Tereza Seabra
Contact: Tereza Seabra
Retail: €3,000
Ritus. Since time immemorial, humankind has tried to communicate with the unknown, regardless of culture or cult. The ritual act allows the worshipper to meditate on his or her own identity and harmonious relationship with the vast universe. Rituals focus on the mysteries that underlie existence itself and are part of practically all known human societies, past or present, summoned by spiritual or emotional need. The line between the known and the unknown blurs through practices, gestures, prayers, sacrifices, and offerings, symbolizing ideologies and teachings not dependent on doctrines but on identity and emotional involvement in the heart and mind of the worshipper.
ESTABLISHED ARTIST
Artist: 2Roses
Gallery: Sculpture To Wear
Contact: Lisa M. Berman
Retail: $2,500 USD
Southern California artists "2Roses" (Corliss Rose & John Rose) are well known for their bold, playful and eclectic pieces. A hallmark of all 2Roses jewelry is that it is functional art designed to be worn. Their latest Corsage series is a masterful presentation of technical skill and concept that has garnered the creative duo attention in International arts media such as International Polymer Clay, Polymer Clay Daily, and Polymer and museum collections as well. Corliss Rose grew up in a florist family, which has been a strong influence on her art. The latest series explores the performative nature of the corsage, and its connection to personal expression.
ESTABLISHED ARTIST
Artist: Nadene Carr
Gallery: FINGERS GALLERY
Contact: Lisa Higgins
Retail: NZ$450
"This work is part of my ongoing interrogation of the dynamic relationship between the beautiful and ugly," said Nadene Carr in 2019. "The space between the points of beauty and ugly is more interesting to me than the destination at either end of the binary. I am particularly interested in pushing the aesthetic elements of what constitutes the beautiful and the ugly and exploring the provocative and challenging concepts that arise: Concepts of culture, gender, age, taste, and appropriation. A playful equilibrium arrives through material investigations of the relationship between opposing forces."
ESTABLISHED ARTIST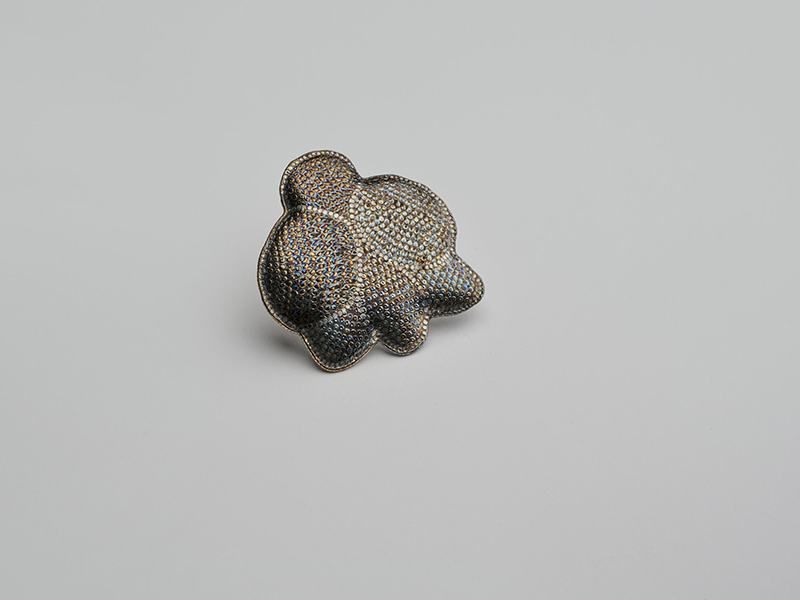 Artist: Shachar Cohen
Gallery: OHMYBLUE
Contact: Elena Rizzi
Retail: €800
Thin Air refers to feeling overwhelmed. The air becomes thin and there isn't enough oxygen. Shachar Cohen creates the corpuses of his jewelry from blown and welded stainless steel sheet. He uses the very same welding machine for the decoration of the surface. This is where masterly manipulation comes into play: the moment the tool you build the object with is utilized to decorate the same.
ESTABLISHED ARTIST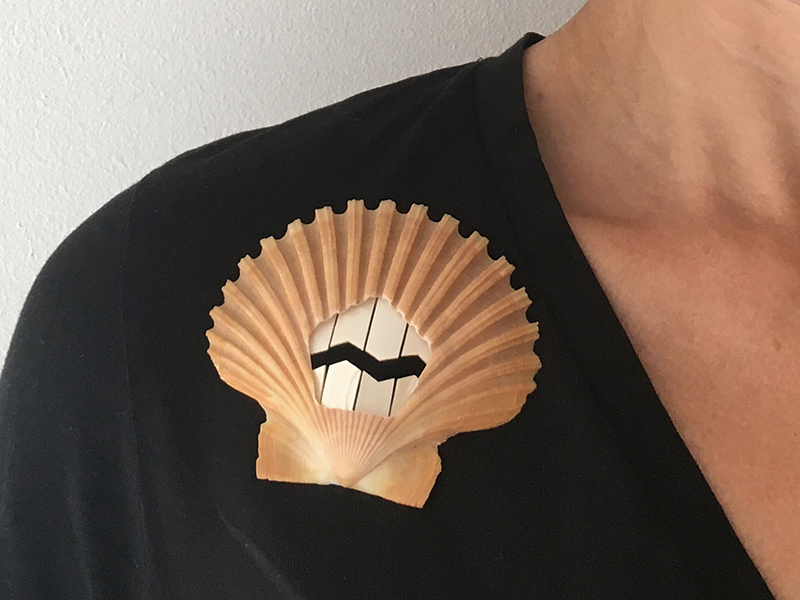 Artist: Benedikt Fischer
Gallery: Four
Contact: Karin Roy Andersson
Retail: €600
Shelly found some baby teeth and tried them on for size. She is sassy and uncivilized, a loudmouth with no spine. Baring her pearly whites, she whispers, sighs, shouts, and grins. Evolution is contagious. Other shells are starting to speak back. Soft on the inside, hard on the outside—to open up they must sharpen their teeth. Each one has its own personality and style. Omnivores speak for themselves, and may bite if provoked. Feed them at your own risk.
MID-CAREER ARTIST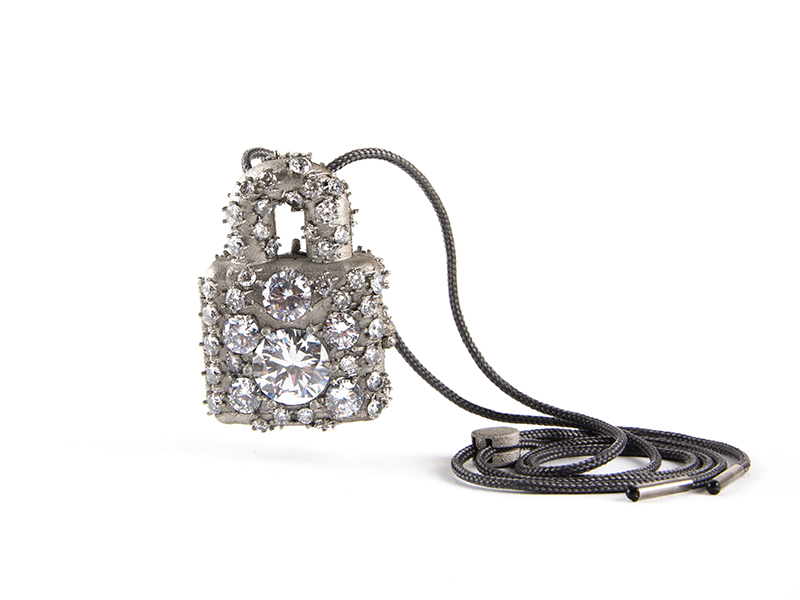 Artist: Adam Grinovich
Gallery: Galerie Rob Koudijs
Contact: Rob Koudijs
Retail: €1,395
Adam Grinovich created this pendant especially for our lockdown Editio series. The door of the gallery is open again, so this brilliant locket is now for sale. (And you can open it to insert something of your loved ones inside!)
EMERGING ARTIST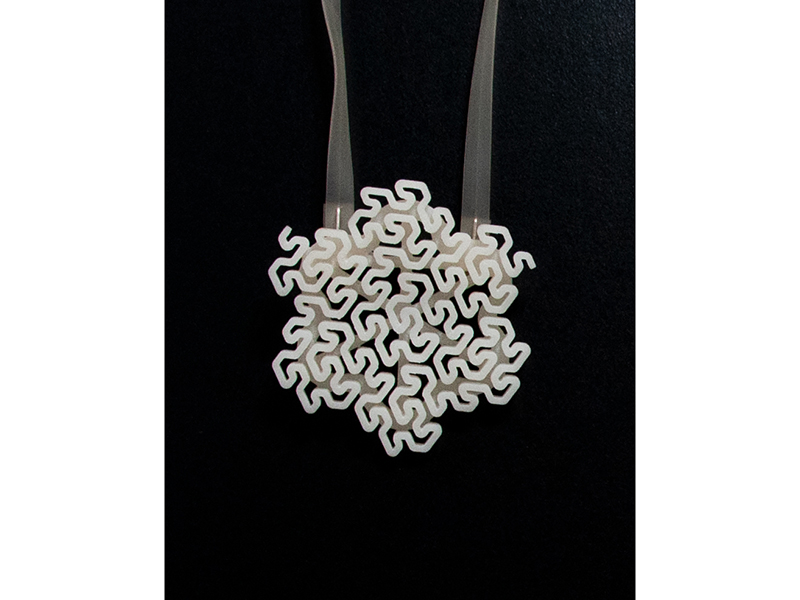 Artist: Reed Fagan
Gallery: Baltimore Jewelry Center
Contact: Shane Prada
Retail: US$150
Reed Fagan is a metalsmith and artist working mostly in traditional silversmithing and goldsmithing processes. His research focuses on phenomena and abstractions in both advanced mathematics and sciences to create a form language that is translated into more permanent metal objects. By taking highly theoretical concepts and repurposing them into physical objects, Reed looks to blend art, science, and the utilitarian object into one. Reed graduated from the State University of New York at New Paltz with an MFA in 2016, and studied at Skidmore College, where he received a BS in studio art and a BA in mathematics in 2012. In his latest body of work, Space Filling, Reed uses curves to prove the idea that something with no width but infinite length could in fact fill a space in a very efficient manner.
EMERGING ARTIST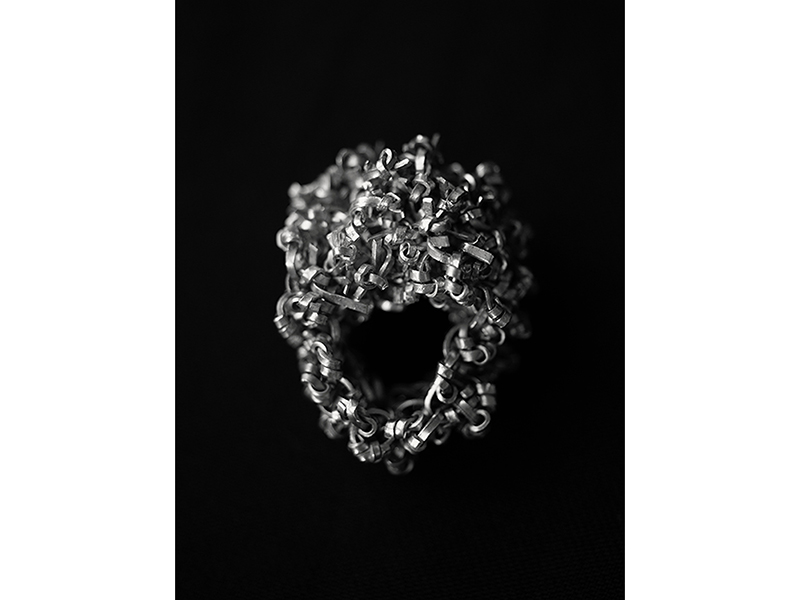 Artist: Betsy Lewis
Gallery: In the Gallery at Brooklyn Metal Works
Contact: Brian Weissman
Retail: US$400
The Figure of the Falling, by Betsy Lewis, exhibits works that refer to the center—the core, the spine, the gut, and the heart. Metal objects and necklaces point to sites on the body to interpret what is otherwise impossible to tell. Like the armor they have become, these works serve as protection and give testimony to the privacy of night. "The heartbeats of these memories are transferred into the stillness of the work, and here I learn to breathe again." This ring is a tactile delight. It flexes but has weight and presence.
EMERGING ARTIST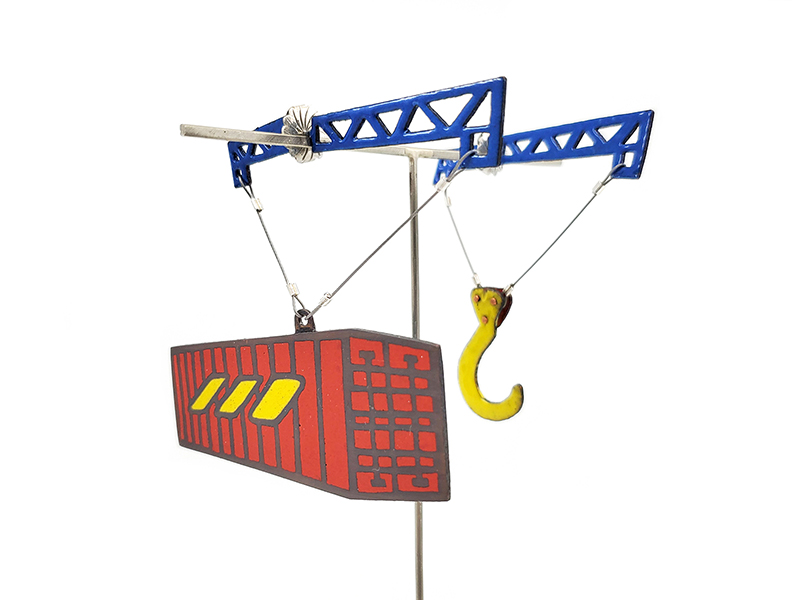 Artist: Magdalena Csipo
Gallery: Gallery 2052
Contact: Nora McCarthy
Retail: US$500
Magdalena Csipo reinvents the hoop style earring for Gallery 2052's ongoing exhibition, Mad for Hoops. These unconventional champlevé hoops, depicting construction scenery, are hand-fabricated using copper, enamel, nylon-coated steel, and sterling silver findings.
GALLERY CHOICE
Artist: Maura Biamonti
Gallery: Gioielli in Fermento at Archivio Negroni
Contact: Eliana Negroni
Retail: €860
Searching for equilibrium is the idea for the brooch. Faithful to Maura Biamonti's language, starting with the spark of movement. Fermentation: many small gray bubbles contrasting with yellow brushstrokes stand like a yin yang message between sobriety and cheeky cheerfulness. In the brooch center, an incorruptible glass sphere transmits the concept of quality. Biamonti aims for counterpoints, combining heterogeneous materials and opposite concepts with the goal of harmoniously merging them. Gioielli in Fermento 2019 selected work – awarded artist in 2012, afterward she developed its collections by experimenting with unconventional surfaces, materials, and textures, combined with traditional qualified techniques for functional and highly refined structures in gold or silver.
GALLERY CHOICE
Artist: Katrin Feulner
Gallery: Funaki
Contact: Katie Scott
Retail: AUS$2,760
Winner of the Herbert Hofmann Prize in 2020, Katrin Feulner is one of the most promising young jewelers to have emerged in the last decade. Using found and repurposed steel objects, she creates jewelry that is bold and subtle, articulate and tough, exquisitely made and beautifully expressed.
GALLERY CHOICE
Artist: Sigurd Bronger
Gallery: Galeria Reverso
Contact: Paula Crespo
Retail: €3,200
This extraordinary, unique piece, by the Norwegian artist Sigurd Bronger, is part of the artist's universe of references, where mechanical structures acquire a prominent place when they are not themselves the central element of the piece. As in most of his works, there is an ingenious and original solution here to articulate contrasting elements in a language unique in the world of contemporary jewelry. Metallic structures support ostrich eggs and shells, and in this case let a beautiful oval white topaz shine in all its transparency and beauty.
GALLERY CHOICE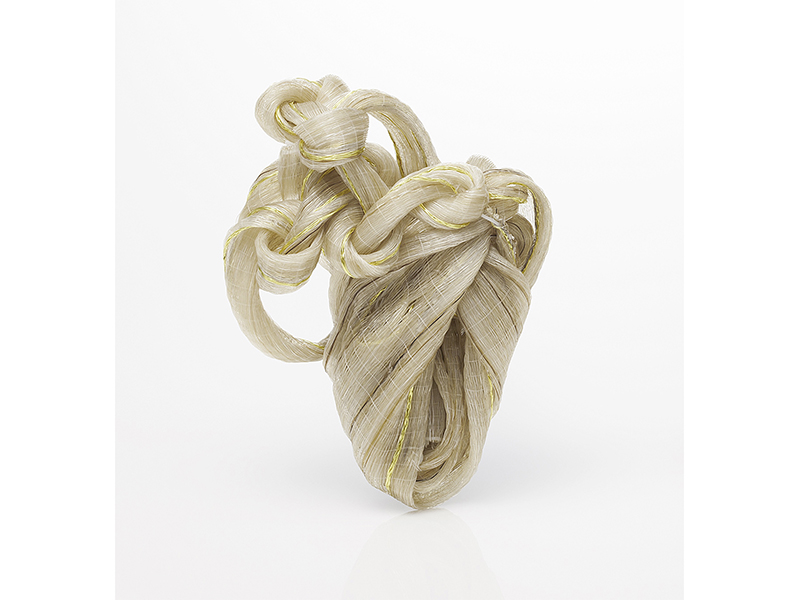 Artist: Kazumi Nagano
Gallery: Galerie Noel Guyomarc'h
Contact: Noel Guyomarc'h
Retail: €560
Japanese artist Kazumi Nagano transforms the materials and techniques of traditional Japanese painting into wearable adornments. Soft and supple, Nagano's work is tactile and appeals to the touch as much as to the eye, evoking the traditional subjects of Japanese painting through abstract, three-dimensional objects. As she writes, "A Japanese-style painter pursues the beauty of nature, which changes seasonally, and tries to portray it. Snow, the moon, and flowers (cherry blossoms) reflect the beauty of transience in nature and are motifs often used, and I love them, too. That aesthetic feeling is important for me when I make jewelry." Nagano's work is represented in public and private collections in Europe, including the V&A, in London, and the Alice and Louis Koch Collection of rings, in Switzerland.
GALLERY CHOICE
Artist: Kasimir Oppermann
Gallery: Galerie Biró
Contact: Kinga Zobel
Retail: €2,900
Kasimir Oppermann studied with Joseph Beuys, as his master student, in the 1960s. After several years as a musician in the US and some long journeys, Oppermann dedicated himself to jewelry starting in 2000. Inspired by fine arts, he creates wearable objects that embrace the body. His material is glass beads, which allow him impressive shapes due to their light weight. We at Galerie Biró have been following him for many years and are delighted by his uniqueness. This is his very first exhibition with a gallery for jewelry.
GALLERY CHOICE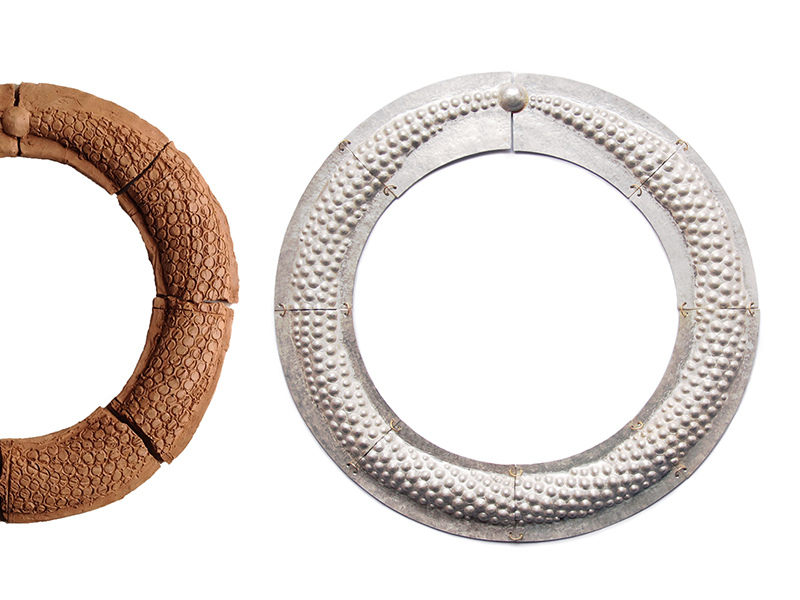 Artist: Violeta Adomaitytė and Philip Sajet
Gallery: Galerie Elsa Vanier
Contact: Elsa Vanier
Retail: €7,450
When we met, I asked Philip Sajet, "What is jewelry?" He said, "I don't know, but maybe I can describe to you what the iconic image of a jewel is. In its most simple and basic form it is a string of pearls. That string of pearls can be made more complex. A gradation from big to small and maybe the strings twisted/spiraled together." I said that maybe it would be nice to make something like that. Sajet drew it very schematically. He drew several strands of pearl strings within two guideline circles. I said that it could be made in repoussé. Philip liked the idea and we made it. First we made a maquette in clay and then we made it in silver.