There are so many reasons to purchase art jewelry: You got that hard-earned promotion—celebrate! You want to honor a once-in-a-lifetime occasion. Maybe you wrapped up that major accomplishment and it's time to commemorate it, or you want to mark the beginning of a new relationship (or the end of one). Perhaps it's an investment, or the perfect piece to round out an aspect of your collection. Or it's just to treat yourself—just because. Art Jewelry Forum's international gallery supporters celebrate and exhibit art jewelry. Our monthly On Offer series allows this extensive network of international galleries to showcase extraordinary pieces personally selected to tempt and inspire you. Take a look. You're bound to find a fantastic piece you simply have to add to your collection! (Please contact the gallery directly for inquiries.)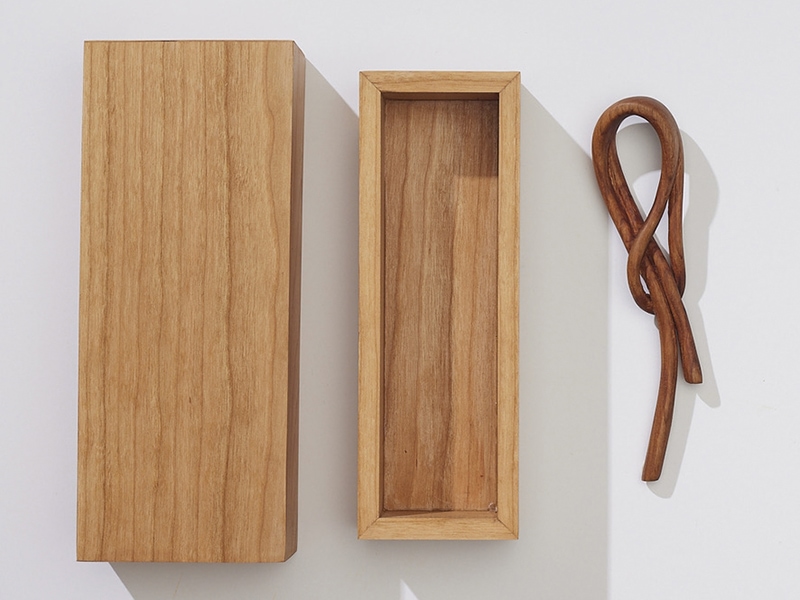 Artist: Steven KP
Gallery: Gallery Loupe
Contact: Patti Bleicher
Retail: US$1,100
Steven KP's pieces are emotionally touching and visually intricate. Their lightness when held is surprising given the weight of their concept. His ability to transform the idea of a knotted cord into a hard material like wood demonstrates his skill as a carver. His beautifully fabricated boxes for each piece provide the protection of a home. Steven KP's work is featured in the current exhibition Wood + Body: Expressions of Contemporary Jewelry, at the Center for Art in Wood, in Philadelphia, PA, US.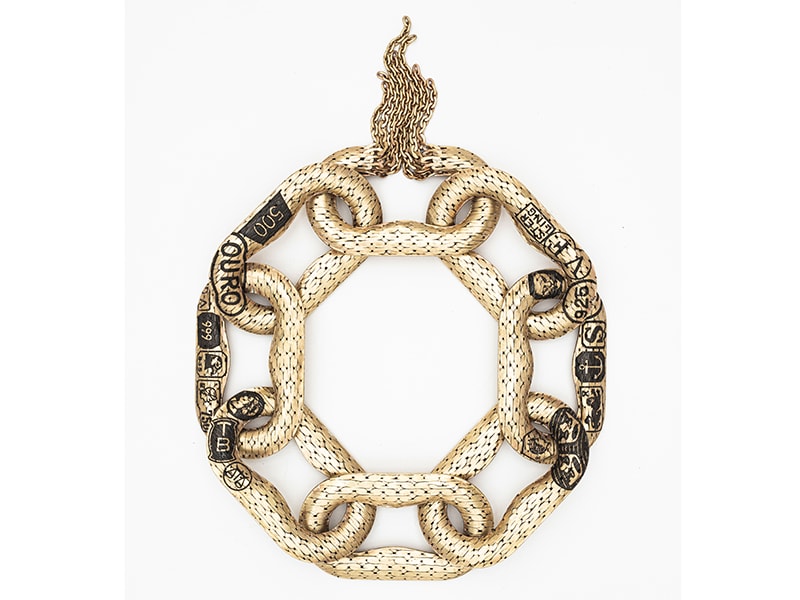 Artist: Veronika Fabian
Gallery: Ornamentum
Contact: Stefan Friedemann
Retail: US$5,800
Ornamentum opens their first solo exhibition of Veronika Fabian in September 2021. The Hungarian-born artist's new work is a continuation of an ongoing exploration using chains to explore the notion of identity in the modern world. Previous series, such as her Rebellious Chains, were inspired by her own artistic journey toward jewelry, and Chains for an Average Woman explored the diverse roles society encourages in women. Fabian's current body of work reflects on the identity crises of our times. Within the pieces, the unique and the hand-made collide with the mass-production materials that comprise her necklaces—a metaphorical examination of the sociocultural trends in our social media, and in our information- and consumer-based society, which have an undeniably questionable effect on the freedom of our individuality. One of the most exciting artists to recently emerge in the field of contemporary jewelry, Fabian, who resides in London, just finished her MFA studies at the prestigious Sandberg Institute, in the Netherlands. Her career ahead promises to be immensely exciting.
Artist: Sharon Massey
Gallery: In the Gallery at Brooklyn Metal Works
Contact: Brian Weissman
Retail: US$700
This shark's tooth necklace by Sharon Massey is an oversized version of a classic summer vacation souvenir jewel. Massey chose to enlarge this archetypal object to emphasize the meaning and value that such jewelry carries. While this style of necklace holds no real inherent worth, the memories of the place and the people surrounding its acquisition provide a significance that transcends material. Here, Beachcomber acknowledges this history and reminds viewers of the way they once treasured souvenir jewelry. This piece was chosen in support of our guest-curated exhibition Hearts + Flowers, an exploration of the souvenir and sentimentality in jewelry.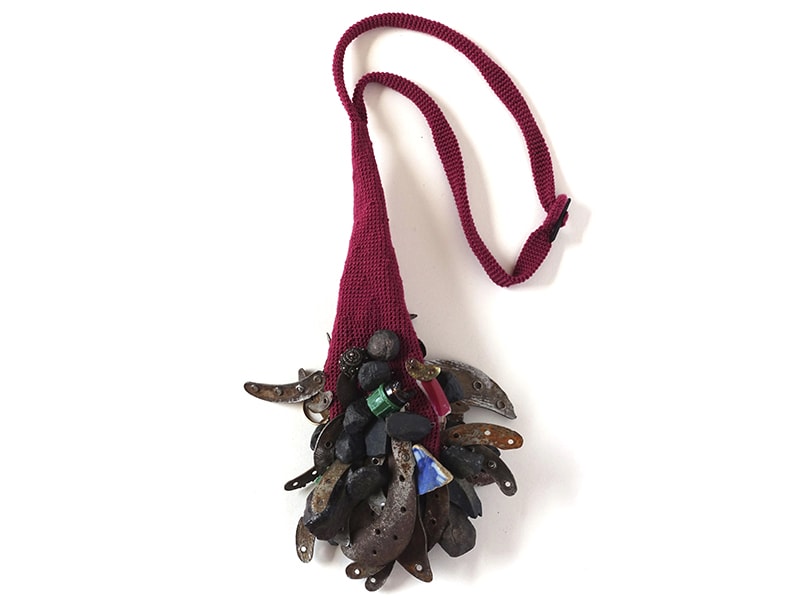 Artist: Daniel Kruger
Gallery: Four Gallery
Contact: Karin Roy Andersson
Retail: €4,000
Sensuality plays an important role in Daniel Kruger's work. The shapes, materials, patterns, and colors are carefully combined to create visual impact but also to affect the viewer and wearer's senses. Many of the pieces have a distinct erotic quality. Kruger picked up the shoe taps used in this necklace from the street a long time ago. He kept them in a bottle in which his mother stored coriander seeds in her spice cupboard. The stones were also collected from the roadway, as were the other bits and pieces, things that show the wear and tear of time.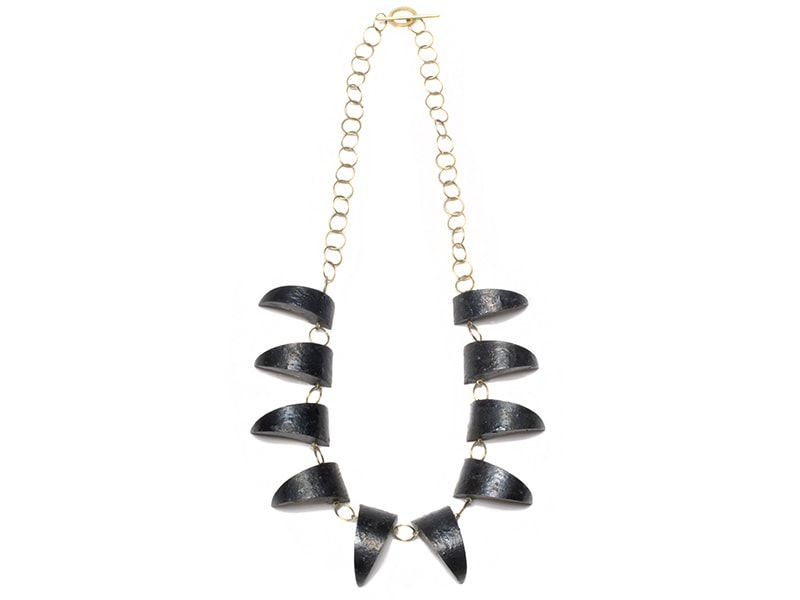 Artist: Philip Sajet
Gallery: Galerie Door
Contact: Doreen Timmers
Retail: €5,800
Philip Sajet's designs aspire to royal standards and his craftsmanship is phenomenal, but always with a twist. The Nails necklace looks smooth and classic with its 10 drop-shaped black stones, which upon closer examination resemble the claws of a tiger and are sharp and fierce. This piece hints at amulets with bones, teeth, and game trophies; the wearer is a successful hunter or warrior. But wearing this piece also makes you humble, as you're "captured" by the fierce and pointy claws of the predator.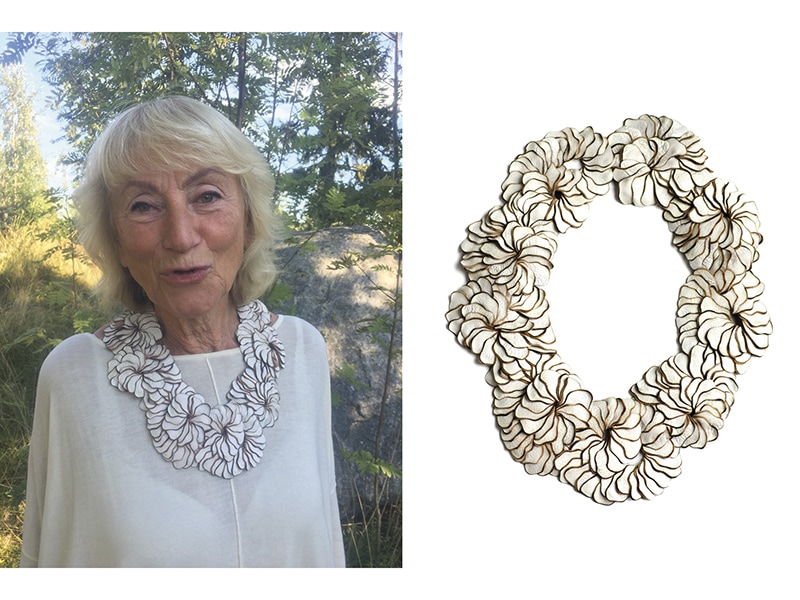 Artist: Karin Roy Andersson
Gallery: Galerie Spektrum
Contact: Jürgen Eickhoff
Retail: €4,000
Karin Roy Andersson is a talented young artist and gallerist from Gothenburg, Sweden. This series of jewelry is the result of a collaboration with artist Monica Blind Påve, investigating the techniques and traditions of the Sami people. This necklace is one of the highlights.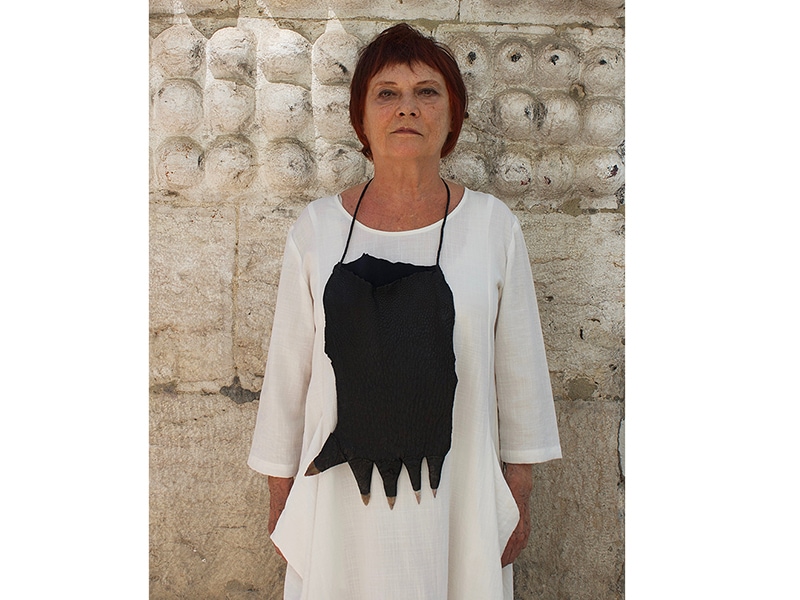 Artist: Tereza Seabra
Gallery: Tereza Seabra
Contact: Tereza Seabra
Retail: €3,700, plus shipping
"When he opened the fourth seal, I heard the voice of the fourth living creature say, 'Come and see!' I looked, and behold, a pale horse! And its rider's name was Death, and Hades followed him. And they were given authority over the fourth of the earth, to kill with sword and with famine and with pestilence and by wild beasts of the earth." —Apocalypse of the Apostle John, 6: 7–8. This piece will be shown at the exhibition Vade Retro, in Tereza Seabra gallery, during the 1st Lisbon Contemporary Jewellery Biennial 2021, under the title Cold Sweat.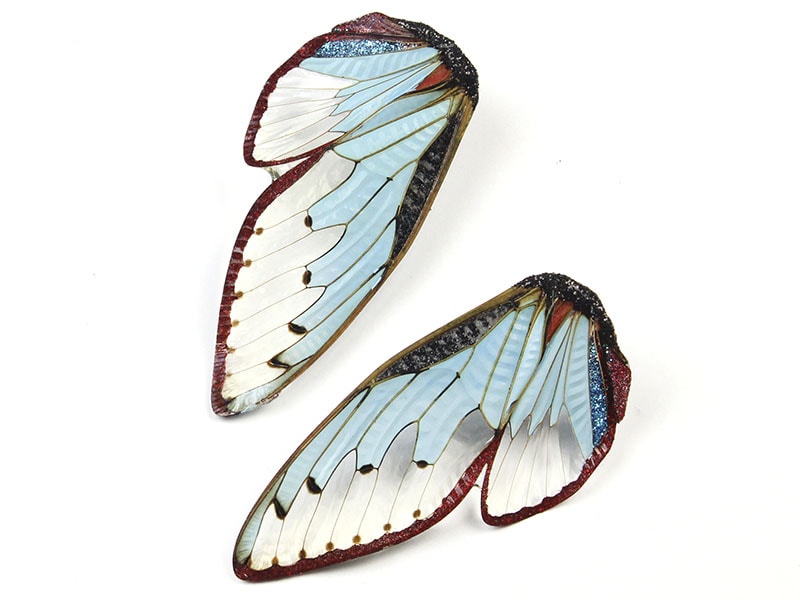 Artist: Märta Mattsson
Gallery: Alice Floriano Gallery
Contact: Alice Floriano
Retail: US$655
These spectacular earrings by Märta Mattsson are one of the highly desired pieces in the gallery. Mattsson's work is in a number of permanent museum collections, including Schmuckmuseum Pforzheim; Nationalmuseum, Stockholm; Royal College of Art, London; Hiko Mizuno College of Jewelry, Tokyo; Museum of Arts and Design, New York; and others.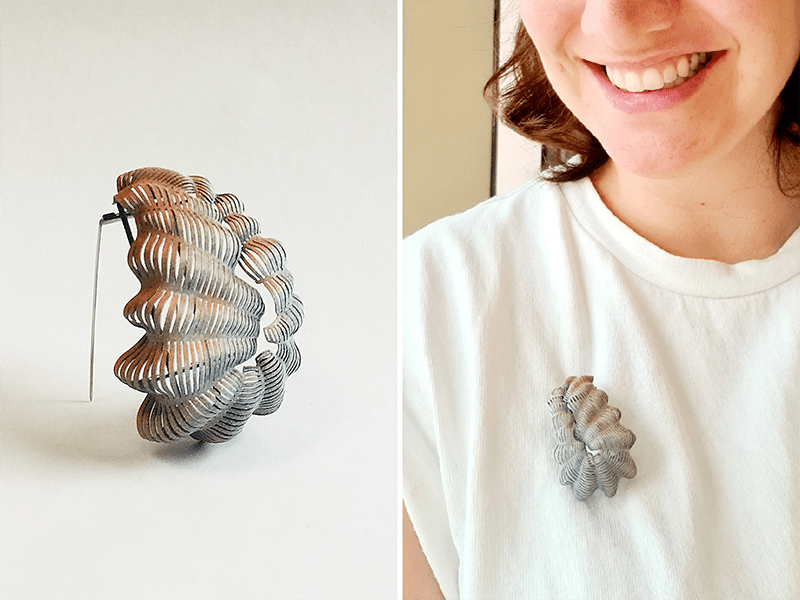 Artist: Mineri Matsuura
Gallery: Thereza Pedrosa Gallery
Contact: Thereza Pedrosa
Retail: €850
As a Japanese person, Mineri Matsuura's inspiration comes from her country's architecture, art, and nature, and from the influence of Zen Buddhism on its culture. The process that evolves with this medium that she works in is actually quite simple as in the end result the cut plate pieces emerge as if mysteriously into a three-dimensional form. Every time it gives her a fresh perspective and she feels it is like a Zen-like feeling of reawakening (Nirvana) into a new existence that flows from such a simple process to the finished piece.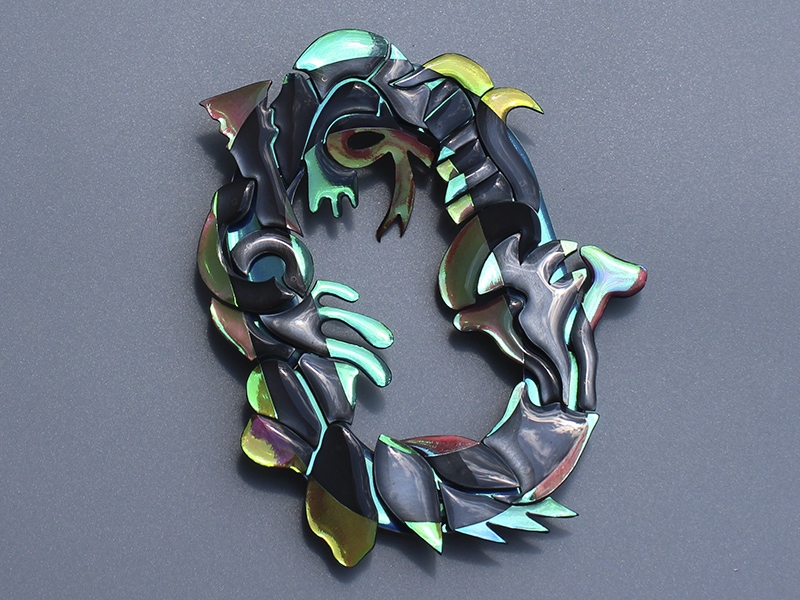 Artist: Leslie Shershow
Gallery: Baltimore Jewelry Center
Contact: Shane Prada
Retail: US$1,200
Leslie Shershow is known for using experimental techniques, bright colors, luminescence, and iconic forms in her work. She explores themes of nostalgia, longing, kitsch, memory, and the souvenir. In her latest body of work, Sentimental Short-Cuts, Shershow has created captivating pieces using luminescent film and resin as well as more traditional materials like silver and aluminum. Her design and construction process is incredibly intensive and layered, resulting in work that is at once highly pleasing to the eye and transfixing to the mind. Shershow has exhibited her work nationally and internationally at Galerie Marzee, Sienna Patti, Gallery Loupe, Alliages, and during the Society of North American Goldsmith's conference. She received her BFA from the Massachusetts College of Art and Design, and her MFA from San Diego State University. She has held teaching positions at the School of the Museum of Fine Arts, San Diego State University, and most recently at New Mexico State University.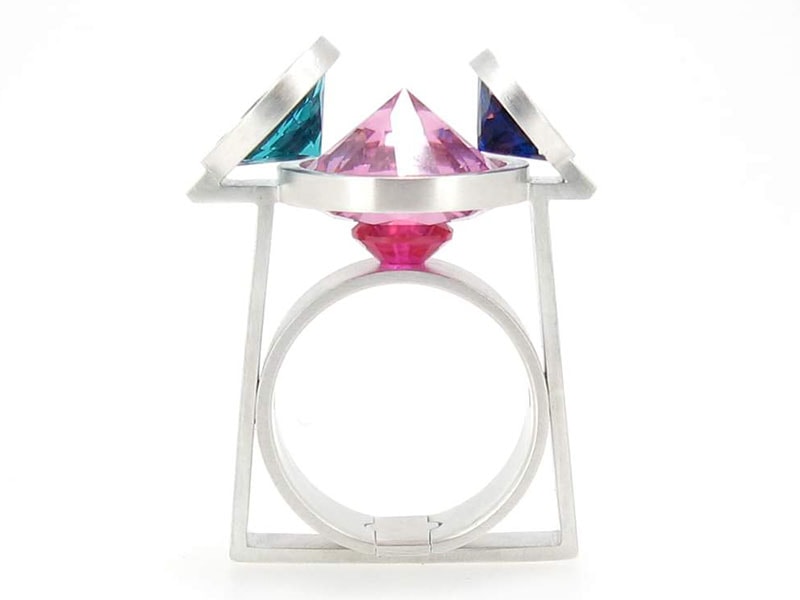 Artist: Takashi Kojima
Gallery: Mydaybyday Gallery
Contact: Laura H Aureli
Retail: €2,100
This month, Mydaybyday Gallery in Rome is featuring the work of artist Takashi Kojima with his beautiful and unique ring from the Point Series collection. "I use stone and metal, always considering new representations," says Kojima, "often modern, social, urban, living things, and inspired by nature. The world is composed of various elements that come together every day to form a balanced world. The brilliance and vulnerability of those elements are factors that we mustn't overlook. I cannot help but to be persuaded every time I see the magnificence of metal and a stone's character, shine, weight, strength, transience, and value. However, their beauty and especially scarcity has remained a source of jealousy and dispute throughout years. This is also what fascinates me about them. Stones support and fix each other. Stones hold other stones, binding them together. They are stunning from every angle. Not only is the outcome beautiful looking; their connection feels balanced and serene."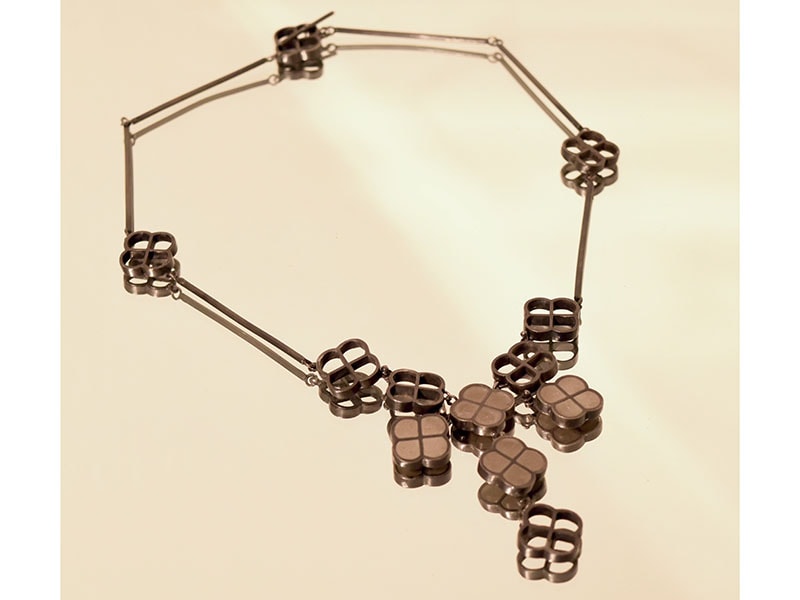 Artist: Valerie Mitchell
Gallery: Yun Gee Park Gallery
Contact: Scott Duerstock
Retail: US$1,600
Valerie Mitchell, well known for her exploration of desert botanical forms, created this one-of-a-kind Quad Cell necklace in oxidized silver and cement as part of her Cell Division series. A geometric study of the origins of organic forms, this necklace, with its 18 precisely constructed joints, has great movement and alludes to design elements and motifs used throughout art, design, craft, and architecture.
Artist: Ruudt Peters
Gallery: Galeria Reverso
Contact: Paula Crespo
Retail: €4,200
"Looking at Ruudt Peters's work," says the artist Urmas Lüüs, "it feels as if the smoke and dust from a meteor impact have just dispersed and settled and the ground is giving off heat from the trauma. It's like the moment after the final crash when the silence is deafening. Silently, the brooches of the Suctus series invoke past dramas like the gray plaster bodies from Pompeii excavations. The drama is finished, the tension remains. Peters knows how to use the words of the past in a language of the future."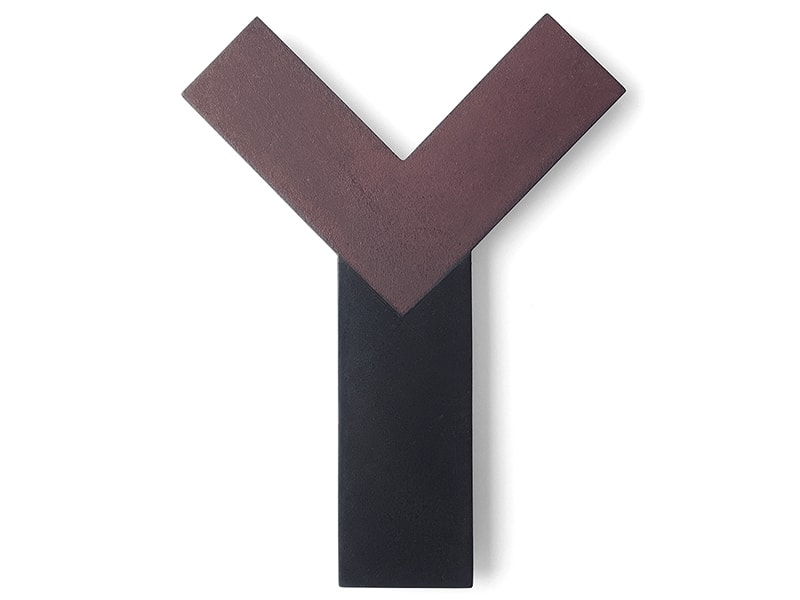 Artist: Tore Svensson
Gallery: Galerie Noel Guyomarc'h, bijoux contemporains
Contact: Noel Guyomarc'h
Retail: CAN$740
Concentration and precision form the signature style of the artist Tore Svensson, whose work stands out for its sophisticated use of steel as a material for jewelry and hollowware. Svensson prefers to create his jewelry works in conceptually unified series in which the individual pieces show a range of subtle variations in form, texture, and color. With this new collection, Ypsilon—the 20th letter of the Greek alphabet—he succeeds again in reaching a minimalist and strong expression.
Artist: Tracy Watson
Gallery: Fingers Gallery
Contact: Lisa Higgins
Retail: Each NZ$300
Tracy Watson often draws inspiration from her natural surroundings, the Auckland Waitakere Ranges and surrounding West Coast beaches, with their strong elements of local flora and fauna. Using the color palette around her, Watson continues to focus and shed light on her environment, this time with the use of salvaged waste materials and the deliberate and delicate application of paint.