Art Jewelry Forum's extensive network of international
gallery supporters
is dedicated to celebrating and showing art jewelry. On Offer is a monthly series that allows AJF galleries to showcase a piece that they've personally selected to tempt and inspire you. Please contact the gallery directly for inquiries. Enjoy!
MUSEUM WORTHY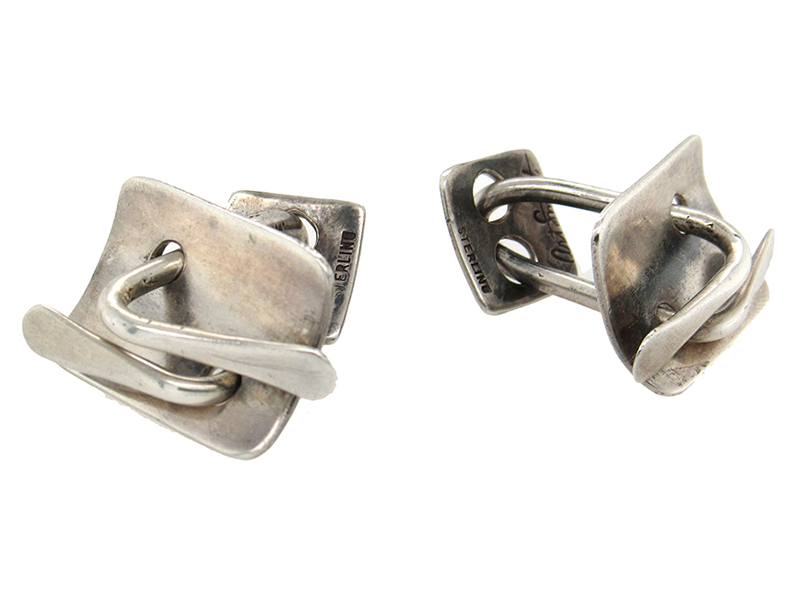 Artist: Art Smith
Gallery: Aaron Faber
Contact: Patricia Faber
Retail: US$2,950
Rare sterling silver Modernist cufflinks, circa 1960, by renowned Greenwich Village artist Art Smith (1917–1982), these sculptural cufflinks are fabricated without solder. The front measures 25 x 16 mm, the backs measure 13 mm, and all sections are flexible. Signed and hallmarked. Art Smith, along with Margaret De Patta and Sam Kramer, was one of the earliest and most influential studio jewelry artists.
MUSEUM WORTHY
Artist: Lisa Walker
Gallery: Gallery S O
Contact: Katharina Dettar
Retail: £4,700
Lisa Walker's pieces are intuitive, impulsive, and unsettling. They're also highly controversial, though rarely irreverent. She understands the significance of her choices, her references, and her results, and celebrates her influences as much as her finished work. Throughout human history, jewelry made from human hair has a long tradition in mourning and ceremonial jewelry. "My contribution comes from human hair extensions," states Walker when asked about this extraordinary necklace. Many have called it a jewelry piece like no other!
MUSEUM WORTHY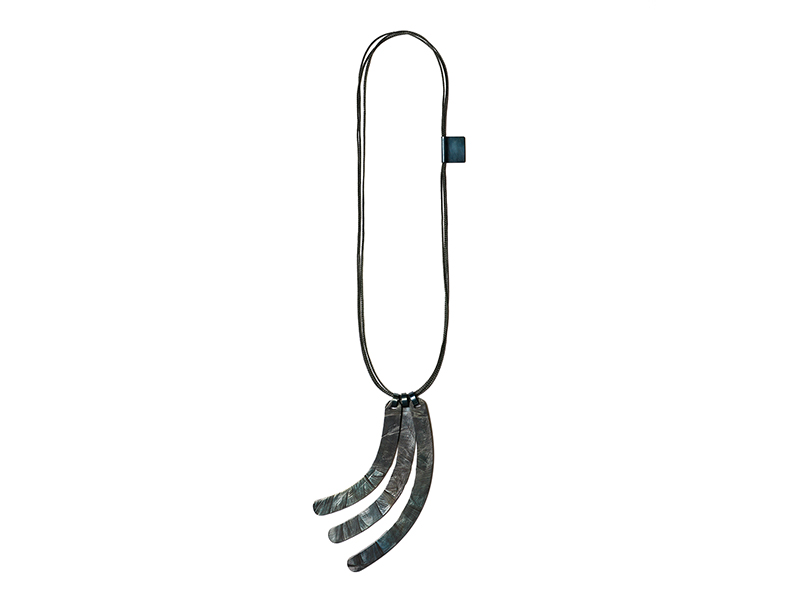 Artist: Katrin Feulner
Gallery: Galerie LA Joaillerie par Mazlo
Contact: Céline Robin (Curator)
Retail: €700
German art jeweler Katrin Feulner was recently awarded the prestigious Herbert Hofmann Prize for her series entitled Cut. This pendant is part of that series, which is based on upcycling, her now-signature process. Since her beginnings as a graduate of Pforzheim Design University, just like a 2.0 hunter-gatherer, Feulner has collected disregarded steel or metal objects in her industrial surroundings. The objects are cut and reassembled according to a rhythmic pattern that evokes primitive ornaments and parures. The intrinsic beauty of the rough material is highlighted by the refinement of the textures and patina. Playing with subtle hues of blue, gray, and green, the surface recalls the changing colors of some stones, such as labradorite.
MUSEUM WORTHY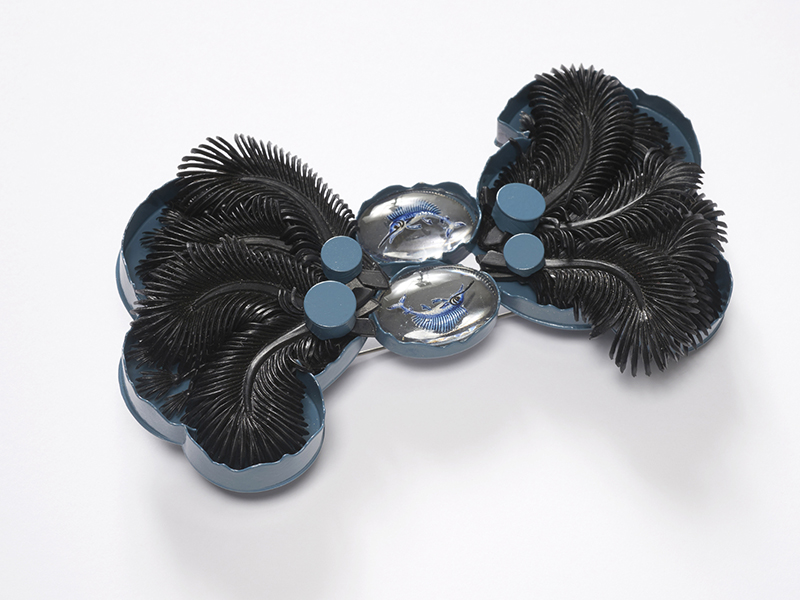 Artist: Helen Britton
Gallery: Gallery Funaki
Contact: Katie Scott
Retail: AUS$4,800
This remarkable brooch from Helen Britton's series The Rage of Dekoration beautifully articulates a link between Victorian mourning jewelry and how we might carry contemporary grief for our environment. Britton uses vintage mass-produced trinkets—here, glass ornaments containing perfectly realized swordfish, and black plastic ostrich feathers—to link our recent history of manufacturing populist sentiment with an imagined future wherein these trinkets are all we have to remember a richer, more biodiverse past. A truly eloquent, sophisticated piece of jewelry from an artist working at the height of her powers.
ESTABLISHED ARTIST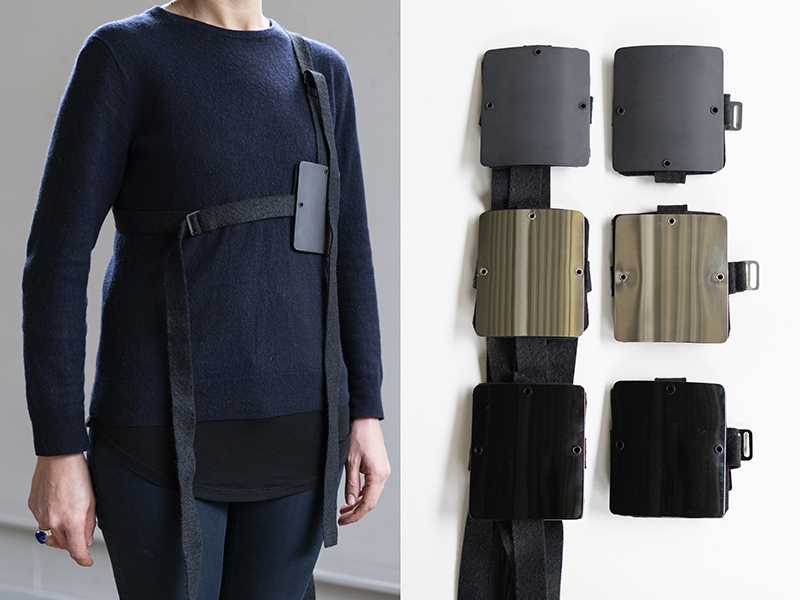 Artist: Iris Eichenberg
Gallery: Ornamentum
Contact: Stefan Friedemann
Retail: US$3,000
I feel this work is apropos the events of the day… taking inspiration from a World War I "heart protector," this intriguing piece bestows the wearer with a sense of security, an emotional armor needed for the days ahead, while adorning as a simple and beautiful accessory. Featured in Ornamentum's online Quarantine exhibition.
ESTABLISHED ARTIST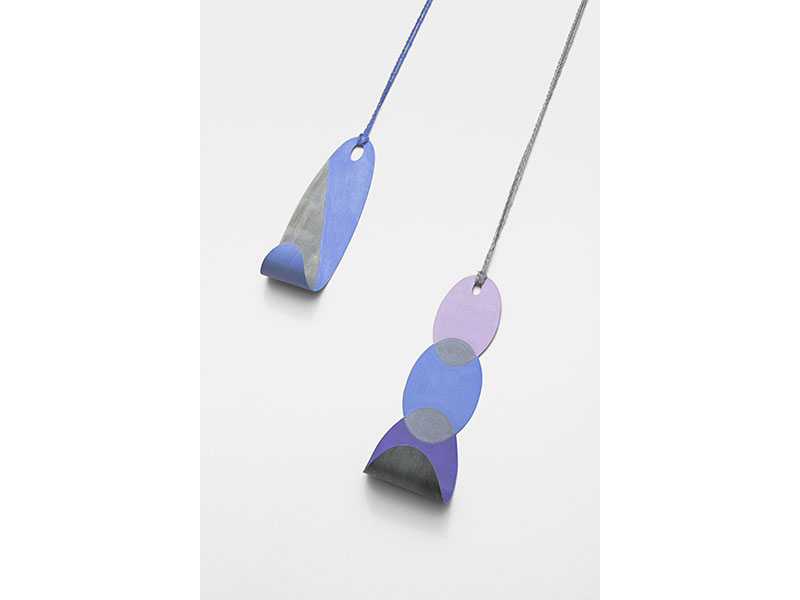 Artist: Lucy Sarneel
Gallery: Galerie Marzee
Contact: Astrid Ubbink
Retail: Each €700
The words "hang on" mean "wait a minute" and "keep up," and at the same time literally to hang something on. People's lives are not without suffering. From the cradle to the grave we encounter misfortune, such as lover's grief, illness, war, and mourning. We're all dreamers, trying to live our dreams. You are your dream. Hang on a jewel.
ESTABLISHED ARTIST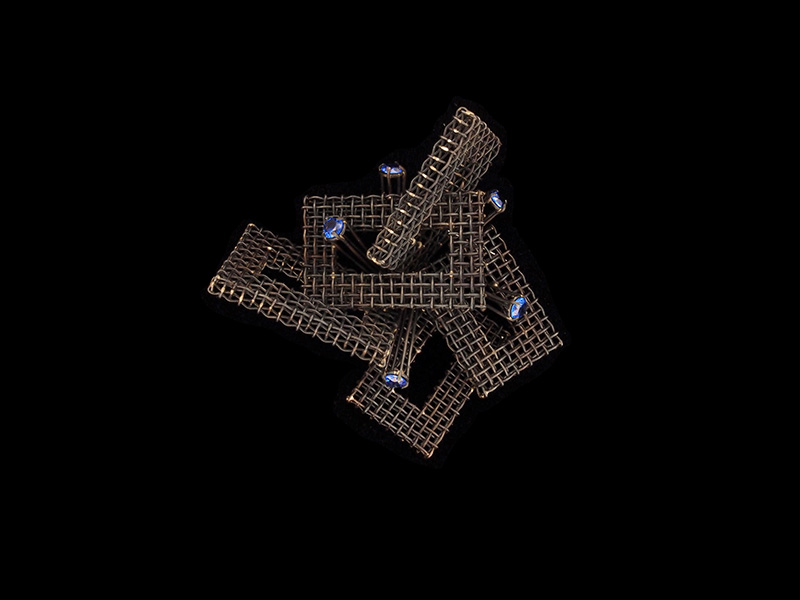 Artist: Jeong Ju Lee
Gallery: De Novo Fine Contemporary Jewelry
Contact: Cherry LeBrun
Retail: US$700
This three-dimensional pin by Jeong Ju Lee has a vibrant contrast between the bright blue spinels and the matte steel background. It's a stunning small sculpture and is very representative of the artist's work. She often builds three-dimensional forms out of steel mesh and wire and combines them with unusual stones to create pins and necklaces.
ESTABLISHED ARTIST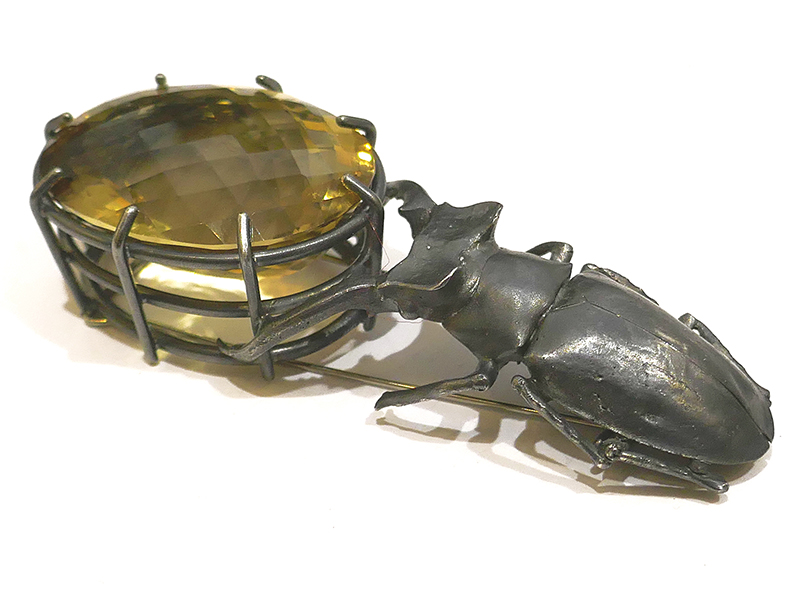 Artist: Georg Dobler
Gallery: Galerie Spektrum
Contact: Jürgen Eickhoff
Retail: €2,400
The Beetle Brooch series is a remarkable stage in Georg Dobler's work. The casting of a real beetle, combined with the fascination of an exclusively cut citrine, is wonderfully reminiscent of the Art Nouveau. Between its form, dimensions, and weight, this piece of jewelry is wearable and decorative in the best sense.
ESTABLISHED ARTIST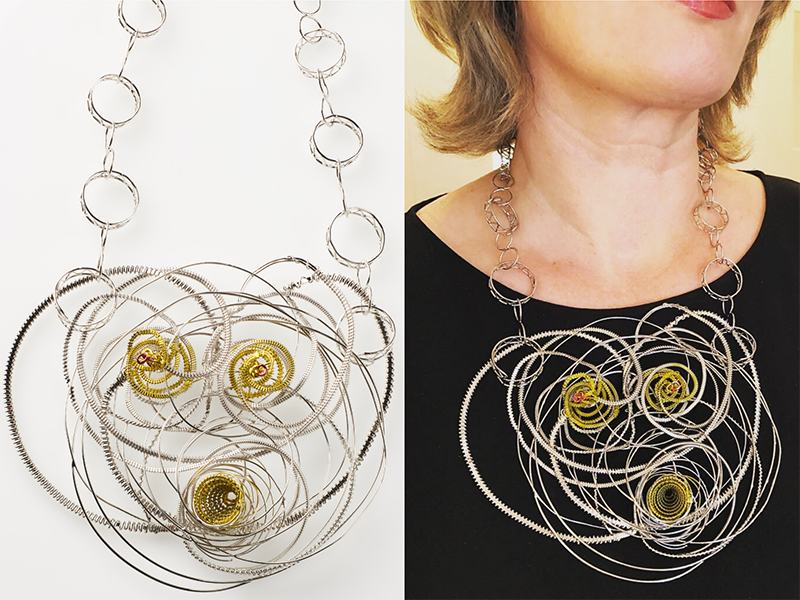 Artist: Robert Baines
Gallery: Galerie Biró
Contact: Kinga Zobel
Retail: €4,760
This necklace shows the typical characteristics of Baines's style and yet it is quite different. I love the clash of the expected and the new here. His humor and the seemingly playful approach to traditional goldsmithing are wonderfully combined. The piece is light, though big, and feels extremely good on the chest.
ESTABLISHED ARTIST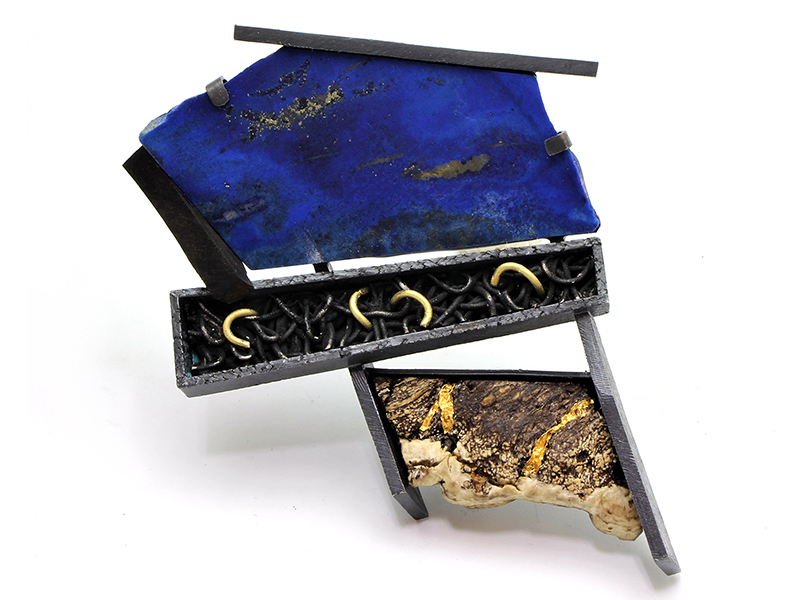 Artist: Lluís Comín
Gallery: Tamagit
Contact: Marta Tamagit
Retail: €1,250
When hiking, Lluís Comín loves to experience the cycles of nature. The snow's deep silence, the intense blue sky, or the raging stormy wind seem to make evident the existence of gods, and provoke one to come back again and again to this sacred temple where friendship becomes a kind of religion. Mountains are the place where senses and emotions become sharper, where a parenthesis of memories opens, where time is relative and freedom absolute. In his monumental novel, The Magic Mountain, Thomas Mann knew how to express this emotion of living in a parallel reality.
MID-CAREER ARTIST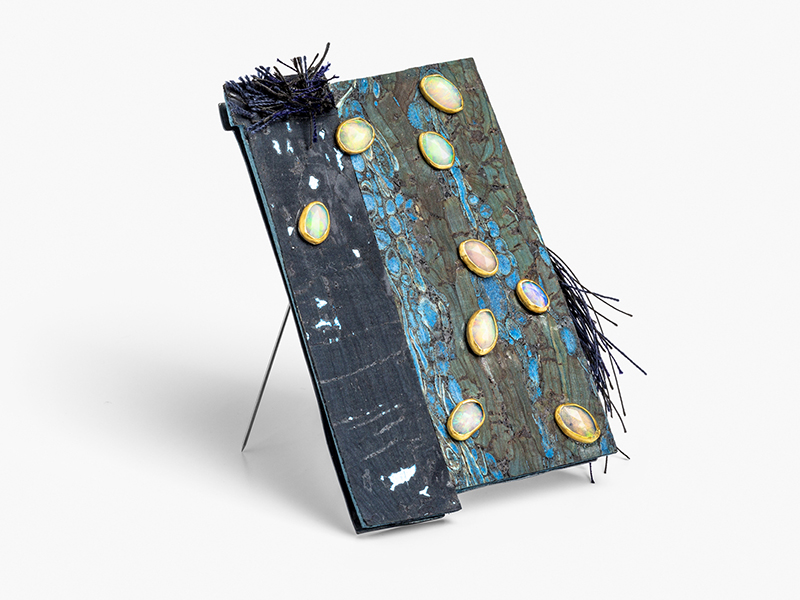 Artist: Brooke Marks-Swanson
Gallery: Galerie Noel Guyomarc'h
Contact: Noel Guyomarc'h
Retail: CAN$2,520
Created to shield us from the environment, textiles became a form of expression and a universal language. Through the tactile intimacy of her textile jewelry, Brooke Marks-Swanson affirms our primal need to connect to the land and seek to understand the human condition. Purposeful color combinations reflect visceral feelings of seasonal change, uncertainty, and even hope. Natural disasters and climate crisis are at the forefront of the mind, our Mother Earth mirroring the human condition: calm, violent, refreshing, threatening, with moments of tranquility as we continue to take from her. Her awareness evolves and her obligation to connect persists. Variegated terrain, opposing clusters of fiber, metal, and stone—all in balance—reveal fantastical landscapes and uncertain futures. Contemporary amulets emerge.
EMERGING ARTIST
Artist: Emily Rogstad
Gallery: Baltimore Jewelry Center
Contact: Shane Prada
Retail: US$320
Emily Rogstad graduated in 2013 with a BFA in Metalsmithing + Jewelry from Maine College of Art. After some traveling, she moved for two years to the Penland School of Craft for the core fellowship. Now a resident of Asheville, NC, US, she spends her time maintaining an inquisitive studio practice and enjoying the mountains. Rogstad utilizes repetition and pattern in much her jewelry work. This brooch is currently featured in Object Permanence, an exhibition at Baltimore Jewelry Center that highlights the duality that objects have. While the brooch appears rigid in form, it's actually very mobile and changeable.
EMERGING ARTIST
Artist: Violeta Adomaitytė
Gallery: Galerie Elsa Vanier
Contact: Elsa Vanier
Retail: €1,200
The superposition of two spirals, one flat and the other coiling around itself, extending beyond the edges of a rectangular frame creates the depth of a Cubist painting. Pure lines and simple forms are typical of Violeta Adomaitytė's jewelry. Adomaitytė is convinced that a handmade piece of jewelry, embodying emotion, energy, and symbolism, murmurs and even sings. I would say this brooch is definitely singing…
EMERGING ARTIST
Artist: Nikki Perry
Gallery: FINGERS GALLERY
Contact: Lisa Higgins
Retail: Each NZ$320
Nikki Perry graduated from Hungry Creek Art & Craft School, in New Zealand, in 2017 with an advanced diploma in jewelry. Here, using found and household plastic, Perry translates her personal love of color into wearable, memory-bearing pieces, throwing light on the domestic as an important part of daily life, repurposing discarded materials and twisting the narrative of what is precious.
GALLERY CHOICE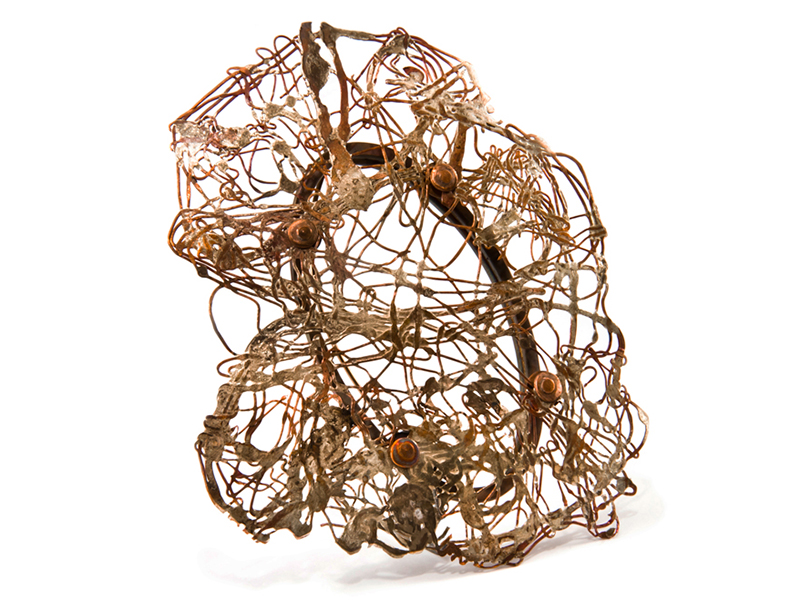 Artist: Monica Perez "Monoco"
Gallery: mydaybyday
Contact: Laura Helena Aureli
Retail: €250
Chilean artist Monica Perez "Monoco" presents her brooch series Infragility 32, in copper, silver, solder, and steel, at mydaybyday gallery, in Rome. "Starting with a skein of wire, I untangled it and tangled it up again obsessively. I merged and fused zones. I laminated and forged these weaves, taking the material to the limit between being and non-being, seeking the balance between building up and destroying, showing that permanence and control are illusions and fragility is tangible; we are changeable and perishable."
GALLERY CHOICE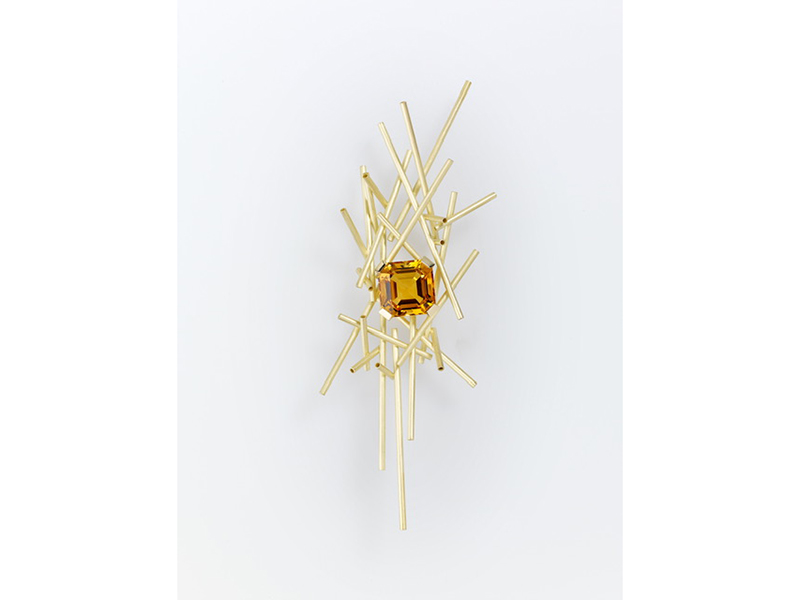 Artist: Claude Schmitz
Gallery: Galeria Reverso
Contact: Paula Crespo
Retail: €8,650
Educated at the Royal College of Art, in London, Claude Schmitz works exclusively with noble metals and precious stones. With an assumed respect for the classic models of jewelry, Schmitz knows how to insert in them the touch of modernity that characterizes his jewels. Sobriety and restraint in the design contrast with the ostentation of gold and the high quality of the stones he uses. His works, completely executed by hand, combine a high aesthetic rigor with an unusual technical expertise. Chaos about Citrine is part of a set of pieces in which Schmitz explores the multiple aesthetic possibilities of simple, longitudinal shapes, which he groups with mastery into timeless elegance.
GALLERY CHOICE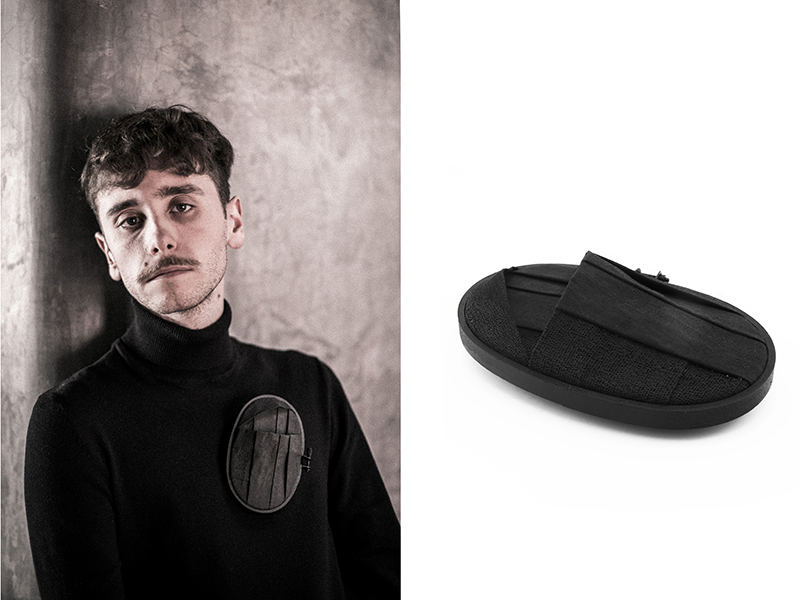 Artist: Rodrigo Acosta
Gallery: Four
Contact: Karin Roy Andersson
Retail: €700
Rodrigo Acosta frames details where seams and structure give an indication of the material's history. The pieces evoke textile memories—a silky blouse with a familiar perfume, a strengthened collar, a well-used pillowcase, the last button at the neck of a jacket, an embroidery with hundreds of small stitches. Or a shirt covering the body and hiding its imperfections, insecurities, and fear.
GALLERY CHOICE
Artist: Sarah Chapman
Gallery: Nora McCarthy
Contact: Nora McCarthy
Retail: US$340
Two small vessels carrying joy in the form of lush tangles of spinel and amazonite, the Bateaux Hoops are etched, die-formed, and hand fabricated by Sarah Chapman for the Mad for Hoops exhibition at Gallery 2052.
GALLERY CHOICE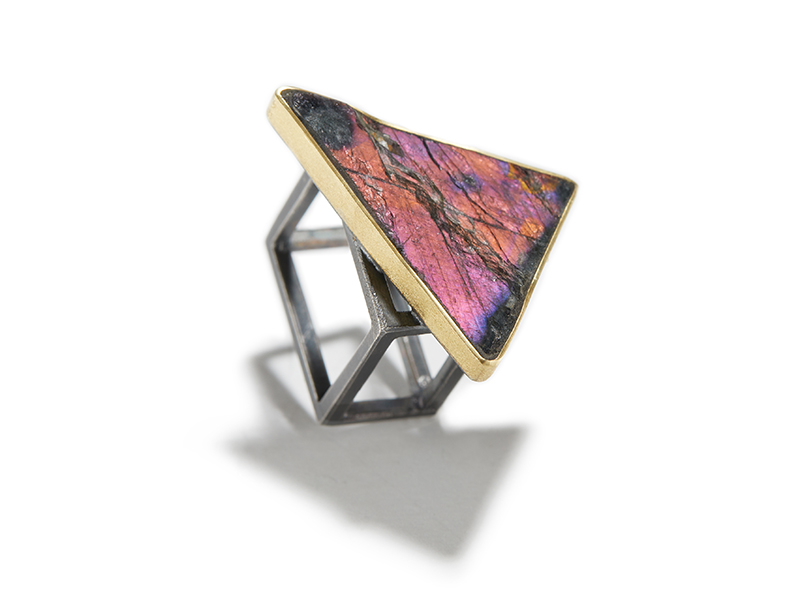 Artist: Harold O'Connor
Gallery: Patina Gallery
Contact: Ali DeMoro
Retail: US$1,750
A master of form and proportion in organic design, Harold O'Connor astounds the eye with his Triangular Spectrolite Ring. Shaping silver into a geometric band, the maker utilizes space as he molds its form with sharp, distinct edges. Miraculously around the finger, the square shank is a perfect and comforting fit. Pivoting focus to our main affection, O'Connor employs spectrolite as the center of the piece. Its glistening surface is balanced with a complex terrain, marked by inclusions of the stone—quite a marvel as it irradiates a spectacular purple hue at the touch of light. O'Connor masterfully sets its sheen body in a luscious cradle of high-karat gold, making a poignant pairing with the stately band, positioned below. He composes a sophisticated work of art, skillfully masked in the lucid grandeur of natural beauty, and a compelling force of soul-stirring adornment.