Art Jewelry Forum's extensive network of international
gallery supporters
is dedicated to celebrating and showing art jewelry. On Offer is a monthly series that allows AJF galleries to showcase a piece that they've personally selected to tempt and inspire you. Please contact the gallery directly for inquiries. Enjoy!

ESTABLISHED ARTIST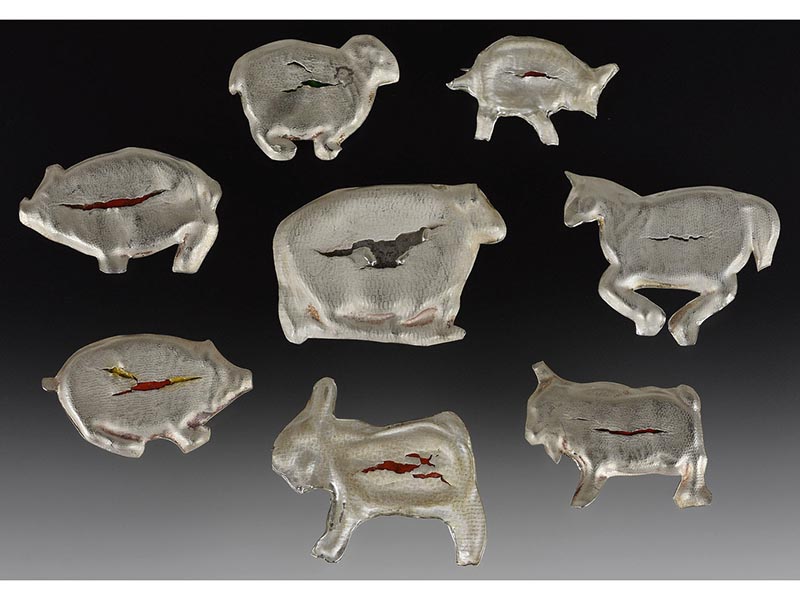 Artist: Alan Preston
Gallery: FINGERS GALLERY
Contact: Lisa Higgins
Retail: NZ$375
Alan Preston is a key figure in contemporary New Zealand jewelry. Central to the development of what is now referred to as the "Bone, Stone, Shell" era, Preston has long researched the forms and materials indigenous to the Pacific Ocean and her peoples. Preston's work has been exhibited extensively and is held in collections internationally, including Te Papa Tongarewa Museum, New Zealand; National Gallery of Australia; and Pinakothek der Moderne, Munich. Preston was adjunct professor, Jewellery Design, at Unitec from 2002 to 2013; and New Zealand selector, Schmuckszene, Munich, from 1990 to 2010. With this piece, Preston revisits his 90s animal cracker series.
ESTABLISHED ARTIST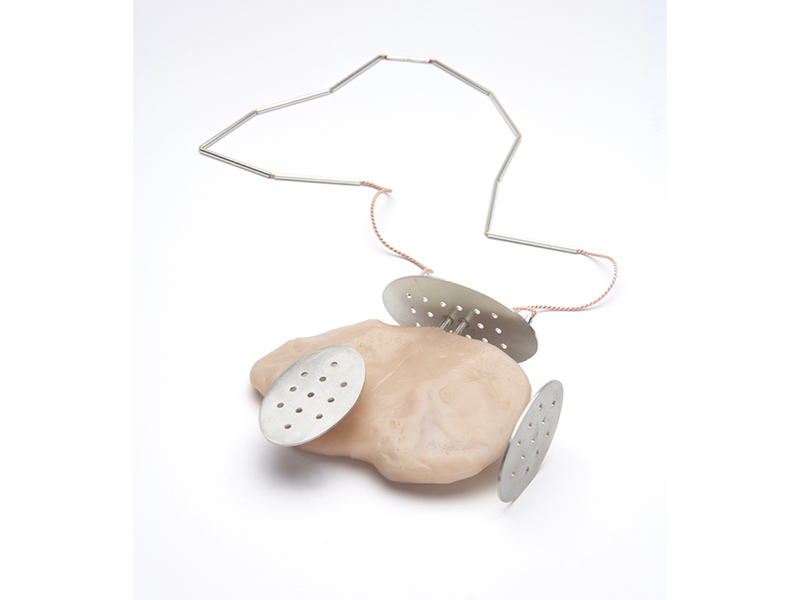 Artist: Katja Prins
Gallery: Galerie Rob Koudijs
Contact: Rob Koudijs
Retail: €2,150
With the new group of jewelry pieces Katja Prins developed during the past year, she moved into the transitional sphere between akin and alien. Appropriating systems and materials made to support human beings, she produced a kind of collection of emblems that will keep the people who wear them conscious of their dependency. Humans sadly lack a default mode, a situation guaranteeing an evident, unhindered continuation of being. It is similar to the position of fish, oblivious to the fact that the water is essential to their existence. It's a topic that has always been part of Prins's creative practice, as she puts it herself: "…from the very beginning of our evolution, man has been a technically hybrid being."
ESTABLISHED ARTIST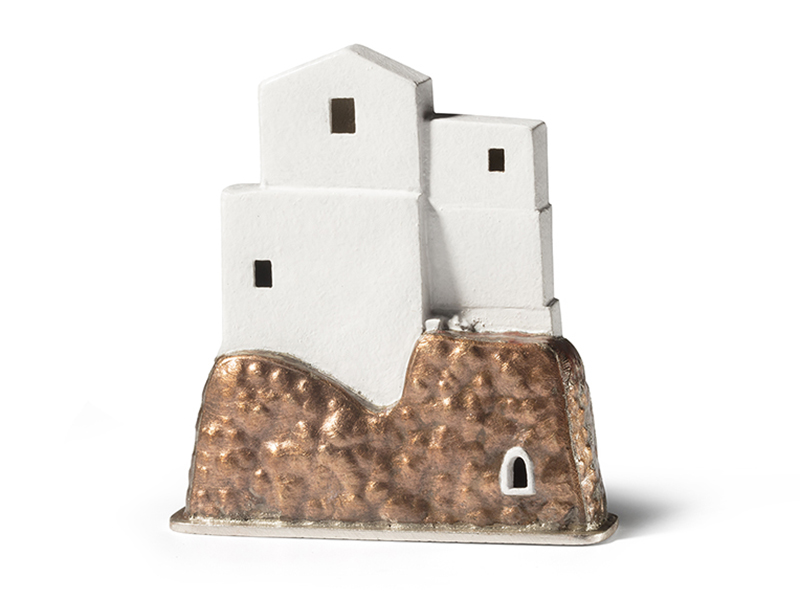 Artist: Xavier Monclús
Gallery: Tamagit
Contact: Marta Tamagit
Retail: €1,200
Since 2016, Xavier Monclús has developed an artistic project called Silent Architectures. During his journey, Monclús has moved from the more narrative style into a rather formally refined one close to abstraction. The special architecture of his beloved island of Menorca is his current source of multiple inspiration. In this sense, the object/brooch Baixamar I (Low Tide I) represents a typical house on the cliff of the port in Maó, the capital. Monclús obsessively builds white Menorcan houses with impeccable white Mediterranean walls. Their windows seem to look at the artist as if they were eyes by establishing an inspiring but silent dialogue with him. Monclús sees himself reflected in these houses and has the need to inhabit their emptiness by embracing them with his soul. Those constructions are metaphorical, as they express the artist's wish to retreat to a timeless refuge away from our culturally infertile outdoors.
ESTABLISHED ARTIST
Artist: Castello Hansen
Gallery: Galeria Reverso
Contact: Paula Crespo
Retail: €4,400
This brooch is something as rare as an extremely wearable piece of art jewelry. Well, not art in the sense that it's packed with political issues that you have to believe today and defend tomorrow. The colors are beautiful, it's a wonderful composition, and even the brooch mechanism on the back is a marvel all its own, incorporating steel, palladium white gold, and ebony from a piano key. In fact, the whole piece is just simple and full of joy. And by the way, it's the only one of its kind in the universe—a truly unique piece, made by Castello Hansen himself.
ESTABLISHED ARTIST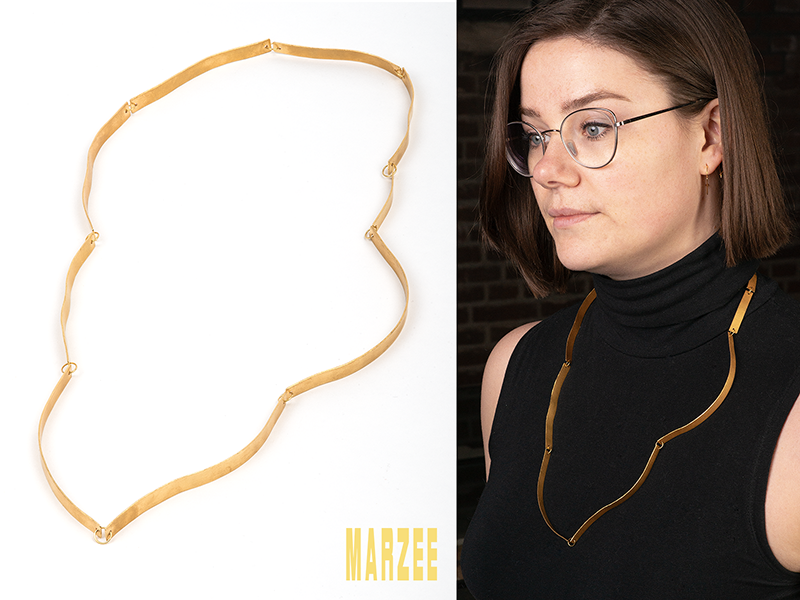 Artist: Annelies Planteijdt
Gallery: Galerie Marzee
Contact: Michiel Heffels
Retail: €11,750
Beautiful City—Portrait is the latest in a series of artistic explorations that Annelies Planteijdt began in 2000. As she continues to investigate the ideas and aesthetics of maps, this new necklace marks a turning point. Her material, gold, is now tilted—vertical, thicker, the elements rolled to create a wave. This new handling reveals a different character to the gold—something liquid, more organic that changes as it moves and is worn. The length of the necklace is roughly the circumference of a head. If you wear it, the necklace makes a portrait of you, frames you, says Planteijdt, "as it were, a reflection or a doubling or a supplement or a reinforcement of the personality."
ESTABLISHED ARTIST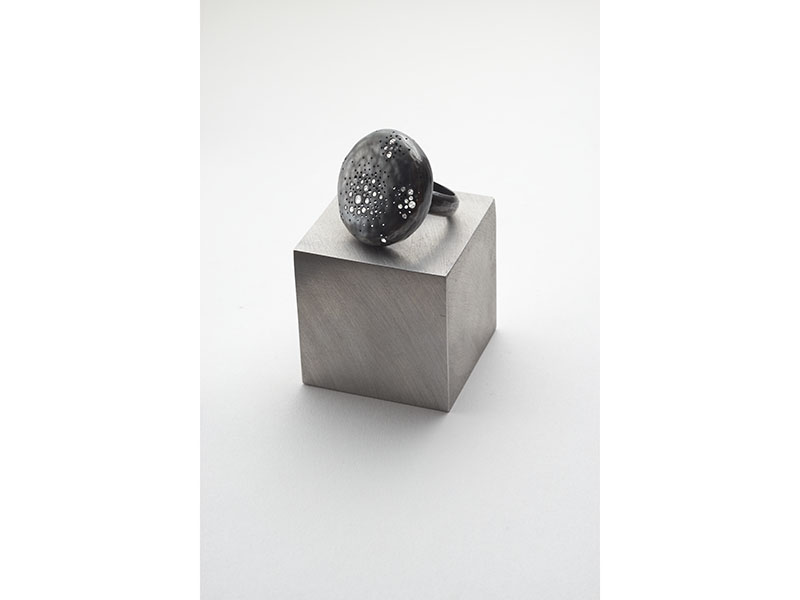 Artist: Sandra Enterline
Gallery: Gallery Loupe
Contact: Patti Bleicher
Retail: US$2,500
The jewelry of Sandra Enterline combines contemporary edginess with graceful elegance. She shapes silver sheet into geometric forms, perforating the metal with countless tiny holes, or contrasts amorphous shapes of oxidized silver with platform-mounted flat or faceted diamond slices to achieve the effect of layering, airiness, and shadow play.
MID-CAREER ARTIST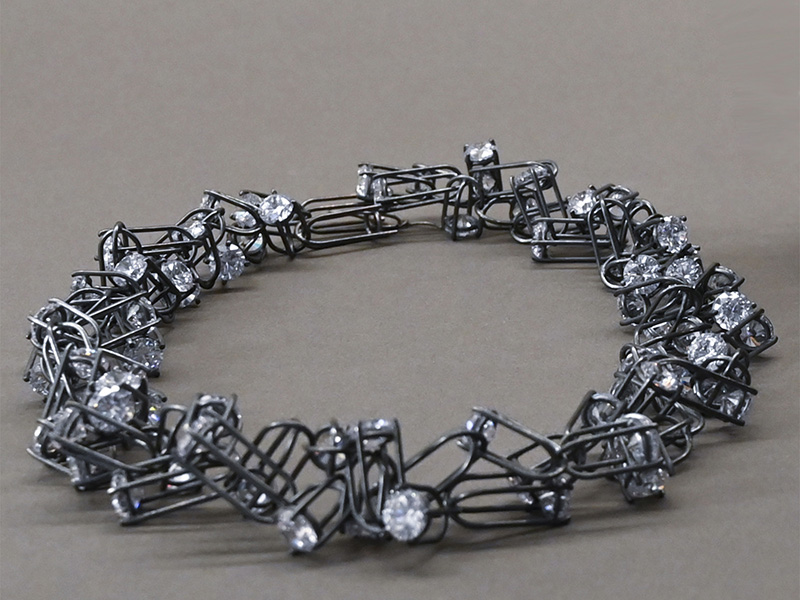 Artist: Ambroise Degenève
Gallery: Galerie Elsa Vanier
Contact: Elsa Vanier
Retail: €4,800
Through extensive experimentation with materials, Ambroise Degenève creates new techniques and revisits ancient ones. His jewelry often features a large surface, roughened as if damaged. Often, he skillfully conceals precious metals under patinas and camouflages diamonds and stones. There's an unexpected softness to his creations, whether rough rings or the association of pearls and polished gems with uneven surfaces. "Through my work," he says, "I try to create hybrid pieces. Drawing constantly from the codes and techniques of different eras in the history of jewelry, I refer to anachronism as a method of creation."
EMERGING ARTIST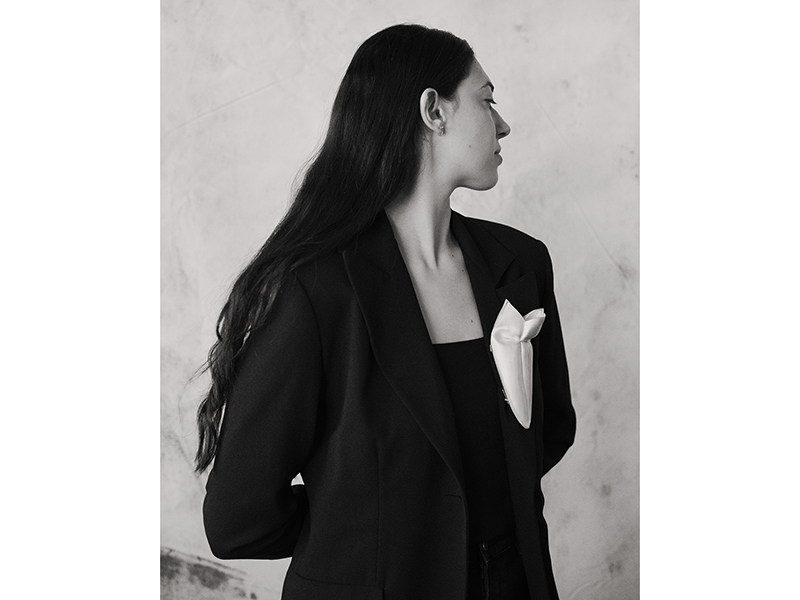 Artist: Betsy Lewis
Gallery: In the Gallery at Brooklyn Metal Works
Contact: Brian Weissman
Retail: US$1,100
The Figure of the Falling, by Betsy Lewis, exhibits works that refer to the center—the core, the spine, the gut, and the heart. Metal objects and necklaces point to sites on the body to interpret what is otherwise impossible to tell. Like the armor they have become, these works serve as protection and give testimony to the privacy of night. "The heartbeats of these memories are transferred into the stillness of the work, and here I learn to breathe again."
EMERGING ARTIST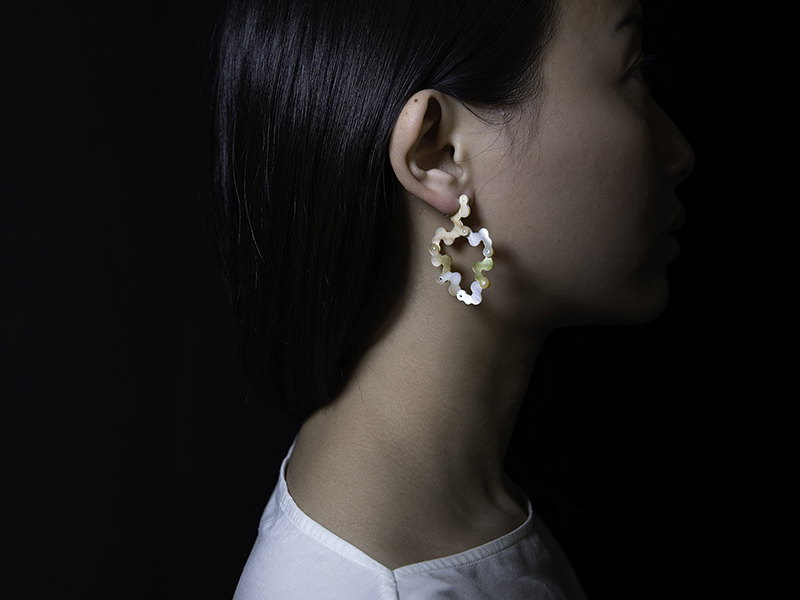 Artist: Rho Tang
Gallery: Gallery 2052
Contact: Nora McCarthy
Retail: US$480
This piece is part of the gallery's current exhibition of hoop-style earrings, Mad for Hoops. These are hand cut and riveted with careful construction by New York-based artist Rho Tang, whose background is in architectural design. The subtle shift in opalescent neutrals from one delicately riveted unit to another culminates in an elegant and exceptional reinvention of "the hoop."
EMERGING ARTIST
Artist: Lora Hodge
Gallery: 108 Contemporary
Contact: Susan Baley
Retail: Necklace: US$110; earrings: US$60
Inspired to create both unique and modern jewelry, Lora Hodge is an emerging contemporary artist from Oklahoma motivated to create wearable art. The necklace and earrings were inspired by creating new shapes and forms from silver tubes that were transformed into another shape through soldering and fabrication. Making new geometric shapes that are both unique and contemporary is what drives Lora, whose goal is to never make the same piece of jewelry twice. These delicate and unique pieces are meant to please the wearer and to catch the eye of the observer.
EMERGING ARTIST
Artist: Rachel Kedinger
Gallery: Baltimore Jewelry Center
Contact: Shane Prada
Retail: US$450
Rachel Kedinger primarily makes objects out of metal with a focus on utilitarian use. She participated in the Core Fellowship at Penland School of Craft and received her BFA in jewelry and metalsmithing from University of Wisconsin- Milwaukee. In her most recent body of work, Kedinger re-creates objects for the home in clever and transcendent ways, imbuing the objects with ephemerality and a sense of the uncanny. Her work was recently selected for Talente 2020.
GALLERY CHOICE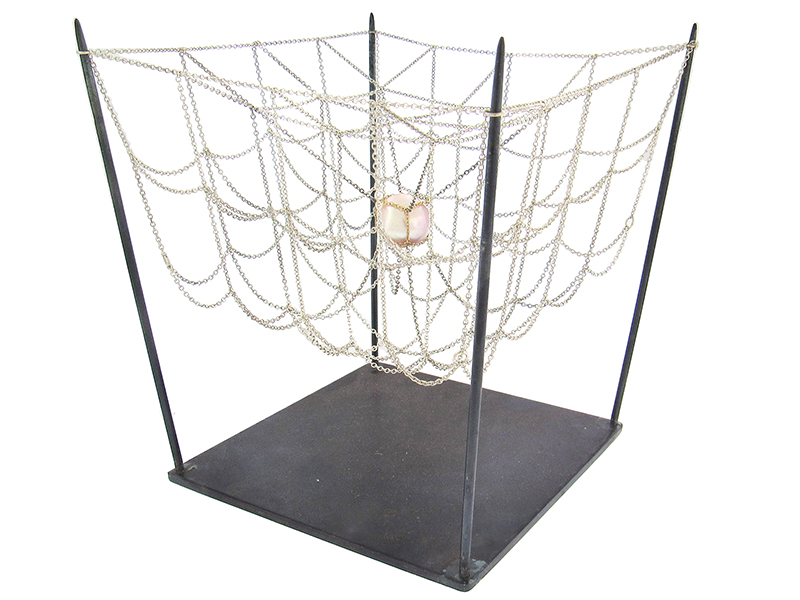 Artist: Lucie Heskett-Brem
Gallery: Aaron Faber Gallery
Contact: Patricia Kiley Faber
Retail: US$2,500
Lucie Heskett-Brem is a Swiss metal artist whose work in gold—handmade chains, earrings, and rings—is well known. However, in 2014 she brought together a group of four—herself and three other artist-designers: Ruth Borgenicht (USA), who works in clay; David Licata (USA), glass; and Tine De Ruysser (Belgium/UK), paper currency—to create the "four in one group" to encourage each other to explore chain mail, each through a different medium. From this collaborative exploration, Heskett-Brem developed this series of fully three-dimensional works. The sculpture shown here, titled Tesseract, suspends multiple carefully calibrated sterling silver levels of right-angle construction, with a 15mm pink pearl captured at the center. The sculpture suspends from a four-pronged bronze platform, but is also designed to be worn from a sterling silver halter wire. Collections: Cooper-Hewitt Smithsonian Design Museum, Museum of Arts & Design, NYC.
GALLERY CHOICE
Artist: Zachery Lechtenberg
Gallery: Four
Contact: Karin Roy Andersson
Retail: US$800
Enamel has been used since the Byzantine era to create religious icons, and the time-consuming and technically complicated craft is often associated with historical motifs and jewelry. Zachery Lechtenberg uses the technique to create something completely different. This brooch is a three-dimensional drawing with attitude and humor, and it is very much alive here and now.
GALLERY CHOICE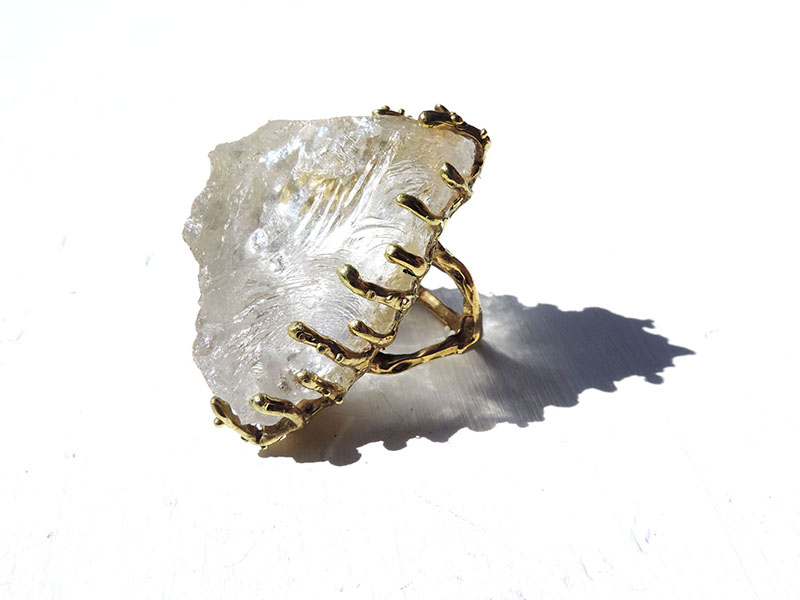 Artist: Daniela Caro
Gallery: myday-byday
Contact: Laura Helena Aureli
Retail: €350
Peruvian artist Daniela Caro, based in Cusco, presents her series Montaña at Mydaybyday Gallery, in Rome. "My mother is also a jewelry designer, so the trade has been close to me my entire life," says Caro. "I started making rings and other wearable pieces at a very young age and haven't stopped since. Cusco is a unique and magical place and I live in a forest near the Andean Mountains. This has helped me develop a very strong connection with nature, which is the predominant inspiration for creating my work. As a result, my pieces are very organic and represent the shapes, movements, and patterns of the rich natural elements that surround me. Most of them are made in silver and brass, in which I work the textures of wood, leaves, branches, and even insects, combining metal with the warmth of raw stones to create pieces of timeless beauty."