Art Jewelry Forum's extensive network of international
gallery supporters
is dedicated to celebrating and showing art jewelry. On Offer is a monthly series that allows AJF galleries to showcase a piece that they've personally selected to tempt and inspire you. Please contact the gallery directly for inquiries. Enjoy!

MUSEUM WORTHY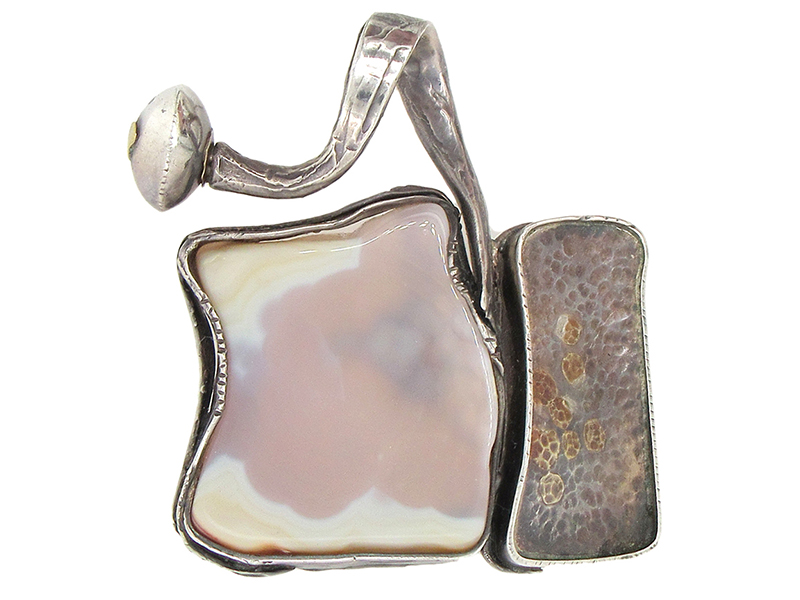 Artist: Glenda Arentzen
Gallery: Aaron Faber Gallery
Contact: Patricia Kiley Faber
Retail: US$1,250
This circa 1970s pendant from master studio jeweler Glenda Arentzen is a sculptural form in sterling silver with a textured, oxidized rectangular panel, translucent agate, and a forged top designed to be tied to leather or a braided necklace. Arentzen notes about this work, "During the 70s, studio goldsmiths were much interested in unconventional means of attaching body ornaments to garments and bodies. Here, I made use of a simple loop, which is essential to the design of the whole, rather than using any kind of commercial finding."
MUSEUM WORTHY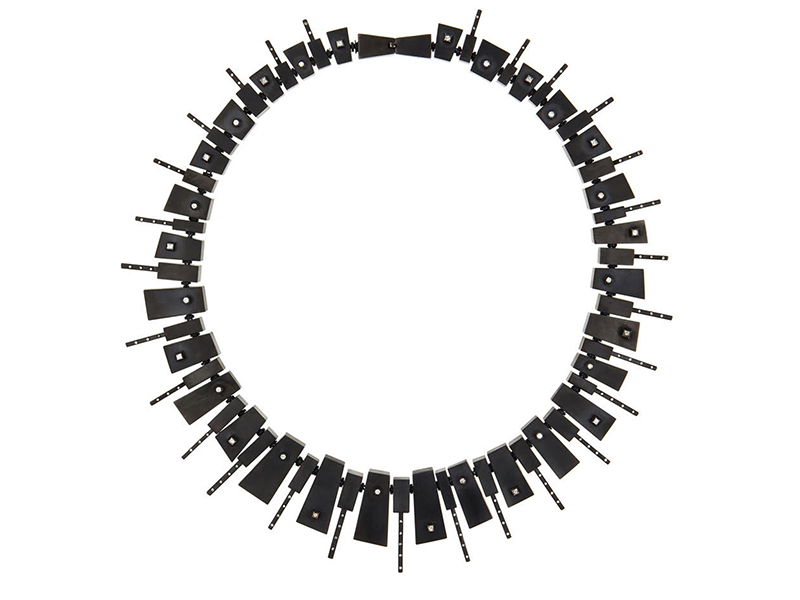 Artist: Daphne Krinos
Gallery: Galerie Elsa Vanier
Contact: Elsa Vanier
Retail: £15,960
Daphne Krinos made the original City necklace back in 2017 for the Goldsmiths' Company Ambassador Diamond Necklace Competition. Following the brief to "design a large contemporary sculptural necklace in gold, with diamonds, where the diamonds would be the heroes of the piece," and inspired by the continuing growth and expansion of cities and buildings, Krinos created a piece that won her first prize in the competition. "I wanted the diamonds to be prominent but also wanted them not to look traditional," said Krinos. "Using them to give the impression of lit windows at night seemed very appropriate to me. And making the metal dark turns the stones into the most important feature." The original City necklace has belonged since then to the permanent collection of the Goldsmiths' Company.
ESTABLISHED ARTIST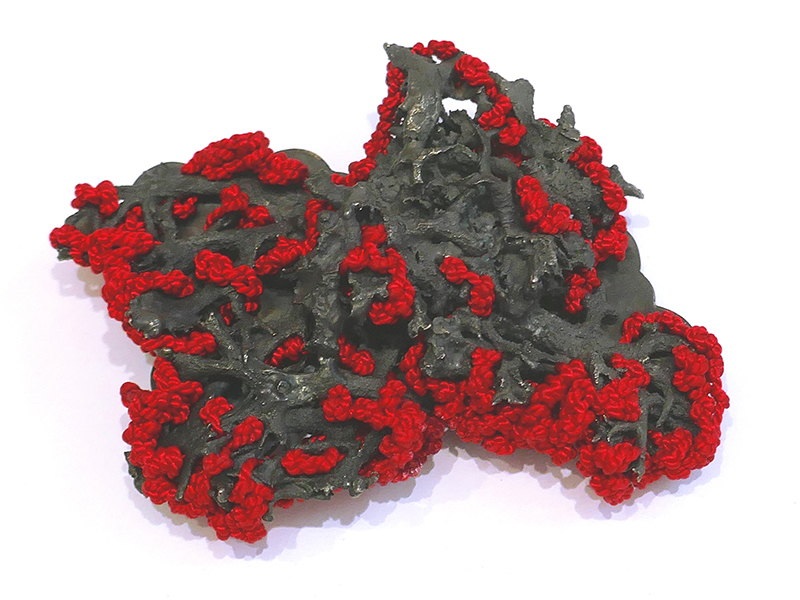 Artist: Mari Ishikawa
Gallery: Galerie Spektrum
Contact: Jürgen Eickhoff
Retail: €900
This brooch is a typical example of the Rebirth-Red series by Mari Ishikawa. This piece of jewelry is wonderful in its proportions, and very easy to wear.
ESTABLISHED ARTIST
Artist: Tore Svensson
Gallery: Four
Contact: Karin Roy Andersson
Retail: €500
An elegant box containing a well-balanced dose of humor, this brooch by Tore Svensson is made of steel. The material is treated carefully. The outside is etched and blackened, and the inside is painted pink—two sides of the same object that seem to contrast and follow each other at the same time.
ESTABLISHED ARTIST
Artist: Manuel Vilhena
Gallery: Galeria Reverso
Contact: Paula Crespo
Retail: €990
"There are always 'shady' characters in a story," says Manuel Vilhena. "This is not one of them. And this isn't that kind of story, either. So, imagine you're walking through the woods, as someone in red already did many times before. Maybe you'll be lucky. And that's what jewelry is all about. Right?"
ESTABLISHED ARTIST
Artist: Sungho Cho
Gallery: Galerie LA Joaillerie par Mazlo
Contact: Céline Robin (curator)
Retail: €500
A taste for the abstraction of forms and for the reminiscences of childhood can be found within the works of Sungho Cho, a former student of the Munich Academy under master Otto Künzli. Combining found objects and various repurposed materials—plastics, wood, and oxidized metal—the works of this accomplished gold- and silversmith stand out for their elegant sobriety. The question of identity in a digital age and the threat on individual freedoms are among his privileged working topics. His exceptional skills and creativity have once again been acknowledged: He won the Robbe & Berking award this year.
ESTABLISHED ARTIST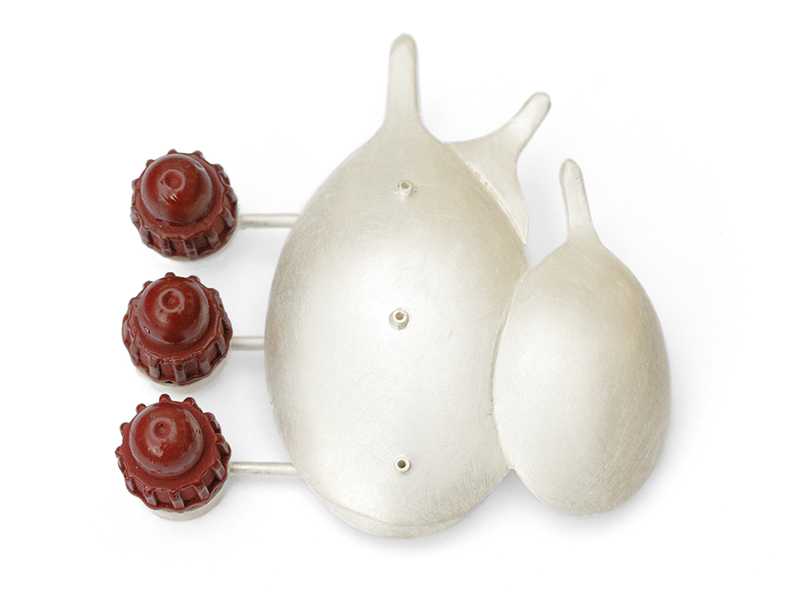 Artist: Katja Prins
Gallery: In the Gallery at Brooklyn Metal Works
Contact: Brian Weissman
Retail: US$1,675
Dutch artist Katja Prins has long been fascinated by the human ability to adapt our environments to suit our needs with the aid of technological innovations. This interest in our survival strategies has led Prins to explore the fragility of human bodies in relation to scientific discoveries and dependencies through jewelry. "Will this bring us a utopia or a dystopia?" asks the artist. "It's the ambivalence, the contradictions, the thin line between good and bad, improvement and danger, the uncanny valley of familiar and unknown, that always intrigued me, and what I've been trying to express in my jewelry."
MID-CAREER ARTIST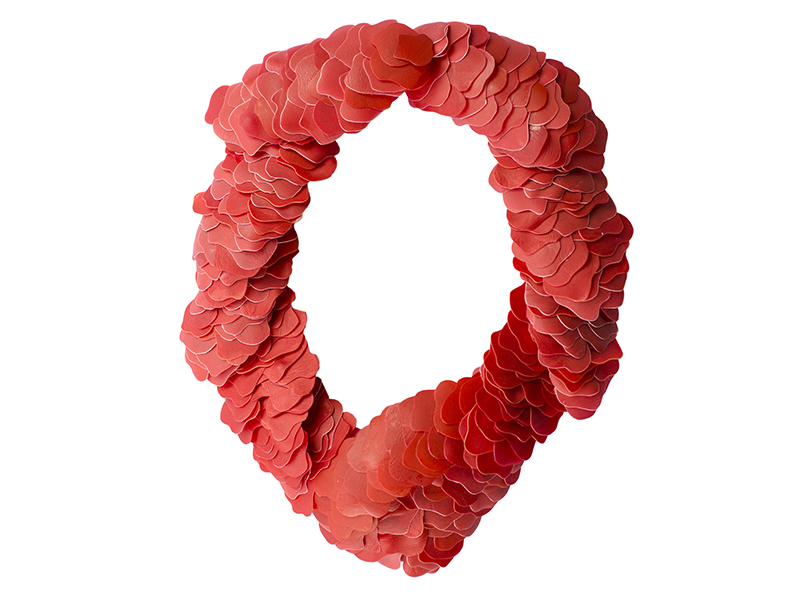 Artist: Karin Roy Andersson
Gallery: PLATINA Stockholm
Contact: Sofia Björkman
Retail: US$4,000
Giving new life to leftovers and packaging—for example, plastic bottles—gives Karin Roy Andersson satisfaction, and she appreciates that the material already carries stories. A constant search for new plastic materials to recycle, and the interplay between her and the qualities of the materials, challenges and motivates. All the plastic makes her wonder what in our time can be saved and in what shape it will be passed on to the future.
EMERGING ARTIST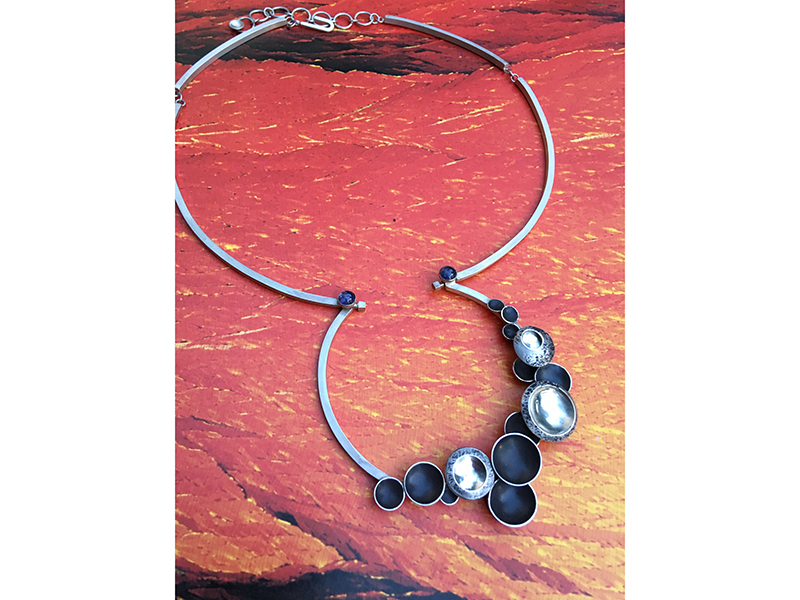 Artist: Penni Gage
Gallery: 108 Contemporary
Contact: Susan Baley
Retail: US$1,050
Penni Gage is a studio metalsmith who draws upon her Native American heritage and fascination with the Southwest. Gage transforms raw materials such as silver, copper, bronze, natural stones, and sea glass into distinctive pieces of wearable art. She's captivated by working the metal and watching it change shape from the strike of a hammer, mimic the texture of another object, or completely transform under the flame of a torch. Inspiration comes from a variety of sources and is ever changing based on her experiences or fascination with an object, location, or subject.
EMERGING ARTIST
Artist: Paul Adie
Gallery: Galerie Rob Koudijs
Contact: Rob Koudijs
Retail: €950
Paul Adie's rings show a refreshing mix of brash and cheeky, of political statement and uninhibited craftsmanship, and a provocative use of color and text in jewelry. Bold in shape and a joy to wear, this is a P.A. you'll love to have.
EMERGING ARTIST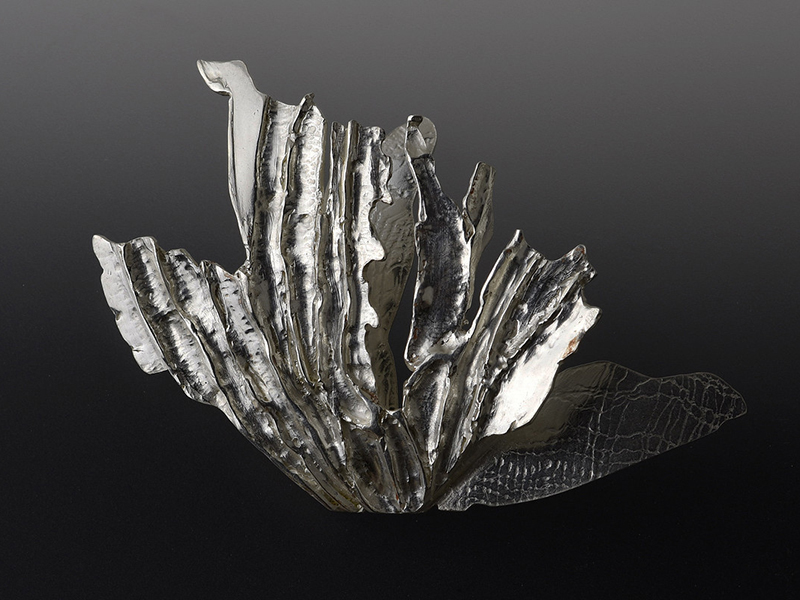 Artist: Carmen Burgi
Gallery: FINGERS GALLERY
Contact: Lisa Higgins
Retail: NZ$550
Taking inspiration from the sights that surround her, Carmen Burgi has been fortunate enough to hone her skills alongside esteemed jeweler Kobi Bosshard. "I'm a New Zealander from the south of the south," said Burgi, "and as such much of my work derives from the spectacular landscape and botanical beauty around me. My work usually ends up in a feeling of 'organic-ness,' in an undefined sense. The wearer may be unsure what it is exactly. A piece may infer both the land or sea, darkness and light, the sinister and ethereal, budding, or the beauty of decay. The result is part my observation, part whimsy, and, I hope, conveys my love of our island, New Zealand."
EMERGING ARTIST
Artist: Hansel Tai
Gallery: galerie beyond
Contact: René Darmont
Retail: €925
Nude Jade Pierced, by Hansel Tai, takes on the sacred material jade. Celebrated as the ultimate symbol of perfection and purity, and valued for its translucent, skin-like glow, jade is often carved into intricate mythological and religious forms. Tai's pendants, formally reduced and abstracted, are penetrated with heavy ready-made circular barbell piercings. With this gesture—which is inconceivable, on many levels, to those familiar with traditional jade carving—Tai subdues the sacred jade, aiming to evoke a strong emotional response from the viewer. In this body of work, Tai translates and subverts the traditional symbolism, through a transgressive and alienating action, puncturing the stone with piercing in an almost impossible act.
GALLERY CHOICE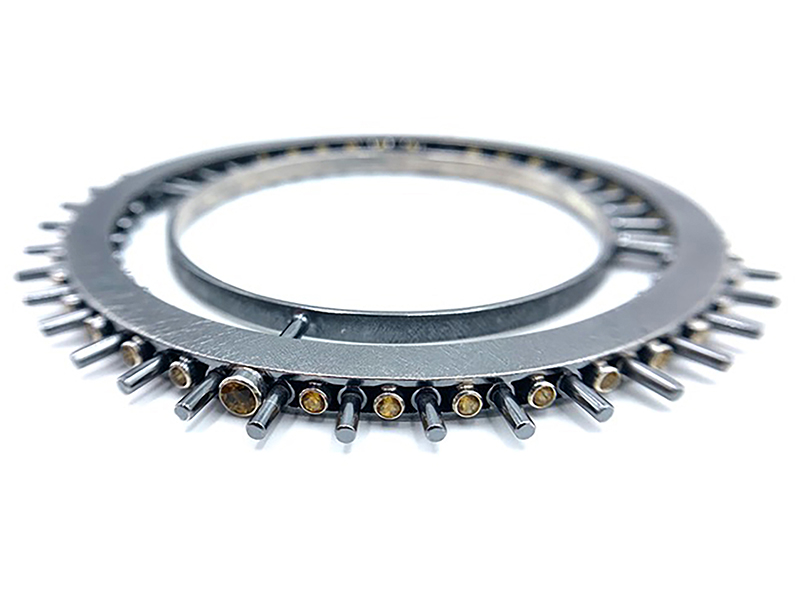 Artist: Dana C. Fear
Gallery: Gallery 2052
Contact: Nora McCarthy
Retail: US$3,200
The Radiant Bangle, by Dana C. Fear, is composed of a sterling silver base set with citrines and kinetic sterling silver elements that radiate from the base of the bangle and are put in motion in response to the movements of the wearer.
GALLERY CHOICE
Artist: Lynn Batchelder
Gallery: Gallery Loupe
Contact: Patti Bleicher
Retail: US$1,800
Lynn Batchelder's work is rooted in the drawing process, translating the quality of the drawn line into metals as she seamlessly moves between creating jewelry, objects, and drawings. Batchelder was the recipient of the 2016 Art Jewelry Forum Artist Award.
GALLERY CHOICE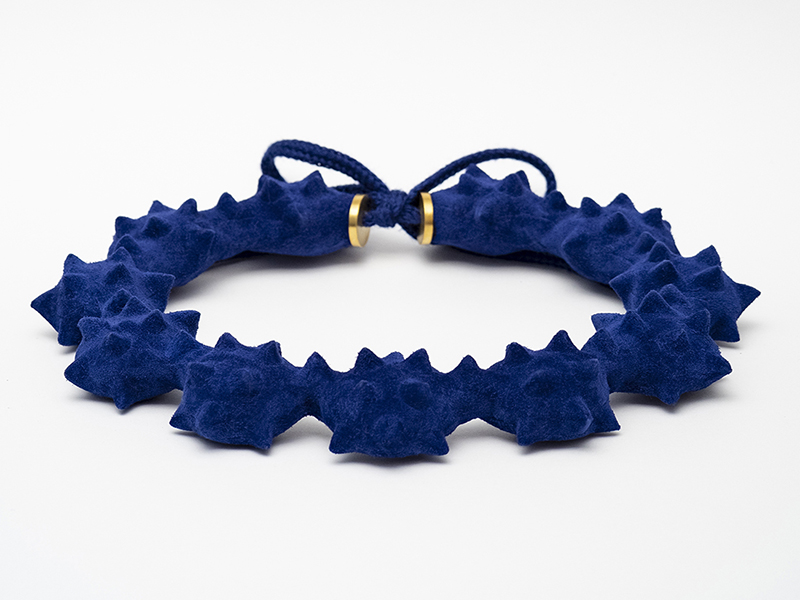 Artist: Ana Marchetanu
Gallery: myday-byday
Contact: Laura Helena Aureli
Retail: €375
Romanian artist Ana Marchetanu presents this necklace, part of the Superorder jewelry collection, at mydaybyday gallery, in Rome. "The population of pieces are made of soft leather and small metal—hard—joints," said Marchetanu. "All are bilaterally symmetrical, like most animals. And all those types need a human carrier organism for mutualistic symbiosis. They serve different functions as bracelets, rings, brooches, or necklaces. But we don't classify them based on function, but on a body-plan almost entirely made up of the spine-like structures, hence a superorder, the higher taxonomic rank."
GALLERY CHOICE
Artist: Silke Spitzer
Gallery: Galerie Noel Guyomarc'h
Contact: Noel Guyomarc'h
Retail: CAN$1,900
German artist Silke Spitzer received her training at the University of Pforzheim, where she first focused on painting before turning to jewelry. In 2011, she co-founded the Berlin-based jewelry school Coop Gold, which provides instruction in traditional and contemporary jewelry-making techniques; she continues to teach there to this day. Her work has received awards many times over the course of her career, in addition to being exhibited around the world. As a result of pushing her own limits at the technical, artistic, and personal level through the various experiences that have been part of her career to date, Spitzer has come to favor the use of nonprecious materials, most often found in her surroundings, in her daily life. This most recent series of necklaces, which occupy the body and space with their marked presence, skillfully combines the sophisticated with the vernacular. Like delicate armor, her anachronistic-looking necklaces contrast with the frantic rhythm of modern everyday life, while approaching the pure essence of the human being. Like amulets that we would carry on a journey to the unknown, each work is composed of fragments of our world, and proposes a new language that is only waiting to be interpreted.
GALLERY CHOICE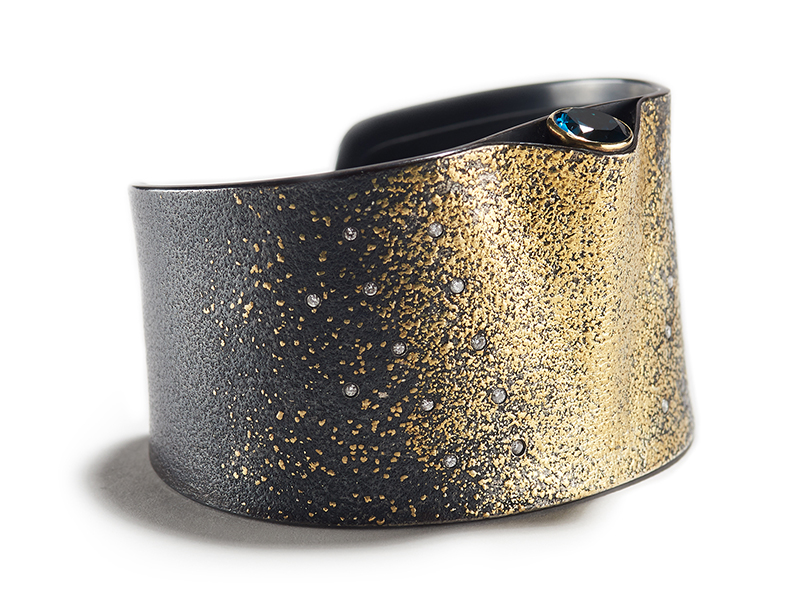 Artist: Tai & Tiara Kim
Gallery: Patina Gallery
Contact: Allison Barnett
Retail: US$5,280
Across an opulent sphere of its intimate, lustrous terrain lies a statement of pure treasure at its core. Makers Tai & Tiara Kim reveal an intoxicating piece that speaks to their fascination for life abound, which lies in the universe beyond our humanly understanding. Translating its vast complexion in dark sterling silver, its skies are then brushed upon with the likes of high-karat gold. Touched with the twinkles of sparkling white diamonds, they are as if the chiming notes of stars twirling in the heavens. However grand this work of art may be, one's focus yet continues yonder to a deep London blue topaz at its heart. Its attraction released by the gentle yearnings of its momentous plane. Resting on the body, the piece feels if one may hold the powers of its endless esteem in the palm of the hand. Around the wrist, the bracelet is an arresting work to render the soul in irresistible thirst for its incomprehensible beauty.