Art Jewelry Forum's extensive network of international
gallery supporters
is dedicated to celebrating and showing art jewelry. On Offer is a monthly series that allows AJF galleries to showcase a piece that they've personally selected to tempt and inspire you. Please contact the gallery directly for inquiries. Enjoy!
MUSEUM WORTHY
Artist: Agathe Saint Girons
Gallery: Galerie Elsa Vanier
Contact: Elsa Vanier
Retail: €4,800
From the series A TAAABLE ! (Dinnner's readyyy!) or the learning of the mother's tongue, "Silence" was a word before becoming a necklace. Like most of the pieces in the collection, it refers to the words that are shouted day in, day out by a mother. Offering contrasting shapes and materials (delicate pearls and an antique butcher's hook, the tip of which has been tamed by a gold thread), this elegant necklace can be worn casually and hides its meaning: a violent conflict between love and frustration.
MUSEUM WORTHY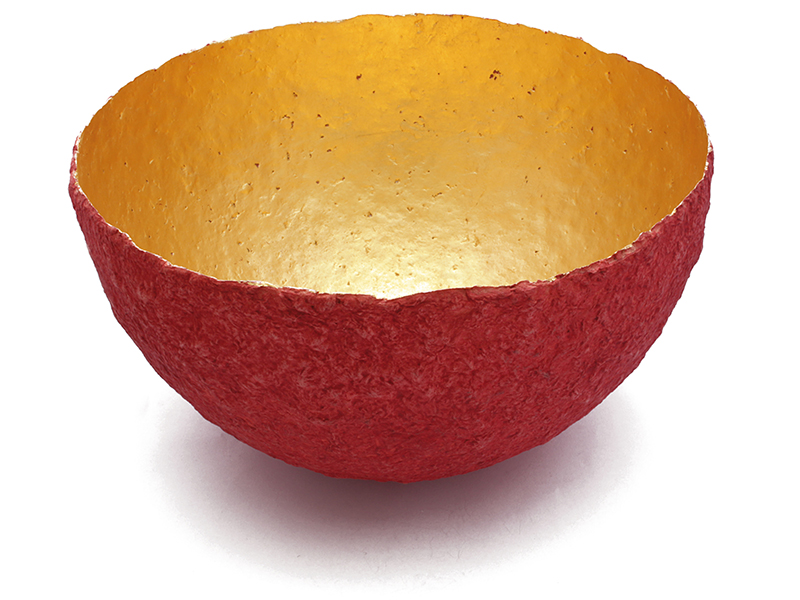 Artist: Marianne Schliwinski
Gallery: Galerie Spektrum
Contact: Jürgen Eickhoff
Retail: €2,200
This bowl by Marianne Schliwinski was made in 1988 from papier-maché on a base of red tissue paper, and gold leaf. It's an historic piece and the beginning of a series of bowls/containers with sizes up to 115 cm in diameter. More than 30 years ago, Schliwinski was already creating objects and jewelry using papier-maché. She's a specialist in making precious things from nonprecious materials.
MID-CAREER ARTIST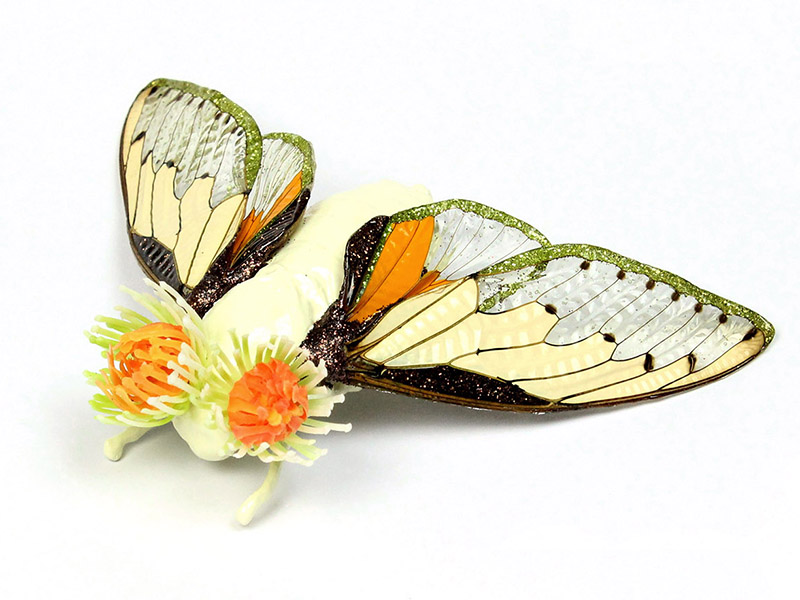 Artist: Märta Mattsson
Gallery: Galerie Noel Guyomarc'h
Contact: Noel Guyomarc'h
Retail: CAN$2,050
Born in Stockholm, Sweden, Märta Mattsson first studied jewelry in Gothenburg at HDK School of Design and Crafts. She perfected her technique by completing courses at London's Royal College of Art, Tokyo's Hiko Mizuno College of Jewelry, and Rhode Island School of Design, in Providence, RI, USA. Since 2006, her work has been shown in several international galleries and displayed in about a dozen public museum collections, including the Swedish National Museum, in Stockholm; New York's Museum of Arts and Design; and the Museum of Fine Arts, Houston. In 2012, she was chosen to exhibit at Schmuck. Using materials that may at first seem unfit for jewelry, Mattsson's work explores the threshold between disgust and attraction. Strongly inspired by 18th-century cabinets of wonder, which often displayed a patchwork of newly discovered species, she tries to make us see beauty in what may at first seem repulsive. Maintaining the original shape of the wings and bodies of her dead cicadas, she captures them in resin to protect and enhance their beauty with delicate and precise dabs of pigments. By preserving the natural signs of time's passing, she allows the "lives" and histories of those beings to continue on further.
MID-CAREER ARTIST
Artist: JJ Huelsman
Gallery: 108 Contemporary
Contact: Susan Baley
Retail: US$207
After reading a book by architect Norman Brosterman, JJ Huelsman was inspired to explore the roots of modernism and 20th-century geometric abstraction. Shifting from a random, almost Dadaistic attitude, Huelsman's focus transitioned to producing linear patterns. By merging silver and bronze, he investigates both the limits of the metalsmithing medium and a modernist philosophy.
MID-CAREER ARTIST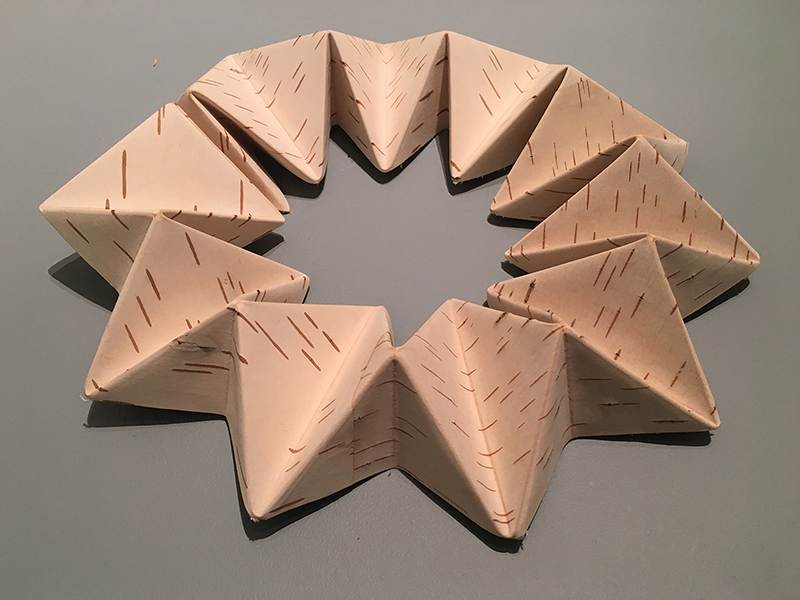 Artist: Emma Dahlqvist
Gallery: Four
Contact: Karin Roy Andersson
Retail: €600
Emma Dahlqvist's relationship with birch bark began with an almost anarchic attitude to the craft tradition. Using laser cutting and origami, she examines textile qualities in the material. She takes interest in the relationship between older craft knowledge and digital technologies and what new types of expressions and materials may develop in the intersection. This piece has an almost rubbery unnatural surface, but if you look closely you see that it's actually made of skin from a tree. The lightness and the stretchable structure make it easy to wear and lovely to touch.
MID-CAREER ARTIST
Artist: Mandy Flood
Gallery: FINGERS GALLERY
Contact: Lisa Higgins
Retail: NZ$480
Originally from the UK and now based in New Zealand, Mandy Flood is addicted to the decay and abandonment of the ordinary within daily life. "Much of my work has hidden parts that will only be exposed through wear," says Flood. "When it reveals itself, the piece might be seen as broken or damaged. This is to be celebrated, not lamented upon. It is the recording of the overlooked that drives my investigations into producing pieces that have a deeper value. This might be seen readily or will be disclosed over time and interaction. The unknown is not for everyone."
MID-CAREER ARTIST
Artist: Karin Herwegh
Gallery: Galerie LA Joaillerie par Mazlo
Contact: Céline Robin (curator)
Retail: €1,050
Deeply influenced by antiquity, tribal arts, and modern art, and initially trained as a fashion designer, Karin Herwegh has made the choice of her medium a true statement of independence. After creating small metal sculptures for some years, she decided to use a simple knife to sculpt pieces of wood, thus giving a larger scale to the human and animal protagonists of her sculptural chronicles accompanied by enigmatic titles. A sense of humor and a talent for terse statements that recall the melancholy of Sempé or the clean lines of Richard McGuire's Sequential Drawings.
EMERGING ARTIST
Artist: Jen Surine
Gallery: Gallery 2052
Contact: Nora McCarthy
Retail: US$450
This one-of-a-kind Trillium Brooch, by Jen Surine, is on view as part of Gallery 2052's year-end exhibition, Constructional, which highlights the work of six meticulous craftspersons working mainly in jewelry. Surine's architecturally inspired "openwork" structures consist of Argentium silver wires, which the artist has methodically arranged and joined by hand to create jewelry that has a refined and ethereal aesthetic.
EMERGING ARTIST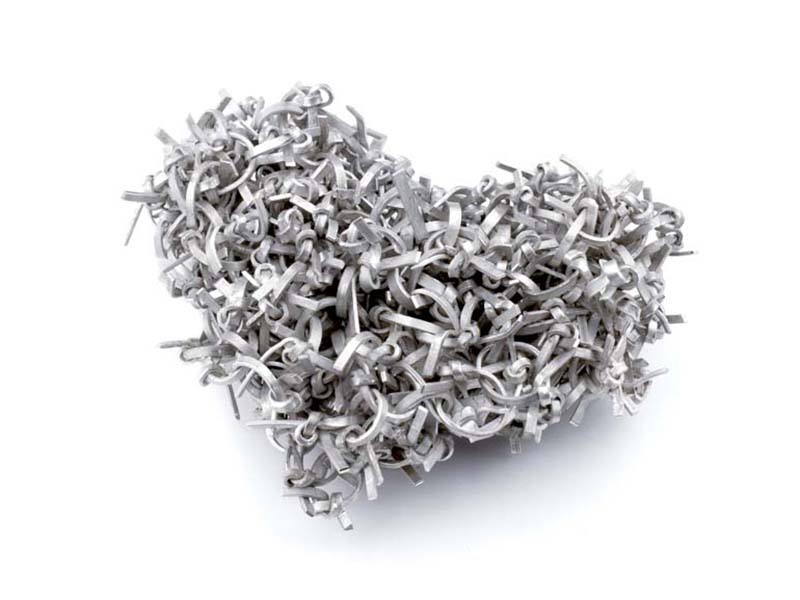 Artist: Betsy Lewis
Gallery: Baltimore Jewelry Center
Contact: Shane Prada
Retail: US$300
Betsy Lewis is a metalsmith living and working in New York City. Her newest body of work, A Hollow Hold, refers to the center: the core, the spine, the gut, and the heart. Metal objects and necklaces point to sites on the body to interpret the impossibilities of telling. Like the armor they have become, these works serve as protection and give testimony to the privacy of night. Lewis uses traditional silversmithing techniques such as hollow forming, forging, and fabrication to make objects whose meaning is derived from the weight of memories and the methods we use to instill objects with meaning. In doing so, she establishes historical tension by asserting these methods' value in a contemporary studio context.
GALLERY CHOICE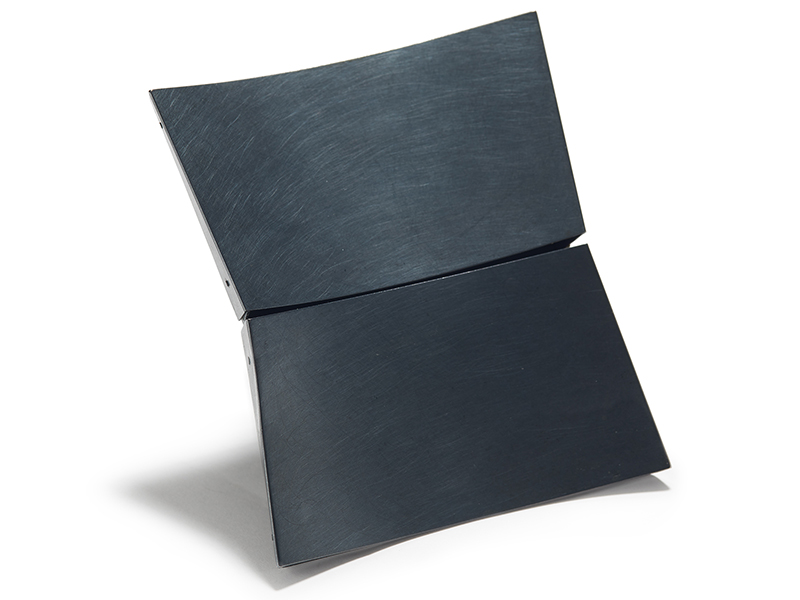 Artist: Valentine Dubois
Gallery: Patina Gallery
Contact: Allison Barnett
Retail: US$3,120
Valentine Dubois masterfully creates forms in oxidized sterling silver and turns them into compositions of refined, artful disposition. Beginning with planes of silver, she skillfully persuades the metal into folded, rectangular bearings. Dubois then takes the two rectangular pieces and joins them, adhering a slice of silver to their side joints, immediately introducing structural integrity to the work. Then, bending the metal subjects further, she folds each form on itself to complete their full, dimensional form. Allowing space to inhabit their interiors, the artist beckons our further curiosity and intrigue. Undulating surfaces tease the light as one watches its bright energy travel across its vast, textured plane. For the finishing touch, Dubois pierces a backing to our composition, and fabricates a duo pin structure so that the work may firmly hold onto the body. With a light pinch, one may release the pins from their well-constructed silver chamber. Dubois offers an astounding work of art to stir the soul, a piece which exudes great mechanical marvel, an unforgettable statement for your everyday.
GALLERY CHOICE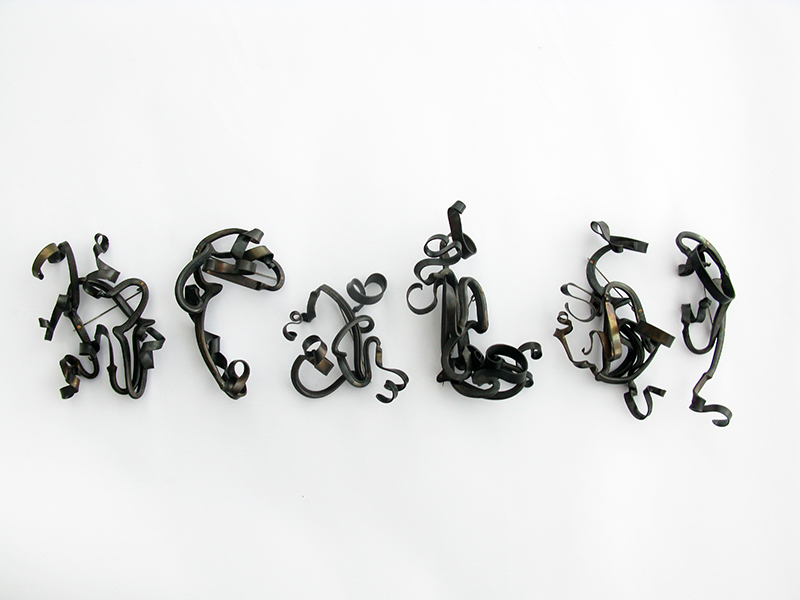 Artist: Nils Hint
Gallery: Gallery Loupe
Contact: Patti Bleicher
Retail: Each US$1,450
These pieces from the Dirty Dishes series are brooches made from found cutlery knives that are cut open, twisted, and soldered to form abstract designs. The heated alloys of the cobalt and steel used in the cutlery develop dreamy patterns. This work will be shown at Schmuck 2020.
GALLERY CHOICE
Artist: Jonathan Boyd
Gallery: Gallery S O
Contact: Katharina Dettar
Retail: £2,150
Crashing, smashing, falling out of the EU. No-deal, yes-deal, referendum number two. The Brexit debate has tied up the parliament and people of the United Kingdom into an impossible knot. In his Untying the Mess pendant, Jonathan Boyd recognizes this dilemma and transforms the text from Article 50 of the European Union's Lisbon Treaty as invoked by the United Kingdom to leave the EU from two-dimensional administrative drivel into a captivating, three-dimensional Gordian knot. As seen here, Boyd explores language and narrative through objects and jewelry, creating three-dimensional text forms that serve as elastic carriers of meaning where the texts themselves are in constant dialogue. Using digital and industrial printing and casting, he employs in each new piece an array of materials and processes to reflect the technological possibilities of the jewelry form and our hypermodern times.
GALLERY CHOICE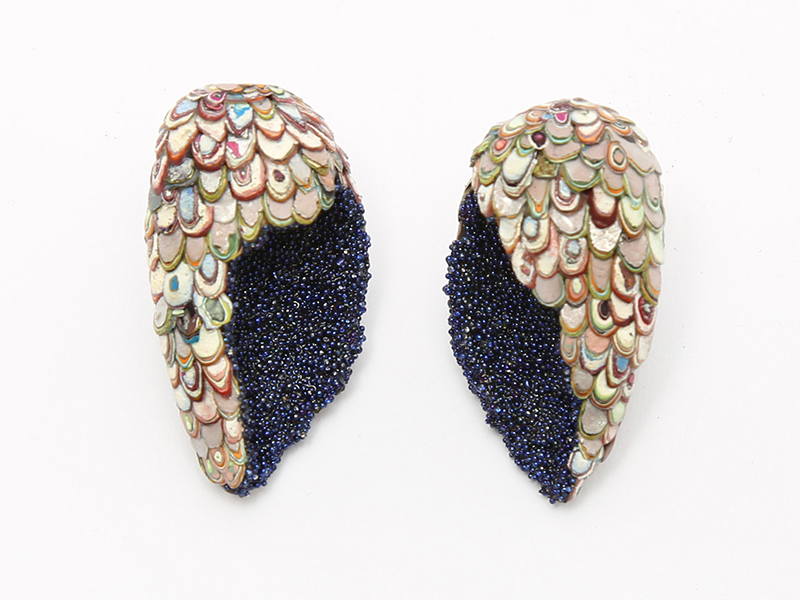 Artist: Carina Shoshtary
Gallery: myday-byday
Contact: Laura Helena Aureli
Retail: €560
This Christmas, artist Carina Shoshtary presents earrings from the Karma Chroma series at mydaybyday gallery, in Rome. They're created from completely opposite materials: graffiti, glass, almond shells, silver. On the one hand, graffiti paint, scraped from a heavily sprayed wall in the city. On the other, natural materials found while wandering about in the natural environment. "All my work starts with an intuitive, experimental play with the found material," says the artist. "Everyday images, thoughts, and dreams are woven in, as well as my own idea of a parallel fictitious world. My jewelry pieces may appear like artifacts of a past civilization, fossils from another planet, or the ornaments of fabled beings."
GALLERY CHOICE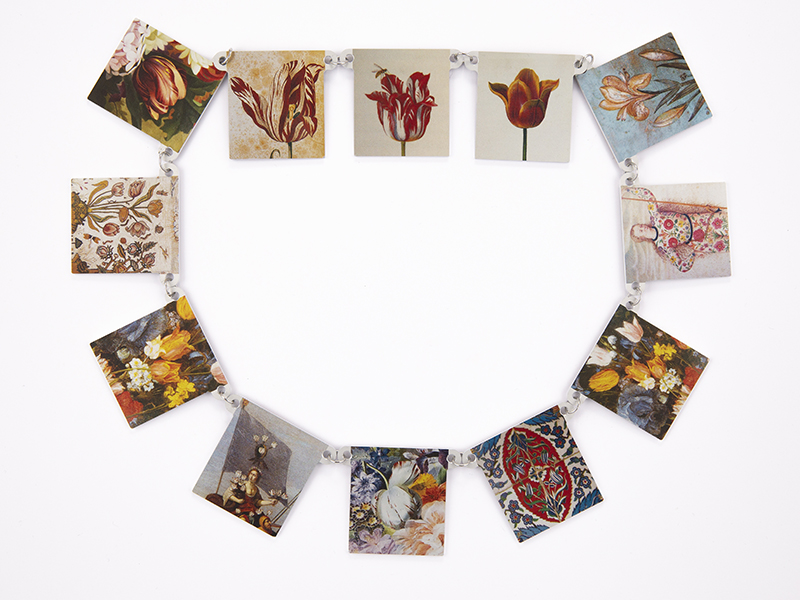 Artist: Herman Hermsen
Gallery: Galeria Reverso
Contact: Paula Crespo
Retail: €870
"This design is a redesign of a one-off necklace from 1998 with the same title, made with foil-sealed images," explains Herman Hermsen. "The images printed are from photographs I made of old paintings and drawings by different old artists/painters in different historical museums. The material is aluminum with a print into the anodized surface, which is bright and very sustainable. This new necklace is developed as a multiple. Although it is a multiple, all chains are different in the composition of the images."