Art Jewelry Forum's extensive network of international
gallery supporters
is dedicated to celebrating and showing art jewelry. On Offer is a monthly series that allows AJF galleries to showcase a piece that they've personally selected to tempt and inspire you. Please contact the gallery directly for inquiries. Enjoy!
MUSEUM WORTHY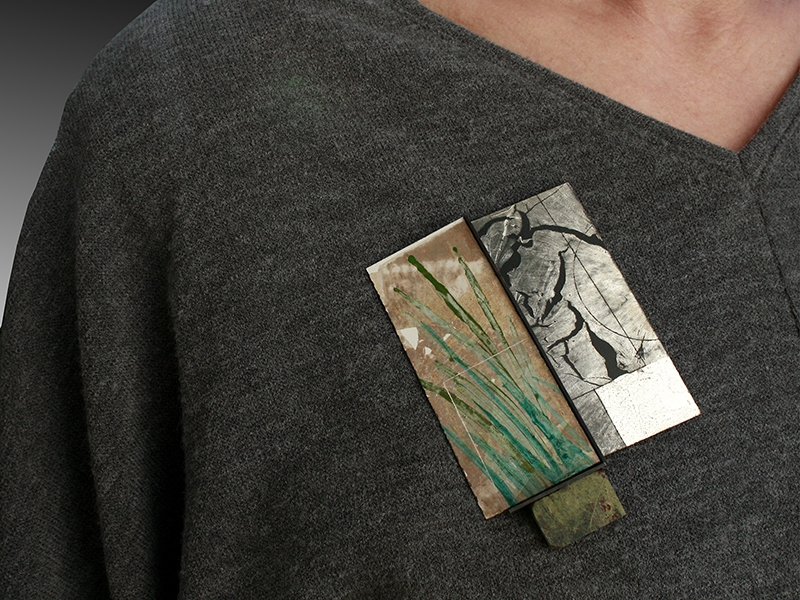 Artist: Ramón Puig Cuyàs
Gallery: Galerie LA Joaillerie par Mazlo
Contact: Céline Robin
Retail: €1,300
One of the uncontested masters of contemporary art jewelry, Catalan artist Ramón Puig Cuyàs has been tirelessly challenging the limits of his medium for 40 years. An ardent advocate of a democratized jewelry through the liberation of materials, this artist combines all types of materials without any hierarchy of value, trying as much as possible to repurpose discarded materials or especially poor ones. This brooch is part of his latest series, entitled Maps to Get Lost in the Forests, which is inspired by a quote from Henry David Thoreau, the author of Walking, an essay highlighting the deep relationships between man and nature. It's a topic particularly dear to Puig Cuyàs, who regularly uses his works to alert viewers to environmental issues and the irreversible damages resulting from human activities on the planet.
MUSEUM WORTHY
Artist: Thea Tolsma
Gallery: Ra Gallery
Contact: Paul Derrez
Retail: €960
Between one flower picked and the other given. For this three-way collection of metal-flower jewelry, Thea Tolsma was inspired by what she sees during the guided tours she has given for years at the Rijksmuseum and the Allard Pierson Museum, in Amsterdam. Patterns of seemingly floating flowers, on tapestries from the 15th century, led to a group of brooches that can be worn as a corsage: Tapestry. For Still Life, freely based on painted flower still-lifes from the 17th century, Tolsma made necklaces out of two different flowers, choosing from the rose, tulip, carnation, lily, and poppy. She also made pieces—Wreath—based on fragile ancient wreaths of golden myrtle flowers, used as burial gifts. The myrtle symbolizes prosperity and wealth. Each piece is titled after its symbolic meaning.
MUSEUM WORTHY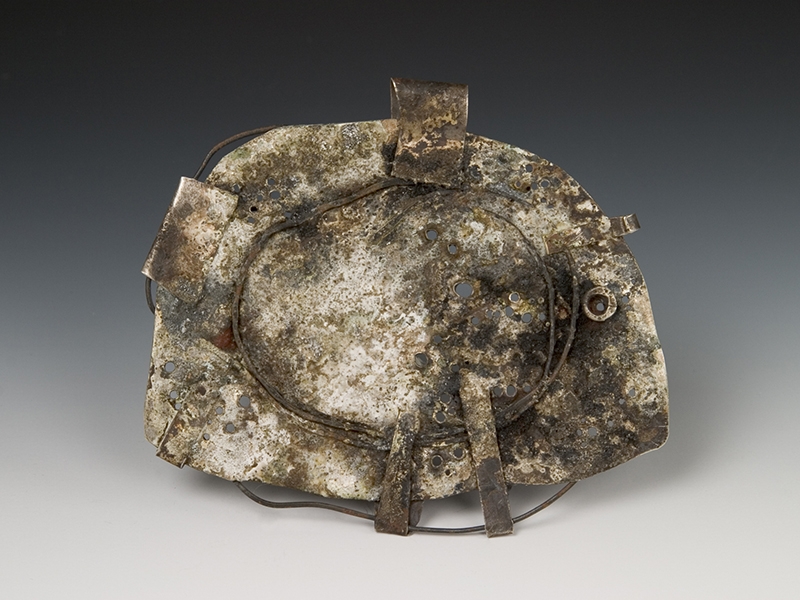 Artist: Talya Baharal
Gallery: Velvet da Vinci
Contact: Mike Holmes
Retail: $2,200
Urban Landscape #31 is from a series of unique jewelry pieces inspired by the streets of Pittsburgh, Pennsylvania. During a month-long sculpture project in the middle of winter, the residue and decay of ice, salt, and rust stains on city sidewalks and asphalt surfaces created a visual and material vocabulary from which the artist borrowed inspirations of nature's corrosive elements.
MUSEUM WORTHY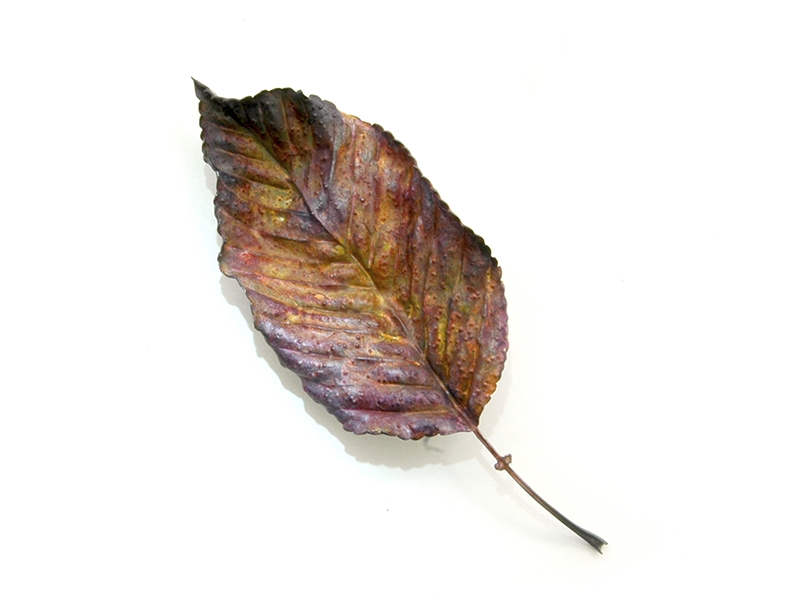 Artist: Kimiaki Kageyama
Gallery: Gallery S O
Contact: Katharina Dettar
Retail: £2,470
Walking in his garden throughout the year, Kimiaki Kageyama has a sensitive eye for the changing colors and tones of the leaves around him, finding immediate inspiration for his unique hand-forged and repoussé brooches. Deftly rendering their seasonal tones and variations, he is a master at capturing an individual leaf's autumnal instant forever. His Mountain Cherry brooch reminds us not only of the care, diligence, and technical skill required to achieve such an exacting representation life-size, but also those instants where, captivated by a forest's or a single leaf's beauty, the separation between ourselves and our surroundings disappears into a moment of eternity.
MUSEUM WORTHY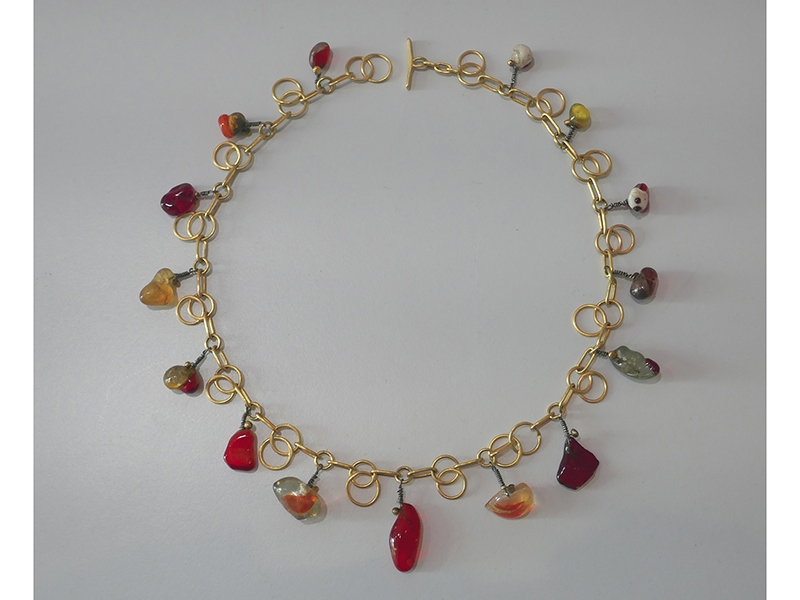 Artist: Marianne Schliwinski
Gallery: Galerie Spektrum
Contact: Jürgen Eickhoff
Retail: €3,300
This very elegant necklace from Marianne Schliwinski's jewelry series with glass found in Murano/Venice is one of her typical works of the mid 90s. It's representative of her work from that time.
MUSEUM WORTHY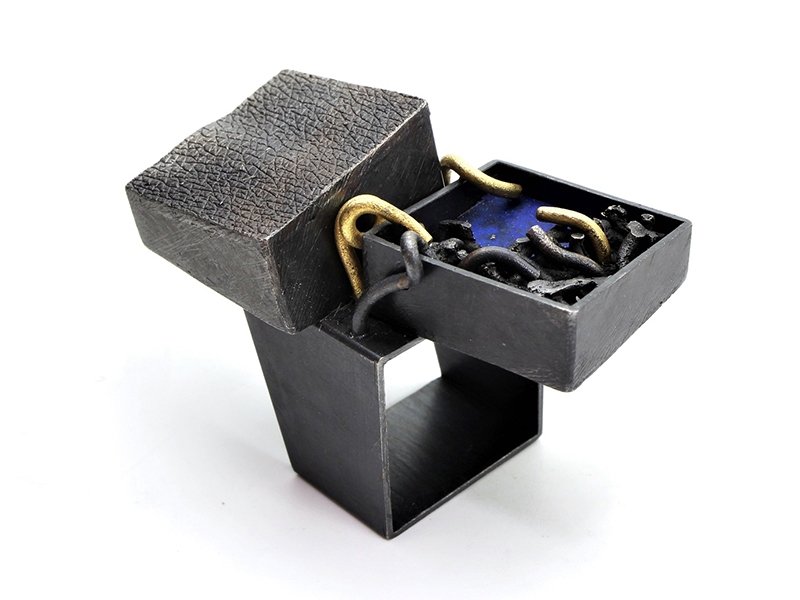 Artist: Lluίs Comίn
Gallery: Taboo Studio
Contact: Jane Groover
Retail: US$974
Barcelona artist Lluίs Comίn received the Jorg 2017 Crafts award. The work in his current Magic Mountain series speaks to the history of nature with constructions that reference fragments of the natural world.
MUSEUM WORTHY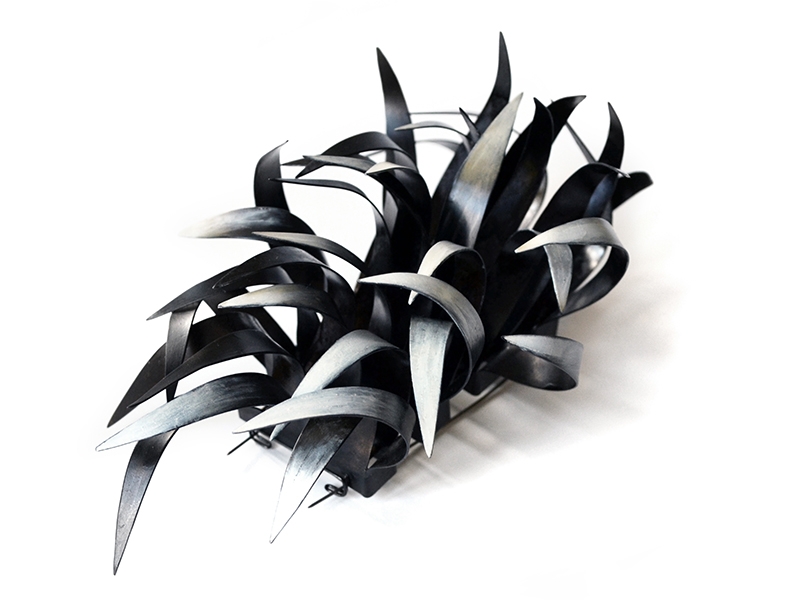 Artist: Hanna Liljenberg
Gallery: Four
Contact: Karin Roy Andersson
Retail: US$1,300
This brooch by the Swedish artist Hanna Liljenberg has a movement and a flow that makes it hard to believe it's fabricated from steel. Everything except the brooch pin is made of one sheet of plate, carefully planned, sawed, and folded. The calculations and precise craft become a contrast to the organic expression, giving the piece an interesting tension.
ESTABLISHED ARTIST
Artist: Martin Spreng
Gallery: Galerie Elsa Vanier
Contact: Elsa Vanier
Retail: €4,650
Martin Spreng followed a career path from cabinetmaking to jewelry. He mixes fine gold, gray gold, silver, wood, and other organic materials and crystals. His unique pieces, forged or hammered, reveal a sculptor's approach, moved by the beauty of precious matter. Spreng has managed to impose his novel approach to jewelry-making. His perfect mastery of technical constraints in no way limits his creativity. He never scrimps on the quantity of gold used—always in its purest form. He forcefully sculpts his pieces into the shapes born of his imagination, voluntarily leaving traces of his hand and tools. Spreng does not cheat. Dreamy enchantment and raw violence coexist, poetic and galactic inspirations mingle in powerful and vibrant—even telluric—creations that irresistibly attract and guide the eye over uneven, non-standard surfaces, successions of unexpected topography, ruptures and subtle confrontations. In 2018, he started experimenting with titanium, the lightness of which allows new volumes, and created new works, landscape-like assemblies, bundles of twigs or rushes from which other precious matter seems to emerge or, on the contrary, to alight upon the surface. The random perfection and fragility of nature—redefined.
ESTABLISHED ARTIST
Artist: Linda Threadgill
Gallery: Gallery 2052
Contact: Nora McCarthy
Retail: US$2,400
Ruby Rosette, by Linda Threadgill, is on view at Gallery 2052 as part of its current not-to-be-missed exhibition, Mastery in Jewelry and Metals: Irresistible Offerings! Curated by Gail M. Brown to celebrate the Society of North American Goldsmiths in its 50th year, the exhibition boasts masterful works by makers who have worked for more than 25 years, have achieved substantial visibility and recognition, have a studio and exhibition history, and whose unique ideas have been innovating and celebrating jewelry, objects, and sculpture and enhancing the story of American studio jewelry and metalsmithing.
ESTABLISHED ARTIST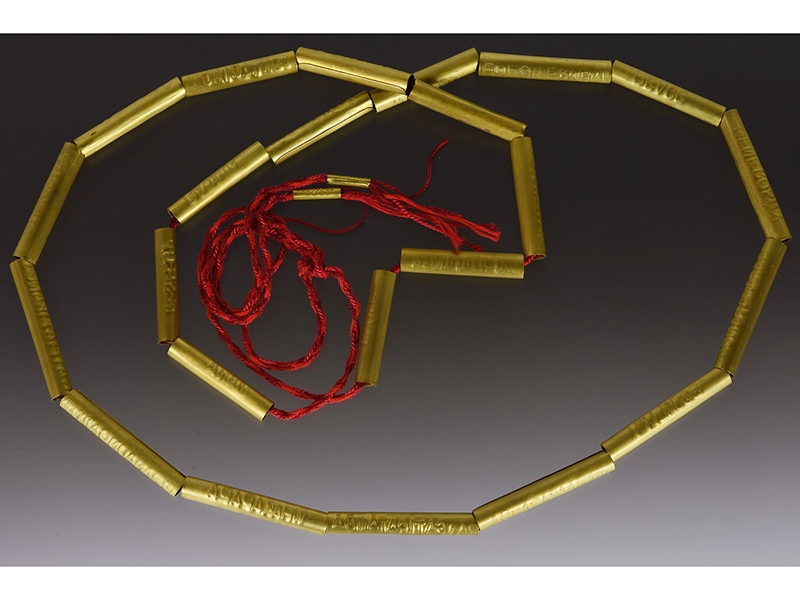 Artist: Mia Straka
Gallery: Fingers Gallery
Contact: Lisa Higgins
Retail: NZ$1,160
Valere Talisman is comprised of 23 scrolls, each stamped inside with a different word drawn from tikanga Māori and a global values survey. By wearing the talisman, the intention is to bring the values into being through mindful action. The neckpiece is part of an ongoing interactive, social-object project aimed at questioning and reaffirming a universal code of human rights in a climate of rising global xenophobia and mass population movements. Valere Talisman embodies the impetus of the project: to encourage more connected, inclusive communities through a sense of personal accountability, collective empowerment, and trust.
ESTABLISHED ARTIST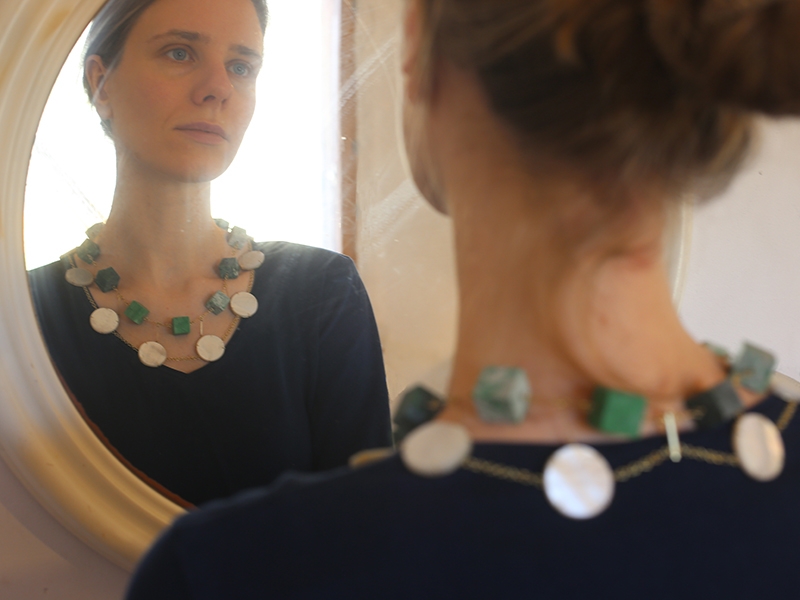 Artist: Philip Sajet
Gallery: Galerie Biro
Contact: Kinga Zobel
Retail: €9,000
Philip Sajet's works are, strictly speaking, masterpieces of craftsmanship—but only strictly speaking, because the really convincing thing about them is their uniqueness, their unbelievable harmony. The basis of it is the perfect craftsmanship, which allows the artist to fully develop.
MID-CAREER ARTIST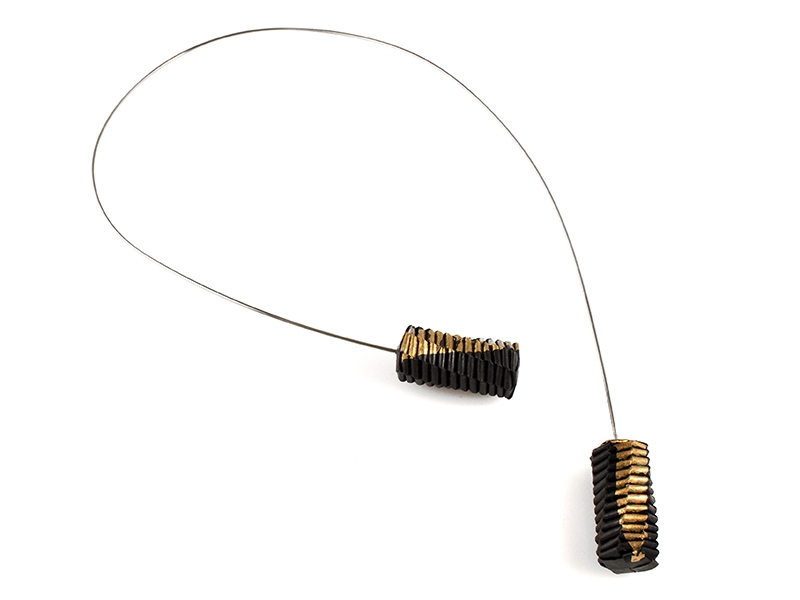 Artist: Francesca Vitali
Gallery: Baltimore Jewelry Center
Contact: Shane Prada
Retail: US$150
Originally from Rome, but now residing in Rochester, New York, Francesca Vitali creates objects of adornment through folded and woven paper rather than by relying on precious metal and gemstones. Vitali started making jewelry after she began her career as a chemist. She finds the intersection of art and chemistry in the alchemy of paper jewelry, transforming humble, ordinary paper into precious objects through the work of her hands. Vitali utilizes all kinds of paper in her work, including paper from magazines, maps, bags, and packaging, and she often incorporates vintage and handmade paper into her work. Lightweight and comfortable, this necklace is striking yet very wearable.
MID-CAREER ARTIST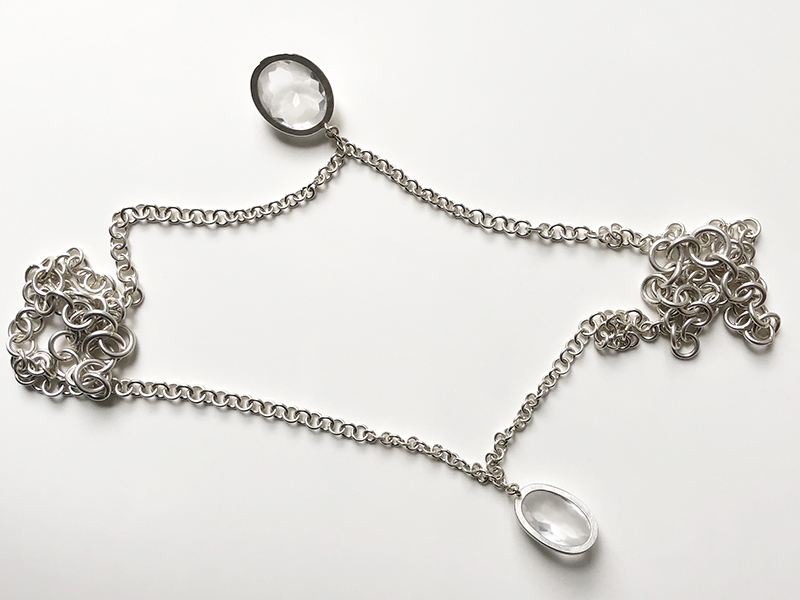 Artist: Caroline Gore
Gallery: Gallery Loupe
Contact: Eileen David
Retail: US$5,100
Caroline Gore's newest work is based on the premise of forming ideas through mending, altering, and the chasm between remembering and forgetting. These pieces are constructed of stone and old parts and pieces of half-made work long abandoned, as well as new forms in varied materials that have repeatedly shown up in her work throughout decades of production. This necklace is part of Gore's upcoming exhibition, titled Last, which holds dual meaning—one being the form that shoes are constructed upon, with its specific size and shape, but also the sense of time-marking, and therefore reoccurring timelessness, mirroring the repeated forms and signifiers present in the work.
EMERGING ARTIST
Artist: Nhat-Vu Dang
Gallery: OONA Gallery
Contact: Anna Schetelich
Retail: €1,740
Where the Hell Are My Keys!? is the title of Nhat-Vu Dang's work, currently on show at OONA Gallery. The artist transforms a very personal, intense story into a beautiful, contemporary piece of jewelry. Dang reflects the inner struggle of a migrant child growing up in the Netherlands, influenced strongly by Western culture but of course with the Vietnamese roots of his parents and grandparents. Using shards of both Vietnamese and Dutch porcelain as a base for his work, he creates heavy, sharp-edged pendants of solid silver. He transfers the traditional motif from the porcelain onto the metal using a delicate engraving technique. Referring to the title, the setting for the pendant looks like a keychain, carefully made of leather strips.
EMERGING ARTIST
Artist: Valerie James
Gallery: In the Gallery at Brooklyn Metal Works
Contact: Brian Weissman
Retail: US$800
Valerie James's work conveys her interest in movement, mapping, and mark-making. She observes the patterns and pathways that a body takes in its everyday routines and finds parallels within her studio practice. Engraving a sheet of metal is a process of ritual much like the act of walking. By physically embedding her movements into the surfaces, James evidences a tangible relationship to the ephemeral. Through jewelry, James sees a connection to landscapes that are traversed by a body, conforming to existing pathways, and landscapes that are created by wearing, tracing the curves of our physical existence.
GALLERY CHOICE
Artist: Florian Milker
Gallery: Galerie Beyond
Contact's Name: Rene Darmont
Retail: €850
As stated by Florian Milker: "Paper airplane folding as a symbol of curiosity. Curiosity drives us forward, brings knowledge and new perspectives, it inspires. I can still very clearly remember the folding of paper planes when I was a child. It was great fun for me to see if and how well every single plane would glide through the air. Different folding of the paper resulted in different forms, which again had different characteristics. The challenge was to find out which technique and form was best suited. The mirror-smooth surfaces reflect the surroundings, flash briefly, and disappear again. The matte surfaces show the actual shape on the other side. I always try to elicit a playful character from my pieces of jewelry because for me the playfulness is something that dwells in all of us and that defines us."
GALLERY CHOICE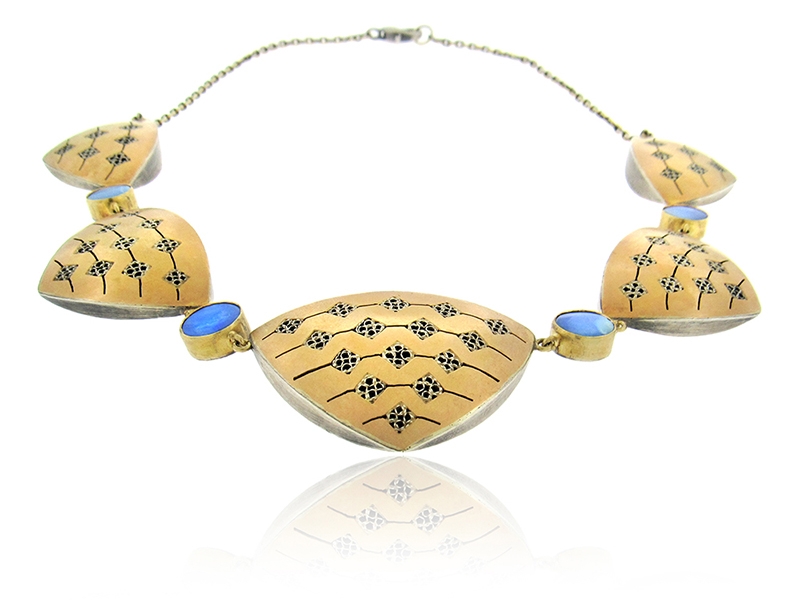 Artist: Radi Brothers
Gallery: Aaron Faber
Contact: Patricia Faber
Retail: US$8,350
The Radi Brothers were born in Kosovo but moved to Croatia at a very young age—geographically not very far, but culturally very different. Their father is a master of filigree, recognized throughout the Adriatic coast, so they learned early the secrets of making filigree jewelry, followed by formal study in Zagreb. Their intricate jewelry is hand made by them and is a combination of precious metals consisting of hundreds and thousands of tiny pieces in one object, all brought together with a lot of skill and patience and play. Thus their unique jewelry comes from thousand-year-old techniques and also from contemporary culture—the flatness of modern shapes and modern art.
GALLERY CHOICE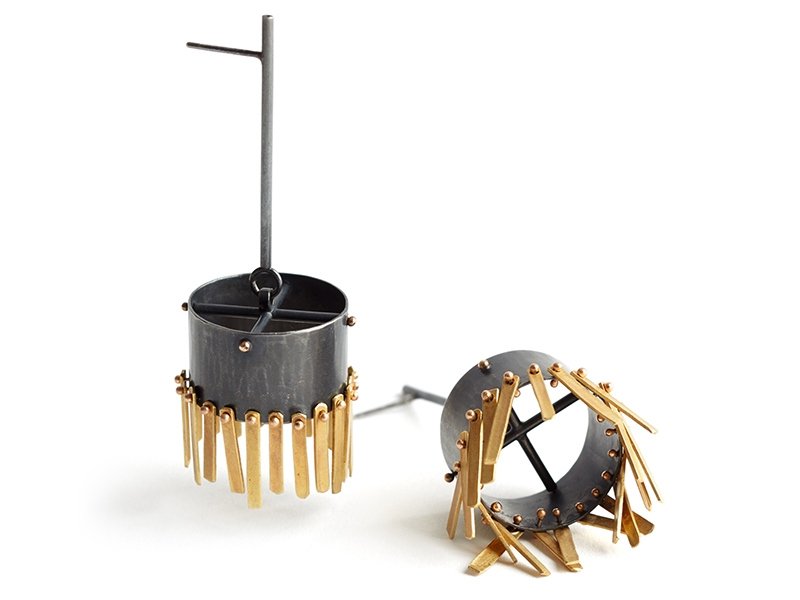 Artist: Sandra Enterline
Gallery: Patina Gallery
Contact: Allison Barnett
Retail: US$3,335
The Barrel Fringe Earrings are a melodic composition born of mechanical ingenuity. Highly favored for their contrast of color, the deep tones of its oxidized sterling silver form create the fundamental anatomy of the work. Light pillars of high-karat gold stretch from its silvery frame, carefully crafted and pieced along the earrings' rounded rims. With a swift toss of the head, the golden appendages of the piece elegantly sway to and fro, sweetly adorning the wearer in its graceful construction. Sandra Enterline envisions wearable pieces of art that adorn heightened geometrical design. Playing within scale, proportion and shape, her pieces are skillfully crafted as intricate, sculptural works for the body. Here, dynamic shape, divergent hues, and alluring form are an unmistakable measure of soul-stirring art for your everyday enjoyment.
GALLERY CHOICE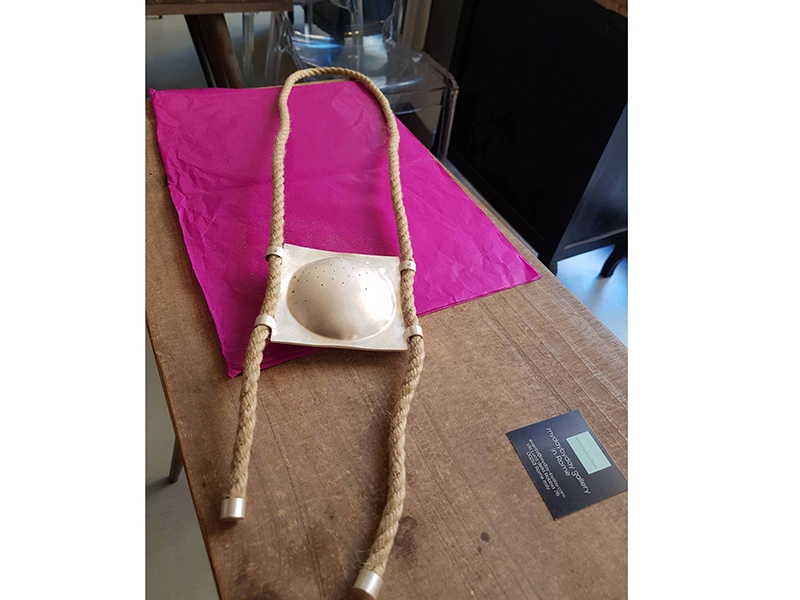 Artist: Sara Le Klint
Gallery: MydayByday Gallery
Contact: Laura Helena Aureli
Retail: €720
Danish artist Sara Le Klint reveals herself: "I grew up close to the ocean. Since I moved to southern Germany, away from the coast, I've come to realize how much being by the water meant to me. The ocean has become a reoccurring theme in my work. In this piece, I wanted to capture the essence of the beach and the sea. I created a necklace which also functions as an item for containing sand."
GALLERY CHOICE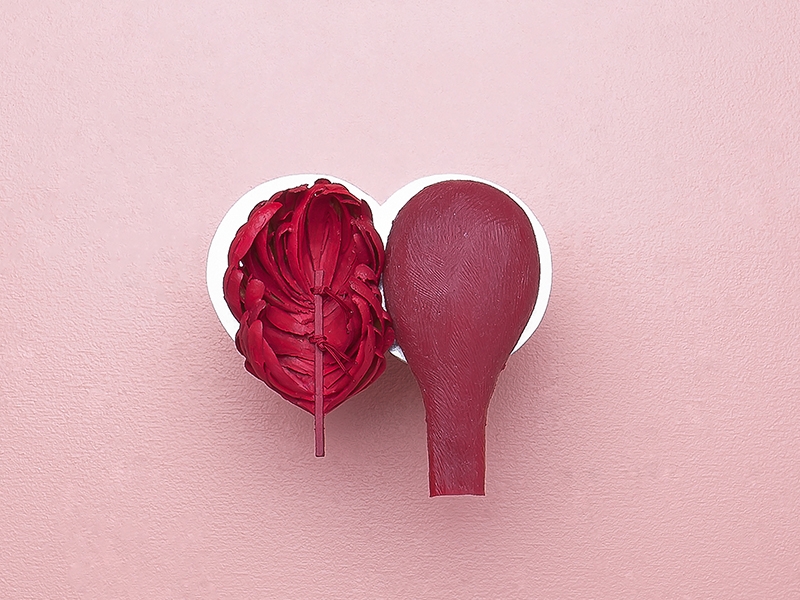 Artist: Dongchun Lee
Gallery: Galerie Noel Guyomarc'h
Contact: Noel Guyomarc'h
Retail: US$1,660
Dongchun Lee uses symbolic representations of natural forms by contrasting natural and synthetic materials. Quiet and poetic strength destabilizes us.
GALLERY CHOICE
Artist: Claudia Steiner
Gallery: Gioielli in Fermento
Contact: Eliana Negroni
Retail: €790
From Gioielli in Fermento—Master Collection, a brooch by Claudia Steiner dating back to 2014, inspired by the colors of wine and Italian landscapes of the Emilia region. A contemporary tale about Mediterranean background: wearing intensities, wearing the colors—and flavors—of the Italian hills. Body of three works, exhibited in Italy and then in Barcelona, Riga, and Chicago.