Art Jewelry Forum's extensive network of international
gallery supporters
is dedicated to celebrating and showing art jewelry. On Offer is a monthly series that allows AJF galleries to showcase a piece that they've personally selected to tempt and inspire you. Please contact the gallery directly for inquiries. Enjoy!
MUSEUM WORTHY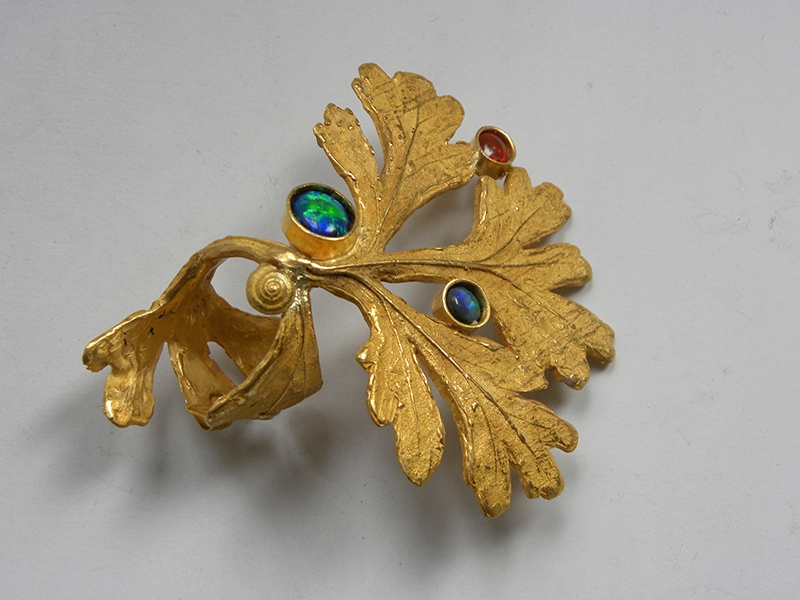 Slavik Gallery—Jesus Elisabeth Gu. Defners's source of inspiration had always been nature—above all the world of plants, but also the sea. For the artist, who passed away in June 2017, her creations were a unity of man, nature, and cosmos. She left behind an incredibly rich body of work in terms of creativity, quality, and content. She was one of Austria's most important and best-known jewelry artists. Defner had a strong formative influence on developments in art jewelry, especially in the 1970s, and was active right up until she died.
CONTACT: Renate Slavik
RETAIL: €4,500
MUSEUM WORTHY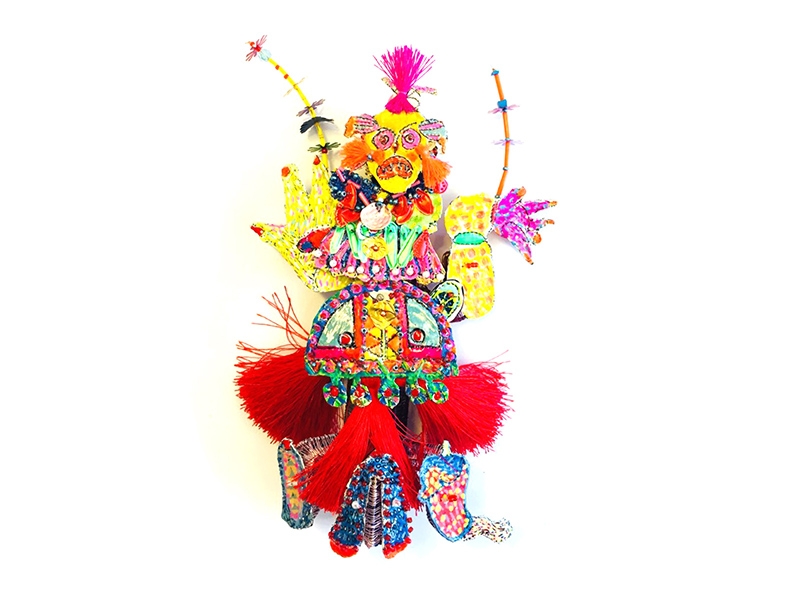 Four—The work of Coco Sung is a vibrant collage of materials, colors, and symbols. Bits and pieces from different cultures and religions merge together into personal amulets. Although the amulets originate from the artist's own experiences, needs, and wishes, they easily transform in the eyes and on the body of a new receiver. What wounds do you need to heal? From what do you need protection? Maybe this is the special talisman that will fulfill your desires.
CONTACT: Karin Roy Andersson
RETAIL: €6,800
MUSEUM WORTHY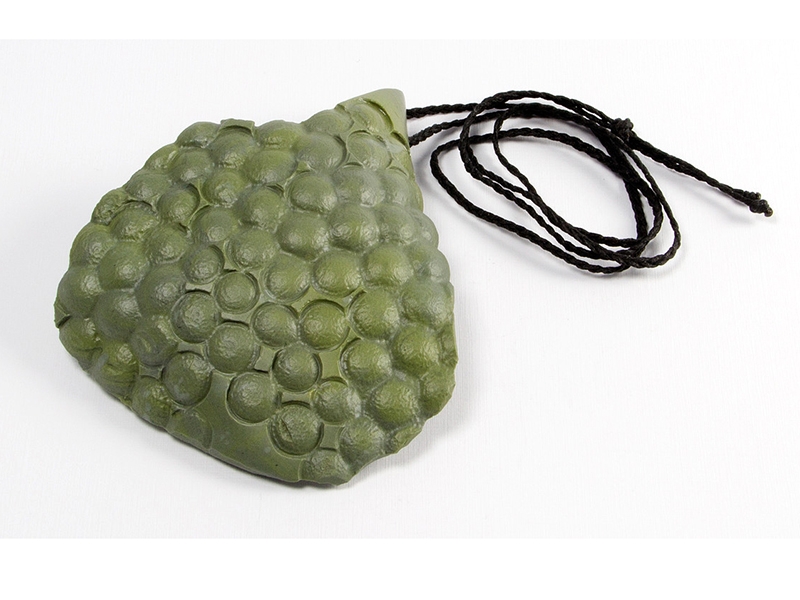 Fingers Gallery—Craig McIntosh was introduced to carving at an early age. In 2013, after 13 years of professional practice, he took time to complete a BVA at the Dunedin School of Art. Then in 2014 he began a master's degree in which the focus of his enquiry employs a reversal of the traditional reductive approach to stone carving. His thesis acknowledges and asserts the importance of technology in creating context and meaning. By developing his own methodology of fabrication and construction with stone in a jewelry context, he questions the relevance and currency of existing stone carving traditions in Aotearoa, New Zealand.
CONTACT: Lisa Higgins
RETAIL: NZ$1,420
MUSEUM WORTHY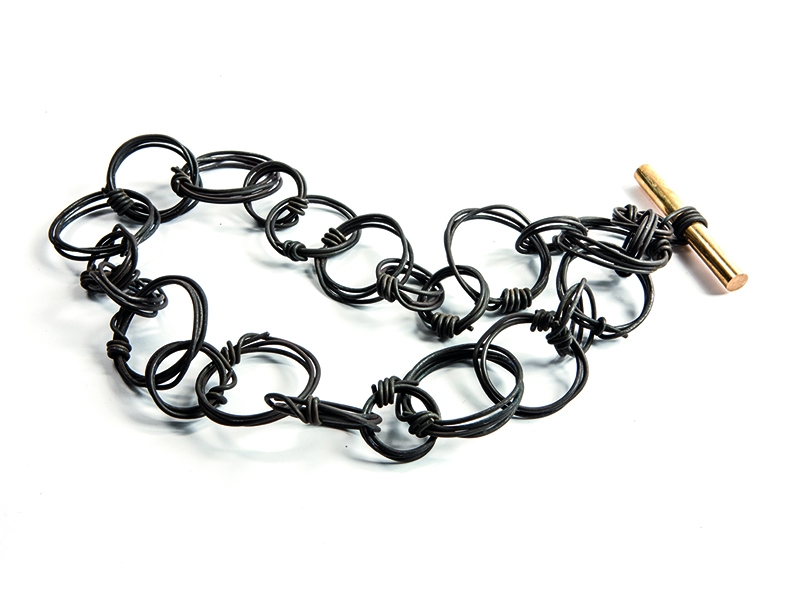 Galerie Elsa Vanier—A creator of jewelry and precious objects, Jean Grisoni makes chains the way a musician practices scales. Like musical moments, his chains have their own dissonances and syncopations. He breaks their timeless rhythms by introducing links of different sizes, and contrasts precious stones and fine metals with the weathered steel of old ships' chains picked up on Mediterranean beaches. In his hands, these castaways—soldered with gold and silver, ornamented with diamonds perhaps, or a branch of coral, or antique beads—become precious things in themselves. Grisoni's chains are precious yet rough-edged, contemporary adornments that carry within them the memory of ancient fires.
CONTACT: Elsa Vanier
RETAIL: €2,500
MUSEUM WORTHY
Aaron Faber—This mixed-metal brooch by pivotal 1970s studio jewelry artist Marci Zelmanoff is a three-dimensional sculptural work, the domed forms created by repoussé in copper and 22-karat gold, wrapped in sterling and fine silver wire. It's signed, and dated 1977. From the NY Times archive of November 18, 1978: "Seated in her cluttered SoHo loft studio, surrounded by her paintings and the tools of her trade, Marci Zelmanoff discussed the direction her jewelry has taken over the past two years, a rich period of creativity culminating in a one-woman show, Works in Metal: 1976–78, at the Aaron Faber Gallery, 666 Fifth Avenue, through next Saturday. The artist has always exploited the different colors of metals and used fanciful convolutions of wire extensively in her baroque pieces. These days, however, she is using the different shades and karats of gold, along with copper, brass, and bronze, as a painter uses a palette of colors. She 'draws' forms with wire as an artist would use a pencil. The purer the gold the brighter it is. Working with 22-karat gold is, Miss Zelmanoff said, 'like sewing with silk' and 24-karat gold she finds 'pops right out at you.' Contrasts are obtained with lower karat green and red golds, which take their coloration from the alloy used."
CONTACT: Patricia Faber
RETAIL: US$895
MUSEUM WORTHY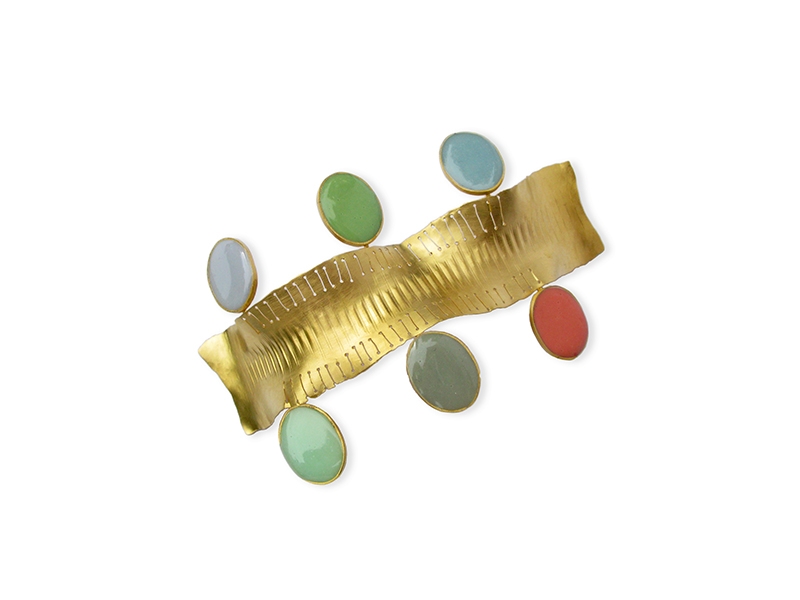 Gallery Loupe—Margit Jäschke describes herself as a wanderer between the worlds of different arts. Defying the conventional bounds of installation, painting, sculpture, and jewelry design, she has created a distinctive oeuvre with unusual forms, deliberately blurring the lines between wearable ornament and autonomous art. Details of Jäschke's work evoke a variety of associations on the part of the viewer, revealing vistas of fantastic worlds and things forgotten. It is through the individual lens of the viewer that these discoveries will be made—hence the title of the exhibition in which this piece will be featured: Eye of the Beholder.
CONTACT: Eileen David
RETAIL: US$2,200
MUSEUM WORTHY
Galerie Spektrum—Ruudt Peters made this work of art in 1995. Kutna Hora is part of the series Ouroboros. It's a historic work, an important example of Dutch jewelry art. This piece can be worn as a ring and also as a brooch.
CONTACT: Jürgen Eickhoff
RETAIL: €3,350
ESTABLISHED ARTIST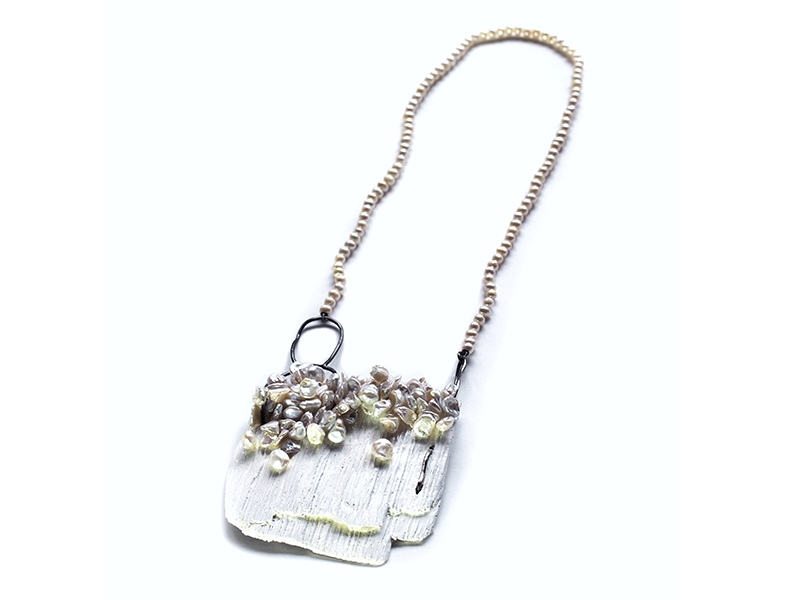 Taboo Studio—Myung Urso's one-of-a-kind pieces are an imaginative exploration into combining traditional jewelry elements—in this case, pearls and sterling silver, with mixed media.
CONTACT: Jane Groover
RETAIL: US$780
ESTABLISHED ARTIST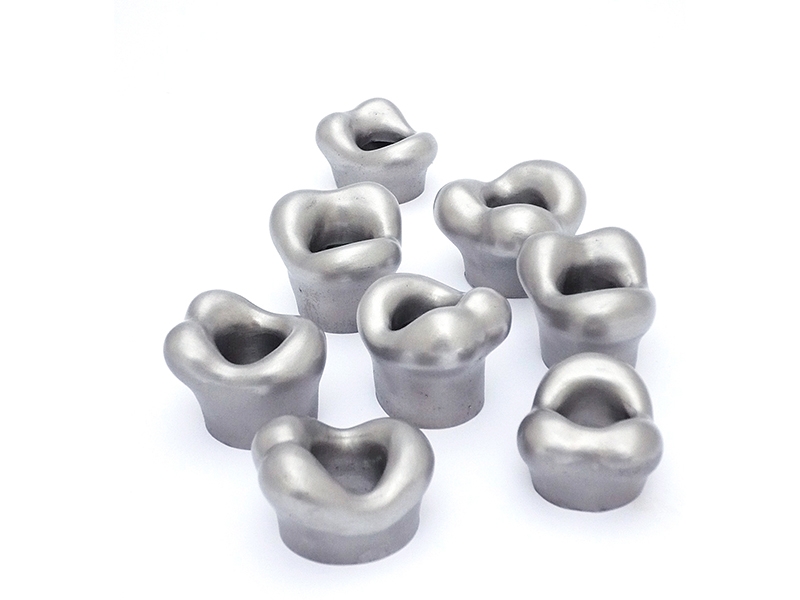 Galerie Noel Guyomarc'h—Sophie Hanagarth completed studies at the École Supérieure d'Arts Appliqués, in Geneva, in 1995. By the late 90s, her work started to get noticed, especially the series Family Jewels, which laid the groundwork for her current practice, with its symbolism, surrealism, and humor. She has taught at AFEDAP, in Paris, since 2000, and served as the co-chair of the École Supérieure des Arts Décoratifs de Strasbourg since 2002. She was granted the prestigious Herbert Hofmann award in 2011, and the Francoise van den Bosch award in 2014. For the past 15 years, Hanagarth has developed a strong interest for iron and, simultaneously, for forging and blacksmithing. Hanagarth exploits its tactile and visual tension and makes it her signature. In the exhibition being held through May 5, 2019 at the gallery, she presents new variations from the series she has been developing over the past few years: Traquenard, Lipstick, and Ornemental ou la Vie Intime des Annélides. Recurring in her work is the opposition between ornament and constraint, between softness and hardness. Whether referencing a parasite, a trap, or a mouth, all of her pieces seem to be devouring the wearer's body.
CONTACT: Noel Guyomarc'h
RETAIL: Each CAN$1,200
ESTABLISHED ARTIST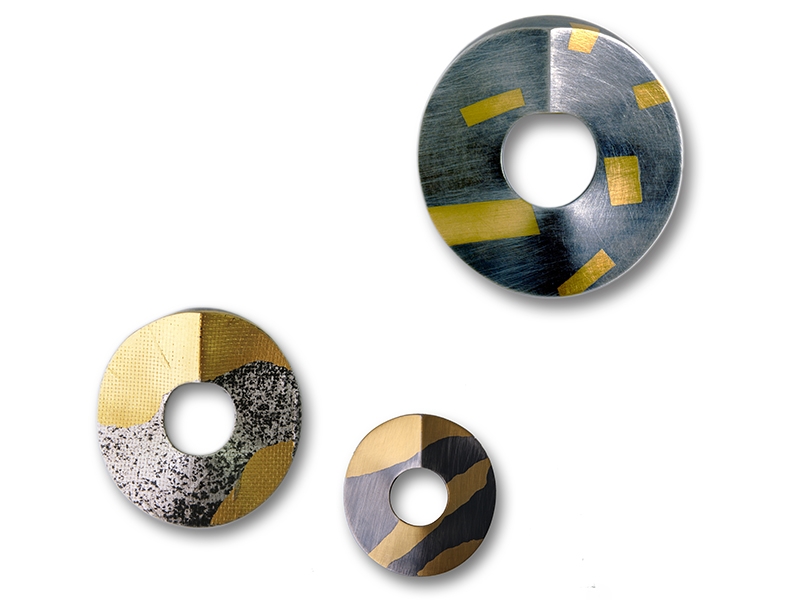 Gallery Sowyen—Seung-Hee Kim's work is known for its simple, modern form, while it contains the spirit of traditional Korean keum-boo technique.
CONTACT: Seung-Hee Kim
RETAIL: Each US$600
MID-CAREER ARTIST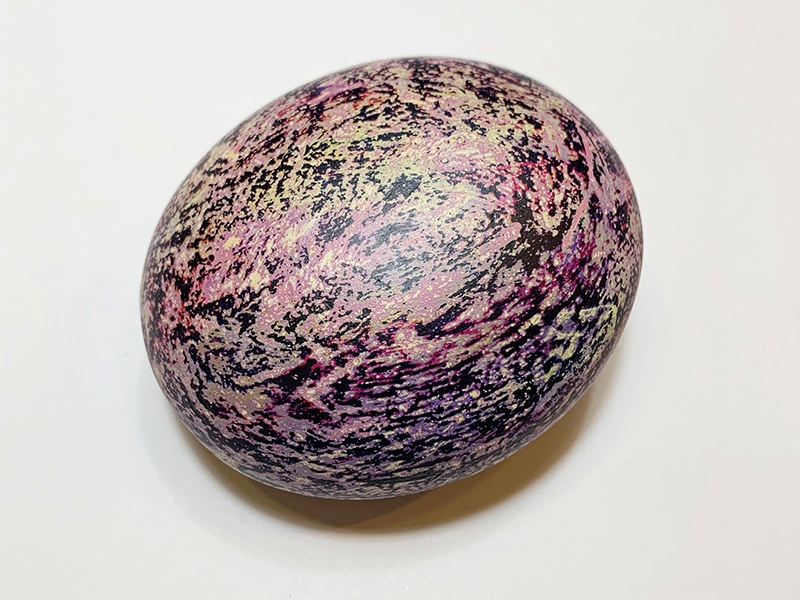 Platina—Heejoo Kim's new body of work pays homage to nature and continues her investigation of process in relationship to time. Kim builds layers of electroformed metal around wax to form a shell around the conceived form. The form is then coated in layers of color that visually show the passing of time through labor. These forms exist in a state of flux, oscillating between growing into a life form and at the same time reminding us of life's fragility and ability to be broken. Kim lives and works in Seoul. In 2014, she was one of the finalists for the AJF Artist Award.
CONTACT: Sofia Björkman
RETAIL: US$1,000
EMERGING ARTIST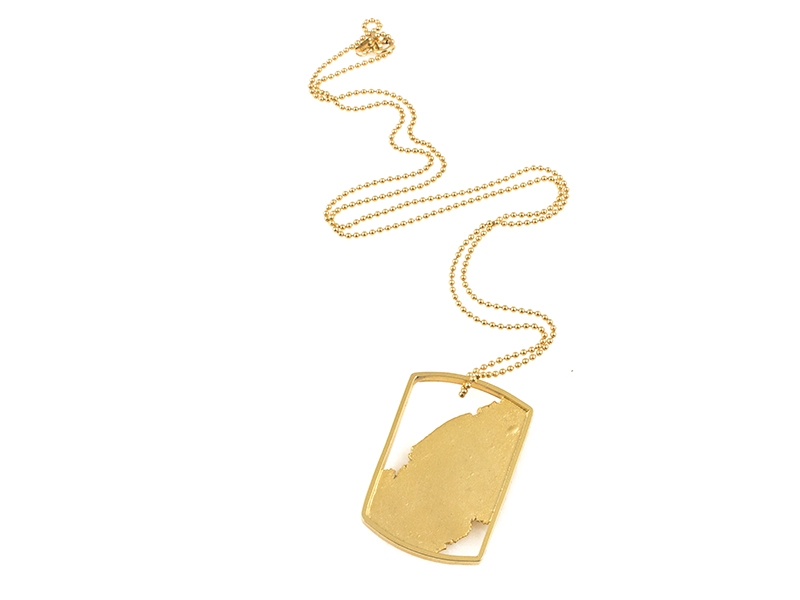 Baltimore Jewelry Center—Seth Papac received his BFA in jewelry and metalsmithing from the University of Washington and his MFA from the Cranbrook Academy of Art. His latest series of work, Torn, engages with the duality presented by the strength and vulnerability of metal. Cracked and torn edges express vulnerability despite the durability of the work. Papac creates metal ingots that he then contrasts against minimal, geometric forms. His work is included in the permanent collections of the Museum of Fine Arts, Houston, Cranbrook Art Museum, Tacoma Art Museum, and the Museum of Contemporary Craft, in Portland, OR. He has taught at various programs across the country and is a visiting artist and critic at institutions such as the Cranbrook Academy of Art and the Rhode Island School of Design.
CONTACT: Shane Prada
RETAIL: US$195
EMERGING ARTIST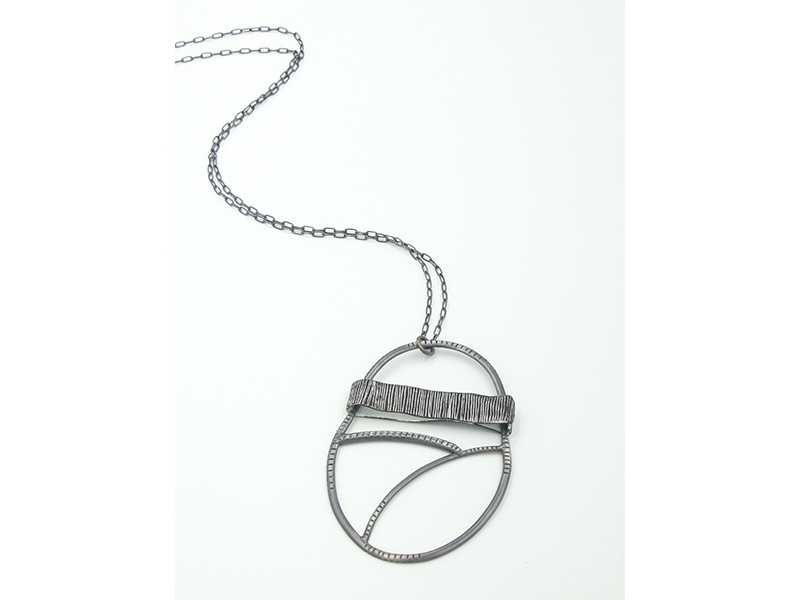 Metal Museum—As a biracial artist, Tanya Crane creates work that is about identity, place, and difference. "Living in a middle-class suburb of Los Angeles and visiting my father in socio-economically and racially divided South Central Los Angeles impacted my identity as a young person searching for which culture to occupy, and how," she says. "Ultimately, I realized the choice itself provided me with a tool of social leverage." Crane draws inspiration from her environment and often incorporates found objects—such as shell and stone—into her work. In this piece she incorporates sgraffito as an enameling technique. Sgraffito is a form of mark-making that involves layering glaze or enamel and then scraping it away. This process is most common to West African pottery making.
CONTACT: Eva Langsdon
RETAIL: US$550
EMERGING ARTIST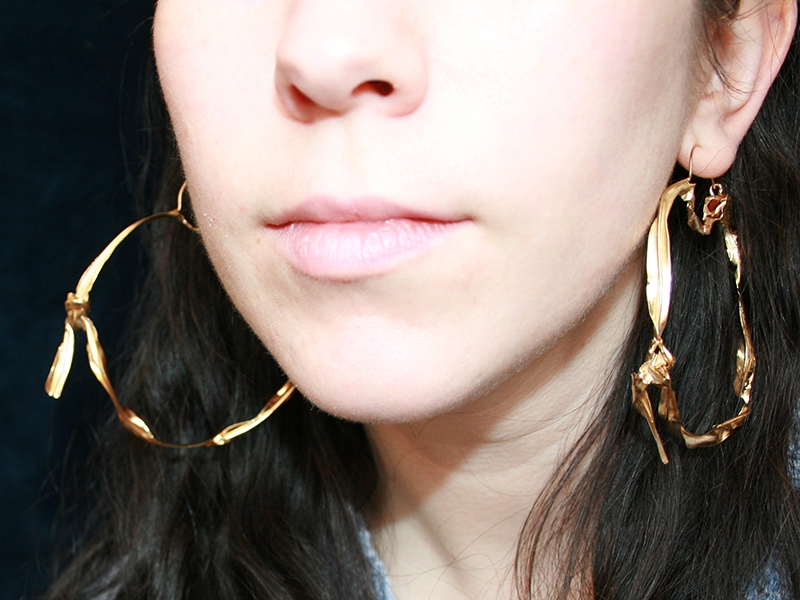 Gallery 2052—Rachel Ness is a current MFA candidate in the Jewelry + Metalwork program at San Diego State University, and received her BFA in art metals at the University of Wisconsin-Stout. Ness creates representations and interventions of objects that relate to the everyday in the format of jewelry. Her approach comes from a world where objects are continuously shifted around, collected, and discarded. She recognized how, in daily routine, sensitivity can be forgotten. Not only do we rely on objects to sustain in a built society, but when they become mundane, we stop noticing them and forget their importance. Her work consists of commonplace found objects often re-created with skilled labor, material value, and alterations of scale. The choice of object is based on its function that relates to the language of jewelry, ensuring the piece is wearable. Her ability to rejuvenate an object and create its new "purpose" allows for an intrinsic and approachable collection. In an effort to place art jewelry within a mainstream American cultural phenomenon, Gallery 2052 is hosting an exhibition of hoop earrings during the NCAA's March Madness. Ness's Twist Tie Hoops are among many fascinating representations of the hoop earring available in Mad for Hoops.
CONTACT: Nora McCarthy
RETAIL: US$160
GALLERY CHOICE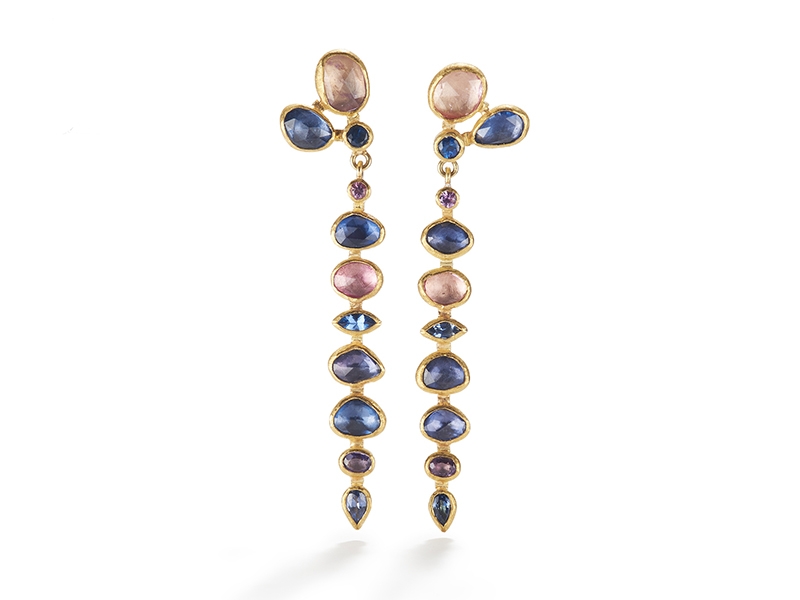 Patina Gallery—These earrings by Petra Class are a charming combination of color. The dazzling mixture of rose-cut, faceted, and rough sapphires is reminiscent of the blossomed energy of spring as graceful flower petals sway in the wind. Adorned in beautiful palettes of purple and blue, the earrings are winsomely blushed by the delicate touch of pink. Sapphire's lush allure is proudly positioned between the glow of high-karat gold making its descent down the elongated piece. Class's rich instrumentation prepares one to brighten the eye and enrich the soul as the days become warmer and filled with the vivacity of color.
CONTACT: Allison Barnett
RETAIL: US$4,670
GALLERY CHOICE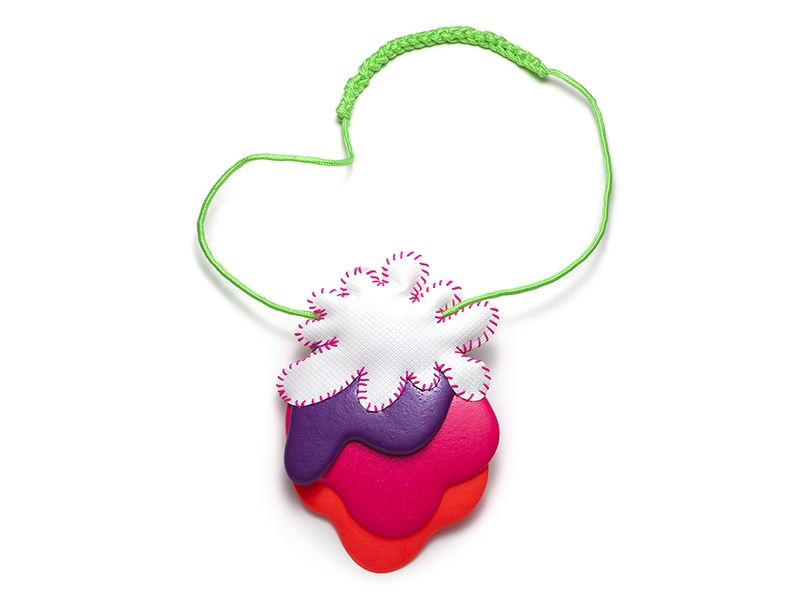 myday-byday—Canadian artist Magali Thibault Gobeil presents in Rome at myday-byday gallery her Necklace "Candy Cloud #3" in Polyurethane, pigments, vinyl, cord, cotton, cast polyurethane, sown: Lost in my imaginary world where everything is so delightful. That little place inside myself where everything is calm, joyful, and pretty. Where my mind goes when everything is so hard outside, in the real world. These crazy forms of nature made from artificial materials are the result of that retreating into that special world that protects myself from not going crazy in the real world. They touch all our senses. We want to eat them as if they were candies, to touch them because of their appearance, so smooth, spongy, and colorful. They apprehend some exchange, some dialogue with the world and people around them. This interaction is essential in life. They definitively make you smile and fill you with a sentiment of satisfaction. We all need that little break to fill our body with a bit of joy. Enjoy!
CONTACT: Laura Helena Aureli
RETAIL: €400
GALLERY CHOICE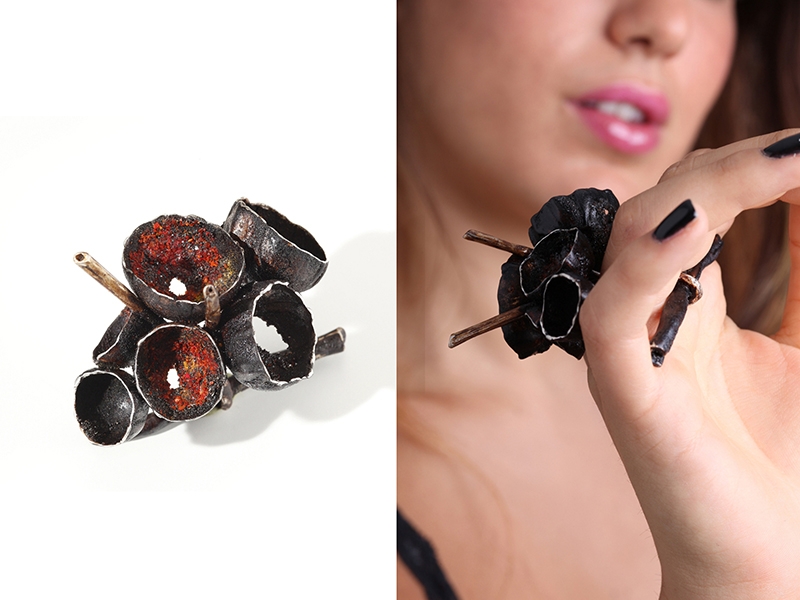 Galerie LA Joaillerie par Mazlo—This "one size fits all" hand-jewelry piece called Convivium is the first work Clara Del Papa submitted for the Gioielli in Fermento competition in 2013. It obtained a special mention from AGC and led to an interesting experimental season, which resulted in new creative directions, along with exhibitions and collaborations across Europe and America. Born in Venezuela, Del Papa is an architect. She moved to Italy with her family and has been living there for more than 20 years. She developed her goldsmithing skills in Italy, drawing inspiration from her Latin-American cultural roots, her love for travelling, and a genuine devotion for experiments in art and goldsmithing.
CONTACT: Céline Robin (curator)
RETAIL: €1800