Art Jewelry Forum's extensive network of international
gallery supporters
is dedicated to celebrating and showing art jewelry. On Offer is a monthly series that allows AJF galleries to showcase a piece that they've personally selected to tempt and inspire you. Please contact the gallery directly for inquiries. Enjoy!
MUSEUM WORTHY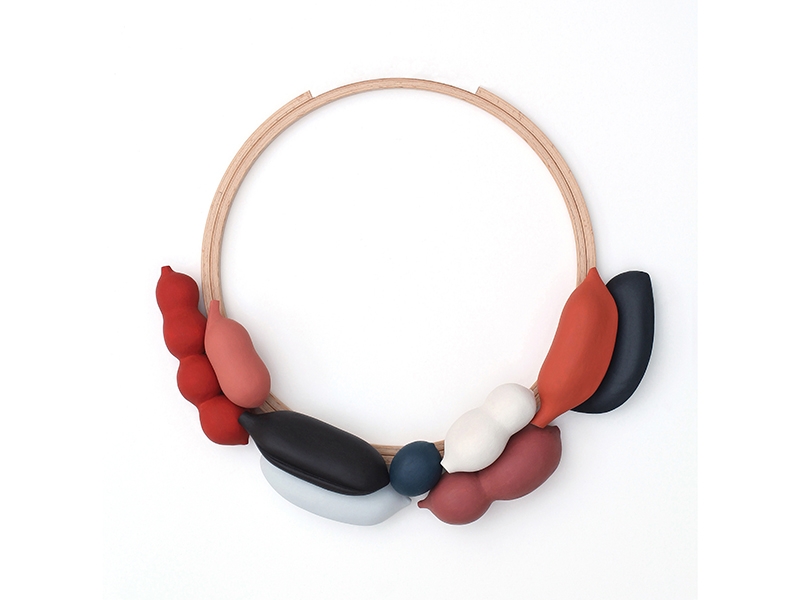 Ra Gallery—Karin Herwegh's work focuses on aspects of life that seem to be fading away, like craftmanship and the insight and understanding of how things can function on a personal or emotional level, leaving room for different perspectives. In her jewelry, as in the work of a craftsman, factors like time, slowness, imperfections, and decisions remain visible. In addition to that (notwithstanding being part of a digital world), the beauty and simplicity of using just a piece of wood and a knife to create a contemporary work makes Herwegh feel independent from technology. The multicultural and historical elements are merged into one piece that can be "read" in many different ways.
CONTACT: Paul Derrez
RETAIL: €1,200
MUSEUM WORTHY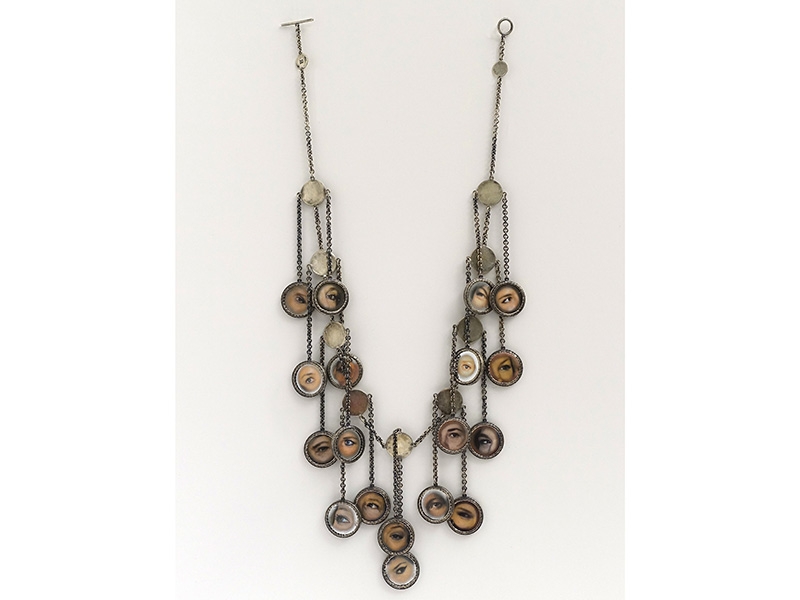 Galerie Biró—Daniel Kruger is an outstanding artist whose works are presented in all renowned collections. He's regarded as one of the pioneers of contemporary jewelry.
CONTACT: Kinga Zobel
RETAIL: €2,800
ESTABLISHED ARTIST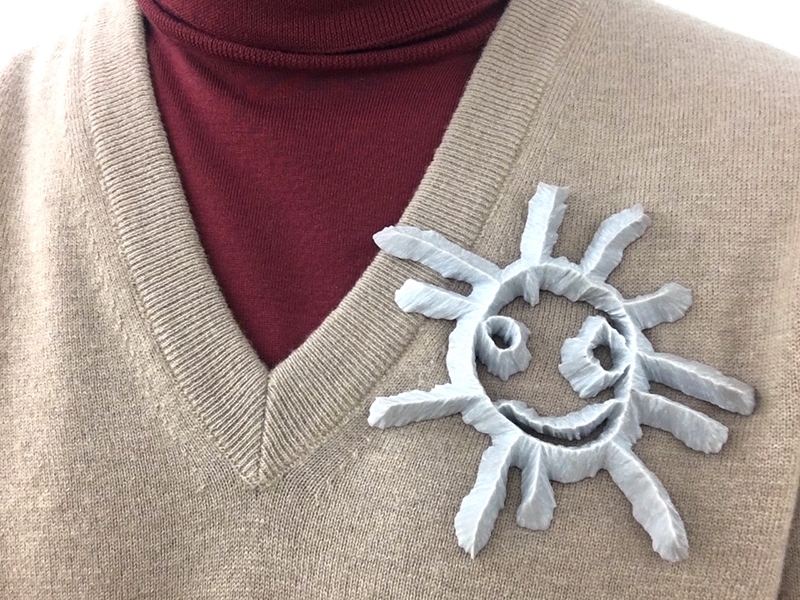 Galerie beyond—Introducing Weather Report, by German artist Alexander Blank!
CONTACT: René Darmont
RETAIL: €975
ESTABLISHED ARTIST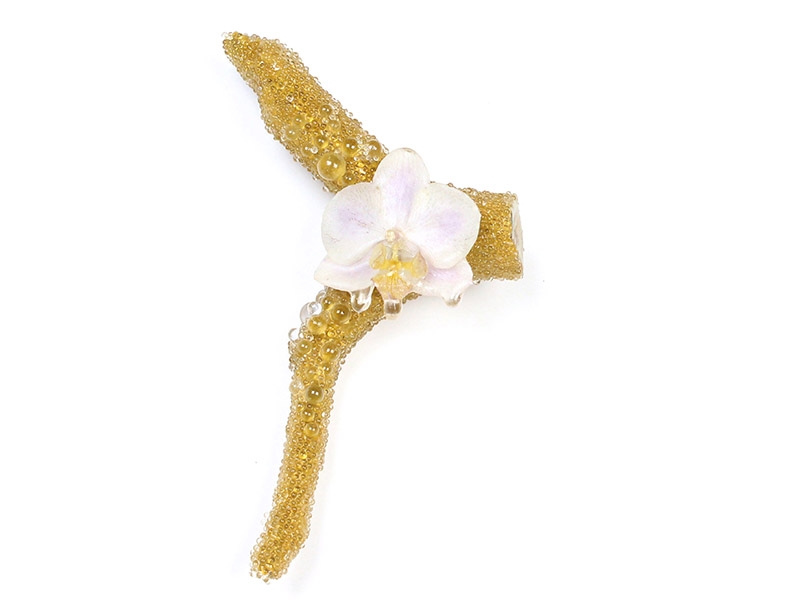 OHMYBLUE—The work of Märta Mattsson reveals the natural world as the site of poetic re-enchantment.
CONTACT: Elena Rizzi
RETAIL: €1,500
ESTABLISHED ARTIST
Galerie Elsa Vanier—The German-born and London-based artist-jeweler Ute Decker is best known for her minimalist yet bold sculptural jewelry art. Her innovative method of sculpting, bending, and twisting gold and silver to create a powerful and expressive three-dimensional "geometric poetry" caused a considerable stir when she erupted onto the jewelry scene in 2009, quickly making her unique and limited-edition pieces eminently collectable. With influences as diverse as tribal art and the minimalism of Zen philosophy, her use of essential shapes, clean lines, exquisite surface textures, and the treatment of empty space give her work a powerful presence. Her jewelry practice draws from her experience in other mediums such as sculpture, textiles, paper, and ceramics. In her large-scale as well as her wearable works, Decker, who is described as "the architectural jeweler," choreographs architectural lines and dynamic curvatures into evocative sculptures, making her jewelry pieces equally engaging displayed on a plinth or on the body. Her pieces can be found in several notable public collections including the Musée Barbier-Mueller, the Swiss National Museum, the V&A, the UK Crafts Council Collection; private collections include Helen Drutt, Nancy Olnick, Tuan Lee, Donna Schneier, Diane Venet, Zaha Hadid and Deedie Rose.
CONTACT: Elsa Vanier
RETAIL: €1,850
ESTABLISHED ARTIST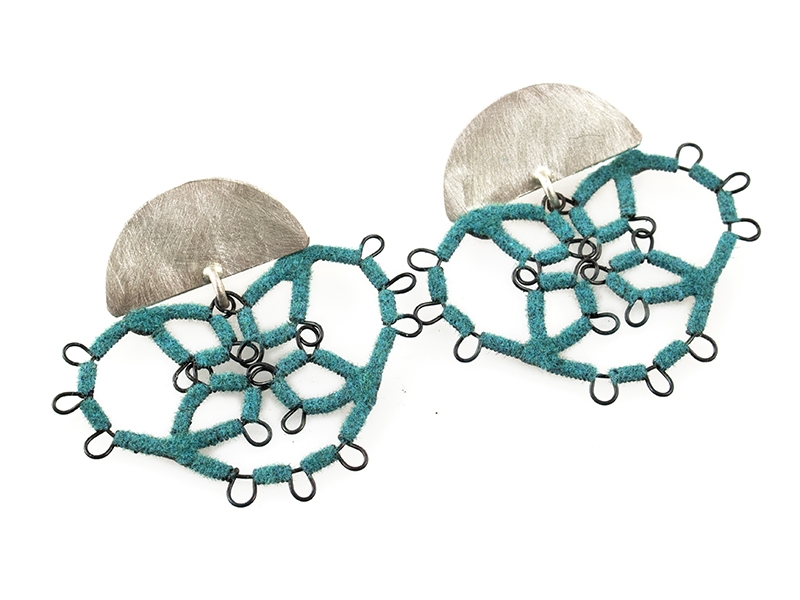 Baltimore Jewelry Center—Sarah Holden is a metalsmith and visual artist based in Chicago, Illinois. Her work investigates how female identity is constructed and performed through the body. She creates sculpture, drawings, and limited-production jewelry. Holden sources and celebrates imagery and histories of women who rebel against cultural expectations of how women are supposed to act. She utilizes steel, sterling silver, and fiber to create her jewelry. These elegant yet edgy earrings are made of hand-tatted steel, sterling silver, and fiber flocking.
CONTACT: Shane Prada
RETAIL: US$150
ESTABLISHED ARTIST
Gallery S O—Andi Gut is known for his works in nylon, an inorganic material that must be carved, colored, and handled like an organic material (such as wood) to render the biomorphic forms he wants to achieve. In this case, using recycled airplane titanium, Gut creates a neckpiece that flutters like wings in mid-air and casts shadows like flowers in the sun, suspended on its frail edges by the inherent strength of the metal. Again, he plays our expectations of the material against our experience of the work—a piece so light that it hardly rests against the skin at all.
CONTACT: Katharina Dettar
RETAIL: £2,950
MID-CAREER ARTIST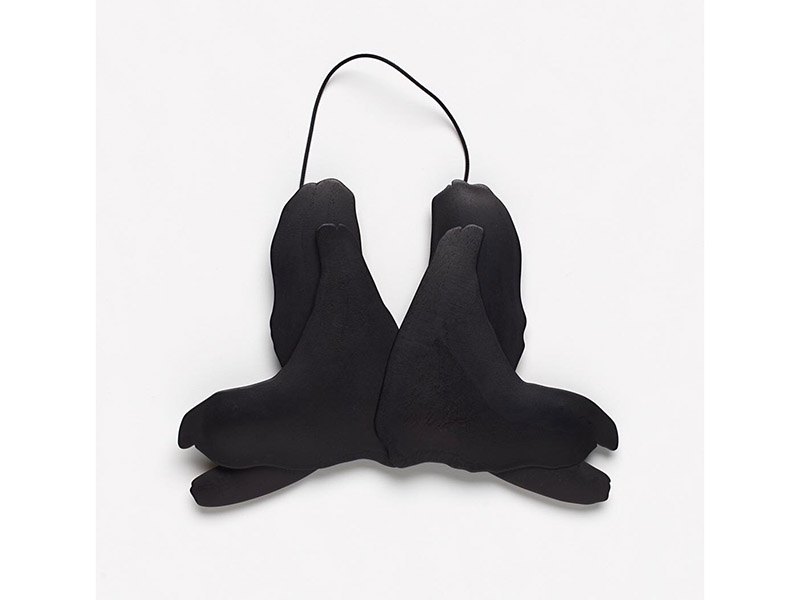 Irene Belfi—"Veneer is a mask, a cover-up, a shield, a layer of a thin precious material applied to a cheaper support. I like to think that these pieces give the material a 'return to life.' The pieces' irregular shapes are partly inspired by the inkblot images used in a Rorschach test, a method of psychological evaluation. Psychologists use this test in an attempt to examine the personality characteristics and emotional functioning of their patients. Like each of us, these works are made up of different elements, each with their own identity and uniqueness. The final works have a shadow-like presence, representative of something belonging within."
CONTACT: Irene Belfi
RETAIL: €2,190
MID-CAREER ARTIST
Gallery Funaki—Simon Cottrell is an Australian maker who works slowly, precisely, and thoughtfully. No piece comes off his bench that doesn't have a genuine reason to be in the world and that doesn't build on his previous body of work with clear purpose. Long Tone is the first of a new series Cottrell is developing that deals with sound in a more direct and literal way than he has previously. If you know his work well, you'll understand the importance in it of sound in an abstracted sense (his first solo exhibition, back in 2003, was even titled Sound). In this piece, a single clear note rings out, tuned precisely to 3/8ths of a tone above C—or 511hz.
CONTACT: Katie Scott |
RETAIL: AUS$2,200
MID-CAREER ARTIST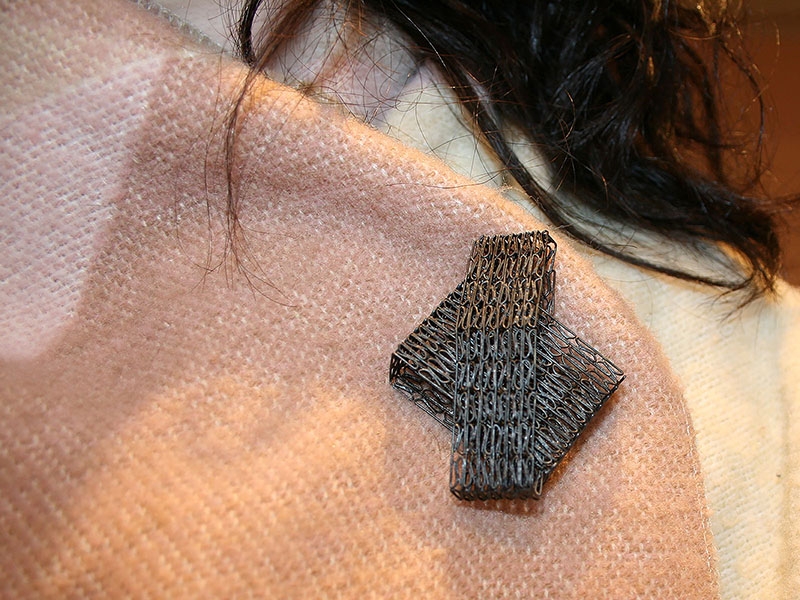 Gallery 2052—From Jess Tolbert's Staplewear series, the Double Rectangle Brooch is made entirely from staples. It's on view through March 17 as part of Gallery 2052's current exhibition, Purposed. "A humble staple is often overlooked," says Tolbert, "simply used to bind a few pages together, or to post a flyer to a lamppost; its purpose does not often extend beyond what it was intended for. I am drawn to its recognizable form and to the rhythm of its use. Through repetitive actions of layering, patterning, and systemically constructing, I replicate the pace of mass production, but not its protocols. With infinite possibilities, I reflect upon the unknown makers and their process to create a product that is now my raw material, capturing labor in the form of jewelry."
Jess Tolbert lives in El Paso, Texas, where she is assistant professor of art and head of the Jewelry + Metals program at the University of Texas, El Paso. Her MFA and BFA both focused on metal and jewelry. She exhibits nationally and internationally. Her research and studio practice explores and reconsiders commonplace objects and mass production, creating an intimate link to our relationship with labor and the built environment.
CONTACT: Nora McCarthy
RETAIL: US$525
GALLERY CHOICE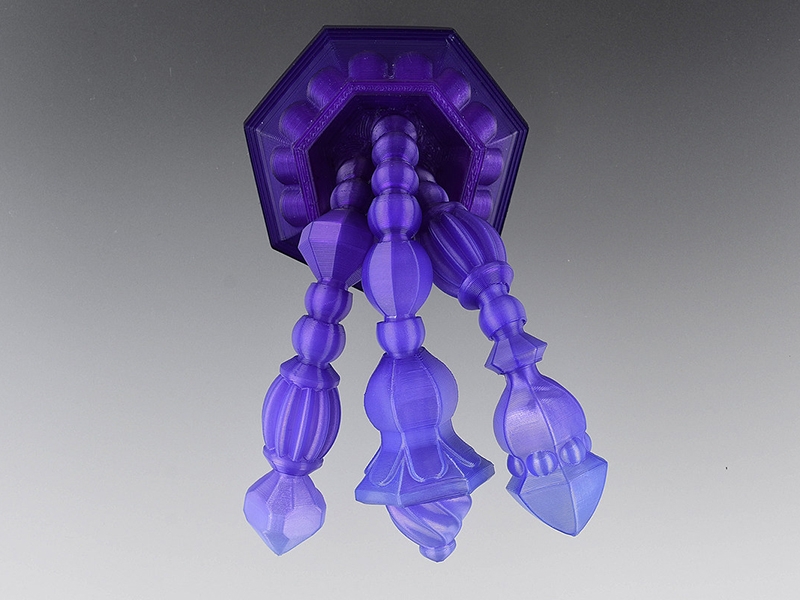 FINGERS GALLERY—CAD and 3D printed jewelry from Otago (NZ) graduate Brendon Monson explores identity and the dilemma of self through his combined obsession with the hand and its polar opposite, the digitally made. "From the outside these two do not mix, yet somehow inside my practice they unite," says Monson. "Decorative forms whose origins rest in crafted, ornamental Victorian interiors intersect in both material and concept as I subvert these motifs into assembled plastic jewelry." This piece has a hollow structure with movable joints.
CONTACT: Lisa Higgins
RETAIL: NZ$450
GALLERY CHOICE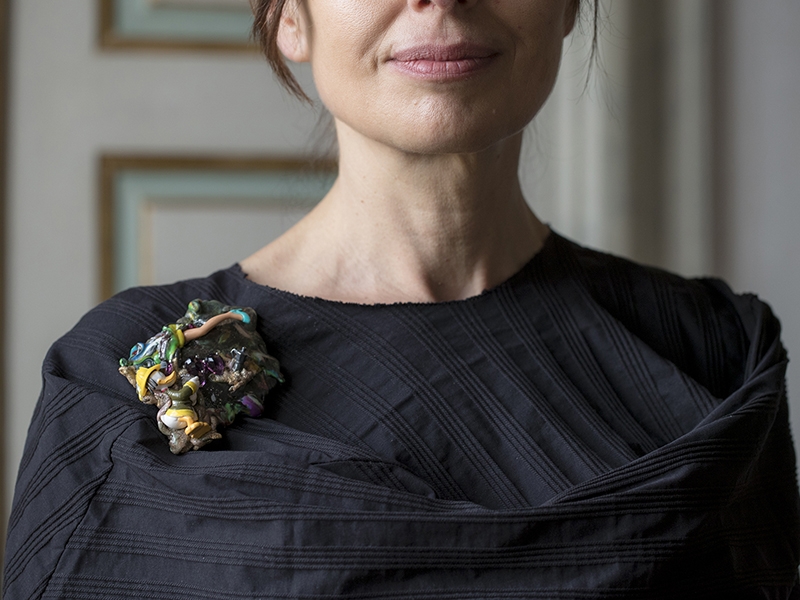 Gioielli in Fermento—A set of four pieces joins the Blob collection by Barbara Uderzo, taking part in the competition Gioielli in Fermento. Three rings and a brooch, which have been made thinking of wine, feature a shared element for collectors, a tiny glass, here in Donald Duck's hands, which identify this limited edition. The Blob collection originated in 1992 and went through a process of increasing complexity and structuring; besides the attention to shapes and colors, experimental techniques, and materials in manufacturing of plastics, the focus is on the creation of stories with a pop flavor. So … let's pop up with Fermento!
CONTACT: Eliana Negroni
RETAIL: €900
GALLERY CHOICE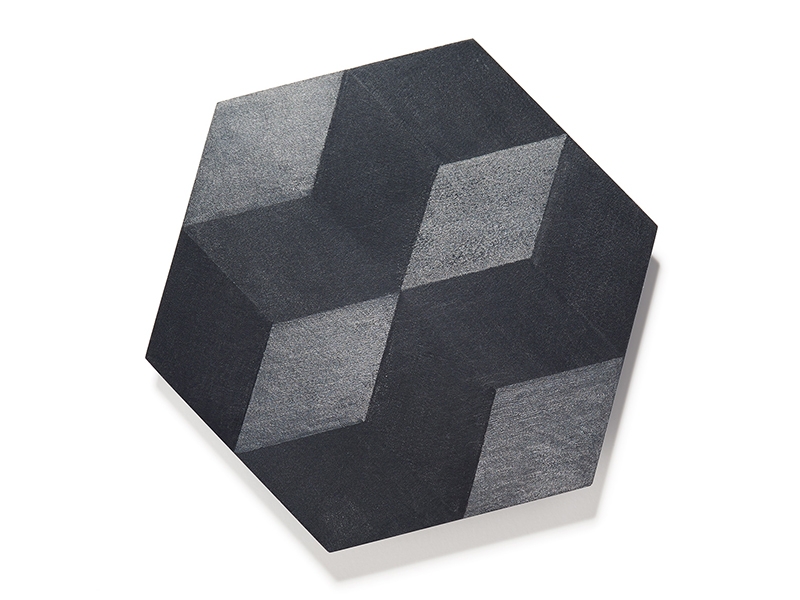 Patina Gallery—The A-BIS-6-HEXA brooch is a fine demonstration of geometric elegance and sophistication. Its talented maker, Claude Chavent, has closed the doors to his studio; however, you still have the chance to enjoy this exceptional work in all its shapely splendor. The brooch is a steel, isometric illusion—a triumphant trompe l'oeil hexagon with the allure of light and angle of reflection. An unparalleled statement to wear and adorn.
CONTACT: Allison Barnett
RETAIL: $1440
GALLERY CHOICE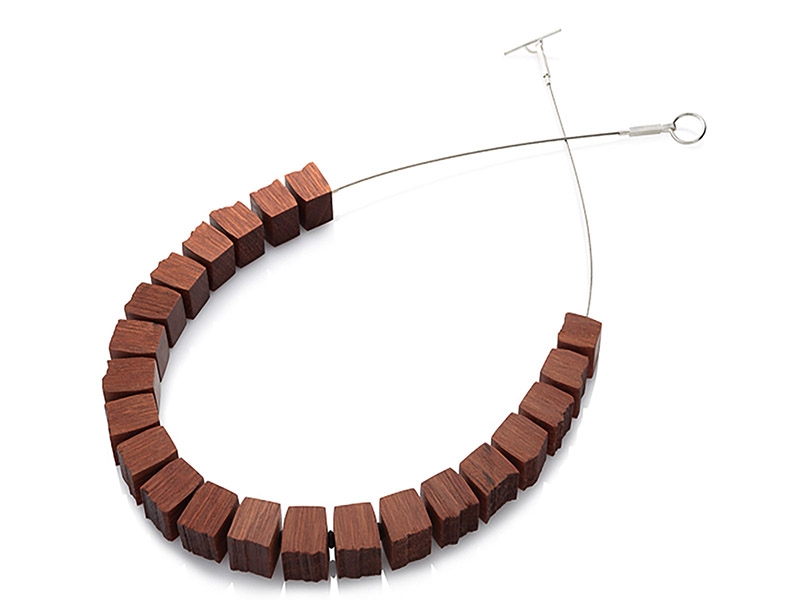 myday-byday—A view looking from Canberra to Rome. Nellie Peoples is an Australian artist. Her practice is based in jewelry and small metal objects. At the core of her practice is "exploring the connections made between objects and people, and how the object itself plays into those connections by ongoing narratives. A thread that runs through [her] body of work is that cherished objects, in particular jewelry, have the potential to act as aides de mémoires of a special moment, beloved person, or a particular place." The inspiration for this piece is not a place in the sense of a spot that you stand on, but rather gaze upon: the numerous mountain ranges that encircle Canberra, Australia. "This necklace refers to my continuous use of the mountains to know where I am in Canberra."
CONTACT: Laura Helena Aureli
RETAIL: €370
GALLERY CHOICE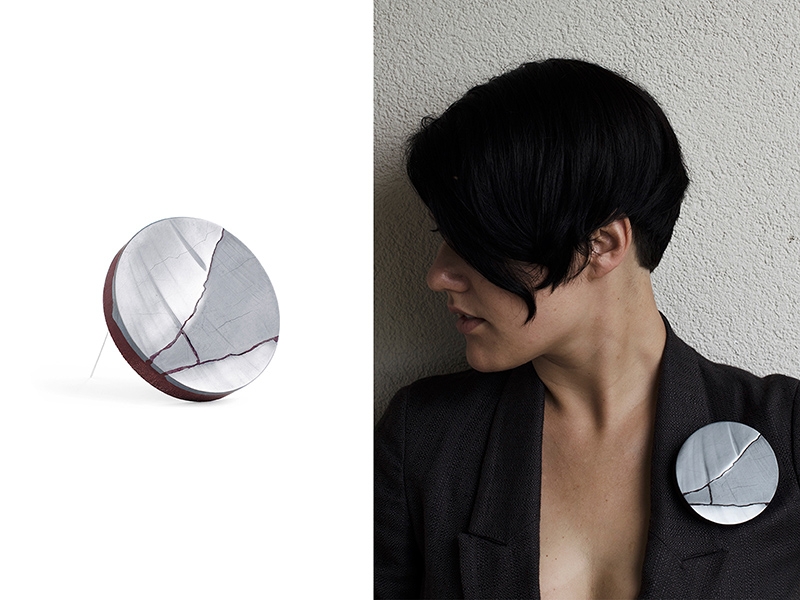 Four—"The material becomes the mirror of my thoughts." Sara Gackowska carefully listens to the voices of her materials. The stones she works with are unpredictable and they show many different qualities. When bringing out the different sides of the minerals, she reveals not only some of their hidden character but also her own, and maybe even the personality of the viewer.
CONTACT: Karin Roy Andersson
RETAIL: €4,000
GALLERY CHOICE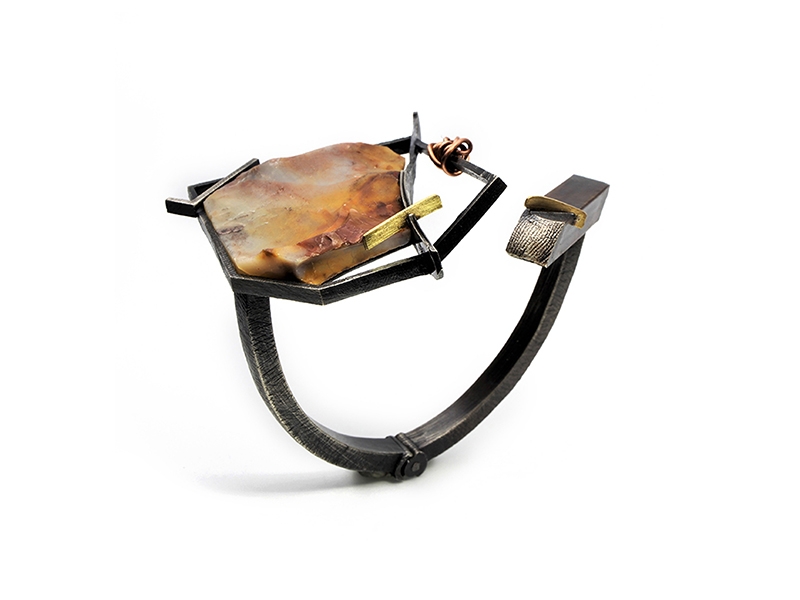 Galerie LA Joaillerie par Mazlo—This piece by catalan art jeweler Lluís Comín was selected for the 2018 Gioielli in Fermento award, the theme of which was "Private time and social interaction." For this bracelet, Comín used jasper, a stone which has rested for centuries in the deepness of the mountain of Montjuic, near Barcelona, thus metaphorically evoking the ideas of rest, maceration, and silence which are the necessary stages of wine's fermentation—the key concept of the Gioielli in Fermento contest. Its title also alludes to the Barcino quarter, the historical heart of Barcelona, which hosted a Roman colony in antiquity with its places of social interactions—theater and therms and later the Church Santa Maria del Mar, which is built with stones extracted from the Montjuic mountain.
CONTACT: Céline Robin (curator)
RETAIL: €1,500
GALLERY CHOICE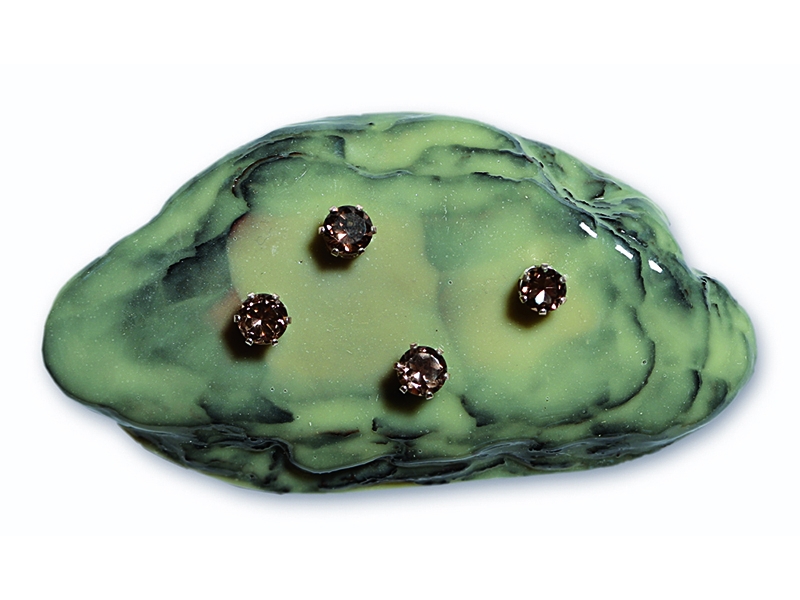 Gallery Loupe—German-born Margit Jäschke is a visual artist who specializes in collage. She also makes compelling jewelry that displays the same aesthetic integrity as her larger works. Using materials as disparate as metal, corrugated cardboard, epoxy, and semiprecious stones, she creates brooches and necklaces that are unlike any other.
CONTACT: Eileen David
RETAIL: US$1,600
GALLERY CHOICE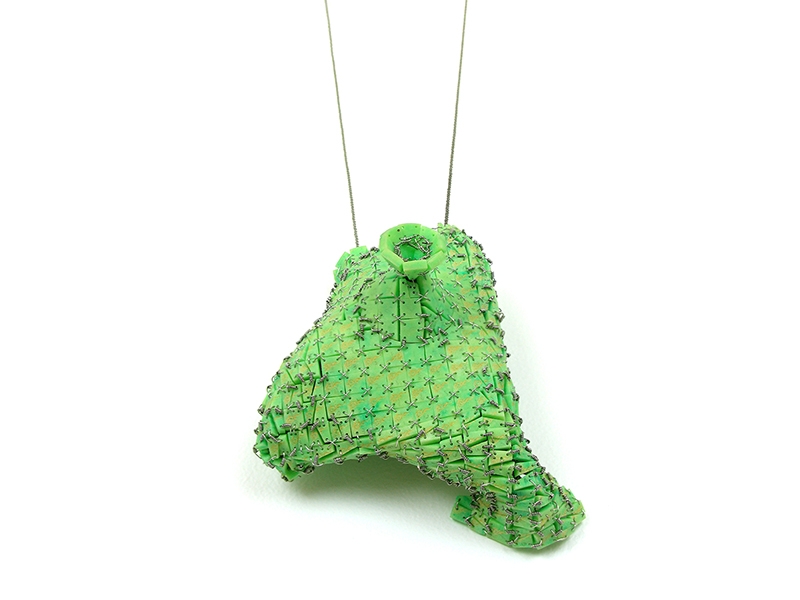 Galerie Noel Guyomarc'h—Bifei Cao graduated with an MFA from Indiana University of Pennsylvania and recently completed a PhD at Australian National University School of Art. He's an associate professor at the School of Art and Design, Guangdong University of Technology, China. He has received many awards including the 2018 AJF Artist Award, the 2017 China National Arts Fund for Young Talents, and the 2016 EASS Patrons Higher Degree Research Award. His work, which has been exhibited nationally and internationally, is held in the Kamm Foundation, the Fuller Craft Museum, St. Louis University (US), and many private collections. Referencing traditional objects such as classic Chinese pottery, each work in the Vase Series deploys a dissolving and reshaping position to reflect on the temporality of our cultural situation. Cao reinterprets a historic joining method used for a jade burial suit made during the Han Dynasty in China. Through linking and twisting thin metal wires, all of the small jade parts were united to function as body protection and were a symbolic host for the spirit. Introducing this ancient but innovative method of connection to his work is consistent with his approach of bringing traditional techniques into contemporary life.
CONTACT: Noel Guyomarc'h
RETAIL: US$5,800
GALLERY CHOICE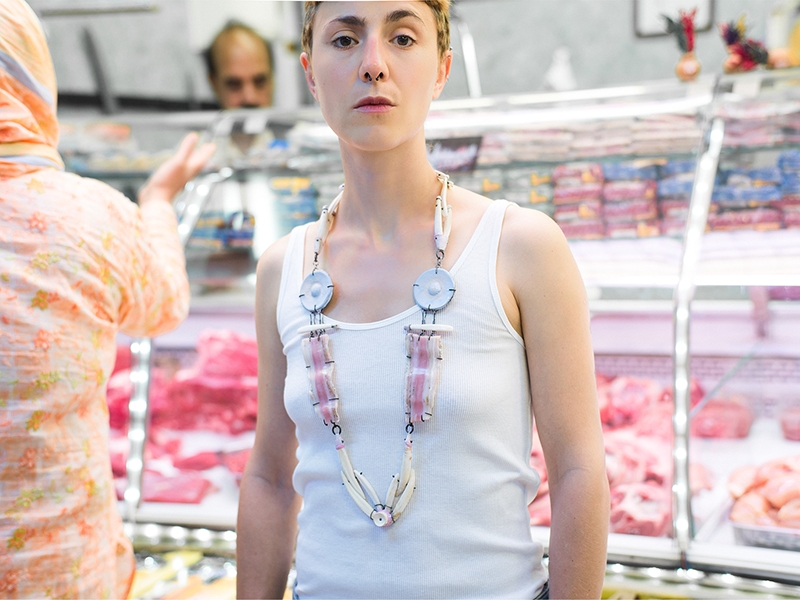 Galerie Door—Eva Burton works primarily with gems and found scrap material. The gemstones she colors and crafts manually, which is a time-consuming and difficult process. In her work, the notion of "value" plays an important role. How do we recognize and acknowledge the value of gemstones on the one hand, and that of discarded scrap material on the other? The necklace Bacon Twist, much in the same way, plays with the theme of changing values. There once was a time when animal bones and teeth referred to strength and were worn as ornaments as a means of protection. In our contemporary consumer society most people will only recognize pre-packed meat and attach no higher value to it than "food." Hunting, death, and the accompanying rituals have been replaced by fast food and ignorance about where our food comes from. Bacon Twist subtly combines the beauty of gemstones and true craftsmanship with the notion of history, cultural values, and critique. It's a rare and unique masterpiece.
CONTACT: Doreen Timmers
RETAIL: €1,600