Art Jewelry Forum's extensive network of international
gallery supporters
is dedicated to celebrating and showing art jewelry. On Offer is a monthly series that allows AJF galleries to showcase a piece that they've personally selected to tempt and inspire you. Please contact the gallery directly for inquiries. Enjoy!
MUSEUM WORTHY
Galerie Spektrum—Karin Roy Andersson, a 35-year-old Swedish artist living in Gothenburg, is one of the new generation of strong women. She works with plastic, which she recycles. Shaping it into scales, she creates wonderful jewelry in surprising new forms. She shows in this necklace beauty, environmental awareness, and craft skills at the highest level.
CONTACT: Jürgen Eickhoff
RETAIL: €4,450
MUSEUM WORTHY
Galerie LA Joaillerie par Mazlo – Paris—In Per Suntum's works, the minimalist aesthetic inherited from the rigor of Danish design is transcended through the contact with the Orient by a spiritual dimension. It is essentially expressed through the obstinate exploration of textures and of the limits of the materials. His abstract works, which he defines as intimate signs, can evoke nature, but above all invite the gaze to go through their surface and their reliefs, bringing one to a meditative contemplation. His purpose is not to imitate nature but to recompose it and capture its essence in the form of a sign whose mystery is as beautiful as it is inscrutable. Suntum's works have a lot to do with Henri Michaux's landscapes. They are landscapes of the road of life rather than of the surface of the Earth. An internationally acclaimed art jeweler, Suntum lives and works on the island of Bornholm, Denmark. His work is included in many public and private collections, and he has received numerous awards, including the Danish Arts Foundation's Life Long Granting and the Prize of Distinction from the Inga and Ejvind Kold Christensen's Foundation.
CONTACT: Céline Robin (Curator)
RETAIL: €2,800
MUSEUM WORTHY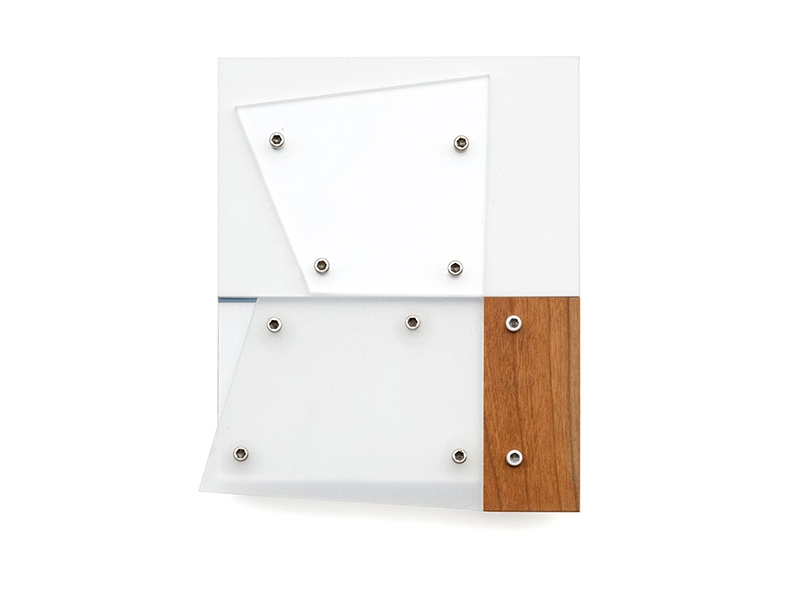 Gallery Loupe—In this new body of work, currently featured in Thomas Gentille: Color Light Air, Thomas Gentille delves deeply into the qualities of translucency and opacity and the way they alter color and light—the ethereal subspace where air is incorporated into these works to enhance the light and allow the work to "breathe." Gentille states: "First always light, then geometry, color—subtle or intense—and an endless source of materials, among other considerations, are the components of my work." Gentille's work is in numerous important private and public collections, notably the Metropolitan Museum of Art, which possesses nine works of his (more than any other contemporary jeweler); the Cooper Hewitt Smithsonian Design Museum; Museum of Arts and Design in New York; Philadelphia Museum of Art; Newark Museum; Cleveland Museum of Art; Museum of Fine Arts, Houston; Dallas Museum of Art; Montreal Museum of Fine Arts; Victoria and Albert Museum; The National Gallery of Victoria, Melbourne; Pinakothek der Moderne, Munich; and Schmuckmuseum, Pforzheim. Winner of both the Herbert Hofmann Prize (2001) and Bavarian State Prize (2004), he was designated a "Modern Classic" at Schmuck in 2006. In October 2018, Gentille was inducted into the prestigious American Craft Council College of Fellows.
CONTACT: Eileen David
RETAIL: $6,500
MUSEUM WORTHY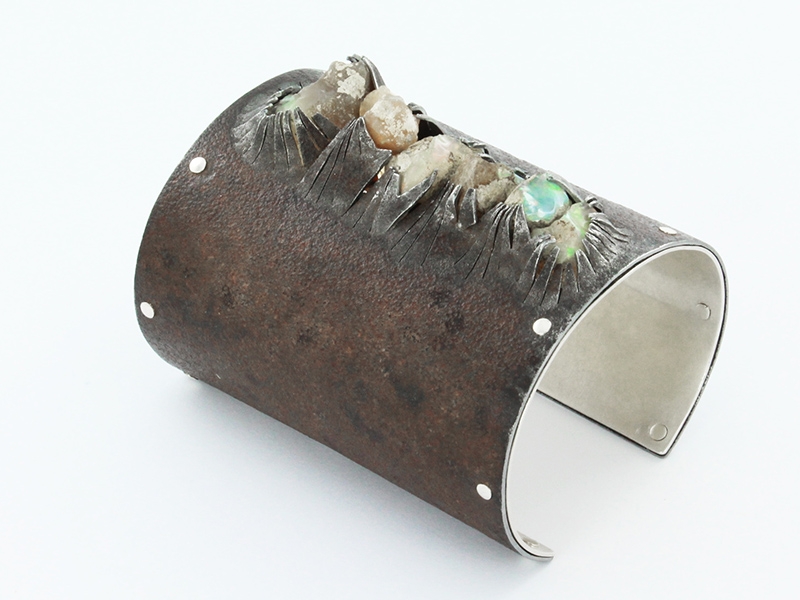 Galerie Elsa Vanier—Having trained with such big names as Gilles Jonemann, Esther Brinkmann (HEAD Genève), and Sophie Hanagarth, Marianne Anselin is the essence of contemporary jewelry: personal expression, the relation to the human body, and a reflection on the meaning of beauty. Wrought iron or rusted iron is her favorite material. Her jewelry seems to have a soul and inspire subtle poetry.
CONTACT: Elsa Vanier
RETAIL: €3,600
MUSEUM WORTHY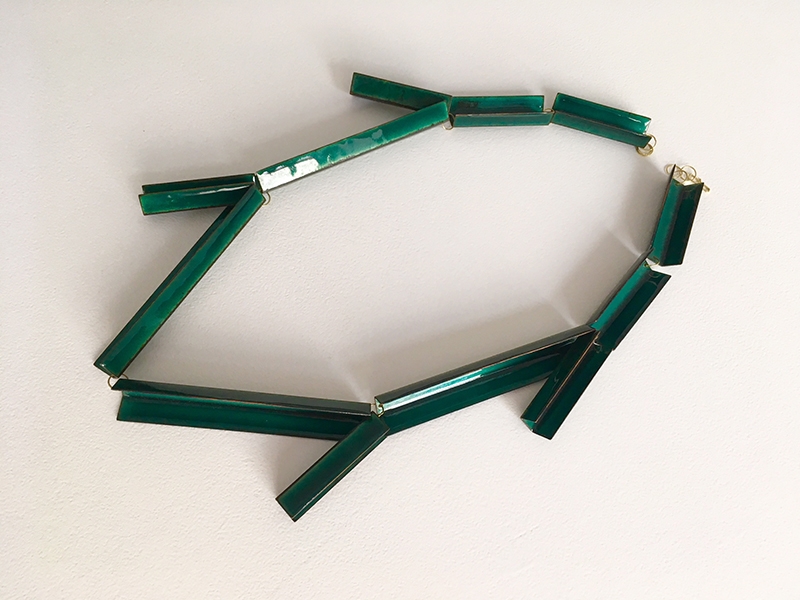 OONA Galerie—Helen Friesacher is able to use the traditional technique of enameling in a very contemporary way. She uses strict graphic shapes such a circles and, in this case, stripes, called "branches" by herself. Multiple layerings of transparent enamel color give the appearance of a very deep green. Friesacher's work can be considered a very wearable piece of jewelry as well as a sculptural object.
CONTACT: Anna Schetelich
RETAIL: €2,550
MUSEUM WORTHY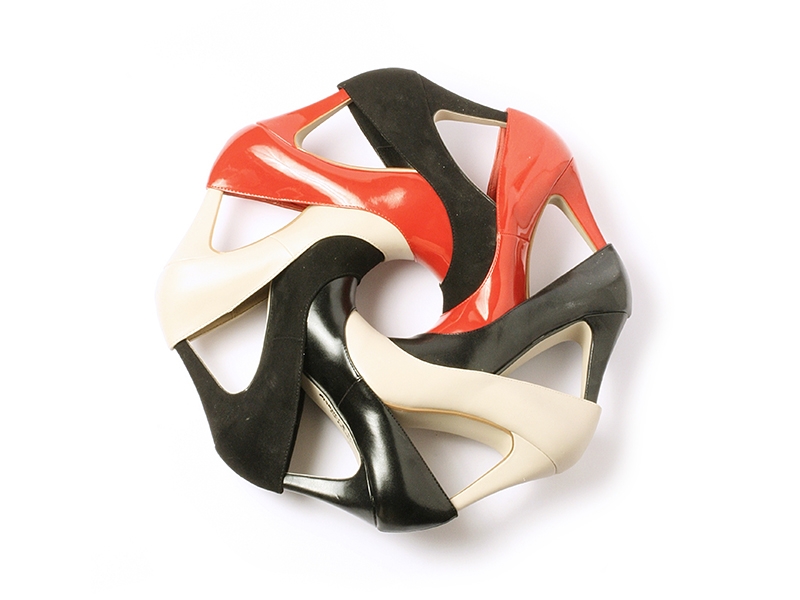 Ra Gallery—In recent years Lisa Walker has been using found and pre-used materials with a (personal) history, like leftover stuff from Karl Fritsch's studio or toys from the children. Taking things one step further, and far more controversially, Walker is now getting pictures of existing art works from the Internet to turn them, almost literally, into jewelry pieces, like she did in the Fischli and Weiss Bracelet, Shoes. She's playing with the concepts of influencing and copying, and doesn't shun the ensuing debate. In her own words: "I learned a long time ago that you don't have to find the answers, it's enough for the works to keep asking the questions." Walker's newest work is about the "unrelenting abundance" of the modern lifestyle.
CONTACT: Paul Derrez
RETAIL: €3,300
ESTABLISHED ARTIST
Gallery S O—Good things come in small packages: Lin Cheung's piece is a multilayered statement contained within a pin-badge brooch. It is iconographically striking as well as socio-politically relevant, using the Twitter symbol when worn in one direction and a certain president's hairdo when rotated 180 degrees. "I can think of lots of reasons to make stuff but I can't think of a better reason to be making jewelry right now," stated the artist in Current Obsession Paper #4 (February 2017). "It's time, time to make what we do count, however insignificant we might feel it is, the power of jewelry is not to be ignored and every voice counts." Cheung's work was awarded an Arts Foundation Award (2001) and a Jerwood Contemporary Makers Award (2008). She is the recipient of the prestigious Françoise van den Bosch Award 2018, as well as the Herbert Hofmann Prize 2018. Her pieces are currently on show in international public and private collections.
CONTACT: Katharina Dettar
RETAIL: £1,950
ESTABLISHED ARTIST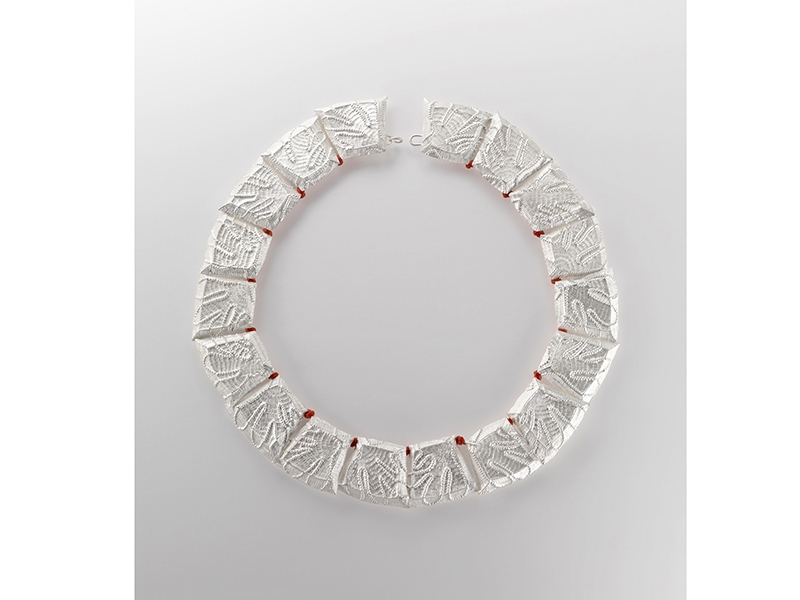 Zu design – jewellery + objects—This neckpiece is from a series called Twice Loved, inspired by a trip to Japan, where Julie Blyfield photographed and studied early-20th-century kimono garments at the History Museum of Tokyo. It showcases Blyfield's intricate repoussé skills, which have become her signature, as well as her close observation of pattern created through texture. Blyfield's solo shows are always extremely successful, and this is one of the few pieces remaining from this series.
CONTACT: Jane Bowden
RETAIL: AUS$3,960
ESTABLISHED ARTIST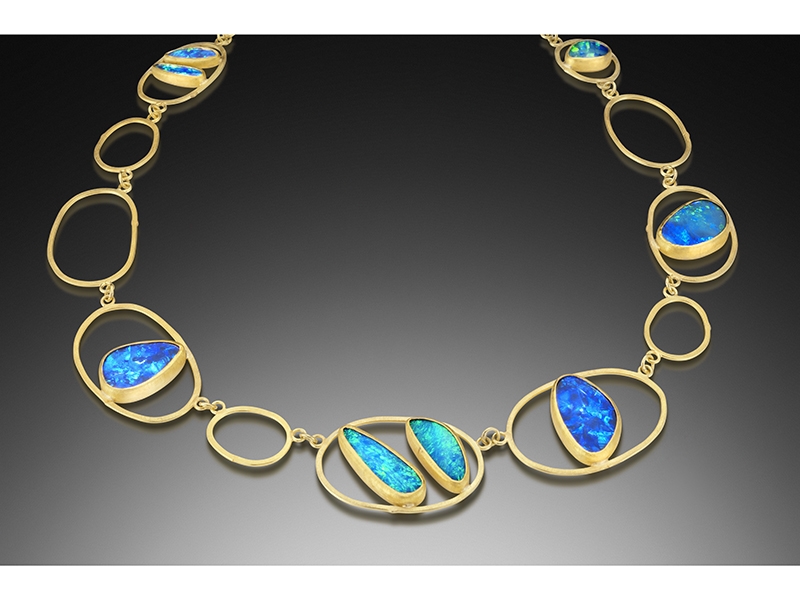 Taboo Studio—This exquisite necklace by Petra Class features exceptionally beautiful deep blue and green boulder opals from Australia.
CONTACT: Jane Groover
RETAIL: US$7,600
MID-CAREER ARTIST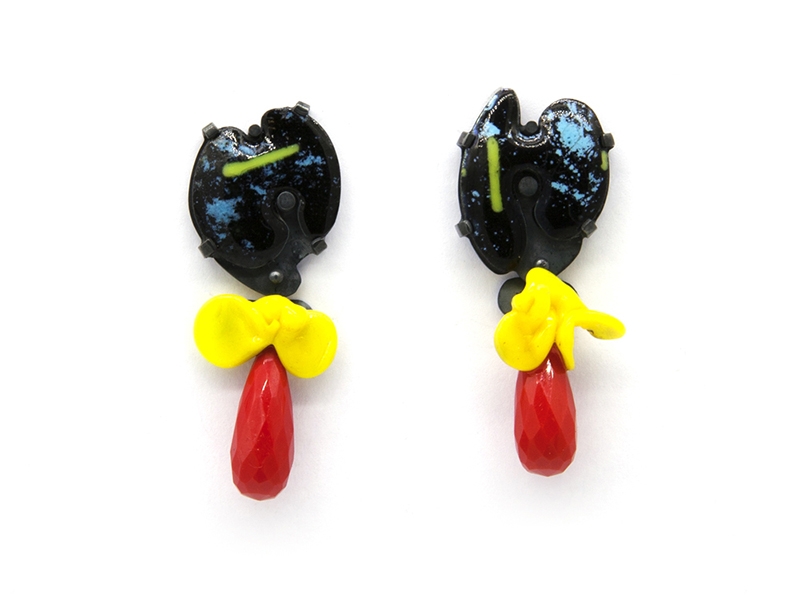 Tinsel Gallery—These earrings are part of the latest body of work from Joani Groenewald, the winner of South Africa's first Contemporary Jewellery Awards, held in March 2018. Groenewald is one of South Africa's foremost young artists, and is also a lecturer in the jewelry department of the University of Stellenbosch.
CONTACT: Geraldine Fenn
RETAIL: $500
MID-CAREER ARTIST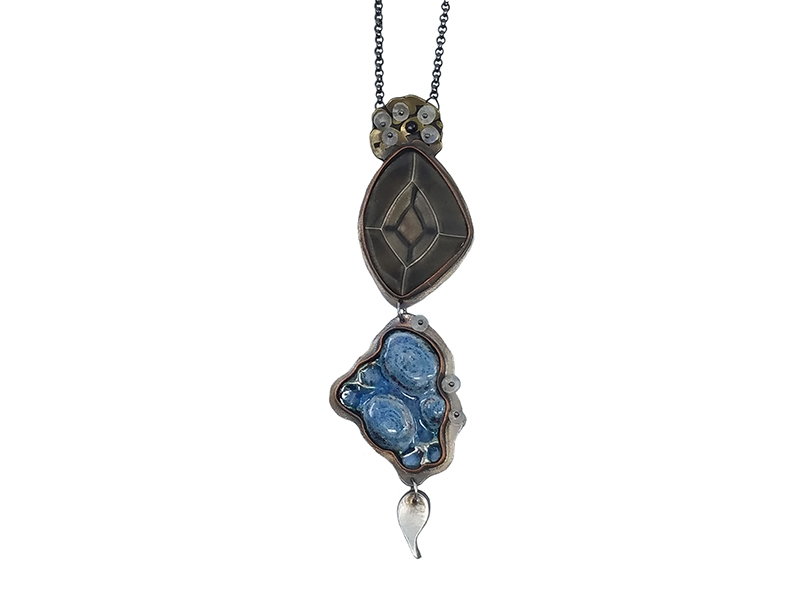 Lillstreet Art Center Gallery Shop—Nancy Sickbert-Wheeler is a respected educator and metalsmith active throughout the Chicago area. Her jewelry is a fixture at the Lillstreet Art Center Gallery Shop. Her work combines a variety of enameling techniques, including, but not limited to, basse-taille and champlevé, mixed with different metals and embellishments. This Molecular Necklace is a celebration of her mastery of vitreous glass enameling over the last 15 years. It features silver, copper, and moonstone with expertly executed enamel insets on a steel chain. Her attention to detail and movement extends to the back of the piece, which features additional moonstones, and this necklace is meant to be worn reversibly.
CONTACT: Abby Rosen
RETAIL: US$400
MID-CAREER ARTIST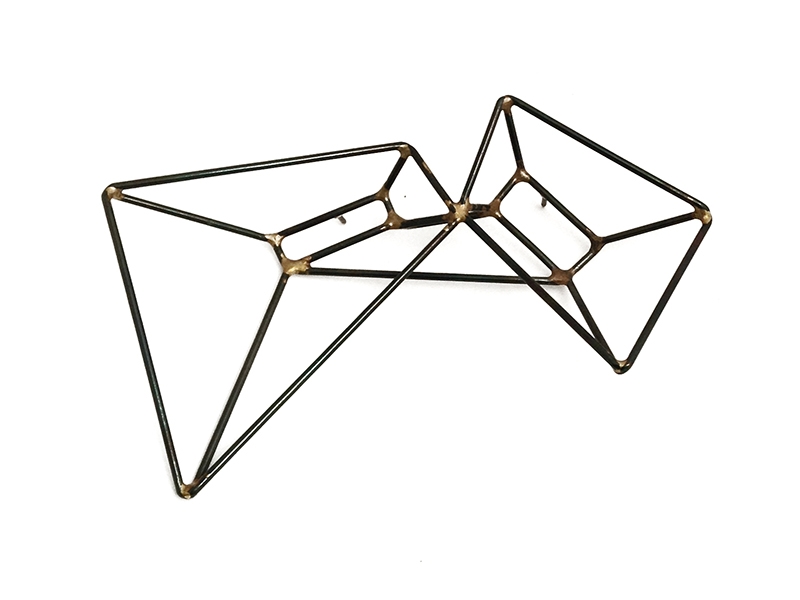 Baltimore Jewelry Center—Sarah West creates jewelry inspired by the magic of geometry and the architectural latticework of bridges and electric towers. Using the beauty and strength of steel, Sarah creates three-dimensional forms that express the resilience of the human spirit. Like the power lines that intersect the horizon, West's pieces are architectural landscapes that interact with body and space. This piece is made from mild steel and fabricated by cutting and brazing small lengths of steel wire to create three-dimensional forms.
CONTACT: Shane Prada
RETAIL: US$150
EMERGING ARTIST
L.A. Pai Gallery—Heavy Heart, by Fei Su, is an ebony locket-neckpiece dedicated to individuals who are failing to put the past in the past, carrying burdens through daily life, and struggling to react to the present reality. In the form of an ancient Chinese lock, Heavy Heart hangs darkly around the wearer's neck by thick chain links. Visually heavy, but light in actuality, it is a physical manifestation of a psychological weight. Once opened, it reveals a small field of oxidized silver wire inlay with sanded ends in an irregular indentation, indicating sparks of inspiration pulling one out of darkness and chaos, back to the here and now.
CONTACT: Lisa A. Pai
RETAIL: CAN$1,000
EMERGING ARTIST
Four—Juniper wood has a very special fragrance: It smells of forest and of craft. Historically, juniper has been used for healing and protecting purposes; house remedies as well as against more abstract threats. Sofia Bankeström treats the material with respect and curiosity. She highlights the knotholes and let the fibers guide her when shaping the pieces. The interplay between the wood, the artist, and the knife turns into a poetic object with a language of its own.
CONTACT: Karin Roy Andersson
RETAIL: €900
GALLERY CHOICE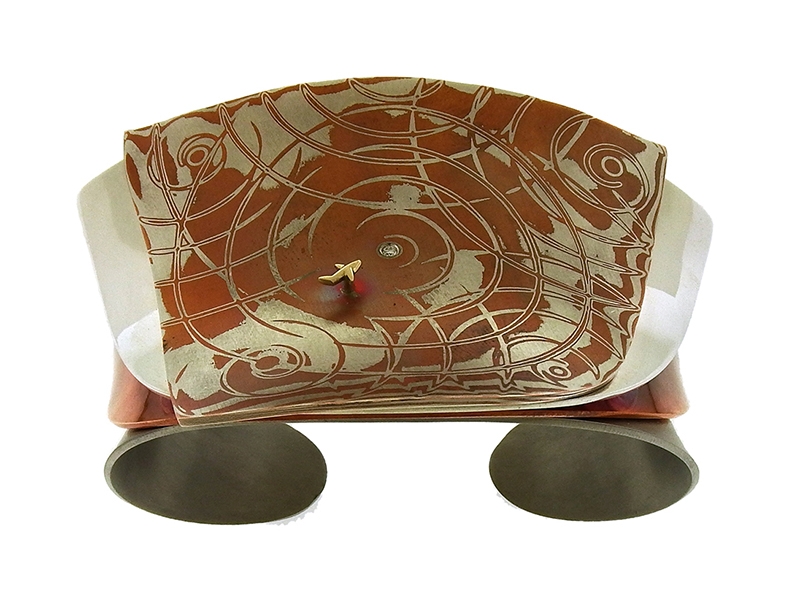 Aaron Faber—Finnish artist Juha Koskela creates an imaginary view of an unknown continent, the small gold airplane circling toward its unknown destination.
CONTACT: Patricia Faber
RETAIL: US$3,375
GALLERY CHOICE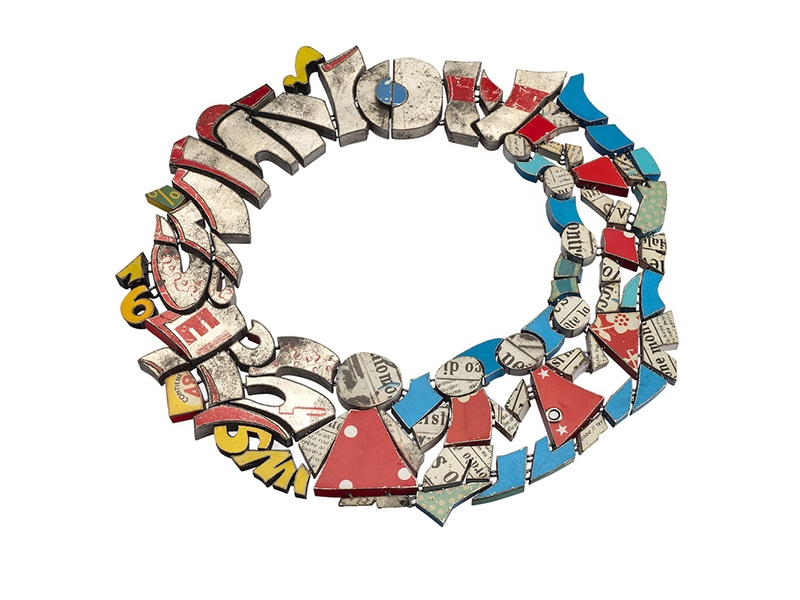 Galerie Biró—Monica Cecchi, from Italy, is a wonderful artist whose absolute perfection of craftsmanship enables a tremendous artistic freedom and form of expression. Her material is sheet metal from antique tin cans, which she cuts up and transforms with incredible care into fascinating and absolutely unique pieces of jewelry. The material is never squeaky or rigid; it adapts wonderfully to the body and follows its movements.
CONTACT: Kinga Zobel
RETAIL: €9,500
GALLERY CHOICE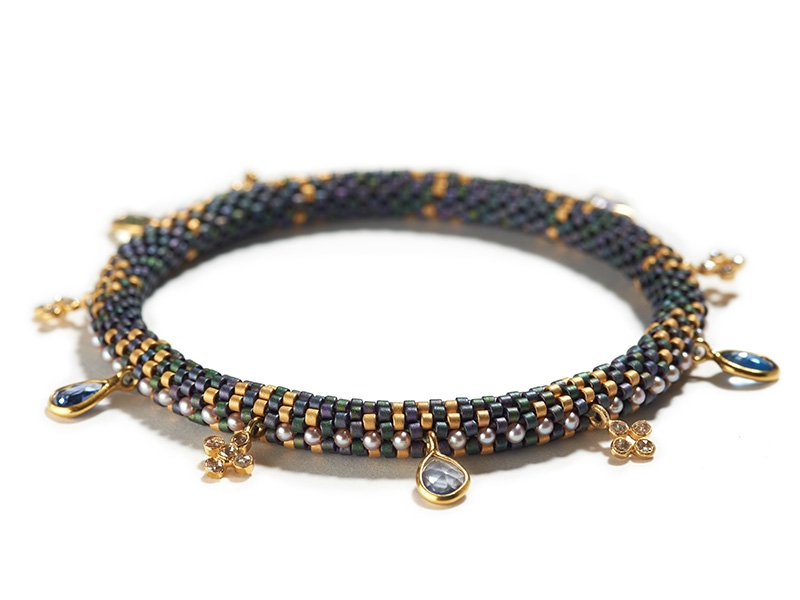 Patina Gallery—Reminiscent of the rich colors and lustrous jewels which adorned the "imperial 50" Fabergé eggs, the Holiday Bracelet with Sapphire and Diamond by Claire Kahn is the perfect gift for the holiday season. The thick lines of deep gray-blue Japanese cylindrical beads that prevail along the inside of the bracelet are relieved by beads, which form opulent pools of gold. Brilliant 1-mm pink pearls contour the outer edge of the piece, embellishing the ornate design. The bracelet is completed with precious jewels of sapphire and diamond charms set in 18-karat gold. Like a Fabergé egg, Kahn's piece is a magnificent treasure that is truly one-of-a-kind. The piece is part of Kahn's wintry collection, Winter in Jacona, opening at Patina Gallery on December 14, 2018.
CONTACT: Patina Gallery
RETAIL: $4,445
GALLERY CHOICE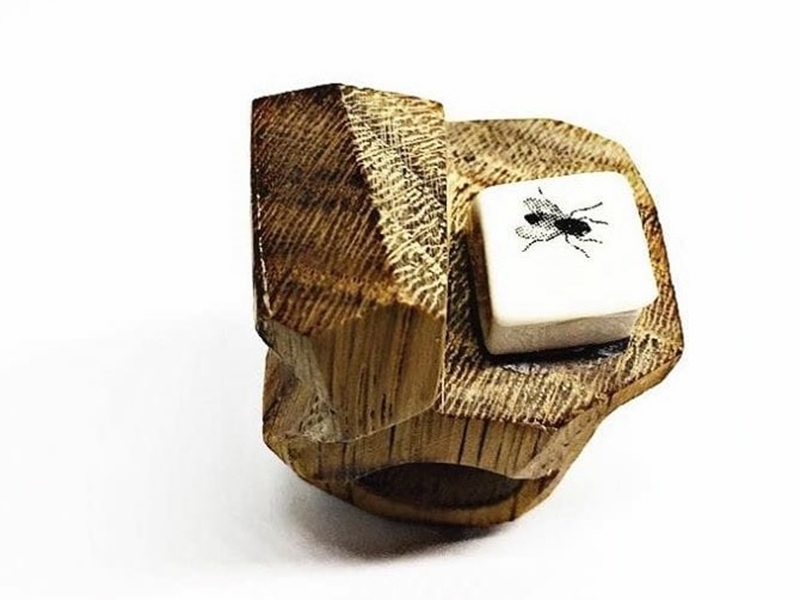 myday-byday—Each piece in this limited-edition series of rings is a unique piece. The person who wears it will experience strength and gentleness at the same time, while feeling the synergy of two creative minds blending and becoming one.
CONTACT: Laura Helena Aureli
RETAIL: €480
GALLERY CHOICE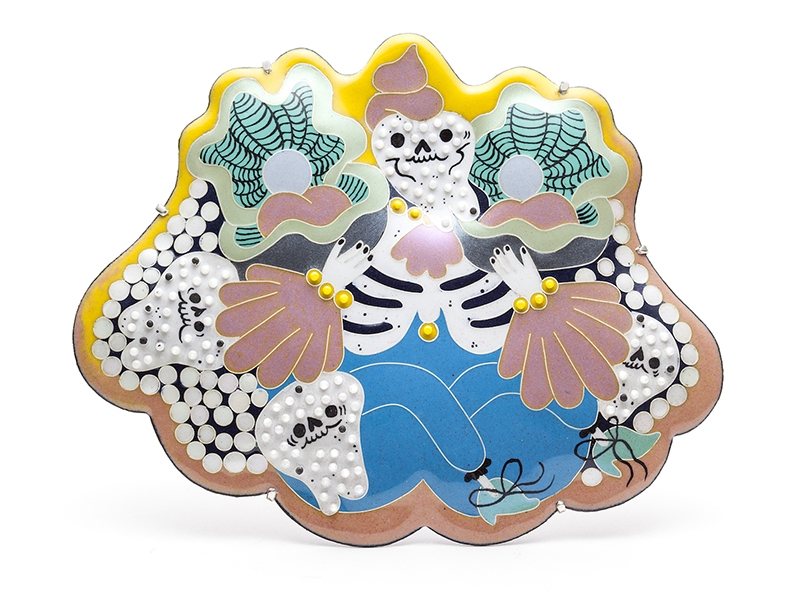 Galerie Noel Guyomarc'h—French-Canadian artist Aurélie Guillaume plays with the longstanding link between the technique of enamel (in which powdered glass is fused to metal by firing it at a high temperature) and the art of storytelling. Where makers from other centuries might have presented religious narratives in their brightly colored objects, Guillaume looks to street art, comics, and other forms of popular culture. In her work, a single character is frozen in the middle of a story that remains hidden from the viewer. This brooch, We All End Up at the Bottom of the Sea, is an entry point into the artist's mind and her thoughts about what death means. While expressed as a dramatic finality for some, here it is represented as a happy ending, a joyful image of life after death. Guillaume studied jewelry and metalsmithing at the École de Joaillerie de Montréal, and at NSCAD University in Nova Scotia, Canada. Her work is featured in the collections of the Enamel Arts Foundation in Los Angeles, the Museum of Arts and Design in New York City, the University of Iowa Museum of Art, and the Pureun Culture Foundation in Seoul, South Korea.
Contact's Name: Noel Guyomarc'h
RETAIL: US$3,100
GALLERY CHOICE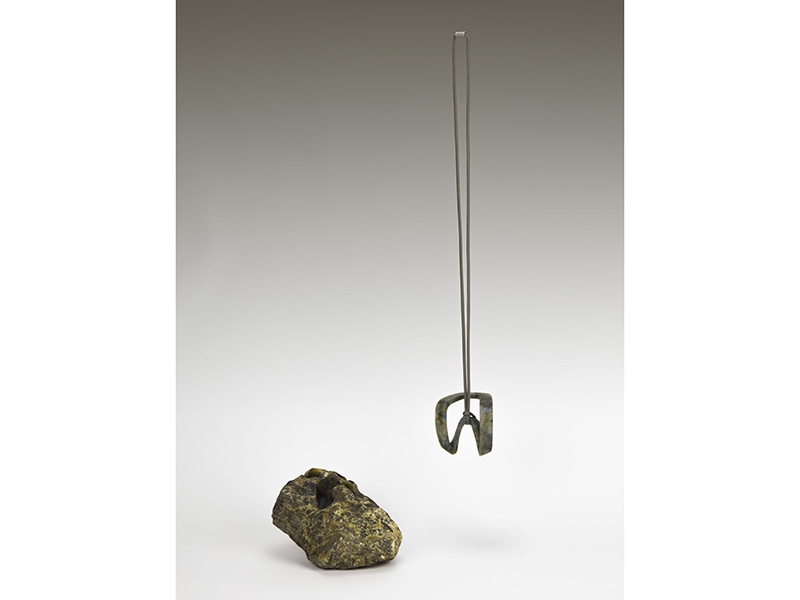 galerie beyond—There have been always two parts that cannot stand alone. If we forget about the "how," we are resigning to the intimate connection that human have been creating with materiality. Focusing only on it would cut any possibility of expression above the material. We need to be able to understand how technology, design, and labor complement each other. Forming a place as a singular thing but that creates plural representations of itself. Looking for the ideals with which a thing would not be the kind of thing it is. It is on the quietness where we can hear the sound of that been. Leading me to dress its skin, to establish the limitation of its structure. Evoking the inside and making it present. Transforming nothing into matter and empty into content.
CONTACT: René Darmont
RETAIL: €3,900
GALLERY CHOICE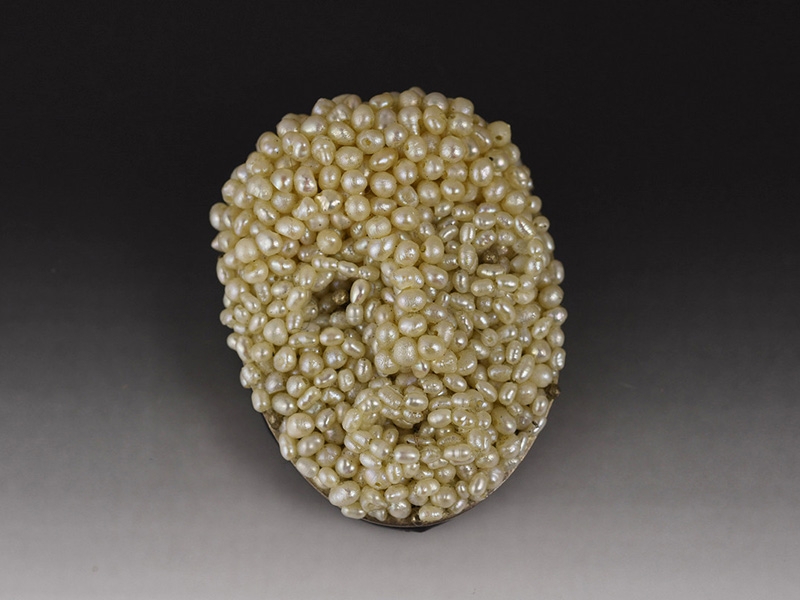 FINGERS GALLERY—The core interest that seems to repeatedly emerge in Andrea Daly's work is a fascination with what we believe to be reality, and how this impacts us physically, emotionally, and spiritually. Daly is fascinated by the rules and ideologies we establish and adopt through culture, philosophy, religion, and science to try to control and explain life. She studied in Australia at Sydney College of the Arts and completed a BA and post-graduate diploma in visual arts, majoring in contemporary jewelry, and later went on to complete an MA, majoring in art history at Auckland University. She has just been selected to take part in Schmuck 2019.
CONTACT: Lisa Higgins
RETAIL: NZ$2,500