Art Jewelry Forum's extensive network of international
gallery supporters
is dedicated to celebrating and showing art jewelry. On Offer is a monthly series that allows AJF galleries to showcase a piece that they've personally selected to tempt and inspire you. Please contact the gallery directly for inquiries. Enjoy!
MUSEUM WORTHY
Gallery Funaki—Yutaka Minegishi's work is slow to make, rare to find, and highly coveted. He carves his perfect forms from one piece of material, be it wood, stone, or crystal. Each piece is devilishly simple and yet complex to make—he uses 500 different types of files. As Minegishi says, "Simplicity is not that simple." His work is found in the Pinakothek der Moderne, the Stichting Francoise van den Bosch collection, and the Art Gallery of South Australia, among others. He won the Munich Art Prize in 2017.
RETAIL: AUS$4,800
CONTACT: Katie Scott
MUSEUM WORTHY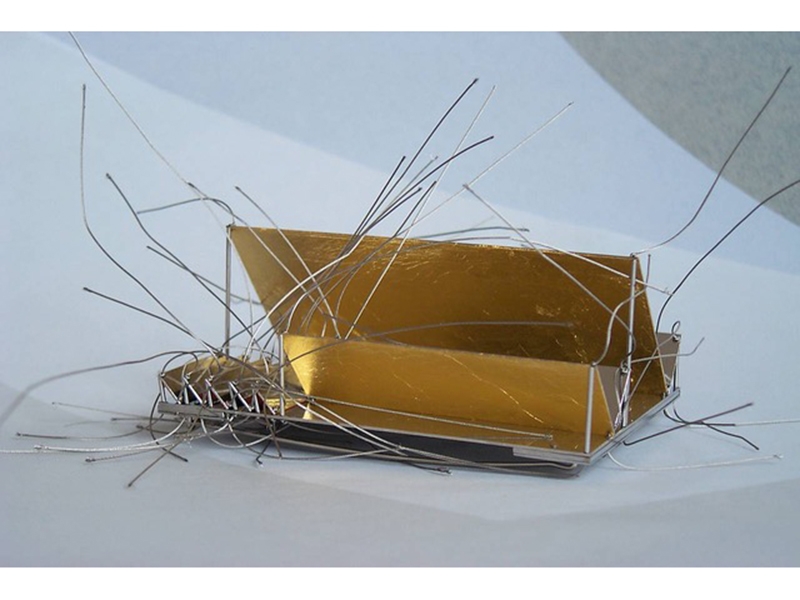 Galerie Biró—Born in 1935, the Austrian artist Peter Skubic has been one of the great innovators of art jewelry since the 1960s. His works are represented in all renowned international collections. Skubic has withdrawn from working, and his few brooches for sale are a real rarity. Galerie Biró has four of them. Peter's formal language is very minimalist. His mirrored surfaces cause irritation and draw the viewer's gaze into the depth of the brooches to be discovered. Everything seems clear, but is often just a reflection.
RETAIL: Price upon request
CONTACT: Kinga Zobel
MUSEUM WORTHY
Galerie Noel Guyomarc'h, bijoux et objets contemporains—As Simon Cottrell says in his interview with Susan Cummins on AJF, "While jewelry does communicate visually, there are other non-visual matters, such as weight and how pieces feel in the hands and on the body when worn, which are so often overlooked by jewelers. All of these aspects already provide potential for a greater diversity of engagement beyond visual sensory stimulus alone. By creating counterpoints between all of these aspects, it is possible to break and extend the expectations born of initial, surface perceptions. I always try to create pieces that feel somewhere between organic growths and built architectonics, among many other subtle contrasts in their physical qualities."
Cottrell completed a fine art degree with honors from RMIT University in Melbourne, Australia. He has taught and lectured at universities around the work. His work is held in public collections and significant private collections internationally.
RETAIL: Price upon request
CONTACT: Noel Guyomarc'h
MUSEUM WORTHY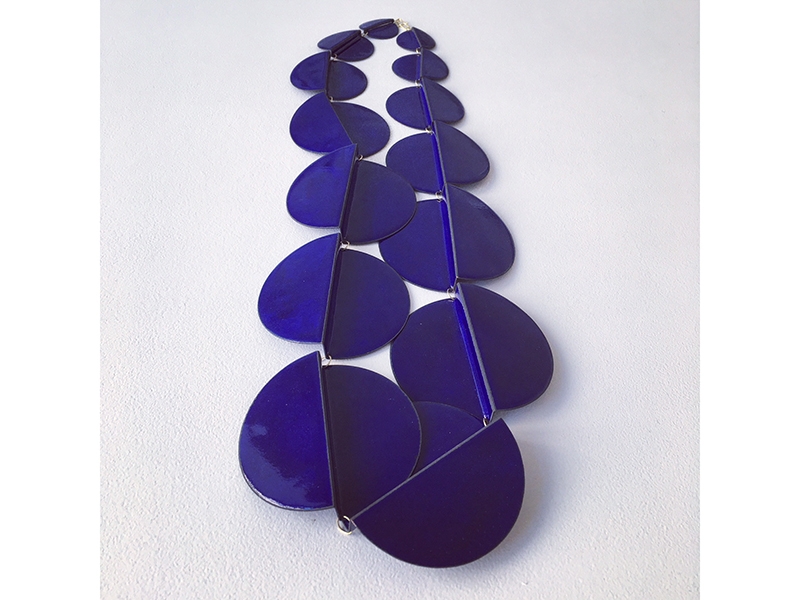 OONA Gallery—Using traditional enameling craft combined with strict graphical shapes, Helen Friesacher creates contemporary works of jewelry. She's able to work skillfully with enamel colors, giving a very clear language to each of her necklaces. In the end, her work is as much a strong object as a decorative, wearable work.
RETAIL: €2,600
CONTACT: Anna Schetelich
MUSEUM WORTHY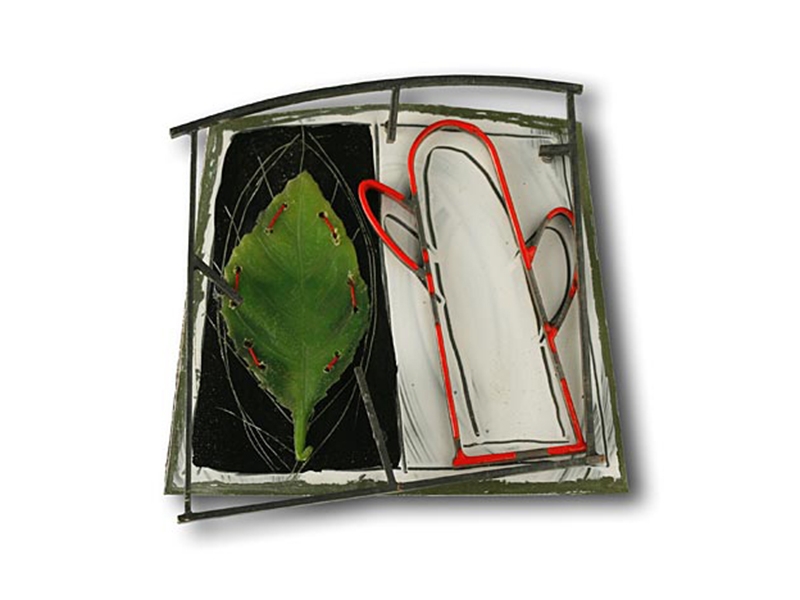 Taboo Studio—Ramón Puig Cuyás was born in Barcelona. His early experiences in the city by the sea inspired his interest in science and exploration, but rather than pursuing science, he turned to art, which, Cuyás said, "gives you the opportunity to discover, imagine, invent, and transform other kinds of universes, inner universes, which emerge from the depths of our dreams and our desires." He found expression for his investigations during his pursuit of jewelry design at the Massana School in Barcelona, from which he graduated. He then became head of the jewelry department there for many years. His work is included in the permanent collections of prestigious museums throughout the world. He has participated in many international exhibitions and received numerous awards.
RETAIL: US$1,500
CONTACT: Jane Groover
MUSEUM WORTHY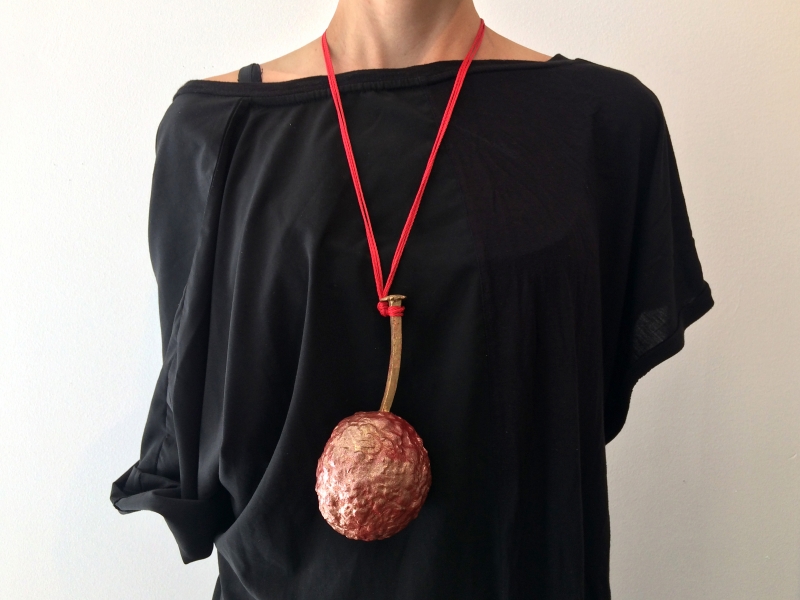 Four—In Marianne Schliwinski's work, you will see contrasts playing together. Her language consists of materials and their different qualities. Things might not always be what they seem—light pieces with a heavy look and weighty works with a light appearance. The composition of the materials—their history and color—tells sensible stories. Schliwinski often combines papier-mâché with found objects. Different paints and lacquers accentuate the materials and shapes and add more layers and stories to the pieces.
RETAIL: €1,400
CONTACT: Karin Roy Andersson
MUSEUM WORTHY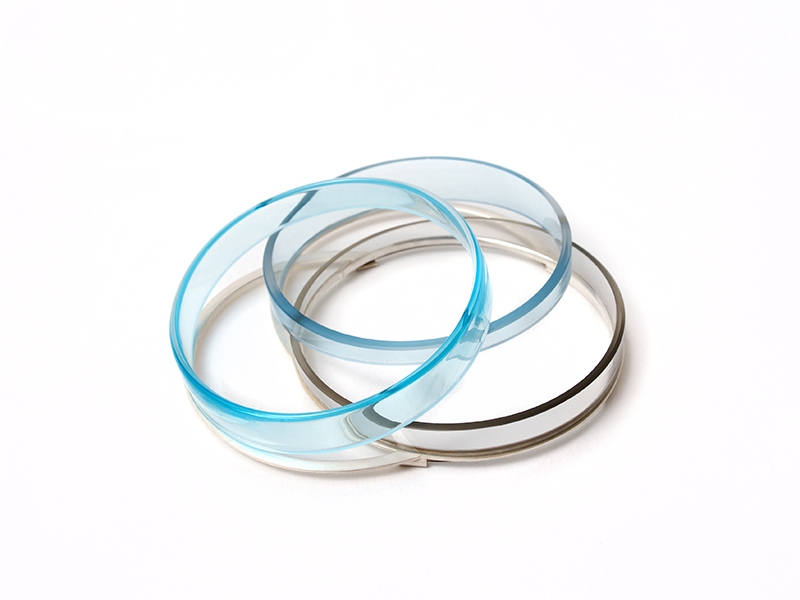 Ra Gallery—When life suddenly falters, new energy gets released. This experience inspired Gésine Hackenberg to make jewelry that explores the perception of repetitive circular movements. Her Tumbling brooches depict the dynamics of tumbling and spinning. Rims and rings of subtly tinted glass are arranged in spatial rhythms. The play of different hues seems to enhance the movement in time and space. The wearer becomes part of the delicate moment between falling and breaking or finding balance.
RETAIL: €1,100
CONTACT: Paul Derrez
MUSEUM WORTHY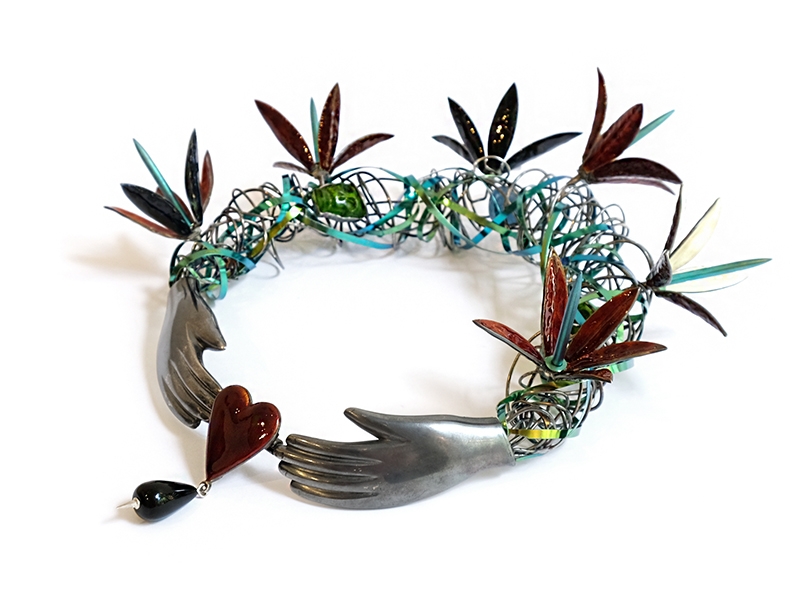 PLATINA—Christer Jonsson is a master in art jewelry and goldsmithing techniques. He has worked since 1978 in Stockholm, Gothenburg, and Västervik, in Sweden. Besides his studio work, Jonsson has been a teacher and professor at different levels, foremost as head of the department of jewelry and silversmithing at The University of Gothenburg, from 1991–1995, and as professor of the department of metal design at Konstfackskolan in Stockholm, from 1997–2003. His unique pieces can be found in several collections, including the National Museum and the Nordic Museum, in Stockholm; the Röhsska Museum, in Gothenburg; Kunstindustrimuseet, in Copenhagen; the National Museum, in Oslo; the National Museum of Scotland; and the Museum of Design and Applied Art, in Turin, Italy. This necklace was inspired by Frida Kahlo and is one of his latest pieces.
RETAIL: US$8,500
CONTACT: Sofia Björkman
MUSEUM WORTHY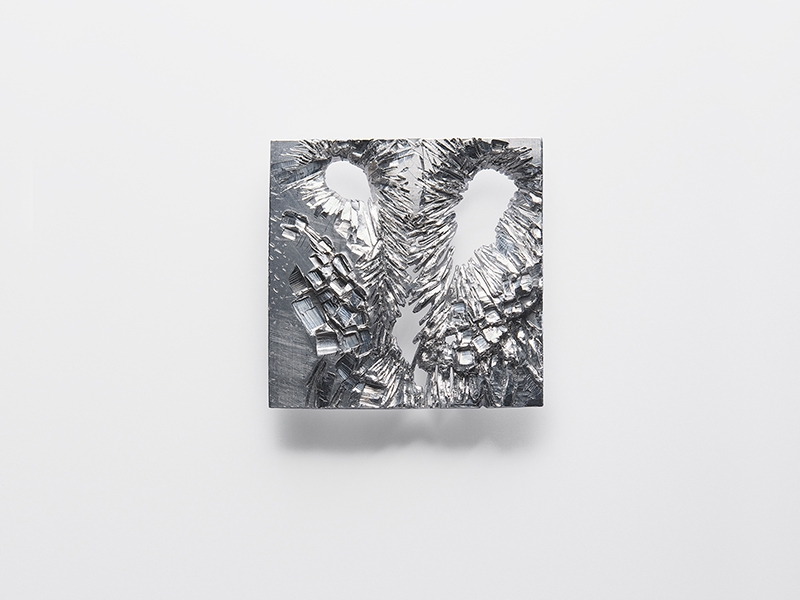 Galerie Door—Jutta Kallfelz (born 1975, Arnsberg, Germany) studied contemporary jewelry art at Burg Giebichenstein, Hochschule für Kunst und Design (2002–2008), in the class led by Daniel Kruger. This beautiful brooch shows us the character of both her subject—nature, an owl—and the material, aluminum. Like a sculptor, Kallfelz carves the dull surface of the aluminum and cuts life and light in the feathers of the owl's face. A masterpiece. You can find out more about Kallfelz's work in the exhibition Hide and Seek, at Galerie Door until September 15, 2018.
RETAIL: €3,535
CONTACT: Doreen Timmers
MUSEUM WORTHY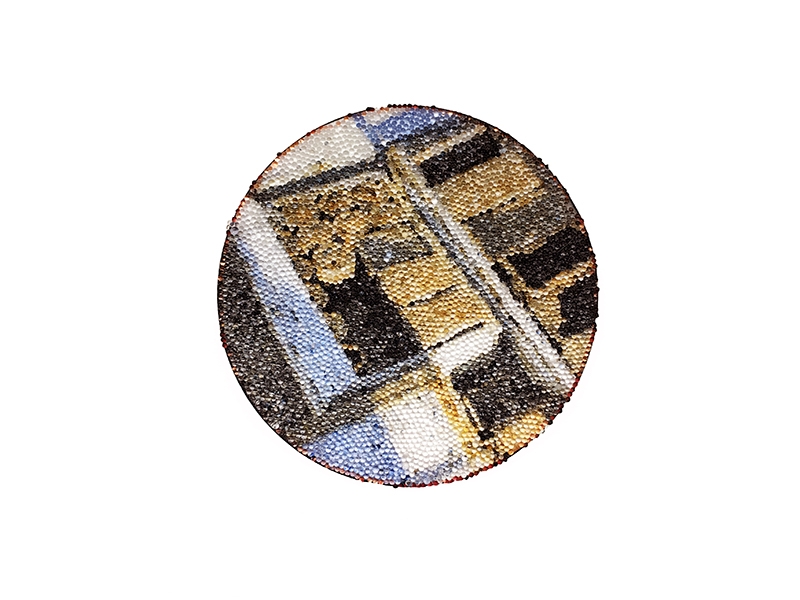 Gallery S O—Kirsten Haydon was the recipient of a New Zealand "Artists to Antarctica" fellowship in 2004, which had an overwhelming impact on her practice. The environment of Antarctica, both natural and constructed, prompted the artist to find ways to depict a landscape so simple and so remote that it couldn't be described just with words. Her work references historical souvenirs that are displayed in museums, investigating the way meaning and memory of place have presence in objects. In this work, tiny glass reflector beads are scattered across an enameled photographic transfer on silver. Haydon uses images of her documentation of the Antarctic base facilities, of people negotiating the snow and ice and the natural environment. Her research explores the links enameling has had with micro-mosaics and miniature painting.
Haydon was born in New Zealand, and lives and works in Melbourne, Australia. She has received numerous awards, including the Thomas Gold Award, the Creative New Zealand grant to travel to Munich in 2008, and the Australia Council for the Arts New Work grant. She has exhibited internationally since 2000; her work is in public collections including the Musée des Arts Décoratifs, Paris; Antarctica New Zealand, Christchurch; Te Papa Tongarewa, Wellington; and The Dowse, Lower Hutt, New Zealand.
RETAIL: Price upon request
CONTACT: Felix Flury
ESTABLISHED ARTIST
Slavik Gallery—Petra Zimmermann, whose reputation stretches well beyond the borders of Austria, uses a new artistic language to fashion irresistible jewelry out of decorative objets trouvés that she picks up at flea markets. Applied semiprecious stones give the works a touch of glamour. Through the metamorphosis wrought by the artist, these common or garden-variety objects become bearers of narratives, each with a story of its own. Zimmermann's inspiring hybrid creations defy categorization in the conventional divisions of art jewelry—they are simply extravagant, baroque, luxurious.
RETAIL: €2,600
CONTACT: Renate Slavik
ESTABLISHED ARTIST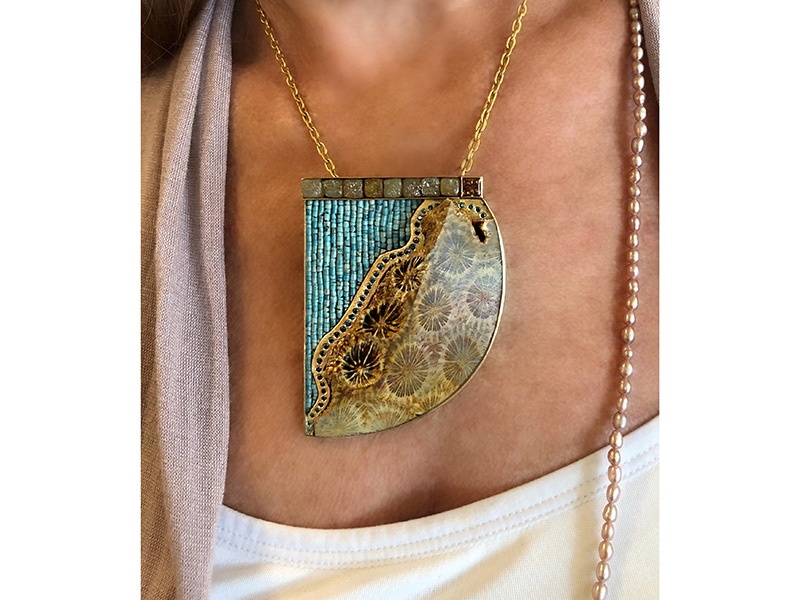 De Novo Fine Contemporary Jewelry—This stunning pin/pendant by Peter Schmid from Atelier Zobel brings to mind a summertime trip to the beach, the turquoise reminding us of the ocean, and the fossilized coral reminiscent of rugged cliffs along the shore. We can even imagine the blue diamonds along the edge as footprints in the sand.
RETAIL: $5,508
CONTACT: Cherry LeBrun
ESTABLISHED ARTIST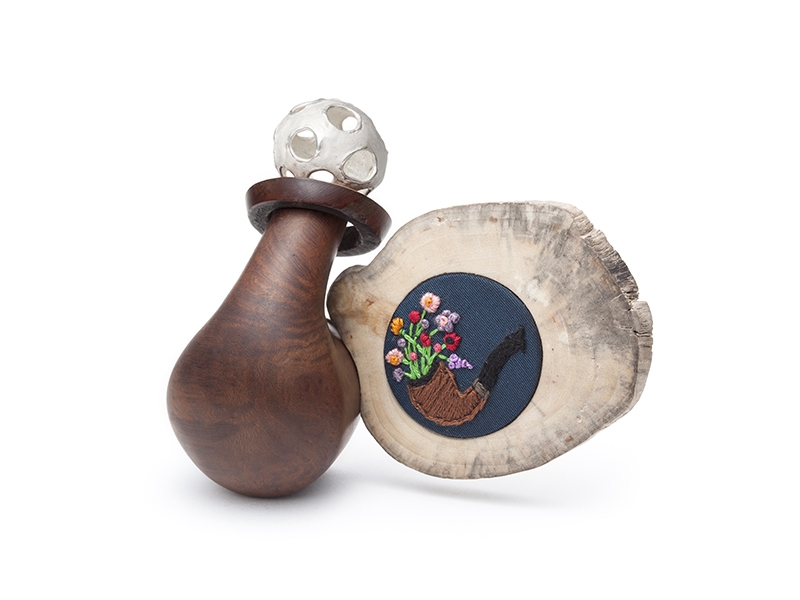 L.A. Pai Gallery—Jeweler of the interstitial, Josée Desjardins explores the intimate connection between humans and their sociocultural and geographical environment. She casts her glance upon the empty spaces between the seen and the unseen, the present and the future, the body and the environment, all in order to pick up the subtle poetry that settles there. Her new exhibition is based on the deconstruction and reconstruction of objects inherited from her family. The artist starts from the premise that the creative process has the power to transform reality past, present, and future, and thus reinvent history. "Freed from fetters and prohibitions, the beauty that this great story contains can finally be reclaimed here and now in a true alchemical process," she says.
RETAIL: CAN$1,500
CONTACT: Lisa A. Pai
MID-CAREER ARTIST
Irene Belfi—Karin Herwegh's jewelry pieces are the result of her vision of the world, where mystery and charm, relationships and cultures come together to narrate incredible stories. The artist chooses wood as a medium of expression and, using sketches made over the last 20 years, she transforms it into jewels and narrates the primitive connection between man and nature.
RETAIL: €960
CONTACT: Irene Belfi
MID-CAREER ARTIST
In the Gallery at Brooklyn Metal Works—Kerianne Quick describes her series thus: "The bricks used in the series Transmutations—dating from the early to mid 20th century—were foraged out of the river at Kingston Point and along the Rondout Creek in New York State. They were hand-cut and carved, and combined with heirloom pearls, shell, silk, silver, and gold. Through stringing and pearl-knotting techniques, the work draws from both the adornment ideals of the Dutch Golden Age and the ceremonial adornment of the native Lenape Tribes of the Hudson River Valley. Like the act of colonization, Transmutations mashes together disparate cultures using native materials. Each piece references an uncomfortable combination of European and Native American adornments to create something unique to the Mid-Hudson River Valley."
Transmutations, by Kerianne Quick, opens July 7 and will be on view through September 8. An artist talk will be held on September 7.
RETAIL: US$2,200
CONTACT: Brian Weissman
EMERGING ARTIST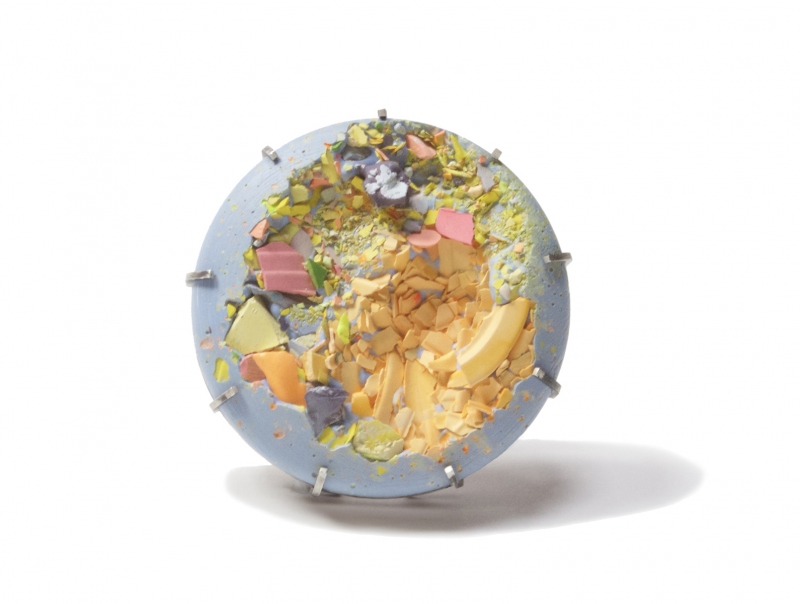 Baltimore Jewelry Center—Anne-Sophie Vallée is a jeweler based in Nova Scotia who works with alternative materials and metal to make exquisite wearable and sculptural objects. She utilizes disparate materials to make objects that both intrigue and unsettle the viewer. Her work acts as a metaphor for a place where reality and a new sense of meaning converge. Cosmic Cookie No. 1 is a brooch that can also act as a small wall hanging. The piece is at once playful, delicious, and quizzical.
RETAIL: US$480
CONTACT: Shane Prada
EMERGING ARTIST
OHMYBLUE—Annika Pettersson's work lies between the parallel languages of jewelry and sculpture. In her hands, an object of the world is transformed into something twofold: First we recognize a familiar structure, second, wonder bends toward us and we let go of our need to know. The action of deconstruction in her practice works as a displacement producing a gap, a semantic mayhem. This piece comes from the series called Enchantmen, where she chose to work with a baroque ornamented wood chair dating from 1910. To make sense of this object, she started cutting it with a Japanese hand saw and then rebuilt it in the form of jewelry pieces, adding pyramid-shaped obsidian stones. In her work we see how contemporary jewelry serves as a means to explore cultural themes expressed through everyday objects.
RETAIL: Price upon request
CONTACT: Elena Rizzi
EMERGING ARTIST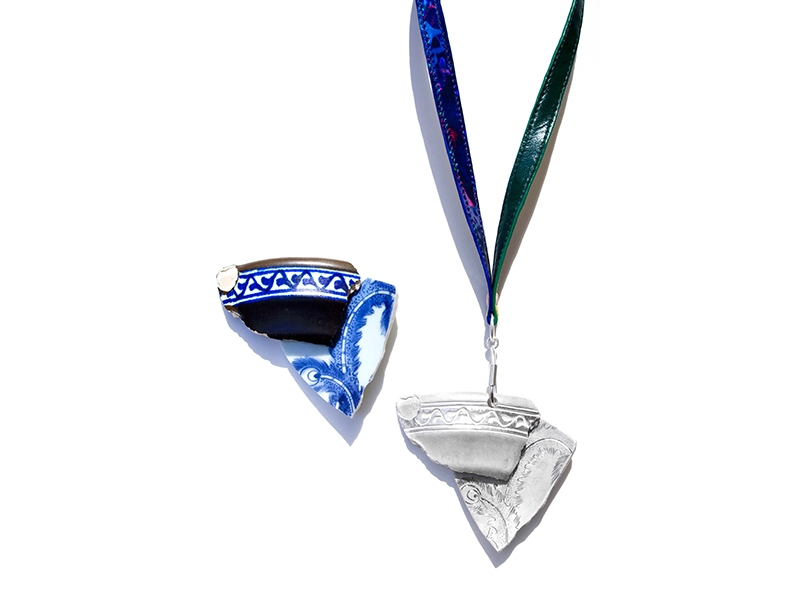 Galerie Rob Koudijs—Both Vietnam and The Netherlands have a long-standing ceramic tradition, each saturated with local codes and typical imagery. While traveling in Asia, Nhat-Vu Dang collected all sorts of porcelain dishes, bowls, and other objects, and did the same afterward in his native country. The oriental ceramics are decorated with scripture, flowers, and mythological animals, and the Dutch pottery is as legible and meaningful to him: figures in traditional dress, boats, historic adornments. In spite of all the similarities, it is also a culture clash. Dang took that literally and smashed everything into shards, East against West, West against East. Fragmentation as a motif: First fate scattered a family around the globe, now it determines how the pottery falls into pieces.
RETAIL: €2,350
CONTACT: Rob Koudijs
GALLERY CHOICE
Galerie Spektrum—Nanna Melland is one of the most important Norwegian jewelry artists. She studied in Munich under Prof. Otto Künzli. After obtaining her diploma, she returned to Oslo. In the series Fragment of Life, from 2004, Melland works on one of the deepest and most important themes, life itself and the wounds you get during it. The necklace shown here is one of the major pieces from this series.
RETAIL: US$2,800
CONTACT: Jürgen Eickhoff
GALLERY CHOICE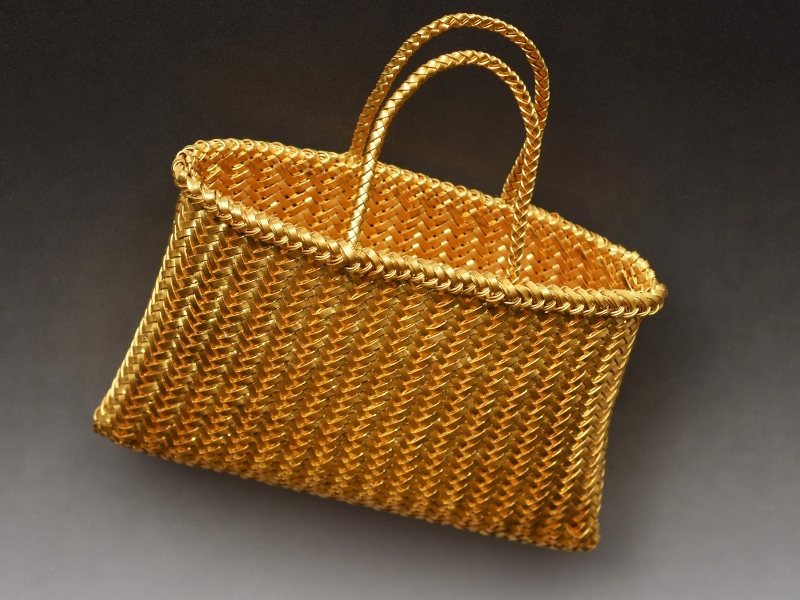 Fingers Gallery—New Zealand artist Matthew McIntyre-Wilson (Taranaki, Ngā Māhanga, and Titahi) trained as a jeweler at both Whitireia Polytechnic and Hawke's Bay Polytechnic. During this period, he began learning traditional Māori weaving techniques from master weaver and friend Rangi Kiu. He works across the disciplines of jewelry, craft, and object, and provides an indigenous response to museological practice. "My practice of weaving in copper, silver, and now gold originated from an interest in the form and pattern of raranga whakairo," he explains. "Combined with my formal training as a jeweler, I produce finely woven kete (woven baskets), arms bands, cloaks (kākahu), and tātua (belts). Research based in museum storerooms and library archives provides the opportunity to examine the technical making of Taonga Māori; of particular interest is the creation and variation of complex woven patterns. The variation of pattern in my work is a reflection of a continuing investigation and exploration of the whakapapa of weaving."
RETAIL: NZ$11,000
CONTACT: Lisa Higgins
GALLERY CHOICE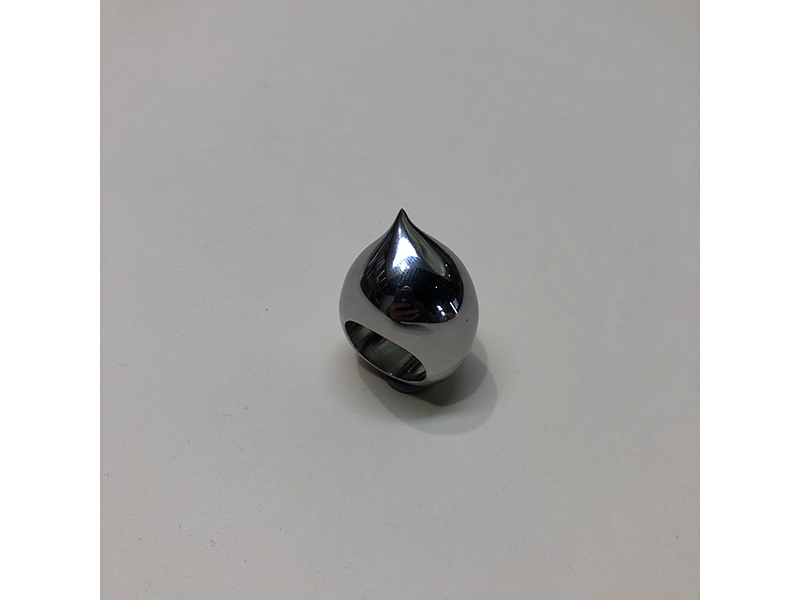 Gallery Loupe —Japanese-born jeweler Yutaka Minegishi makes rings that beg to be touched, not only worn. Hand carved from chunks of organic material, such as stainless steel, ebony, brosimum wood, and rock crystal, these haptic objects have the power of amulets. Every angle of vision reveals an exemplary view, with each piece perfectly balanced and completely resolved. Although small in scale, Minegishi's rings manifest all the qualities of monumental sculpture.
RETAIL: US$3,050
CONTACT: Eileen David
GALLERY CHOICE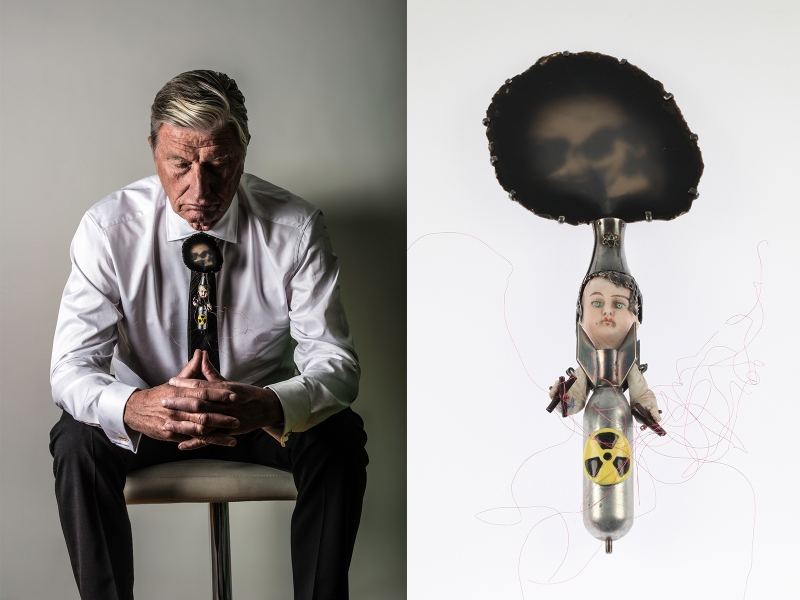 Galerie LA Joaillerie par Mazlo—The Thin Man brooch is part of the group show Sign of the Times, which runs at Gallery LA Joaillerie par Mazlo until July 14, 2018. It is emblematic of the work of Swedish art jeweler Serena Holm. Focusing on psychology, relationships, and human interaction with nature, Holm's works are mostly narrative and figurative. Her ornamental pieces are constructed on several layers of symbolic values with mixed media and different techniques. They combine found objects, collectibles, and new materials, thus creating striking images. Her works are often associated with fairytales and mythological stories (which in fact are also some of her inspiration sources), together with art history, children's books, and comics.
RETAIL: Price upon request
CONTACT: Céline Robin
GALLERY CHOICE
Koumei Art Gallery— Seru! (pronounced "sə-ru") comes from the Indonesian language and can be translated to English as excitement and exclamation mark expressing remarks. The artists recently pondered various events surrounding them, inspiring this creation. In the digital age, even little things can instill various remarks, and that's what makes the world more and more exciting. There are always positive and negative notes ending with exclamation marks, but the voice of change ends with one as well. Excitement of the unknown, can't wait to see what kind of exciting future will happen next! The inspiration for the piece comes from the feeling of living in the age of disruption. Through this piece, the artists want us to be aware of the crisis and changes that happen around the world and invite us to be more proactive to change the future. The excitement for a better future should be our navigator to change the world.
RETAIL: 32,000,000 IDR (Indonesian rupiah)
CONTACT: Eko Sukoco
GALLERY CHOICE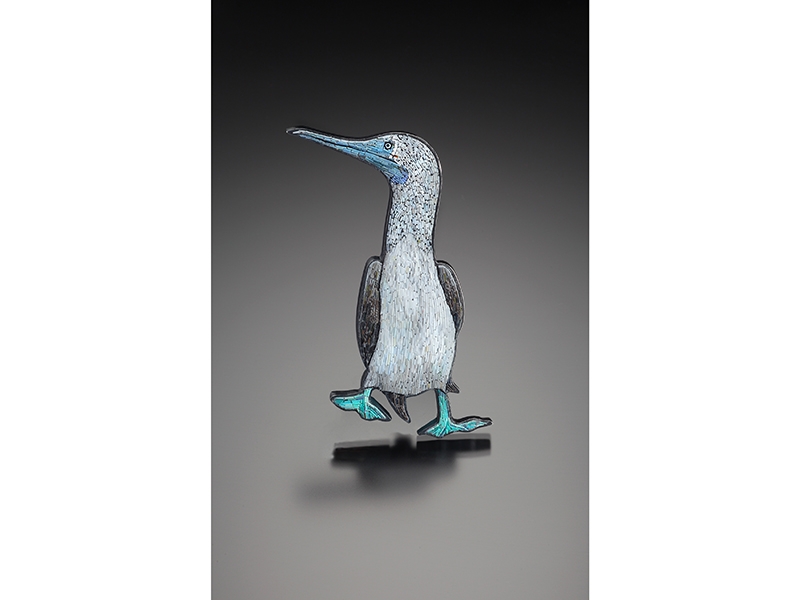 Facèré Jewelry Art Gallery—Cynthia Toops, a polymer clay micro-mosaic master, has created a brooch/pendant to make you smile! Her companion/collaborator is Nancy Bonnema, metalsmith. Together, they have transformed their materials. Cynthia mixes her own colors, rolls the polymer into hairs, cuts the hairs into tiny pieces and with a tweezer places them in Nancy's sterling silver frame. They have made this bird dance!
RETAIL: US$2,360
CONTACT: Madeline Courtney
GALLERY CHOICE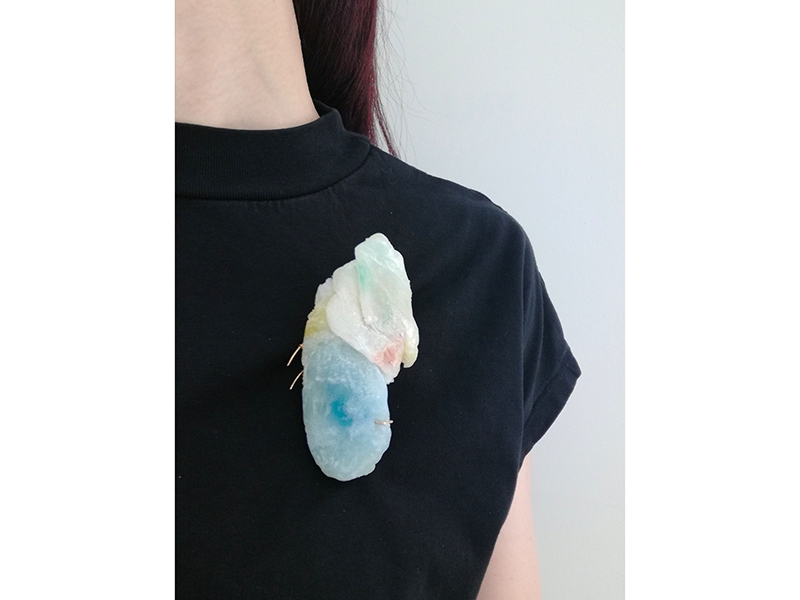 galerie beyond—Jelizaveta Suska says, "The series Frozen Moment speaks about feelings of nostalgia, of a moment in time. In this work, I am looking for the materialization of abstract matters. At the beginning, while crafting the piece, the material is hot, liquid, and dynamic but after a while it gets frozen in time. A sudden moment becoming a memory.'
RETAIL: €900
CONTACT: Rene Darmont
GALLERY CHOICE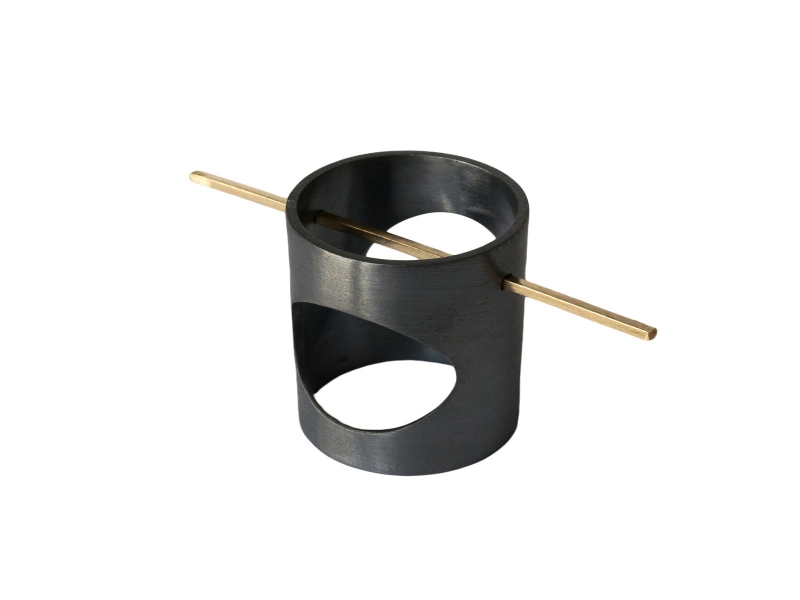 Myday-Byday—Concept: Looking for perfection, conceiving the space around us, looking, and staring at the beauty. Transforming substance, giving it a shape and an existence. Art crosses us. We are present, past, and future.
RETAIL: €500
CONTACT: Laura Helena Aureli
GALLERY CHOICE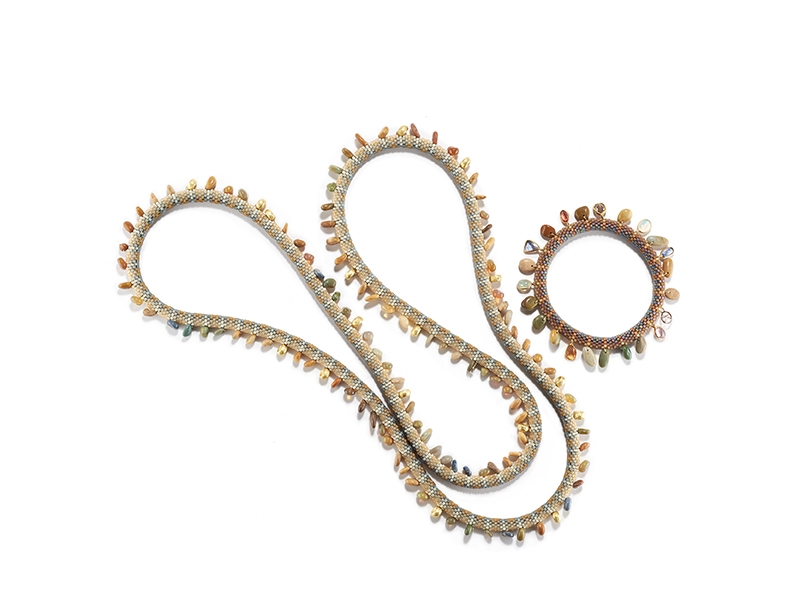 Patina Gallery—Claire Kahn brightens Patina once again with her collection of pebbled pieces. Pebbles are harvested from a beach in Northern California and are a reminder of the artist's cherished time as a young girl at the beach with her father. The pebbles and other charms are carefully collected and balanced together to best accentuate a piece. They are comprised of a combination of sandstone, granite, jasper, jadeite, agate, moonstone, sapphire, opal, cabochon tourmaline, diamond, and high-karat gold. The bracelet features cylindrical glass beads crocheted in a "Lyda" pattern in warm neutrals, bronze and gray blue. The necklace is cylindrical glass beads, crocheted in a "Mughal" pattern in white, beige, gray, blue gray, and olive green. Each piece is one-of-a-kind and exceptionally soul-stirring.
CONTACT: Allison Barnett
RETAIL: Necklace: US$13,335; bracelet: US$3,780