Art Jewelry Forum's extensive network of international gallery supporters is dedicated to celebrating and showing art jewelry. On Offer is a monthly series that allows AJF galleries to showcase a piece that they've personally selected to tempt and inspire you. Please contact the gallery directly for inquiries. Enjoy!
MUSEUM WORTHY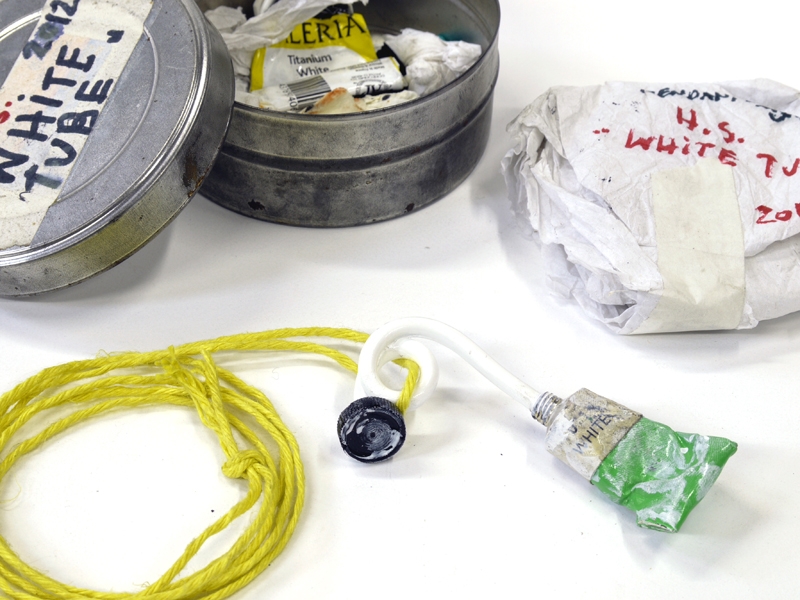 Gallery S O—Of the pendant White Tube, Felix Flury says, "When I wear this piece by Hans Stofer, gallery visitors often ask me if I'm a painter. When I tell them that it's not quite what it seems, but that the pendant is entirely made of silver and then meticulously painted, they look baffled, then curious. This cunning 'reverse readymade' confounds the sneaky assumption that ornaments should look functionless, the opposite of tools. It's the kind of work that needs to be touched to be believed and that always sparks a conversation. White Tube is an homage to skilled making and its potential to destabilize weak dichotomies (decorative and functional; art and craft; familiarity and alienation); it also offers clear evidence that wearing an artwork can be a lot of fun."
Stofer was born in Switzerland in 1957 and trained as a precision engineer before entering the Zurich School of Art, where he studied jewelry and design. In 1984 he set up his first studio, in Zurich. Stofer is the head of the jewelry department at the Burg Giebichenstein University of Art and Design Halle, and was previously the head of the jewelry program at the Royal College of Art in London. He recently curated Schmuck 2018 in Munich.
RETAIL: Price upon request
CONTACT: Felix Flury
---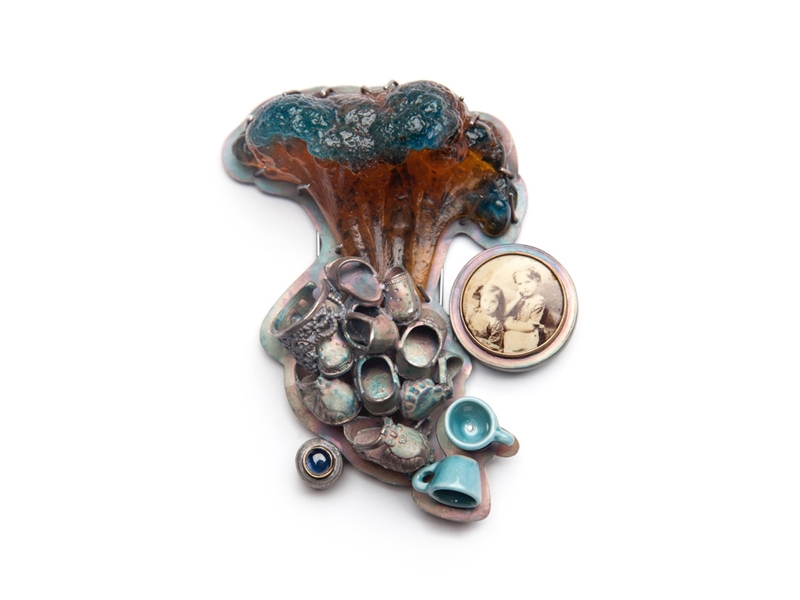 Galerie LA Joaillerie par Mazlo—This brooch is part of a series of works entitled Memoria Aperta (Open Memory), created by Italian art jeweler Barbara Paganin between 2011 and 2013. These works are mind maps and miniature landscapes that tell stories in gold, silver, semiprecious stones, and new materials. They're inspired by the emotions of the artist's past, but they open up to the world by exploring the memories of others. For Paganin, the work starts with a search among the antique shops of Venice, reclaiming unique objects and heirlooms. Some recurring elements point to her personal history, yet each brooch contains details that viewers can reconfigure according to their own individual fragments of memory. Paganin is well known for her use of precious materials, but she has added techniques in glass, resin, and dental acrylic over the years to complement her recovered elements. The brooches and neckpieces in this series have been designed as a single suite, on which the artist has worked continuously over the last several years.
RETAIL: Price upon request
CONTACT: Céline Robin
---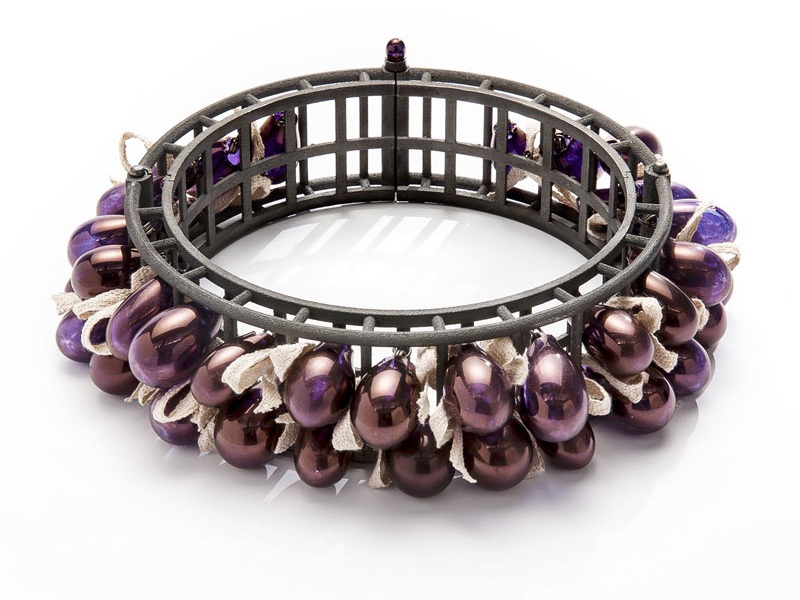 Galerie Rob Koudijs—On the computer screen the impossible is possible. A draft can be translated into every form, with any kind of detailing; the dimensions can be altered effortlessly—a bracelet is easily adjusted to a particular size. With a 3D printer it's just a small step to go from a design to the actual object. Sadly, the materiality of plastic prints is without any expressiveness, so Evert Nijland decided to treat them simply as a half-finished product. He worked on them relying on his recent, extensive experience with wax molds and the casting of silver. It turned out that the plastic permitted interventions that would have been out of the question when using wax: just the kind of discoveries an artist hopes for during a creative process. During the preparations for the metal casting, the plastic also offered unexpected possibilities. For instance, it turned out that the poorest printing qualities might eventually produce a surprisingly beautiful surface. Once executed in silver, Nijland could finish each piece by applying his very personal, craft-based visual language: He added a wide-ranging amount of specially designed elements, often produced in glass, but also made of silver, porcelain, or textile.
RETAIL: €8,500
CONTACT: Rob Koudijs
---
ESTABLISHED ARTIST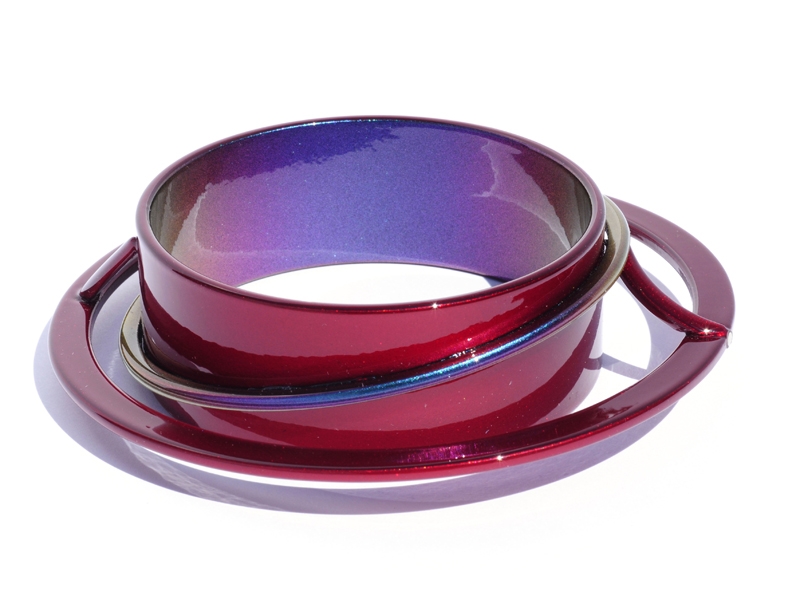 Gallery Loupe—This unique piece is part of a series Rachelle Thiewes calls Heat, and is an example of her fascination with the low-rider car subculture that originated in California in the 50s. Thiewes's work explores the intense iridescent and highly saturated colors used for eye-catching custom painted cars. "Jewelry comes alive when the body is in motion," she says. "Tangible movement is implied by sleek, voluminous forms, richly painted surfaces that glow from iridescent, pearlized, and allusive color-shifting paints."
RETAIL: US$5,200
CONTACT: Eileen David
---
L. A. Pai Gallery—Inspired by 17th-century Japanese lamination as a student at the University of Kansas many years ago, Aggie Beynon was determined to press powdered metals into sheets of metal. After four years of experimental collaboration with an engineering professor, she devised the technique she has long since mastered to produce fugitive surface patterns of drifting metals.
RETAIL: CAN$950
CONTACT: Lisa A. Pai
---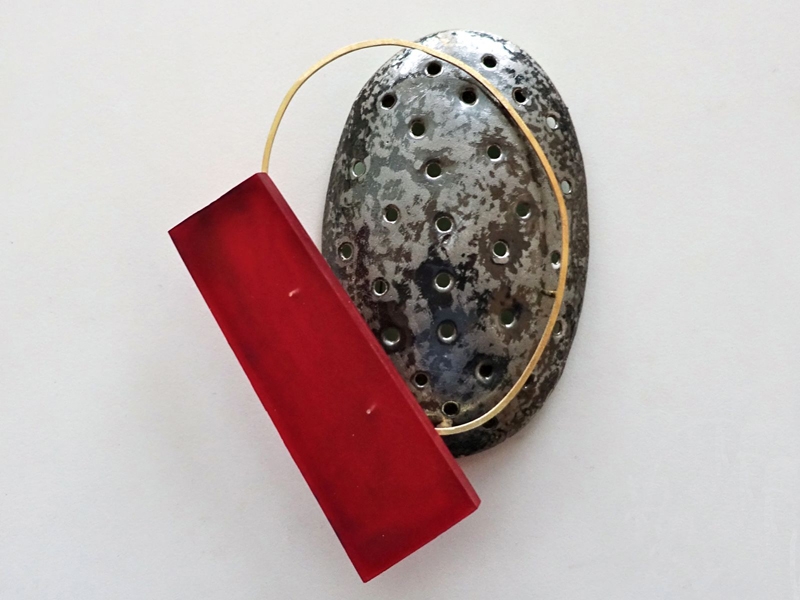 Slavik Gallery—Annamaria Zanella describes her piece as follows: "This brooch is inspired by a strong, fascinating, and charming lady who lived in Paris during the time of Surrealism: Elena Dmitrieva D'Jakonova, better known as Gala Eluard, who was married to the poet Paul Eluard, and a lover, too, to Salvador Dalì and Max Ernst. After the death of her husband, she married Dalì. I've read an article and a book of her life. She was an incredible, beautiful woman with red hair and white skin, she was a combination of sensuality (red) and intense cruelty (black). Gala was a model, an artist, and a gallerist, too, but she was a great muse for many artists of her time. This piece is an homage to her strong personality and her disquietude."
RETAIL: €4,900
CONTACT: Renate Slavik
---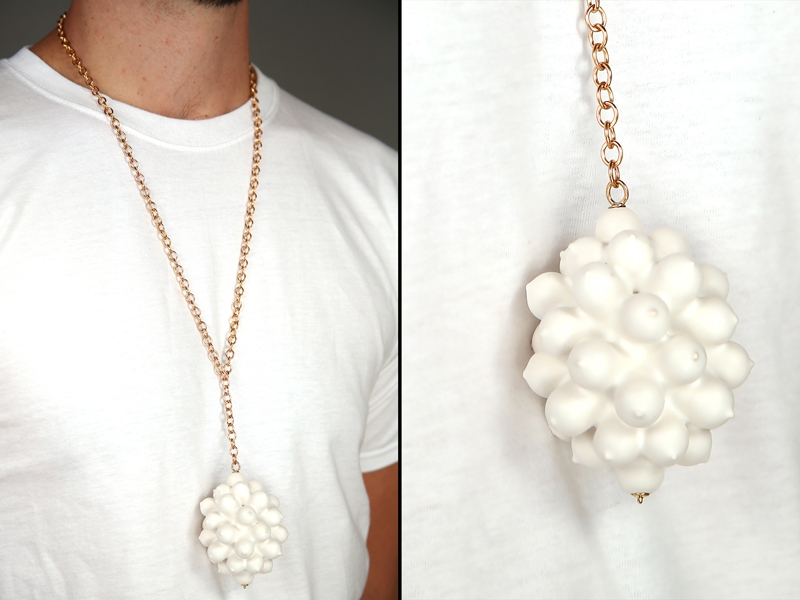 Baltimore Jewelry Center—This necklace by Lauren Kalman is from her newest body of work, Icons of the Flesh. Kalman is a visual artist whose practice is invested in contemporary craft, video, and photography; she investigates beauty, adornment, and body image in her work. Her newest collection includes badges, collars, buttons, and mask-like forms that serve as abstractions that point toward the body and promote the viewer to question the complicated process of identity-building. Like all the work in Icons of the Flesh, this necklace visualizes the body in ways that promote positive identification with anatomy and sexuality.
Kalman's work has been featured at the Renwick Gallery; the Museum of Contemporary Craft; Cranbrook Art Museum; the Museum of Fine Arts, Boston; and many others. Recently, the Museum of Arts and Design acquired Kalman's work as part of its permanent collection. MAD's assistant curator Barbara Paris Gifford said of Kalman, "She is a fearless advocate for women and craft. Like the 'pussy hat,' by making badges of honor that unapologetically reference female anatomy, Kalman is reactivating craft as a protest medium."
RETAIL: US$495
CONTACT: Shane Prada
---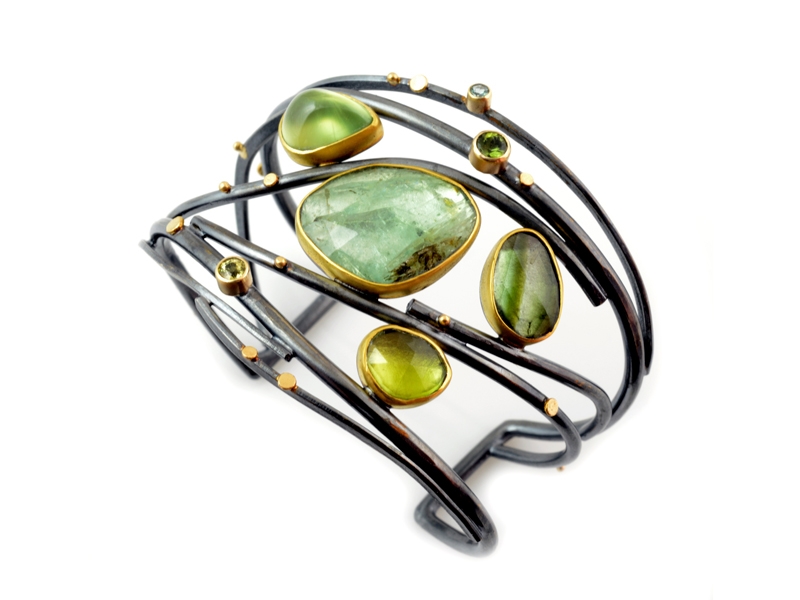 Taboo Studio—This spectacular Green Twig Cuff, by recently retired jewelry artist Sydney Lynch, is one of the remaining available pieces from her 45-year career in jewelry. Comprised of Russian emerald, tourmalines, peridot, prehnite, Mali garnet, oxidized sterling silver, and 18- and 22-karat gold, the cuff is from her now closed one-of-a-kind collection. Lynch's jewelry focuses on color palettes reminiscent of the work of Gustav Klimt and the Fauves, and finds inspiration in the plains and skies of Nebraska and the landscape of Mexico.
RETAIL: US$3,000
CONTACT: Jane Groover
---
Fingers Gallery—Manon van Kouswijk is interested in the universal qualities of jewelry and other personal objects, the value and meaning they represent, and the different roles they have in exchanges between people as gifts, souvenirs, heirlooms. In her work, she makes aspects of the way we use and handle things visible in the objects themselves. Her working methods are quite elaborate and obsessive, ranging from making pearl chains of paper archive stickers on a thread and cutting butterflies out of mass-produced domestic objects to embroidering stains on tablecloths. Subject matter and type of object usually define the chosen material and technique.
RETAIL: NZ$1,290
CONTACT: Lisa Higgins
---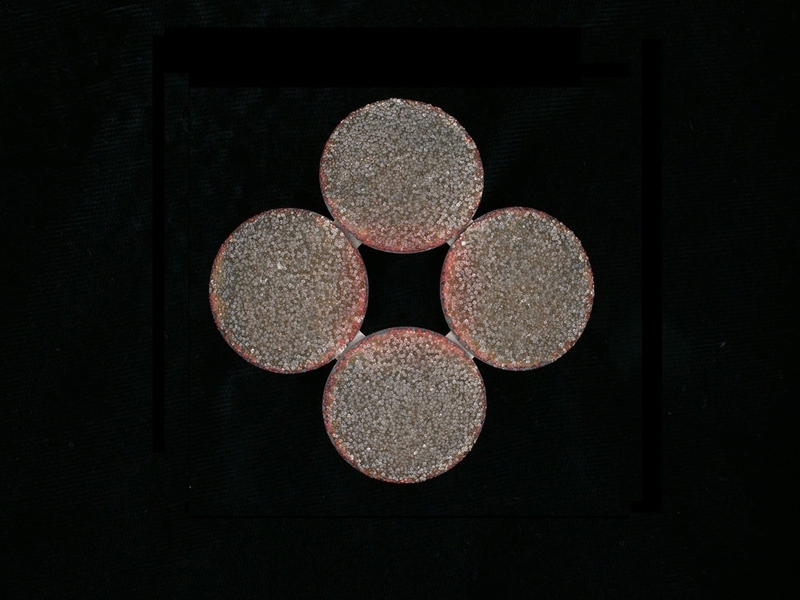 De Novo Fine Contemporary Jewelry—Joan Parcher has created this intriguing pin from tiny reflective glass beads that shimmer and almost appear to glow as they catch the light. The glass beads are laid over an enamel surface that appears as a rim of soft color around each circle. It's an intriguing piece that makes everyone want to take a closer look to try to discover what it is.
RETAIL: US$1,390
CONTACT: Cherry LeBrun
---
MID-CAREER ARTIST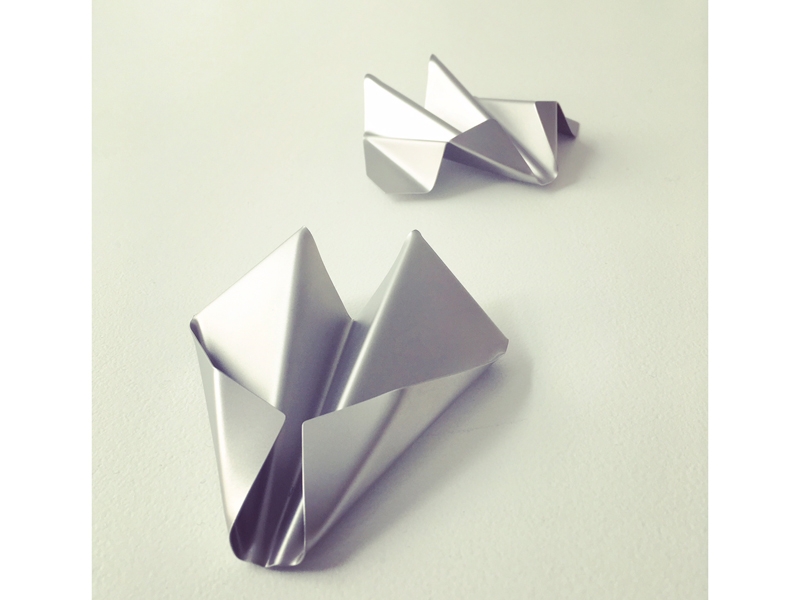 OONA Gallery—The playful paper-folding of childhood grew up into this elegant steel plane. And still you can feel the moment of getting in contact with someone, sending a folded plane … it's sometimes out of your influence which direction it will take.
RETAIL: Each €790
CONTACT: Anna Schetelich
---
EMERGING ARTIST
Galerie Door—Kun Zhang finished her MFA in January 2018 at the department of gemstone and jewelry design at Hochschule Trier at Idar-Oberstein, Germany. Zhang cuts extremely thin pins out of pink ivory and ebony wood. Both types of wood are characterized by a high density, which makes them hard to model. From her earlier work—soft curved hairpins made of jade—you are somehow able to read Zhang's Chinese background. Now, with the completion of her master's work, the work has become abstract. Objects and pins seem reduced to lines. Where her jade pins refer to adornment, these hardwood pins are isolated images: sculptures. Lines and shapes that play with each other and sometimes fit inside of each other like these two pins. In addition, Zhang makes the interesting choice to make not the hardwood pin, but the wearer of it, into a jewel.
RETAIL: €3,100
CONTACT: Doreen Timmers
---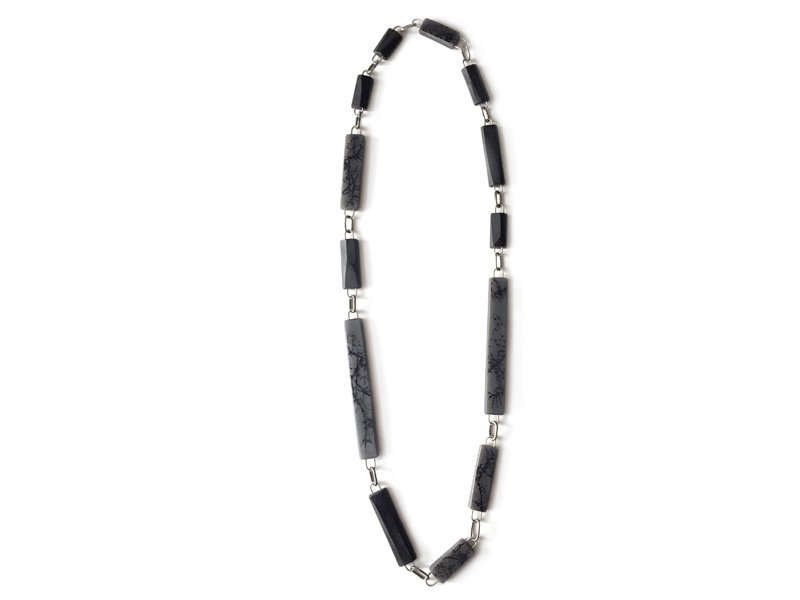 Ornamentum—Mexican-born artist Alejandra Solar creates beautiful works in stone with dark, subtle imagery ranging from the natural to the surreal printed directly upon the stone. A brooch by Solar is currently exhibited in La Frontera: Encounters Along the Border, at the Museum of Arts and Design, NYC. Other works by Solar can be viewed at http://www.ornamentumgallery.com/artists/alejandra-solar
RETAIL: US$2,600
CONTACT: Stefan Friedemann
---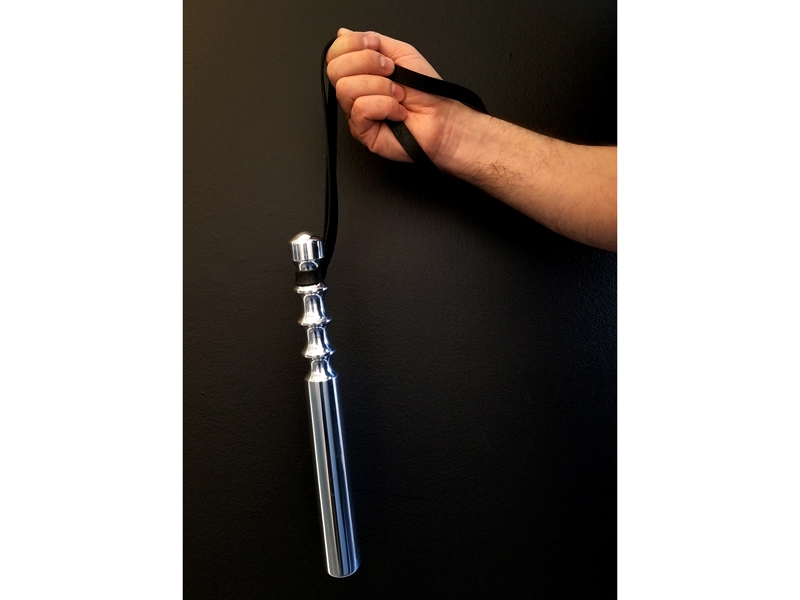 In the Gallery at Brooklyn Metal Works—Kyle Patnaude's work explores the emotive and humanistic coding of objects, specifically a certain "queerness" pertaining to the cultural guise of hypermasculinity. In Till The Night, Patnaude works with queer narratives, from inherently counter-culture gay tropes to the homo-romanticism of masculine power within authoritarian regimes. This investigation includes camp fetishization of police, the military, and, yes, fascists and supremacists.
Todger is one of three turned aluminum truncheons, the weapon of police and symbol of authority, that hang as necklaces and tokens of masculine prowess. This work is based on historical perceptions of homosexual masculinity as the unsurpassed exemplar of supremacy, challenging the viewer/wearer to consider the objects from varying perspectives. Embracing a hybrid practice as a sculptor rooted in the rich traditional methods of metalsmithing, Patnaude unites in his work contemporary sculptural forms with the skill and elegance of precious metalworking.
Till the Night, by Kyle Patnaude, will be on view In the Gallery at Brooklyn Metal Works from March 3 to April 29, 2018. An artist talk will be held on April 22 at 1 p.m. and is open to the public.
RETAIL: US$1,200
CONTACT: Brian Weissman
---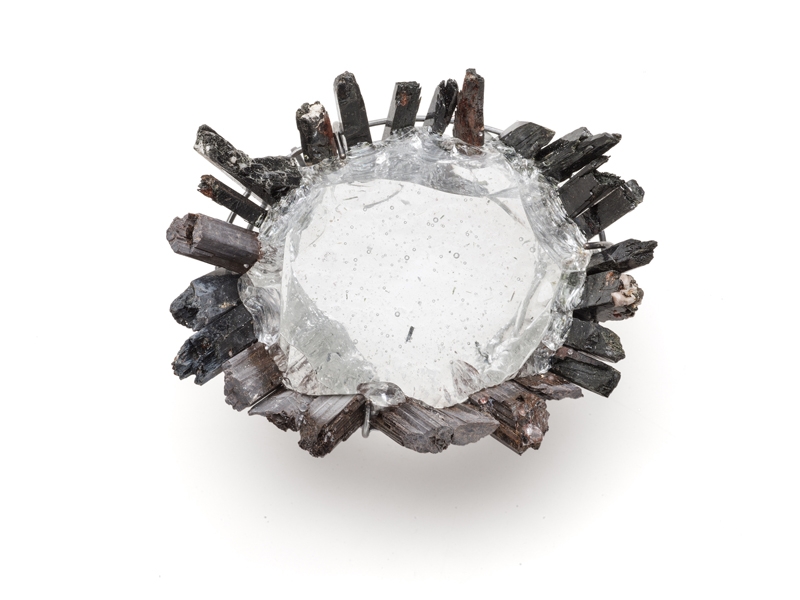 Ohmyblue—This brooch by Federica Sala received the Enjoya't professional finalist award in Barcelona in October 2017 and is the first piece of an incoming body of work that deals with the concepts of memory and relationships. What does it mean to take a portrait of someone? Can we really grasp the inner nature of a soul? Will the portrait ensure the continuance of memory?
RETAIL: Price upon request
CONTACT: Elena Rizzi
---
GALLERY CHOICE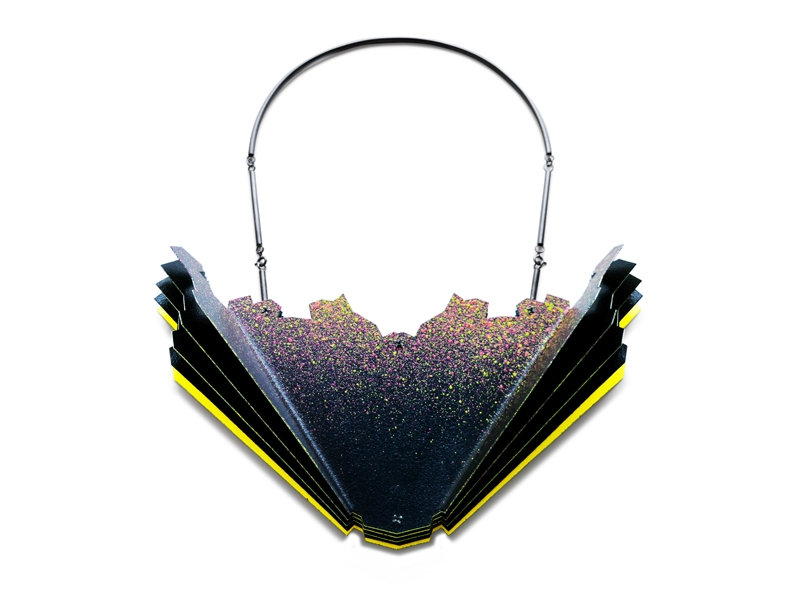 Four—Linnéa Eriksson's work is a reflection of her surroundings. It has its origin in the urban—in rough surfaces and structured geometrics. In this piece, the precise and skillfully executed craft by a goldsmith is combined with modern street expressions. The result is an elegant color explosion with a heavy beat.
RETAIL: 14,800 SEK (Swedish kronor)
CONTACT: Karin Roy Andersson
---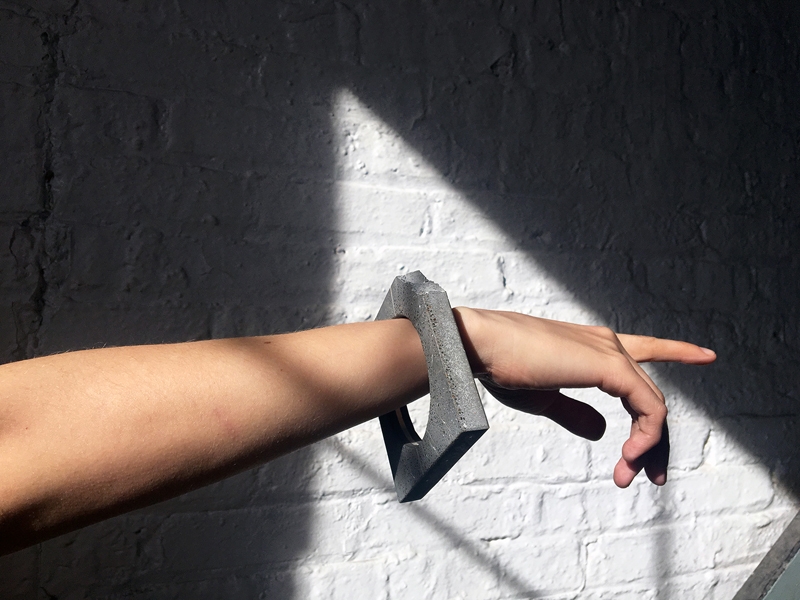 Lillstreet Gallery—Michael Ruta is a metalsmith currently living in Seattle, WA, USA. His concrete and sterling silver series will be featured in the gallery at Lillstreet for the duration of April. "Metalworking and skateboarding are huge parts of my life," says Ruta. "While out skating and exploring in an urban environment, I always find inspiration. Sometimes it's a piece of ornate architectural metalwork or it may be a broken parking block in a parking lot. There are so many layers, textures, materials, and they all play their part in a city. This series of work is sterling silver and concrete. The sterling silver, which is mostly hidden, runs through each piece, giving the concrete rigidity, like rebar."
RETAIL: US$300
CONTACT: Nora McCarthy
---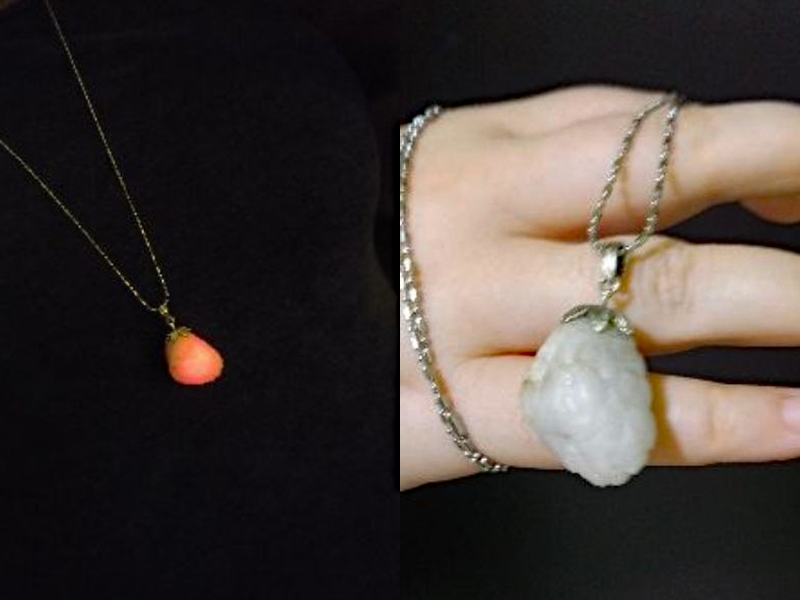 Koumei Art Gallery—When asked how can we make jewelry more alive, Emily Zhu answered, "How about a color-changing accessory?" While trying to shape the idea into reality, Totok Gievohn recalled the novelty keychain that changes to several colors when lit. Incorporating the idea, Gievohn created a way to insert an LED into a stone shaped by Rudy Adji. The message that the three artists want to conceive is fun jewelry that attracts people with fascination and curiosity the way LED keychains do.
RETAIL: 23,500,000 IDR (Indonesian rupiah)
CONTACT: Eko Sukoco
---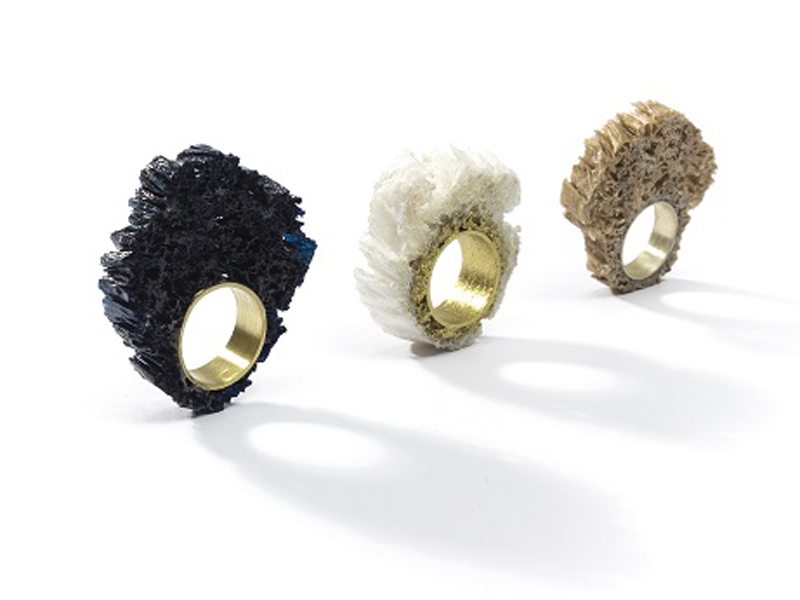 Myday-Byday— About her series My Own Dance, Noelia Macchi says, "In this collection we worked from the idea of the game, the playful, taking it as a starting point to try to generate pieces from the most intuitive; not from the attempt to apply a certain technique or to approach a certain concept, as had been done previously. The derivation of the game to the dance comes from what the dance means for me as a corporal expression (not professional). The dance allows me to give free rein to my internal need to break rules or express myself in a nonregulated way. Liberate me, feel happy, happy, with passion, improvise. The names of the pieces will be in many cases related to dance topics, from the emotions or sensations generated or sent to me, or to more technical questions such as the name of specific steps or dances."
RETAIL: Each €150
CONTACT: Laura Helena Aureli
---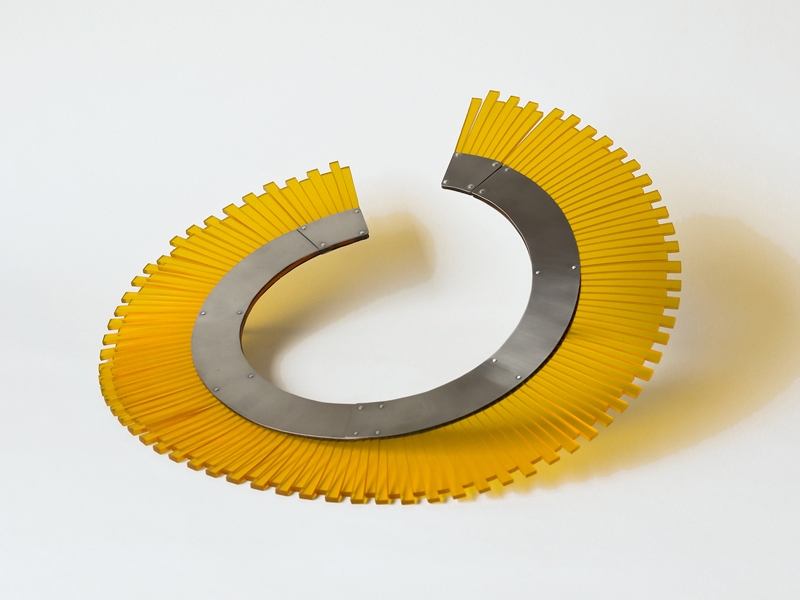 Facèré Jewelry Art Gallery—Checha Sokolovic uses construction materials out of context, translating mundane materials into elegant, wearable jewelry. Sokolovic's new Sun Goddess series incorporates a soft PVC that glows as it encircles the neck, casting its color on the shoulders of the wearer. Stainless steel gives the collar a flexible but strong structure. The overall effect is at once minimalist and extravagant.
RETAIL: US$1,505
CONTACT: Madeline C.
---
Patina Gallery—The simple, elegant forms of the Cocoon series by European master Erich Zimmermann are the highest expression of his formal aesthetic. Featured in Gracefully Capturing Space, opening April 5 at Patina Gallery, the handmade pods are beautiful and revolutionary at once, equally as alluring as they are architectural. For this necklace, 15 delicately light, matte pods gently caress the wearer's neck. Zimmermann begins each piece with a sheet of fine metal and gives it a soft and organic volume over which light softly plays. Using an anticlastic technique, he hammers flat pieces of metal into unique, three-dimensional forms that call to mind seashells or just-opened mollusk shells.
RETAIL: US$4,885
CONTACT: Linda Childers
---