Art Jewelry Forum's extensive network of international
gallery supporters
is dedicated to celebrating and showing art jewelry. On Offer is a monthly series that allows AJF galleries to showcase a piece that they've personally selected to tempt and inspire you. Please contact the gallery directly for inquiries. Enjoy!
MUSEUM WORTHY
Four—Since ancient times, jewelry has had a strong connection to ritual, symbol, sorcery, and religion. Steven Gordon Holman grew up in Utah, where the culture is characterized by the wild desert and where many people still have a close relationship to nature, hunting, and gathering. Holman's work combines the aesthetics of contemporary culture and modern materials with prehistoric themes and symbols—talismans with a still unknown meaning and magic. The Crescent Neckpiece consists of two parts. A buffalo horn, inlaid with silver, turns into a braided textile spine, giving the piece qualities beyond the black, hard, polished surface.
RETAIL: 11,270 SEK (Swedish kronor)
CONTACT: Karin Roy Andersson
---
ESTABLISHED ARTIST
Gallery S O—The Pearl Necklaces series, by Lin Cheung, started in 2016 on the occasion of the Chain exhibition at Gallery S O. The artist happened to have a very old pearl necklace given to her by her mother and decided to experiment. These seemingly old-fashioned pieces are the outcome of the almost taboo process of carving into pearls, a signifier of feminine elegance and grace, thereby complicating gender associations and unilateral conceptions of femininity.
In the artist's words: "Pearl necklaces have a distinctive character. They are everywhere, worn by our mothers, grandmothers, sisters and wives—they have universal appeal and dare I say are universally accepted because they are inoffensive, considered feminine and proper … Craft knowledge in this instance gives me power: the ability to update a tired, forgotten-about pearl necklace and transform it into a wholly new piece of jewellery is to me what being a jewellery artist means: that I am not limited to the dictates of my subject, past, present, or future."
This work is part of Lin's solo show at Gallery S O, opening on February 1. She is the recipient of the prestigious Françoise van den Bosch Award 2018.
RETAIL: Price upon request
CONTACT: Felix Flury
---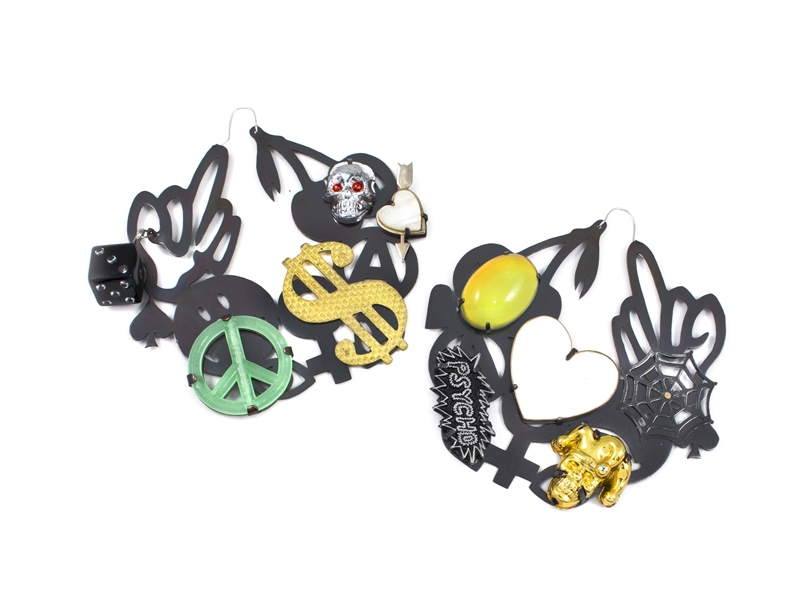 Baltimore Jewelry Center—Mallory Weston is an artist currently living and working in Philadelphia, PA, USA. Her work involves a marriage between traditional jewelry techniques and textile techniques, and she creates large-scale wearable pieces that allow metal to move with the fluidity of fabric. These earrings are part of Radical Jewelry Makeover: Baltimore/New Works, the current exhibition at the Baltimore Jewelry Center. Radical Jewelry Makeover is an international community jewelry-mining and recycling project that draws attention to the creativity and skills of local jewelry designers, reveals the stories behind our personal collections, and encourages reconsideration of our habits of consumption. Mallory made these earrings by utilizing jewelry donated to the project, incorporating found pieces that spoke to her aesthetic explorations of pop culture symbology.
RETAIL: US$250
CONTACT: Shane Prada
---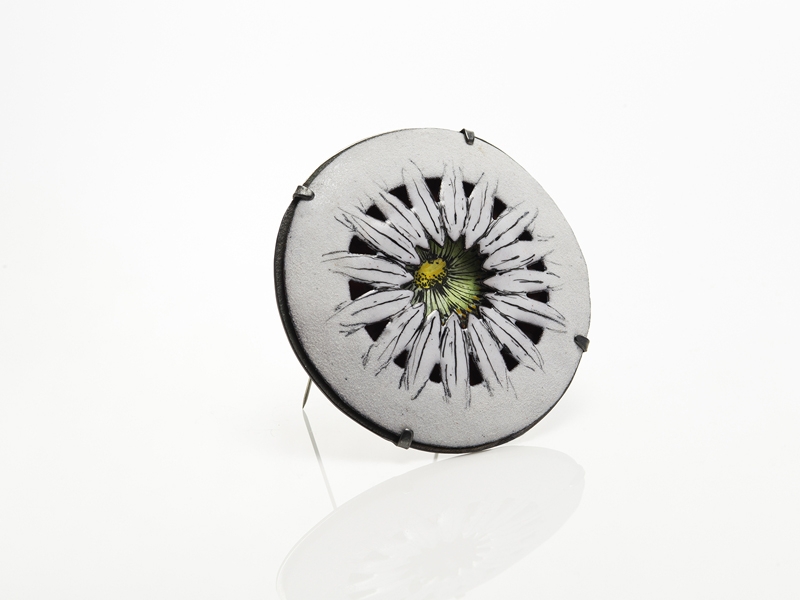 Facèré Jewelry Art Gallery—The Inward brooch by Jan Smith is a prime example of her work, demonstrating an intricacy of pattern, surface, color, and mark making. Inward contains one image dissected into two—a black-and-white exterior image of a flower containing a vibrant center receding from view. Smith, a native of British Columbia, lives and works on Salt Spring Island, BC, Canada. Smith's work includes jewelry, intaglio and linocut prints, and drawings. Inward is part of Facèré's exhibition Right On! Rites, Rituals, Remembrances, on view February 7–27, 2018.
RETAIL: Price upon request
CONTACT: Madeline Courtney
---
Slavik Gallery—Japanese lacquer and simple variations: these two components can always be found in Sabine Hauss's jewelry. Surfaces, bodies, relationships, proportions, the geometric world of shapes—a source of inspiration for design and assembling in an interplay with motion and various ways of wearing a piece of jewelry.
RETAIL: €3,900
CONTACT: Renate Slavik
---
MID-CAREER ARTIST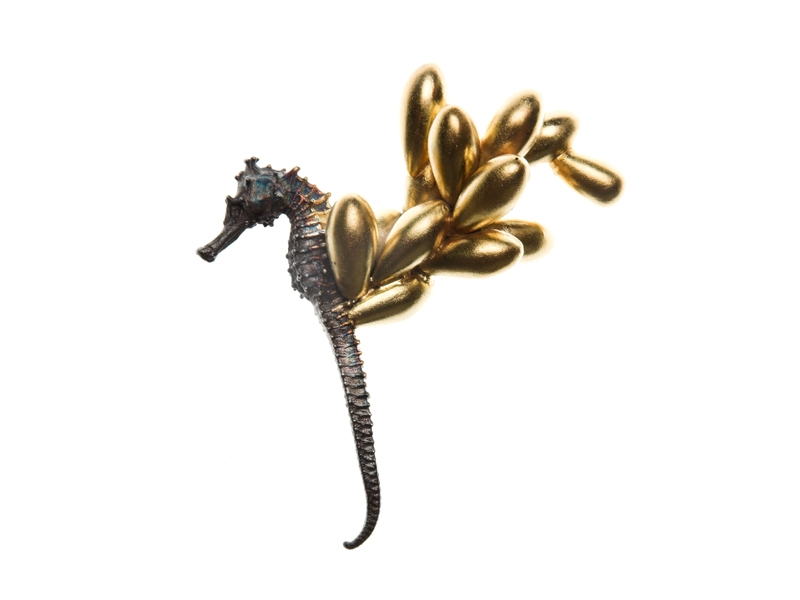 Ornamentum—Tanel Veenre's work embodies the dreamy, gothic feel that is synonymous with Estonian contemporary jewelry. The brooch Flight taps into the mysterious nature of the seahorse for an anthropomorphically figurative yet distant subject. The gilded drop forms adorn its back like wings, or bursts of energy.
RETAIL: US$1,900
CONTACT: Stefan Friedemann
---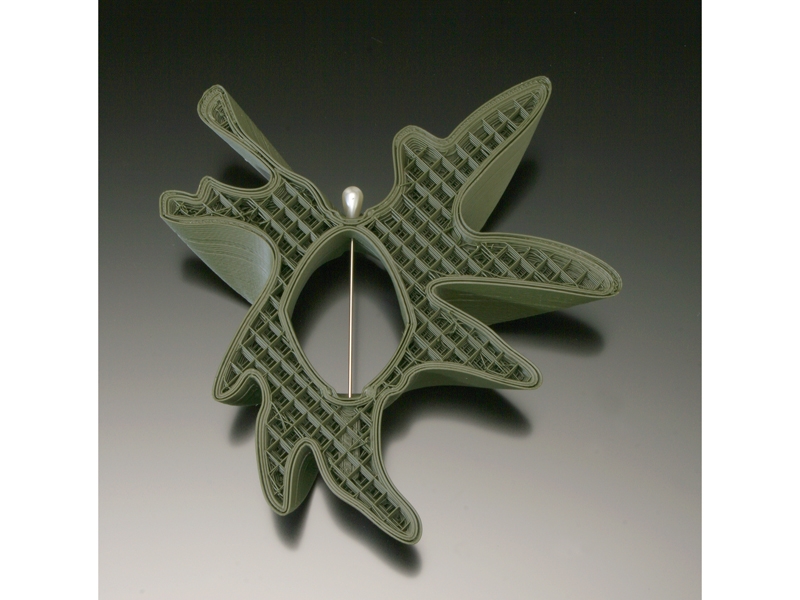 The Gallery at Reinstein|Ross—Part of Meta-Smith: Trends in 3D-Printed Jewelry, Rebecca Strzelec's Army Green Orchid Brooch is one in a series of 18 brooches that redefine the corsage. Inspired by early botanical orchid illustrations and other seemingly disparate references, the series brings awareness to preciousness as it applies to the practices surrounding commercially cultivated flowers as well as casualties caused as a result of the American occupation of the Middle East. In parallel, the series allows Strzelec to grapple with her feelings about her younger brother joining the US Army at age 18 and a story she read about a bride who spent 2.5 million dollars on her rare orchid wedding flowers harvested from their natural habitat, which had a very short lifespan once plucked.
Today corsages are sold for special occasions such as weddings, formal dances, and holidays. The preciousness of the corsage as self-expression has been watered down with the onset of overnight delivery. Flowers are ordered, not picked, and they are tinted, dipped, glued, sliced, and submerged in a long list of preservatives. Flowers as product turn to casualties as commodity. We have grown complacent about casualty counts in places like Iraq. Thousands of soldiers (and hundreds of thousands of civilians) have perished in this and other conflicts like it.
Strzelec is unable to reconcile the need for this loss and finds it hard to imagine that each individual has been given the reverence they deserve. To bring attention to the preciousness lost in the overwhelming numbers, she turns to color. Army green speaks to military activity in general but also to the familiar toy soldier, sold in bags by the millions and considered a throw-away. In Army Green Orchids, she asks the wearer to consider the idea of preciousness of the orchid, soldier, brother, and bride. One of the Army Green Orchid Brooches is in Madeleine Albright's personal collection.
RETAIL: US$925
CONTACT: Bella Neyman
---
L.A. Pai Gallery— Lydia Buxton's Nacre & Red Berry necklace is beautifully made from sterling silver, linen, pearls, and resin. The interesting design makes for a unique marriage of soft and hard materials.
RETAIL: CAN$1,690
CONTACT: Lisa A. Pai
---
EMERGING ARTIST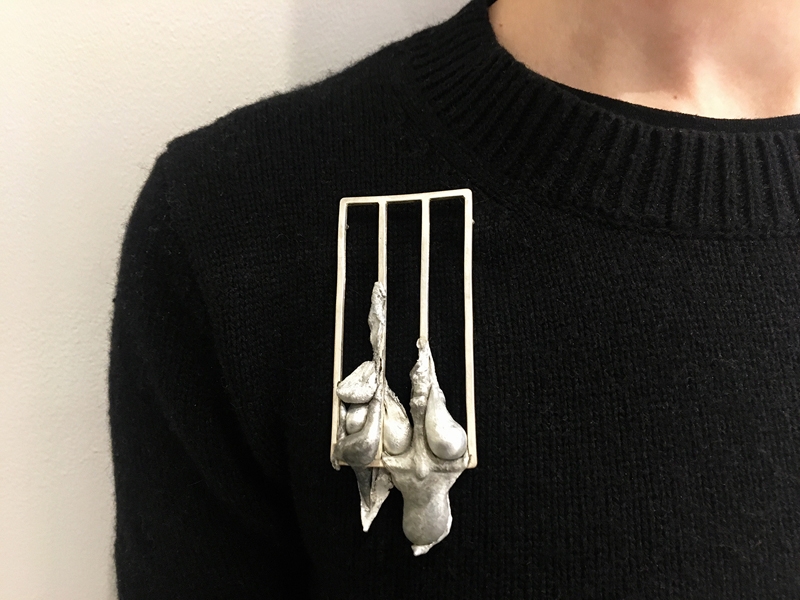 Lillstreet Gallery—Lissy Selvius is an art jeweler who lives and works in Oceanside, CA, USA. She is also a part-time lecturer at California State University Fullerton. Her work is highly process-based, and challenges the conventions of jewelry in scale and material.
"My work is inspired by our faith in, and attachment to, jewelry, and the continued visibility of amulet symbols in contemporary culture," says Selvius. "The amulet is a form of jewelry meant to protect from a physical or mental malady. Believing that amulets were magical protection had a placebo effect on the user. My amulet necklaces give the wearer or user confidence that they will be protected from whatever they fear. Superstition and faith in the protective qualities of the amulet creates a psychological and emotional connection between the person and object. Through that object, the user is able to approach life without fear or anxiety.
"I melt geometric aluminum stock using gravity to assist in the formation of the final form. The result is a tension-filled form, in transition between liquid and solid states. The skin of the form shows cracking and discoloration as the pure aluminum beneath the surface cracks through the skin of impurities. I combine my process with historic symbols of amulets, making contemporary abstracted versions of the original symbols while connecting my own invented forms to the use and meaning of amulets. The addition of the material process draws attention to the emotional and psychological use of these amulets through the expressive quality of the distorted symbols."
RETAIL: US$400
CONTACT: Nora McCarthy
---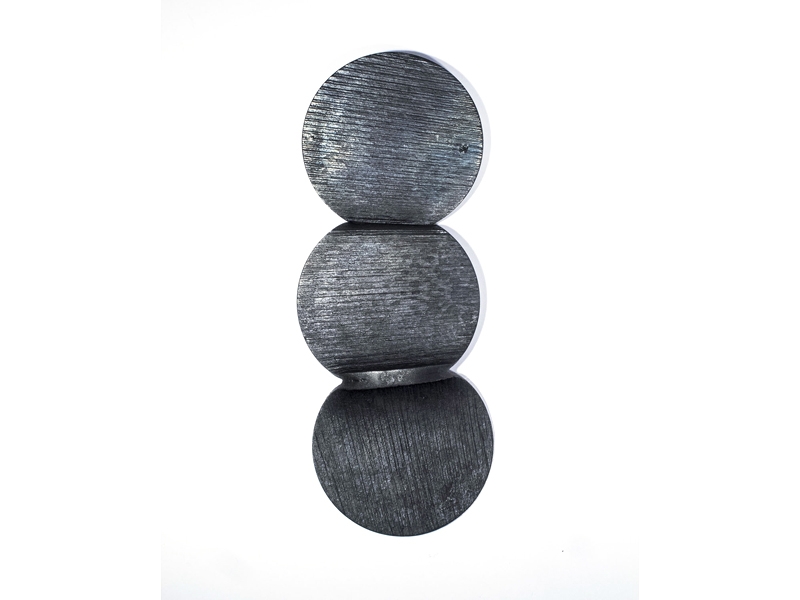 In the Gallery at Brooklyn Metal Works—Artist Nils Hint explores the kinetic relationship between static material and human force in his newest body of work, Nowhere. In the brooch OOO (II), the surface is developed through the forging process and then graphically defined in geometric outline, returning to the theme of contained movement. Hint's most recent jewelry pieces embody the ironwork that he is known for in their sculptural and functional aspects. Often working with found objects, he repurposes these items into new wearable formats. Hint's mastery elevates these once humble elements and pays homage to a noble material worthy of wearing and preserving as jewelry.
Brooklyn Metal Works is pleased to present Nowhere, by Nils Hint, on view from January 20 to February 25.
RETAIL: US$740
CONTACT: Brian Weissman
---
Galerie Noel Guyomarc'h—In the new collection Say It with Flowers, Aurélie Guillaume reflects current issues. With a squeaky humor, the young artist wonders about social relationships.
She says this about the work: "In the Victorian era, floriography was a practice where flowers were used to express sentiments that could not be spoken aloud. Messages of deceit, love, bitterness, or even more flippant retorts like 'give me a break' could be expressed through bouquets of snapdragons, tiger lilies, roses, tulips, and gladioli. What would we as women say today through flowers if this practice were still in place? Would it be possible to shout and protest through bouquets of thistles? Could we fight for our rights with bunches of dandelions? This is the starting point for my show.
"With this work, I am making flowers that embody women but challenge our ideas of femininity. Flowers, for a long time, have been equated with women as symbols of delicateness, fragility, and beauty, but the flowers that I am presenting here are large, prickly, and angry, yet no less feminine. As a woman living in today's society, I feel that there are still so many challenges to overcome: We still have to fight for equality, to protect our bodies, to have the right to speak up and to be respected, and to break out of social conventions. By breaking the mold of the conventionally 'feminine' flower, I want this show to embody a different form of femininity that is as unconventional and free as these unruly flowers of mine."
RETAIL: US$3,800
CONTACT: Noel Guyomarc'h
---
OHMYBLUE—This ring is part of a series called Unconciliable, which Federica Sala presented in her recent solo show at OHMYBLUE. These new works are the latest result of the research that the artist has tenaciously conducted over the last few years around her chosen material: glass. Each piece originates from a daily practice that aims to reconfigure the whimsical nature of this material and keep it alive.
RETAIL: Price upon request
CONTACT: Elena Rizzi
---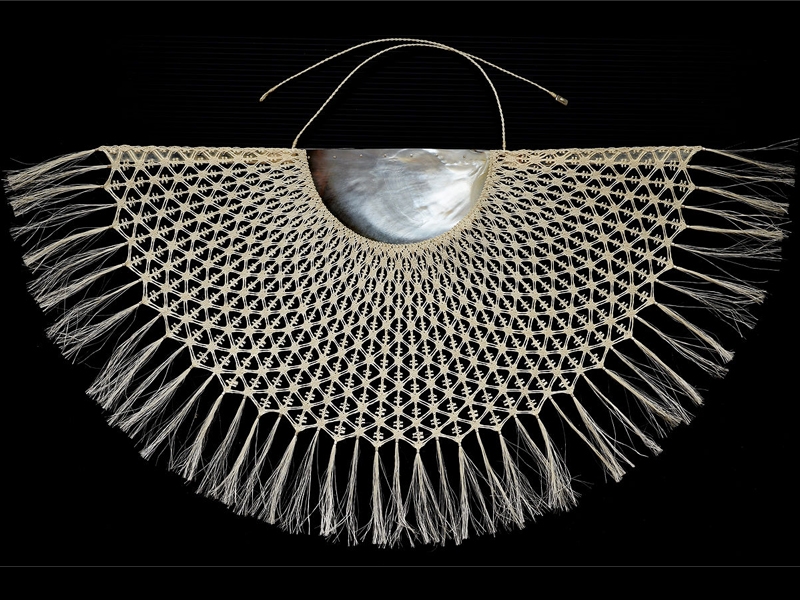 Fingers Gallery—Born in Auckland, New Zealand, Rowan Panther is a lace textile artist whose work occupies the space between art and artifact. Coming from a country with complex colonization, Panther connects to and explores her Samoan/Irish/English heritage, creating her own cultural hybrid. Inspired by museum displays and social domestic history, her work is concurrently art and craft, questioning the artificial distinction between the two. Panther has spent years refining her practice and has moved toward experimenting with wearable pieces of lace work using New Zealand sourced muka (flax fiber). Placeholder #1 continues her exploration of identity with the marrying of traditional lace-making techniques with Polynesian material and adornment.
RETAIL: NZ$7,500
CONTACT: Mandy Flood
---
Koumei Art Gallery—As part of the new year's celebration, Emily Zhu and Rudy Adji present this piece. The inspiration for it comes from the little Buddha statues that are common around Eastern Asia. Like most of them, this piece shows a happy face holding sycee, an ingot currency of imperial China. The piece represents the wish of the designer and artisan for the upcoming year to be happy and fortunate. They want to invite the art jewelry enthusiast to start the upcoming year with a positive approach.
RETAIL: 18,000,000 IDR (Indonesian rupiah)
CONTACT: Eko Sukoco
---
Gallery Loupe—German jeweler Florian Milker combines ancient symbolism with space-age dynamics, likening the pantheism of Greek mythology to our current superhero cult. In his powerful O series, the lone letter comprising the title represents both "ornament" and "origin," both pressing concerns for the artist. Reminiscent of ritual masks, the pendants of the O series are made from nylon, Corian®, polyurethane, and gold-plated polyamide, illustrating how Milker likewise considers mixture of materials a metaphor for cultural diversity.
Milker graduated from Kunsthochschule Burg Giebichenstein, Halle, Germany, where he studied with Daniel Kruger, remaining for an additional year as Kruger's master student. He has been included in many group exhibitions, including the Academy of Arts, Beijing, China and Talente 2013, Munich, Germany
RETAIL: US$1,050
CONTACT: Eileen David
---
GALLERY CHOICE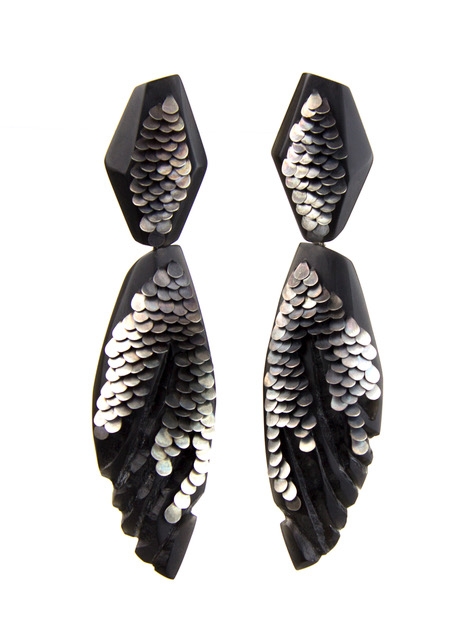 Hedone Gallery—With a background in sculpture, award-winning UK artist Emmeline Hastings uses her personally developed techniques of hand carving Perspex acrylic and embedding it with metallic elements. Her pieces capture fleeting moments and reveal rough crystalline forms and surfaces dotted with glittering metallic elements that shift and change in color and perspective. These earrings are seriously dramatic yet lightweight and comfortable to wear. "All of my work shares an ephemeral quality while being eminently wearable," says Hastings. "I create mysterious miniature landscapes through a unique visual language. I hope to make associations with varying natural phenomenon through this individual making process."
RETAIL: US$560
CONTACT: Bonnie Levine
---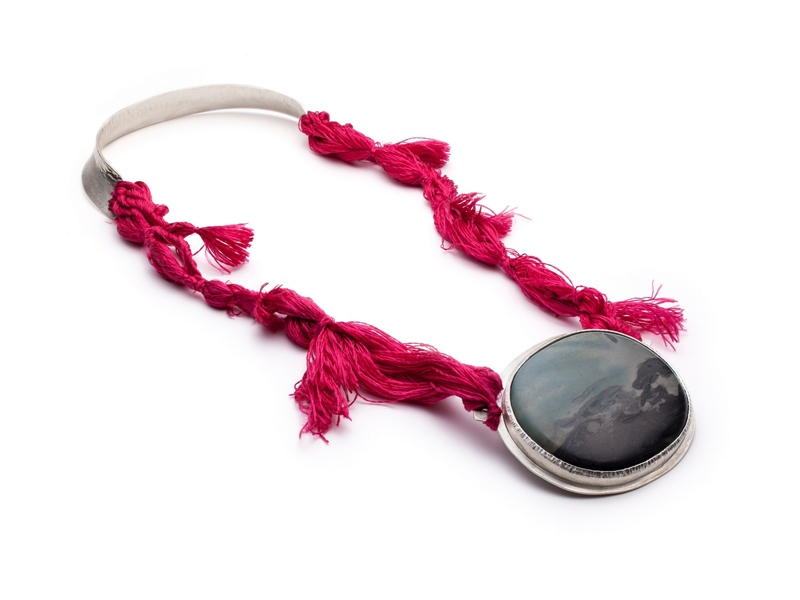 L. A. Pai Gallery—This one-of-a-kind Gustavo Estrada neckpiece is created from silk fibers, fine silver, and marble.
RETAIL: CAN$1,625
CONTACT: Lisa A. Pai
---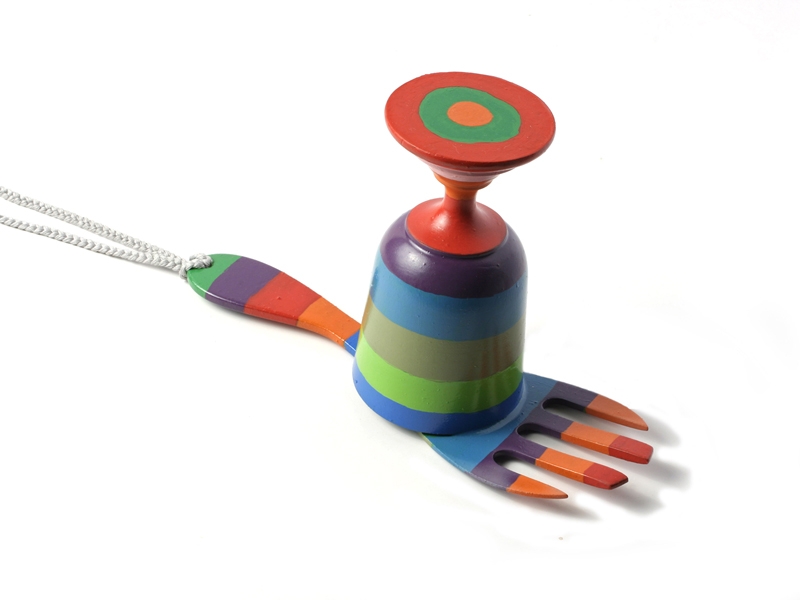 Gallery Funaki—It's hard to imagine the contemporary jewelry world without the work of Lisa Walker in it. Her audacious pieces don't so much push the boundaries of what jewelry is, but trace and redefine them through a profoundly self-aware process of collecting, assemblage, experiment, and reflection. This piece uses found objects—common enough and, as table objects, already in natural relation to one another. Their new relationship, though, bonded with stripes of colored paint, renders each anew and transforms them into a single object of fresh and compelling intention, imbued with an inherent but indescribable logic. As a pendant, this is an assertive and proud salute from the solar plexus, unmistakably Walker and unmistakably art.
RETAIL: AU$2,600
CONTACT: Katie Scott
---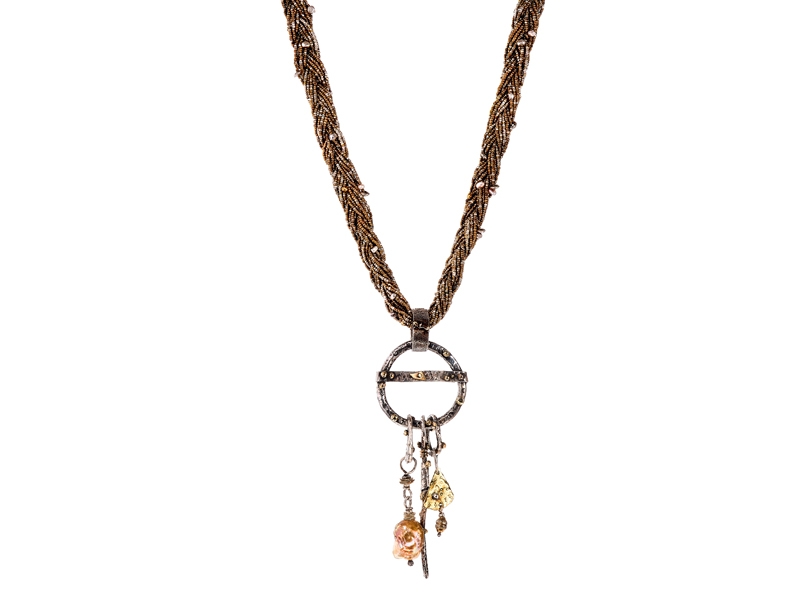 Patina Gallery—For this one-of-kind necklace, Lucia Antonelli saw possibilities in materials others had overlooked. She gathered antique French brass beads from a late-19th century handbag and reimagined them as this beautiful piece for the woman of today. This necklace exemplifies Antonelli's genius for creating timeless blends of cultures that become jewelry pieces seemingly at home everywhere at once. For this necklace, she braided with painstaking detail 27 luscious beaded strands of antique brass and silver beads with freshwater pearls. Then she added the handmade pendant as a focal point to this lovely necklace.
RETAIL: US$4,335
CONTACT: Linda Childers
---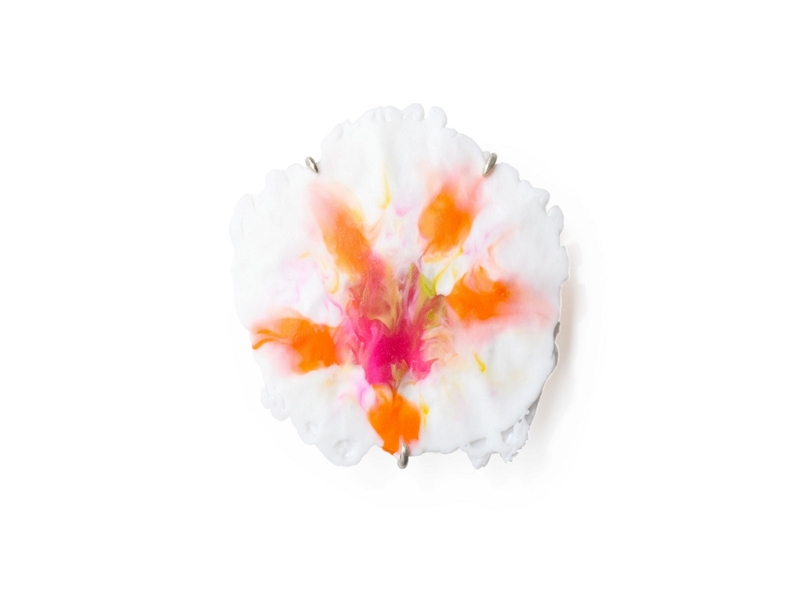 Myday-Byday—"All of our emotions are born from inside," says Asami Watanabe, the creator of this brooch. "The crystal of emotion produced from our body becomes the flowers and expresses a face. They are blooming from our inner emotions." Watanabe is able to illustrate this concept through the refiguration of a blooming flower.
RETAIL: €200
CONTACT: Laura Helena Aureli
---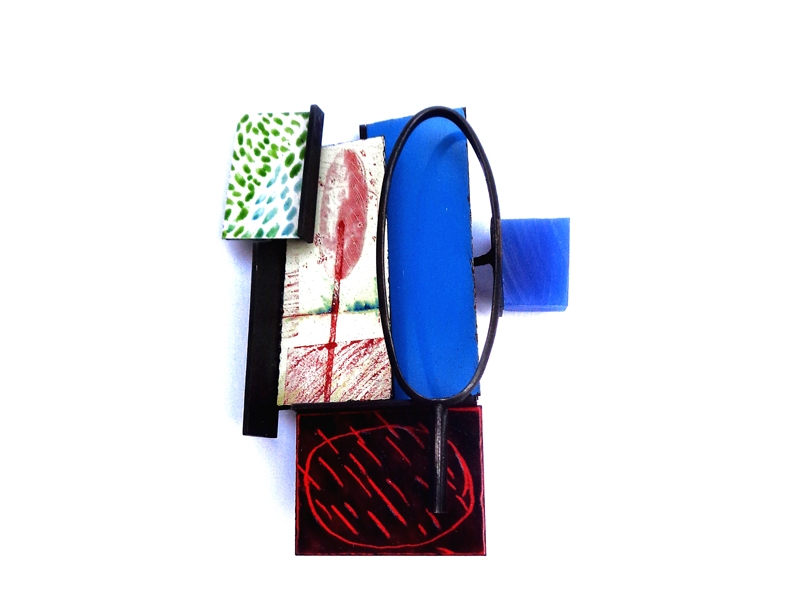 Galerie Spektrum—This piece is representative of the new series of work by Ramón Puig Cuyàs. Titled Maps of the Forest, it reminds us not to be alone on planet Earth.
RETAIL: US$1,920
CONTACT: Juergen Eickhoff
---