October 2022, Part 2
Art Jewelry Forum is pleased to share the news that members of our community find noteworthy. Is something missing? The success of this compilation of compelling events, news, and items of interest to the jewelry community depends on YOUR participation. If you're a member of AJF at the Silver level or above, you can add news and ideas to this bi-monthly report by going here. If you aren't a member, but would like to become one, join AJF here.
Listings gathered with assistance from Carrie Yodanis.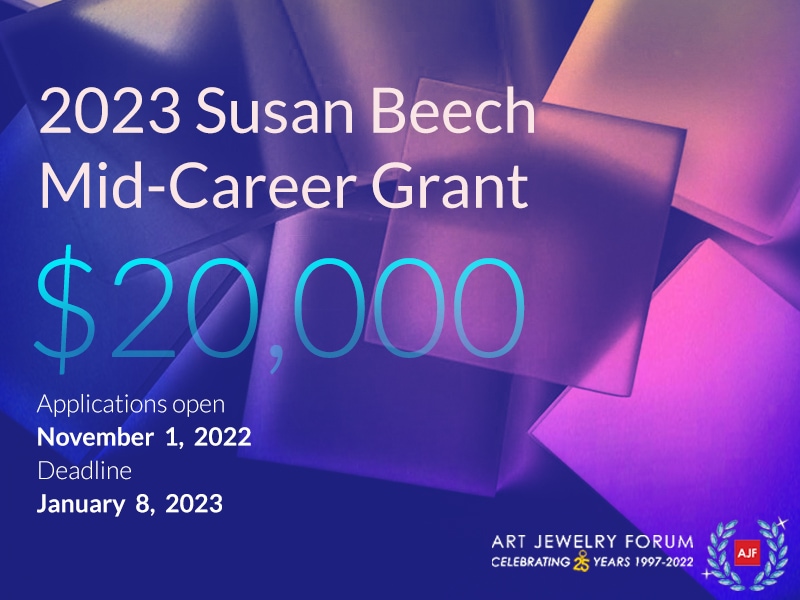 APPLICATIONS OPEN SOON FOR THE $20,000 SUSAN BEECH MID-CAREER GRANT
The application portal for the 2023 Susan Beech Mid-Career Grant will open November 1, 2022. Open to makers aged 35­–55. The proposed project should be about jewelry, loosely defined. Find information and guidelines here.
---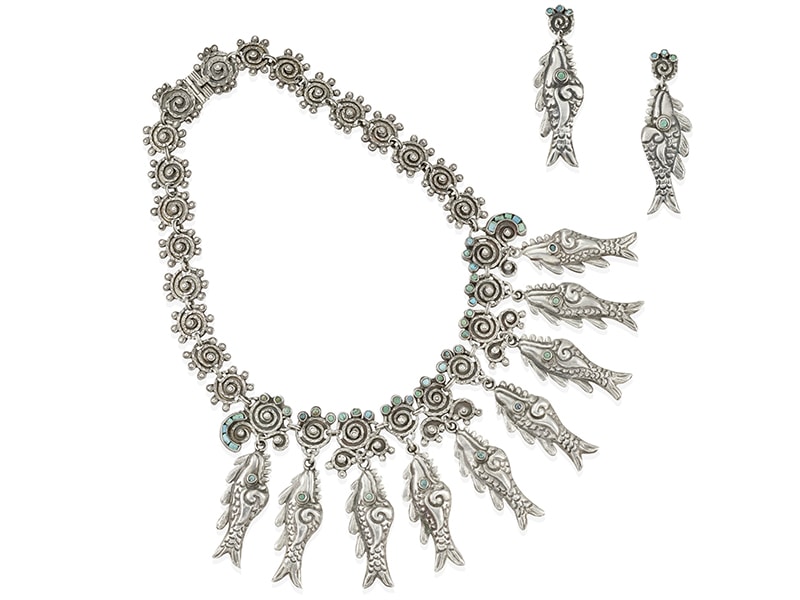 WATCH AJF LIVE WITH BONHAMS
Bonhams gave an exclusive preview of art jewelry masterworks from its multi-owner auction coming in November! If you missed this special event or want to watch it again, we recorded it, as we record all AJF Lives. Watch it here. This is a must-see for every art jewelry collector and enthusiast, and showcased major 20th-century pieces from, among others William Spratling, Claire Falkenstein, Antonio Pineda, and Jean Després. You'll also discover some Zuni Toons pieces, and much, much more. Collectors interested in acquiring one of these rare historic works will learn more about them and see them up close.
---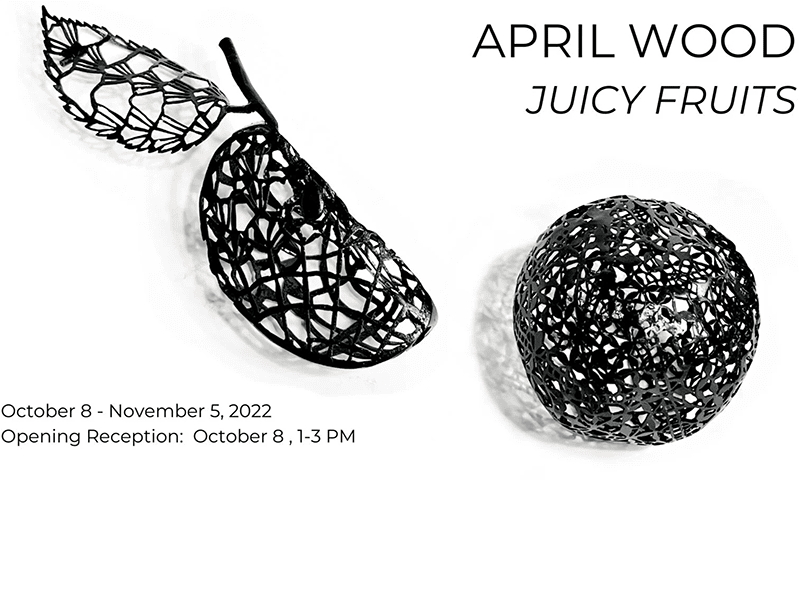 FEEL LIKE SEEING A JEWELRY SHOW?
Find these listings and many, many more on our dedicated exhibition page:
FROM OUR MEMBERS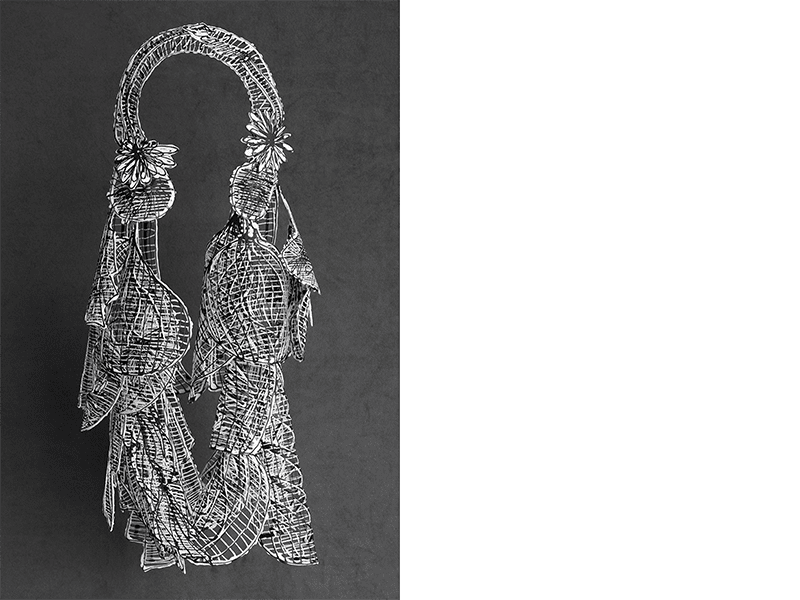 SOFIA BJÖRKMAN IS PARTICIPATING IN HANTWERKET
The exhibition is a part of Stockholm Craft Week and takes place at Stockholm's Stadsmuseet until October 23, 2022.
---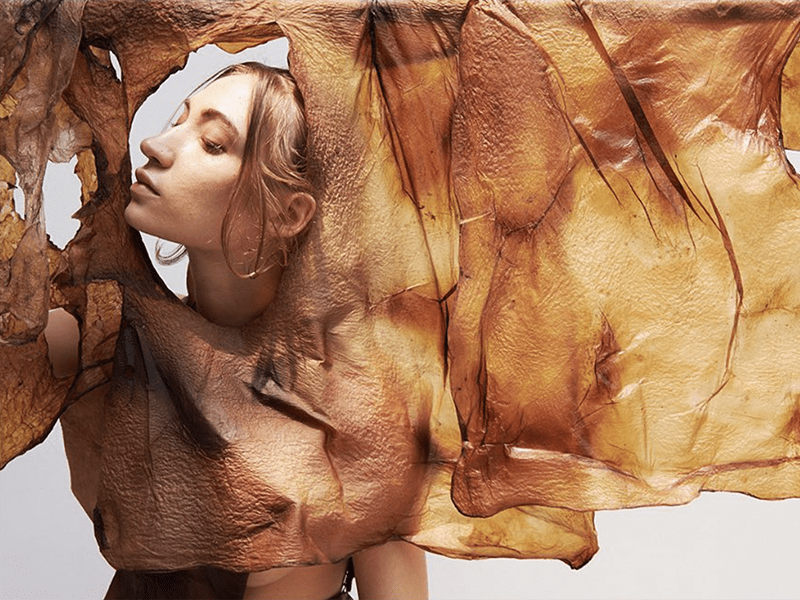 BJC WILL HOST AN ARTIST TALK WITH KHAJORNSAK NAKPAN
Nakpan won Ethical Metalsmith's 2021 Emerging Artist Award. He investigates how to use soil to create a substitute material for jewelry, aiming to maximize the utilization of natural resources in response to climate change. He believes it critical for designers to create sustainable products for body adornment. Nakpan has created a textile substitute for bio-cellulose, with tones reminiscent of human skin. He creates both large-scale sculpture pieces to adorn the body and smaller-scale jewelry. During the talk, he will share the research and experimentation he did to develop this innovative jewelry material. Virtual, November 5, at 3 p.m. EST. More info. Register here.
---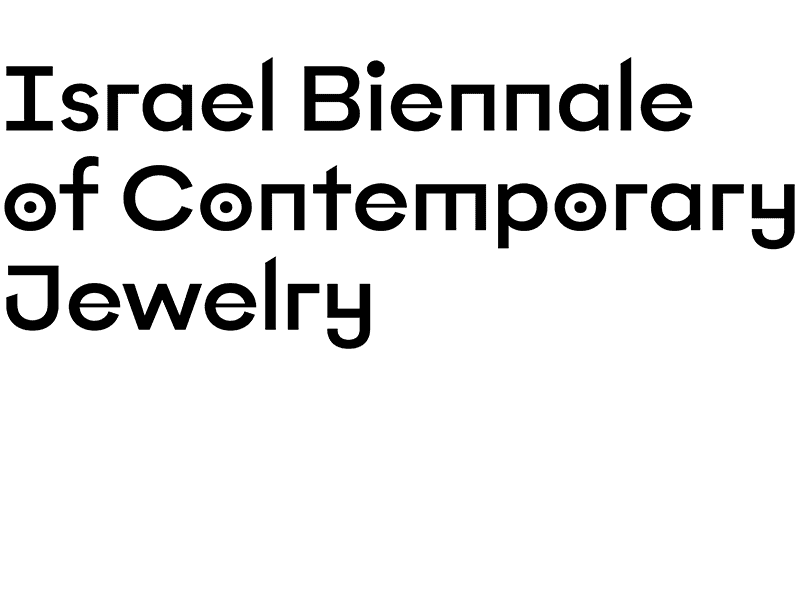 FIRST ISRAEL BIENNALE OF CONTEMPORARY JEWELRY
COVID disrupted and changed our familiar realities. It caused a fundamental change in the patterns of life, the economy, and society, introducing another layer into our lives, a layer of instability, of uncertainty. After this long period of blackness and fear, sometimes even despair, it is time to add colors and joy to our lives. Color can sway thinking, change actions, and cause reactions. It can irritate or soothe the eyes, raise blood pressure, or suppress appetite. The Biennale of Contemporary Jewelry, in its first edition, was created to give maximum exposure and a common platform to the participating artists and students, promote the field of contemporary jewelry, and make it accessible to the public. The theme: Colorful Recovery. November 10–14, 2022, at the Geological Museum, Hapalmah 12, Ramat Hasharon, Israel.
---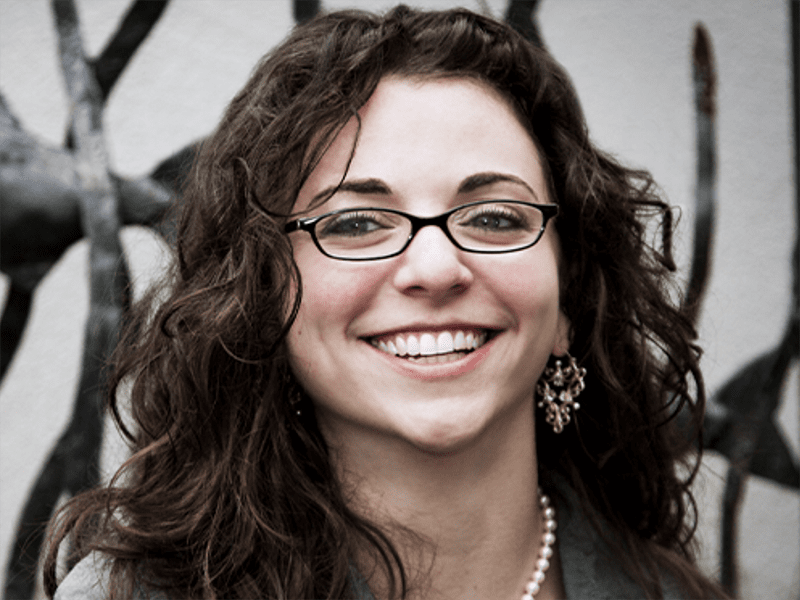 LINDSAY MINIHAN ON THE JEWELRY JOURNEY
Minihan serves as the executive director of Metalwerx, an innovative school and community studio for jewelry making and metal arts. Listen to the podcast here.
---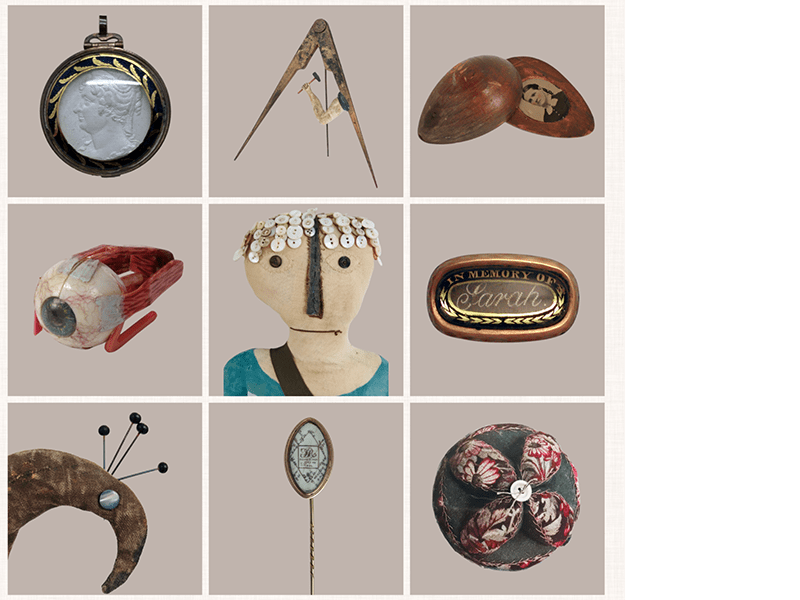 THE JEWELRY LIBRARY HOSTS TALKS MODERATED BY LUCI AND EMILY JOCKEL
Called "A Curriculum on Collecting, Spaces for Collections," three of the six virtual talks have already taken place. Watch Part 1, The Birth of a Collection: What Do We Collect and Why? Watch Part 2, The Artful Transformation of Objects. Additional info about future talks.
---
BALTIMORE JEWELRY CENTER'S 2022 COMMUNITY MAKING CHALLENGE
Throughout history, jewelry has been used to visually indicate a wearer's preferences, characteristics, attitudes, and beliefs. It might play an overt role as a signal, as in the case of political buttons, or act as a coded symbol of inclusivity, exclusivity, or social status. Jewelry and wearable art can relate to political movements, gender and sexual identity, and more. It is a tool that signals, indicates, and speaks for the wearer. BJC invites artists to create jewelry or wearables that implicitly or explicitly acts as signifiers, symbols, and classifications. The work might yell or very quietly convey a coded message that might be viewed by many or only read by one person (or just yourself!) depending on how you wear it. Application deadline: November 11, 2022. Info.
---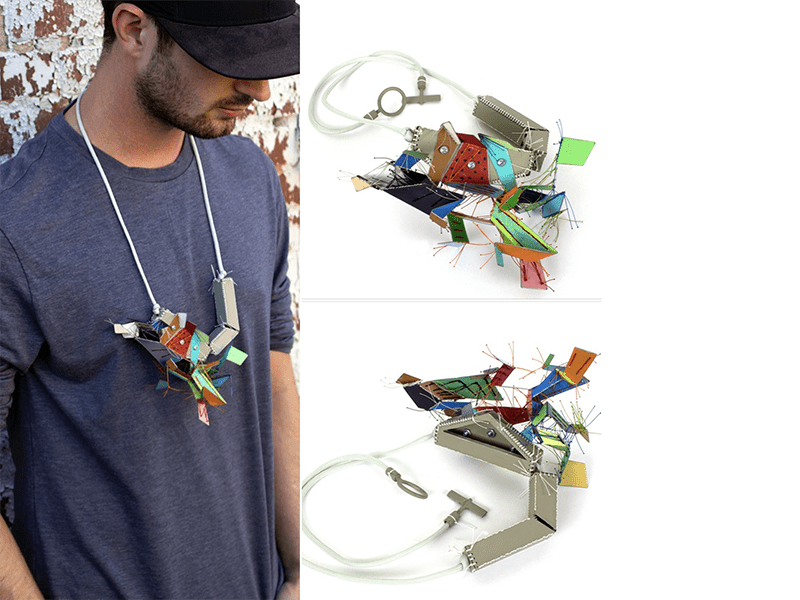 WORK BY ARIC VERRASTRO ENTERS THE MINT MUSEUM
The artist reports that thanks to collectors Joe Price and Ron Porter, his Burroughs necklace is now in the permanent collection at The Mint Museum in Charlotte, NC.
---
ORNAMENTUM TO SHOW AT SALON AND DESIGN/MIAMI
Salon Art & Design takes place November 10–14, 2022, at Park Avenue Armory, NYC. Design/Miami is in Miami Beach, FL, November 30–December 4, 2022.
---
LECTURE SERIES HOSTED BY PIN
Presenters include Laura Castro, Filomeno Pereira de Sousa, Cristina Filipe, Madalena Braz Teixeira, and Tereza Seabra. On Zoom and in-person at the Sociedade Nacional de Belas Artes, in Lisbon, Friday evenings through November 25. Info.
---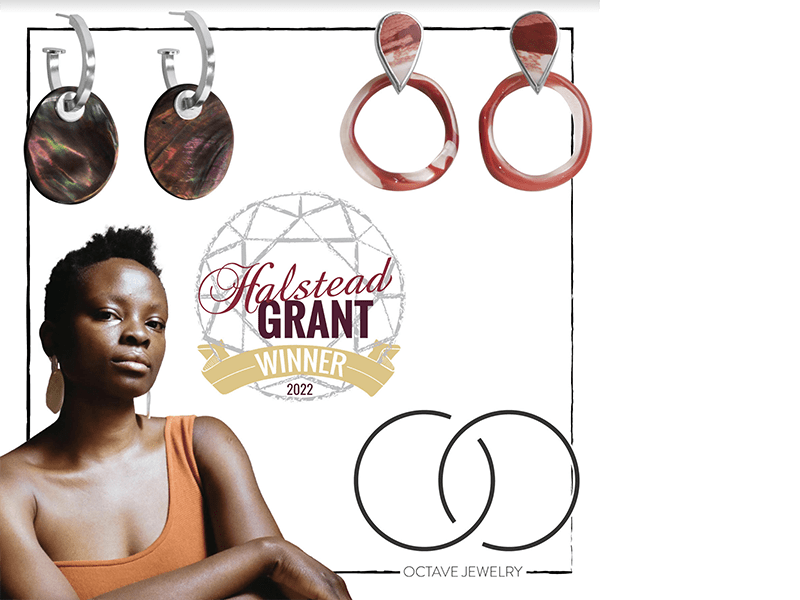 OCTAVE JEWELRY WON THE 2022 HALSTEAD GRANT FOR NEW JEWELRY BUSINESSES
Octave Jewelry founder Ope Omojola receives a $7,500 cash grant, $1,000 in jewelry supplies, and more. Grant founder and Halstead President Hilary Halstead Scott said, "Ope is a rare creative talent. She masterfully combines lapidary stone cutting, hot glass working, and metalsmithing skills to create a bold, fashion-forward jewelry collection. We were thrilled to see such an innovative combination of materials and techniques.
---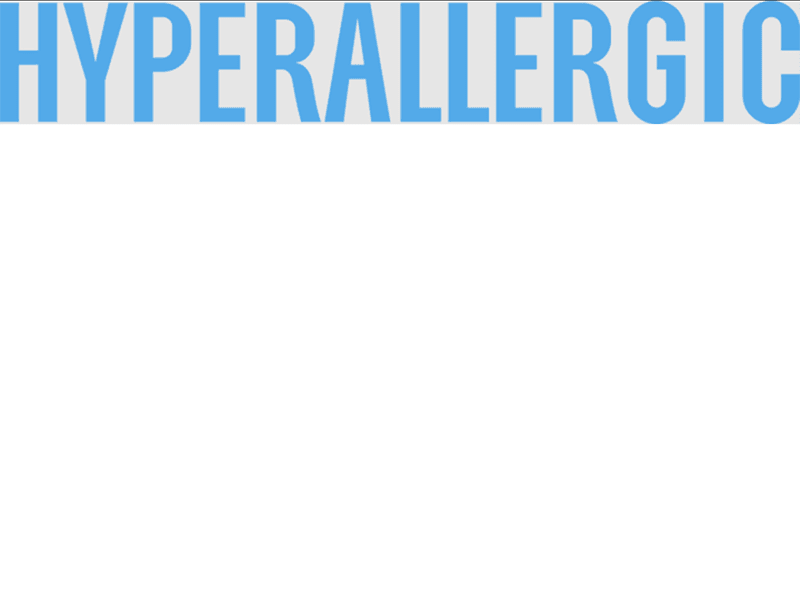 OPPORTUNITIES IN OCTOBER 2022
From residencies, fellowships, and workshops to grants, open calls, and commissions, find Hyperallergic's monthly list of opportunities for artists, writers, and art workers here.
---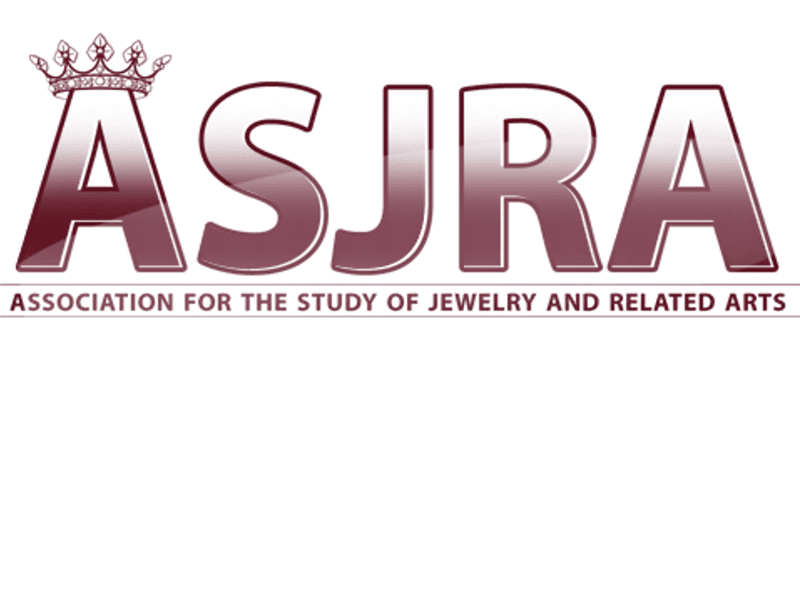 LECTURE: UNUSUAL MATERIALS IN 19TH-CENTURY TO CONTEMPORARY JEWELRY
Given by Elyse Zorn Karlin, the co-director of the Association for the Study of Jewelry and Related Arts, the publisher of Adornment Magazine, author of several books on jewelry, and a freelance curator. October 27 at 7 p.m. ET. Register by emailing [email protected].
---
CALL FOR ENTRIES: LEGNICA JEWELLERY FESTIVAL SILVER
The Gallery of Art in Legnica announces an open call for the 31st International Jewellery Competition QUALITY. The competition will be the main event of the Legnica Jewellery Festival SILVER in 2023. "In times of constant change, at least one thing about jewelry seems to remain constant," comments Professor Sławomir Fijałkowski, the originator of the theme and long-standing juror of the competition. "It is the quality parameter. However, is quality today still defined by the perfection of long-learned craftsmanship, the material equivalent measured by the conversion rate of an ounce of gold or the use of precious stones, or perhaps the marketing value of a logo or an artist's signature? First fashion designers and now pattern designers have re-evaluated the meaning of basic concepts that once seemed paradigmatic. The new benchmarks that set the quality standard are sustainability, experience instead of possession, the democratization of luxury, the relationship with the viewer." Application deadline: Deadline: December 30, 2022. Information.
---
SYMPOSIUM: JEWELLERY FOR LIFE
This unique international event led and curated by Dr. Roberta Bernabei will be hosted by the School of Design and Creative Arts at Loughborough University, in the UK. The event is marked by engaging lectures, dynamic workshops, a group exhibition, and much more. November 30­–December 8, 2022. For information, email [email protected].
---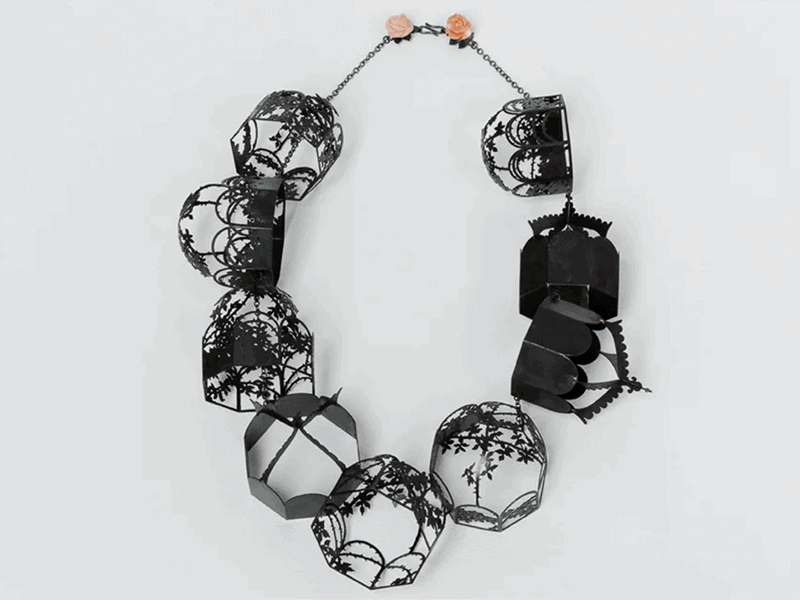 LOEWE FOUNDATION CRAFT PRIZE 2023
Submissions are now open. First prize is €50,000. The winning work, as well as that of the shortlisted finalists, will be exhibited in New York in spring 2023. Deadline: October 25, 2022. Info.
---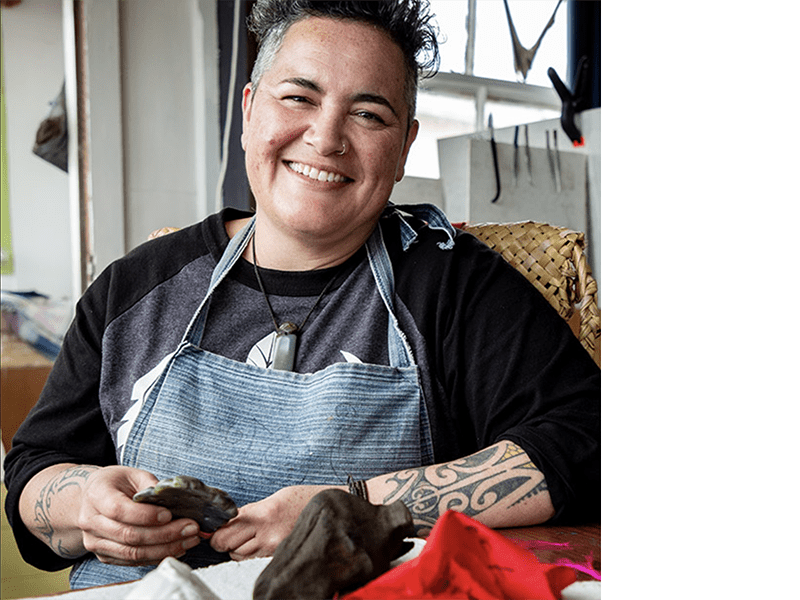 HOW TO MAKE DEITIES FOR EVERY DAY
Listen to Garland's interview with Aotearoa/New Zealand jeweler Neke Moa.
---
THE POOL JEWELRY COLLECTIVE SEEKS NEW MEMBERS
If you're interested in being a part of an artist-run space in Amsterdam, check the application-link in their IG bio. Deadline: November 1, 2022.
---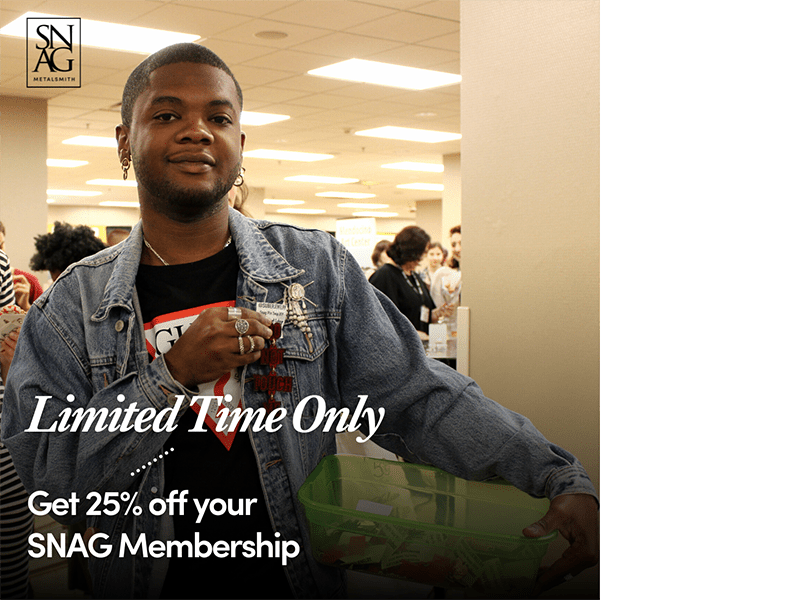 SNAG IS OFFERING 25% OFF ALL MEMBERSHIPS
As part of their diverse community you'll build life-long friendships, gain access to opportunities, receive discounts on SNAG programming and business insurance, and so much more. Visit their website. Use code JOIN25.
---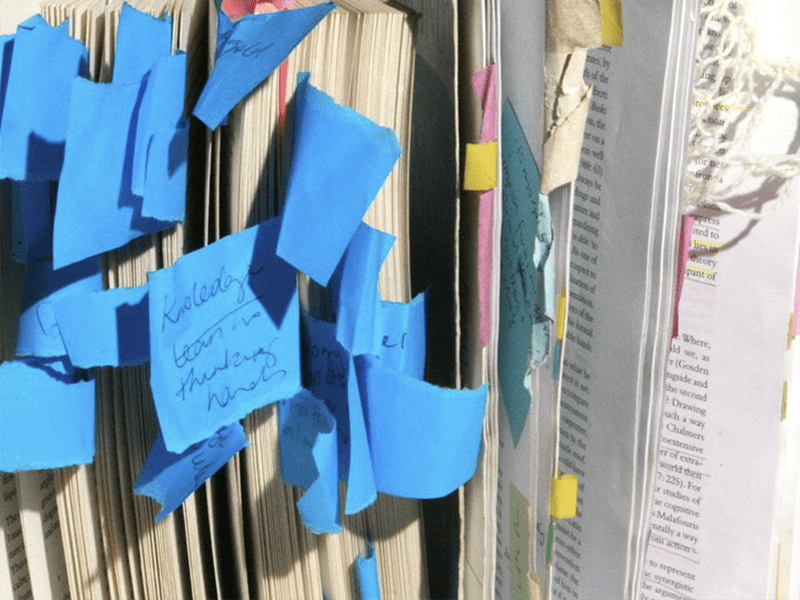 ROSEANNE BARTLEY PRESENTS "MY CRAFT READER"
This series revived the practice of reading aloud to creative and manual laborers by offering improvised readings in response to three studio craft practitioners: jeweler Manon van Kouswijk; textile artist Ema Shin; and ceramicist Jane Sawyer. A fourth public reading will be offered in Melbourne on October 22, 2022, as an open access in-person event. Bartley approaches the studio readings in the extrasensory manner of clairvoyance, whereby the selection of reading material and recitation of extracts emerges in correspondence with the actions and effects of the guest maker immersed within their process. Like to stitch, chisel, coil, knit, sketch, thread, weave, etc.? Content to intuitively follow in this process without concern for an outcome? Come listen and make along with the meditative experience of the reading. Info.
PAGES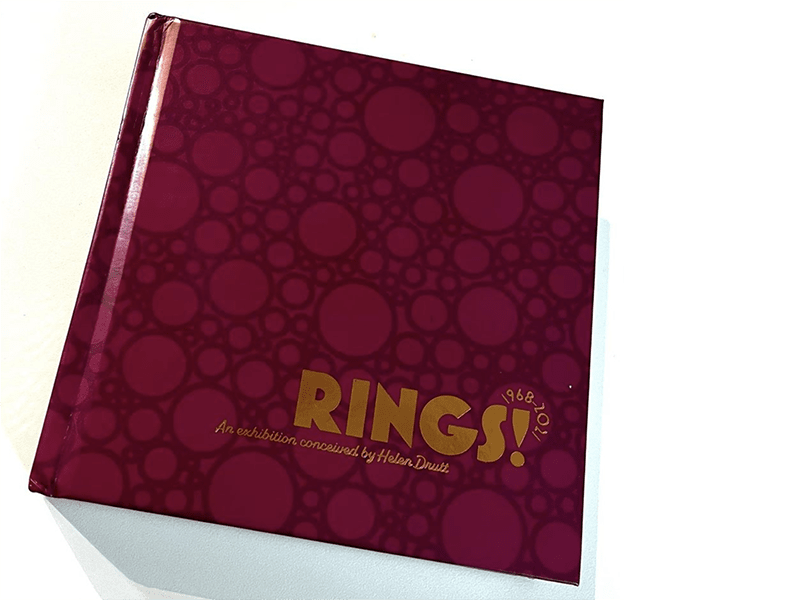 RINGS! 1968­–2021
Produced to commemorate RINGS! 1968-2021, the exhibit conceived by renowned educator and collector Helen Drutt, this catalog features 168 contemporary art rings by 114 artists from around the world, alongside artist biographies and statements. Also includes essays by Drutt and Elizabeth Essner. The catalog was published by the Metal Museum and can be purchased in person or from the museum's website.
---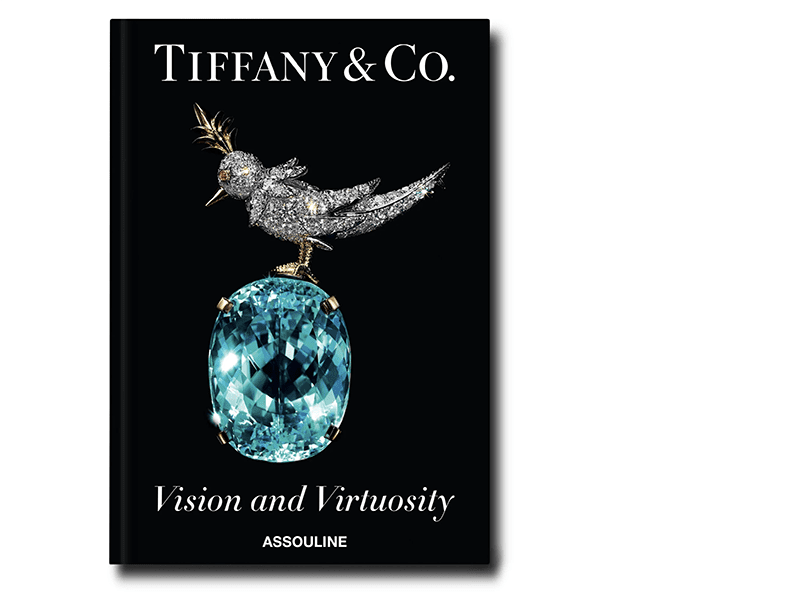 TIFFANY & CO.: VISION AND VIRTUOSITY
The catalog that accompanies the exhibition Vision and Virtuosity at London's Saatchi Gallery. Tiffany has transformed from a modest purveyor of gift items to a globally renowned byword for luxury and romance, sublime and rare gemstones, joyful objects of love and an inimitable mix of tradition and modernity. During its 185 years, Tiffany & Co. has continued to evolve creatively, embracing artistic and cultural influences, and finding exciting ways to renew its rich legacy. Info.
INTERESTING LINKS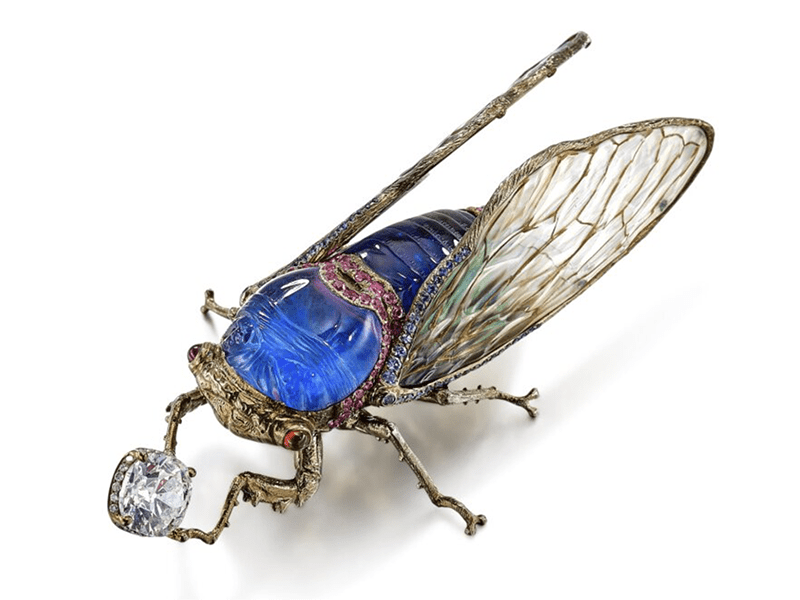 WORK BY WALLACE CHAN WENT ON THE BLOCK OCTOBER 7, 2022
As Dearest reported, the innovations of the deeply talented Chinese jeweler include the Wallace Cut, which pairs intaglio (carving recessed design) into a stone with strategic faceting that causes a single carved figure to look like many; a mortise and tenon style of setting in which the stones fit into each other, eliminating metal that would interfere with the presentation; and the creation of a porcelain five times stronger than steel. This cicada, valuated at US$102–$153 K, was in Sotheby's Hong Kong Magnificent Jewels I auction and sold for a little more than $130,000.
---
SEX TOY JEWELRY 
Check out nine different options in sex toy jewelry, from vibrators to handcuffs for bedroom games.
---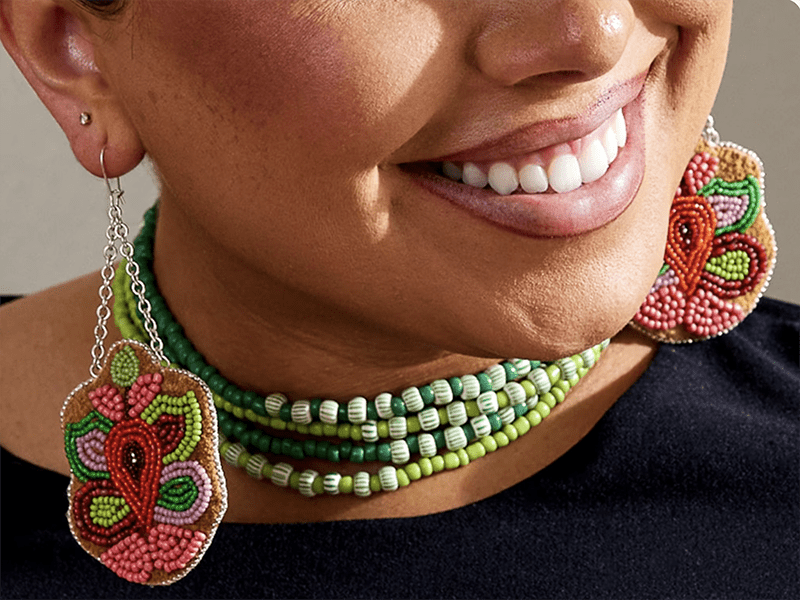 MEET ETSY'S INDIGENOUS ARTISANS COLLECTIVE
The collective launched on October 11, 2022, in honor of Indigenous Peoples' Day in the US. The meaningful creations are a reminder that each handmade item has its own beautifully complex backstory. See more.
---
JULIE BLYFIELD WILL GIVE A LECTURE AND WORKSHOP
The virtual lecture, on November 4, 2022, is called Julie Blyfield, Chasing a Life's Passion: Jewelry and Objects from South Australia. The demonstration workshop, on November 11, 2022, will present the different ways of texturing metal using metal chasing. Hosted by SNAG and Pocosin Art. Info.
---
ROYAL JEWELRY, ALWAYS IN THE NEWS
Kate, Meghan, Camilla, and Princess Charlotte used jewelry to honor Queen Elizabeth II at her funeral. What will happen to the jewels with the Queen's death? Who in the royal family will inherit them? Or will they finally be returned to their countries from where they came? See what Time, Cosmo, The Adventurine, and The Court Jeweller reported.
---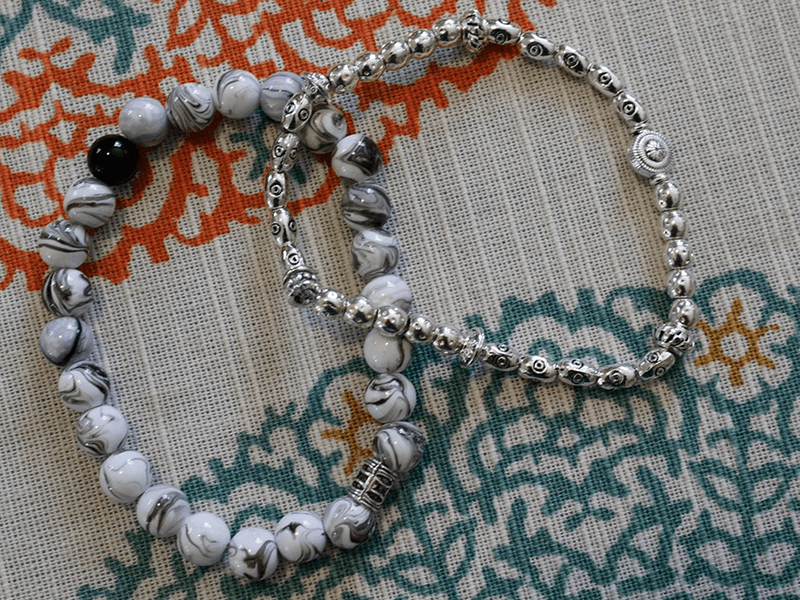 JEWELRY RAISES MONEY FOR ALZHEIMERS RESEARCH
A group of women in an assisted living facility are upscaling, repairing, and custom-making jewelry to raise money for Alzheimer's research. Learn more.
---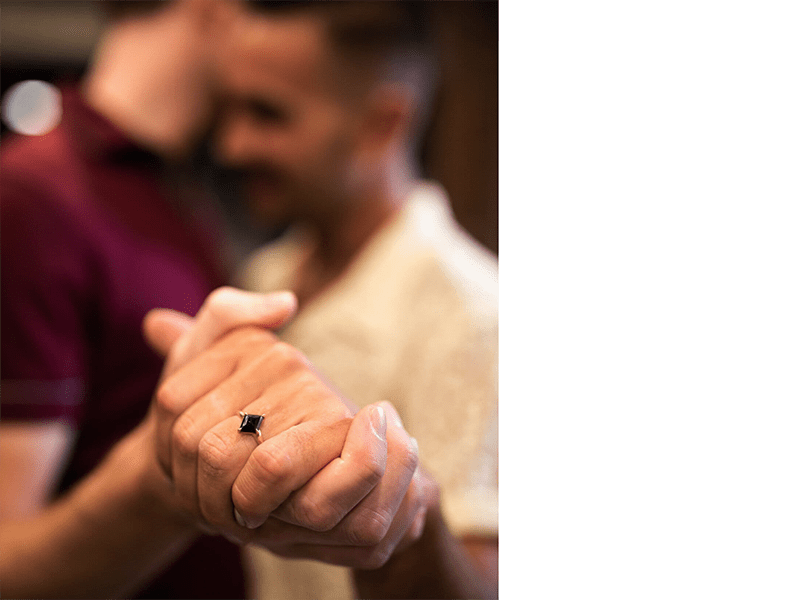 UNCONVENTIONAL COUPLES CHOOSE UNCONVENTIONAL ENGAGEMENT RINGS
"I've been defying what I've been expected to do my whole life," Joshua Farrar, a gay man, said. "The symbol of love that's on my left hand, it needs to be a reflection of that." But how unconventional is it really? Read the article.
---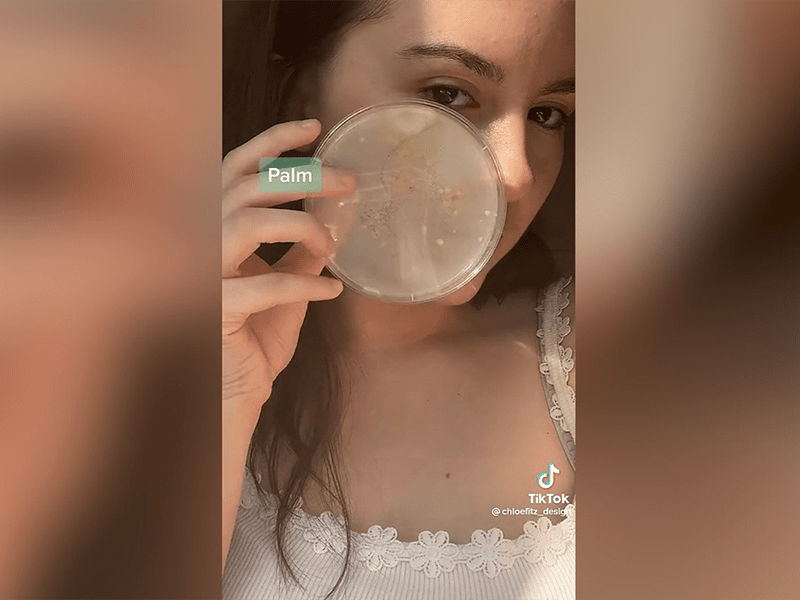 MORE GROSS-OUT JEWELRY
People have made jewelry from breast milk, semen, and severed fingers, among other things. Now a Scottish jeweler and bioartist is making jewelry from her bacteria. Watch her TicToc video posted to the BBC. What yucky material is next?!