June 2022, Part 2
Art Jewelry Forum is pleased to share the news that members of our community find noteworthy. Is something missing? The success of this compilation of compelling events, news, and items of interest to the jewelry community depends on YOUR participation. If you're a member of AJF at the Silver level or above, you can add news and ideas to this bi-monthly report by going here. If you aren't a member, but would like to become one, join AJF here.
Listings gathered with assistance from Carrie Yodanis.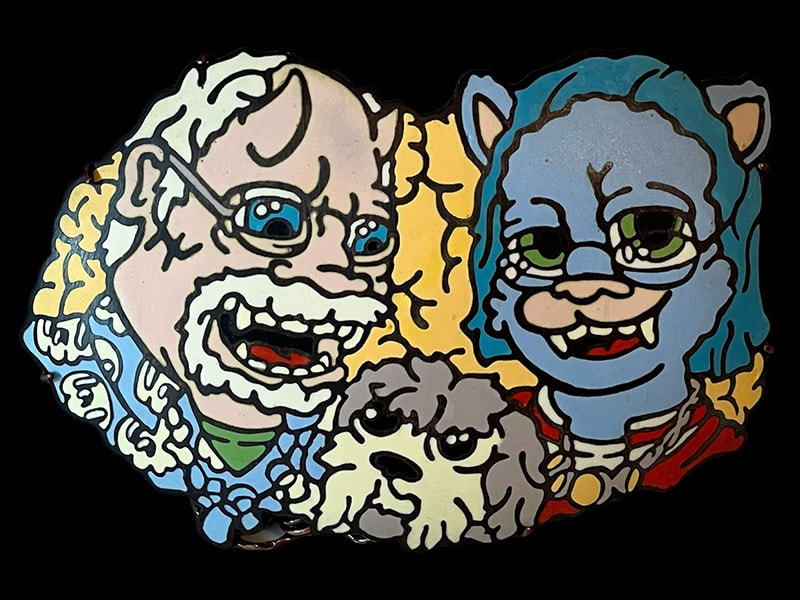 AJF LIVE + MAD: RON PORTER AND JOE PRICE: JUNE 29, 2022
Join us for a special PRIDE edition of "In the MAD Loupe"! Our guests, who are partners in life and in collecting, will discuss their studio and contemporary jewelry collection, some of which will be acquired for MAD's permanent collection. Drawn to works with compelling stories, design, and craftsmanship, Porter and Price have created a collection informed by their life experiences, including as members of the LGBTQ+ community. Their contemporary craft collection began with a focus on ceramic sculpture related to the human figure. This led to a natural interest in narrative studio jewelry. For the last 15 years, they have primarily focused on expanding their collection of studio and contemporary jewelry. Free. Register here.
---
JOIN AJF AT SCHMUCK FOR THESE EVENTS
AJF will be there with: a joint book presentation by AJF and Arnoldsche: Taming the Beast. Silver by Earl Krentzin (presented by Dirk Allgaier), In Flux: American Jewelry and the Counterculture: Political Jewelry in the 1960s and 1970s (AJF/Susan Cummins), Eleanor Moty: Quiet Elegance  (Matthew Drutt), North by Northwest: The Jewelry of Laurie Hall (AJF/Susan Cummins); Friday, July 8, 2022,10am – 12pm, Galerie Handwerk, auditorium, 80333 München, Max-Josef-Str. 4, Tel. +49 089 5119 298. AJF in Conversation: Collecting: The Next Generation. Detailed information is coming soon. Saturday, July 9, 2022, 10am-12pm, coffee/pastries included, Galerie Handwerk, auditorium, 80333 München, Max-Josef-Str. 4, Tel. +49 089 5119 298. AJF Presents the 2022 Young Artist Award Winner: Join AJF as we introduce and celebrate winner Mallory Weston. We'll also give a brief slide show of the four finalists' work at the IHM (Internationale Handwerksmesse) Main Stage on Saturday, July 9, 5:15 p.m. This important biennial competition offers a prize of US$7,500 for the winner and US$1,000 for each finalist, as well as an exhibition at Platina Stockholm during Schmuck.
---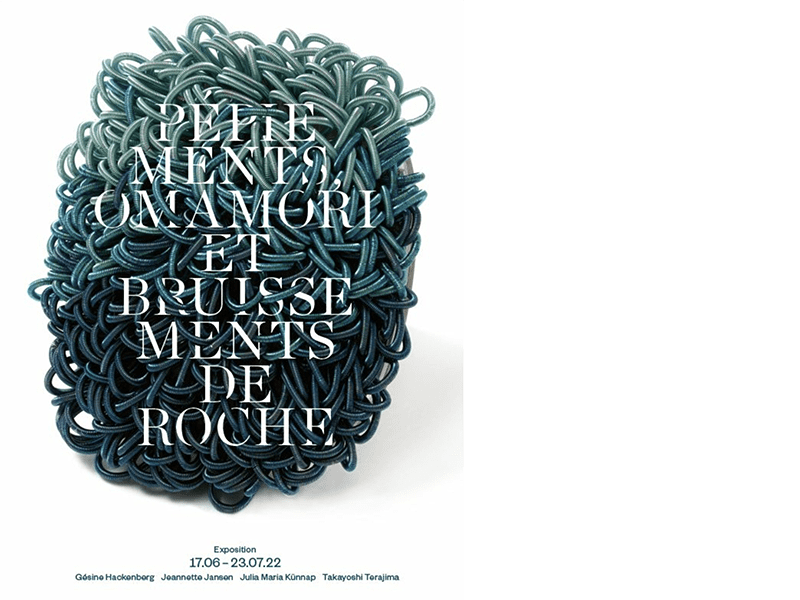 FEEL LIKE SEEING A JEWELRY SHOW?
Find these listings and many, many more on our dedicated exhibition page:
FROM OUR MEMBERS
CHECK OUT THE EXHIBITION CATALOG FOR THE 30TH INTERNATIONAL JEWELLERY COMPETITION TOUCH
The 30th International Jewellery Competition TOUCH was organized by the Gallery of Art in Legnica (Poland) as part of the Jewellery Festival SILVER. The competition is dedicated to jewelry designers and has been promoting creative explorations in the field of contemporary jewelry for over 30 years. The theme of the 2022 edition of the competition was TOUCH, a sense inseparably associated with jewelry, carrying a special charge of intimacy and safety, but also—in times of global pandemic and escalation of military conflicts—fear and danger. The jury evaluated 426 works by 240 artists from 30 countries, qualifying works by 51 artists from 13 countries for the main exhibition. View the catalog.
---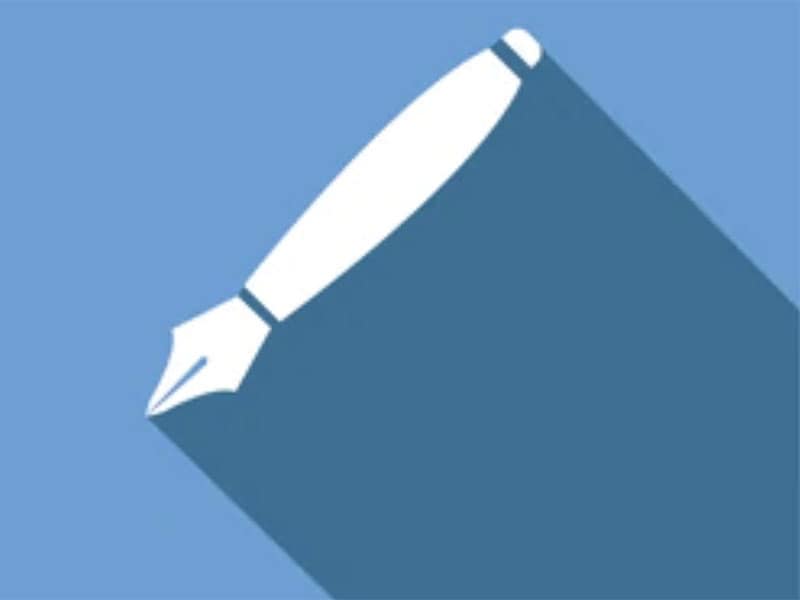 CRAFTING A STATEMENT: HOW TO TALK AND WRITE ABOUT YOUR WORK
For many artists, writing an artist statement seems daunting at worst, complicated at best. This four-week class aims to demystify the process of writing an artist statement and find ways to better communicate the concepts behind the work. Shane Prada will teach the workshop at the Baltimore Jewelry Center on Mondays, August 8–29, 2022, 6:30–8:30. Online and in person. Register.
---
JEWELRY JOURNEY INTERVIEWED GUÐBJÖRG KRISTÍN INGVARSDÓTTIR
Listen to the podcast with the goldsmith, jewelry designer and co-founder of the award-winning sustainable jewelry brand Aurum, Iceland's leading jewelry brand.
---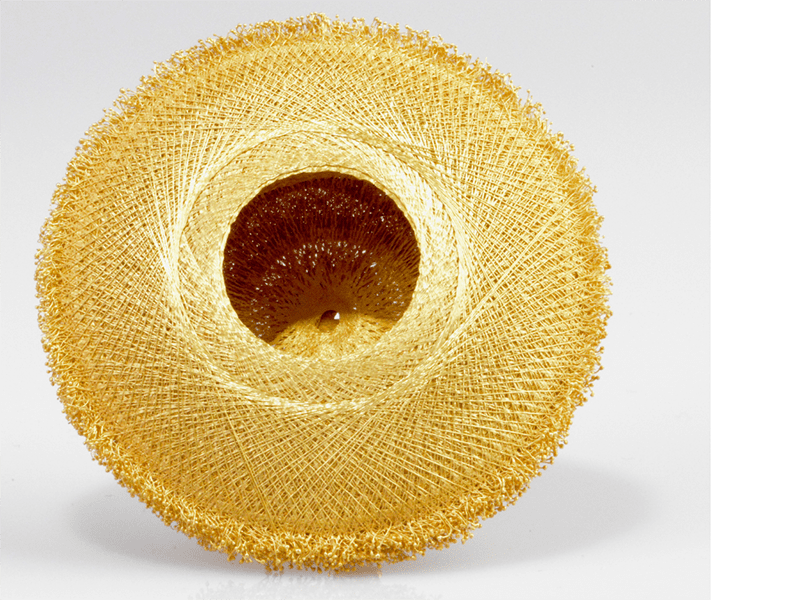 ORIZZONTE D'AUTORE BIENNIAL
Conceived by Thereza Pedrosa, the biennial will include a group exhibition, a Giampaolo Babetto retrospective, a lifetime achievement award, book presentations, an artist's talk by Giovanni Corvaja, a guided tour by Eliana Negroni, and several conferences. At the Civic Museum of Asolo, in Italy through July 24, 2022. Info on Instagram; museum website.
---
OPEN CALL: ISRAEL BIENNALE OF CONTEMPORARY JEWELRY
Open to anyone: professional, studying, emerging artists working in the field of jewelry, all countries and nationalities. Theme: Colorful Recovery. "After a long period of uncertainty, insecurity, fear, and sometimes even despair, one begins to see the light at the end of the tunnel. It's time to add color and joy to our lives." Application deadline: June 23, 2022. Info.
---
IRIS EICHENBERG: WHERE WORDS FAIL OPENS THIS SATURDAY
Iris Eichenberg engages the viewer in conversations that embrace such timely topics as gender and identity, the search for a safe, welcoming haven, and the veracity of reality. Instead of focusing on one medium and process, she continually seeks the craft processes and combination of materials that best suit the idea at hand. This exhibition—the artist's first mid-career survey—was made possible, in part, by the Susan Beech Mid-Career Artist Grant. At the Museum of Craft and Design, in San Francisco, June 25–October 30, 2022. Info.
---
SCHMUCK // JEWELRY 2012_2022 ON VIEW AT PINAKOTHEK DER MODERNE
See donations and acquisitions from the last 10 years. Most of these are being showcased in an exhibition for the first time. At the entrance to Die Neue Sammlung, through July 10, 2022
---
TWO JEWELRY/METALS GRADS WON 2022 WINDGATE-LAMAR FELLOWSHIPS
Congratulations to Sean Eren, of Rhode Island School of Design, and Lillian Luft, University of Wisconsin, Milwaukee! Awards are given for artistic merit and demonstrated potential for contributing to the field of craft. Each artist receives $15,000 from the Center for Craft to support personal and artistic growth in this crucial phase of an early career. Historically, recipients often move on to establish successful studios, exhibit at world-renowned museums and galleries, get MFAs, or become full-time faculty.
---
WHEN PEARLS TRANSFORM INTO POODLE FUR
The witty Monica McLaughlin, of Dearest, wrote about this French pendant, which "definitely qualifies for my Ridiculous Dog Faces in Jewelry series …. Featuring a baroque pearl head, ruby tongue, and sapphire eyes, he's got poofy legs set with natural pearls and a ruby collar. Look at his butt!"
---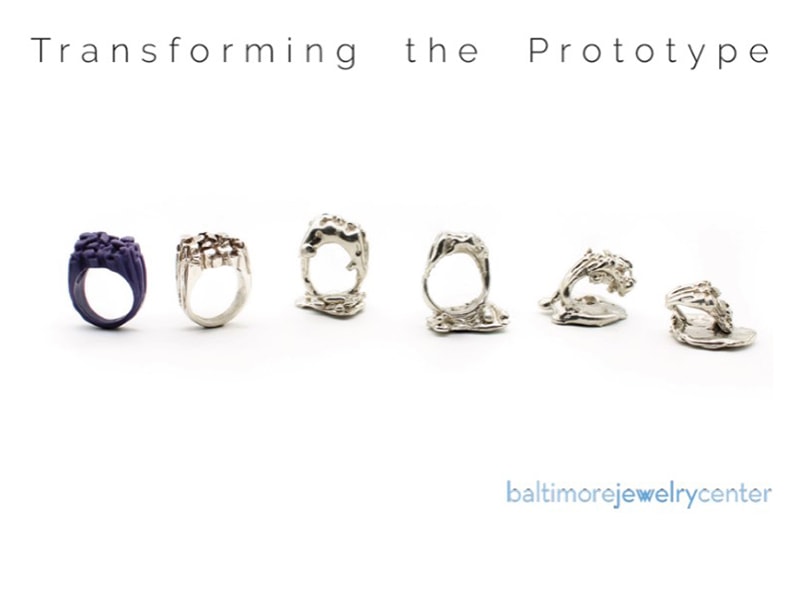 CLOSING SOON: TRANSFORMING THE PROTOTYPE
Participating artists received a wax version of a vintage ring, then transformed it through additive or subtractive processes, as wax or after casting. The resulting work demonstrates the infinite possibilities of lost wax casting while making connections between fine jewelry and conceptual jewelry. At Baltimore Jewelry Center through July 1, 2022.
---
THE LOCATION SERVICES EXHIBITION PRESENTS PERSPECTIVES ON PLACE
The crafting of jewelry and objects is a means to profoundly support and express identity. Motoko Furuhashi, Kerianne Quick, and Demitra Thomloudis observe site, place, and origin within historical and contemporary contexts of craft and the inseparable bond place has to individuality, society, and culture. At the Craft in America Center, June 25–September 10, 2022. Info.
---
DO YOU HAVE CURATORIAL AMBITIONS? A GREAT IDEA FOR AN EXHIBITION?
The Baltimore Jewelry Center is currently seeking exhibition proposals for its 2023/2024 gallery schedule. Proposals are not limited to jewelry and might include thematic exhibitions or exhibitions showcasing an artist or group of artists. They want exhibitions that explore the gallery setting in an unexpected way, seek to place jewelry and craft within a larger context and expand connections in our community at large. The goal is to demonstrate unique curatorial viewpoints, expose their audience to fresh and emerging makers and ideas, and present art jewelry and metalsmithing in a broader art context. They're especially excited to see proposals that create a diverse and inclusive gallery space in order to elevate underrepresented voices. Deadline: July 8, 2022. Info. Email with any questions.
---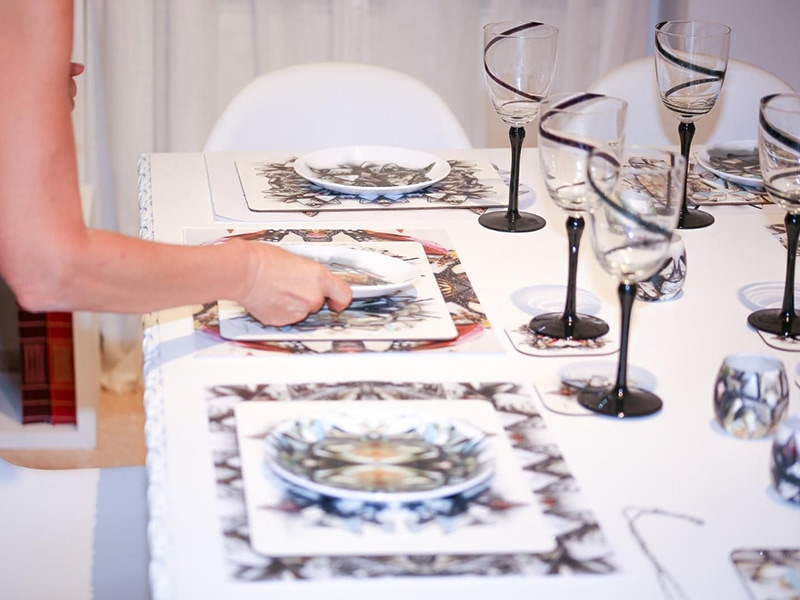 LIANA PATTIHIS HAD A SOLO SHOW @UNIVERSUS_GALLERY IN ATHENS, GREECE
The artist showed a selection of jewelry from four of her collections, together with her designer homeware items. Taking advantage of the free time afforded during the various lockdowns, she set up her own company last November, creating homeware pieces inspired by her jewelry creations. All designs are created by Pattihis and printed in the UK on high-quality products. @lianapattihis and @linea.liana
---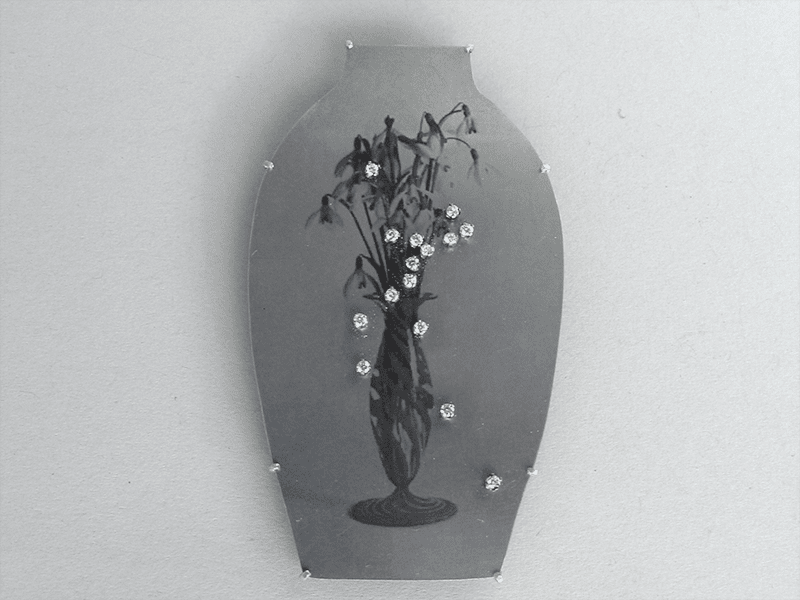 BETTINA SPECKNER CURRENTLY ON SHOW AT GALERIA TEREZA SEABRA
"I never work with the intention to decorate things or to make them look prettier," says the artist. "I try to discover the soul of an object or the essence of a photograph and want to shape something new, beyond the visual appearance." Navegar é Preciso (Sailing Is Necessary) will be on view until July 2, 2022.
PAGES
Jewelry art is a small but easily discernible voice amid the great choir that is the art scene. It has been the impetus for innovation and a seismograph for current discourse within the applied arts for several decades. For the first time, the Grassi Museum of Applied Arts presents its holdings of modern jewelry, ranging from the mid-twentieth century to the present day. Jewelry + Image provides insights into the multifaceted oeuvres of around 180 jewelry artists from around the world. The collection broadly represents international developments in jewelry art and grants a special view to approaches from eastern Germany.
---
BOOK—ART JEWELLERY: A PERSONAL PERSPECTIVE
Art jewelry specialist Inger Wästberg shines light upon art jewelry as an independent art form through a number of pieces from her own collection. She shows jewelry that reflects the times we are living in; challenges our perception of what is considered beautiful; and deals with topics like gender equality, overconsumption, sustainability, and the transience of life. From AO.
---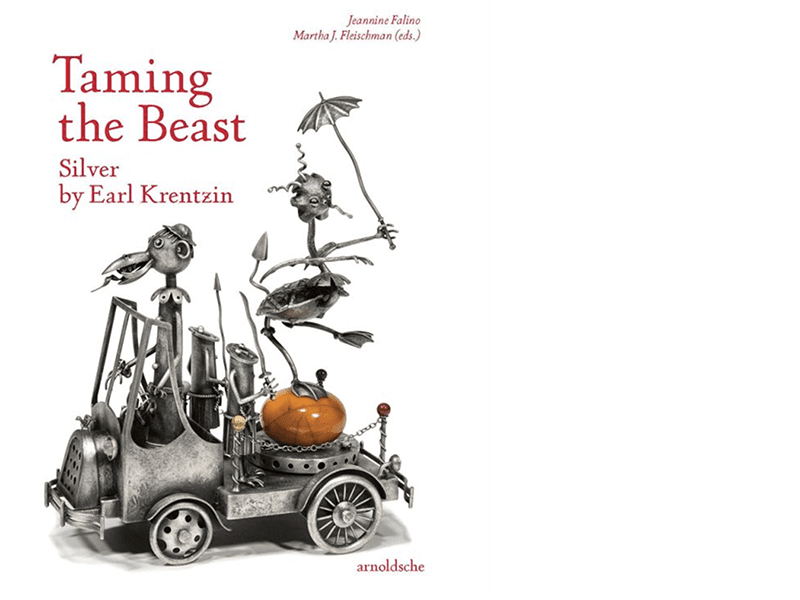 BOOK—TAMING THE BEAST: SILVER BY EARL KRENTZIN
The virtuoso poured his considerable talents into small-scale figurative sculpture, creating whimsical theatrical settings in silver with a wry humor. He had more in common with Benvenuto Cellini than with his 20th-century peers. This first full-scale monograph on the artist offers the breadth of his engaging creations, which he based on his love of toys, movement, and the mechanical arts. Edited by Jeannine Falino and Martha J. Fleischman. From Arnoldsche.
---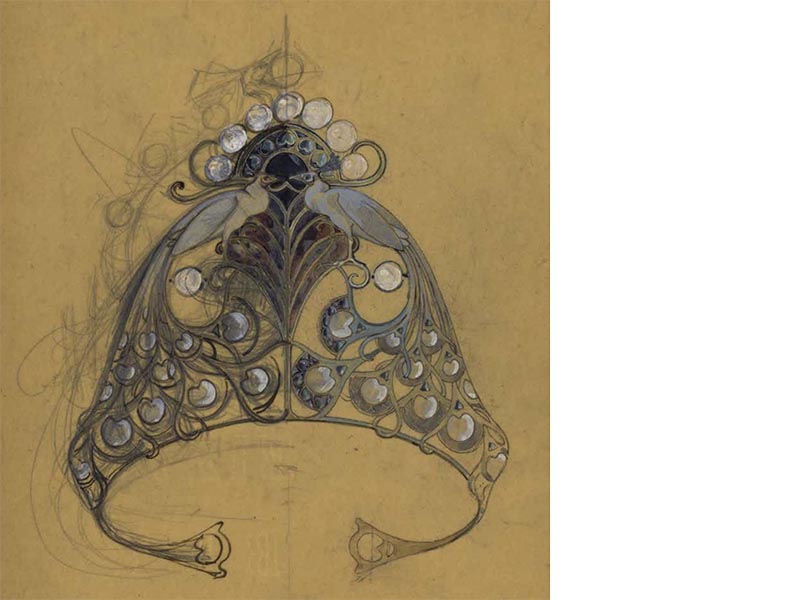 BOOK—LE BIJOU DESSINÉ/DESIGNING JEWELS
This book presents a hundred jewelry drawings, ranging from the second half of the 18th century to the beginning of the 20th century. It sheds light on a completely unknown part of the decorative arts, in which anonymous craftsmen or artists rub shoulders with the great figures of jewelry or renowned workshops. In English and French. Look inside (scroll down).
---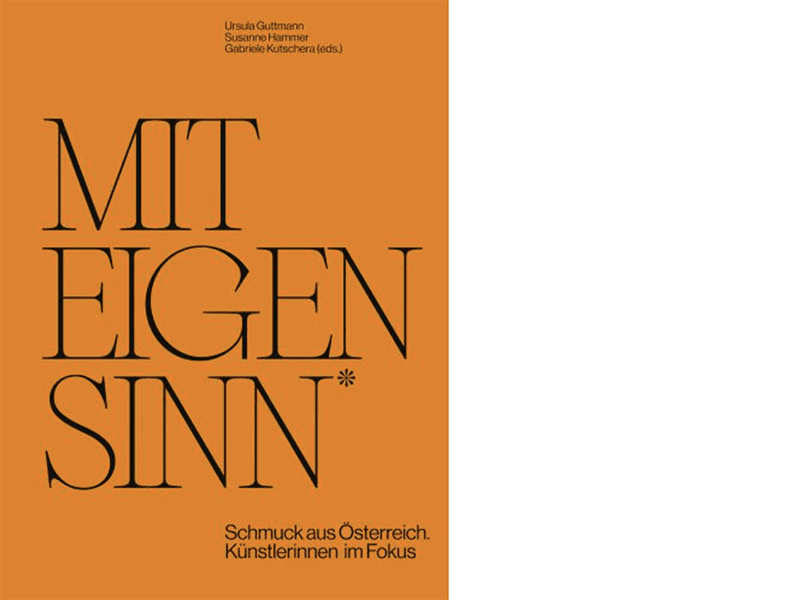 EXHIBITION CATALOG—A MIND OF THEIR OWN
With a focus on the women designers of early avant-garde jewelry, this publication, which accompanies the exhibition of the same name at Museum Angerlehner in Austria, paints a picture of Austrian jewelry production from the 1970s to the present day. More info.
---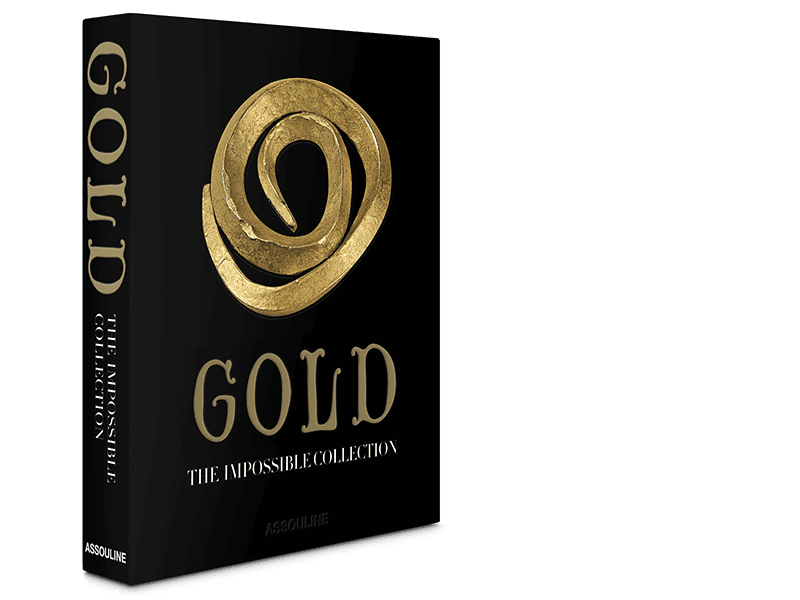 BOOK—GOLD: THE IMPOSSIBLE COLLECTION (AVAILABLE JULY 2022)
Pure, indestructible, dazzling: Since the dawn of time, gold has generated countless fantasies and beliefs. Leading rulers to the afterlife, casting a glow on Buddhist pagodas, illuminating the halos of saints, adding brilliance to crowns, gleaming on haute couture runways, or glittering on a rapper's grill, gold is an eternal symbol of wealth and glory. The prized element's malleable nature lends itself to infinite metamorphoses. Today, gold remains the supreme representation of luxury. The book itself is a luxury good. See why here.
---
GERD ROTHMANN: WERKVERZEICHNIS 2/CATALOGUE RAISONNÉ 2
After 1976, the incarnate connection between jewelry and body became Gerd Rothmann focus. This Catalogue Raisonné 2 continues the entire oeuvre of this exceptional artist from 2009 to the present day. Includes personal notes from Rothmann's workshop and numerous images showing people in relation to the jewelry are presented. For, as the artist says, it's "not solely the piece of jewelry that is important but the person who lives with it and experiences it. They bestow the whole with meaning." Info.
INTERESTING LINKS
AUCTION: AUTEUR JEWELRY FROM 1970 TO THE MID-90S
In Worn to Be Alive, to be held June 30, 2022, Quittenbaum will offer 300+ objects by primarily German and Dutch artists. The complex interaction between the body and jewelry fascinates all the designers featured in the sale. The objects intervene in the appearance of the wearer, change their silhouette, and interact with the dynamics of the body. See the catalog in AJF's Library.
---
DOURIEAN FLETCHER WILL PRODUCE JEWELRY FOR BLACK PANTHER 2
Fletcher's designs for the first movie received much media attention. The sequel will release in November 2022.
---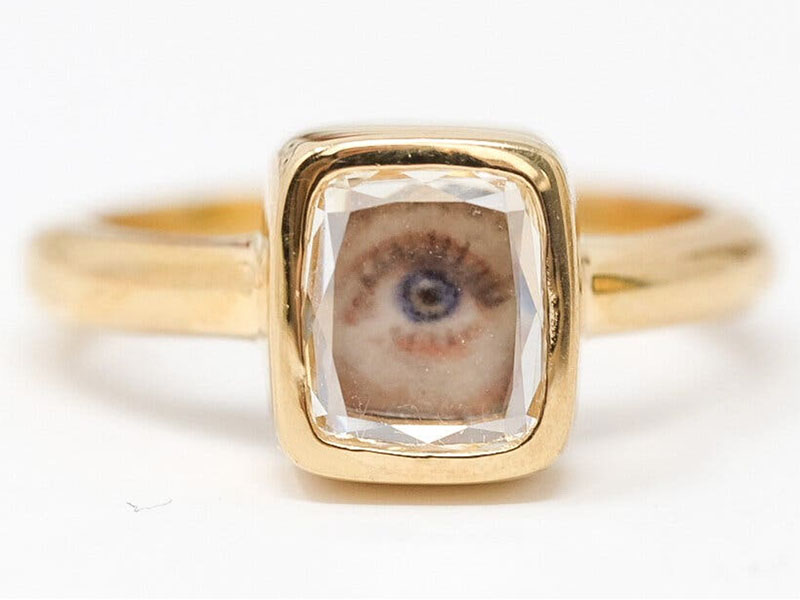 PORTRAIT STONES MAKE A COMEBACK
The thin, flat stones are minimally faceted, with a transparent glasslike appearance. "There's something quite irreverent about using a diamond that isn't cut in a way to maximize its sparkle," says jewelry designer Eva Zuckerman. "I think it's a little rebellious." How rebellious?  Take a look. Hey, does that look like actress Amy Adams's eye to you?
---
IN ARETA WILKINSON'S KA TAKA TE WĀ – TIME PASSED, TIME IS RECORDED THROUGH OBJECT MAKING
Each work charts a day of lockdown early in 2020, 36 in total. Punctuating a timeline along the length of Objectspace's wall, the artist presents a relational whakapapa, where each singular piece relates to the other while calling back to former makers, ancestors, and tūpuna. See it in Garland.
---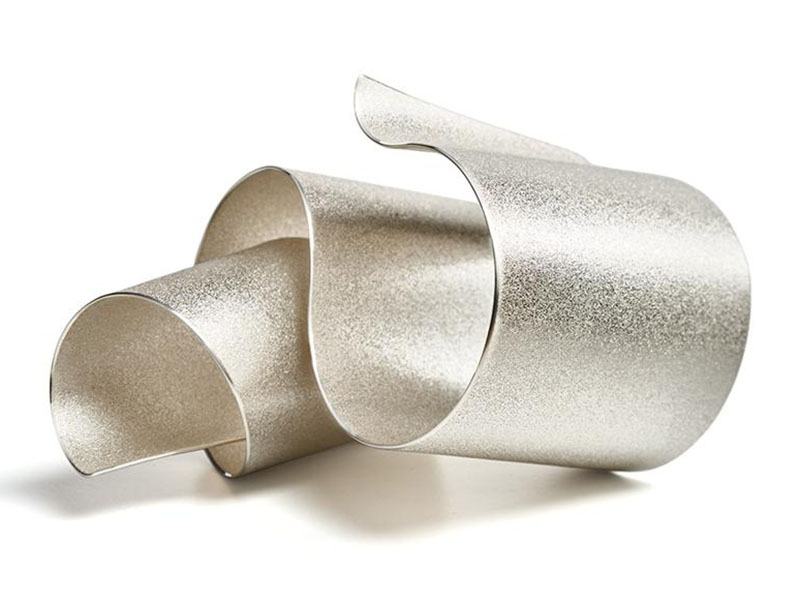 FORBES MAGAZINE FEATURES UTE DECKER
The artist got a write-up on the occasion of her London show. "Ute's jewelry appeals because it stands out and is also easy—her pieces can be worn just as well with jeans as an Issey Miyake dress," says her gallerist, who encourages visitors to try the jewelry on, rather than admire it under glass. "If you don't try them on, they won't wake up." Read the story.
---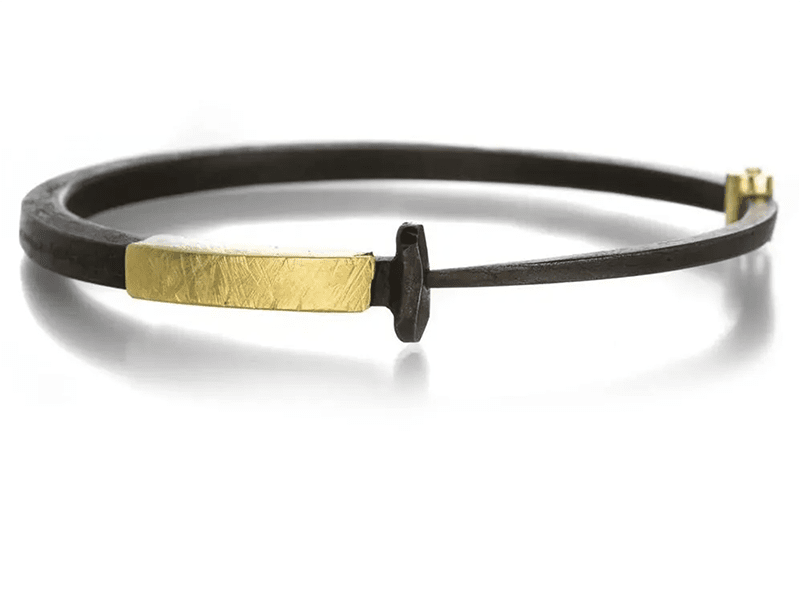 MODERN-DAY GOLD RUSH?
As we face inflation, multiple democracies in crisis, and the lingering effects of a pandemic, is it any surprise a modern-day gold rush seems on? Read "The Irresistible Glitter of Gold," with quotes from studio jeweler Pat Flynn, curator Jeannine Falino, and the curator of Gold in America, at the Yale University Art Gallery, among others.
---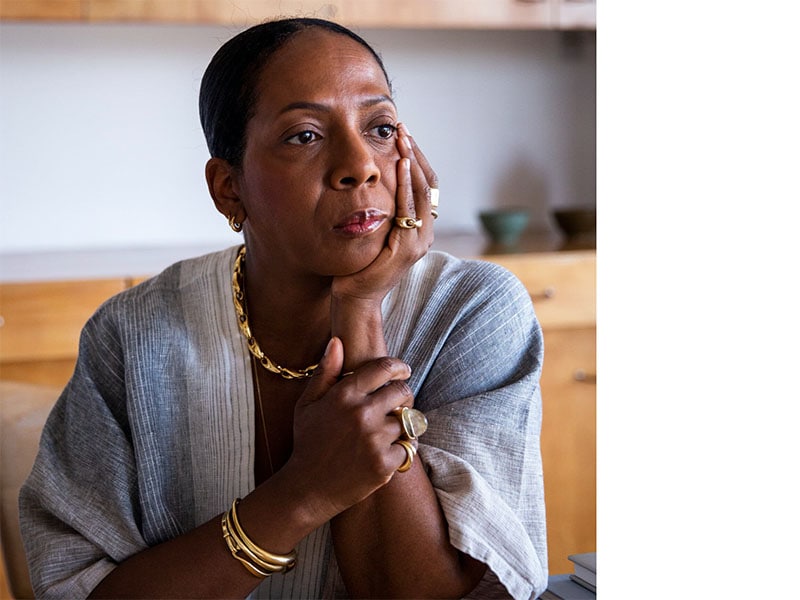 DREAM BIGGER AND CHANGE THE WORLD
The story of jeweler Jacqueline Rabun's global success and her return home to California.
---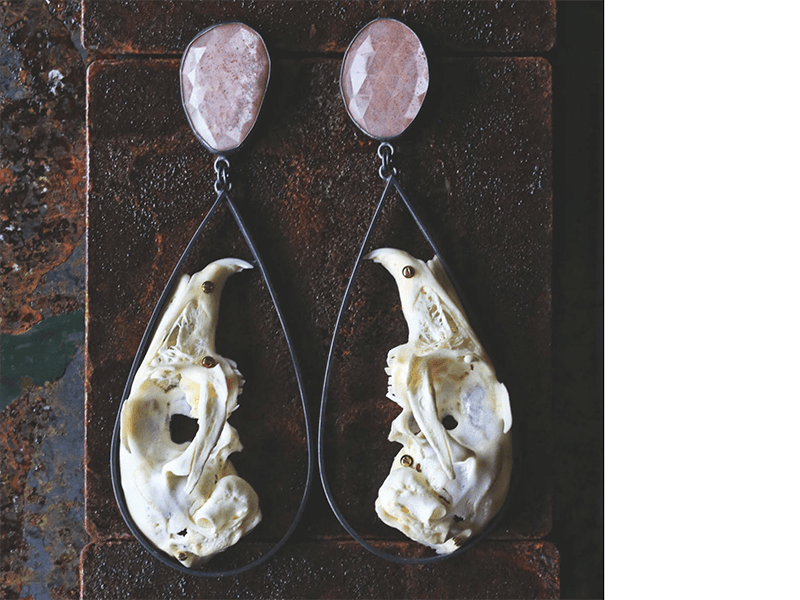 SOMETIMES KNOWLEDGE SHUTS DOORS TO EXPLORATION
So says Carin Jones, who was interviewed for The Queue. The former zookeeper unites ethically obtained animal bones and skulls, delicate leaves, and gemstones in her jewelry. Meet the artist.
---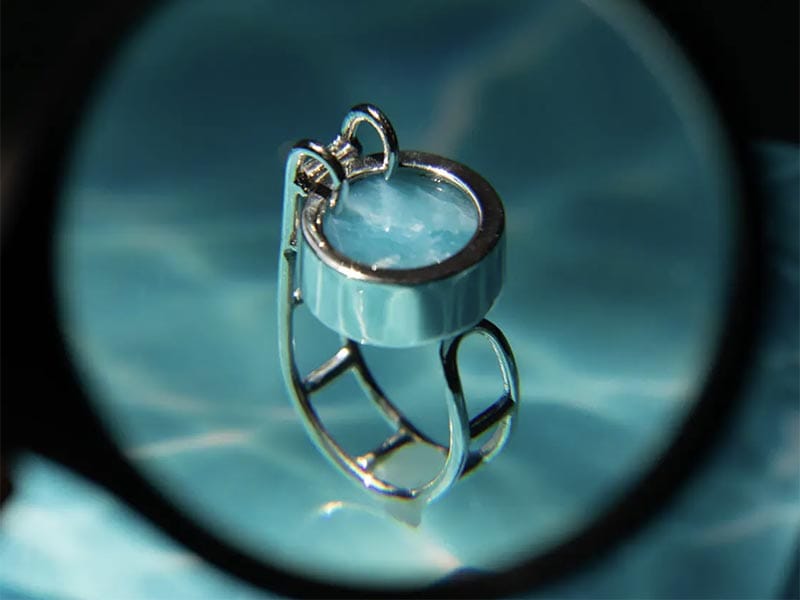 LARIMAR: AS BLUE AS THE CRYSTAL-CLEAR CARIBBEAN
The semi-precious stone is found only in the Dominican Republic, so you may not have heard about it. Learn more.
---
CHECK OUT SOTHEBY'S TIARA EXHIBITION
The pieces shown in Power & Image reflect successive design evolutions prompted by monarchic taste, societal shifts, and the influence from other art forms, through to contemporary jewelers redefining tiaras today. In London, through June 28, 2022. Not traveling there? Check out the online exhibition (scroll down to see all the tiaras).
---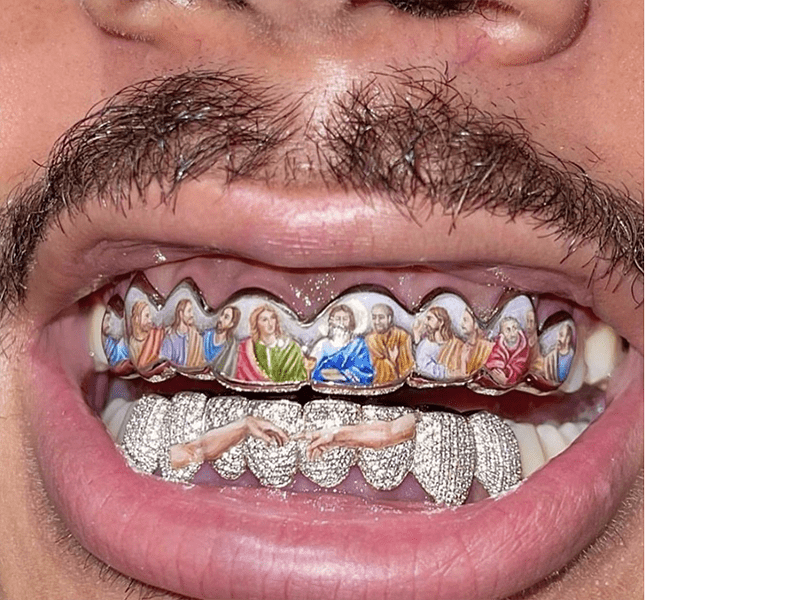 SUMMER'S PERFECT FOR GRILLIN'…
… and hopefully it won't be your—wait for it—last supper! Gabby Elan Jewelry was established in 1991 by Gabby Pinhasov, who immigrated to the US from Israel as a dental technician with no jewelry background. He noticed that gold teeth, or grillz, were popular in the urban scene. Spotted on NYCJW's Instagram.