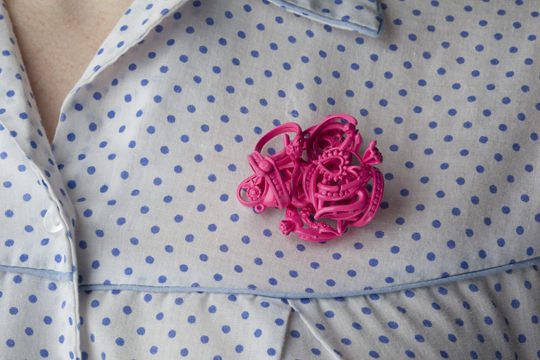 Gemstones and the history of jewelry as a signifier of luxury (and decadence) are ever present in this conversation. Those who take on the topic of luxury via the context of history (such as Yevgeniya Kaganovich, Kimberlie Tatalick, Erin Rose Gardner, The Opulent Project, Yael Friedman and emiko oye) do so without using luxurious materials. For example, Erin Rose Gardner uses mass-produced 'diamond' engagement rings that are compelling yet disturbing and that link the conversation about capitalism to feeling and emotion
– so many rings, so much manufactured sentiment. emiko oye's LEGO neckpieces based on royal jewelry are exaggerations of their antecedents, their largesse addressing the decadence of the original gemstones in a tongue-in-cheek kind of way.
In my catalog essay I wrote: 'New objects are being created but – either through choice of material or mode of production – they confront the very existence of the volume of other objects being produced daily across the globe. By changing the flow of goods (recovering some materials, renegotiating the space within which the jewelry operates), this jewelry highlights current critical conversations of sustainability, wealth and social status and personal responsibility. However, the conversation with "excess" does not end there. Within a modern Western context, jewelry can be inexpensive and fashionable or very expensive (and, perhaps, still connected to fashion). Yet, its relationship with notions of excess can extend beyond cost or number to form and design. What is excessive, opulent and ostentatious today? How does the manipulation of materials and content effect concepts of ornament and display?'
Here's how I describe this in my catalog essay: 'In order to provide a vernacular context for handmade jewelry, Gabriel Craig has taken his "studio to the street" for performances that involve dialogue, jewelry production and exchange. Craig's performance series developed from the recognition that jewelry production is not common knowledge and that the cultural value of jewelry could and should be stressed to a broad public… Not only does he provide insight into a studio process, but he also makes a practice of giving away his work… Craig's actions undercut practices of consumption and challenge ideas of luxury. His efforts – and, by association, the value associated with it – operates beyond a culture of capitalism while still commenting on it.'
This jewelry develops a new strategy for defining decadence
– one concerned with material value, certainly, but also volume and context. They are in concert with larger conversations that affect people across economic lines and social status.