Susan Cummins: Since the earthquake destroyed your building, where are you presenting this show of new work by Renee Bevan?
Caroline Billing: I recently set up the gallery in a new space with other creative businesses in one of the only restored, re-strengthened historic buildings. Despite the difficult circumstances – we are on the very edge of the mostly destroyed Central Business District – the new home is going very well and proving to be an excellent venue for my exhibition program. Slowly everyone is finding us again.
This wonderful quote from you is a reflection on the destruction caused by the earthquake: 'I've had more time than ever to reflect on jewelry's value and potential in the world. Initially nothing mattered except essential needs and community. Jewelry seemed so irrelevant! Yet, as the weeks went by I quickly realized that jewelry (art) could play a valuable and critical part in our recovery and I began to think about the role I could personally play.' Are there projects you have since created based on this idea?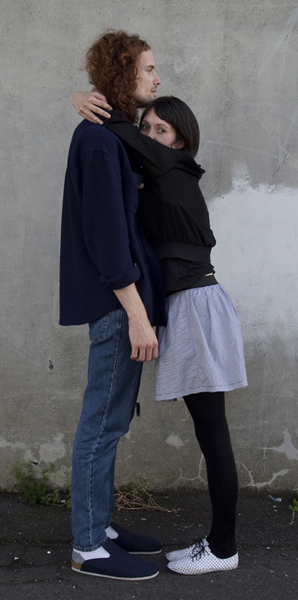 Firstly, I simply wanted to present exhibitions, to bring people together again for a positive event. There was no city, no galleries and people hadn't had a chance to come together for months. Seeing this occur was so rewarding and heartwarming at such a raw, challenging time, straight after the quakes. Those passionate about art and culture don't stop needing to be nurtured and stimulated on that level.
Straight after the quake I worked very closely with artist/jeweler Jacqui Chan and presented Host A Brooch. I was exploring alternate ways of presenting jewelry and opportunities that could be developed to really reach people. Jacqui is currently undertaking a practice-based PhD at RMIT University, Melbourne, Australia. Her research examines the relation between jewelry and the city, experimenting with ways of feeding off and feeding back into the urban context. In response to the Christchurch situation, Jacqui developed her concept of Host A Brooch.
Host A Brooch was presented in a container and over six weeks people in Christchurch were invited to reconnect with the changed city by hosting a brooch made from detritus (made by Chan). Participants took images as they walked and reflected on their experiences in the changed city and how the brooch altered or enhanced that.
Jacqui writes: 'Host a Brooch works on multiple levels. For the public, the experience has produced new connections with the recovering city and is transformative at an active, personal level. People have experienced a new way of looking at and interacting with their surroundings. They report being captivated by colour, detail, materiality. Experiencing a sense of wonderment, they are jolted from their habitual modes of being in and thinking about the city. They are drawn out of their selves and immersed in the world around them.'
Jacqui kept a weekly blog of people's images and comments.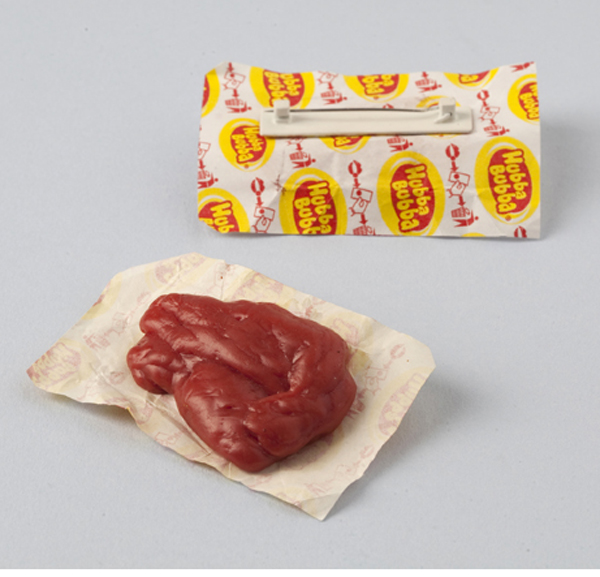 Renee Bevan: After college I went on to study visual arts. There we were taught to approach the discipline of contemporary jewelry in the same way as any other form of visual arts. I did not go to art school with the intention of making jewelry but once I tried it, I never went back.
Can you identify teachers or others who have influenced you in your development?
Renee Bevan: I really like the work of Cornelia Parker and Otto Kunzli; both these artists use elements of humor, are sharp-witted and make work that can be appreciated on a number of different levels. Martin Creed is also one of my favorite artists. I am often in awe when reading or listening to the ideas around the work. It seems so simple but is also incredibly complex and I always find it remarkably honest. I have always liked working with polarities and this subject is strongly evident in the work of Creed. The strong sense of simplicity evident in his work is another aspect I especially appreciate in the work of Kunzli.
I noticed that you have done a number of roses in earlier work and there is one in this show as well. The title Rose is a Rose is a Rose is a Rose indicates that you might be a Gertrude Stein fan. Is that true?
Renee Bevan: I do not know a huge amount about the work of Gertrude Stein but her Rose is a Rose is a Rose is a Rose has always intrigued me and I have always appreciated the meaning behind this.
My understanding of the idea behind 'rose is a rose is a rose is a rose' is that a rose is just a rose and nothing else. No symbolism, no hidden meaning. Or as you titled another piece in the show, What You See Is What You Get. Is that how you read it?
The new work What You See Is What You Get questions our perception in quite a different way to what I am discussing above. Made out of 3-D holograms of either skies or in floral tints, the pendant, in the form of a viewfinder, questions what we are seeing, how we mask our vision, what we perceive as truth and asks us to look deeper than the surface of the pendant itself.
You say you have 'always been fascinated with the rose; its manufactured sentimentality, vast symbolism, ability to speak of love, life and death all at once . . . [It is] the perfect rose, the kitsch rose, the dewy Mills & Boon rose, the crafty rose, and the sickly sweet Hallmark rose.' Is the rose a stand in for jewelry in some way?
Renee Bevan: I often associate things with meanings and have always seen the rose as a kind of stand-in (or code) for some form of intended meaning or association. The rose and jewelry have a long-standing shared history. I have always felt they can speak the same message, often acting as stand-in's for human connections, intent and emotions. The rose was never originally intended as a stand-in for jewelry but was rather used as a method to speak of ideas I was interested in which it also shared with the medium of jewelry itself. Jewelry seemed like the perfect vehicle for this, since it could speak the same message. I guess once I started sifting through the rose and all of its baggage I unraveled more and more options to explore.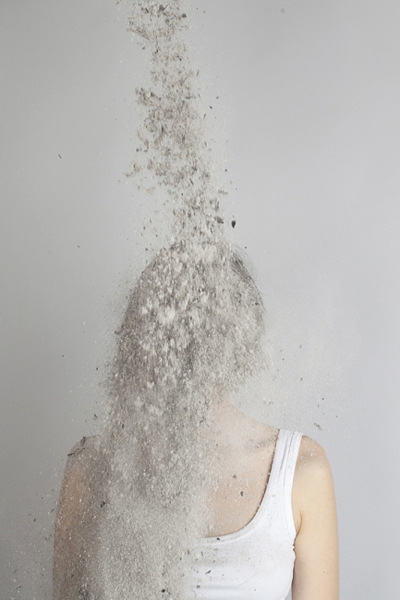 Renee Bevan: Each of the works in the show has a strong meaning for me. I guess the works could be seen as tools; tools that carry a meaning, message or function bigger and sometimes different to that which you see before you. It makes sense for Karl to describe the works as 'an allegory of sorts.' In saying this I did not set out to make the works allegories; I just wanted to make things with meaning and to capture and hold things that cannot normally be captured. I guess you could describe what I am doing as piecing together visual clues of ideas or meanings I see within these components, forms or materials to speak of something important to me.
A number of your pieces have very interesting concepts behind them and I would love an explanation of the following:
Some 365 Days of Thoughts
Renee Bevan: This is a pendant made from a simple glass vile filled with ash and tied to a piece of string. The ash is from the burning of my workbook, 365 days of thoughts and ideas. I am quite prolific in my thoughts and the documentation of these ideas; these workbooks are vital in my making process. Lately I have been trying to capture the essence of things within my making. I have been asking myself lots of questions around the essence and remnants of a thing's existence. There are many things that exist but cannot be seen, felt, heard and touched. This led me to think; do I need to physically make my ideas? Can the ideas be the works in themselves? Stream of thoughts; a whole years work is a pouring of this ash over myself as a way of wearing all of my ideas. Clouded by all of my thoughts, the ideas were later bottled up for this show and then sold as pendants.
Hold that Thought
Renee Bevan: Thinking about how objects could hold thoughts, I started searching for objects or materials that hold things. I started to think how a chewed piece of gum could hold a spoken sentence; it made me wonder if one-day technology would enable us to read this sentence. Then I started thinking about all the other things a piece of gum could hold. A message from a loved one; half of a conversation between two people; an impression or code with another meaning; or an emotion bitten into the surface. Hold That Thought treats a piece of gum as a locket or container; it's a token, gesture, a moment that can be carried with you. The original work was an intimate exchange between my husband and I in which I asked that he chewed a message in it as a gift for me; future brooches will hold my chewed thoughts.
A Whole Lot of Something, A Whole Lot of Nothing
Parting Breath
Renee Bevan: Parting Breath is the second in a series of heart-shaped balloon pendants. The original work in the series Lighthearted was a silver electroformed balloon forever serving as locket of my breath. I often read balloons as metaphors of life. Starting as skin, life is breathed into it, then the skin grows, once fully grown the balloon slowly deflates until all breath is gone. Some balloons pop before given the chance to naturally see through their lifecycle. This work was a means to forever hold me, my life, my breath, in an object. The second work in this series, Parting Breath, was a second attempt to permanently hold myself in a balloon again. After having the balloon electroformed it accidently broke and my breath escaped. Mended and re-electroformed this time I was not able to keep hold of my breath inside. The work serves as a reminder of what has been lost and that which cannot be retained.
Renee Bevan Pendant II
Renee Bevan: Continuing to work at stripping things down to their essential/core, I was thinking that when I make a pendant it can often be described as a Renee Bevan pendant. Considering the personal nature of jewelry and necklaces and their ties to human connections/relationships, I thought: if I make the necklace, if it is a Renee Bevan necklace, then why is it not then a Renee Bevan necklace. This series began with an embrace between my husband and I in the back yard. I then went on to photograph other friends, family, strangers wearing Renee Bevan pendants. I would say the most precious pendant in the world would be a string of arms and the body of your loved one hanging like a pendant around your neck.
Very interesting. Thanks Renee.