United States
03/25/2012
In late 2001, lower Manhattan was the site of intense physical, psychological and emotional activity. Many thousands of people were working to clean, to clear and to understand the terrorist attacks of September 11, 2001. Scurrying through the streets – beneath notice – was Xu Bing, busily collecting the dust that coated the city. In the midst of near-unimaginable tragedy Xu (recipient of a 'MacArthur genius' fellowship) understood the importance of his role as an artist in helping the world to understand and cope with these events. He also understood the material potency of the physical residue of the attacks. This was the dust of paper, concrete, insulation, airplanes and human remains, but it was also the dust of financial supremacy, Islamic extremism and American outrage. The physical and emotional attributes that the grayish-white dust contained were swept up – to be used almost three years later in an installation entitled Where Does the Dust Itself Collect?, a project that addressed 9/11 through written and material poetry. It won several awards including the inaugural Artes Mundi Prize and the Wales International Visual Art Prize, both in 2004.
The ability of a material to embody and convey meaning is central to our understanding of culture and of the objects with which we surround ourselves. The meaning we derive from objects is the basis for the study of material culture and semiotic theory. And while these fields are vast in their application and deep in their potential analysis, it was Xu Bing who showed me the potential of material. Of course when applying this lesson to my own interests it became immediately apparent that metal is a natural and effortless container for meaning, more so than almost any other material. In Western culture, metal is the material receptacle for most highly charged emotions. Here one can think of rings and lockets that commemorate love and loss, bronzes that commemorate fallen soldiers and medals given to athletes, heroes and scholars. It is so often that we commemorate through the use of metal that we are desensitized to its ability to actively convey meaning.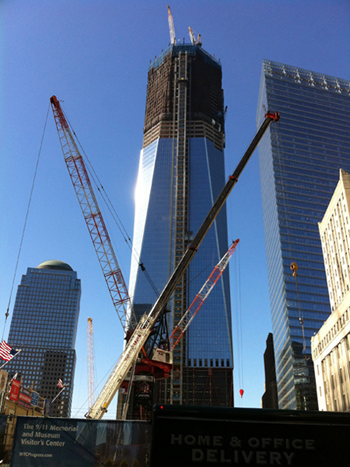 In the late summer and early fall of 2011, the American news media was in a frenzy. We were coming up to the tenth anniversary of the September 11, 2001 terrorist attacks and the media coverage was extensive. The American public was bombarded with print and television stories, documentaries and interviews with firefighters, survivors and family members of victims. I can say with some certainty that spectacle is an Americanism, but I was weary of this kind of pageantry and media circus. September 11 will always be an open wound for the national psyche, at least as long as the media treats it as such. As an avid newsreader, I absorbed a fair amount of sentimentality from the media during this period and my resurgent emotional engagement led me to visit New York and ground zero in October 2011.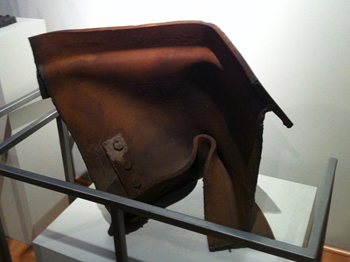 Emerging from the World Trade Center Subway stop, I was greeted by David Childs's partially paneled Freedom tower, which stood sentry over the 9/11 memorial site and Zuccotti Park (where the Occupy Wall Street protests were in full swing).  I was forcibly reminded that steel girders are still the structural basis for our greatest buildings and monuments. On a nondescript Monday afternoon I entered the 9/11 Memorial Preview Site, which was so tightly packed with visitors that it was difficult to move through the space. I was recalled to Xu's premise almost immediately as I was confronted by physical remnants from the towers displayed serenely on white pedestals, as if they were art objects. A section of bent girder with a subtle red-brown iron-oxide patina sat as if the Memorial Museum had acquired an early Richard Serra study – akin to Chunk or To Lift (both from 1967). I had to recall myself to my surroundings and remember to refrain from viewing this sculpture critically as an artwork, but to see the bend in the I-beam as physical trauma recorded in metal – a haunting scream in a solemn room.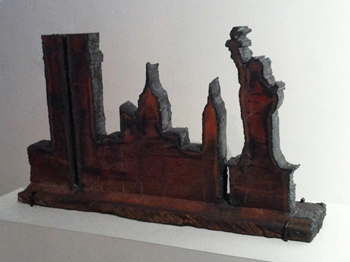 Just beside the massive girder was a crude representation of the pre-9/11 skyline of New York, hewn from a 4-inch thick chunk of structural steel. The didactic vinyl revealed that ironworker Rafe Greco used his cutting torch to restore the towers back to the New York skyline. There is clearly recognition – both by Greco and the Memorial Museum – that purposefully using material from the twin towers creates a more powerfully emotive object. The quality and technical prowess of the work is quite beside the point in the context of the museum; it is the metallic gesture of remembrance, memorial and renewal that is intuitively understood by visitors.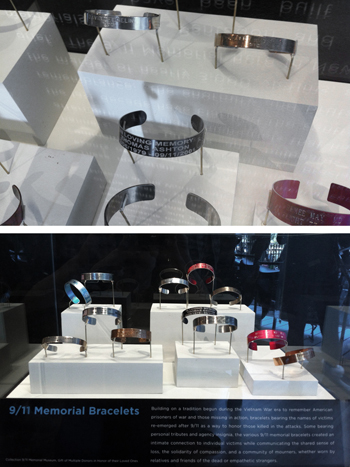 A little way along was a vitrine of engraved memorial bracelets. The memorial bracelet, popularized during the Vietnam era, is at once a way to communicate solidarity among those grieving, while also creating a very specific and personal memento.  Given the historical resurrection of the format, there is undoubtedly a nationalistic undercurrent communicated through these objects. While there were many intimate and personal objects in the Memorial Museum Preview Site, the bracelets identified victims of the attacks individually – by name – while physically marking the loss felt by the victim's family. The permanence of metal is a logical choice for any commemoration and plays a vital role in the practice of using jewelry to commemorate in this way. Beyond materiality, I marvel at the way even the most banal jewelry can activate expressly personal and intense emotions for those grieving – but also for perfect strangers.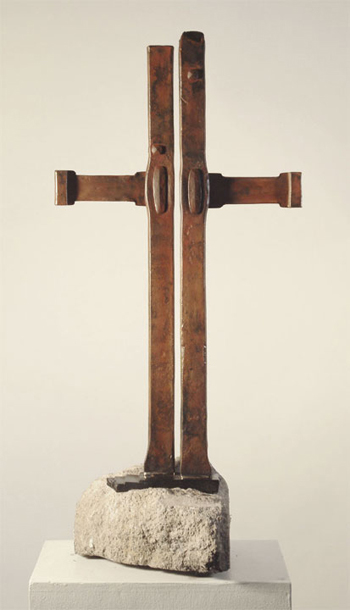 Just across Vesey Street, St. Paul's Chapel (formally Trinity Wall Street) also houses a museum exhibit. Open to the public since 1766, the historical landmark remarkably survived the collapse of the towers. In the chapel was yet another instance of salvaged steel used to mark the tragedy. This time blacksmiths David W Munn and Frederic A Crist expertly forged and fabricated a cross, transforming debris into religious iconography. Its very transformation from wreckage to crafted object connoted healing, while its semiotic transformation moved it from a symbol of destruction to a symbol of hope and faith. It encapsulated the ability of metal to almost alchemically convey our deepest emotive experiences as humans.
As I left downtown, I realized that a journey of material understanding that began with Xu Bing in 2004 came full circle. For me, as a metalsmith and writer, it was through metal objects that I was able to make sense of the events of September 11. The tenth anniversary stirred in me emotions that I thought were long ago dealt with, but it was actually finding something familiar – in the commemorative metal objects – that finally gave me some semblance of personal closure. How unlikely it seems that a bent steel girder can help assuage the emotional roller coaster of 9/11. For millions who have visited Ground Zero, the ability of metal and other materials to convey meaning is a source of comfort when working through a tragedy of both personal and global consequences.