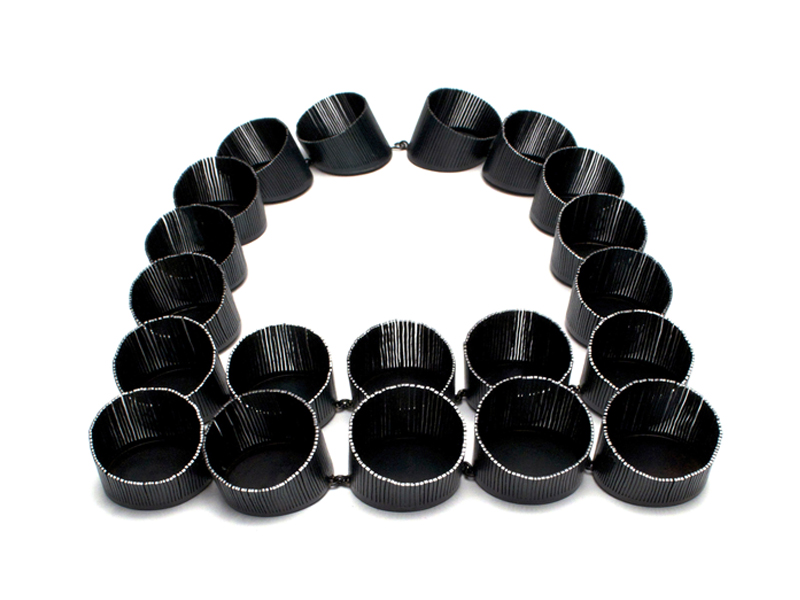 Mill Valley, California, USA—Art Jewelry Forum (AJF) is pleased to announce Lynn Batchelder the winner of the 2016 Art Jewelry Forum Artist Award.
Batchelder was chosen from a record number of applicants—151 entries from 35 countries. She will receive a US$7500 cash award, and her work, along with that of the four finalists, will be exhibited by Platina Gallery at Schmuck international art jewelry fair in Munich, February 24 through March 1. Batchelder will also receive the benefits of being a supporter of AJF and serve as a juror for the 2017 Artist Award competition.
AJF's Artist Award acknowledges promise, innovation, and individuality, advancing the careers of rising artists. The competition was open to makers of wearable art age 35 and under and not currently enrolled in a professional training program. Judging was based on originality, depth of concept, continuity of design, and quality of craftsmanship. This year's jurors were: Philip Clarke (New Zealand), inaugural director of Objectspace; 2014 Artist Award winner Seulgi Kwon (South Korea); and AJF board member and collector Susan Kempin (United States).
Batchelder's studio practice relies on a drawing process where forms and ideas develop intuitively through the initial exploration of a line on paper. Industrial steel becomes transparent and delicate as cuts made with the jeweler's saw reflect the quality of a line drawn by hand. Batchelder strives to capture small moments of contrast where control and imperfection collide.
Impressed by Batchelder's work, Philip Clarke described it as "[a]ppearing almost mechanically made at a distant glance … the character of the human hand and frailty is evident. I found that the maker was able to explore a range of ideas within the quite formal framework that they had created." Seulgi Kwon reflected on the pieces having "exceptional structural and sculptural beauty. They are designed to deliver strong feeling and a simple message through the natural color of metal itself." Susan Kempin added, "I love the clean lines, the simplicity and yet the complexity of the pieces … to me there is only perfection here."
Batchelder earned a master's of fine arts in metal from State University of New York at New Paltz, New York, USA, in 2013.
###
Art Jewelry Forum is a nonprofit organization spreading awareness and increasing appreciation of art jewelry worldwide since 1997. Its diverse community of artists, collectors, critics, educators, galleries, historians, makers, and writers is united by a passion for art jewelry. AJF advocates for art jewelry through an ambitious agenda of education, conversation, and financial support. It commissions critical writing that sets the standard for excellence in the field, and publishes artjewelryforum.org, an Internet resource for original content on art jewelry.