This article is based on the artistic research called
Purity or Promiscuity? Exploring Hair as a Raw Material in Jewellery and Art
that was conducted by Carla Castiajo at the Estonian Academy of Arts in Tallinn, Estonia, 2011–2016, with a scholarship from the Foundation for Science and Technology (FCT), Portugal, 2011–2015, and which was supervised by Professor Kadri Mälk and Professor Dr. Robert Baines.
Doris Salcedo was born in 1958 in Bogotá, Colombia. Her evocative works address loss and memory through witness.[1] Andreas Huyssen, the widely published professor at Columbia University, wrote of her work:
It is about memory in the literal sense, both the content of specific memories of violent acts, and memory as a process and as structure as the work enters into dialogue with the viewer. And it is about memory in a spatial sense, approximating it, never quite getting to it, compelling the viewer to innervate something that remains elusive, absent—the violent death of the mother that left the child orphaned.[2]
Salcedo created a series of three sculptures—Unland: The Orphan's Tunic, from 1997; Unland: Audible in the Mouth, from 1998; and Unland: Irreversible Witness, made between 1995 and 1998—that was based on the testimonies of orphaned children whose trauma was caused by witnessing the murder of their parents.[3]
In Unland: The Orphan's Tunic, the artist used tables which already had many marks, both from extensive use and the passing of time. She joined two different tables together, one against the other, creating a single, new table with two sets of broken legs, suggesting mutilation. The wooden table was surrounded by raw silk, which reminds me of the gauze used to cover wounds. The silk was sewn on the table with an abundant number of strands of hair in combination with silk threads through thousands of minuscule holes (suggesting follicles) that were drilled into the table.[4]
The lengthy, laborious process of "manufacturing" is evident in Salcedo's work, much as it is in hairwork jewelry. As a material, human hair is a strong medium for creating sentimental significance, and it has therefore been an important material used particularly in sentimental jewelry. On the one hand, jewelry can integrate the hair of a loved one who is still alive. On the other, it can also integrate hair that was saved or cut from a deceased person. This kind of jewelry is known as mourning jewelry.[5]
Hairwork jewelry is a slow task and requires a great amount of time and patient hands. Marcia Pointon, researcher and professor emerita at the University of Manchester, observes that integral to the "term 'hairwork' is the significance of the laborious and slow process of manufacturing, a process that is understood to be peculiarly feminine."[6]
Human hair is a material that defines a physical and human existence, and it is capable of evoking personal and collective memories. Before being used, hair needs to be cut from the head. The cutting of hair from the deceased can be very disturbing. This hair has been removed or separated from its place, much as an orphan is separated from its parents. Once separated from the body, it acquires a new quality.
The subtitle of each sculpture in the series Unland, like other titles used by Salcedo, are inspired by the poetry of Paul Celan. Unland "describes the sense of being displaced,"[7] of being removed or separated from the place. For this work to be seen properly, it is necessary to get close to it. Huyssen wrote this about Unland: The Orphan's Tunic:
The object that appears simple and unassuming at first sight begins to come alive upon closer inspection. Its complexity has as much to do with what is there before the spectator's eyes as with that which is absent. That which is heimlich and familiar, the everyday piece of furniture, becomes unheimlich, "uncanny"; but the homely is both preserved and denied in the unheimlich, just as "land" is in the Celan-inspired title Unland.[8]
The "uncanny" can inhabit the familiar and the unfamiliar. Hair can be closely connected with familiarity. This may be partly why it figures into a strong bond between loved ones. Otherwise, hair from someone we are not familiar with will be able to create a strange kind of feeling or sensation, and can be an object of abjection, revulsion, and repulsion that creates distance.
Mieke Bal, a Dutch cultural theorist and professor emerita at the University of Amsterdam, commented about the creative works of the artist: "Salcedo's works are entirely visual: they use no words other than their titles, and the only sound they emit is that of an emphatic silence."[9] And it is in silence that we mourn, and the work of Salcedo, as she herself says, is "the work of mourning."[10]
Emily Apter, a professor at New York University and a writer, observes that this is "a lachrymose drama of mourning, melancholia, and maniac collecting. The lugubrious nineteenth-century practice of preserving the relics of the departed loved ones" included locks of hair.[11] These locks of hair could be used in jewelry, and hair, as other body materials, remains an indexical reference to its owner. This serves as a reminder, a way to remember the dead. We can find a similarity here with holy relics.
Disembodied pieces of hair reveal an absent body. They can be retained and used in order to preserve and signify memories of a person, as hair has the capacity to persist. The holding and securing of memories, to preserve mundane moments which can be immortalized in jewelry, is visible in the creative work of the American jeweler Melanie Bilenker, born in 1978. She takes photos of herself and her everyday and intimate moments, and uses her own hair to reproduce these images. About her creative work, Bilenker says, "I secure my memories through photographic images rendered in lines of my own hair, the physical remnants."[12] To conserve (and preserve) memories is a significant aspect of jewelry as well as of mourning jewelry.
According to the social anthropologists Elizabeth Hallam and Jenny Hockey, the potency of human remains to function as facilitators of personal memory is evident in the use of hair jewelry:
Worked into brooches, lockets, rings, and bracelets (often with the use of precious metals and stones) human hair has extended memory connections through the powerful evocation of the person to whom it once belonged. Human material that was regarded as 'dead' while the person was living is thus transformed into a 'living' substance at death in the sense that it is reanimated as a possession capable of sustaining the deceased in close proximity to the bereaved. The physical durability of hair makes this possible as it stands in stark contrast to the instabilities of the fleshy body.[13]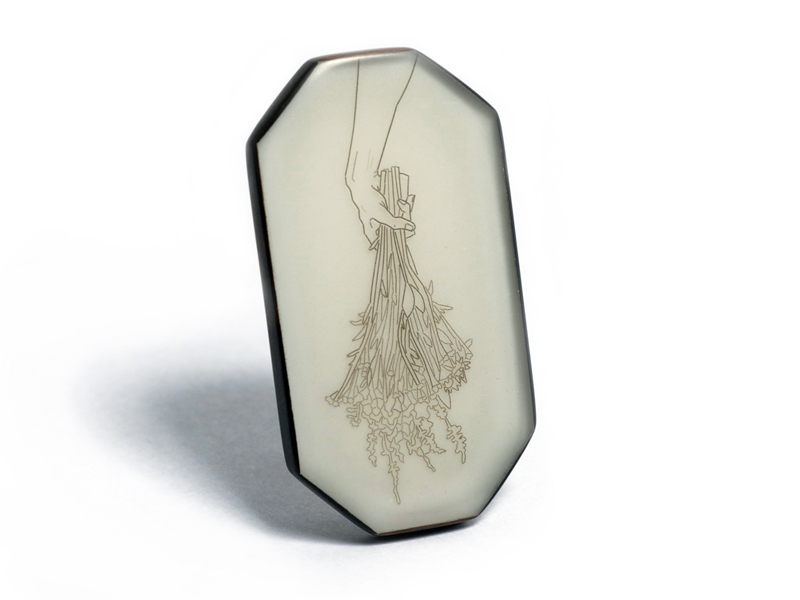 The use of human hair as a material was and is a strong medium used for remembrance, invoking a memory of having lived and of having passed away—a person's life.
Photography, too, is capable of preserving a moment, because a photograph can sustain a certain instant and provide a consistent reminder of a person, place, or event. Thus, in this way, moments of the past can be recalled. Photography serves as a reminder, a representation, a memory, a portrait of someone—just as bodily traces, such as hair, are evidence of the existence of the corporeal, of someone who is or who was.
Hair does not respect borders; it is located in a boundary state between the living and the dead, and we can offer flowers both to the living and to the dead. Hairwork jewelry could be considered to transcend the worlds of the "living" and the "dead." Hair survives death, and it survives us.[14]
---