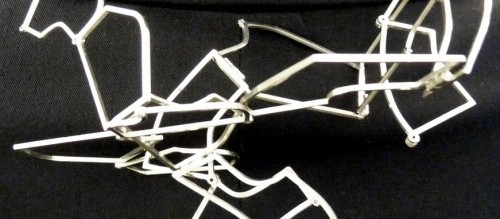 The inspiration for the current 'In Line' exhibition at Aaron Faber Gallery came from a superb exhibition at the Museum of Modern Art last year that I had the good fortune to see. The MOMA show, titled "On Line: Drawing Through the Twentieth Century" and curated by Connie Butler and Catherine de Zegher, brought its audience a fresh view of line. One moved from rooms hung with expert but unsurprising linear drawings and paintings, to rooms with sculptural and three-dimensional works defined by linear movement, to dance performance in the atrium, the dancers moving in linear forms through space. In short, the viewer was taken from Picasso and Kandinsky, to Calder and Eva Hesse, to Trisha Brown and Atsuko Tanaka. The freshness of the show was exhilarating, and inspired me to look at line in metal for a group exhibition at the gallery. As we put the show together over the last year—looking at jewelry collections, talking to artists, working with notes and references—the overwhelming richness and variety of the work out there became apparent. Artists are using line, in its metal form as wire, to explore the graphic nature of jewelry; to construct three-dimensional sculptural forms; to investigate the contradictions of the material itself, by manipulating the metal to appear soft or organic, rather than shiny or solid. Jewelry artists are using line in its pure form, drawing with graphite and combining that with enamel and metal; or using it as a decorative element, fusing curling lines of gold or silver on flat metal surfaces; and very often, as a basic structural component, twisting and manipulating cut-out narrow ribbons or wires to create three-dimensional works.
The result– "In Line: A Group Exhibition of Contemporary Works in Fine Jewelry that Explore, Exploit, Invent, Celebrate or Incorporate Linear Concepts" — is an exuberant collection of some 165 works by 31 metal artists from 11 countries. There are too many personal favorites to mention them all, but here are just a few standouts:
Emma Fielden's solid silver brooches titled 'Drawings' that incorporate oxidized sterling and fine silvers with a transparent enamel finish;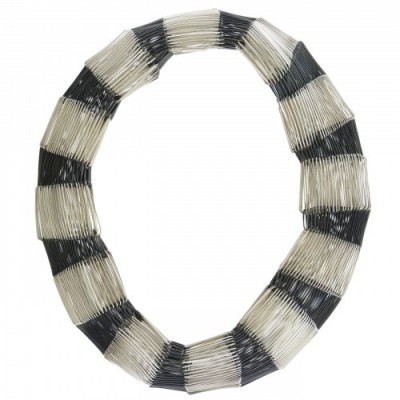 Toril Bjorg's oversize fabric-like collar and bracelets, constructed as linked 3-D cages of sterling wire;
Karola Tolkos' playful vermeil and enamel earrings and necklaces from her 'Swirls and Lines' collection;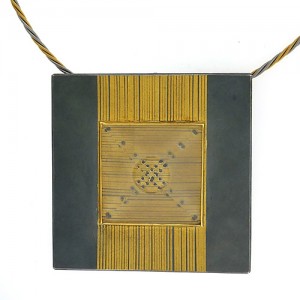 Peter Schmid's striped pyramid brooch, alternating lines of gold and silver;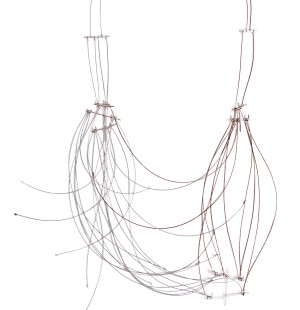 Meghan Patrice Riley's stainless steel and silver lightweight necklaces, inferring volume through geometry;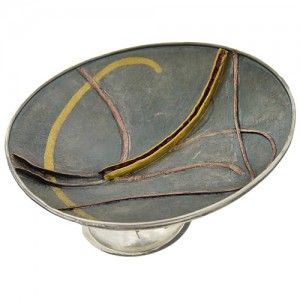 Christian Streit and Silke Knescht's drizzled lines of oxidized silver, as a decorative element on their imposing overscale rings.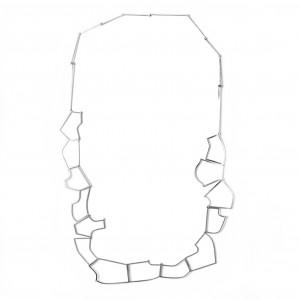 Jewelry artists normally push the boundaries of traditional concepts in art. "Line" for a jeweler is often wire, not pencil, ink or paint; it is by its nature dimensional, not flat on paper. Carolina Gimeno's work in the exhibition is a marvelous example of the sculptural potential of the line in metal. Gimeno works in sterling silver, constructing irregular geometric frames, each hinged at single points to the next frame. The necklace is technically three-dimensional, in that it is constructed in square-formed sterling wire. Yet viewed straight on, it is seen as flat, a line drawing. But in her exploration, Gimeno expands our understanding of what line can be: the links in the necklace are hinged in such a way that they can be configured at random by the wearer into overlapping frames, creating on the spot a three-dimensional sculptural form. The vocabulary of the line, in Gimeno's hands, is neither limited nor limiting.
The exhibition continues at Aaron Faber, West 53rd Street New York, through October 28, when it is packed up and taken to the Navy Pier for SOFA Chicago, November 3 to 7.
For more information click here: http://www.aaronfaber.com/event-page.asp?item=1