Modern Classic of the Year is a tribute that was held for the first time at Schmuck in 1992. It started with three artists per year but soon changed to feature only one artist. The choice is made each year by an internal team of the Handwerkskammer fur München und Oberbayern (the Chamber of Crafts and Trades for Munich and Upper Bavaria). The team, consisting of Eva Sarnowski, Dr. Angela Böck, and Wolfgang Lösche, bases its selection on a combination of criteria. The artist should at least have a long-standing career in jewelry, and his/her contribution to the jewelry field should be outstanding.
In March 2019, visitors to the Schmuck exhibition, at the International Trade Fair (IHM) in Munich, could see a presentation of the work of Daniel Kruger (born in 1951), chosen as Modern Classic 2019. A fine selection of his jewelry from the early beginnings in the 1970s until recent times was installed in four separate showcases within the context of the juried group exhibition.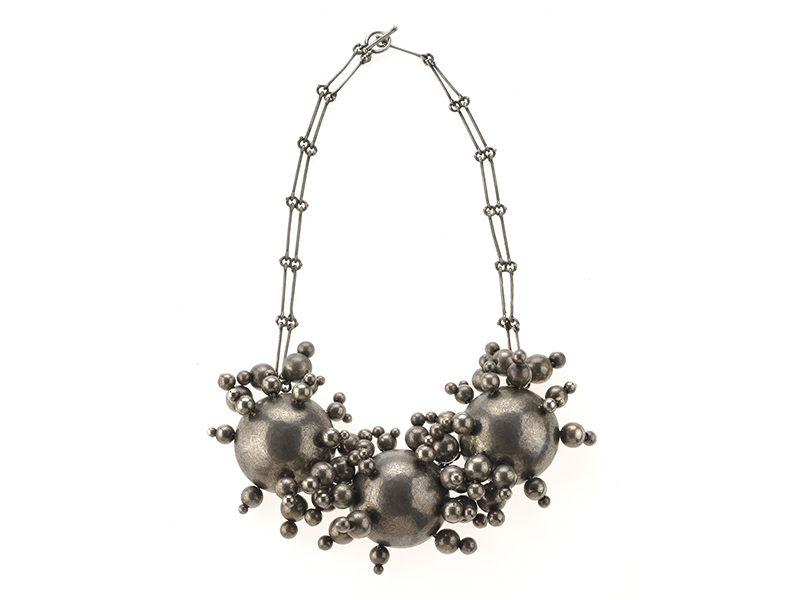 AJF asked some knowledgeable people to give their vision on his work as a special tribute to this versatile artist, whose roots in the bare wilderness of South Africa are as important as the metropolitan and cultivated environment in Germany where he has lived since 1974. Everyone responded with enthusiasm, and the following article is a collage of fragments from different e-mails and some quotations from printed matter.
Wolfgang Lösche, head of Department Fairs and Exhibition Schmuck says, "Daniel Kruger is one of the important jewelry designers of the 20th and 21st century. He has been dealing with jewelry for more than 40 years, and he has found his very own understanding of what jewelry should be. The individual statements of his jewelry, that have changed over time, show that it is important for him to make jewelry as a decorative ornament." Lösche, who experienced Kruger in various juries, praises him also for "his confident judgement and sensitive way of describing jewelry."
Sensitivity to materials and objects is something Kruger wanted to teach his students, for instance when he was Professor for Jewelry at Burg Giebichenstein Kunsthochschule, in Halle, Germany, from 2003–2017. One of his former students, Florian Milker, remembers, "Daniel's workspace resembled a museum; with pleasure one could admire his collection of most different things from all over the world. As a teacher and mentor, Daniel advised us to investigate the things that fascinate us very well, to fathom them in their origins, materiality, and ways of making them, to elicit a story from them."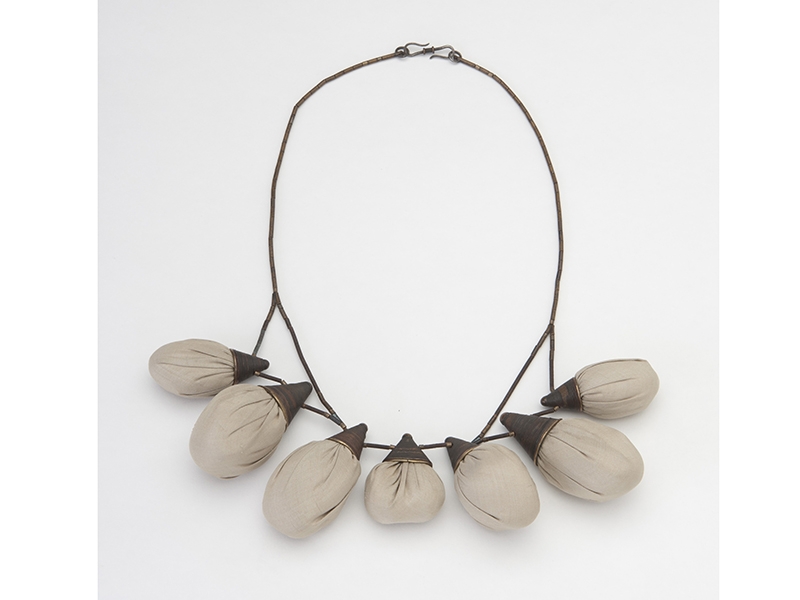 Kruger started studying arts in 1971 in South Africa, first goldsmithing and graphic art at Stellenbosch University (1971–1972), then painting at the University of Kaapstad (1973–1974), and finally jewelry—or goldsmithing, as it was then called—at the Academy of Fine Arts, in Munich, in the class of Hermann Jünger (1974–1980). In 1984, the Schmuckmuseum Pforzheim, together with the Goldschmiedehaus, in Hanau, and two private galleries, Galerie am Graben, in Vienna, and Galerie Ra, in Amsterdam, organized a solo exhibition of his jewelry. Alongside, a catalog was produced. Jünger's introduction to the catalog reads like an apology, as if he felt a need to explain to an audience of jewelry lovers that the term goldsmith should not be pinned down to someone using gold only but instead to someone making jewelry. Jünger described the goldsmith (in general, but specifically referring to Kruger) as "someone making jewelry, simple and complicated, humble and splendid, big and small, fine and even finer, in gold, silver, copper, steel, jewelry from wood, glass, paper, plastic, textile, from stone or bone, matt or shiny, sparkling and sometimes iridescent."[1] It was 1984, and the Netherlands, accustomed to experiments in materials, scale, and autonomy, needed another explanation of Kruger's work. In his introduction for the Dutch audience, Paul Derrez, of Galerie Ra, wrote: "Daniel's ornaments I would like to call jewels, because he applies the traditional goldsmith techniques and consequently uses gold, silver, and precious stones with an utmost refinement. Yet his designs are very personal and unorthodox."[2] One exhibition, two different venues, two stories.
Galerie Ra, in Amsterdam, was the first gallery that supported and represented the artist, and it continued to do so for decades. Derrez remembers: "From the moment I saw Daniel Kruger's work in the Schmuck '77—Tendenzen exhibition at the Schmuckmuseum in Pforzheim, Germany, I was fascinated by his work. Each piece of jewelry or object he makes inhabits a wealth of references and memories, and is unique in its own way. In 1984, Ra showed an overview of his work, covering 10 years. In those days Daniel started to also make other objects for domestic use, like cutlery, ceramic bowls, boxes, vases, and chandeliers. I loved to present these pieces in theatrical settings in gallery shows and at art fairs. Although the baroque and precious character of the work was far from Dutch minimalism, the Dutch audience loved it, and many private and institutional acquisitions followed. The (now called) Design Museum in Den Bosch has many of his jewelry pieces and ceramics in their collection, and so does the Boymans van Beuningen Museum in Rotterdam. Daniel was one of the most appreciated and successful artists at Ra Gallery. I am most grateful I could represent his work for over 30 years."
The Tendenzen jewelry exhibitions at the Schmuckmuseum Pforzheim were very important, regularly organized exhibitions that showed the newest tendencies in contemporary jewelry. Monika Brugger, who had just started studying in the foundation year of the Fachhochschule für Gestaltung in Pforzheim, also went to this exhibition and remembers, "I discovered the new jewelry in the Schmuckmuseum in 1977. But the most important piece was a necklace by Daniel."
The necklace Brugger refers to is a beaded string with seven round bags of silk suspended from it. The bags are filled with pebbles and the silk is wrapped tightly around them. The bags are unequal in size and shape and are attached by pointed copper enclosures. "It seemed like it came from a foreign culture, or from an older age," says Brugger. "It was not easy to gasp. Nothing allowed me to connect it to my little knowledge of jewelry and nothing helped me understand the intentions of the artist. Only, and most importantly, I understood that there were no more borders. All influences and epochs can become sources of inspiration. It is possible to be like an echo of foreign cultures without betraying them. But all this has to be translated through materials, in resonance to the ideas. Yes, it was important to come across this mysterious work." According to Brugger, freedom is the key to Kruger's work: "His work showed me that it is important to challenge yourself, to improve new ideas, and that it has to do with the constant search for freedom. Daniel's works sometimes seem to have 'fallen out' of the history of jewelry; they appear historical but you immediately notice they are not. It is work that also irritated me, surprised me because it mirrored historical models, or reflected totally different references. Influences of our times are to be seen in the pieces. They speak about freedom; his works are about the joy of making."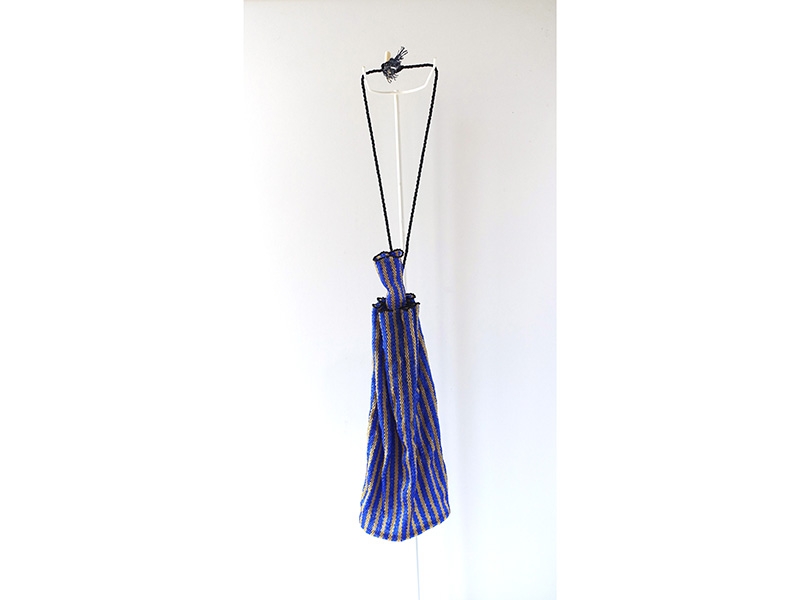 Galerie Biró, in Munich, represents Kruger in Germany. Olga Zobel (Galerie Biró) writes that meeting Kruger in person for the first time is one of the "great moments" (she used the word Sternstunden) in her life: "Who is this artist, so strange but also known, so British in behavior but no Briton, a white African? For me, a native of Hungary, he was mysterious."
Zobel recalls her first memories of Kruger, more than 20 years ago in Budapest, where she attended a lecture by the artist. He showed slides of his home country and described it in poetic words: "An apricot-colored full moon rises above a dusty pastel turquoise horizon, the night sky is ablaze with innumerable stars against the infinity of heavens."[3] Zobel says, "He led us listeners into the strange endless landscapes, which were covered by brown colors and soft, lush grasses. For me, these were unforgettable impressions from his home country. When I hold his jewelry in my hands, these pictures of that time appear in my mind's eye. The experienced, the seen, is stored in the work, and until today he draws from nature. Recently Daniel showed me, with unbelievable joy, the rose splendor on his balcony. However, his work is not about mimesis, but all about succeeding to reach a perfect transformation. The orderly, voluptuous opulence, variety of colors, the precise very small structures, for example in his beadwork, which we see only in blossoms, amaze wearers and observers and make them happy. Daniel's jewelry deals with what we see and perceive in a very special way: form and color. His jewelry pieces consistently have no title."
Katalin Spengler, a collector from Budapest, is a keen observer of Kruger's work; she was introduced to it by Galerie Biró. Spengler writes, "When I began collecting contemporary jewelry in 2008, Daniel Kruger's works caught my attention immediately. I go to all of his exhibitions with a positive expectation, excitement, and a smile. I am always pleasantly aware that I will meet some kind of surprise every time, and his new jewels will engage me in a new dialogue. I chose my most recent Daniel Kruger piece, a necklace, at his March–April 2019 show at Galerie Biró. The work, called Eyes, is characterized by a repetition of the circular shape, which is present in Kruger's other works, too, as is the symmetrical arrangement of its elements. However, in contrast to earlier works, Eyes has no singular, dominant element, no single center; the composition brings to the fore fallibility, fragility, accidentality—being human. Pairs of photos of women's eyes applied on tiny mirrors hang from small circular silver plates composing the necklace. The multiplied female eye and gaze, positioned close to the wearer's face, is a unique experience. It sums up an array of references, from pendants with God's all-seeing eye to the archaic stories of man desiring to see perfection in the mirror, and to 20th-century and contemporary art. Ironic and serious, traditional and contemporary, a jewel and a work of fine art, a masterpiece of craftsmanship. This is the third work in my collection by this master, of whom I am a devoted fan."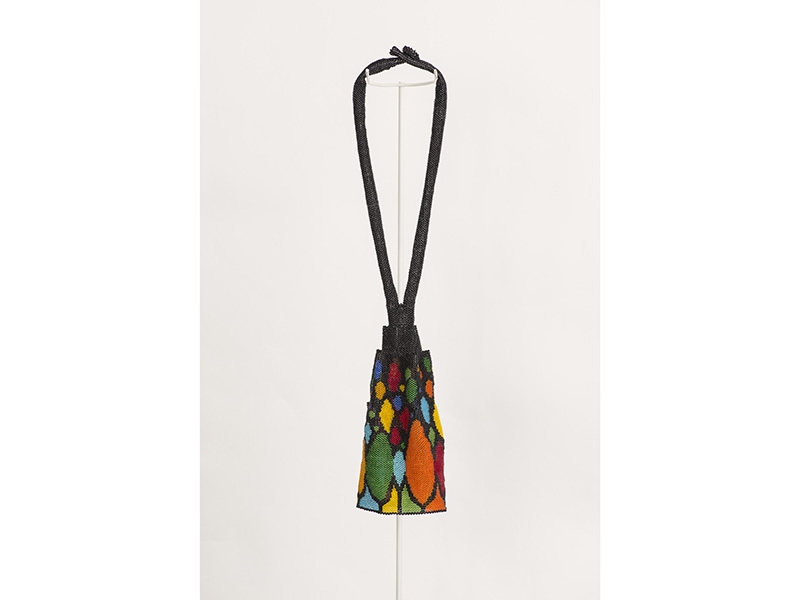 American collector Susan Beech is another fan who has amassed an impressive collection of Kruger's jewelry. She was introduced to his work at Collect, in London, around 2005 and was immediately, in her own words, hooked. "At Collect there were a number of pieces for sale and I had a hard time deciding," says Beech. "The piece I bought was a beautiful silver necklace with large semi spheres embellished with many smaller balls. Over time, I have collected 15 necklaces and brooches. They are colorful, bold, and a little naughty. Of course, they are beautifully made and well balanced, very important for someone who wears jewelry for hours every day. They are joyful pieces that make me happy, and I get lots of compliments." Another American collector, Marion Fulk, from Little Rock, Arkansas, who describes herself as an art jewelry maniac, is never seen without jewelry. As a wearer, she is, like Susan Beech, a real expert. Fulk states, "Daniel Kruger's work is lovely to wear. It hangs nicely on the body; the clasps are easy to use. I am always amazed at the precision of his work—no matter whether the material is silver, enamel, or cherry pits, it is always impeccably done. I have several of his pieces, and also work by some of his students. He appears to be a supportive teacher and an advocate for his students' art."
Most of the people that were contacted for this article talked about awaiting his next work with great curiosity, knowing that it will always be surprising and exciting. Gallery owners are privileged people because they are always in the front row. In 1993, Paul Derrez described his feelings in the Ra-Bulletin accompanying Kruger's umpteenth exhibition at Galerie Ra: "When I opened the package … a sense of delight welled up in me, which makes the job of a gallery owner more than worth the trouble. Here were three fine rings embedded in aquamarine and purple paper. Rings of gold, turquoise, rubies, and tourmalines … Jewelry with a romantic aura that you can't ignore: as if they have always been there and now—recently discovered—are tentatively allowed to see the light of the day."[4]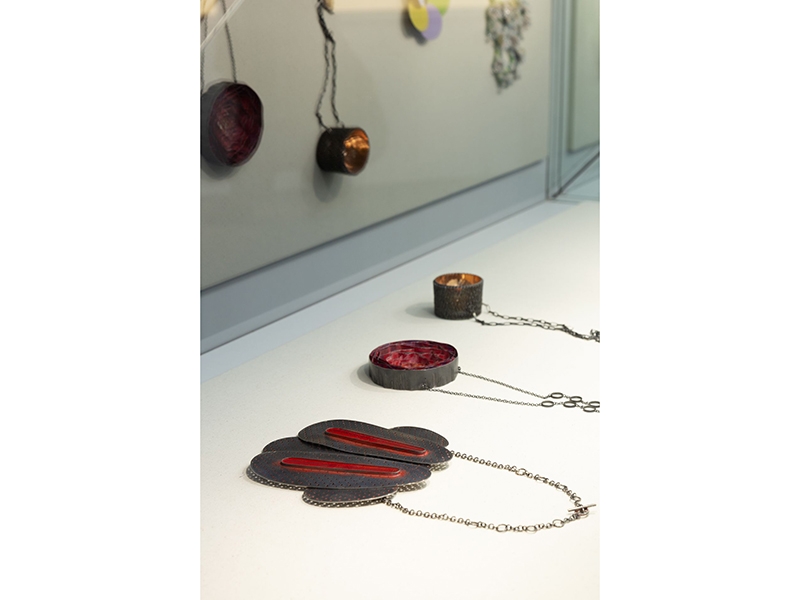 This beautiful and joyful description of a first response to new work by Kruger matches well with Sienna Patti's words. "When a box of work from Daniel Kruger arrives, we hover and flit over it with excitement, bees to honey," she says. Sienna Patti is Kruger's gallery in America, and Patti praises him as "a favorite of those who collect artist-made jewelry. Daniel's work is also consistently respected and admired by other artists. As objects off the body, the pieces are exquisite, the simple forms and materials incredibly alluring. It is without question, however, that Daniel Kruger's jewelry is meant to be worn, and most successful when it is. Each piece is weighted beautifully and feels good and strong and seductive when on. There is power in those simple shapes—something universal in them. I'm not quite sure how he makes it so that when you put a piece on you feel powerful—but he does, you do. Countless times I have had the experience myself and seen others have it as well. Daniel's pieces do what all good art does: transform and transcend."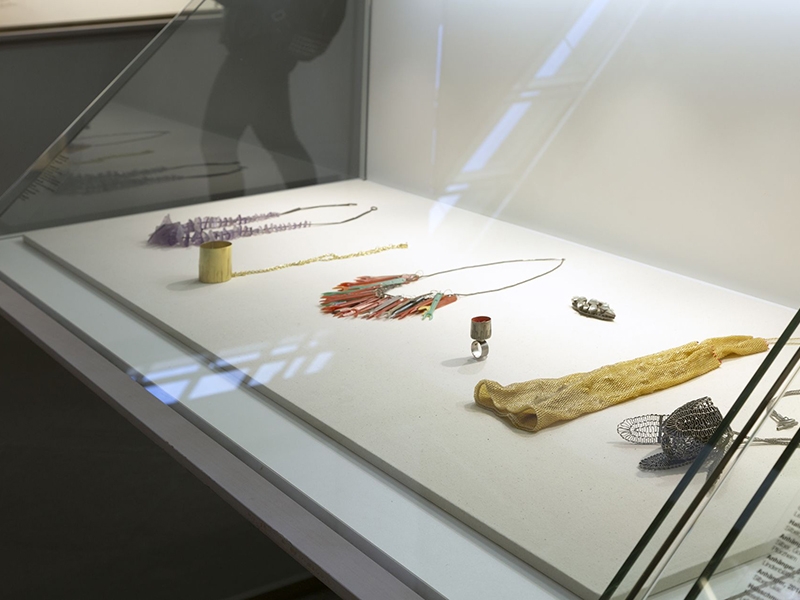 Patti appreciates the aspect of the handmade in Kruger's work. "There is a feeling in Daniel's work that it was very definitely made by hand and I suppose this is what I most respond to. That it was labored over and loved while it was being made. That it is an object that was cared for. When Daniel came to visit for an exhibition he had, we went to the nearby Hancock Shaker Village for a few hours and walked through the old buildings. The Shakers, known for their furniture and architecture, believed that designing with care and making something well was in itself 'an act of prayer.' Of course, wearing/creating jewelry implies a far more decorative way of life than the Shakers led, but there is something in this thought that reminds me of how Daniel treats his work: each piece feels meditated on." And she ends with the following remark: "This Shaker 'rule' is one of my favorites: Do your work as though you had a thousand years to live and as if you were to die tomorrow."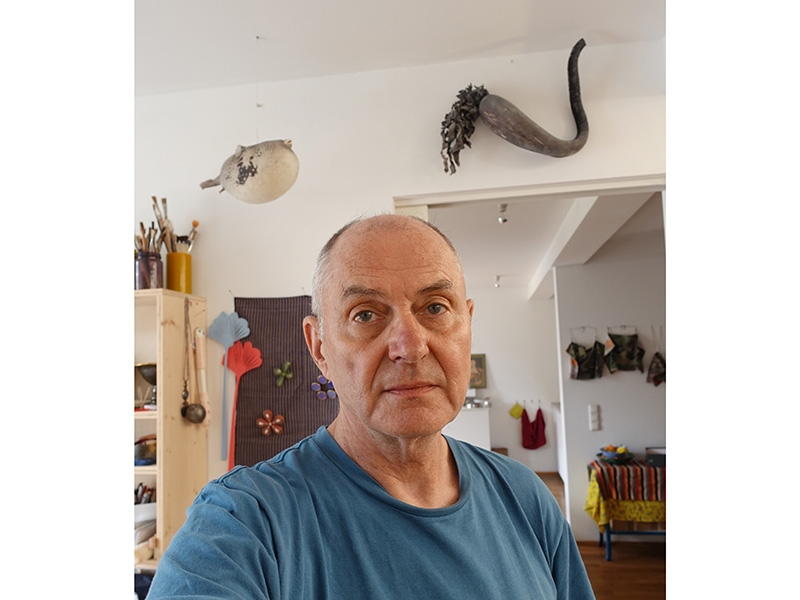 It is a miracle how Daniel Kruger's jewelry appeals to so many people and seems connected with so many different cultures: African and Baroque, urban impressions and Shaker acts of praying, crocheting and the female gaze, eroticism and transformation. People who meet and talk with Kruger will encounter a kind and considerate man, modest, not loud, and with a good sense of humor. He is an enigmatic character who seems out of place in our fast and superficial society, an artist who coincides with his work.
This article could only have been composed thanks to the kind collaboration of—in order of appearance—Wolfgang Lösche, Florian Milker, Paul Derrez, Monika Brugger, Olga Zobel, Katalin Spengler, Susan Beech, Marion Fulk, and Sienna Patti, who were selected by Liesbeth den Besten.
---