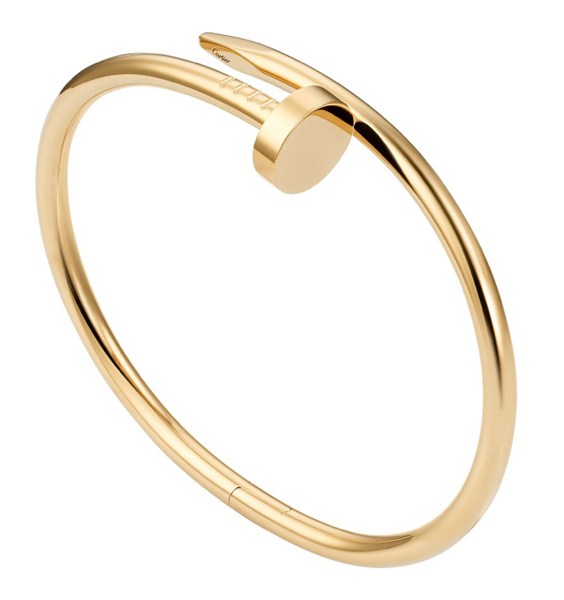 The camera makes sure that we see this piece of jewelry, and at the end of the scene, when luckily Alba decides not to jump, we meet her again on the street, where she is being arrested by two employees of a psychiatric hospital. Before entering the ambulance, her mother, a high-society lady who is totally insensitive about the situation, exclaims, "Show me the Cartier!" and snatches it from her wrist. "It is not allowed to bring sharp objects into the hospital, is it?" she adds as an aside to the astonished nurses while she puts the bangle on.
The Cartier in question belongs to the Juste un Clou (Just One Nail) collection, the 2012 re-edition of the Nail bracelet designed in 1971 in New York by the in-house jewelry designer Aldo Cipullo. The piece shared the same radical approach as Cipullo's previous iconic design, the Love bracelet (1969), with its motifs of screws, which required an actual screwdriver (supplied with the piece of jewelry) for opening and fastening. During those years Cipullo claimed "my second home is the hardware store." During the 70s conceptual jewelry would have a go with tools, too. Examples include the pendant Clé à Molette (1975), by Gilles Jonemann, which was an actual adjustable wrench holding a diamond, or Bernhard Schobinger's Can-Opener Bracelet (1977). The tendency to elevate the humble to the precious had a subversive character, which dramatically transformed the understanding of jewelry and paved the way both for design innovation as much as for artistic endeavors and critical explorations of jewelry's definition in the following decades.
The journey of the golden nail from Alba's wrist to her posh mother's almost follows the opposite route. At first, the bangle acts as a conceptual object, loaded with the avant-gardistic drive of the time during which it was designed; it is also referred to as a "sharp object," which can be understood as something potentially harmful as much as an object that makes a clever statement. In short, it is revealed that this was more than "just" adornment. On its next wearer, the object loses complexity and becomes "just a Cartier," a desirable luxury item. This reminds us that when art jewelry takes as subject the emotional, often contradictory, relationship of people with their technological and material worlds, the wearer plays a crucial role in keeping the nail's pointed end—and the point of the jewelry—sharp.