Susan Cummins: How did you come up with the idea of Jardins d'Hiver, or "Winter Gardens," as the theme for a show?
Elsa Vanier: We were coming out of a Niessing exhibition, and we needed some diversity. The winter/Christmas exhibition always features a group of jewelers, and because the time of year and the economy are so grim, we definitely wanted color. The name just came to me. I like poetry. In French Jardin d'hiver is a room in a house with lots of windows where you can keep your plants in the winter. It is also a room with a view of the garden, which in winter would be all black and white.
I thought it was very French to include perfume as part of a jewelry exhibit. Could you explain what led to this decision?
Elsa Vanier: This is more of a coincidence. Anne Gérard, one of our former jewelers, has begun creating perfume with Bertrand Duchaufour, a renowned professional "nose" (perfumer). He is in residence at l'Artisan Parfumeur and has also created fragrances for several other perfume houses, including Penhaligon's, Amouage, Comme des Garcons, Givenchy, and Christian Dior.
But indeed, it might be very French that Ann Gérard turned to perfume!
I just took this opportunity to showcase her new pursuit.
Are the exhibiting artists usually available in your gallery, or were they invited especially for this show?
Elsa Vanier: They are permanent artists at the gallery.
Elsa Vanier: Different artists handle it in different ways. Some turn to silver, some mix silver and gold, and some stick with gold. I am thinking of asking them to explore other materials, such as titanium or palladium. It's a time to experiment, I think, but also such a tough time for them. As for the price of stones, I am not sure that it has affected their work since stones were never the primary features of their creations.
Paris is known as a center for fine jewelry. The large design houses like Van Cleef and Arpels and Cartier are located there. How does the artist jewelry you exhibit differ from or relate to the designs produced by these famous houses?
Elsa Vanier: My artists are light years away from the high jewelry houses. They work independently. They develop their own ideas with no constraints, except maybe some budget constraints. They do not think about a series. Many of their pieces are one of a kind, or at least there is so much handwork involved in the process that each piece is different. They are guided by their own search and by the way the public receives their work.
This does not mean that working for the maisons is completely off the table. Some of these artists could very well work for them as designers. In fact, last year I introduced three jewelers to one of the Place Vendôme houses that was looking for an artistic director and asked me to select a few candidates for consideration.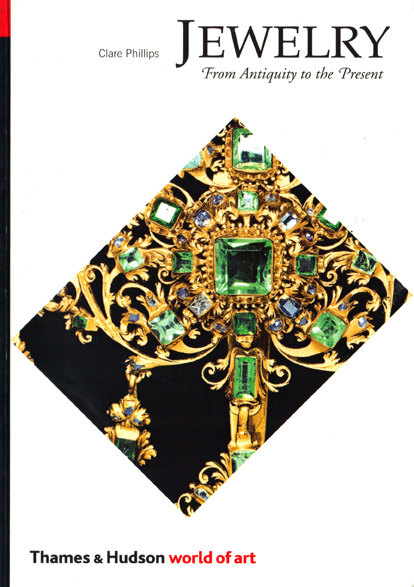 Elsa Vanier: Paris is getting ready for many important events.
Some are classic but might include contemporary jewelry, such as the Revelations exhibition organized by Ateliers d'Art de France at the Grand Palais from September 11–15. However, the high entrance fee of around 10,000 euro might discourage some interested in participating.
More important is an event called Circuit Bijou. This will take place at the Musée des Arts Décoratifs and many other locations, including spaces rented for a week, and of course, Galerie Elsa Vanier. Circuit Bijou will start on September 19, 2013, and end in March 2014. A selection committee has met, and we will start announcing events later in the spring.
Can you recommend your current favorite book on jewelry?
Elsa Vanier: There are many on my wish list, and then there are two sitting next to my bed. The first is a wonderful book filled with beautiful images called Promenades en Méditerranée (Around the Mediterranean) by Jean Grisoni. The other is Jewelry: From Antiquity to the Present by Clare Phillips. This is a compelling book for me, especially because I need to learn more about the history of jewelry and English technical vocabulary.
Thank you.