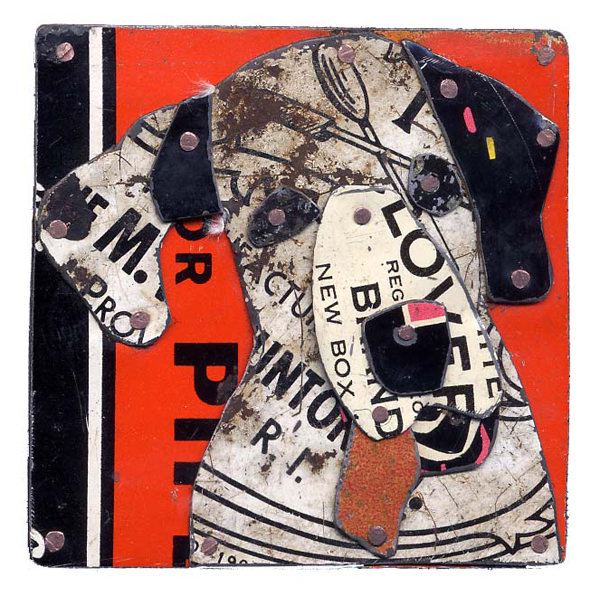 Susan Cummins: How did the idea of Badges & Buttons, Waistcoats & Vests come about? Was it a personal interest?
Elizabeth Turrell: Yes, it is a personal interest.
The exhibition title—Badges & Buttons, Waistcoats & Vests—alludes to the fact that we think we have a language in common, but as this play on words indicates, these words separated from their past have assumed subtle new meanings through function and practical necessity.
Here is some of the background to this show: Badges are unspoken messages. Badges may be small objects, but they nonetheless encapsulate every sphere of human activity, expressing identity, indicating membership, declaring beliefs, or making a fashion statement. They can be subtle or direct, serious or humorous. They provoke strong reactions: approval, respect, fear, or hostility.
My early memories help explain my continuing fascination with badges and why I choose to research, collect, wear, and make them. From early childhood I found badges to be changeable objects. When my father was in the army, he was taken prisoner by the Japanese a few days after I was born. I remember my mother always wearing a silver and enamel regimental badge. My grandmother worked for the Women's Voluntary Service (WVS) during the war, and several photographs of us together show her wearing her WVS badge. I have no memory of knowing what enamel was or how it was made, or even how I could come to own a badge.
In 2002 I was working at the University of the West of England (UWE), in Bristol. I was researching the history of a range of enamel-manufacturing processes, including that of the enameled badge. This led to a project, involving a group of applied-arts faculty and visiting artists, whose starting point was to explore the concept and meaning of the contemporary badge through the production process. This opportunity allowed the artists to meet, work together, and develop new skills, initially through the process of enameling. The artists were from a range of disciplines and worked in a variety of media. The project became an annual event until 2009. It provided a mutually supportive group through meetings and studio workshops. This deceptively simple yearly project created opportunities for collaborative work and critical dialogue, but above all, it gave established and busy artists the time to play, take risks, and have fun.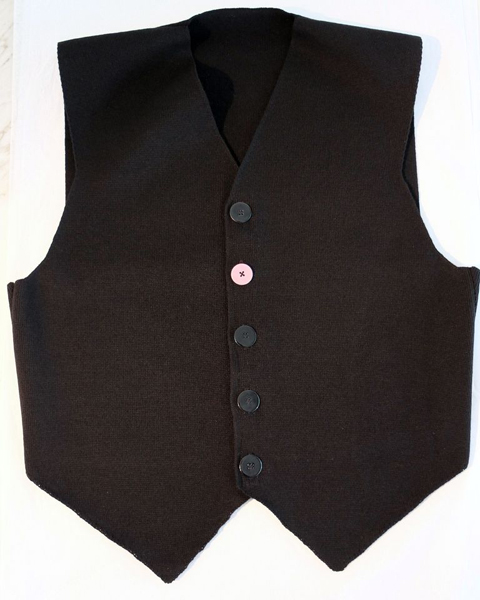 Since 2000 there have been many examples of artists using badges as a vivid form of personal expression, with notable examples of badges and antiwar medals. Two important exhibitions have been Badges: Symbols of Identity at the British Museum in 2004, based on the museum's large and intriguing collection, and Anti-War Medals at the Velvet da Vinci in San Francisco in 2003. Philip Attwood, curator of medals at the British Museum, initiated the Badges: Symbols of Identity exhibition. He authored an informative catalog for the exhibition that covered the history of the badge and its ever-changing role. I recommend this as an excellent introduction to the context of the badge in society over the centuries.
In 2009 Philip Attwood generated Medals of Dishonour at The British Museum. This exhibition focused on the medal as an indicator of dishonor and notoriety. Historic medals were shown alongside those of contemporary, internationally renowned artists.
In March 2012 I was lead artist for Unsung Heroes and worked with Stephen Bottomley and Susan Cross at Edinburgh College of Art.
Unsung Heroes celebrates the role of nursing through a permanent installation of exquisite and historic enameled hospital and nursing badges from Lothian Health Services Archive. These are coupled with innovative new enameled badges and works made by researchers at the jewelry and silversmithing department, ECA, Edinburgh University. Working with lead artist Elizabeth Turrell, researchers responded to the historic badges, material in the archives, and oral history interviews with current and retired nursing staff to create the installation. Enameled panels encompassing fascinating extracts from the interviews were commissioned as part of the installation. Jane McArthur, project manager, Ginkgo Projects for the RIE Arts Committee
Robert Ebendorf: It was a concept and project that Elizabeth and I have discussed quite often. Over the years Elizabeth has had a great interest in badges and is well versed in their history. She has identified groups that wear badges, from those promoting social causes to rank-and-file labor organizations to taxicab drivers.
I believe her interest in my vest is what led to our collaboration. It has always been a walking showcase of badge-like objects that I celebrate and wear. Maybe it is wishful thinking or perhaps my lucky misfortune that I never had the opportunity to serve in the military or be a union boss or some other official of importance. I am just kidding. I do wear a vest that is covered with personal adornment. So, this longtime habit of vest wearing, coupled with Elizabeth Turrell's historical and intelligent pursuit of the badge, led to a discussion of this exhibition. Add to that the exhibition interests of both Velvet Da Vinci gallery in San Francisco and the Society for Contemporary Craft in Pittsburgh, Pennsylvania, and the concept was embraced, and we had the opportunity to bring the collection together. It was Elizabeth who asked each artist to display his or her creative collection of badges on a vest. Each one was to send an image fulfilling this request. The image I sent was of me standing proudly beside Governor of North Carolina Beverly Perdue on the night I was awarded the 2010 North Carolina Award in Fine Arts. So, to answer your first question, I believe it was a personal interest that Elizabeth Turrell and I shared.
Can you discuss the decision to make this a jewelry and fashion statement both?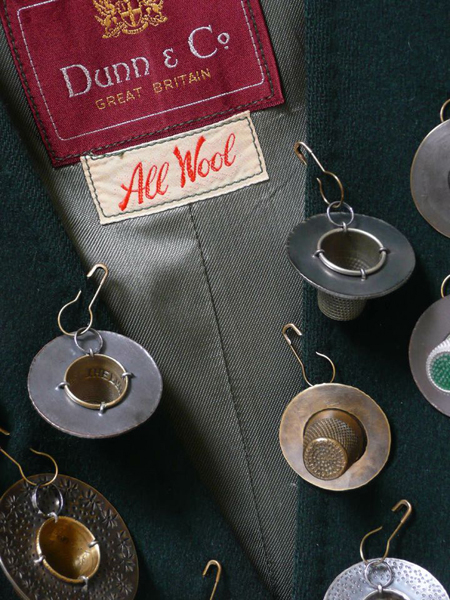 Marissa Saneholtz's waistcoat is perhaps a celebration of the maker, a practical garment that can be worn while working, decorated with badges representing the tools of the trade. Gretchen Goss has the exquisite solution of using photographs of a ghostly dandy in a fine waistcoat as the background for badges depicting sepia images of waistcoat wearers.
Robert Ebendorf: Yes it is a fashion statement.
In the exhibition you show the buttons and badges on the vests and waistcoats. Did one artist do both parts, or did you match them up once you had them all in hand?
Elizabeth Turrell: We sent the artists the following outline for the exhibition:
The waistcoat/vest is a wearable and portable canvas for the badges/buttons. The waistcoat can be used as an integral part of the theme or idea behind your badges or as the background garment. The number of badges on the waistcoat is entirely up to the artist. We see the waistcoat and badges as being an integrated exhibit. The badges/buttons may be made from the material(s) chosen by the artist; the waistcoat can be from a charity/thrift store or designed and made by the artist or another maker.
Robert Ebendorf: The artists sent their collection of badges or buttons on a garment of their choice. The idea was that the gallery would be able to exhibit each garment as a collection.
Can you discuss one or two pieces in detail and talk about their intention?
Elizabeth Turrell: I think the artists should speak for themselves. (Unfortunately, although requested, I didn't receive statements from the US artists.)
Susan Cross Artist Statement
Edinburgh has many fascinating vintage clothes emporiums. Having been invited to participate in this unusual project, my starting point was inspired by finding this bottle-green woolen waistcoat circa 1950. Dunn & Co was a well-known, traditional gentleman's outfitter in the UK.
Dunn & Co was founded in 1886 by George Arthur Dunn, a Quaker who started by selling hats on the streets of Birmingham. Forty years later he had 200 hat shops and as many franchises in other department stores. These gradually developed into a string of high street shops specializing in formal wear, especially suits, blazers, and flannels. Mr. Dunn was a modern thinker, being the first to own a combine harvester and open a vegetarian hotel here in Britain. He died in 1939. I was interested to discover that the company started out as hatters, and thus the idea evolved for this project—to use old thimbles that are a traditional tool for the tailor and to turn them into "badges" inspired by the distinctive Quaker hat.
Dail Behennah Artist Statement
Old waistcoat, embroidered. Lined with a silk Cold War "Escape Map," dating from 1951, of an area on the borders of Finland, Russia, and Norway.
This waistcoat was inspired by one of my favorite walks, along the estuary of the River Nevern in Pembrokeshire, Wales. I often meet people burdened with rucksacks, maps, and GPS devices. I hate carrying things, but as a geographer I understand the value of maps. In World War II maps were printed on silk to enable servicemen to avoid capture or to escape. They were concealed within garments or folded very tightly to fit into a cigarette packet or a hollow heel. They did not rustle if unfolded and could survive immersion in water. These maps are still being made for use in conflict zones around the world.
My map can be worn, and if [I become] lost, I can easily take it off to find out where I am. I have embroidered the main features and the route of the path on an old waistcoat. Small badges have been enameled with beautifully drawn map symbols taken from the 1888 Ordnance Survey Map.
I have also added badges in silver and brass, which act as a memory device encompassing sounds, sights, history, and emotions. The brass symbols show our house and some special places where I always stop and look at the view. The silver ones remind me of places where I have seen rare birds.
"Sometimes a map speaks in terms of physical geography, but just as often it muses on the jagged terrain of the heart, the distant vistas of memory, or the fantastic landscapes of dreams." Arthur H. Robinson and Barbara Bartz Petchenik The Nature of Maps (Chicago: University of Chicago Press, 1976).
Matthew Partington Artist Statement
Title: Reserve
Waistcoat: merino wool (Milano weave)
Buttons: vitreous enamel on copper
Whereas in nature the male bird's plumage can be fabulous and showy, men's clothes don't cry out for attention. Color is seen as unusual and in some respects unwelcome. If color does appear in the male uniform, it is often hidden in the lining of a suit jacket or overcoat. The meaning of Reserve is in the buttons, which hold the two sides of the waistcoat together. It is a reflection on masculinity, display, and English reserve. I have hidden away the color on the back of the buttons (except for one which has been sewn on back to front), and the choice of pink enamel is a comment on the perceived link between color and femininity.
Robert Ebendorf: Elizabeth Turrell's collection used a strong symbol, the cross. If you are familiar with her work, she has had an ongoing interest with human rights issues and political injustices. Marissa Saneholtz's badges focused on craftsmen's tools. She was particularly interested in the toolbox of the carpenter and the furniture maker. She would often seek out carpenters and ask what their favorite tools were and why.
Both of you are makers, so I am wondering about your roles as curators. Have you curated shows before? Can you discuss your interest in the curatorial process? Any plans to curate future shows?
Elizabeth Turrell: Bob has curated many exhibitions over the years, and for my part I hope we will curate another show together. Bob first came to Bristol in 2000 to take part in an enamel symposium I had organized. We continued to work together during summer workshops until the closure of the Enamel Research Centre in 2011. During these years Bob was made a visiting professor at UWE. He exhibited in The Enamel Experience and was instrumental in securing venues for the exhibition in the USA.
Badges & Buttons, Waistcoats & Vests is an outcome of our joint interest in the significance of the universal wearing of the badge. We saw the show as an opportunity to further the theme of the badge but with the added challenge of its relationship to the waistcoat and display.
Listed below are the two recent exhibitions.
International Enamel Exhibition Shemer Art Center & Museum, Phoenix, Arizona, during the SNAG conference in 2012, curated by Elizabeth Turrell, Beate Gegenwart, and Melissa Cameron.
Drawing, Permanence & Place 2011- 2012, Coburg, Germany; Craft in the Bay, Cardiff, Wales; Zum Güldenen Krönbacken Arts Centre, Waidspeicher Gallery, Erfurt, Germany; Emaillekunst op Staal Museum voor Vlakglas en Emaillekunst, Ravenstein, Netherlands. Joint curators: Elizabeth Turrell and Beate Gegenwart
I am currently involved in generating Medals of War and Peace, which will be part of a significantly larger exhibition marking the 100th anniversary of the start of the Great War and the 75th anniversary of the start of the Second World War, as well as continuing conflicts and wars.
I definitely feel that she should be celebrated for her many years in the field of decorative arts and particularly in enameling. I enjoyed serving as a guest professor in her laboratory during her time as a faculty member at UWE. She has come to SNAG a number of times and has generated a number of conferences and think tanks in Europe in the field of enamels. She has taught in the US at Penland, Haystack, and the Enameling Symposium at East Carolina University, and she was a guest artist at Kent State University, working with Professor Kathleen Brown.
What do you think are the pressing issues in the contemporary jewelry field at the moment?
Elizabeth Turrell: I don't feel qualified to answer this question without a great deal more thought and time (it would really require a separate piece), other than to say that as a former educator, I am troubled by university and college administrations' lack of appreciation for the value of an education in metals and especially enamel.
Robert Ebendorf: I do not wish to answer at this time.
Are you reading something that you could recommend?
Elizabeth Turrell: I am reading this as a background research for the Medals of War and Peace installation. It offers an evocative and moving array of objects made from the waste of industrial objects of war and will be of interest to metalsmiths and jewelers.
Robert Ebendorf: For a starter, I'm reading The Soul of Rumi: A New Collection of Ecstatic Poems, by Coleman Barks.