Susan Cummins: Can you give me a little history about your gallery?
Pacticia Faber: Aaron Faber focuses on three areas of expertise: contemporary studio jewelry, classic jewelry new and old and collectible vintage timepieces. It was founded by my husband, Edward Faber, in 1974 as a showcase for artist-made jewelry. In 1975, I joined Edward to open the gallery, dedicated to the presentation of changing exhibitions of contemporary studio jewelry. The gallery has been in its present location at 666 Fifth Avenue since 1977.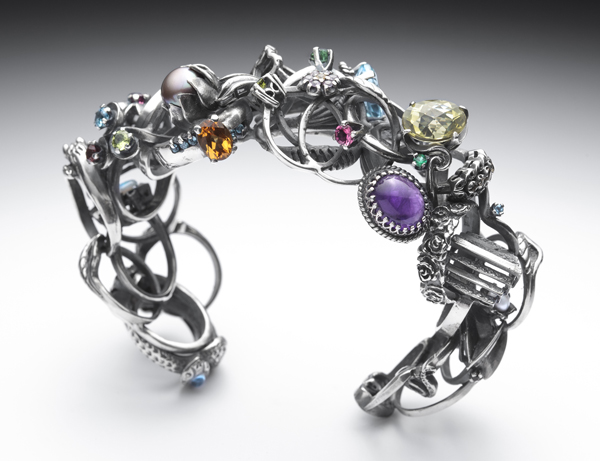 We focus on one-of-a-kind works by artist-makers executed in precious metals.
When did you get interested in the jewelers of Quebec? How did this show come about?
In a period when craftsmanship has been played down, I became interested in the small studios and handwork of the Quebec metalsmiths, which are masterfully executed. I worked with the Quebec Trade Office to visit studios and exhibitions in Montreal to curate the exhibition.
Innovation and Craftsmanship: The Jewelers of Quebec has been a year and half in preparation by the fourteen studio jewelry artists who were invited by the gallery to participate. The diversity of the artists and works reflect Quebec itself, with its respect for tradition matched by a lively innovative arts scene that welcomes creativity and originality. The jewels in the exhibition are evidence of both.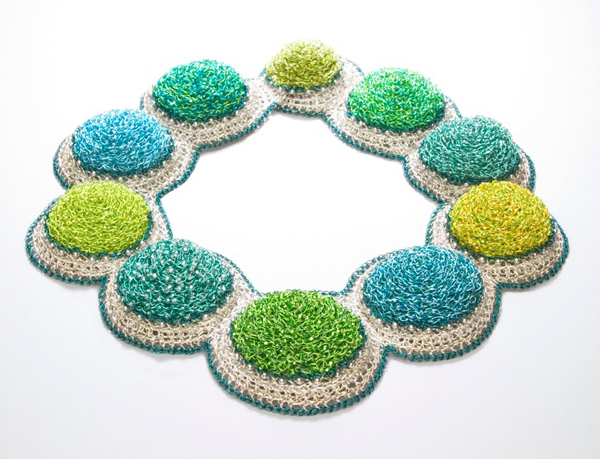 Heirloom Bracelet by Matthieu Cheminée: His poignant artistry reflects a dynamic cultural experience balancing instruction in silversmith from the Navajo, Hopi and Zuni of Taos, New Mexico; a seven year sabbatical in Mali, West Africa, studying jewelry making with the Touareg and Bambara tribes; and current residence in Montreal learning classical design techniques. These vast cultural experiences are revealed in his complex, multi-layered buckles, bracelets and rings, with each piece telling a new story at every glimpse.
Sapphire Rainbow for a Maharajah Royal Neckpiece by Barbara Stutman: Her early lessons from her grandmother in knitting and crocheting created a foundation for which her extraordinary collections in crocheted 18-karat gold, fine silver and colored copper wires would spawn. Inspired by the world around her, Stutman's pieces are creative responses to her reflections on social-economic conditions and the acquisition and societal interpretations of gender identities.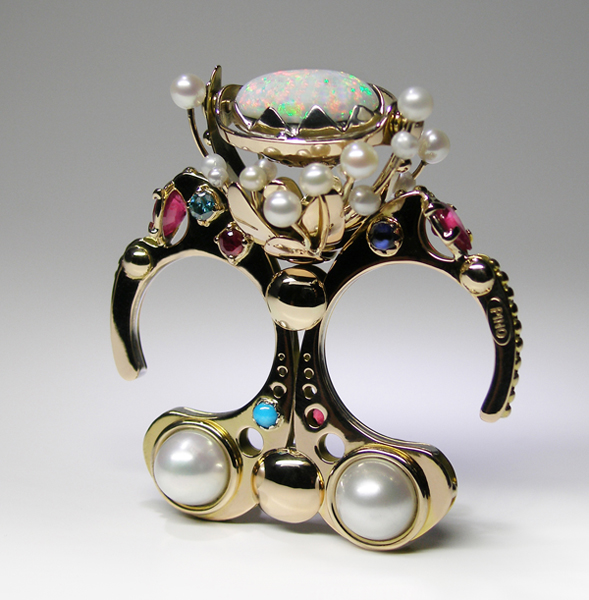 Cumulus by Christine Larochelle: Her interest in the relationship between object and people formulates her vision of creating sculptural, wearable art inspired by nature and harmonized with the body's movement. Larochelle plays freely with matter, searching for a balance between forms, volumes and textures to create necklaces and bracelets defined by streamlined sequences of repetitive elements and visual rhythm.
Do you see a common thread in these works that would give the viewer a clue of their origin?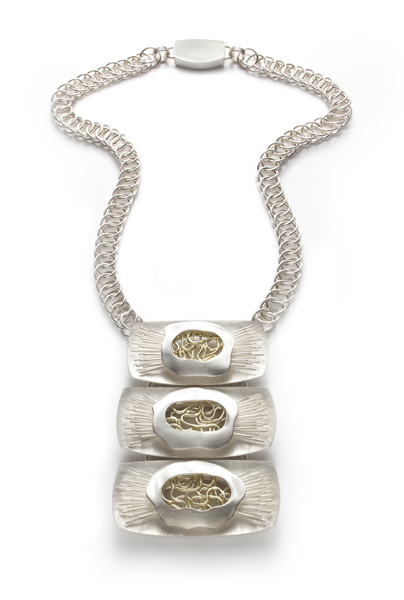 The French-Canadian culture and community in Montreal is a mix of innovation and tradition and I focused on that in selecting the artists for the exhibition. While Quebec's jewelry artists are part of the large world of studio jewelry, they are little known in the United States. We hope this exhibition will change that.