Born June 10, 1918, Denver, Colorado
Died August 2, 2015, Sausalito, California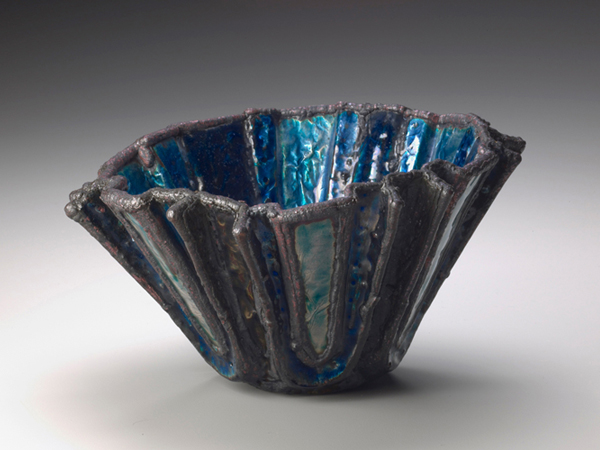 June Schwarcz, one of the masters of contemporary craft, has passed away at the age of 97. June's enamel work and sculptural copper vessels have been celebrated for over 60 years, and her work is in the collections of The Metropolitan Museum of Art, New York; the de Young Museum, San Francisco; the Renwick Gallery, Washington, D.C.; the Museum of Fine Arts, Boston; the Museum of Arts and Design, New York; and many others.
June studied writing at the University of Colorado, Denver; and later at the University of Chicago; and then went on to study industrial design at the Pratt Institute, Brooklyn, New York, from 1939 to 1941. During her time in New York she worked in package design, greeting cards, and window displays. In 1943 she married Leroy Schwarcz, a mechanical engineer.
During a visit to family in Denver in 1954, June discovered enameling on copper. Working with four other housewives around a folding table and using Kenneth Bates's book, Enameling: Principles and Practice, as a Bible, June was essentially self-taught.
Her early work employed the basse-taille technique, where the copper is etched or patterned in some way and transparent glass enamel is fired on top. In the Oral History interview with June for the Archives of American Art, Smithsonian Institution, she talks about the inspiration for those early pieces.
"I felt there was a compatibility between the action of acid and the erosion of the elements on things. And so I worked for a long time with these naturally eroded surfaces."[1]
June's participation in Craftsmanship in a Changing World, the inaugural exhibition at the Museum of Contemporary Crafts in New York City in 1956, launched her six-decade career. In a short period of time, June's abstract enameled bowls and panels became the most innovative in the field and in 1958 she had a solo show at the La Jolla Art Center. In contrast to much enameling of the time, her expressive use of color echoed the vitality of Abstract Expressionism painting that was revolutionizing the art world.
June's husband set up a 30-gallon electroplating bath in her workshop, which allowed the copper to be thickly built up with voids to hold the rich colored enamels. These basse-taille bowls are volcanic. Beautiful but not pretty. There is a roughness to many of the pieces that borders on ugliness. The crusty dark of the copper plays with shimmering fired-glass infill.
The electroplating acid bath allowed June to innovate new approaches to traditional enamel techniques such as cloisonné and plique-à-jour, creating a stained-glass effect in copper.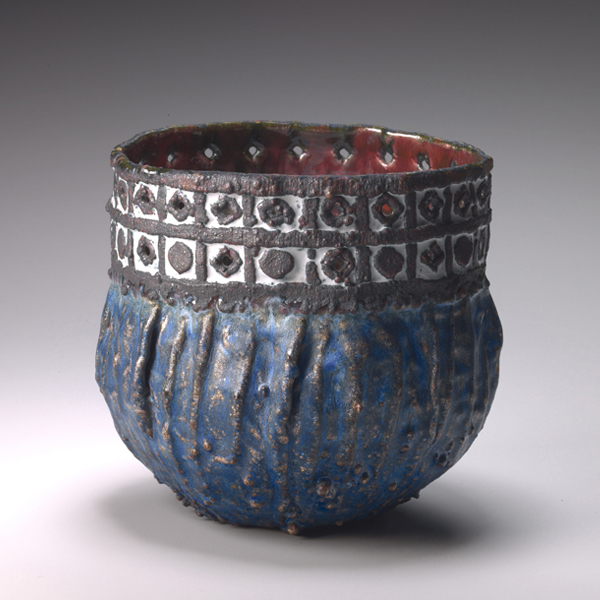 Employing very thin copper foil and fine copper mesh allowed electroforming in more complex compositions. June was a talented seamstress. She made many of her clothes and her experience with pattern making provided the framework for the rest of her career. Paper models were pinned or taped together and then reproduced in copper foil or mesh stitched together with fine copper wire. The pieces were then plated to strengthen the forms and prepare them to be enameled.
Bay Area jeweler and longtime friend April Higashi recalls June's passion for clothing:
"I was 30 when I met June at her 80th birthday retrospective at the American Craft Museum. When I approached her to ask to work as her assistant, we complimented each other on our skirts, both Comme des Garçons, and were soon so lost in conversation that I forgot to mention I'd love to work for her.
Working for June, I learned how she saw and created in three dimensions. One of the first tasks she gave me was to lie out a flat pattern and cut it out of thin copper, like cutting fabric for clothing. Inspiration came from anything she felt was beautiful: when her grandson Adam went through a phase of wearing oversized pants, she did a series of vessels about his oversized droopy pants. Over the last seventeen years, I visited her regularly; we went to art shows and dinners. I dressed for June, because we were both interested in fashion and we had similar taste. She always wore something interesting unless she was in the studio."[2]
June was passionate about art and sought out exhibitions by artists, especially painters she admired. Echoes of Mark Rothko, Richard Diebenkorn, Robert Motherwell, Morris Louis, and sculptors Constantin Brancusi and Isamu Noguchi can be seen in the forms and surfaces of her vessels.
Through her long career June worked slowly, but she continuously evolved forms, creating new ones and then revisiting previous forms if she felt she had more to say in a particular mode. Over the years, some of the forms became simpler but no less sophisticated. Sometimes the enamels were left shiny as they came out of the kiln while others may have been sandblasted, changing the way light played across a piece. Many times the outside would be patinated, electroformed copper while the inside was enameled. As she once said, "I'm never out of ideas." In her 60-year career, June created over 2,500 works.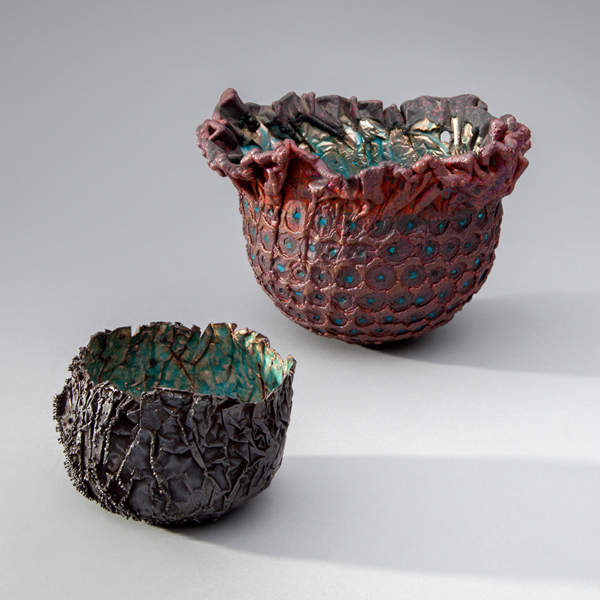 Although she never had a regular teaching job (it would have kept her from making…), June participated in many workshops and symposia and was happy to share her knowledge and methods. "I've never had secrets and I'm glad to tell everybody anything I know. And then I want to go home."
Her studio and home were always open to the steady stream of admirers that sought her out. Many artists and curators have great memories of June's art-filled home overlooking the San Francisco Bay. Her long health problems slowed down her work but she made time to meet with her many friends. (The visit usually finished off with a bowl of coffee ice cream…)
Harlan W. Butt, professor of art at the University of North Texas, recalls: "June invited me to visit her studio in Sausalito. We discussed enamels and she raved about a red she used that I had never heard of. It was probably a discontinued color she had collected years before. A few weeks later I received a packet of that red enamel in the mail. My impression of June is that she always listened to the person she was talking to. Not just as a matter of respect but because she was actually interested in you and what you had to say."[3]
Toward the end of her life, June had slowed down quite a bit but still managed to climb down the steep stairs to her basement studio with the help of her care-giver (and now trained studio assistant) Betty Chong. She completed new work the last week of her life. Betty fired her final piece the day after she died.
Chicago-based jeweler Kiff Slemmons was an old friend and recalls their many years together:
"Over the last several years, we talked often on the phone. We covered all kinds of subjects of conversation. We were so completely different in our work and we didn't always agree in our opinions or ideas and that I particularly valued, since there was always so much to learn, to understand when there is mutual respect at the core. I have often thought that what we shared came from our self-taught beginnings as metalsmiths, that we had not learned our skills with metal through a formal education. June's course, her curiosity, her attention, led her to become an innovator and a master in technical practices that are significant contributions to metalsmithing, to enameling, to craft. She was an insatiable explorer, both in what she took in and what she gave out. That influences for her were wide is evident from her love of highly refined Japanese aesthetics to the charged energy of tribal art.
June was fierce in her dedication to her work, unwavering in the standards she set for herself, wide in her intellectual range, passionate about beautiful clothes that were made like architecture, appreciative of a cereal bowl that felt good in the hand, a lover of the eccentric, in moments a deeply spiritual person with little use for organized religion; she had a wry sense of humor including about herself too, an abiding curiosity about art, what was new and more important why, a love for the objects of everyday life that were made with care, and a deep appreciation and respect for structure and form, what it takes to make things work, the ingenuity of invention, the sign of the hand, the sign of the mind. Beauty can show up in the most unexpected places, in a tool, in a flower, in the segmentation of a flea. Though beauty as a value in contemporary art has fallen to the wayside, beauty and its making remained—proof of the better side of us humans, what we might contain and give. June never gave up on beauty. It was her one rule."[4]
Longtime friend and collector Forrest Merrill spoke with June not long before she died…
"June's contribution to Western Art is best remembered for its rich variety of forms and by her meticulous artistic craftsmanship with enamels, making her a giant amongst her peers. Her inspiration was life itself and is best exemplified by a wheelchair-bound visit to the de Young museum to see the Turner painting show in the last month of her life. Good work, June. What a way to go!"[5]
Good work, June. Thanks.
June Schwarcz is survived by her children, Carl Schwarcz and daughter-in-law Molly Clark, Kim Schwarcz, and beloved grandson Adam Schwarcz.
A video interview of June Schwarcz can be seen here:
Index Image: June Schwarcz working at an electroplating tank, between 1965 and 1969, Archives of American Art, Smithsonian Institution, photo: Julian Williams
---
[1]
This and the following quotes from June Schwarcz come from the Oral History, Archives of American Art,
http://www.aaa.si.edu/collections/interviews/oral-history-interview-june-schwarcz-12744
.
[2] April Higashi in email conversation with the author, August 2015.
[3] Harlan W. Butt in email conversation with the author, August 2015.
[4] Kiff Slemmons in email conversation with the author, August 2015.
[5] Forrest Merrill in email conversation with the author, August 2015.