Born Halle, Germany, 1984
Died Le Vernet, France, 2015
Juliane Noack's interests spanned jewelry making, music, experimental fashion and design, and figurative sculpture. An excellent draftsperson, Juliane had an unusual facility for understanding and implementing skills of all kinds: She could make whatever she wanted and never stinted on the time and effort required. She applied the same intense energy to life in general as she did to her artistic pursuits. Her slogan was, "Los, wir machen das jetzt!" (Come on, let's do it now!).
Juliane began her studies in the jewelry class of Professor Daniel Kruger at the Burg Giebichenstein University of Art, Halle, Germany, in 2004. She graduated in 2012, receiving a Marzee International Graduation Prize in the same year. The following year she moved to Leipzig and set up her studio there.
Juliane was the leading force in a number of art projects in public space that sought to extend or redefine the art context and to engage people in dialogue. She was co-founder of "hr. fleischer e.V.," an art and project space in an abandoned newspaper kiosk in Halle where, for example, she would cut hair on the pavement in front of the booth under the motto "hair fleischer." It is in this light that her work is best viewed; she was someone who sought and provoked interaction—between herself and others, or between people in general, using an action or instrument as a vehicle for establishing this.
In one series of student works (Flash Gordon, Hank, 2010), she rendered individual human torsos visible in the form of chased silver undershirts that trace the contours of the bodies they (do not) contain, creating an effect reminiscent of the Invisible Man. The type of clothing and the implied body posture suggest character types or personalities without addressing the person directly.
This is a theme that Juliane pursued and extended in a number of ways. She produced a series of meticulously chased copper animal rings, featuring the heads of a wild boar (2010), a bulldog, and a raven (both 2011), each of which sits on the wearer's finger like an emblematic ring of office.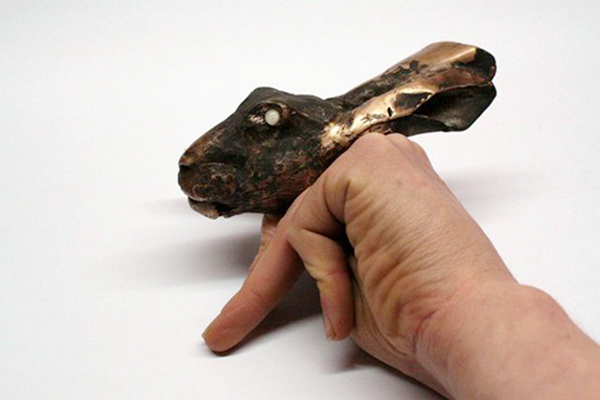 Here the animal is a metaphor whose characteristic the user chooses to associate with him- or herself. As symbols, they imply neither a threat to others nor an elevation of the wearer. Instead, they encapsulate both positive and negative aspects of the person who associates themselves with them, simultaneously distracting from and revealing the wearer.
This led to realistic and expressive pieces modelled in wax, and then cast in aluminum. An almost life-size cat (2012) worn on the arm as a bracelet is like a pet one would carry with one as a companion. Animals like the hare ring (
Hase) served as a sign, as an insinuation of the wearer's personality; the large lobster that lies draped over the shoulder emulates how some people do in fact carry their pets around as they pursue their daily chores.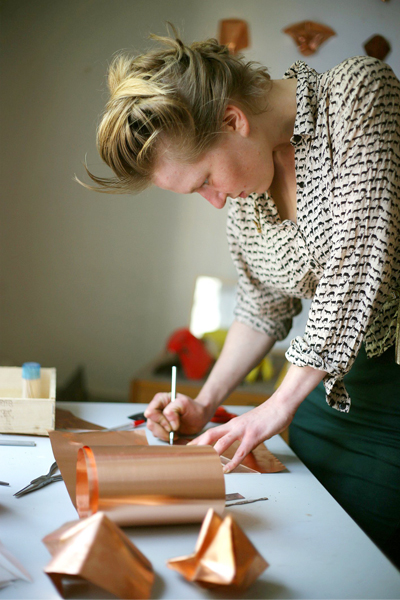 Yet, seen in the light of her activities in public spaces and her statements revealing her intentions, one realizes that her concern was with communication and that her works invite, indeed encourage interaction with the piece being worn, thus avoiding indiscretions and personal remarks, and establishing a dialogue by addressing the artwork and not the person wearing it.
One of Juliane's latest works is a group of 24 animal masks folded from identically sized sheets of copper (160 x 160 mm) as a wall installation. These are schematic representations of animal faces. The object has been separated from the wearer, has become a character study to be looked at impartially. From the identical rectangles of copper sheet, different physiognomies emerge. Some can be identified, others are enigmatic abstract forms. Copper is a warm and conductive material that reacts with the atmosphere over time, and which, together with the process of folding to give the pieces their forms and personalities, refers to the coming into existence of life, to destiny, to the evolution and diversity of humankind.
Where this journey would have taken Juliane and all the people associated with and inspired by her, we will never know. Juliane died tragically in the aircraft accident of March 24, 2015. She was 30 years old.
Her work has been shown in a number of group exhibitions nationally and internationally and in two solo exhibitions in Halle. She is represented in the public collection of the CODA Museum, Apeldoorn, the Netherlands.
An exhibition of Juliane's work planned for Galerie Katrin Eitner in Berlin will be rescheduled as a retrospective. On July 24, 2015, the Bavarian Arts Council Munich will present a portrait of her and her work in conjunction with the exhibition Wo Alles Angfängt—Where It All Begins, a review of work by students and teachers connected with the jewelry class of Professor Daniel Kruger at Burg Giebichenstein Halle.
Editor's Note:
On the second anniversary of the death of Juliane Noack, her friends and family have established the
Juliane Noack Association
to support artists working in their first years after graduating in the areas of sculpture contemporary jewelry art/artist jewels and intervention.