August 2023, Part 1
Art Jewelry Forum is pleased to share the news that members of our community find noteworthy. Is something missing? The success of this compilation of compelling events, news, and items of interest to the jewelry community depends on YOUR participation. If you're a member of AJF at the Silver level or above, you can add news and ideas to this bi-monthly report by going here. If you aren't a member, but would like to become one, join AJF here.
Listings gathered with assistance from Carrie Yodanis.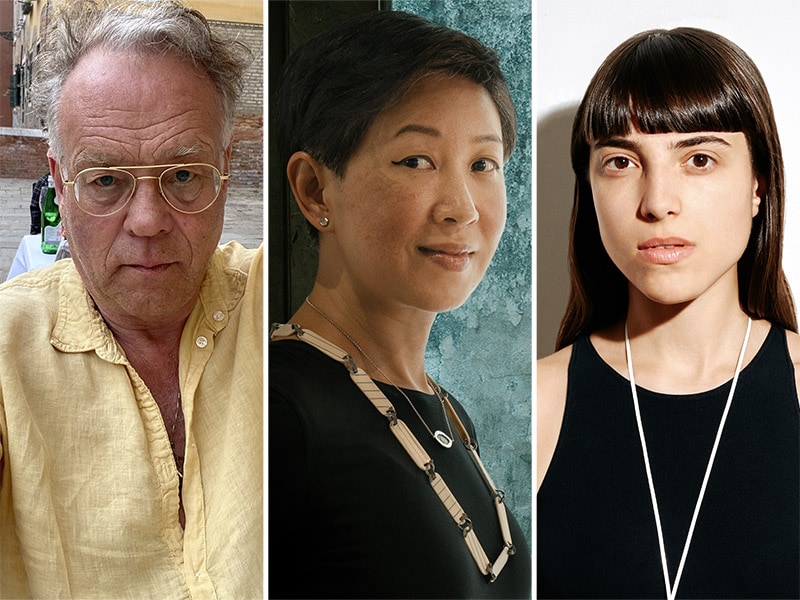 WIN $7,500 AND AN EXHIBITION IN MUNICH!
AJF's Young Artist Award acknowledges promise, innovation, and individuality, and advances the careers of rising artists. Artists aged 35 and under may apply for this international prize in contemporary art jewelry, which includes US$7,500 for the winner, as well as an exhibition during Schmuck, in March 2024, for the winner and four finalists, who will each receive $1,000. Applications accepted through November 6, 2023. Info.
---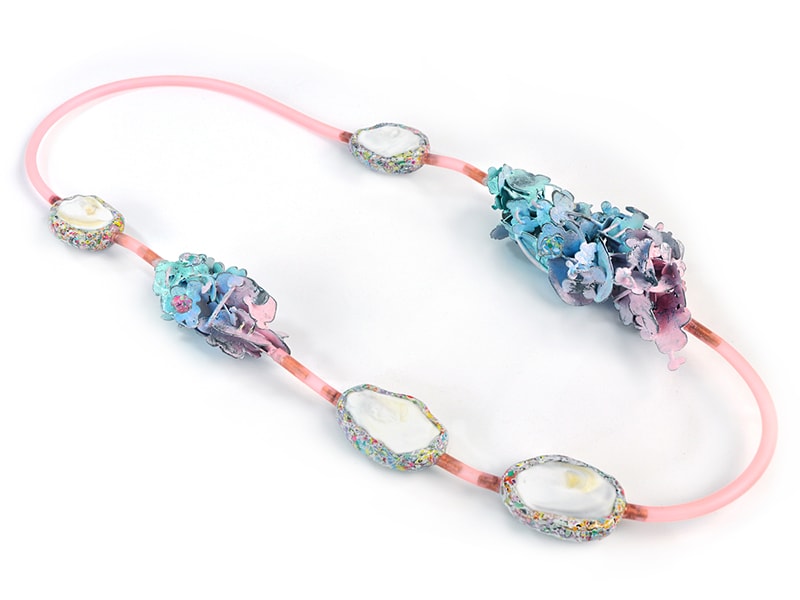 TWO AJF LIVE EVENTS COMING SOON
AJF Live with Sulo Bee, October 2, 2023.
AJF Live with Khanya Mthethwa. The winner of the Susan Beech Mid-Career Grant will be our guest on October 25, 2023.
Mark your calendar! Registration links to come soon.
---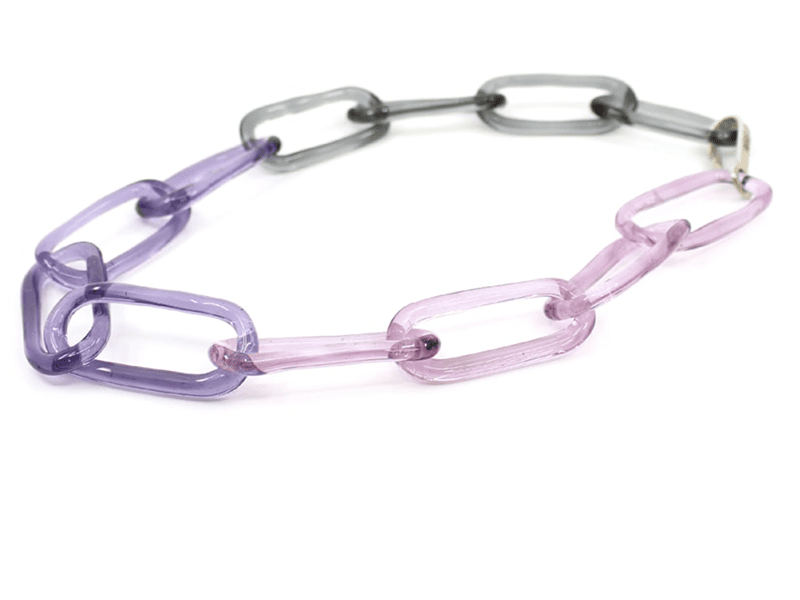 WANT TO TAKE IN A JEWELRY-RELATED EVENT?
From trunk shows to jewelry weeks to lectures, symposia, and everything in between. See the list here.
---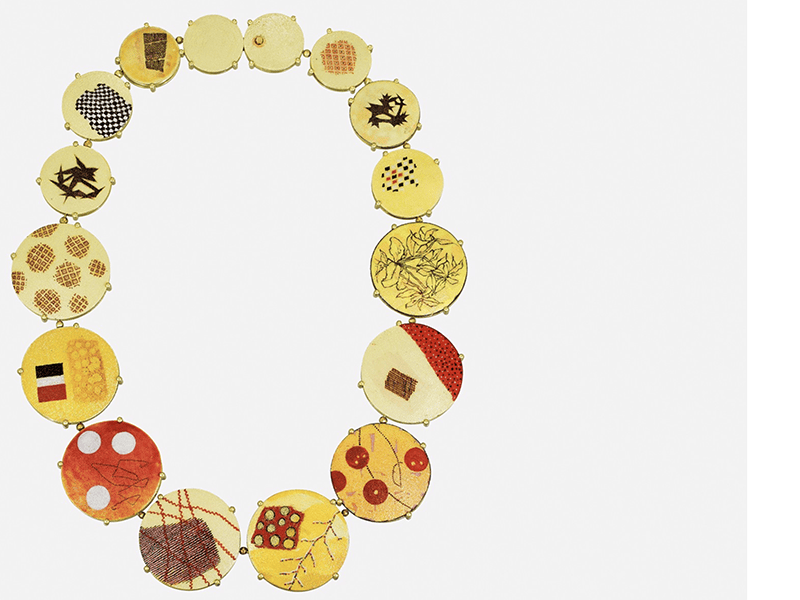 FEEL LIKE SEEING A JEWELRY SHOW?
Find these listings and many, many more on our dedicated exhibition page:
FROM OUR MEMBERS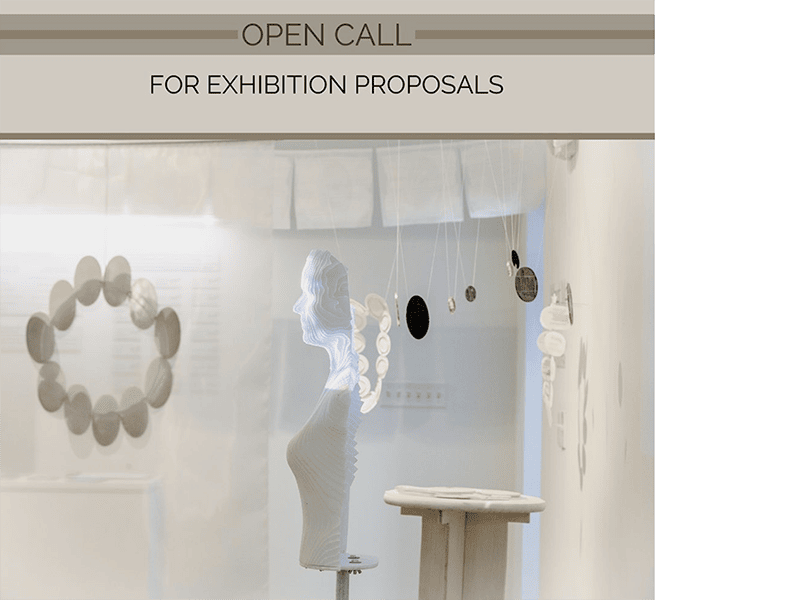 BALTIMORE JEWELRY CENTER SEEKS EXHIBITION PROPOSALS
BJC desires exhibitions that explore the gallery setting in an unexpected way, seek to place jewelry and craft within a larger context, and expand connections in our community at large. Proposals are not limited to jewelry and might include thematic exhibitions or exhibitions showcasing an artist or group of artists. The goal is to demonstrate unique curatorial viewpoints, expose the audience to fresh and emerging makers and ideas, and present art jewelry and metalsmithing in a broader art context. BJC wants proposals that create a diverse and inclusive gallery space to elevate underrepresented voices. Deadline: October 20, 2023. Info.
---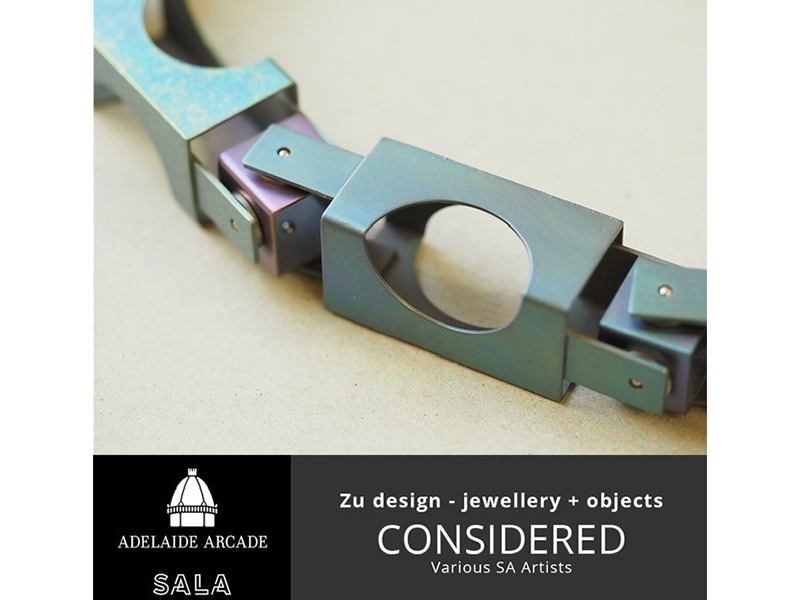 CONSIDERED EXHIBITION STARTS AUGUST 11 AT ZU DESIGN
Showcasing work responding to the title Considered, the exhibition highlights the diversity of Zu design's makers and the unique techniques they've perfected over years of making. Opening: August 11, 6–8 p.m. Info.
---
BARBARA LO BIANCO TALKS TO THE JEWELRY JOURNEY
To hear from the owner of Milan's BABS Art Gallery, listen to the podcast here.
---
SOLO EXHIBITION FOR AJF MEMBER PEI WU
The Dynamic Equilibrium In-between‍: Pei Wu is on view at The Closer, in Beijing, through August 20, 2023.
OTHER NEWS
ADAM ATKINSON AND GER XIONG NAMED TO 2023 EMERGING ARTISTS COHORT
The American Craft Council's Emerging Artists Cohort engages 11 innovative early-career artists who are expanding the boundaries of craft in a three-month virtual intensive to advance their professional creative practice. More.
---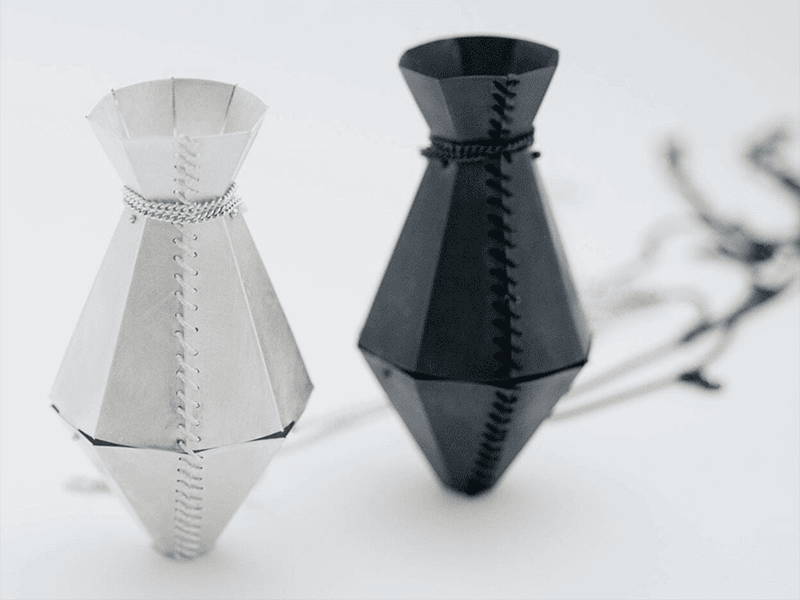 HEIKE SCHIRMER WINS STATE PRIZE FOR APPLIED ART AND DESIGN IN CRAFTS
Schirmer won the jewelry category of the North Rhine-Westphalia's annual award with two thin vessels connected by a silver chain.  More. Some 100 works nominated for the prizes are on view at MAKK (Cologne Museum of Applied Arts) through August 13, 2023. Info.
---
EMER ROBERTS AND CLODAGH MALLOY WIN RDS CRAFT AWARDS
The Royal Dublin Society awarded both jewelry artists one of five €10,000 bursaries to support them as they move into early professional careers. More.
---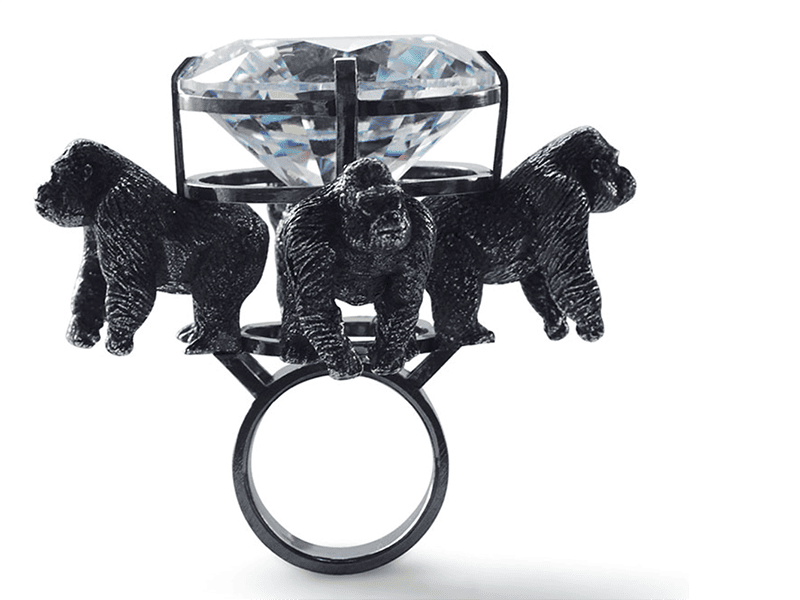 MARZEE GRADUATE PRIZE 2023 WINNERS ANNOUNCED
Marie-José van den Hout and Rudolf Kocéa selected Erle Nemvalts and Taavi Teevet (both MA from Estonian Academy of Arts); Junxue Lan (BA from Beijing Institute of Fashion Technology); Jewoon Lim (MFA from Kookmin University); Miles Robinson, Evgenia Zembyla, and Bocen Zhou (all BA from Central Saint Martins); Elaheh Naghi Ganji (MA from Royal College of Art); and Yotam Bahat and Meeree Lee (MA from MASieraad). Congratulations, all! More.
---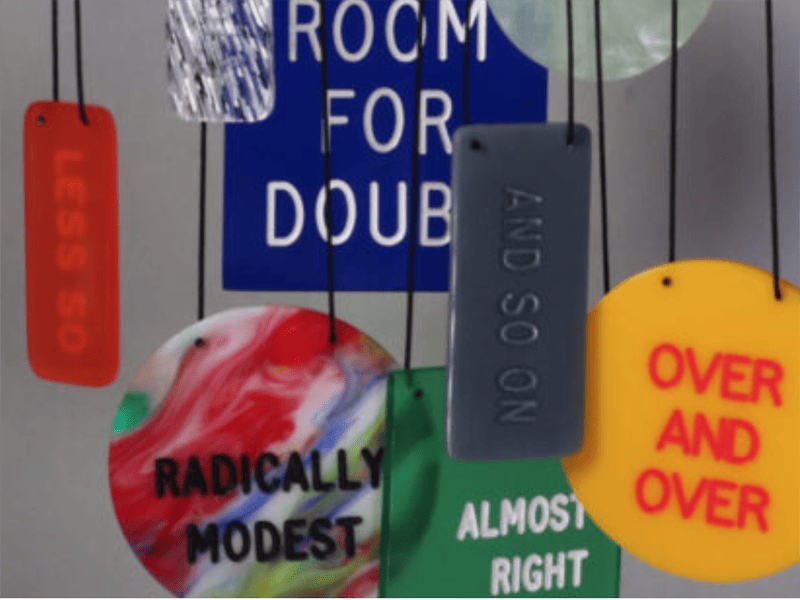 ZOE BRAND: WHAT GAVE YOU THAT IDEA?, AT CANBERRA GLASSWORKS
Known for her evocative wearable works, Brand uses ready-made and text to explore the performative nature of jewelry. Through October 8, 2023. Info.
---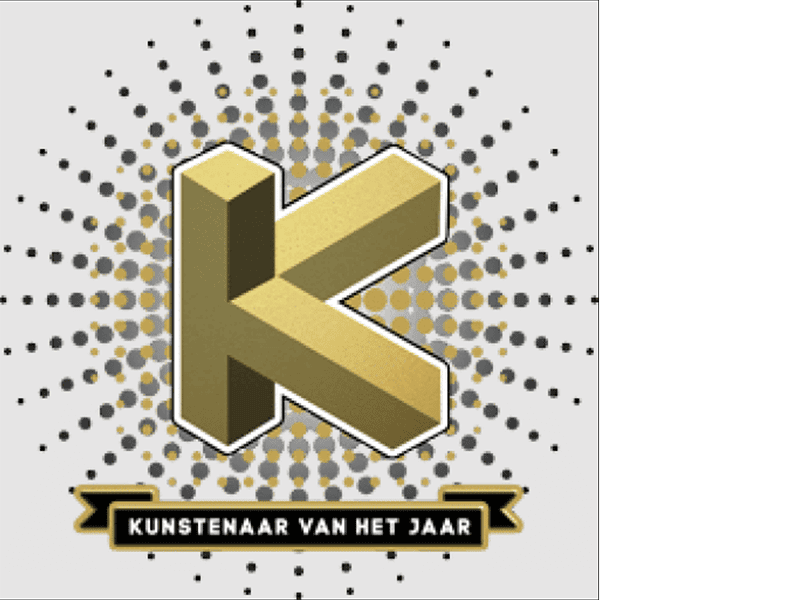 NETHERLANDS SEEK ARTIST OF THE YEAR
How about putting some Dutch art jewelers in the mix? You can make nominations as well as vote for existing nominees. Go here.
---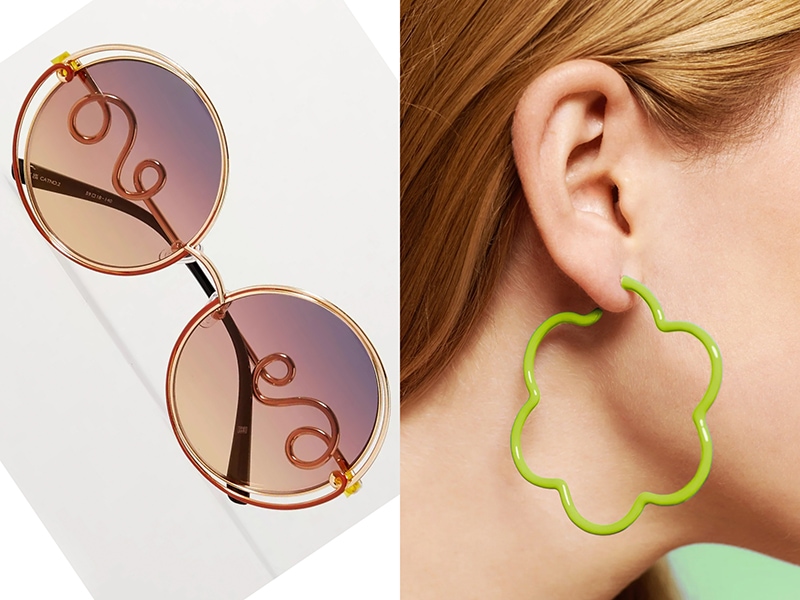 JEWELRY DESIGNER COLLABORATES ON EYEWEAR
Bea Bongiasca, who's based in Milan, has collaborated with Linda Farrow to create sunglasses with a playful twist. More.
---
IRIS VAN HERPEN'S NEW COLLECTION INCLUDES EAR JEWELS AND …
… crowns and masks—all in combination. Watch the video of the Architectonics runway show here.
---
A JEWELRY PRACTICE ON THE LAND
Cara Johnson's work explores human relationship with the rest of the world and the tensions involved in that, particularly in a settler culture. Read an interview with the Australian maker here.
---
EDITORIAL FEATURES JEWELRY BY SLIM BARRETT
Sometimes bizarre photos—and we mean that in a good way!—by Maxime de Sadeleer stand out with jewelry by the London designer. See more.
---
DOUGLAS TILLBERG COMPARES SWEDISH FOLK SYMBOLS TO HIP-HOP BLING
"I'm very intrigued by my identity in this globalized, Americanized digital age that's so full of references, so it's a lot about traditions and pop culture," says the recent Ädellab grad. "You can't break rules without knowing them kind of, but also pitting tradition against the current." Read the interview.
---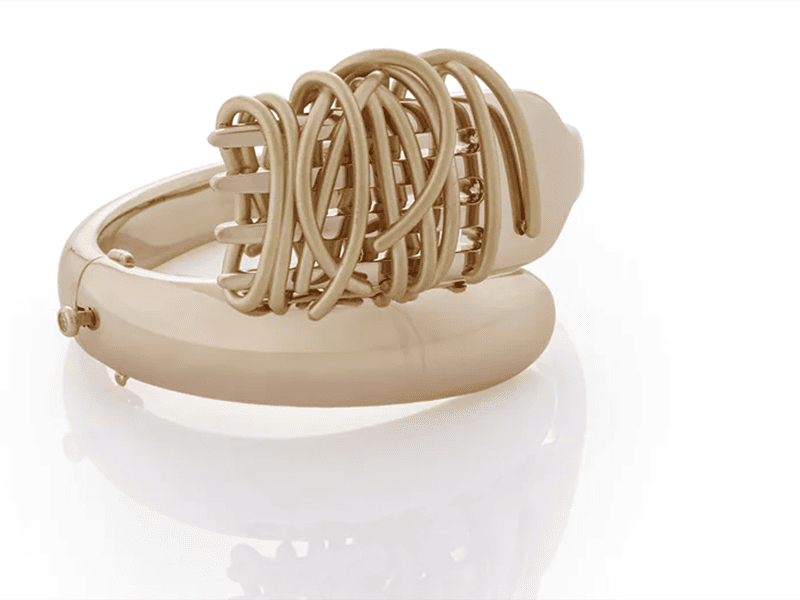 FOUR JEWELERS NAMED TO THE WALLPAPER* USA 300
Lisa Eisner, Ana Khouri, Frank Ocean, and Nadine Ghosn are among the people defining America's creative landscape, says the magazine. Ghosn brings cutlery-inspired jewelry to the table, with the fork, spoon, and disposable straw getting a playful twist. Check out her tongue-in-cheek style.
---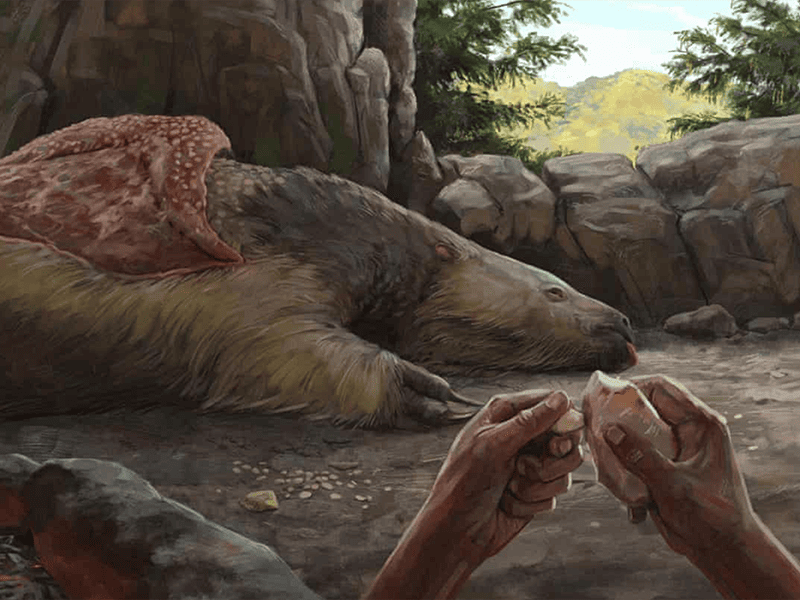 "SLOTH MAKES ALL THINGS DIFFICULT, BUT INDUSTRY ALL THINGS EASY"
… so said Ben Franklin. Pendants made 25,000 to 27,000 years ago from the bones of now extinct giant sloths indicate industrious humans settled the Americas earlier than thought. More.
---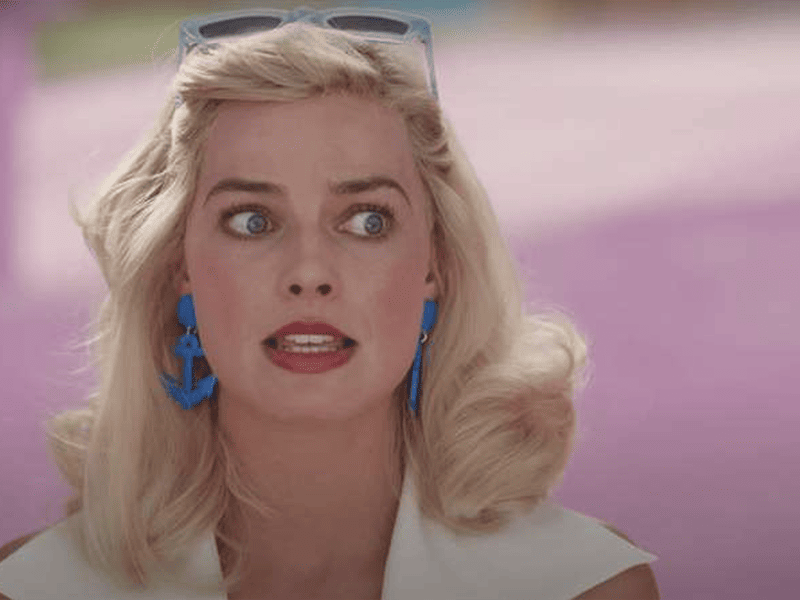 BARBIE WEARS INEXPENSIVE INDY JEWELRY
Jewelers Sugar & Vice (Canterbury, UK) spotted Margot Robbie wearing their laser-cut anchor-shaped earrings in trailers for the Barbie film. More. The movie cost $145 million to make, but at £17—less than $25—the baubles were a negligible amount of the budget.
OPPORTUNITIES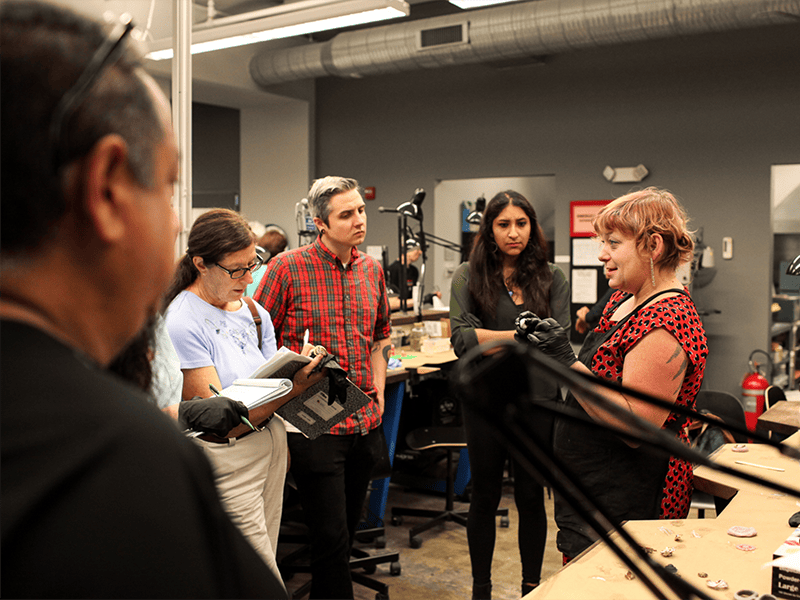 BALTIMORE JEWELRY CENTER FALL CLASS SCHOLARSHIPS
BJC has five full and two partial scholarships available for its upcoming Fall Session (September 11–December 11, 2023). Scholarships can be applied to any class or workshops, including online classes. Deadline: August 25, 2023. Info.
---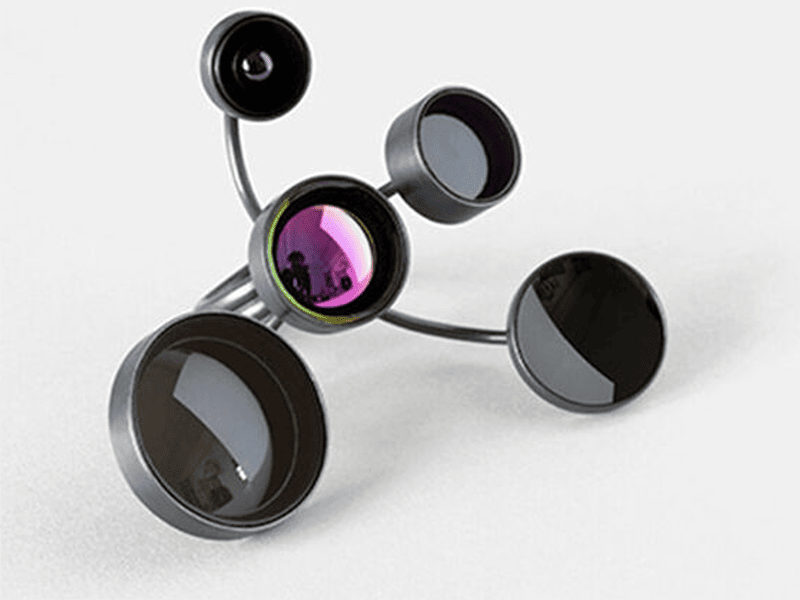 APPLY FOR SCHMUCK AND TALENTE 2024
The Schmuck special exhibition has taken place since 1959, making it the oldest exhibition of contemporary jewelry work in the world. Talente, meanwhile, is open to all fields of craft. Deadline: October 1, 2023. Info for both.
---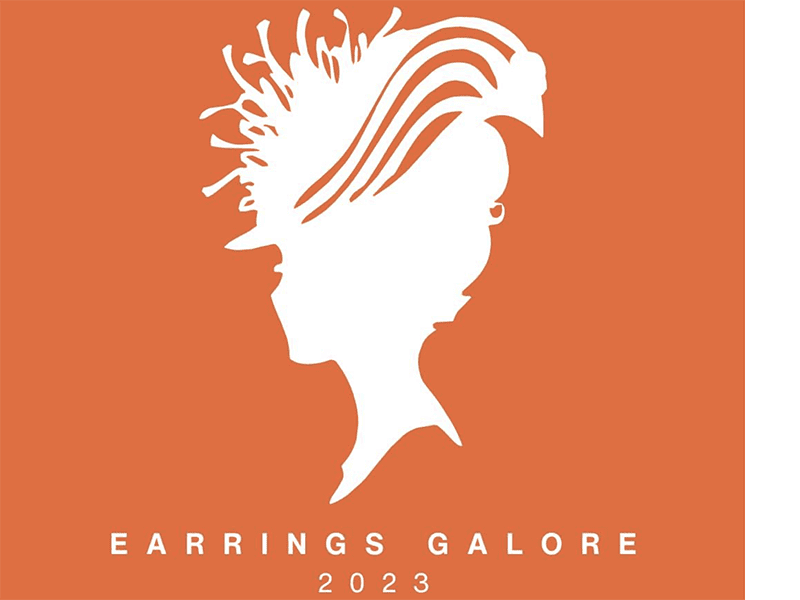 CALL FOR ENTRY: EARRINGS GALORE
An annual juried exhibition of a rich and diverse array of earrings made by emerging and established studio jewelers. Each artist's approach to the format will be represented in a cohesive grouping of six pairs of earrings. Deadline: September 20, 2023. Entry form.
---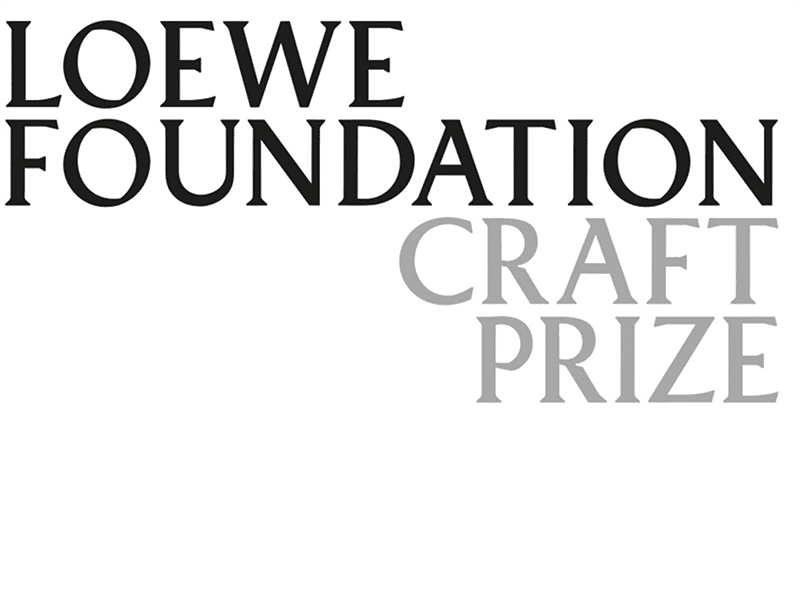 CALL FOR ENTRIES—LOEWE FOUNDATION CRAFT PRIZE
The Loewe Foundation launches the seventh edition of its Craft Prize, an international award celebrating excellence in craftsmanship. The winner's prize is 50,000 euros. The shortlisted and winning works will appear in the exhibition and accompanying catalog in Paris in spring 2024. Deadline: October 25, 2023. Info.
---
TOGETHER BY DESIGN COMPETITION
The contest, hosted by Black in Jewelry Coalition, celebrates Black love and jewelry design. In the first phase, couples (or one partner) can submit their love story for a chance to win a custom engagement ring. Once the winning love story is selected, in the second phase the competing jewelry designers will design a ring based on the couples' love story. The winning design will be given to the winning couple. Deadline: August 25, 2023. Info.
---
OPEN CALL: SCREENING ALTER EGOS
Via moving images, Screening Alter Egos explores the human body and the act of dressing up as a vehicle for change to research the power and politics of the costumed body. How does your alter ego, speculative being, or body extension challenge, analyze, or change our understanding of current times? What perspective does it give for the future? Selected filmmakers will receive €1,055 to make a silent triptych . Das Leben am Haverkamp's windows will operate as three projection surfaces. Part of OBSESSED! Jewellery festival and Hoogtij! Deadline: September 10, 2023. Info.
---
CALL FOR ENTRIES: MEMENTO MORI
Seeking work exploring cultural and personal relationships to loss, memory, and mortality. As ever, memento mori is as much about death as about celebrating and enshrining life. Artists may submit up to five images of their contemporary memento mori, vanitas, or YOLO jewelry and metalwork. Deadline: September 17, 2023. Info.
---
RESIDENCY: SLOSS METAL ARTS
Designed for emerging and mid-career artists interested in developing their studio practice and honing technical skills. Visiting artists will be provided with a furnished apartment near Sloss Furnaces, all casting materials, and access to the sculpture facilities in Sloss's historic casting shed, in Birmingham, AL, US. The residency will take place October 2–November 17, 2023. Deadline: August 25, 2023. Info.
---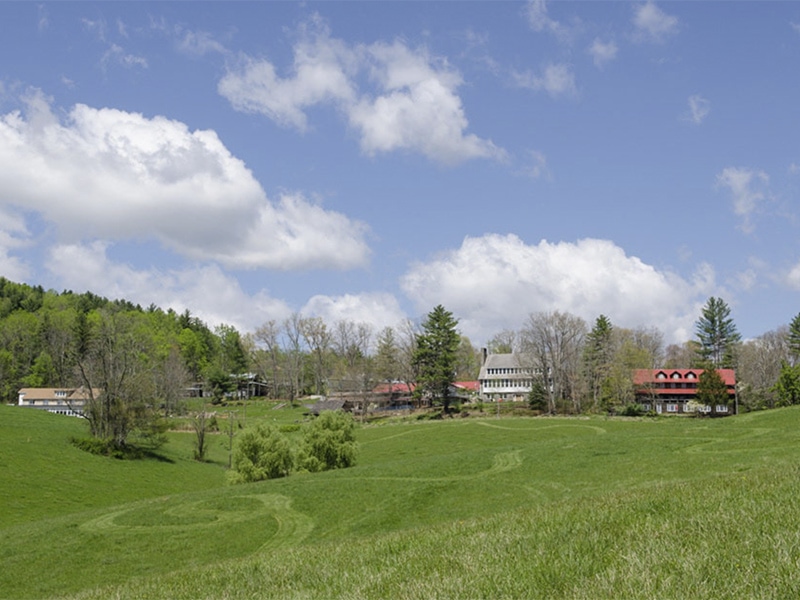 PENLAND SCHOOL OF CRAFT SCHOLARSHIPS
Every year, roughly 50% of Penland students attend with some form of financial assistance, including scholarships and tuition discounts. These make the workshops accessible to those who can't participate without financial assistance and to create educational opportunities for people who have been underrepresented at Penland and in the craft world. Deadline: August 15, 2o23. Info.
---
CALL FOR PROPOSALS: SNAG CONFERENCE 2024
When formulating your presentation proposal, consider the theme: Links. Address the broad concepts of connection, community, or collaboration. Selected works will exemplify the impulse to unite, explore connections that transcend boundaries, exhibit acts of cooperation, or build bridges—whether across physical or imagined borders, media or material, cultures or language. Proposals may include artist talks, demonstrations, scholarly research, and panel discussions. Deadline: October 31, 2023. Info. Conference takes place June 5–8, 2024, in San Diego.
---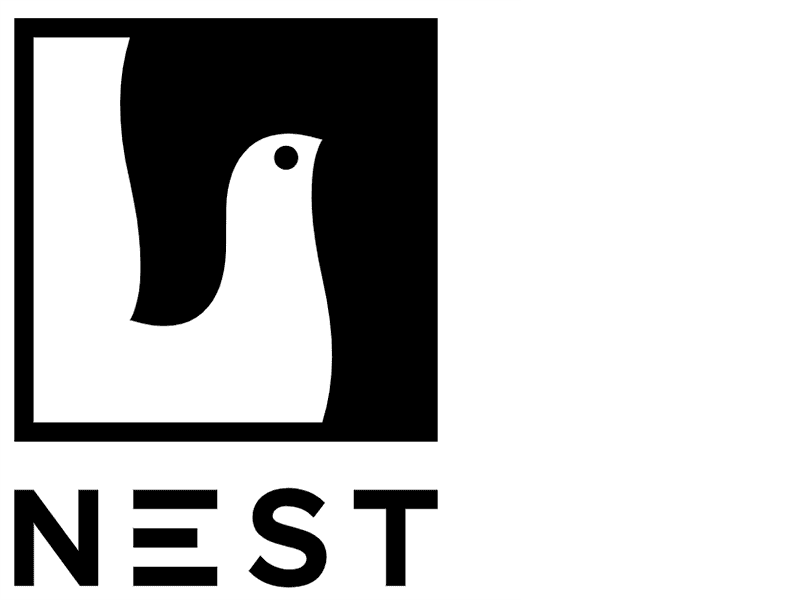 NEST HERITAGE CRAFT PRIZE
Applications should represent heritage craft found across Texas, which includes but is not limited to enamelwork, silverwork, and far beyond. The winner receives a grant of $25,000 and four semi-finalists get a cash prize of $2,500 each. Deadline: August 21, 2023. Info.
---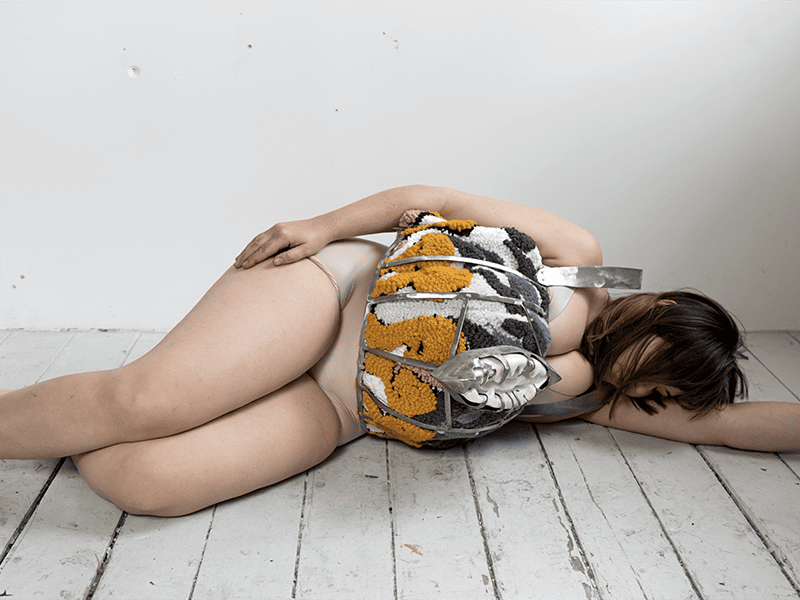 FOUNDWORK ARTIST PRIZE
The juried grant recognizes outstanding practices by emerging and mid-career artists working in any media. The winner receives an unrestricted $10,000 grant and studio visits from the jurors. The honoree and three shortlisted artists will be intervieed as part of a program to further public engagement with their practices. Deadline: September 26, 2023. Info.