"Is there a place for installation-based works in the field of contemporary jewelry?"
Is there?
In 20 very brief minutes, Portland, Oregon-based artist and AJF contributor Courtney Kemp delivers a densely researched exposé in front of a humming audience. She picks at the scab of "jewelers that make no jewelry, but on a large scale" methodically, and chronologically: She looks at the very first instances of site-specific interventions by jewelers in the early 2000s, shows their slow international spread, distinguishes between hybrid and pure installation practices, and makes a powerful argument that, whether we like it or not, the phenomenon must transform the way we think about contemporary jewelry practice.
Her talk, brief as it is, is important for two reasons: First, it does a good job of tracking the spread of this crossover practice from freak, fringe phenomenon to semi-officialdom. (Her articles and conference play a small part in the shift, and relay previous arguments developed by Liesbeth den Besten,[1] Mònica Gaspar,[2] and Rutger Emmelkamp.[3]) Second, it frames the phenomenon as a diversion from the self-reflexive model that thus far has been used to characterize the "contemporary" in contemporary jewelry.[4] Like relational (jewelry) practices, installational (jewelry) works deploy a "jewelry attitude" or "specialized knowledge" over fine art territories. To do so, and claim novelty, may sometime require a certain dose of amnesia, but it has the advantage of sidestepping the "jewelry about jewelry" mantra, and of proposing more experiential/sensual adventures whilst feeling, precisely, adventurous.
The cheering audience seemed to like the idea.
Courtney Kemp's research proceeds from a series of essays commissioned and published by AJF in 2015, under the title Beyond Unwearable, which looked at the work of Julia Heineccius, Amelia Toelke, Kristi Sword, and Lyndsay Rice.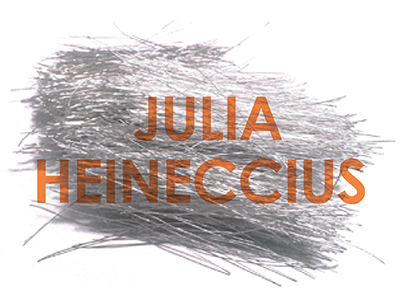 We are very proud of the opportunity to partner up with Zoom Milwaukee, and to give Courtney's research an extended audience.
—Benjamin Lignel
---
[1] Liesbeth den Besten, On Jewellery (Stuttgart: Arnoldsche, 2011), 46-59.
[2] Monica Gaspar, "Jewelry in the Expanded Field: Between Applied Social Art and Critical Design," in Damien Skinner (ed.) Contemporary Jewelry in Perspective (New York: Sterling Publishing, 2013), 228–233.