"Which is your favorite?"
This question was the most common one asked of me throughout my experience as curator of the Design Museum exhibition, Unexpected Pleasures: The Art and Design of Contemporary Jewellery. I could never answer it directly; each work had its place in the show. However, my curiosity did lead me to ask people which piece they would steal if given the opportunity. The answers were varied, and I'm convinced almost every piece was mentioned at one time or another, but a handful of works were repeatedly nominated. Bernhard Schobinger's Holiday in Cambodia was perhaps the most surprising choice in this select grouping. It is only surprising because Schobinger's bracelet is such a confrontational political work.
At first glance, Holiday in Cambodia seems to be a traditional piece of ethnic jewelry. It is a wide cuff of thin silver skillfully decorated with three-dimensional skulls and bones. This bracelet type, imagery, and material are commonly used for jewelry. For instance, Cambodian artisans hand make similar amulet forms from brass bombshells, embellishing them with stones or recycled brass bullets. Skulls have always been a jewelry motif, and in the last few years they have once again evolved into a hip Western cultural emblem.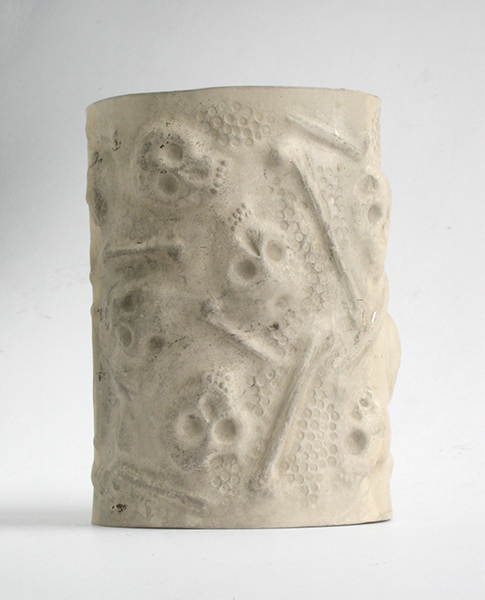 It is in looking closer that the subtle hard edge of Schobinger's commentary becomes apparent and belies its happy title. His skulls are neither Gothic Revival facsimiles nor religious relics; these skulls are deformed abstractions with sunken eye cavities exhibiting a broken brittleness from being buried in earth for a long time. His first version (1990) was a lighter interpretation; the Unexpected Pleasures version (2012) is more sinister; and this time the skulls have bullet holes and the silver is darkened to a muddy color. But it is in that moment of recognition, when the title is linked to the jewelry object, that Schobinger makes his powerful critique. This is no souvenir reflection; it is a cry against inhumanity.
Contemporary jewelers have always shied away from political statement, despite working in a field that started as a movement challenging society's assessment of value. But like it or not, jewelry is tightly bound to luxury, excess, and money, which by their very nature underpin political agendas. Then again, political does not necessarily mean antagonistic. It can imply anguish, integrity, or change even as it evokes power. Just as Cambodian artisans seek closure by turning the debris of war into jewelry, Schobinger pricks our conscience to remind us how political power can impose destruction.
What remains is a question about what happens to the political message when this jewelry is worn. After all, did Schobinger ever intend Holiday in Cambodia to be worn? Or does the work rely on public display to speak loudly? Would adorning a body dilute its message? Or even worse, imply the wearer is piggybacking on the pain of others? If we consider parallels in the ethnic traditional cultural practice of wearing war trophies as a political statement, then surely the wearer becomes the messenger.
Would I wear Holiday in Cambodia? Absolutely—but with care and consideration.