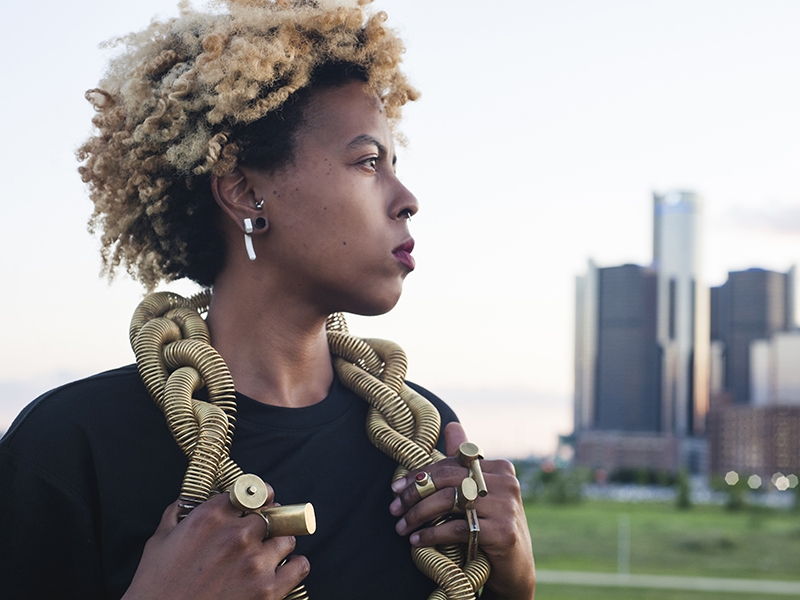 San Francisco, California, USA—Art Jewelry Forum (AJF) is pleased to announce that the largest art jewelry cash award in the U.S., the Susan Beech Mid-Career Artist Grant, has been awarded to Tiff Massey. Massey, known for cutting-edge interactive art, won for Get Big, a wild immersive technological and hip-hop environment that uses adornment to shift the focus from object to participant while documenting the moment. Massey will receive a cash grant of $20,000 to produce the project.
Massey is an interdisciplinary artist from Detroit, Michigan. She holds an MFA in metalsmithing from Cranbrook Academy of Art. Her work has been widely exhibited in both national and international museums and galleries. In 2018 she performed as part of the Detroit-Berlin: One Circle festival at HAU Hebbel am Ufer, in Berlin.
The jury of distinguished professionals for the Susan Beech Mid-Career Artist Grant were: grant founder and collector Susan Beech (United States); internationally recognized maker and academic Eija Mustonen (Finland); and Curator-in-Charge, Contemporary Art and Programming at the Fine Arts Museums of San Francisco, Claudia Schmuckli (United States).
Eija Mustonen: "The project brings together hip-hop culture, jewelry, and big-scale, wearable sculpture into a fearless and energetic project. Massey breaks barriers between viewer, wearer, and performer."
Susan Beech: "Tiff's project is big, bold, and brash. Her work is uniquely American and pushes the boundaries of jewelry."
Tiff Massey: "That's what's up! I am honored to be the recipient of the Susan Beech Mid-Career award. It is great to be recognized for my contributions to the field of contemporary art jewelry. Thank you!"
The objective of the Susan Beech Mid-Career Artist Grant is to recognize a mid-career artist who has made a substantial contribution to the field and to provide resources for the artist to develop and implement a significant jewelry-related project that s/he would not otherwise have the ability to undertake.
About AJF
AJF is the world's largest community of artists, collectors, critics, educators, galleries, historians, makers, and writers united by a passion for art jewelry. AJF advocates for art jewelry through an ambitious agenda of education, conversation, and financial support. It commissions critical writing that sets the standard for excellence in the field and publishes artjewelryforum.org, an Internet resource for original content on art jewelry.