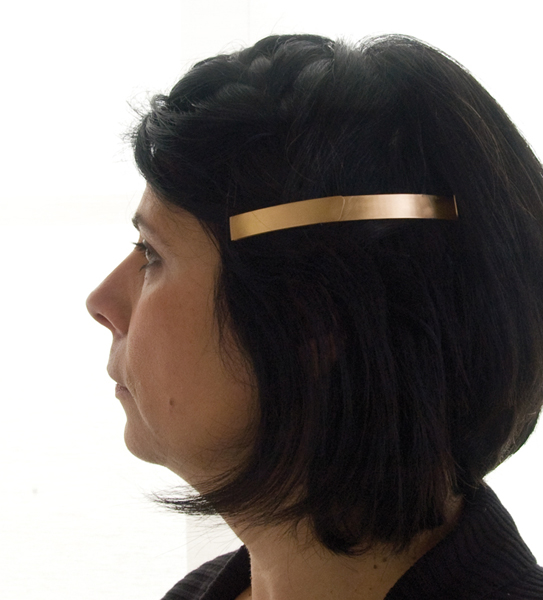 Aaron Decker: Ana Albuquerque is a Portuguese jewelry artist with an expansive view. She has not limited herself to jewelry only but also includes sculpture in her practice. Since 2007 she has been the Vice President of The Association of Portuguese Jewelry (PIN), which is an organization committed to increasing the knowledge about and coverage of Portuguese jewelry. Her familiarity with the subject and of the artists working in Portugal is the reason I chose to get her input.
When did you start studying jewelry? Or if you started with another discipline, what was it and how did you start working in jewelry?
Ana Albuquerque: I have a degree in sculpture from the Lisbon School of Fine Arts, but jewelry was always my goal, because sculpture and jewelry have some characteristics in common. Jewelry has specific qualities that are of the utmost interest to me, like its privileged relationship to the body. The piece of jewelry has its own time of perception and fruition. By wearing it we are aware of its presence, a presence that dissolves into the unconscious, to be felt in one moment and forgotten the next. This subtle relationship fascinates me. Its scale also evokes our human condition and the possibility to relate to art on a daily basis, bringing into our lives and the lives of others a presence that is frequently unavailable. Our houses are the small space that each one of us occupies and they are getting smaller all the time. Jewelry gives us a macro view through a micro size. I tend to identify with jewelry that involves the body with a specific structure. I feel an intense relationship with three-dimensional forms, so I prefer the arts that are related to space: architecture, installations, sculpture, dance and Jewelry.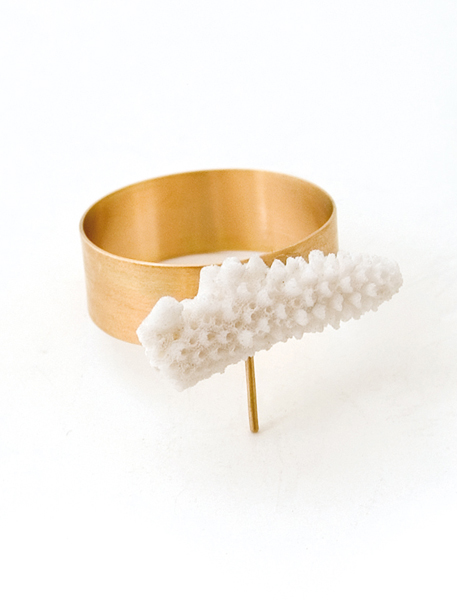 My motto eluded me for a long time, but I think it's linked to knowledge, to an inner learning process that translates into shapes that surprise me, as if the answers were in forms, such as worries or ideas. Things that I appraise as if they are my point of view. Therefore, when I find them, I feel relieved. There are also constant challenges in production and also in enjoying the work of other jewelers, which ultimately allow me to relate harmoniously with others, without words.
What are some of your inspirations?
My other work reveals my interest and concern with the properties of matter, such as the physical and chemical limits of the materials I use, like tension, pressure, temperature, stretching, gold's ductility, allowing it to be stretched far beyond what we think possible. The physical evidence we leave on objects. I'm also interested in movement and its relation to gravity and the body. The sound jewelry can produce as we move and the memory that those sounds, our sounds, evoke in others. The cognitive process that leads to the choice of materials and resulting shapes/forms is very mysterious, almost as if bringing news of our inner selves.
Do you think your work has a Portuguese aesthetic? Is there a Portuguese aesthetic?
I think that in this global world perhaps we can talk about an Occidental aesthetics but not one particular Portuguese aesthetic.
What do you feel about work being made now by the younger generation of jewelers?
The younger generation has been continuing this jewelry process, as in the art in general.
Can you define contemporary jewelry?
Humanity and jewelry, such as I understand it, share an intimate/profound relationship, although the way each person relates to an object may vary according to cultural and (dare I say it) genetic criteria. ­­­Our relationship with objects is very intriguing. In the same family there are some that really care with object and others who don't have any particularly relationship with it. A piece of jewelry will always be something that will be with you and stimulate our senses in a special way, establishing intimate and subtle relations with others.
In jewelry, it might be only the object per se, but usage contextualizes it symbiotically with its bearer. The beholder does not see the actual jewel but rather the relationship of the latter with the former. A jewel is, therefore, an object subject to choosing and to a possible, softened, juxtaposition to a body. In jewelry the beauty can be spread, not only in the object, but also in the relation it has with its owner. In addition, it unifies with the owner, who can fully experience this concept, but can even be enlarged if somebody else benefits from this partnership of jewel/owner. It can have multiple communications forms.