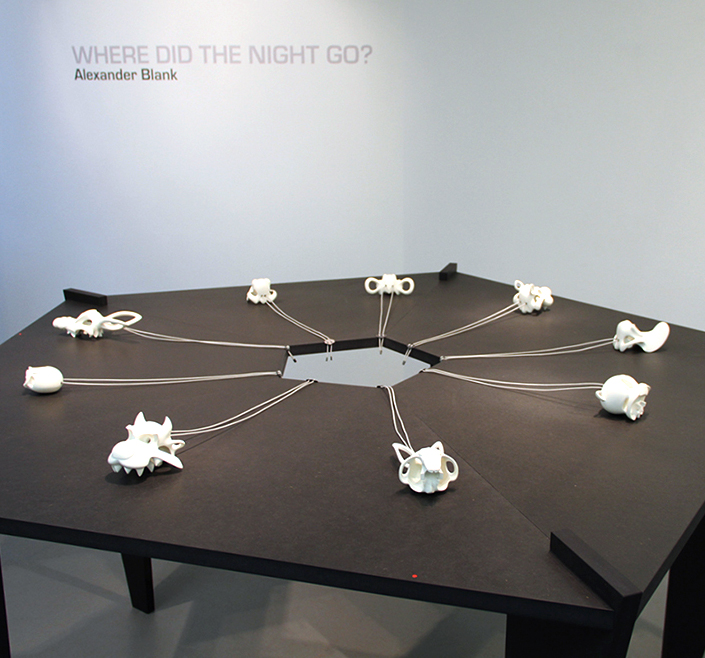 Where did the night go? encompasses three bodies of work all which exhibit a stunning level of craft and are related to fantastic realities. The work began as a conscious departure from Blank's conceptual methodology. As a student at the Munich academy Blank reached a moment in his artistic practice where he needed to make with more immediacy, to make something a bit less straight and serious. "My first intention was to make something really clumsy but in a quite technically perfect way." He set about carving what would become his graduation work and the first of his animal brooches. It was the head of a frog, who stared back at him demanding a name. "It turned out that the guy in front of me was Evil Ed and he needed companions to follow him on his quest." A quest for what? For something dark, fantastic, and never-ending. And so Evil Ed & Friends, a series of thirteen black brooches were born, with diabolical names and a sinister mission. The first group of works in Where did the night go?, Friends – Longing for Darkness, is a sequel or perhaps a prequel to Evil Ed & Friends in ring form. Painted a luminous white, they depict animals with smooth exaggerated features, and vacant eyes. They are monumental in scale, peering forward from the hand that dares to wear them. Blank transforms the rigid foam to conjure alabaster or Carrara marble classical sculpture, yet they are warmer like plaster, more skin-like, and the urge to touch them is irresistible.
"In the new series Friends – Longing for Darkness again 13 animal heads arose, this time as rings… Maybe to hook up on the quest, not to refuse. Gathered like a secret society. Focused, but without knowing the way. Arriving when they want, but always right on time… I like the romantic idea of going out on a fantastic journey, stepping into the unknown, ready for discovery."
More than simply producing jewelry, Blank creates a world, or more specifically the feeling of a world, of which, these creatures are artifacts or specimens.
"I am happy to be a grown up, but I am feeding the kid in me."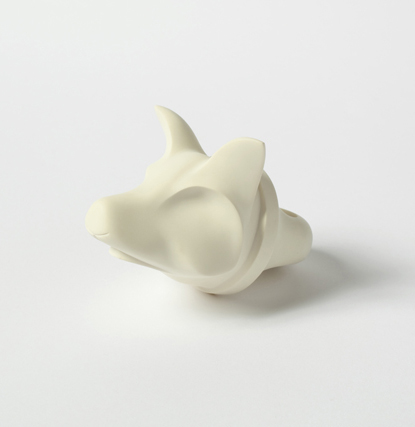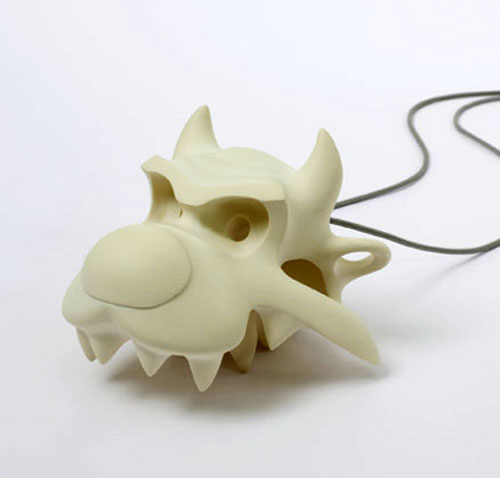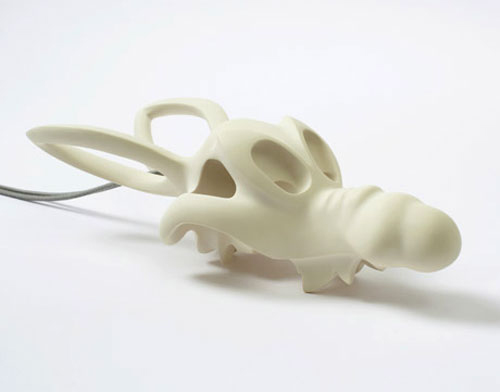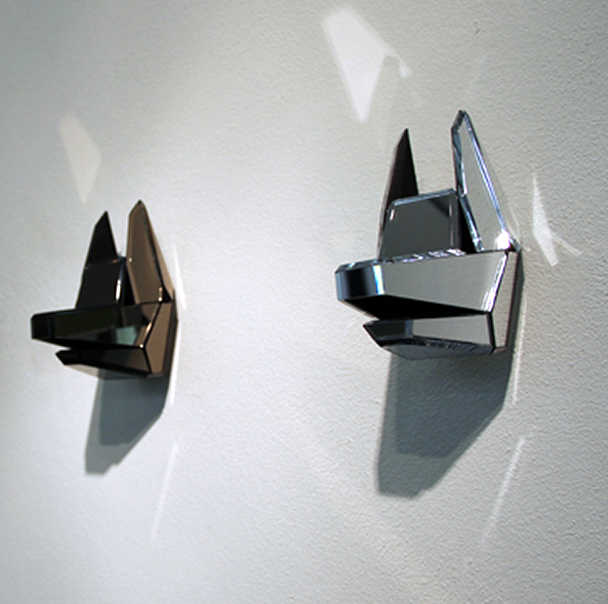 Meanwhile, in the Front Room of Galerie Rob Koudijs, Melanie Isverding's first solo show Hide and Seek presents two very different looking bodies of work. However Cavea and Manipulation have something important in common. Isverding not only considers the outer skin of her works, but the interior spaces made by her formal constructions. These works are not just readable, they are explorable. Effort is rewarded with the calculated complex forms giving way to paradoxical surfaces that are rich with texture.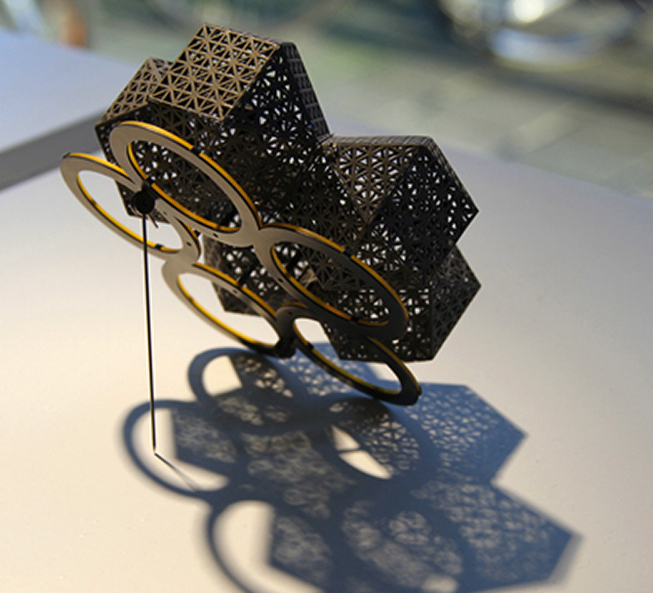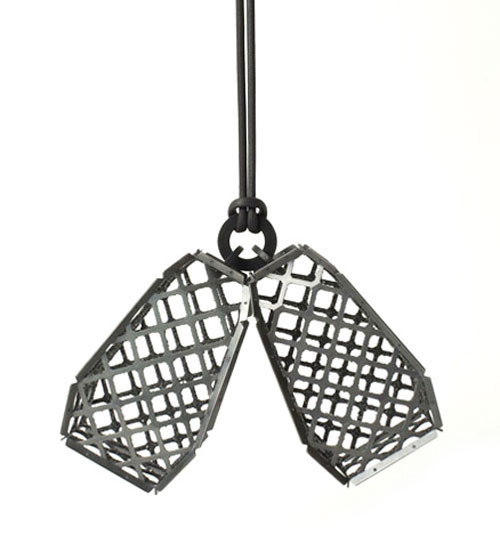 When you look at the work you wonder at the perfection of the repeated geometric constructions, you marvel at the fantastic lattice and lace patterns that completely perforate the forms, you are in awe of the beautiful folds and proportions, you peek at the strange surfaces that dominate the interior of the spaces Isverding creates. Not until you are finished admiring these small enigmas do you think (SPOILER ALERT! Skip to the next paragraph if you want to remain in wonderment) laser cutter. Isverding works hard to make it this way.
"It is very important for me that the technique of laser cutting is not the first impression. The expression of every piece should have its own characteristic and originality in their aesthetic."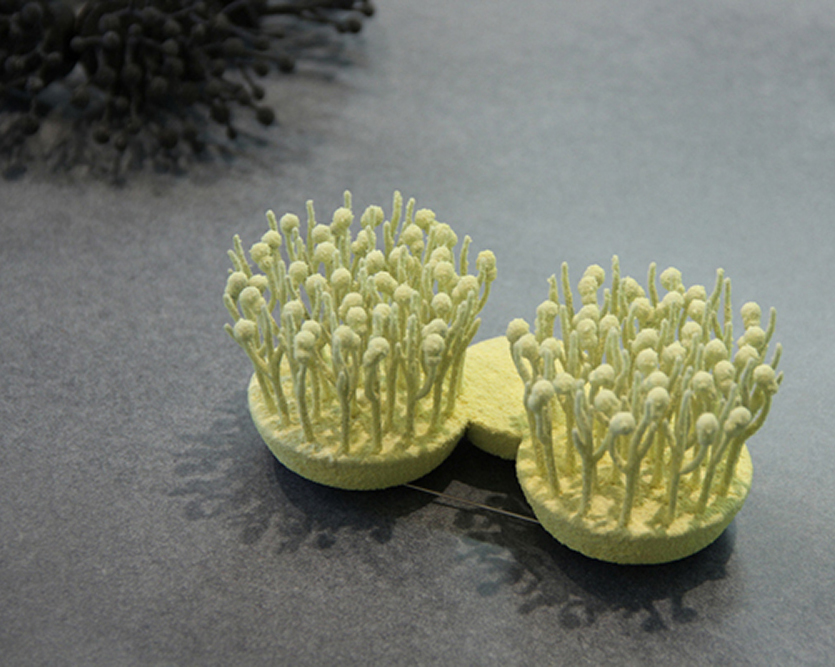 In the brooch series Manipulation Isverding creates simple circular and rectilinear floating islands on which chalky forests grow. Despite the naturalistic appearance of the branch like forms Isverding's nature is mediated.
"The arrangement of them seems naturally grown. But far from it. The clonic branches are set strictly into aesthetical patterns on their prepared fields."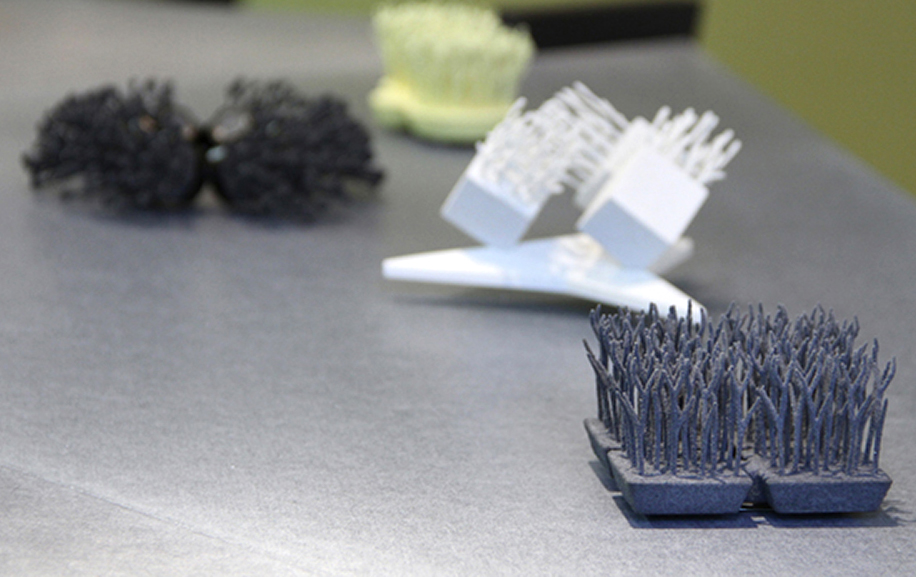 Kerianne Quick is an American materialsmith and craft writer currently living in Amsterdam, The Netherlands.
Note from the editor: This is my last week as editor of the AJF blog. It has been a great pleasure working together and I want to thank all the writers, artists and colleagues who have made the blog such a success. Thanks. Mike Holmes