San Antonio, TX, USA
—Art Jewelry Forum (AJF) is pleased to announce
MJ Tyson (US)
the winner of its 2020 Young Artist Award. The four finalists are
Junmin Bae (South Korea), Ryungjae Jung (South Korea), Lore Langendries (Belgium)
, and
Mallory Weston (US)
. The winner and finalists will all exhibit their work at PLATINA during Schmuck, the annual international art jewelry fair in Munich, Germany, held this year from March 11 to March 15, 2020. They will also be presented to the audience on the main stage at the Internationale Handwerksmesse, on Saturday, March 14, 2020, at 5:30 p.m.
The Young Artist Award is given to acknowledge promise, innovation, and individuality in the work of emerging artists and to advance the career of the recipient. The competition attracted over 135 applicants from more than 35 countries, the largest group in the past several years. The winner and finalists were judged on originality, depth of concept, continuity of design, and quality of craftsmanship. This year's jurors were 2018 AJF Artist Award winner Bifei Cao (China); Barbara Gifford (US), curator at the Museum of Arts and Design, NY; and art historian and author Toni Greenbaum (US). The unrestricted cash prize of $7,500 was generously funded by the collectors and AJF members Karen and Michael Rotenberg. AJF would also like to thank AJF board member Sofia Björkman and AJF gallery member PLATINA for providing a showcase for the winner and finalists during Schmuck.
Each finalist will be interviewed on AJF's website over the next few months, and we look forward to sharing more about these talented artists with you.
2020 AJF YOUNG ARTIST AWARD WINNER
MJ Tyson
2017 MFA, Rhode Island School of Design, Providence, RI, US
All material carries a past, and whether we acknowledge this lineage or not, it exists. It may be to our advantage—as a way of orienting ourselves in our world—to consider the cycles of creation and destruction intrinsic to the objects and materials that surround us.
Considering such cycles, I have found that the significance of jewelry lies not only in its relationship to the physical body, but also in its role in our lives. My work centers on the life of jewelry beyond the body, where it is often a physical marker of abstract ideas, such as lineage, legacy, and favor.
—MJ Tyson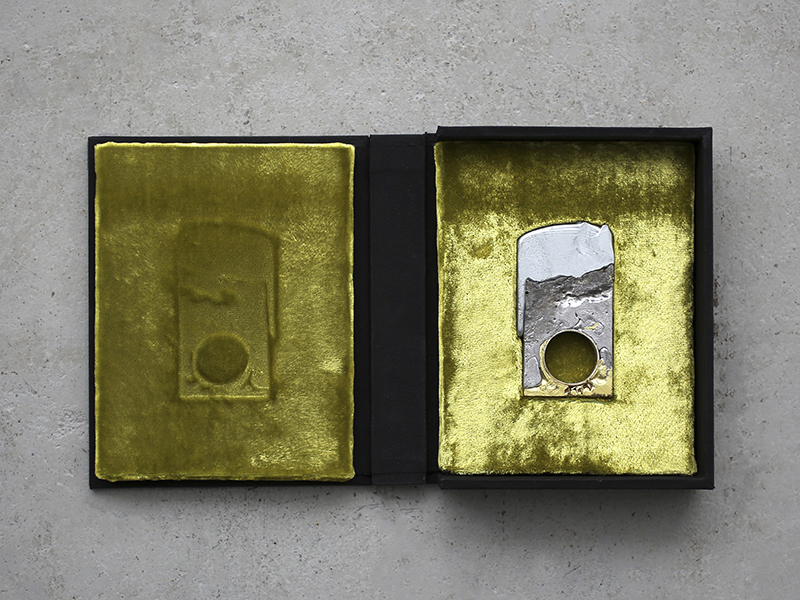 2020 AJF YOUNG ARTIST AWARD FINALISTS
Junmin Bae
2017 MFA, Metalwork & Jewelry, Kookmin University, Seoul, South Korea
A variety of visual data in the microscopic world awakens human senses and inspires imagination. Such images are associated with the eggs of insects, tumors, or cells. Even those whose shapes are rarely supposed, such as viruses, include mysterious elements with delicate structures and movements, repetition and community, and the contrasts of colors in the microscopic world.
I intend to constitute regular patterns, which can be observed in the process of cell division or the eyes of insects among enormous images in the microscopic world, in a visual manner. I will also focus on characteristics such as organic shapes, the coexistence of beauty and grotesqueness that appears in the movements of proliferation and extinction, and the contrast of positive and negative feelings that can be sensed from the modifications of cells or tumors. Thus, I aim to express such shapes through the process of attaching and piercing small dots on the surface of accessories.
—Junmin Bae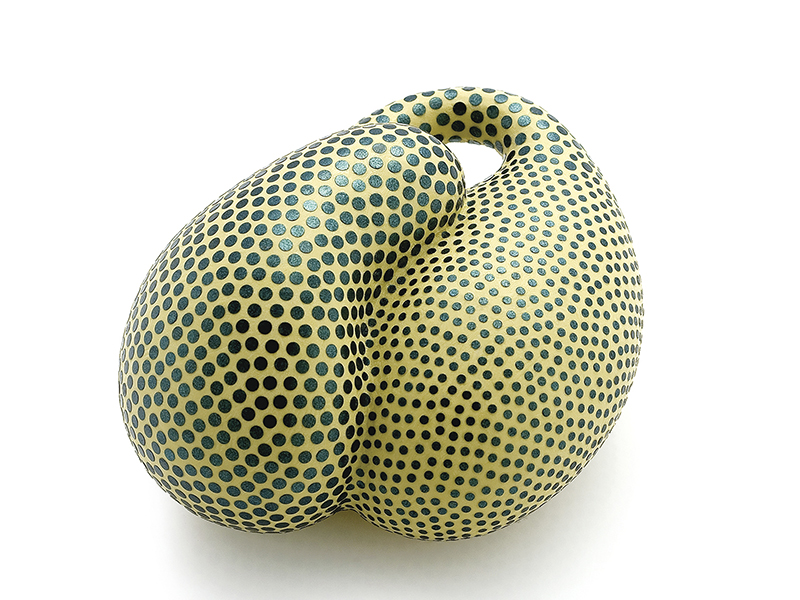 Ryungjae Jung
2016 MFA, Metalwork & Jewelry, Kookmin University, Seoul, South Korea
My work features a direct relationship between jewelry and the human body through 3D printing and traditional metal crafting techniques, and the subject of movement. Thousands of chains are printed through digital replication in the form of indeterministic bundles. This is to provide the chance of "coincident luck" that represents the perfection of the limitless possibility of choice, transformation, and adjustment; and to emphasize that a wearer shall only determine the form.
—Ryungjae Jung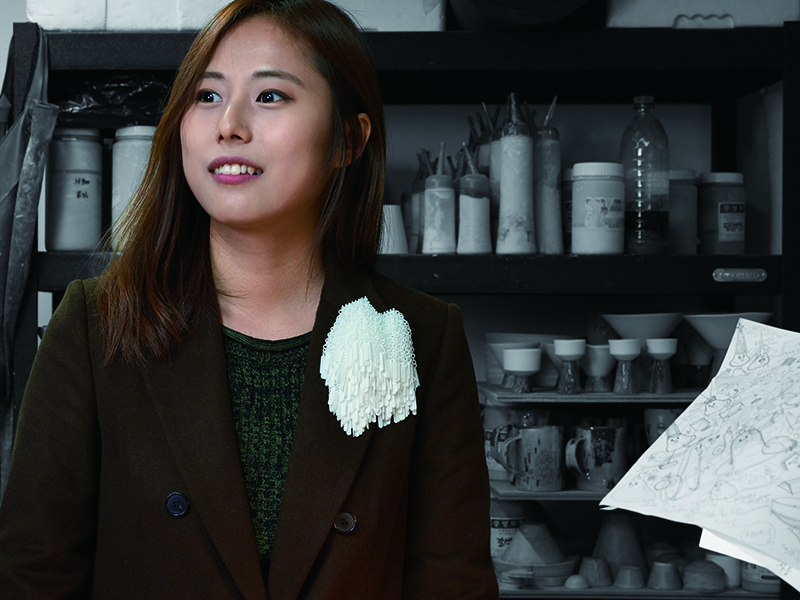 Lore Langendries
2015 PhD in Arts, KU Leuven, University of Hasselt, and MAD-Faculty of Hasselt, Belgium
The Hide, the Fragment series balances between the unique and the serial with a particular focus on the tactility and physicality of artifacts and the behavior of natural materials in combination with digital laser technology. Geometrical shapes show the essence of hairy animal hides in their most elementary forms. The material is used as an active agent: as subject and as matter. Hide, the Fragment reveals or conceals. By cutting, shaving, and trimming, a focus on unknown details is created. Some fragments evoke associations from which they originate, others elicit new references by shape or pattern. Brooches look like rocks but feel like soft cushions, others remind us of our teddy bears from our childhood or look like African masks. Hiding identity and creating a new one. Worn on the body, these hairy pieces create mixed feelings. On the one hand, it is unattractive wearing a hairy object; on the other hand it is attractive, and stroking becomes an automatic reaction.
—Lore Langendries
Mallory Weston
2013 MFA, Jewelry + Metalsmithing, Rhode Island School of Design, Providence, RI, US
This body of work is a glorification of mutations, mistakes, and anomalies in both nature and technology. My imagery is dominated by representations of the variegated monstera, a plant with striking asymmetrical patterns of white and green distributed randomly across its characteristic leaves. The beautiful imperfection of these plants has made them highly sought after, a seemingly random millennial status symbol. I'm fascinated and skeptical of the odd objects and rituals that draw my generation's attention.
The pure white leaves of the variegated monstera cannot photosynthesize, and because of this they perish quickly. Is it the ephemeral nature of these plants that makes them so desirable? I juxtapose these leaves with the markers of our transient technology, cracked screens, and digital mesh. Constructed of anodized titanium, my work echoes the materials used in the sleek devices we depend on every day.
—Mallory Weston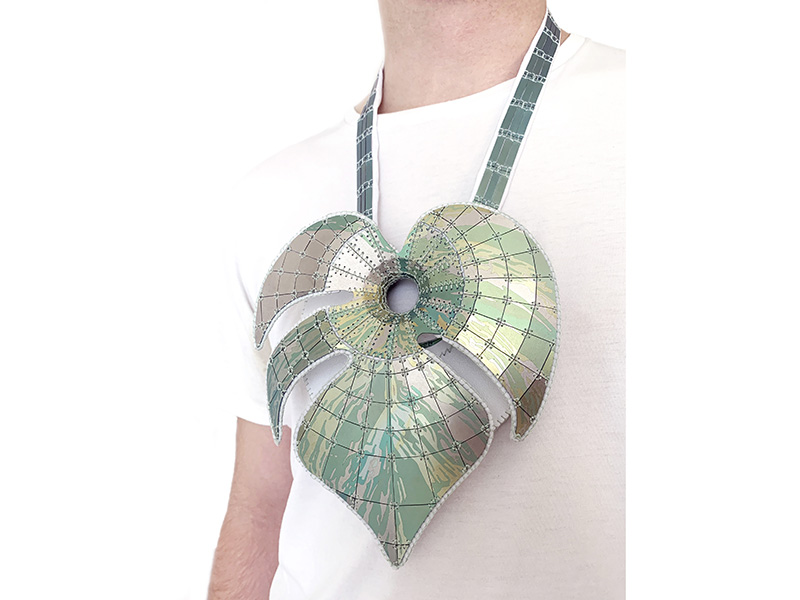 ###
About the Young Artist Award
The biennial AJF Young Artist Award recognizes new and exciting work that will direct the future development of art jewelry. The international 2020 competition was open to makers of wearable art jewelry age 35 and under who were not currently enrolled in a professional training program. Work submitted must have been unsupervised and not submitted for a BFA or MFA show. Submitted work must have been completed within the previous two years.
About AJF
Art Jewelry Forum is a nonprofit organization spreading awareness and increasing appreciation of art jewelry worldwide since 1997. Its diverse community of artists, collectors, critics, educators, galleries, historians, makers, and writers is united by a passion for art jewelry. AJF advocates for art jewelry through an ambitious agenda of education, conversation, and financial support. It commissions critical writing that sets the standard for excellence in the field and publishes artjewelryforum.org, an Internet resource for original content on art jewelry.