On a terrible winter day in New York City, with snow piled up on sidewalks and narrow paths cutting through canyons of grey slushy muck, I made my way to the Museum of Arts and Design. On view was the exhibition Think Again: New Latin American Jewelry. With over 50 Latin American jewelry artists contributing almost 90 works, this show was monumental in scope and unprecedented in its relevance to the art jewelry world at large. The opening event attracted more than 700 guests and the exhibition's digital footprint is spread wide across the web.
Before I go any further I should expand on my 'digital footprint' comment. I realize attempting this review without acknowledging the pre-existing text on this show would be foolish. I encourage anyone interested to search and travel the inter-web to view the many ripples created by this exhibition. Here are a few places to start: the Museum of Arts and Design; the GrayArea symposium website; and Klimt02.
Moving on through the gallery I came across another piece consisting of multiple components. This was the work of Julieta Odio, who is from Costa Rica. The title is Collar para el Coleccianista, which loosely translates as an expert collector of the female persuasion. On a blackened chain of silver jump rings, Odio hangs numerous tiny glass vials by their plastic cork-style lids. It is a necklace that 'was created to hold small memories.' The user can save tiny objects inside these vials and the piece evolves into an interesting and novel idea dealing with time, possessions and identity through experience and accumulation. Although I'm unable to connect it directly to Latin America, this work exists on its own terms as well-executed in both craft and concept.
Ana Videla, who is from Brazil, is represented by a work titled Bilro Object. Here is one of my first indications that this exhibition is related to the concept of Terra Latino or a Latin frame of mind. Although I read the work description, which described the artist's inspiration and country of origin, I didn't need to rely on words to suggest a certain ethnic and heritage-related content. To the best of my knowledge, bilro is a type of lace making which was carried from Portugal to Brazil during the colonial period. Here, in this work, is my first intimation that there may be more to this exhibition than interesting objects of personal adornment. Videla recalls pleasant childhood memories set to the clicking rhythm of these weaving bobbins as mothers passed this craft tradition down to their daughters. My further research on bilro reveals images of pillow-like work surfaces where the lace is secured while it is being created. These 'pillows' bear a striking resemblance to the tiny pillows placed atop their pedestal like settings. This gives a clear indication that there is much concept and tradition that Videla is drawing from. I should also mention that both the size and skill in execution of these works give the feeling of intimacy and great reverence to place and heritage.
Elisa Gulminelli is also represented by a work in paper. Unlike Acosta's Quipus, Gulminelli's Inflacion deals with the paper of currency and comments on the unstable economic systems in Latin America. She uses bills which at one time had enormous value. These bills are combined with a 2001, one-cent coin. In a humorous and sobering work she has shown the extreme devaluation of currency from the 2001 Argentinean financial crisis. The one-cent coin is worth more than all the bills combined. At first I almost dismissed this piece, but later I came to realize that this is one of the more cerebral works of the exhibition since it is more than a beautiful object. It speaks of social and economic issues while combining jewelry, art and politics. It has gone beyond my expectations of what jewelry is to me. It is simple, modest and powerful.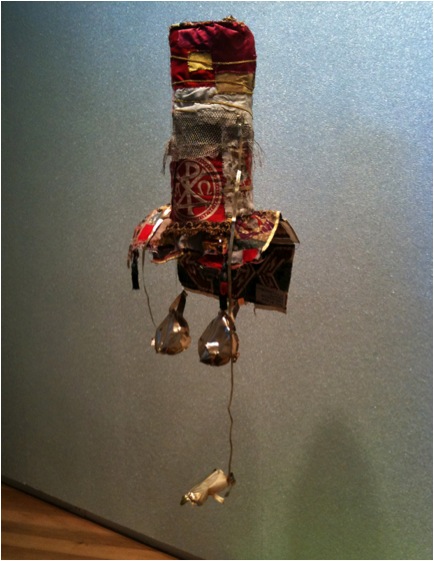 In conclusion, Think Again is an exceptional exhibition with many different examples of Latin American art jewelry. It introduces North American audiences to a number of new and well-established artists, while communicating with the universal language of body adornment. Many of the artists' works I viewed for the first time and I was happy to see a lively dialogue of both beauty and concept. The work was mounted well in a minimal fashion and the written material helped the viewer understand the meaning of the exhibition. I wished the work could have further engaged the viewer by showing the connection between the object and the wearer. After all, regardless of how institutional or academic the museum setting may be, the work is jewelry and jewelry is intended to relate and interact with the body. Personally, I believe jewelry is more performance art rather than miniature sculpture. So let's not minimize the body's role in activating the power of adornment. Habeas corpus!