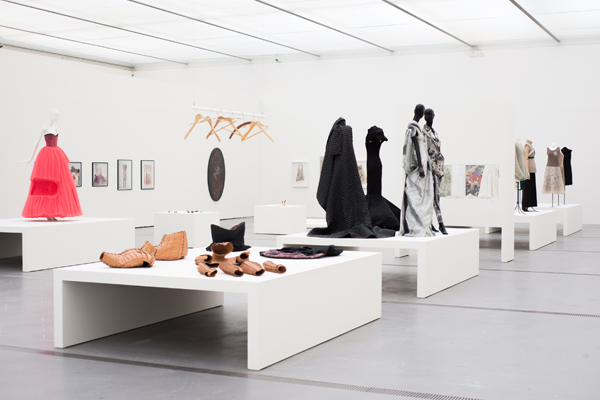 Love & Loss: Fashion and Mortality
March 13–June 7, 2015
Lentos Kunstmuseum Linz, Austria
The exhibition Love & Loss took place at the Lentos Kunstmuseum Linz, in Upper Austria. The curator Ursula Guttmann puts her focus on the "new realism" in fashion emerging in the 90s and influencing the scene until today. While in the art world the 90s are already extensively discussed and canonized, the fashion pioneers of the time have only been gaining museal recognition in the last few years—for example the exhibitions Maison Martin Margiela '20' the Exhibition (2009) or Future Beauty. 30 Years of Japanese Fashion (2011)—both at Haus der Kunst Munich.
The Lentos show does not exclusively focus on fashion but uses fashion as a springboard to create a zeitgeist collage of the period spanning the 90s until the present.
Well-known international as well as local artists and designers are dealing with quite suggestive terms like Death and Humor, Signs of the Time or Decay, Deterioration and Transience.
Works from the fields of fashion, objects, photography, video, and jewelry are organized in associative clusters around the above-mentioned keywords: This exhibition clearly is not just bringing fashion into a museum—to claim art status—but concerns itself with the juxtaposition of different media dealing with similar ideas.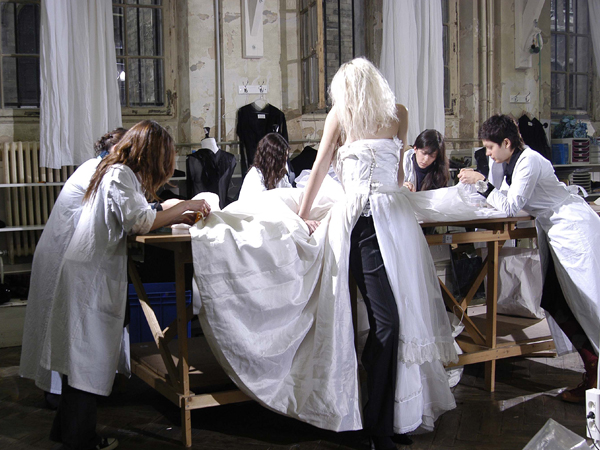 About 30 years ago, a new aesthetic concept emerged in the Western world of fashion. Deformation and wear and tear became stylistic devices. This fashion represents a mirror in which we come face to face with our own mortality—an alternative vision to the pursuit of perfection.
An important protagonist of this development is certainly Rei Kawakubo with her label Comme des Garçons in the early 80s. It was a big scandal when Kawakubo showed her collection in Paris in 1981; critics called her work "Hiroshima-Chic" and "postatomic-rag-style." She confronted the Western fashion scene with the ideas of Asian culture, where signs of old age, death, and beauty are connoted differently. (An appreciation of age and of the traces of time is deeply rooted in Japanese culture.)
A second, major force within this new (anti-)aesthestic concept is Martin Margiela with Maison Martin Margiela. His signature strategy has been to reference, in finished pieces, the entire development process—and the consequent deterioration—of his garments: open hems, the inside of garments turned outward, fabrication marks like tacking threads and unfinished dresses, all make reference to the manufacturing process. By using secondhand garments as material in order to create something new, he makes the traces of time visible.
Exemplary of these various methods is his Evening Gown, from the collection Artisanal '0', which is made out of three second-hand bridal gowns: They are interconnected in the corsage, skirts are loose, and original seams are turned outward.
In the work Bacteria Dress by Martin Margiela, the fashion stylist carries this idea to extremes. Eighteen dresses, exhibited in the Museum Boijmans van Beuningen, were inoculated with different strains of bacteria, accelerating the aging process of the fabrics and thereby giving the visitor the possibility to observe firsthand their transformation and ultimate decomposition. The documentation by photographer Bob Goedewaagen of this gradual process is one of the most exciting works on show at Lentos Kunstmuseum Linz.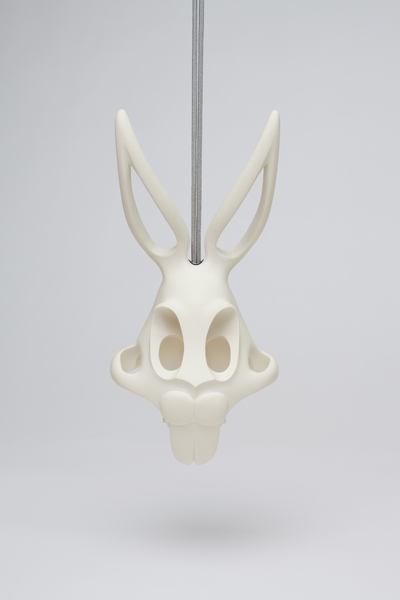 Alexander McQueen is also present in the show, with an evening gown from his last collection, made of jacquard woven fabric carrying the motif of two angels. Hardly any designer has explored death to the extent McQueen has, to the point that he seems partly responsible for the continuing skull mania, which reached the mainstream years ago. (Skull Mania is the title of one of the exhibition's 13 sections.)
The section called Death and Humor includes works from the series Memento Juniori by Alexander Blank: The hand-carved pendants, which are made to look like the skulls of comic Warner Bros. immortals, are an ironic statement on mortality. Another exponent of contemporary jewelry is Märta Mattsson with her beetles and moths.
The fact that jewelry has been included in this exhibition probably has to do with curator Ursula Guttmann's interest in jewelry—she is herself one of the leading Austrian figures in the field.
Love and Loss is her second curator's project, after in addition, about contemporary textile art at the Schlossmuseum Linz in 2008. In both exhibitions, some contemporary jewelry was on show: This fact is made remarkable by the relative rarity of institutional shows that present jewelry along with other works of art and design.
Still, integrating jewelry is a self-evident part of Guttmann's concept, rather than a missionary or self-serving agenda. (That Guttmann didn't curate herself as an artist into the show goes without saying.)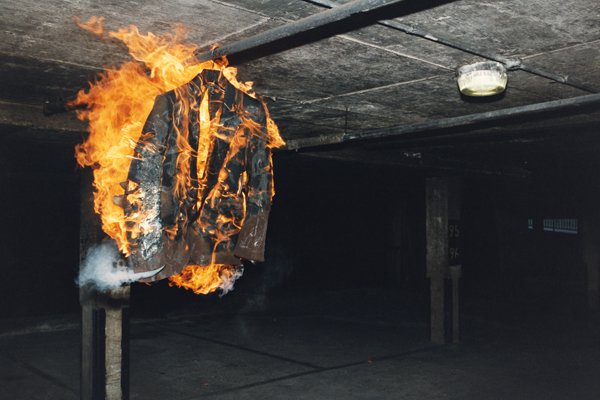 A further section of the exhibition, called New Fashion Photography, shows Jürgen Teller's photos of Kristen McMenamy and Corinne Day's pictures of Kate Moss, which marked a change in fashion photography. In the early 90s, they showed images based on trash aesthetics, images of a "radical normality." Their grimy honesty meant to challenge the conventions in a medium better known for retouching reality out of images and showing little ambition of making the viewer reflect on her/his own circumstances.
The photographs of Daniele Tamagni show The Gentlemen of Bacongo. The dandies of Brazzaville, Congo, imitate the style of their former colonists and spend what little money they have on tailored suits, silk ties, and custom-made shoes. It's an almost surreal moment to see these self-reliant, elegant, extravagant men in the misery of their surroundings.
These guys would love Cash, the smell of money, a perfume by Sabotage. Since the 1990s, Robert Jelinek has been active under the name Sabotage in the fields of concept art, action, music production, and political activism. From the odorous substances of a hundred-dollar bill, such as ink, metal, paper, and mahogany, he brewed this precious drop in 1999, so that everyone could "stink of money."
Love & Loss is not a fashion show: It's more about concepts, ideas, and zeitgeist. From my point of view, the quality and at the same time the gambit of this exhibition is the uncommon conglomeration of heterogeneous work under existential themes.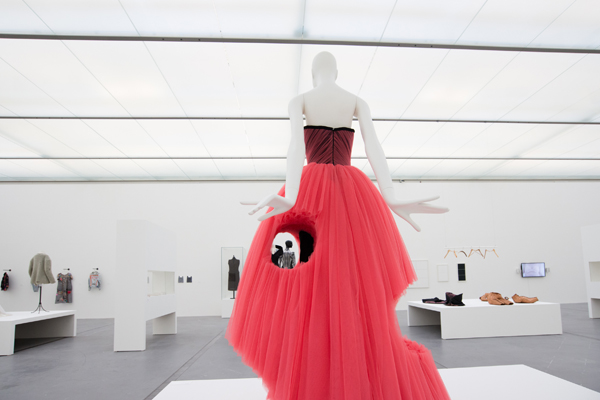 As I walked through the exhibition, many other artists and designers came to my mind (Wolfgang Tillmans, for example, in the photo section), and I missed key works I expected to see in this context (for example a dress from the Body Meets Dress, Dress Meets Body collection of Comme des Garçons 1997, famously nicknamed Lumps and Bumps Collection). Concerning jewelry, names like Attai Chen, Jorge Manilla, and Bettina Speckner readily came to mind…
I do know that such a project can't claim to be comprehensive—I even thought there was a kind of arbitrariness in the selection of works, but I would go so far as to say that the fact I was constantly missing something—something that would serve to complement and extend the show in my mind—makes it really inspiring. Love & Loss proved a fertile ground to curate a larger, fictional Part 2 exhibition—in my mind.